This morning we sailed into San Juan, Puerto Rico, officially becoming the first cruise ship to visit the port in 16 months. Needless to say, this was a pretty big deal, especially given that during normal times, the city might easily see six ships visiting in a day.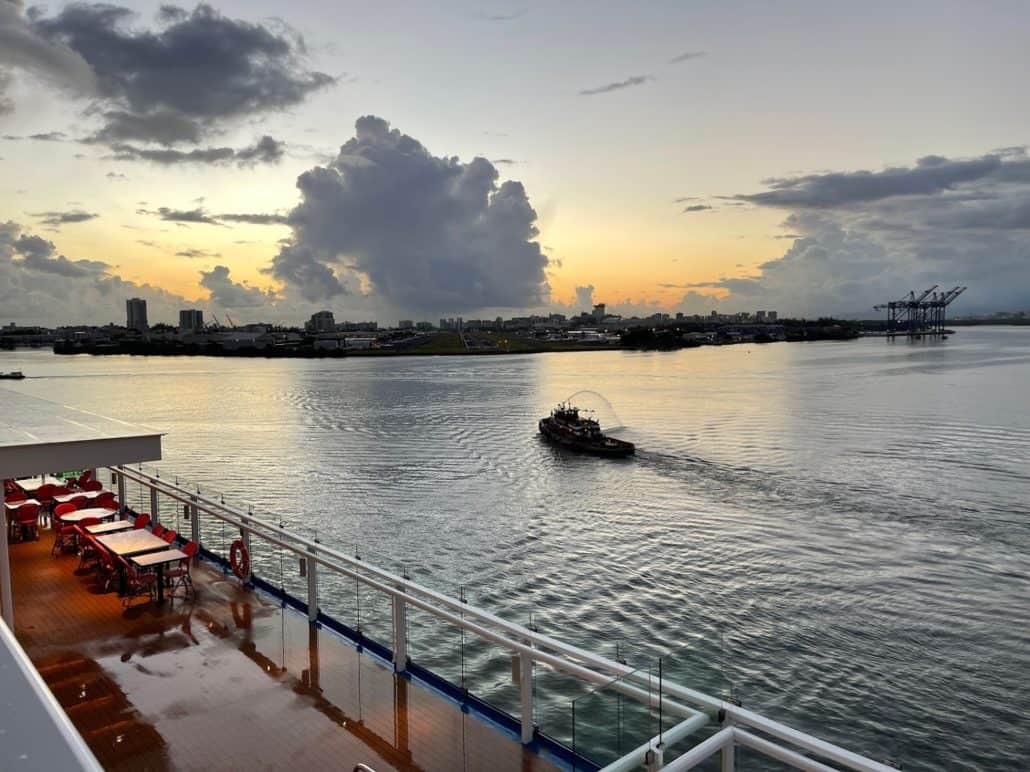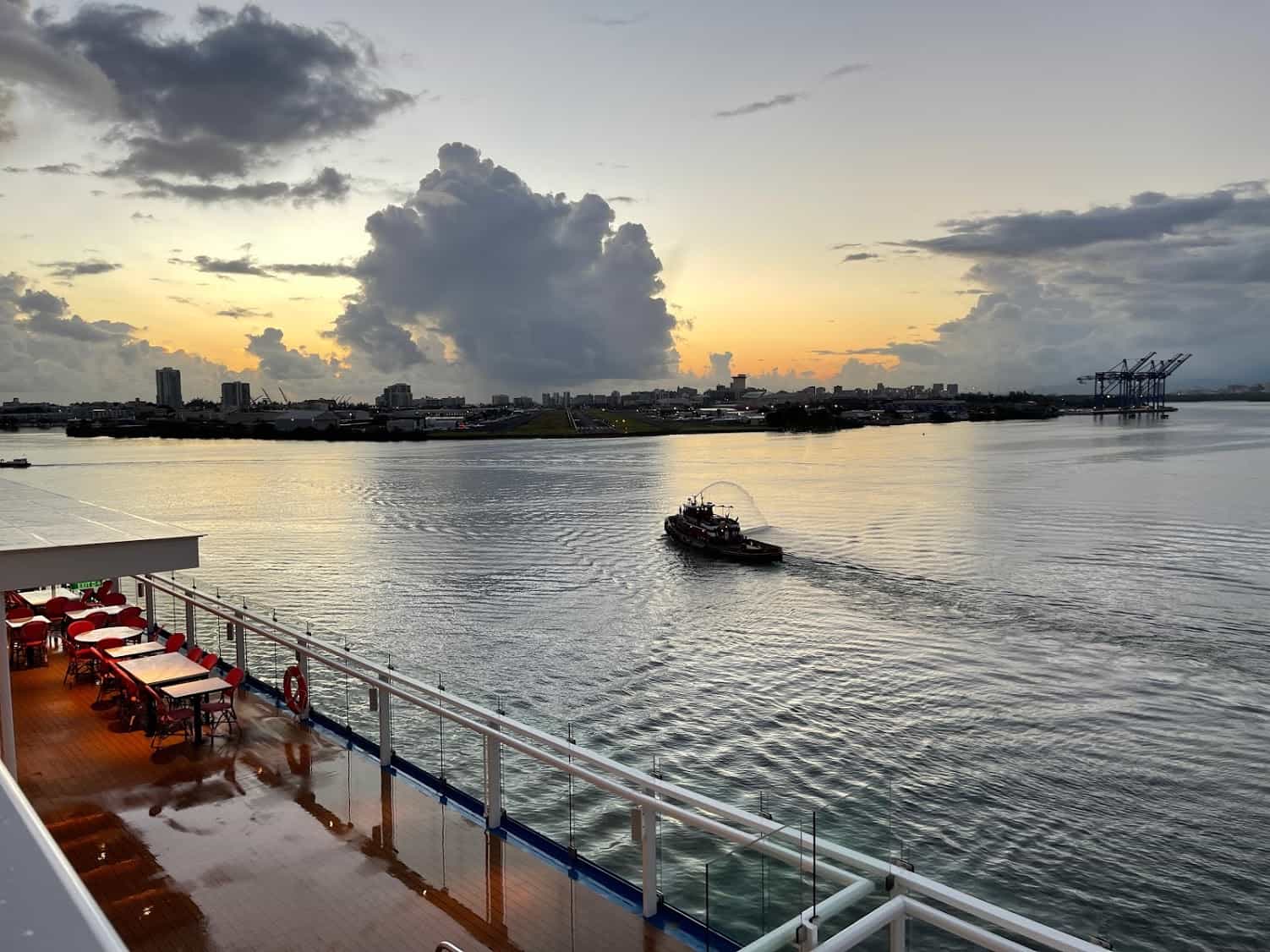 Did I mention that we arrived really early? Or maybe it just seemed that way to me because we were out so late last night. But no matter how you slice it, water cannons and tug boat horns at 6 a.m. are definitely going to make sure you don't miss sailing into the port (or the sunrise that greeted us).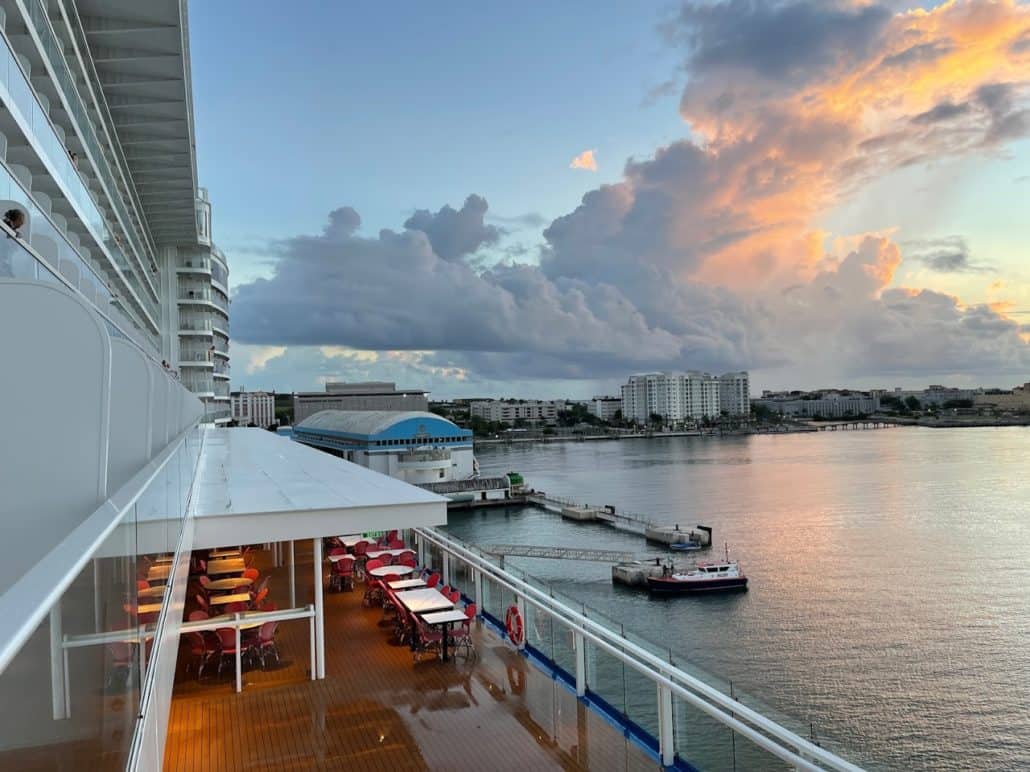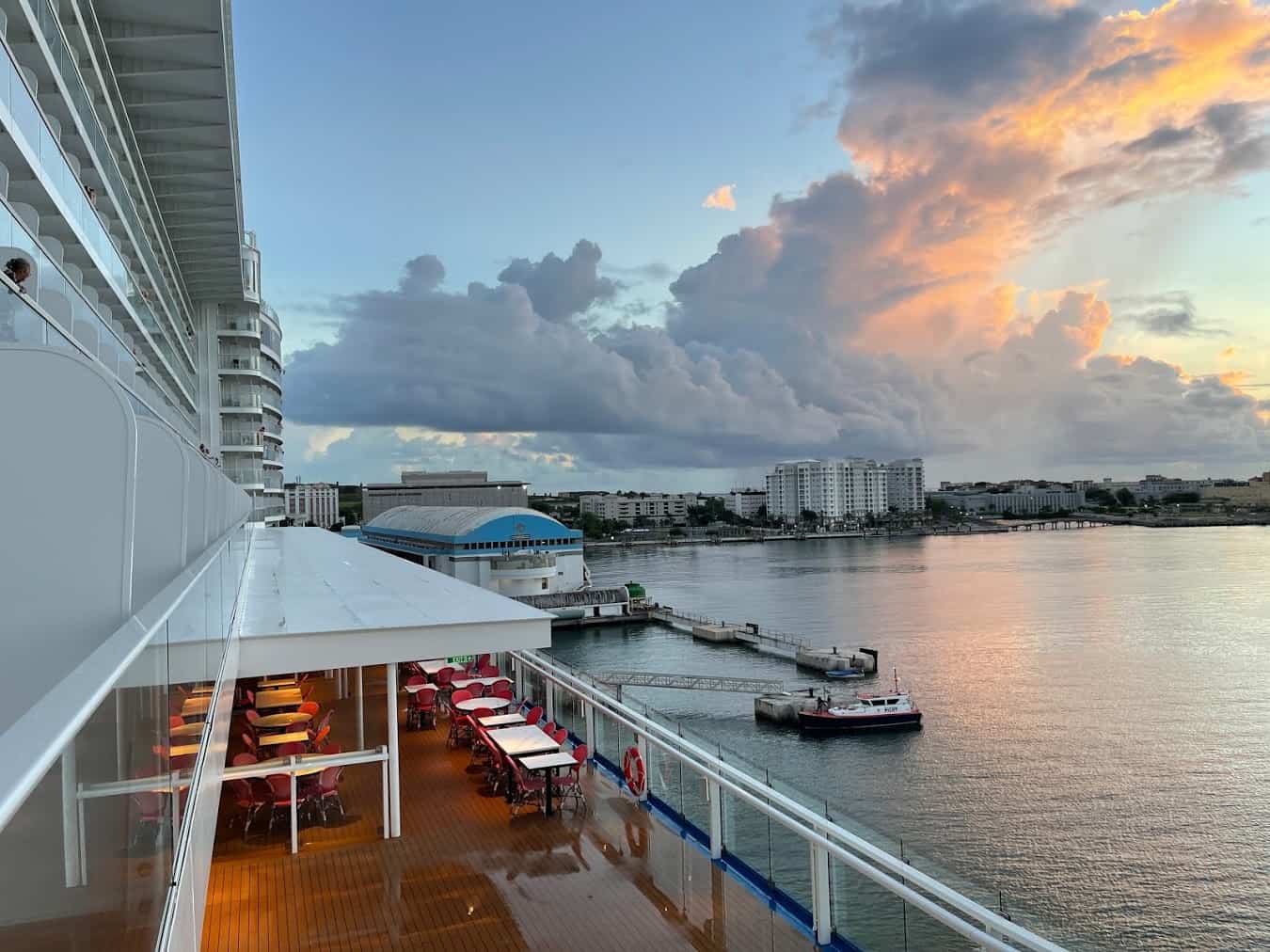 I fully admit that after snapping pictures and enjoying the sunrise, I went back to bed. But I roused myself again in time to attend the ceremonial plaque exchange.
Most people are probably unaware of this, but when a new ship visits a port for the first time, there's often a brief ceremony with local dignitaries in attendance. In this case, the governor and mayor were on hand and met with Carnival Cruise Line President Christine Duffy as well as Mardi Gras' captain and other officials.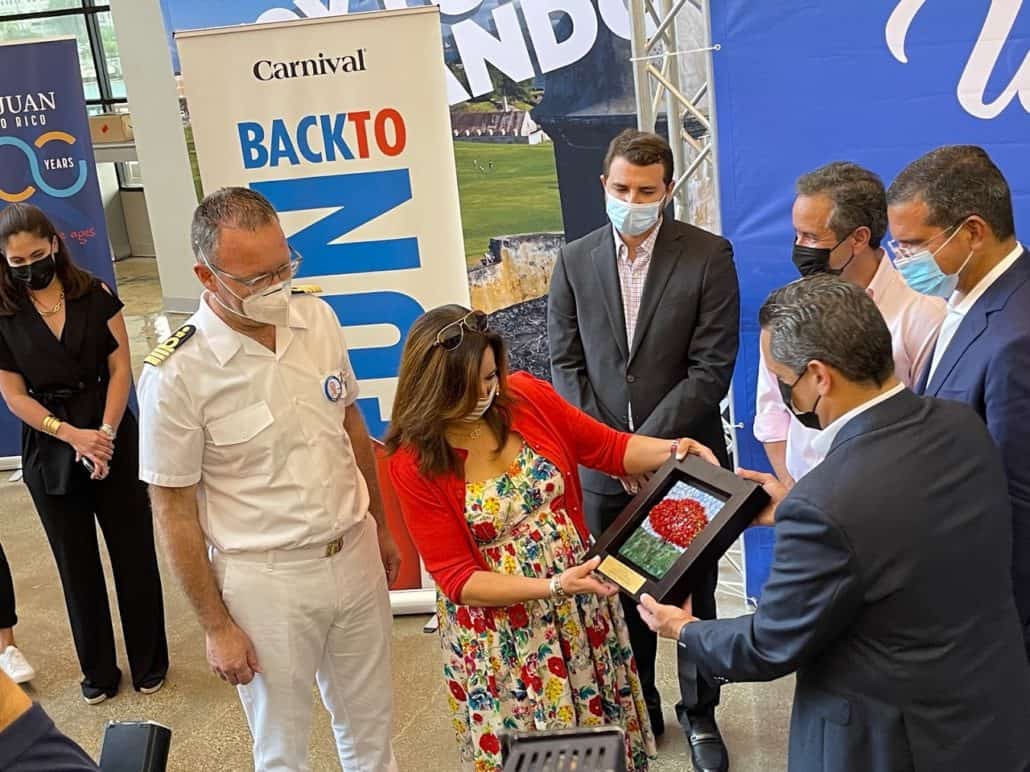 As you can see from the clouds in the picture below, the weather was not looking great as we made our way into town, so we ducked into a shop and arranged for an Uber. It was only a three-minute ride, but given that it was pouring cats and dogs (and maybe even a few rabbits), it was worth a couple of bucks to stay dry.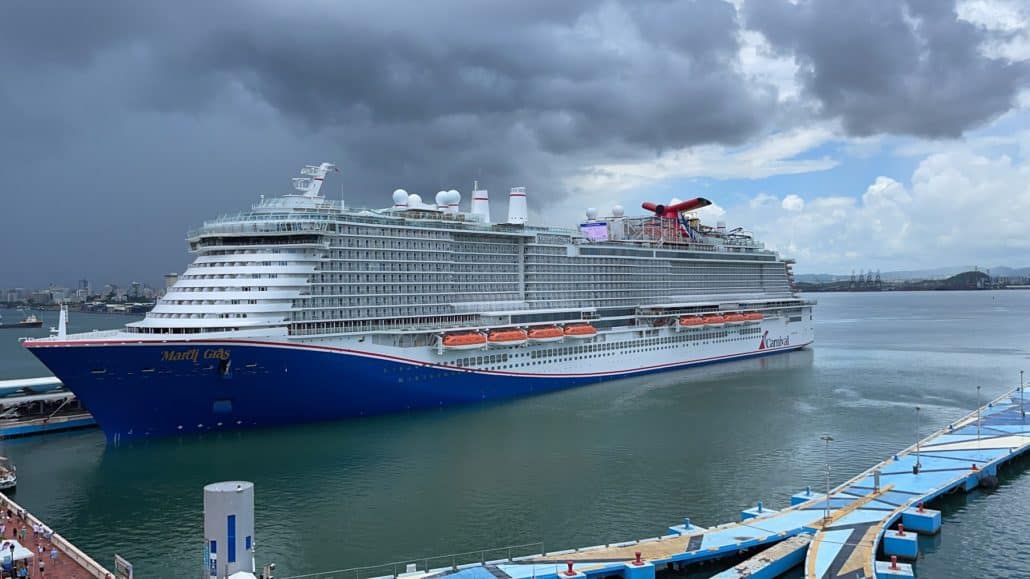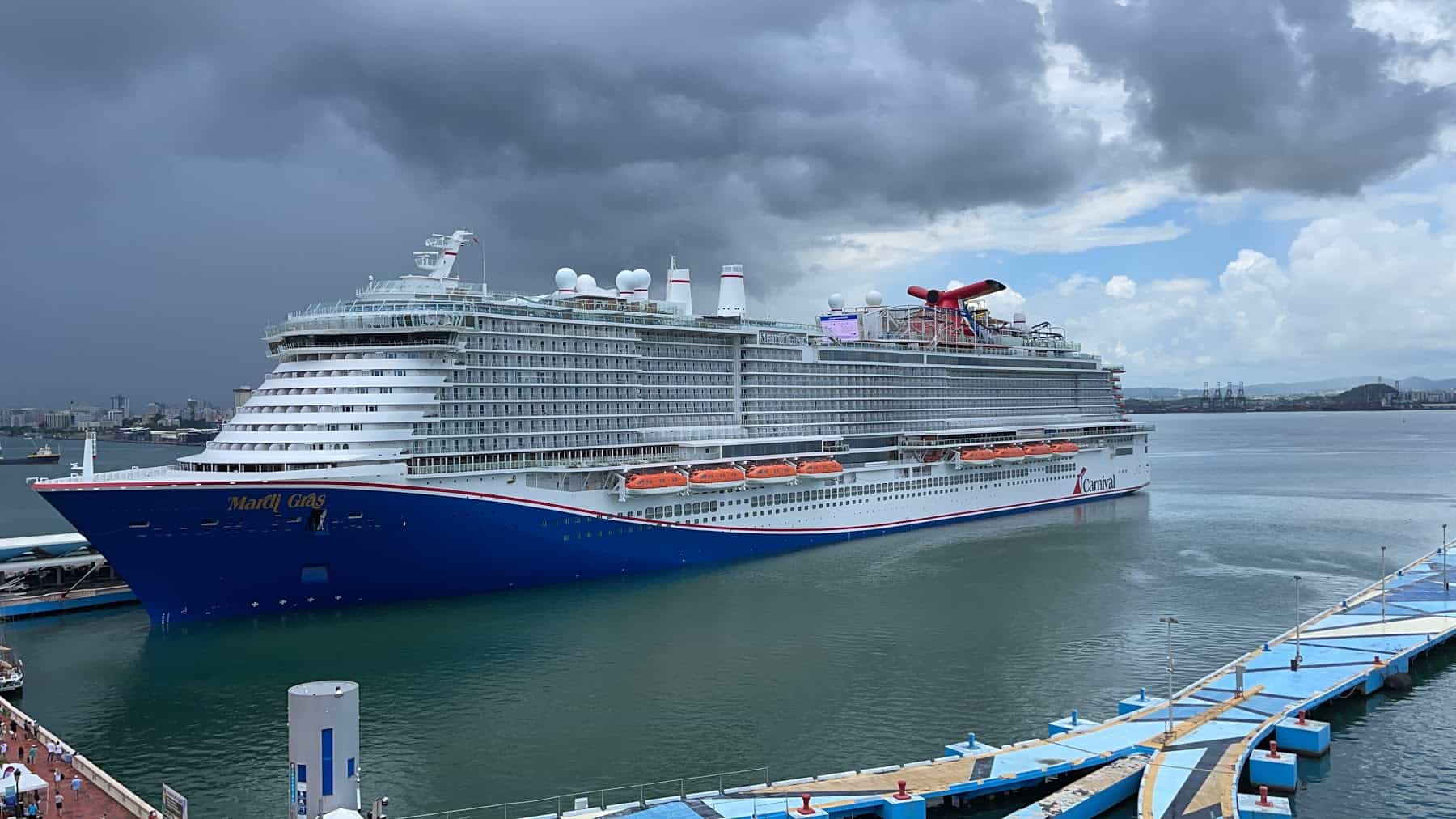 Plus, the place we were heading was uphill, and the last thing any of us needed was to slip and fall on slippery pavement. Sure, I've got travel insurance, but I'd just as soon not use it.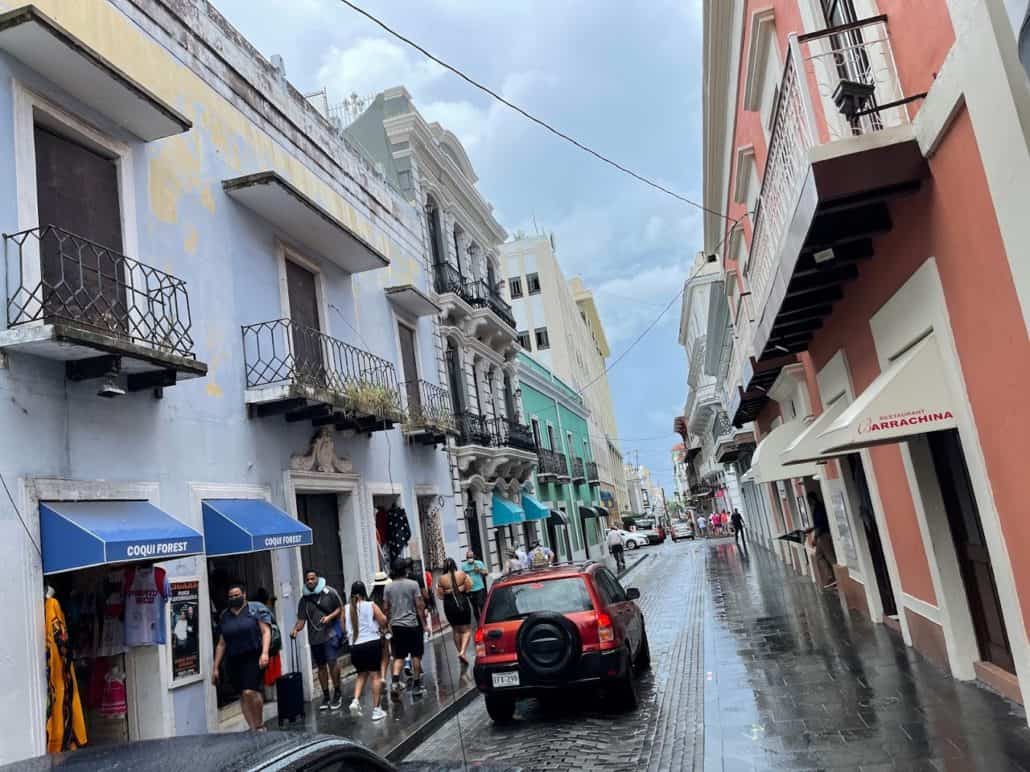 We were heading for Barrachina, which is the birthplace of the Piña Colada… or so they claim (and even have a plaque saying as much).
But there's some debate about this, because the nearby Caribe Hilton also claims that one of their bartenders was the first to whip up a Piña Colada nearly a decade before the date cited by Barrachina.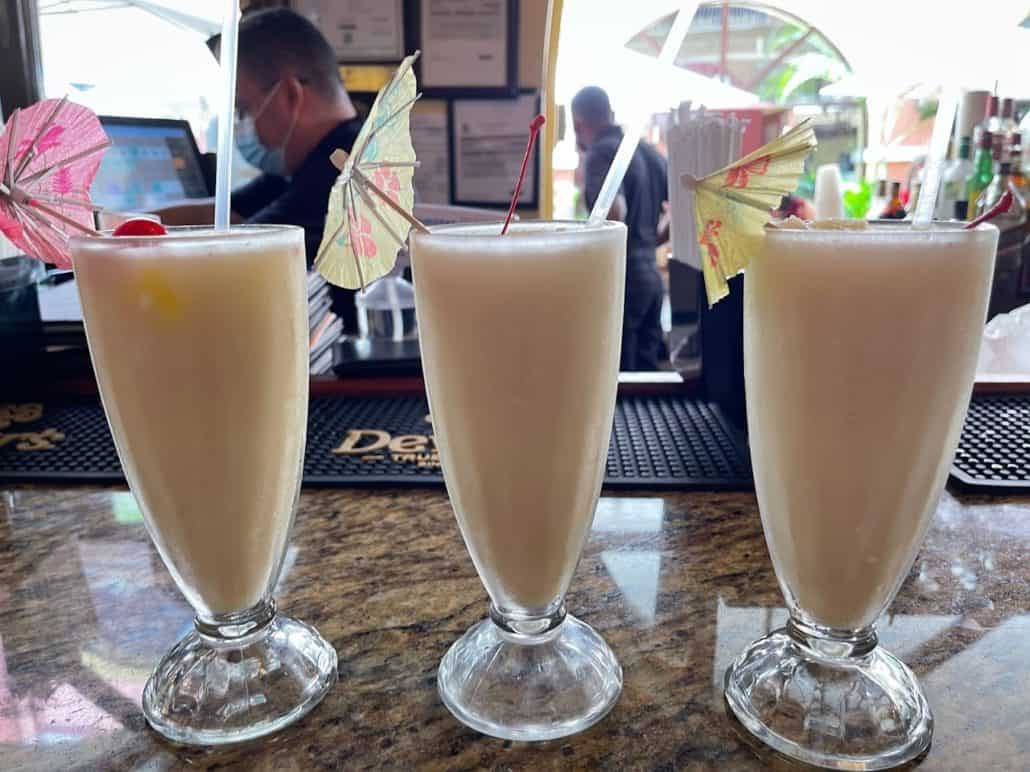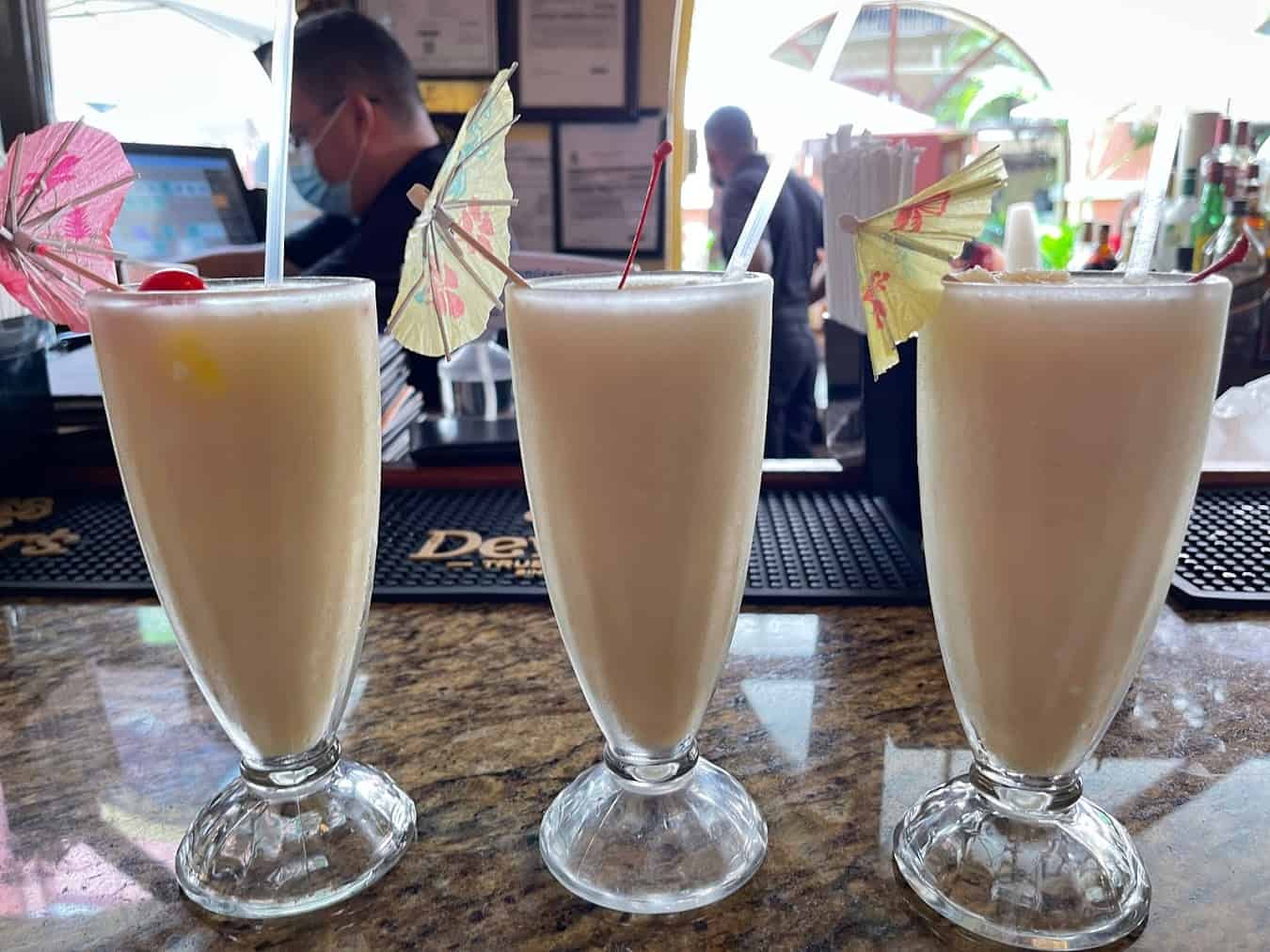 All I know is that the Barrachina version was darn tasty. We also ordered chicken wings and grouper fingers with coconut batter and let me tell you, this was the best grouper I've ever had. That's really saying something when you consider that we catch grouper off our coast all the time. It's hard to get fresher than that, but dang, this was pretty amazing.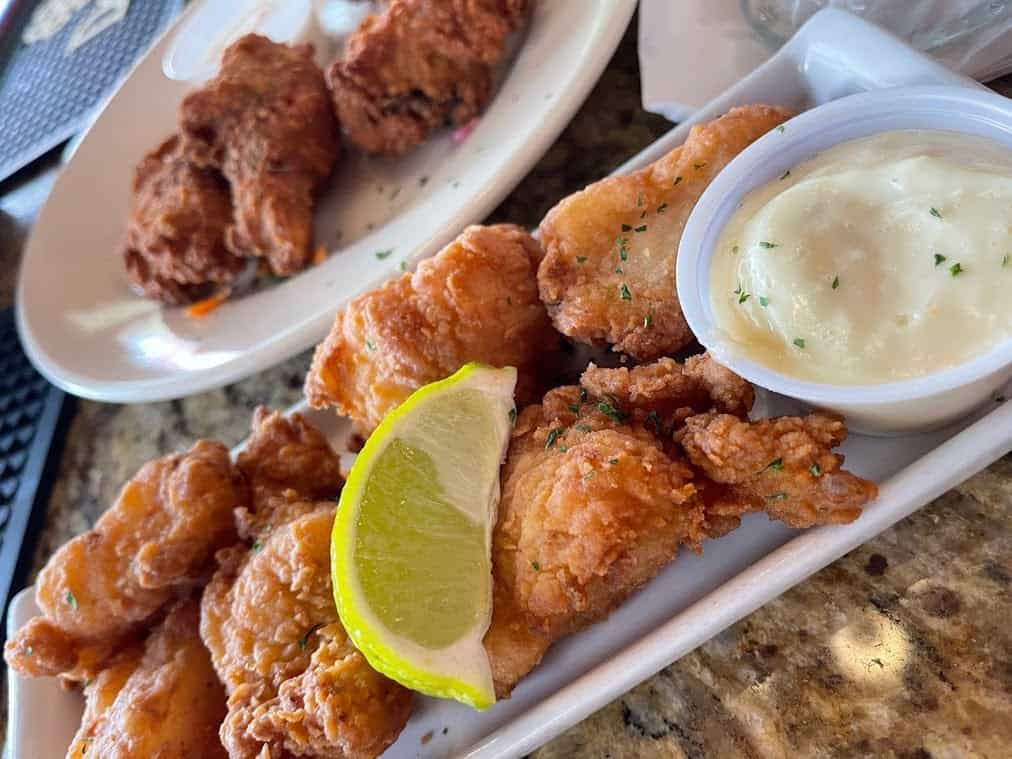 Once back on board the ship, we decided to hit the ropes course. This can get crowded at times, but with so many people still exploring San Juan, it wasn't bad at all. The ropes course is part of the ship's Ultimate Playground zone. One thing that I don't think gets nearly enough attention is that the zipline on this particular ropes course has you flying high above the ocean. On other ships, I've seen and done ziplines that take you over the deck below — which is exciting, obviously. But here, you're going out over the ocean and it's a little bit heart-stopping!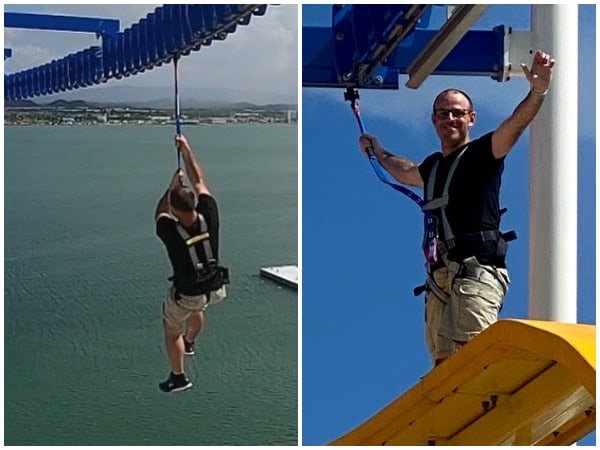 I guess it's probably worth mentioning that we were by far the oldest passengers up there that day. Pretty much all the other people on the ropes course were teens to whom this all seemed like no big deal. But we loved the zipline so much we did it twice. (Hey, it's not like there's any charge to do the it!) There are actually two different courses, one for experts and one for beginners.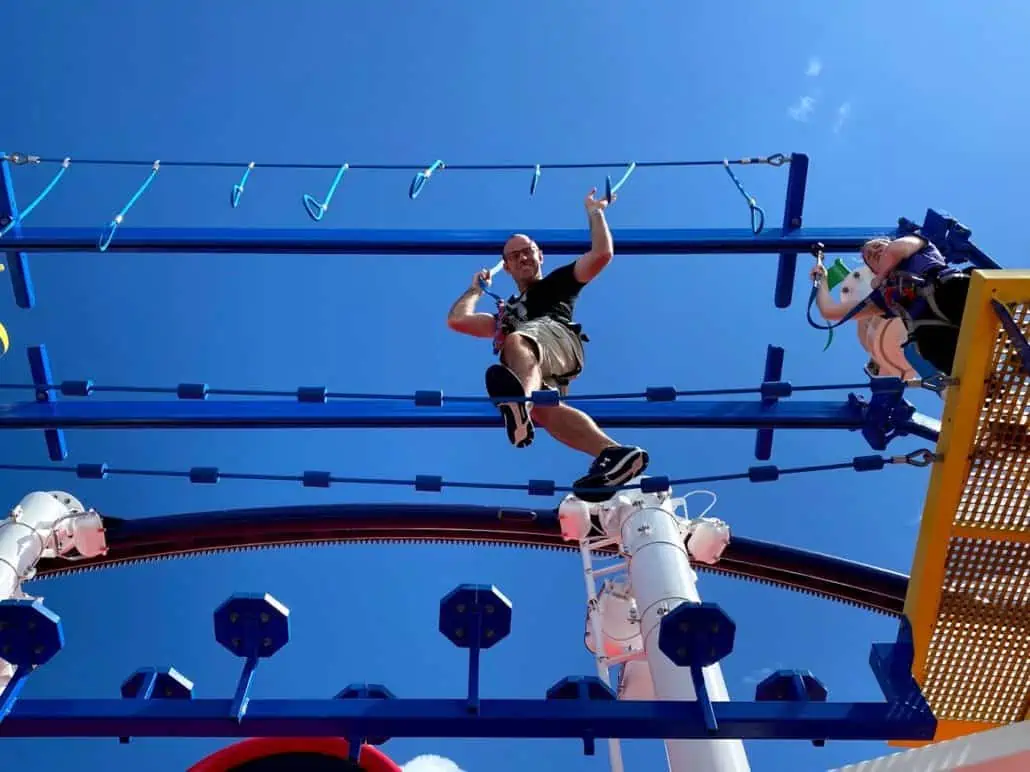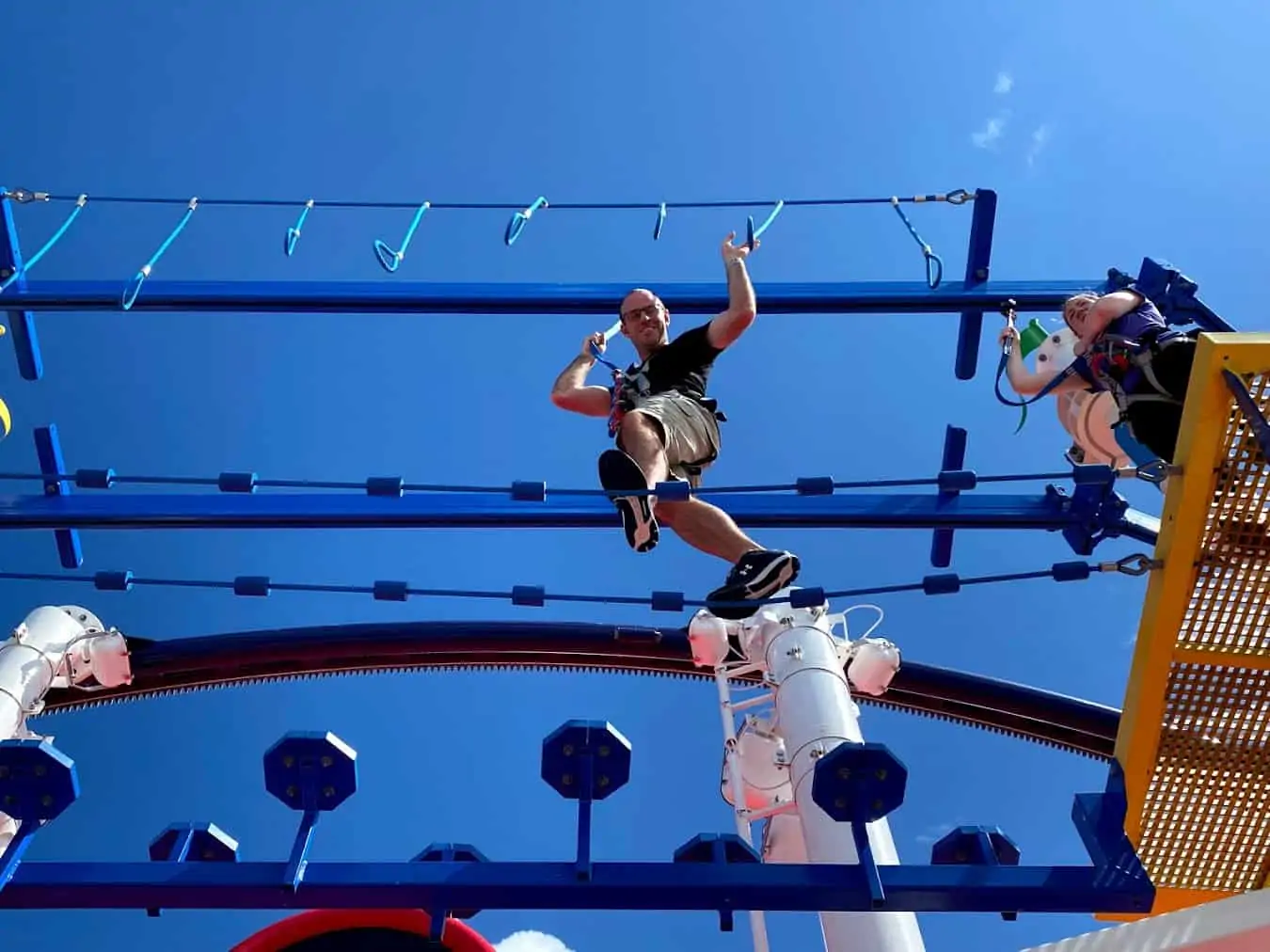 We were lucky enough to have a friend taking pictures from the deck below, so you really get a great sense of perspective. I have friends who've long wanted to do a ropes course on the various ships they've been on but haven't worked up the nerve yet to do it, and I totally get it.
Yesterday, we'd wanted to check out the new Street Eats area, but it was closed. Street Eats is a new-to-Carnival complimentary set of venues that are designed to look like food trucks. Each of the three windows (four if you count the Seafood Shack, although it is not free) features a different type of small plate or tapas.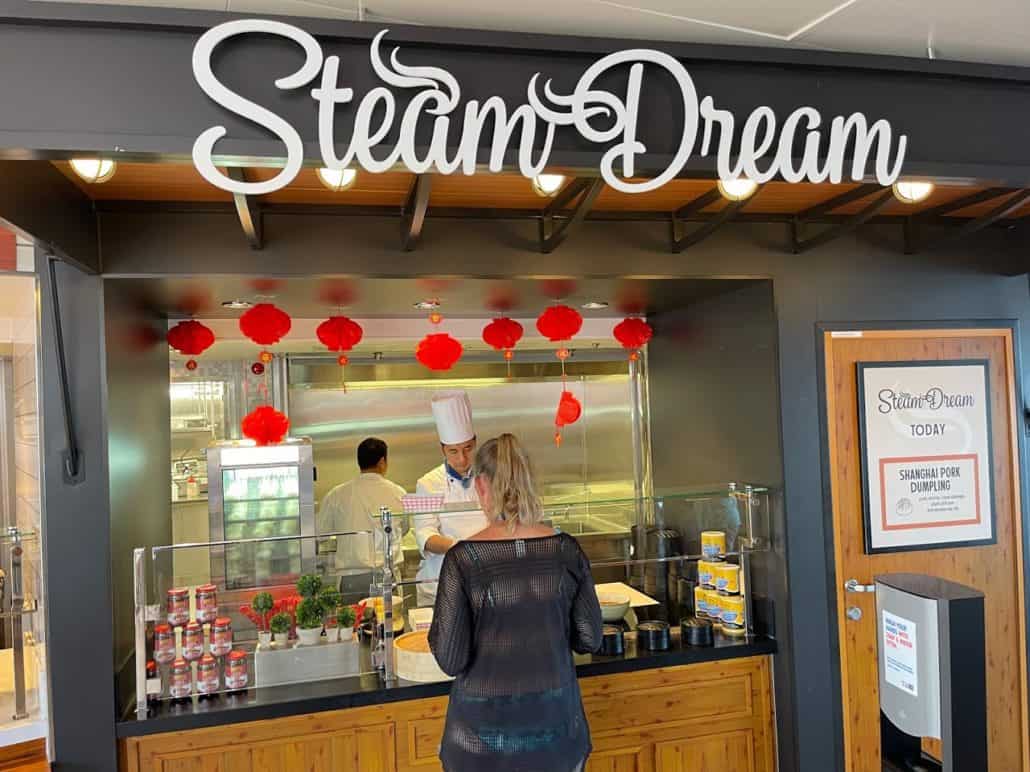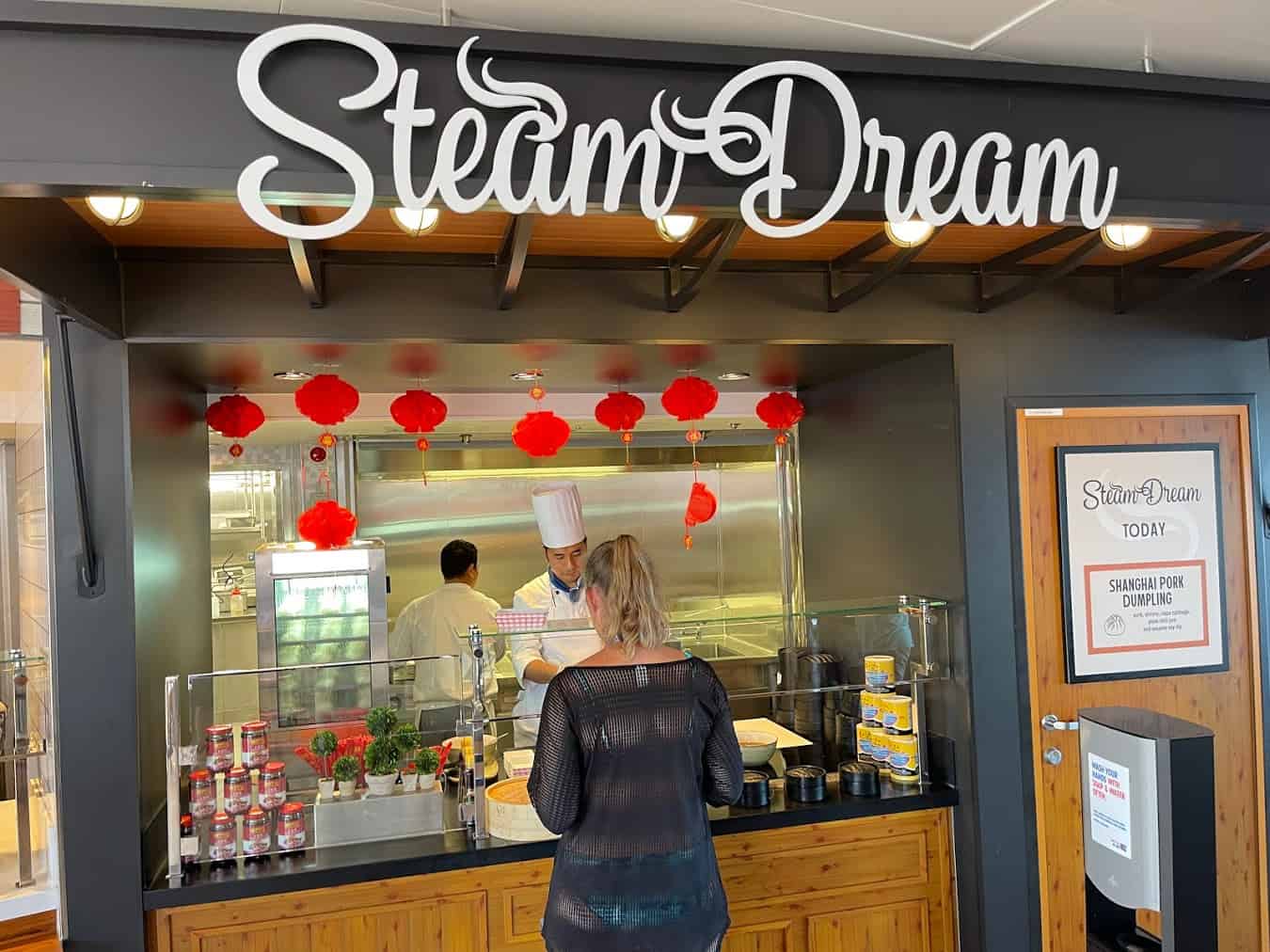 One of the cool things about this concept is that they can easily switch things up if they decide that one particular type of food isn't proving as popular with guests. But as of now, Steam Dreams serves up things like bao buns and potstickers; Mad Sizzle specializes in kebabs and other grilled items; and Time Fries offers — as the name pretty much tells you — different varieties of fries.
We wound up having the four-cheese fries, beef bao buns, and a sesame beef-style dish. This is a really fun addition to the grab-and-go food available on Mardi Gras… just make sure to check the HUB app to see if the windows are open if you've got your heart set on trying them.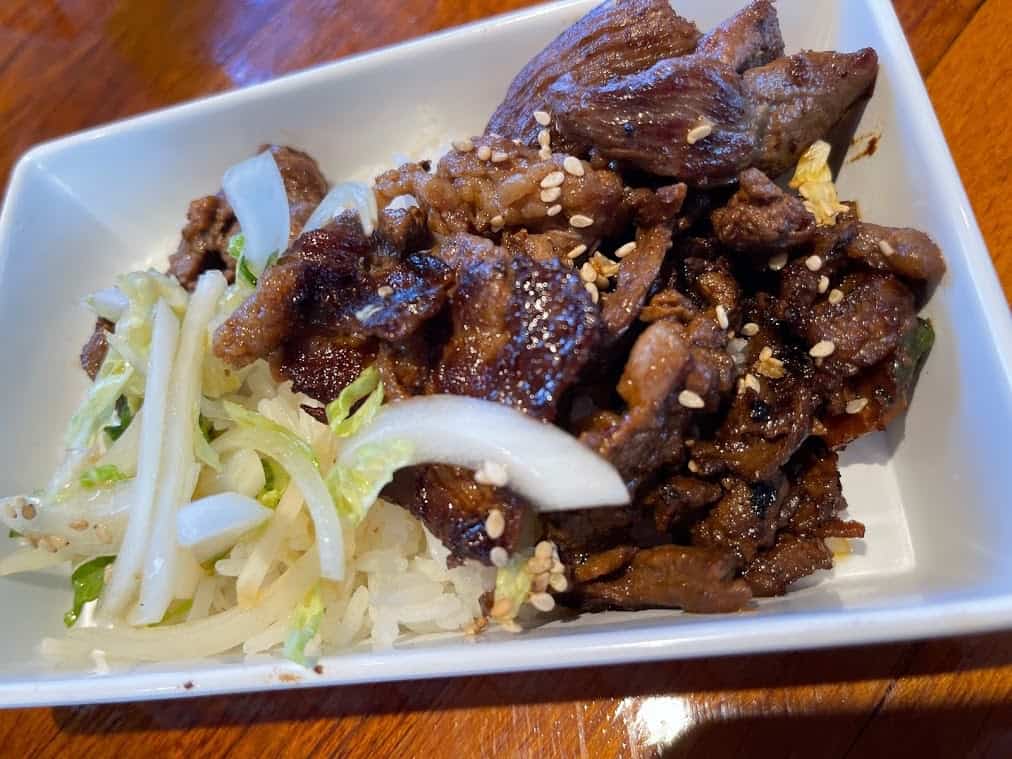 Speaking of the HUB app, while chowing down we took a few minutes to make reservations for the BOLT rollercoaster, which we'll be doing at 4 p.m. tomorrow.
I was able to jump on this amazing ride during the special event Carnival held the day before the inaugural sailing, but I'm really looking forward to trying it again. Look for full details on BOLT in tomorrow's report.
READ MORE: Behind The Scenes of Carnival's VIP Mardi Gras Party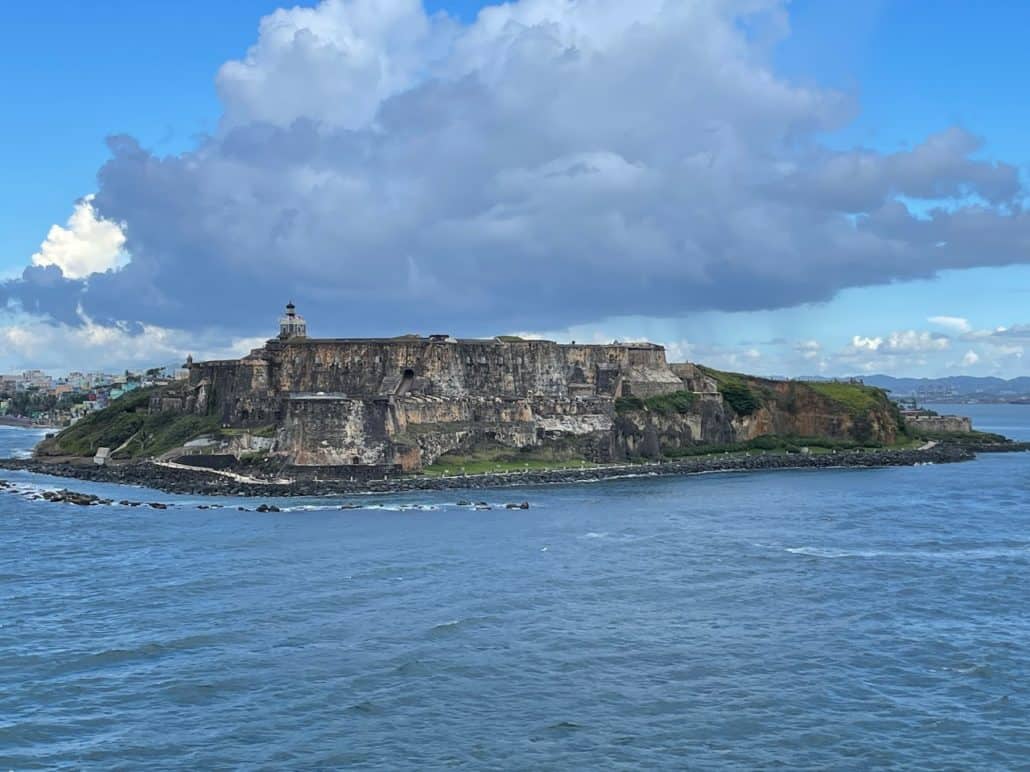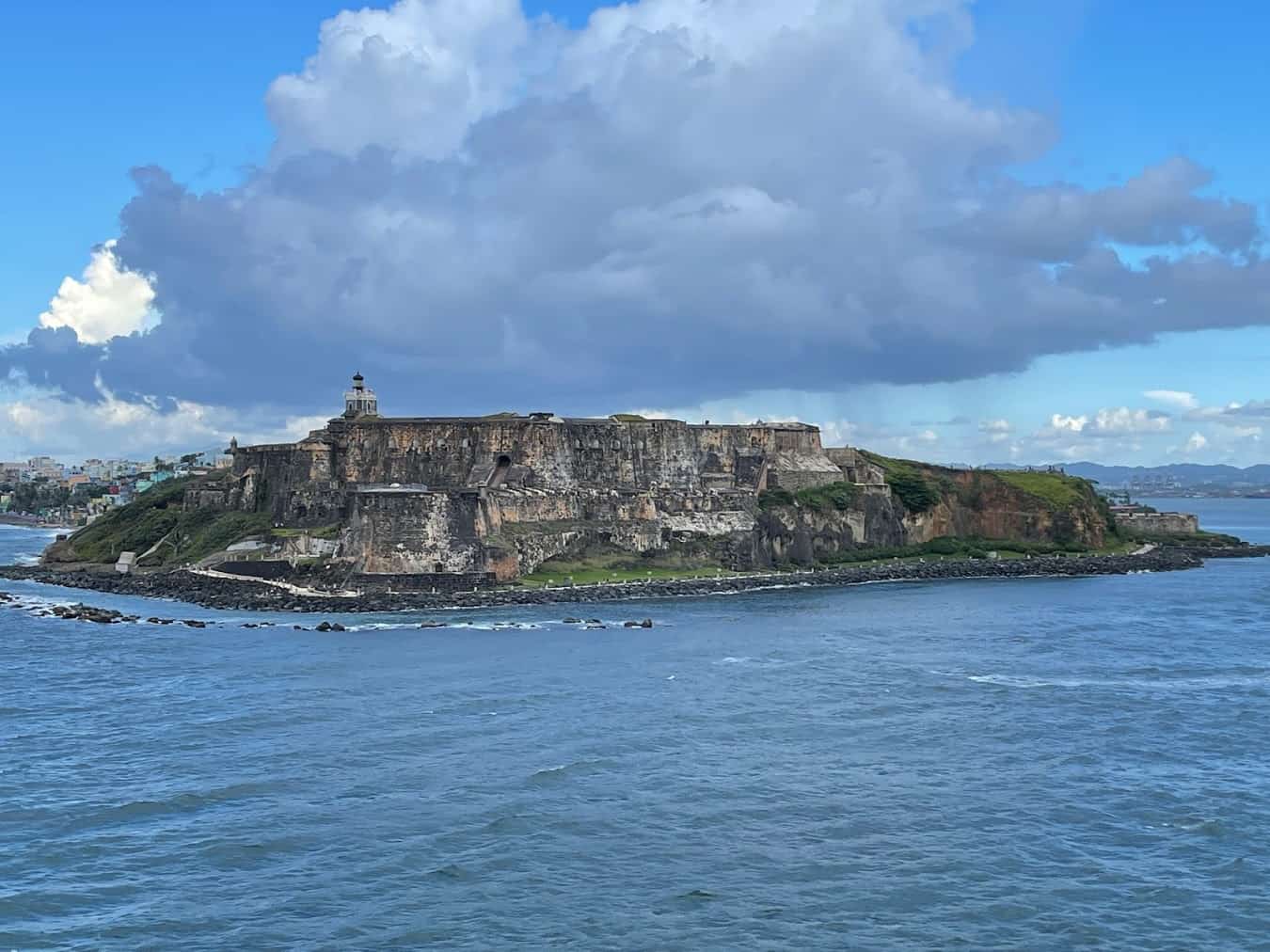 Sail away was around 4 p.m., and by then it was a beautiful day. People lined the rails to take photos of El Morro, which is a National Historic Site and makes for such an impressive entrance and exit to San Juan's port. It was late afternoon when we sailed past, making for a great photo op.
Truth be told, however, I really love sailing past El Morro at night, when it looks like the sort of haunted castle that every horror movie is set in.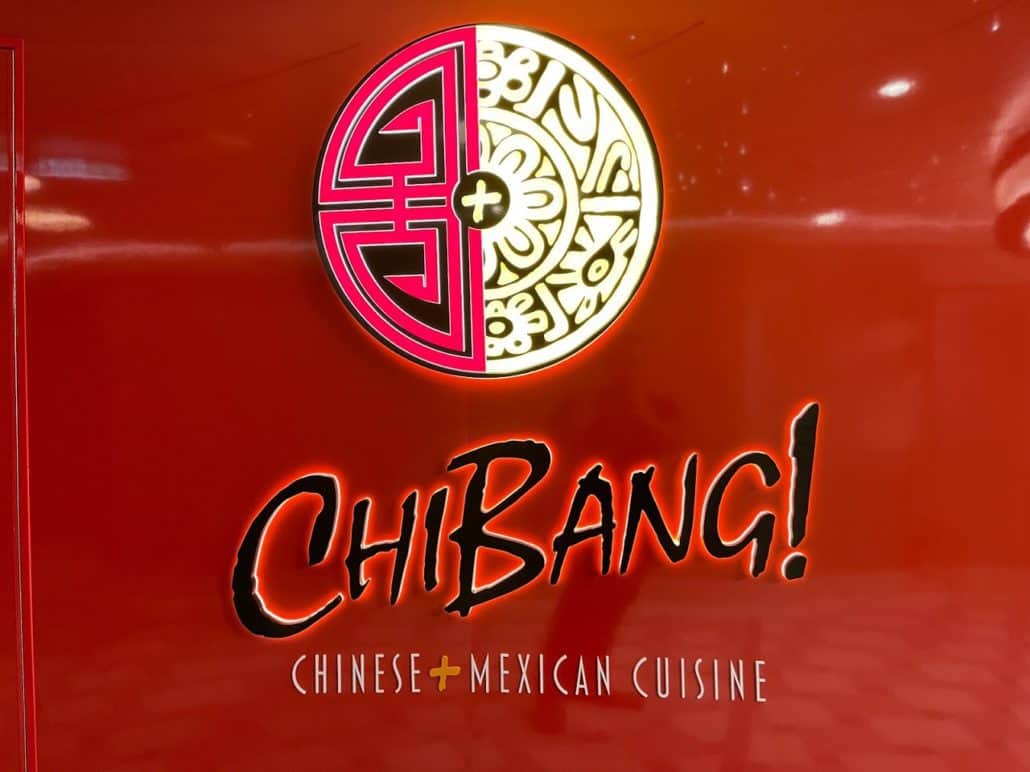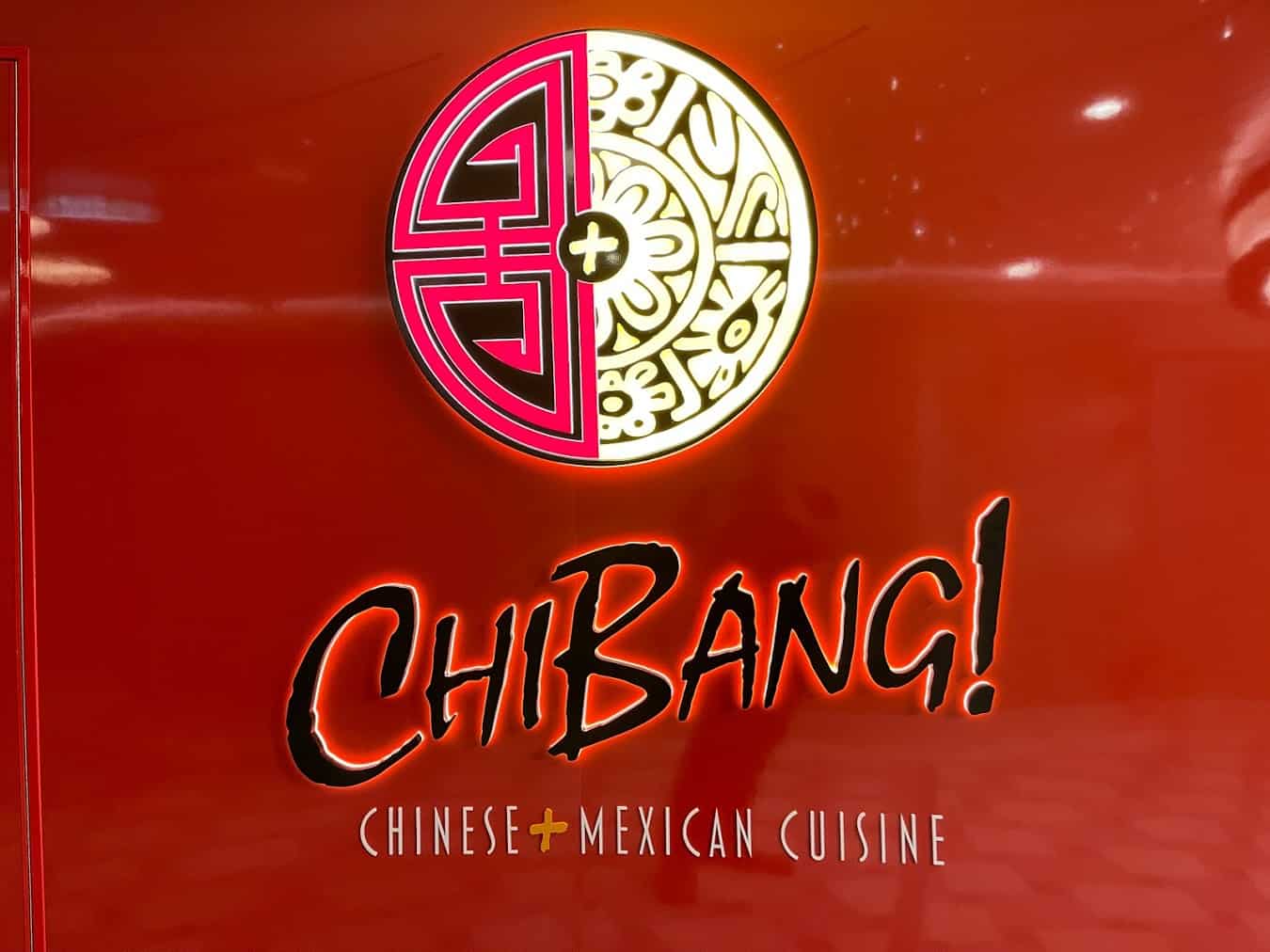 By this point, I was both hungry and stoked about tonight's dinner, because we were eating at ChiBang! This is another new-to-Carnival venue that offers both Chinese and Mexican options.
This seemed to confuse a couple of people I overheard, who thought it was a fusion of Chinese and Mexican… like Kung Pao Nachos or something. But no, it's a lot simpler than that.
You can order Chinese food, you can order Mexican food, you can order both or if someone in your dining party isn't into either, they can order off the main dining room menu.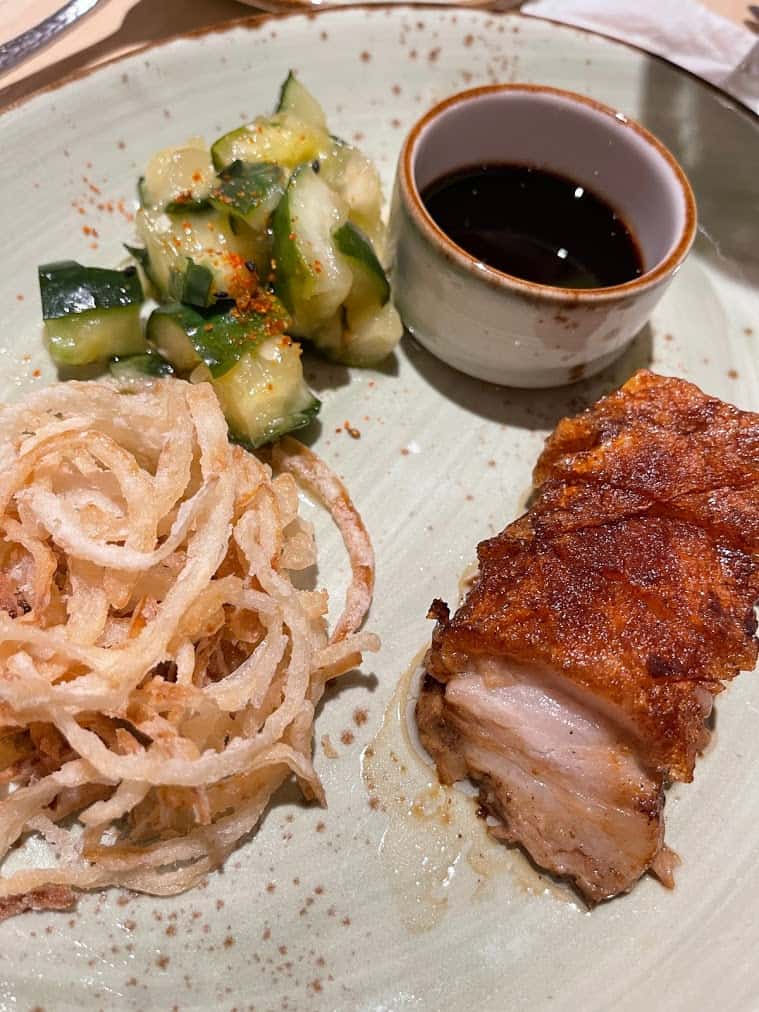 I have to say dining has somewhat hit or miss over the past couple days. If you read yesterday's report, you know we really struggled to find a place we could go for a sit-down meal and wound up grabbing sandwiches. But tonight everything worked exactly the way it's supposed to.
We'd made a 7:30 reservations and, when we showed up at 7:25, they immediately sat us.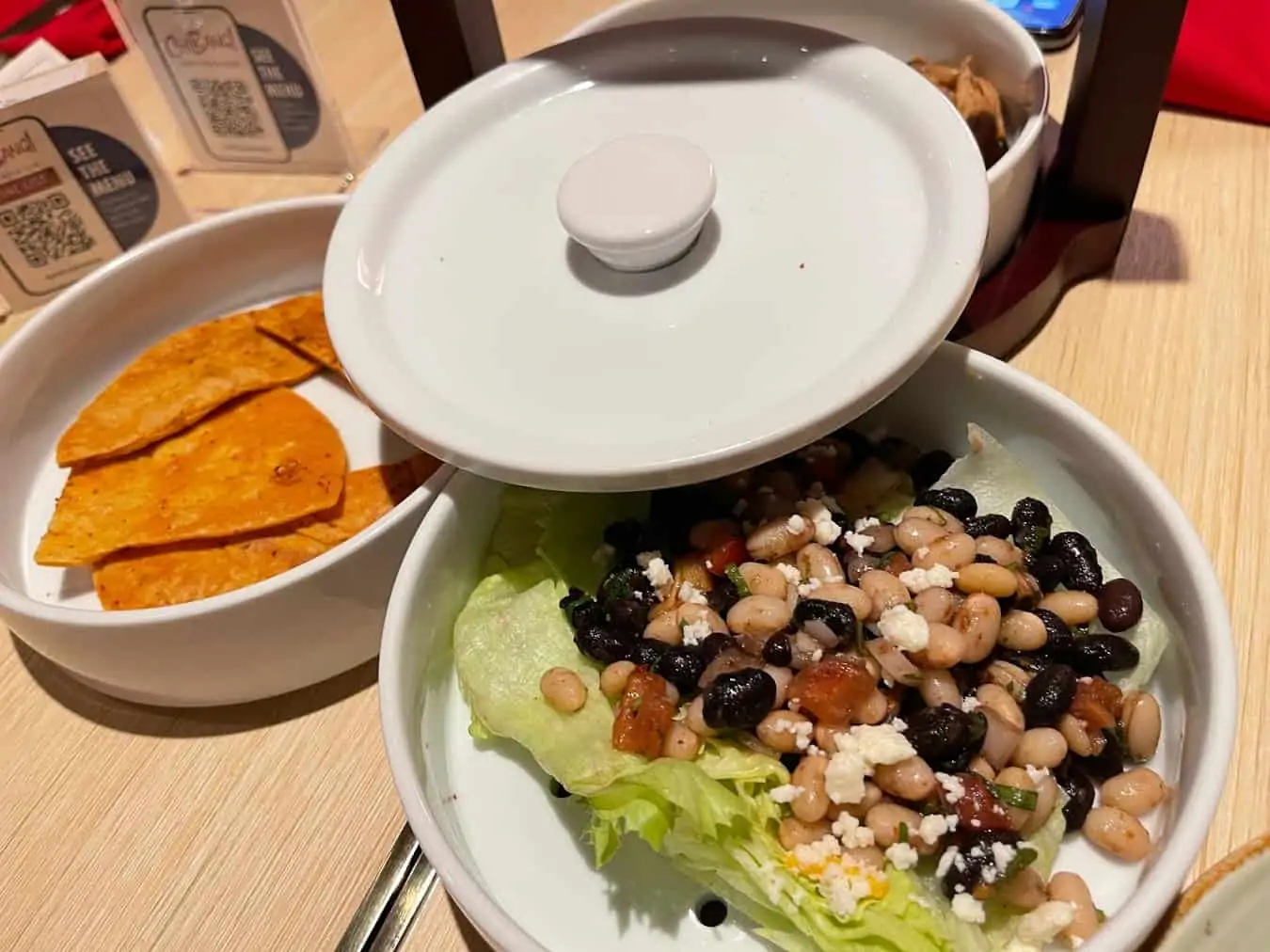 The first thing they brought out was a nice dish of cold chicken salad, three-bean salad, and chips. From there, I went with potstickers, a simple salad, and braised pork belly for my appetizers, and Kung Pao Chicken for my main course. Dessert-wise, I went with the Creama Catalana, which reminded me a lot of the rose creme brûlée they serve at JiJi's Asian Kitchen aboard other Carnival ships. (This makes sense, given that ChiBang replaces that venue on Mardi Gras).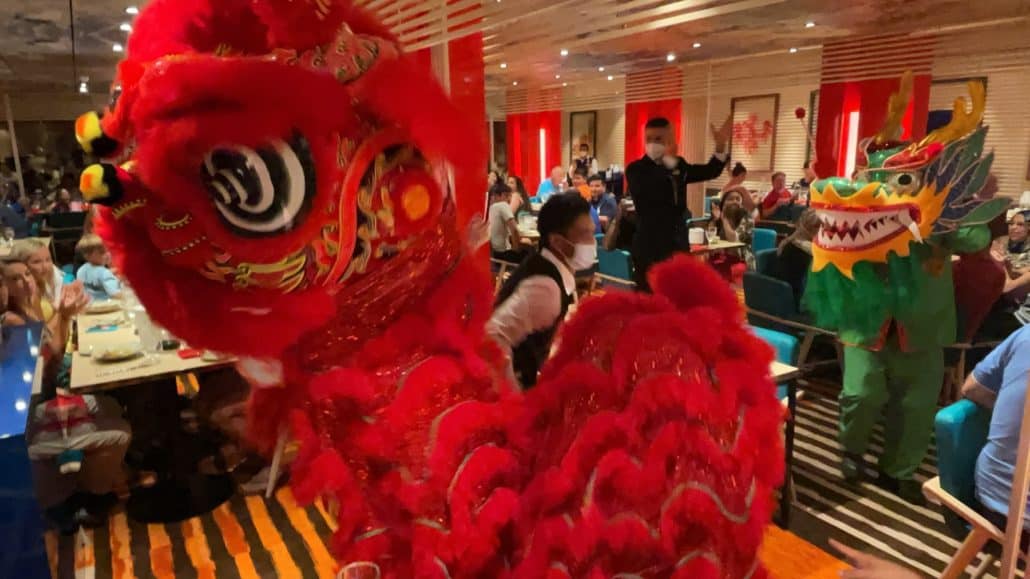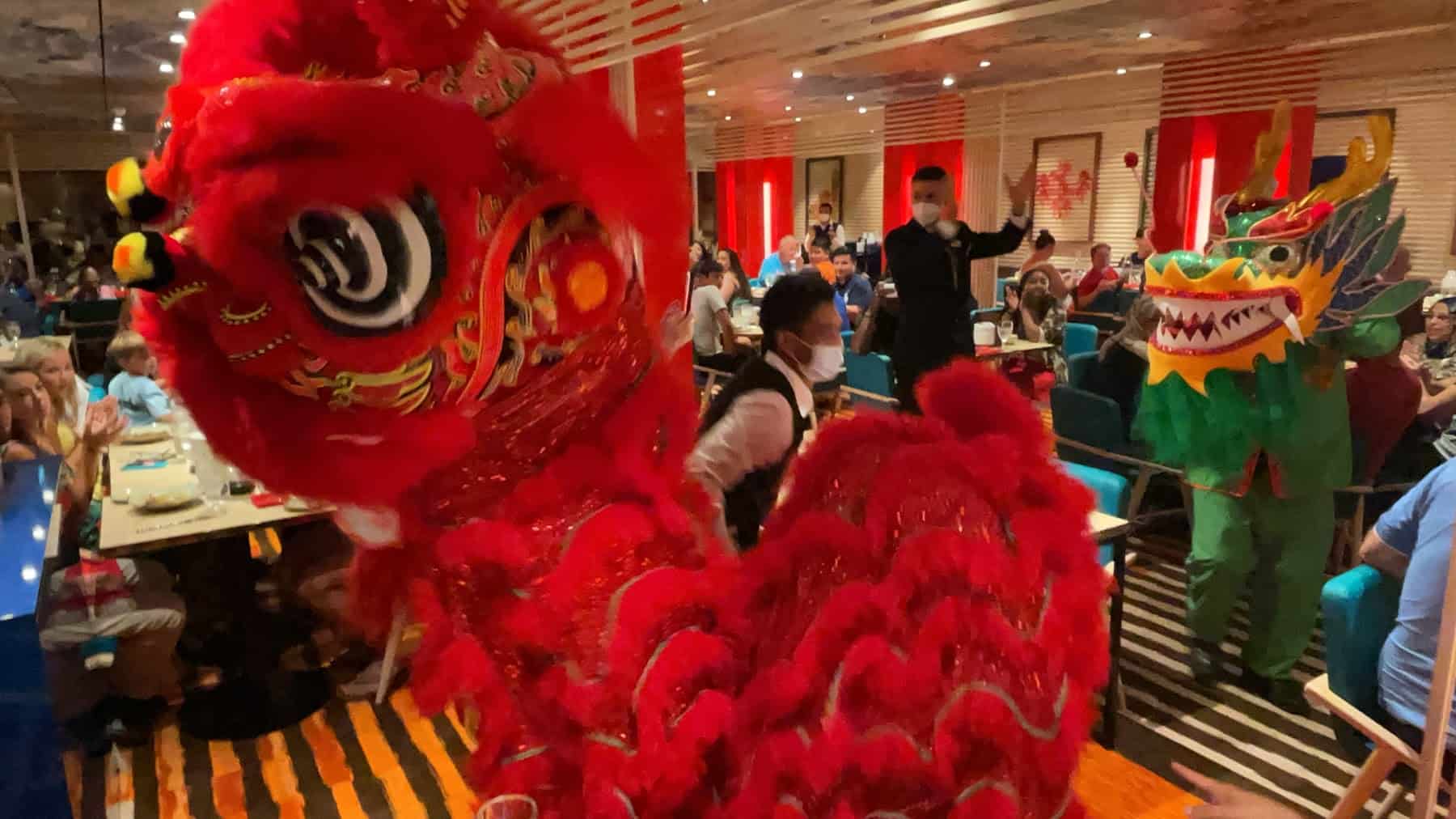 Chibang! is a great addition to the Carnival lineup (especially given that it's complimentary). The food was fresh and delicious, the setting bright and colorful… heck, at one point Chinese dragons even came through the dining room to put on a little show for us. I will say this, though: If you want a reservation, make it in advance. It's tough to snag a table otherwise, and that's when the ship is sailing at reduced capacity.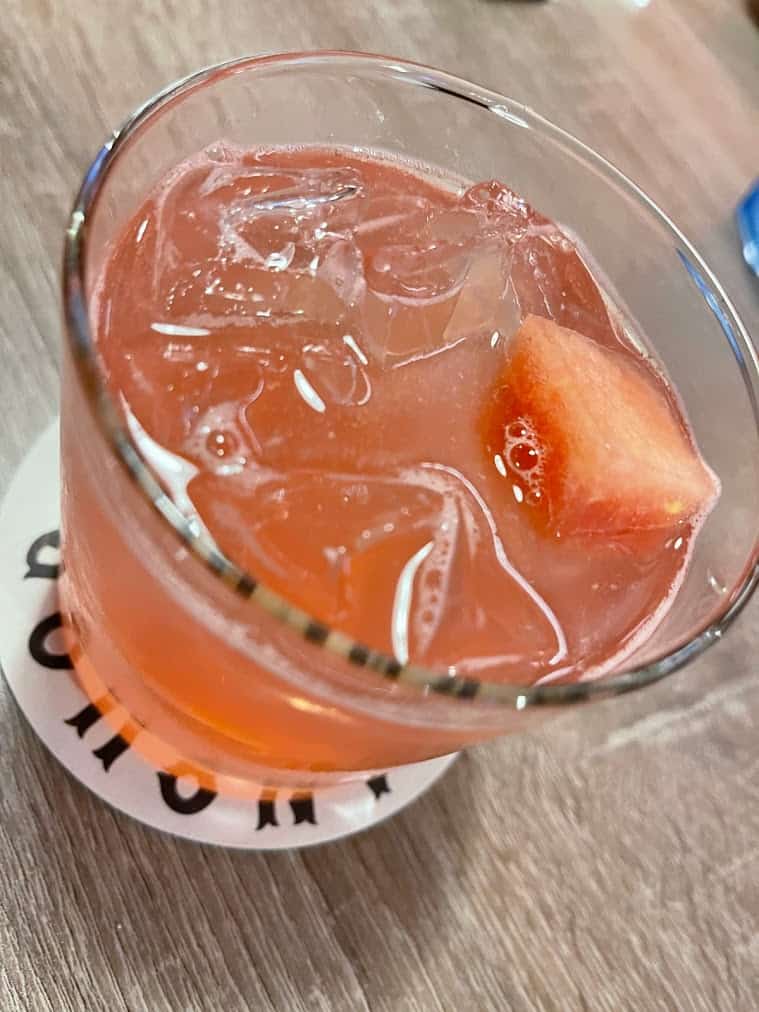 After dinner, we met some friends at the Pig & Anchor Smokehouse | Brewhouse to listen to the house band. I'd heard them earlier in the week and really liked their sound. I'm a big fan of live music. Before the world went nuts, I was attending concerts pretty much a couple of times a month.
Not that that makes me an expert on bands or anything, but I know what I like and I really like this group a lot. You wouldn't know that from the above picture, because apparently, I was more into taking a photo of my smoky watermelon margarita than the band, but hey, they were awesome.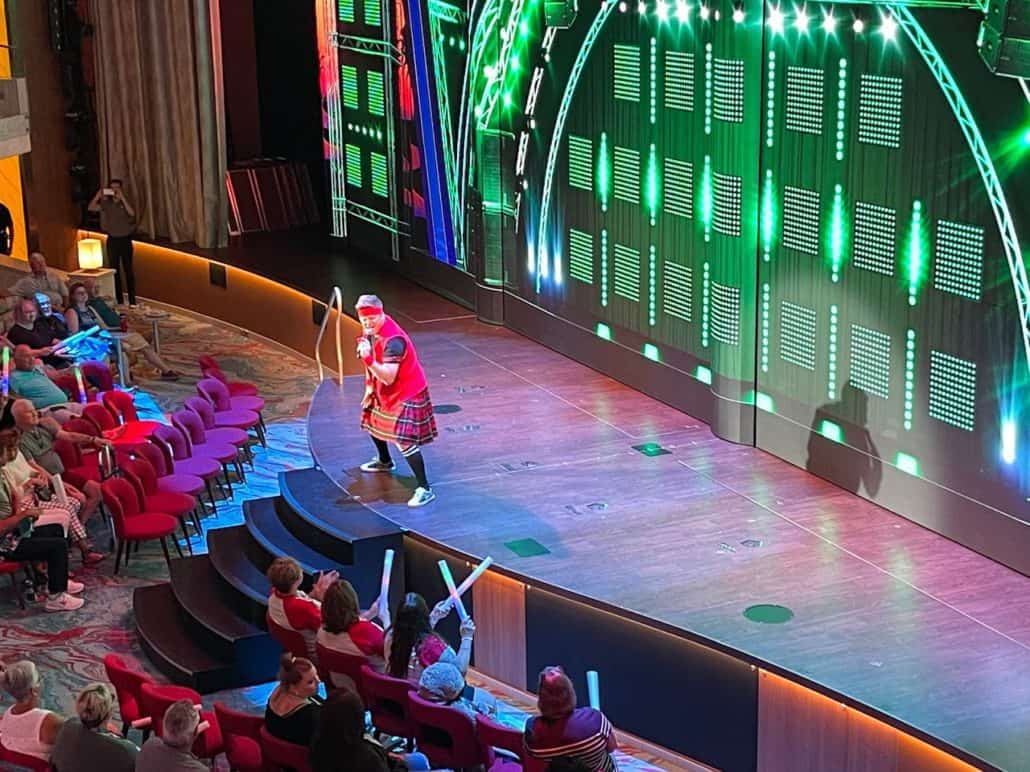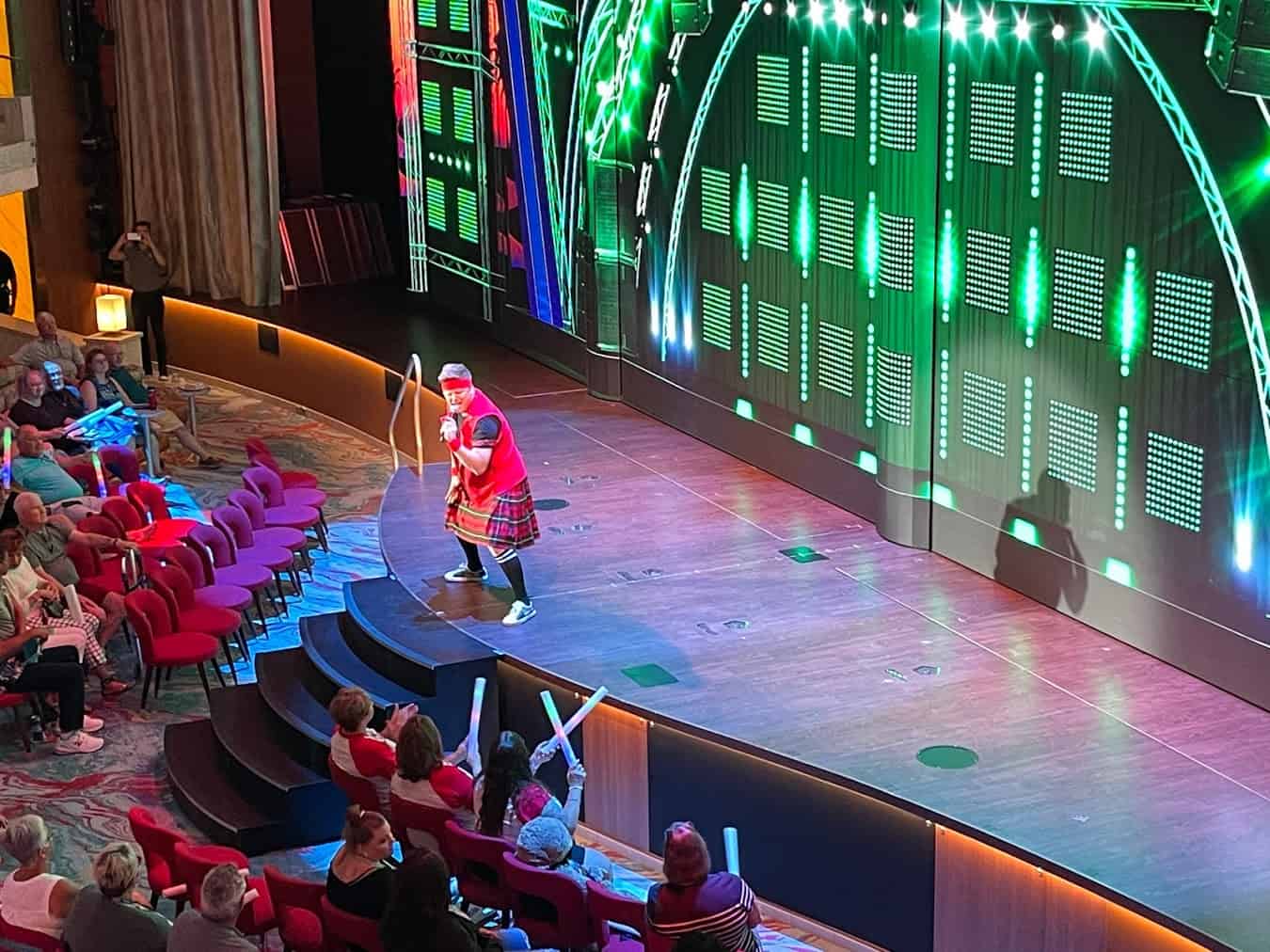 Tonight's comedian was Just June, a retired U.S. marine whose adult show was largely improvisational. She had a solid set, but again, a warning: If you want to get a decent seat, get there early. This has always been the case with the comedy shows on Carnival ships, and it's true on Mardi Gras as well.
We arrived just before the show started and it was standing room only. We found a spot back by the soundboard. There are poles in the Limelight Lounge that can block your sightline if you don't get a good seat but that's what we get for arriving so late.
The cruise director on this ship currently is Chris Williams, also known as The Flying Scotsman. If you've never sailed with him, let me just tell you the dude is a major talent. I'm not just talking about the way he can keep a crowd entertained or the fact that he seems to be at four events at once. I'm talking about the fact that he puts on a rock concert you have to see to believe. He does everything from Queen and Elvis to Led Zeppelin, all while taking you on the musical journey that has been his life and that brought him to this ship. He got numerous standing ovations during his show, and every single one of them was well deserved.
Tomorrow, we arrive at Amber Cove in the Dominican Republic. We're getting there pretty early, and I want to be up for it because the sail into this port is amazing. Why? Because the ship actually does a 180 and then backs in, a sight you don't see every day… especially when the ship in question is as big as Mardi Gras.
So until then…
Check out my other Mardi Gras trip reports: