Sources familiar with the situation tell Cruise Radio that the Carnival Fantasy has been sold and will soon be heading to her final resting place in Izmir, Turkey.
The ship was recently in Curaçao offloading heavy equipment and now has filed a voyage plan for Izmir, Turkey, home of one of the largest vessel scrapyards.
In a statement to Cruise Radio, Carnival said, "Our parent company, Carnival Corporation, said in its quarterly earnings call last Friday that the company was going to remove 13 ships across the corporate fleet. What ships, if any, from the Carnival Cruise Line fleet that may be involved in this capacity reduction have not been identified."
The statement went on to say that the company was not "in a position to confirm, deny or comment on speculation or rumor."
READ MORE: Former Royal Caribbean Ship Arrives Scrapyard 
Currently, Carnival's website has sailings listed as available on the Fantasy from this coming October through January 0f 2022.
However, it's worth noting that the same can be said for nearly every ship in the fleet, despite the fact that the company has repeatedly stated that when it returns to service, it will initially do so with a handful of ships.
During a recent webinar, Carnival Corporation's president and CEO, Arnold Donald, said that, "In the beginning, there will be fewer ships — by a lot — starting out than there were when we shut down."
About Carnival Fantasy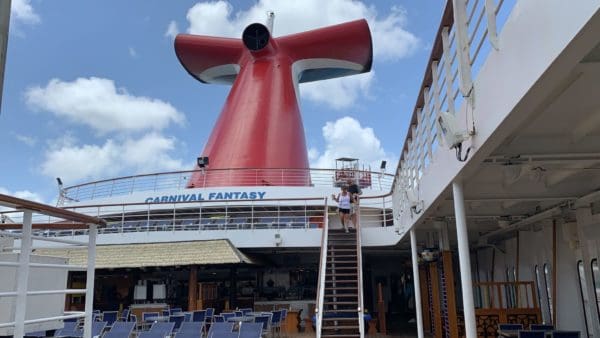 Launched in 1990, Carnival Fantasy has been the flagship for the Fantasy-class.
Earlier this year, Carnival announced that Fantasy would be leaving the Gulf Coast port of Mobile, Alabama, to be replaced by Carnival Fascination
Last September, Fantasy was involved in an incident while transiting the Panama Canal where the ship made contact with the walls, causing exterior cosmetic damage.
Even before the pandemic, Carnival Corporation was trying to phase out its older ship. While it is possible to extend the life of a ship, and newer ships are built with life expediencies of up to 40 years, Carnival Corporation, like any other company, always has its eye on the bottom line.
READ MORE: Carnival Corporation Confirms Six Cruise Ships Sold
While discussing how decisions are made regarding a ship's future during a prior earnings call, Donald summed things up thusly: "We'll continue with the ship in the fleet if it's relevant to the guests [and it is continuing to be profitable], and if it's not, then the ship will be gone." 
This will be the third Carnival Corporation ship sold within the past month as the cruise line weathers uncertainty ahead.
In late June, Costa Cruises announced the sale of Costa Victoria, followed by the sale of P&Os Oceana in early July.