Not everyone can say the Carnival Cruise Line Airship attended their wedding. In fact, only one couple on the planet can make that claim! And although Amanda and Jason Gerken will be delaying their honeymoon a bit, when the time comes, it'll be a family affair held on the line's newest cruise ship!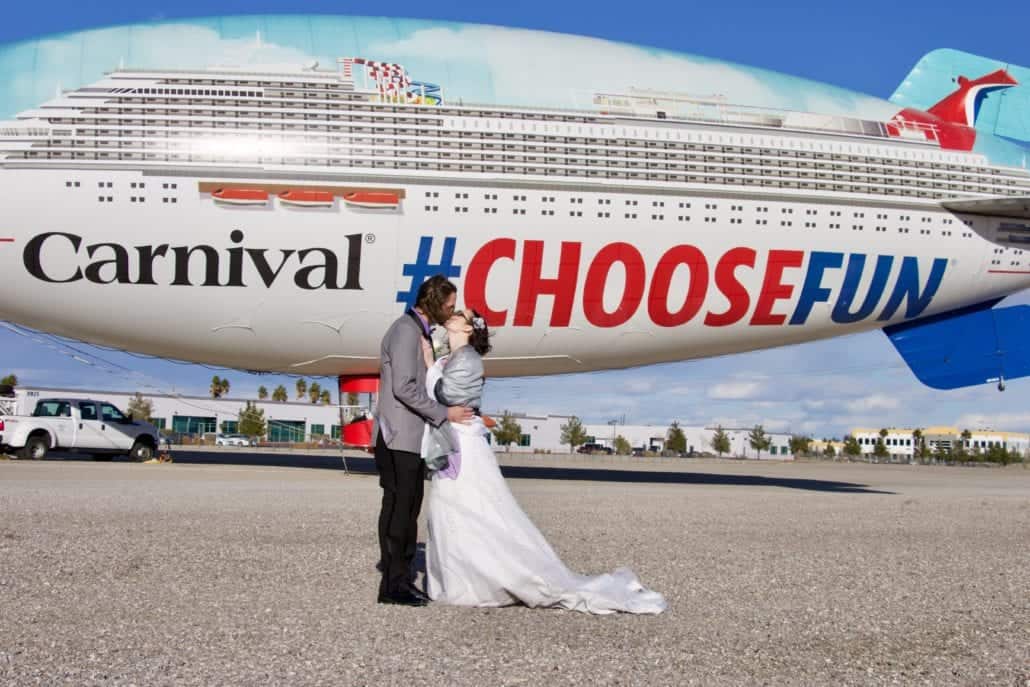 What Happens In Vegas…
The wedding, held earlier this week, was a one-of-a-kind event… and not only because it had Carnival's blimp serving as a backdrop! With close friends and family in attendance, the couple was joined in holy matrimony by none other than Henry Sneed of Las Vegas' Lucky Little Wedding Chapel. And, in keeping with the unwritten bylaws governing all Las Vegas weddings, Elvis (or at least one of his impersonators) swung by to sing "Can't Help Falling In Love" as Amanda, her father, and her son walked down the aisle.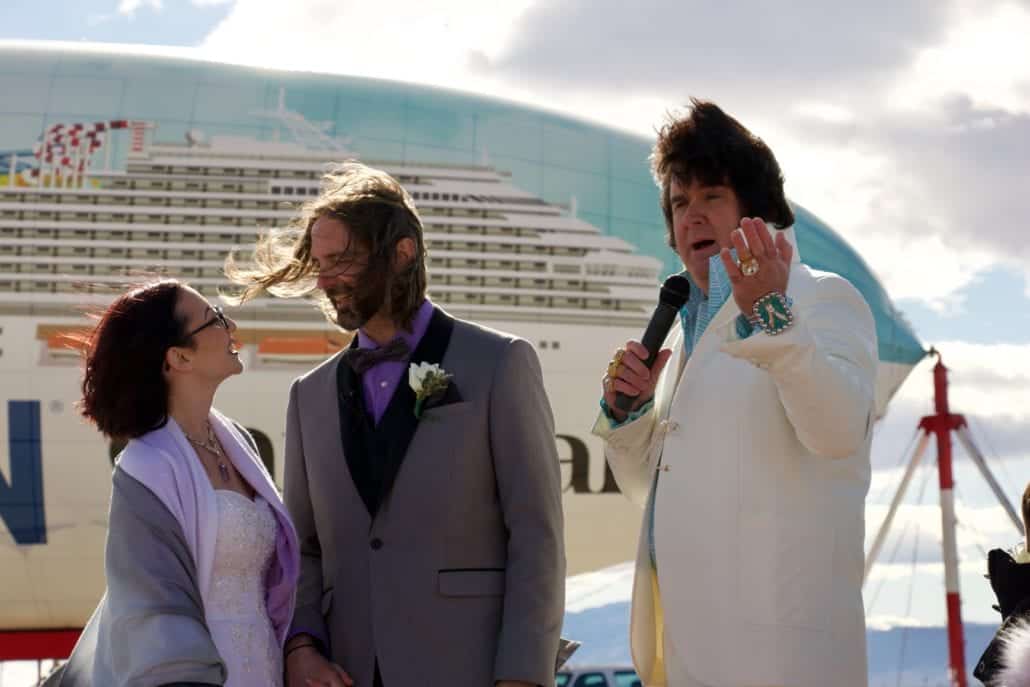 READ MORE: Planning A Wedding On A Carnival Cruise Ship
The bride is a bartender originally from Allen Park, Michigan, while her groom, Jason, is a stay-at-home dad and karaoke host at Karate Karaoke. Appropriately enough, the pair met during a karaoke night and have been crooning love songs only to each other ever since. They live with their three children in Las Vegas.
Once the vows had been exchanged, Elvis sang another tune — "Viva Las Vegas" — as the newlyweds shared their first kiss as man and wife. While the original plan was for the couple to celebrate with a flight in the airship, the windy weather wouldn't cooperate. (The actual ceremony couldn't take place on the blimp because there wouldn't have been enough space for the couple, the officiant, and their guests!)
A High-Seas Honeymoon
Proving that all good things come to those who wait, the couple will celebrate their honeymoon by cruising with their family on the Carnival Panorama. But of course, since that ship won't be debuting until this fall, that trip will have to be postponed a bit.
READ MORE: Bookings Now Open For Carnival Panorama
"We always dreamed of having a memorable wedding," said Amanda, "but this day was far beyond what we could have imagined! Getting a free cruise for our entire family on what will be the new Carnival Panorama and having our loved ones by our sides has made this one of the best days of our lives!"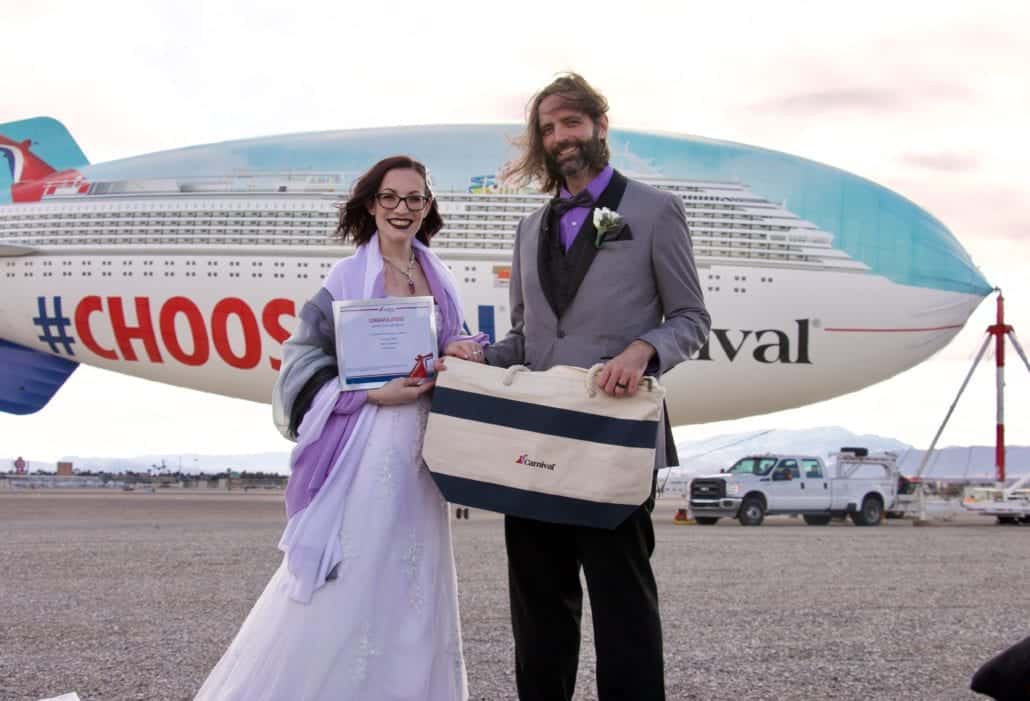 As for the Carnival airship, she will spend the rest of the week hanging out in the Las Vegas area before heading for Phoenix, Arizona on Saturday. The blimp is expected to be in the Phoenix area from Wednesday, Feb. 13th until Sunday, Feb. 17th. As part of the ship's ongoing West Coast tour — designed to help promote Panorama arriving in Long Beach, California, in December — folks who snap a picture of the blimp and post it to social media with the hashtag #ChooseFun will be entered in a contest to win one of five free cruises. Plus, just by posting your pics (properly hashtagged, of course), you'll receive a bit of good karma since Carnival will make a $2 donation to St. Jude Children's Research Hospital.
From all of us here at Cruise Radio, congratulations to Amanda and Jason… and happy sailing!