Just days after Carnival Fantasy was reportedly sold, sister ship Carnival Inspiration appears to be following in her older sister ship's footsteps.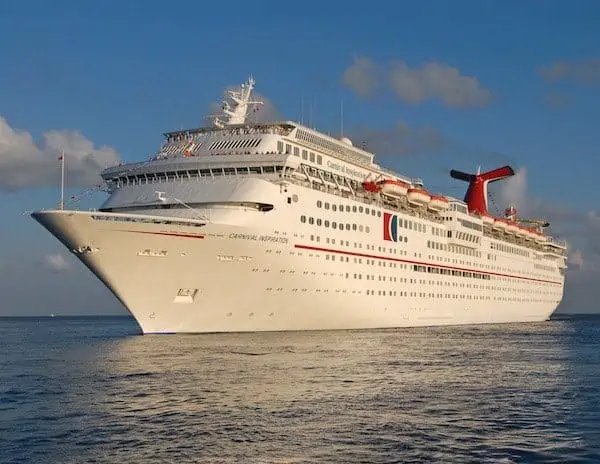 Both vessels were previously in Curacao for the past week "offloading heavy equipment" before filing voyage plans for Izmir, Turkey.
The voyages plan for Inspiration was filed on Friday afternoon with an August 1 arrival in Turkey.
Carnival Inspiration was listed for sale on the vessel broker website YachtWorld up until late last month.
Aliaga (located just north of Izmir) is on Turkey's Aegean coast and is home to one of the world's largest breaker yards.
In a statement to Cruise Radio, Carnival said, "Our parent company, Carnival Corporation, said in its quarterly earnings call last Friday that the company was going to remove 13 ships across the corporate fleet. What ships, if any, from the Carnival Cruise Line fleet that may be involved in this capacity reduction have not been identified."
READ MORE: Carnival Corp. Can Go A Full Year Without Cruises
The statement went on to say that the company was not "in a position to confirm, deny or comment on speculation or rumor." This echoes precisely their statement to requests for comments regarding the Carnival Fantasy earlier this week.
Last Friday, a filing with the Securities and Exchange Commission from Carnival Corporation showed that the cruise company has sold 13 cruise ships, which reduces its fleet size by nine percent.
For months, the company has said that when cruise operations resume, it will likely be done with a handful of ships operating limited itineraries with a reduced number of passengers onboard.
Launched in 1996, Carnival Inspiration was the sixth Fantasy-class ship out of eight.
Prior to the cruise industry shutdown, the 70,367-ton Inspiration was sailing cruises to the Mexican Riviera out of Long Beach, California.
In related news, former Royal Caribbean ship, Monarch of the Seas, is currently anchored off the coast of Aliaga waiting to be scrapped.