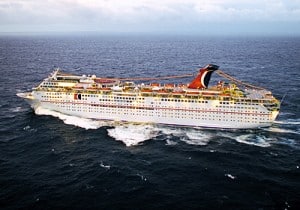 Pulling out of Tampa a couple weeks ago for the last time, Carnival Inspiration is now at her new home-port in Long Beach, California.
The 2,052-passenger Carnival Inspiration will offer guest three and four night cruises to Ensenada and Catalina Island.
Carnival Inspiration underwent Carnival's "Evolutions of Fun" upgrade in 2007 which included an aqua park equipped with a 82′ water slide, adults-only serenity area, and mini-golf course.
Previously Carnival Paradise was based in Long Beach but has since repositioned to Tampa, Florida (basically Carnival did an equipment swap).
Carnival Inspiration joins Carnival Splendor in Long Beach who's currently sailing 7-night Mexican Riviera voyages.
Source: Carnival