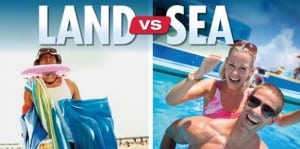 On Monday, Carnival Cruise Lines launched a new advertising campaign blending national television, billboards, and online media. The campaign reinforces that everyone deserves a memorable cruise vacation at a great price.
"The value of a Carnival cruise is clearest when juxtaposed against a land-based vacation and to get our message out in a big way, we used humor and identifiable moments to reach out to the 80 percent of the population who has never taken a cruise," said Jim Berra, Carnival's senior vice president and chief marketing officer.  "We believe that everyone has the right to an exceptional vacation at a great value, and this campaign will remind Americans that they don't need to compromise, or break their budgets, in their pursuit of fun," he added.
Earlier this year Norwegian Cruise Line and Royal Caribbean launched new advertising campaigns.
You can see one of the first commercials here:

Source: Doug Parker/Cruise Radio