Over the next five days, we are going to highlight our cruise on Carnival Liberty from Port Canaveral. Today we highlight our embarkation and interesting sail away from the Space Coast. 
You've heard of the proverbial "offer you can't refuse," right? Well, when I saw that I could jump on a four-night sailing of the Carnival Liberty for $10 a day — before taxes and gratuities — I had to jump on it.
It's been quite a while since I've done a short Carnival cruise, and with the total price after taxes, gratuities, and fees coming to around $200 total, this was perfect. 
(Note: I call this price a once-in-a-lifetime deal, I have not seen it since.)
Carnival Liberty Cruise Itinerary 
Day 1: Port Carnival
Day 2: Fun Day at Sea
Day 3: Nassau, Bahamas
Day 4: Bimini, Bahamas
Day 5: Port Canaveral
Pre-Cruise Testing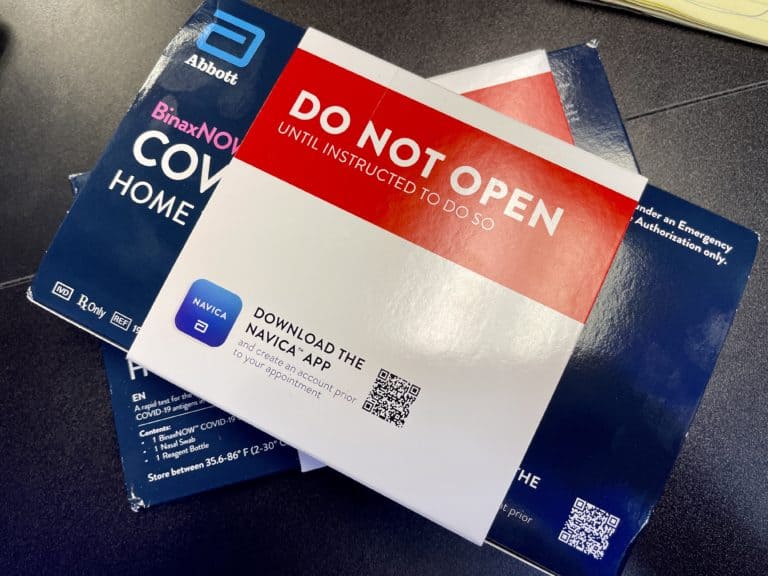 For the past 12 sailings I've done since cruising resumed, I've done the at-home BinaxNOW testing, which is both convenient and super easy.
But because I booked this sailing at the last minute, I didn't have time to order a test. (If you're even thinking about doing last-minute sailings, it's worth keeping a few on hand!)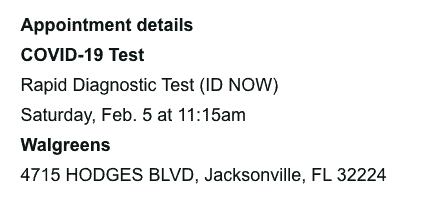 This was the first sailing for which Carnival was rolling out $10 testing right there at the pier, so I could have gone that route. Unfortunately, I didn't notice that this was available until I was already checking in for the cruise. I wound up going with an ID Now rapid test from Walgreens. They guarantee results in 24 hours, although in reality, it only took 45 minutes. 
There's been some confusion around whether or not this type of test is acceptable because you mostly hear about PCR and antigen tests. But yes, a NAAT molecular test is also acceptable, as outlined on Carnival's website.
Parking Port Canaveral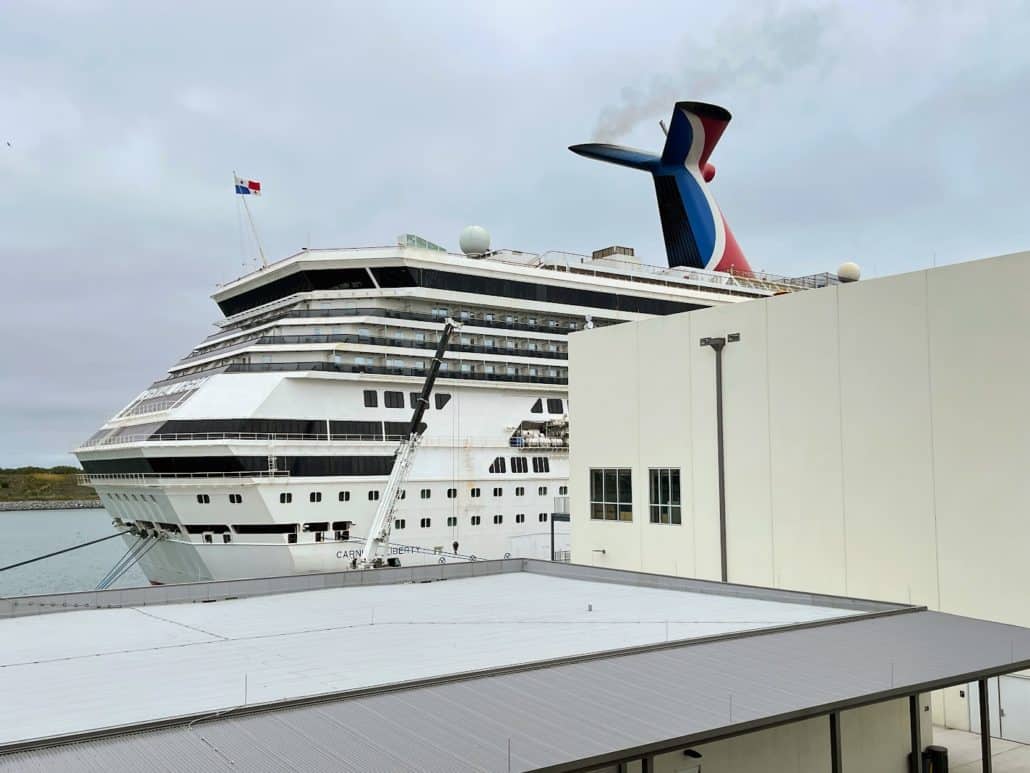 With my test result, boarding pass, and luggage in hand, I headed down to Port Canaveral. Carnival Liberty was docked at Terminal 3, the new pier that was built for Carnival's newest ship, Mardi Gras. Parking fee-wise, I paid $85 dollars (or $17 per day). 
The port's parking garage charges on a calendar-day schedule, not by the night. For instance, because our cruise was Monday through Friday, we had to pay $17 per day x 5 days. 
If you're looking to save some of your hard-earned cash as opposed to forking it over to the Canaveral Port Authority, there are plenty of offsite park-and-cruise lots that will charge half as much and include transportation to and from the ship.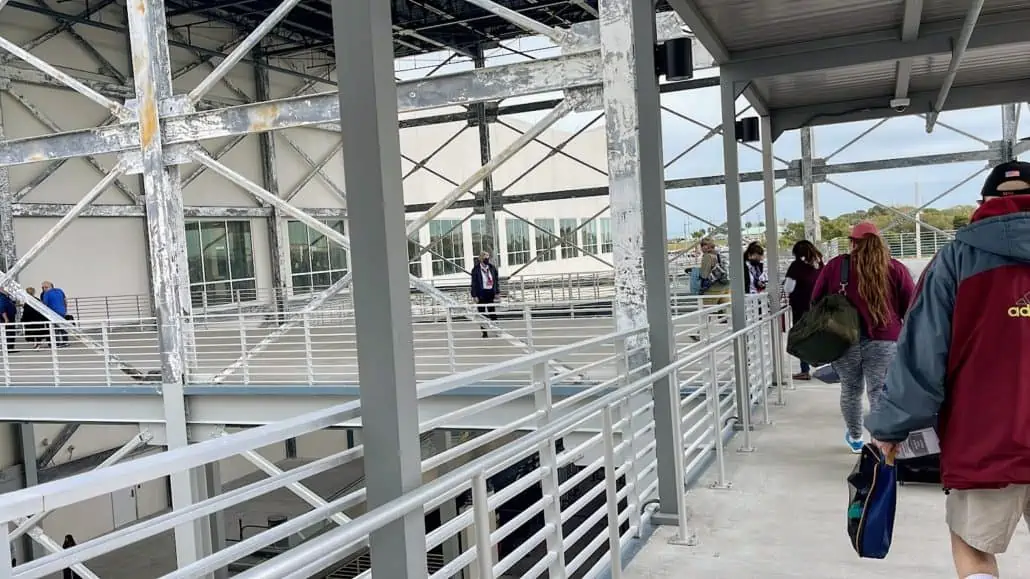 I parked on level three of the garage, which is where you'll find the walkway from the parking garage to the pier. Two different members of the embarkation team checked my paperwork to make sure I was good to go and then it was off to check-in.
Since my boarding pass was already printed out, all the check-in representative had to do was verify my test result and scan my boarding pass; everything else was done online.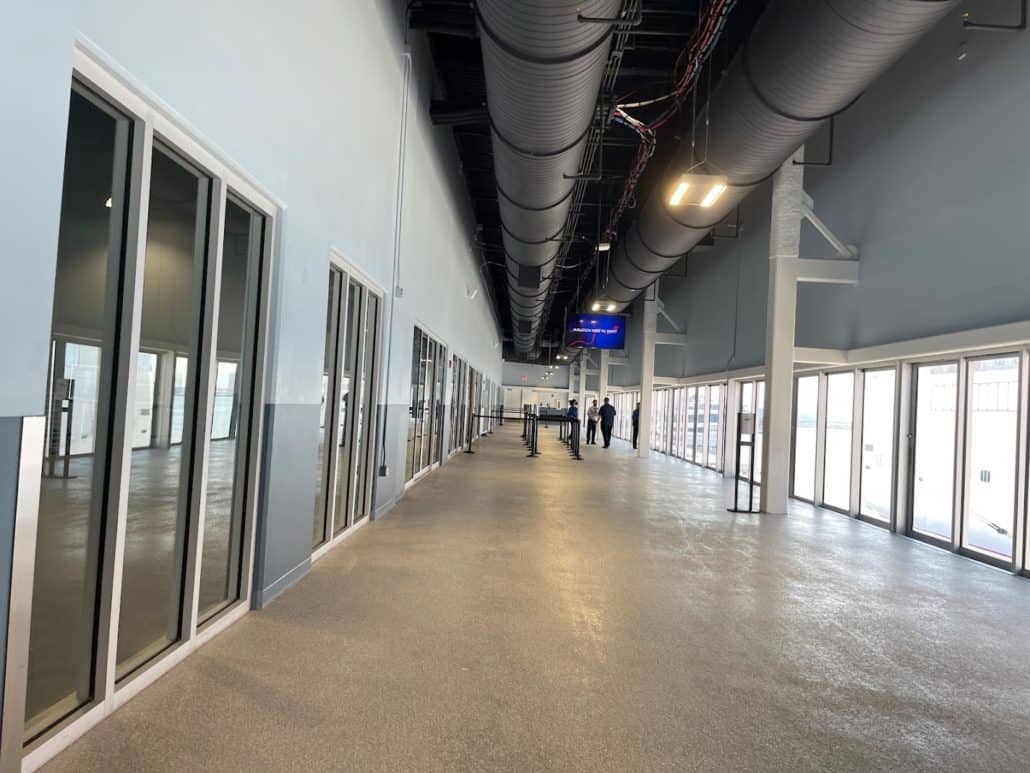 The time it took to get from walking into the terminal to the ship was less than 10 minutes. Trust me, as long as you have all your paperwork in hand, the embarkation process is flawless.
According to the embarkation employee holding the manifest, there were 2,500 guests on this sailing, which put us at about 84 percent of the ship's 2,974 capacity.
First Impressions of Carnival Liberty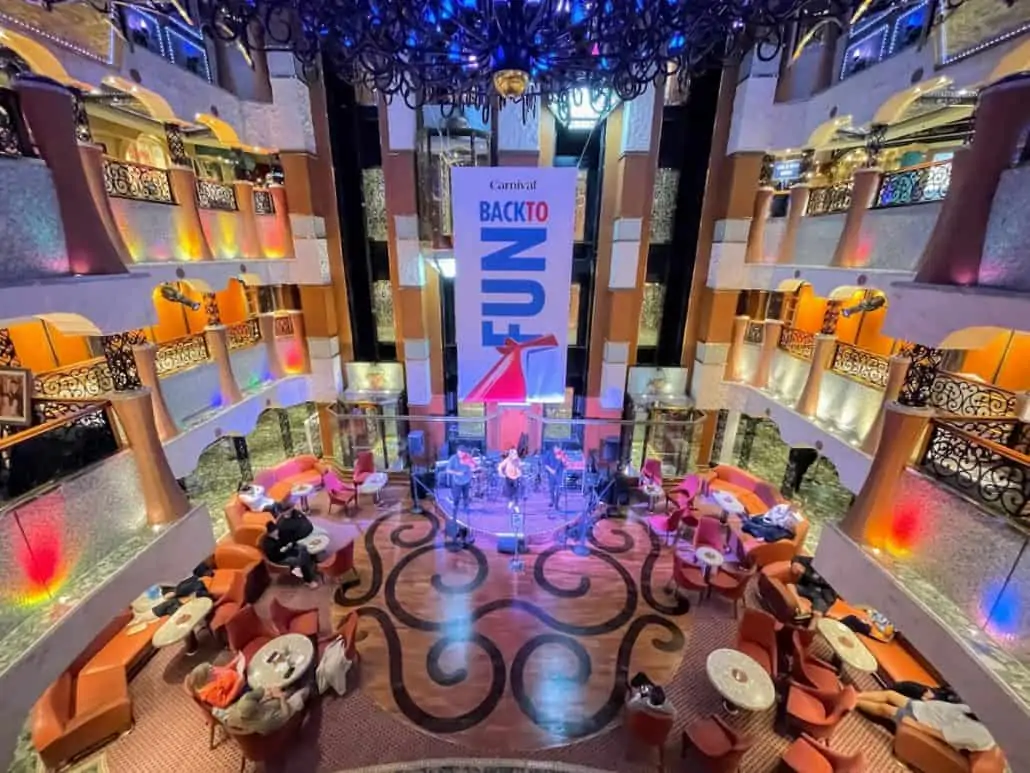 Stepping onboard Carnival Liberty was like coming home for me. The first time I sailed the ship was back in December of 2011, after it received its Fun Ship 2.0 makeover. This was the first vessel in the fleet to get the makeover, which saw the addition of Guy's Burger Joint, BlueIguana Tequila Bar, Alchemy Bar, and other enhancements.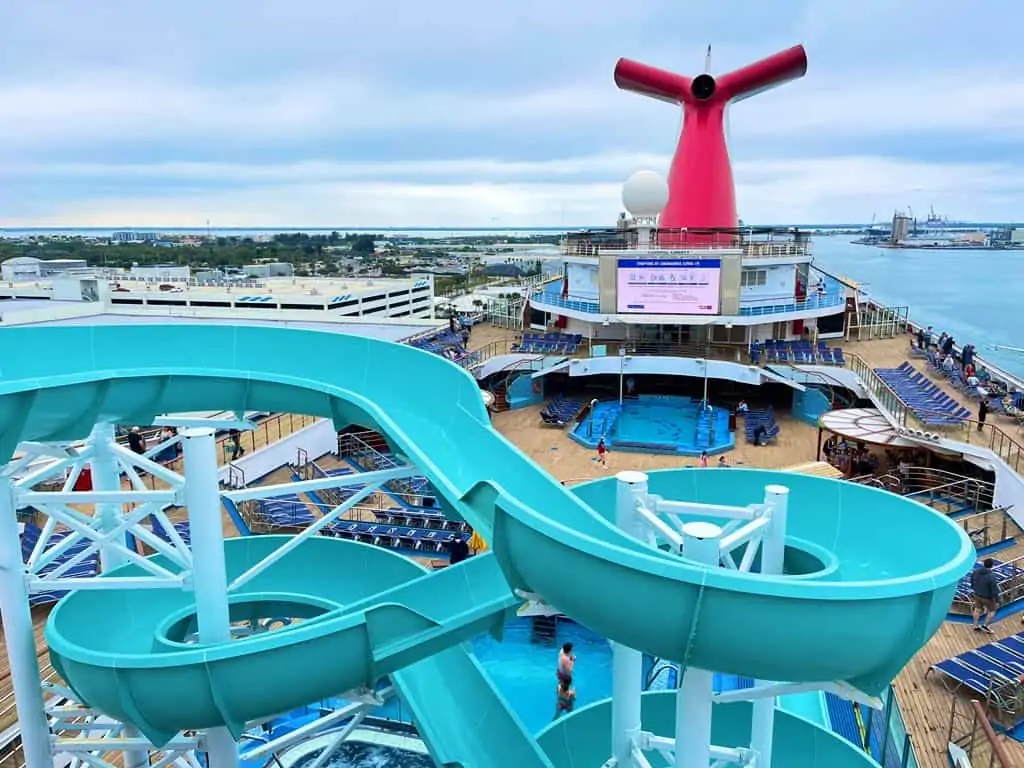 I've sailed on Liberty a few times since then, so I knew my way around the ship, including the layout quirk on deck three which, because of the placement of the dining room kitchen, you have to go up or down a deck if you want to walk from the front to the back of the ship.
The last time I cruised Liberty was in March 2017 when Tim McGraw performed onboard for a Carnival LIVE show, so it was nice to be back on board. It was sort of like going back in time, given that the ship looked pretty much the same, with the exception of everyone wearing masks and the signs encouraging guests to follow the current protocols. 
Carnival Liberty Inside Cabin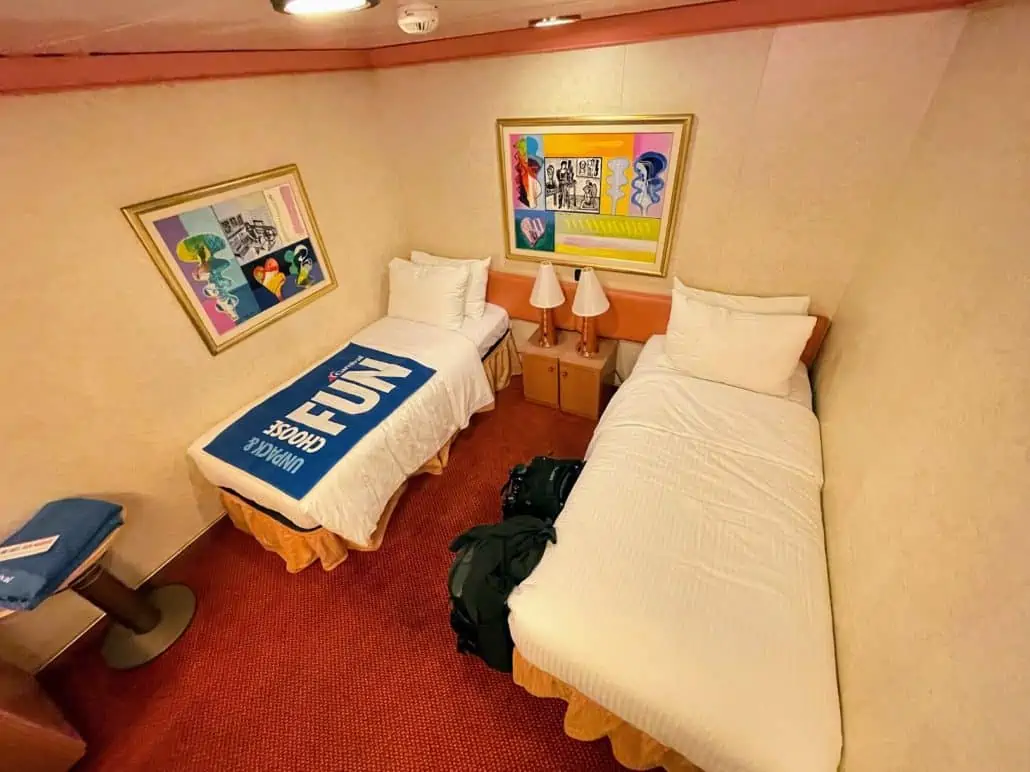 If you're wondering what a $10 per-night cruise fare will get you, it's an inside cabin on deck two (room 2402). While I do love a balcony cabin because of my space issues, the inside worked fine for this particular trip because of my work schedule.
At home, I'm typically up and in my studio pretty early, so being able to sleep in a room with no windows and cold AC was very much welcomed as I got up early on this trip as well.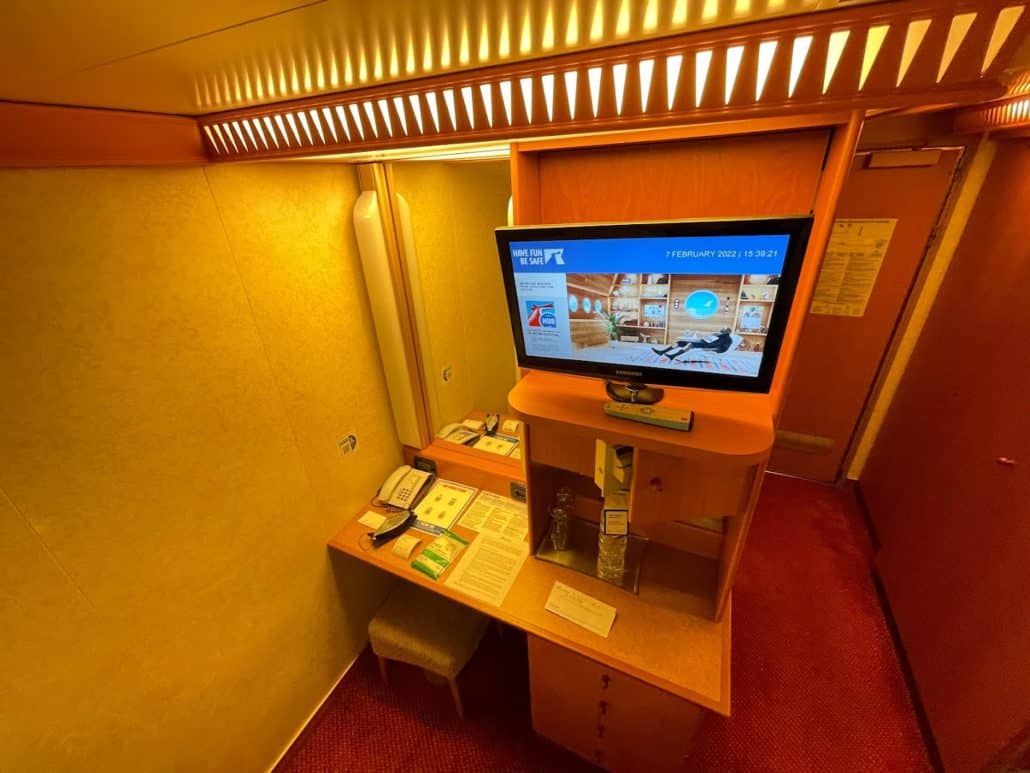 My cabin was a standard inside room with two twin beds, three closets, a small fridge, vanity area, typical bathroom, and one outlet. If you get creative, you can use the razor outlet in the bathroom if you need a second one, just make sure you keep the bathroom light on or the outlet itself will turn off. 
Because this ship hasn't had any major renovations since Fun Ship 2.0 back in 2011, there are no USB outlets in the room. That's probably not terribly convenient for the average cruiser, let alone someone who travels with all of the equipment I use to put together the show.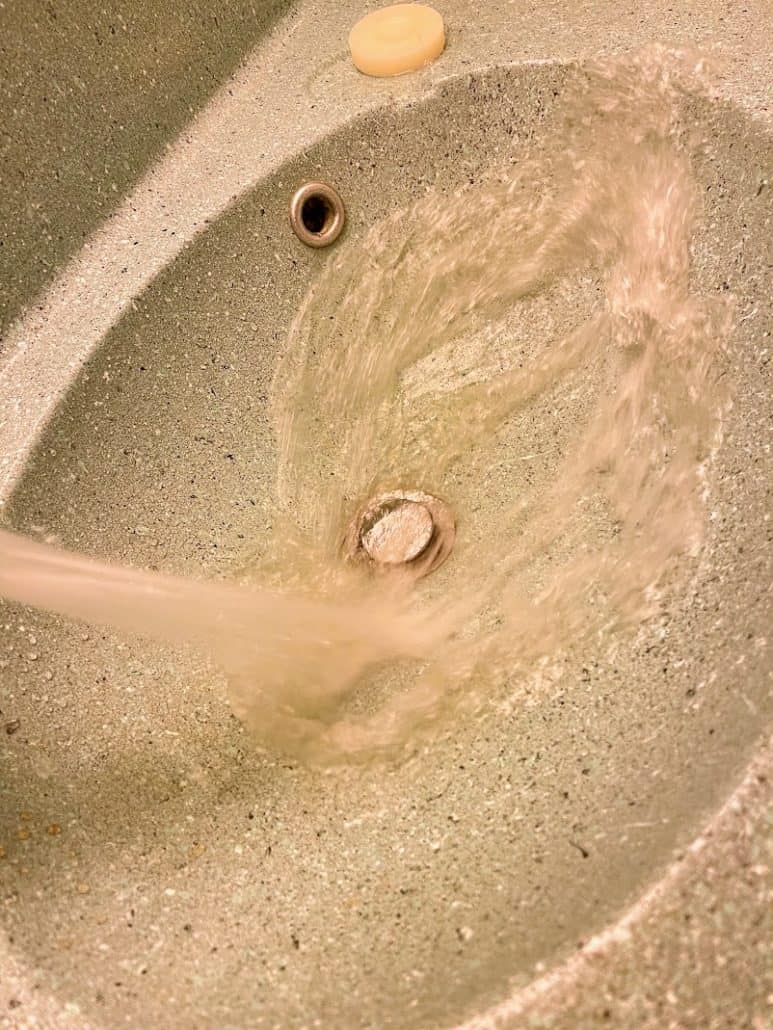 One weird thing: When we turned on the faucet, brown water poured out for about 20 seconds. It slowly cleared again, and we never really figured out what might have caused it. Maybe we were the first guests to stay in the room since the ship returned to service, or maybe there were rusty pipes. Whatever the case, it only lasted a few seconds and never happened again. 
After unpacking, we stored the luggage and our carry-ons underneath the bed. That's something I've always loved about most staterooms I've encountered on cruise ships — the ability to put the luggage in a place that's both convenient and out of the way, unlike most hotel rooms.
New Muster Drill is a Winner!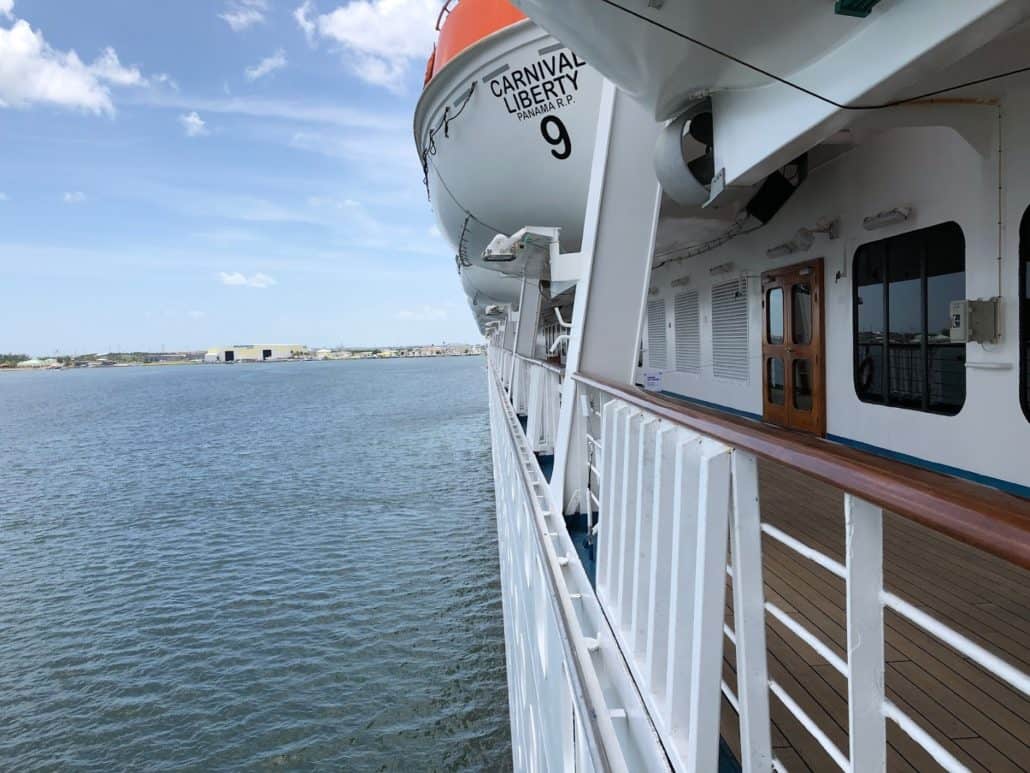 Our muster station was located outside on deck four and, as has been the case ever since the process was changed, it couldn't have been easier. We checked in with the attendant who walked us through the process and then asked our room number.
Recently, Carnival's Brand Ambassador, John Heald, asked his Facebook followers if they hope to see the new muster drill process remain in place once things go back to normal. Not surprisingly, the response was an overwhelming "Yes!"
Lunch on Carnival Liberty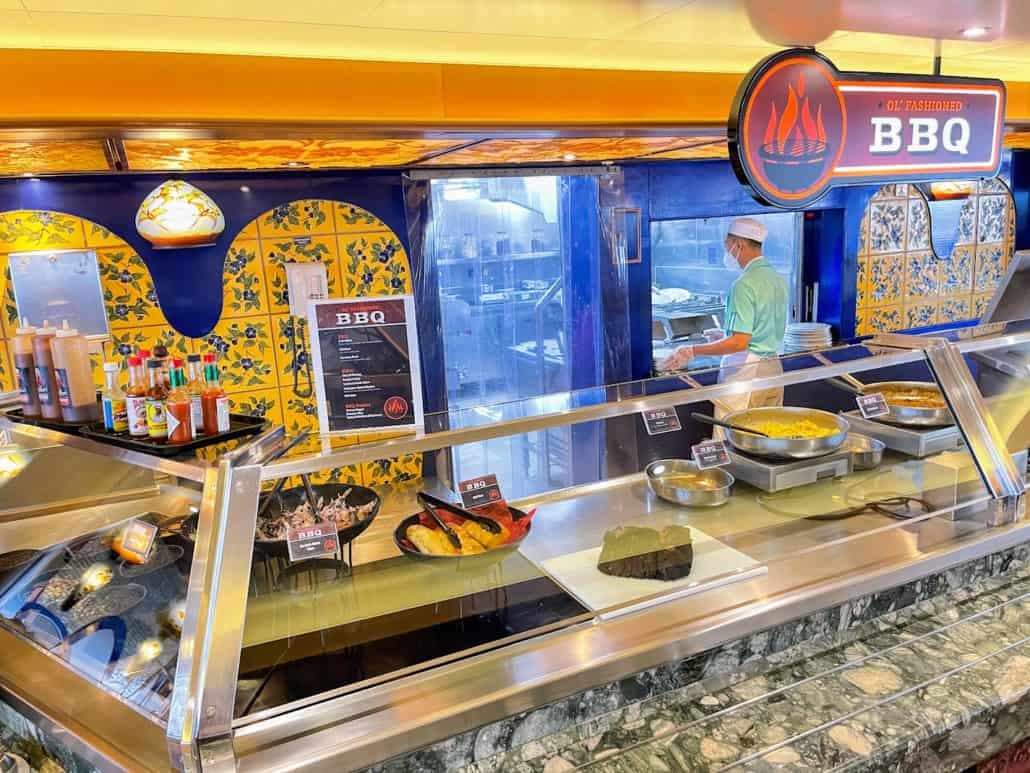 Remember I mentioned earlier that this was the ship on which Carnival first introduced Guy's Burger Joint? Well, on the maiden voyage — and I'm not proud of this — I ate nine burgers over the course of the week.
Fast forward to 2022, and even the thought of eating more than one burger a day will destroy my digestive tract. Guy's Burger Joint is definitely on the docket for this cruise, but it wasn't on the schedule for day one.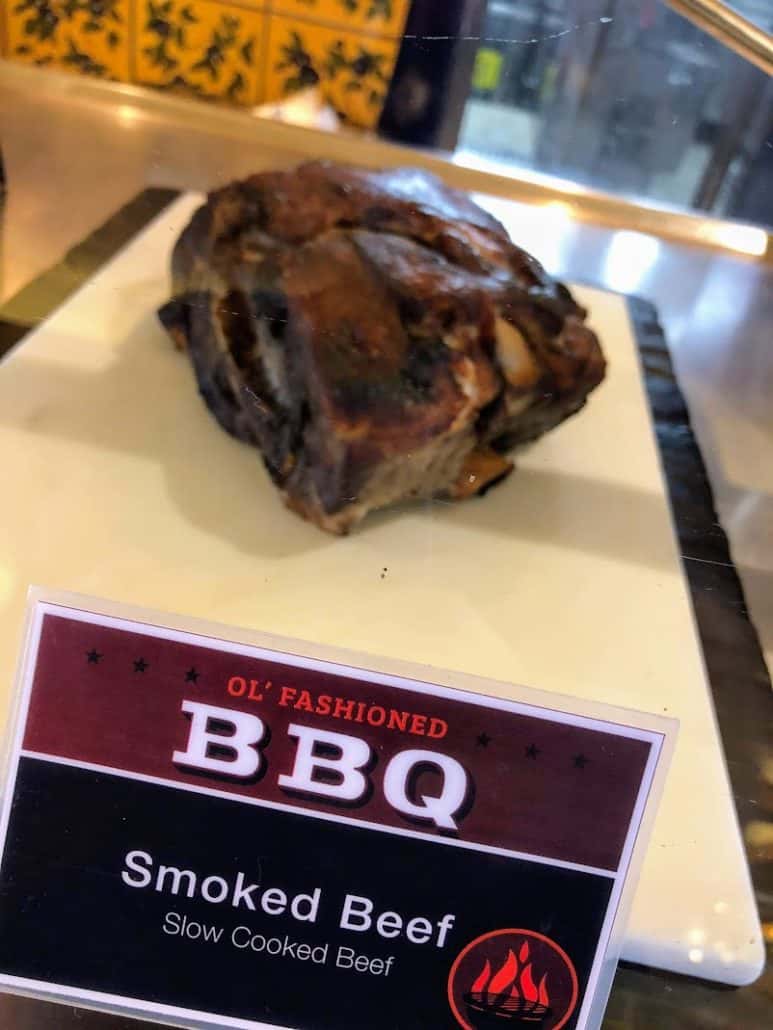 I tried to take a semi-healthy approach with a giant fresh salad from the lido, but since I was still hungry, I went up to deck 10 and grabbed a plate of Ol' Fashioned BBQ as well. I went with chicken and beef with a side of mac and cheese. This is the same type of BBQ that is found at Guy's Smokehouse on the other Carnival ships, just without the branding. They do have Guy Fieri's sauces at the condiment bar, though.
RELATED: Guy's Burger Joint [MENU]
After lunch, we went up to Diamonds Steakhouse to confirm our reservation for night three. I like to get to know the dining team and always prefer to eat in the main dining room both the first night and last night. That leaves one of the nights in between for specialty dining. (A lot of people choose to eat in a specialty restaurant the first night in order to get the free bottle of wine offered for those who do.)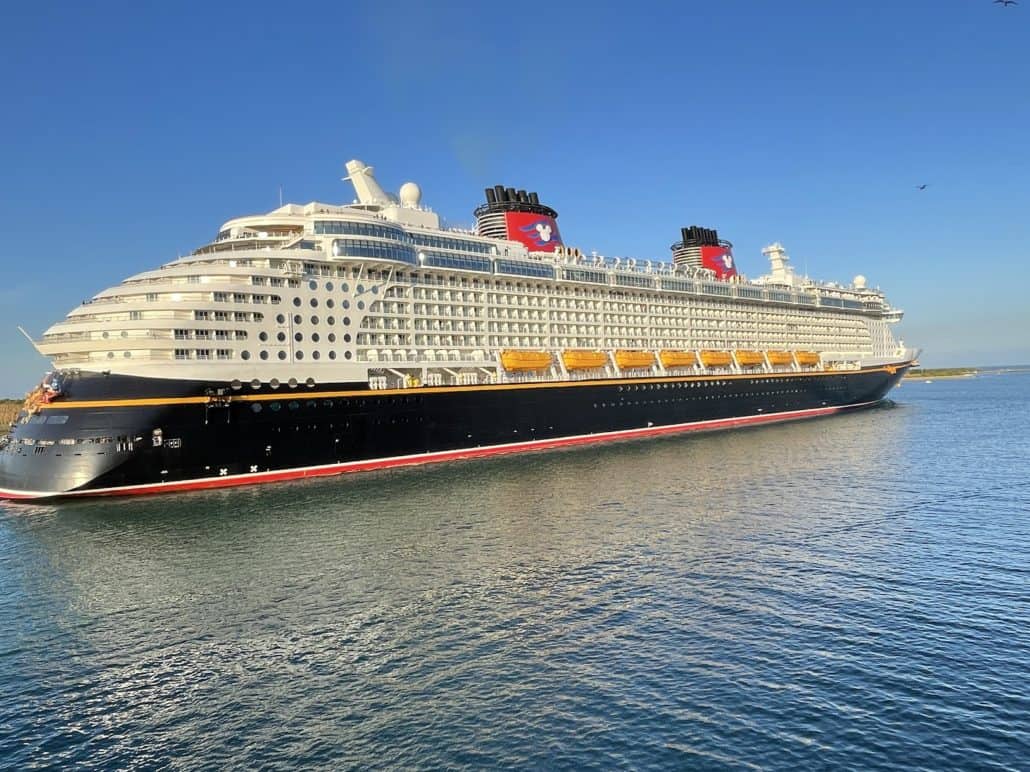 While we were exploring, Disney Cruise Line's Disney Dream passed us for its four-night cruise.
Exploring Carnival Liberty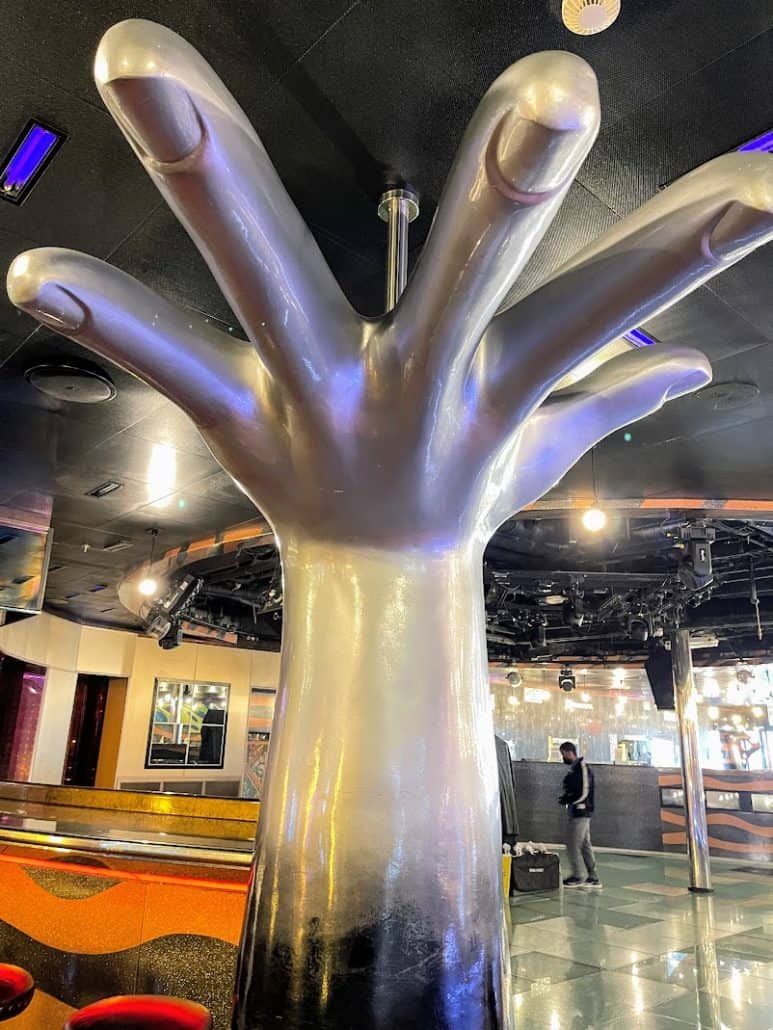 After lunch, it was off to explore the ship and see how different venues had fared after being laid up for so long without guests. The ship is very ornate, featuring a lot of iron rods and dark lights. It has this really cool but at the same time slightly eerie feel to it. 
Liberty is one of the ships designed by Joe Farcus and, like the other older ships on which he was involved, the style is distinctly different than what you'll find on more modern ships in the fleet. The public areas are almost eccentric, with bright lights and unusual statuary, as opposed to newer ships which tend to have a quieter, less extreme look.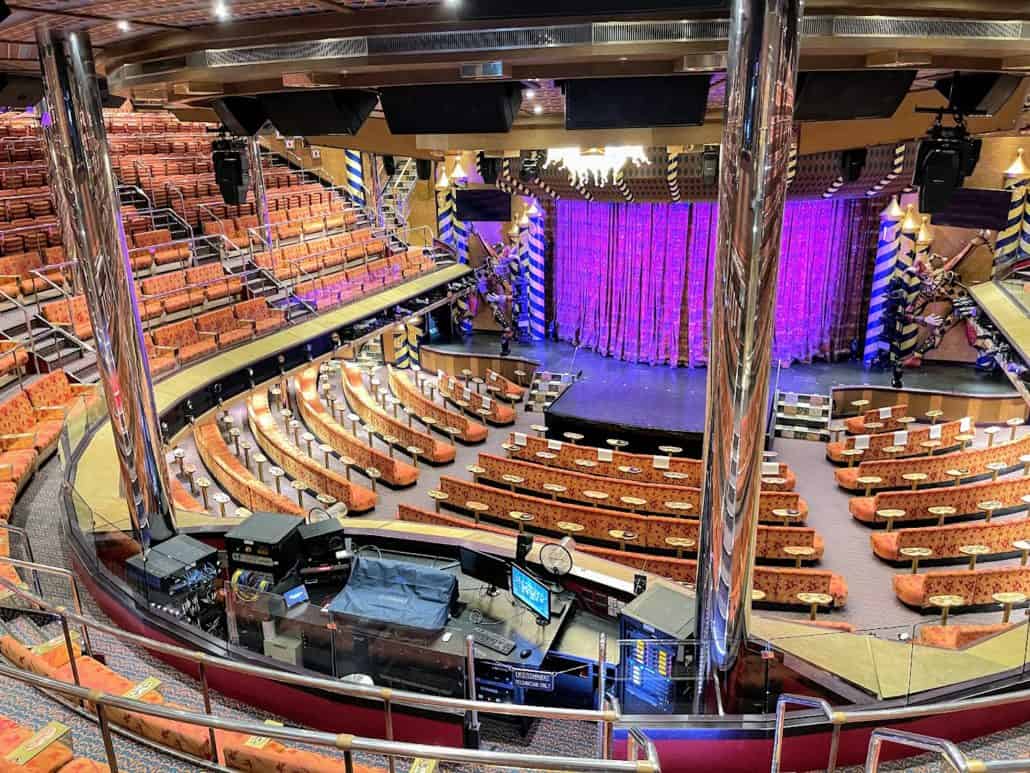 We wandered through the Serenity area and past the aft pool deck, then wandered up to the mini-golf course. The ship seemed to be in good shape and ready to show us a great time. 
A few things we noticed right off the bat: On this sailing, smoking was forbidden in the casino. That meant if a guest wanted to smoke, they needed to do so outside (no matter the weather). Only a few days later, Carnival announced that smoking would once again be allowed in the casino as of February 14th for all sailings.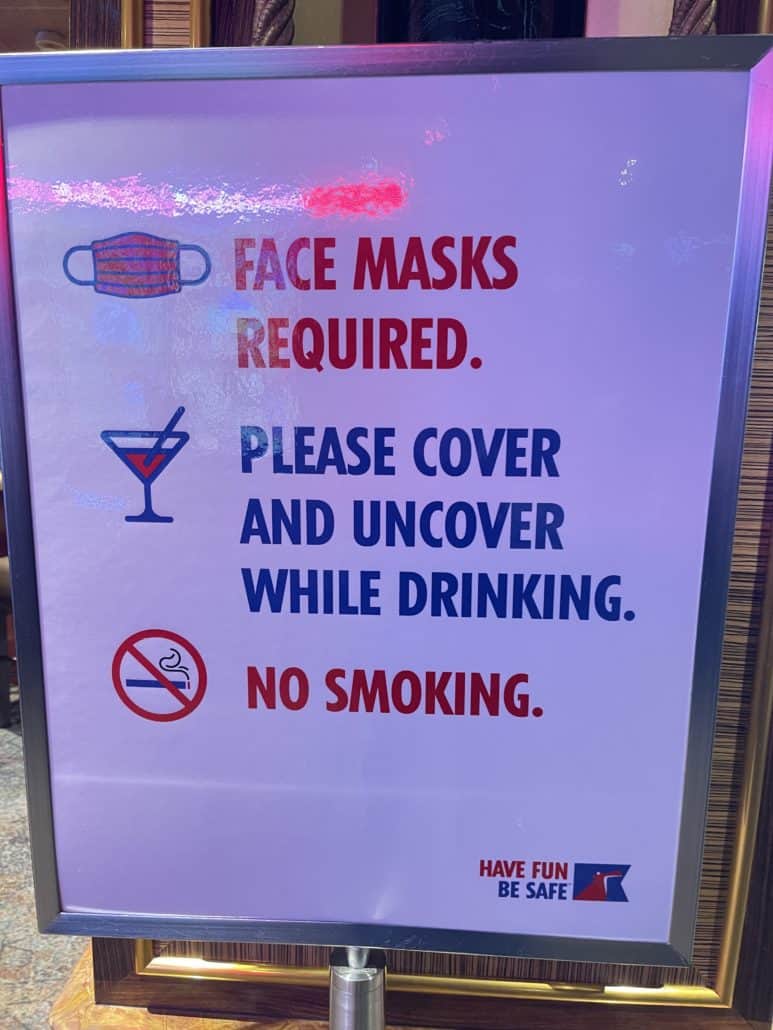 Also, there were many signs reminding people where masks were required and urging them to wash their hands. But the handwashing station at the entrance to the Lido was out of service and, judging by various photos posted in Facebook groups, has been for a while. You'd think getting that fixed would be a major priority under the current circumstances.
A Quick Fix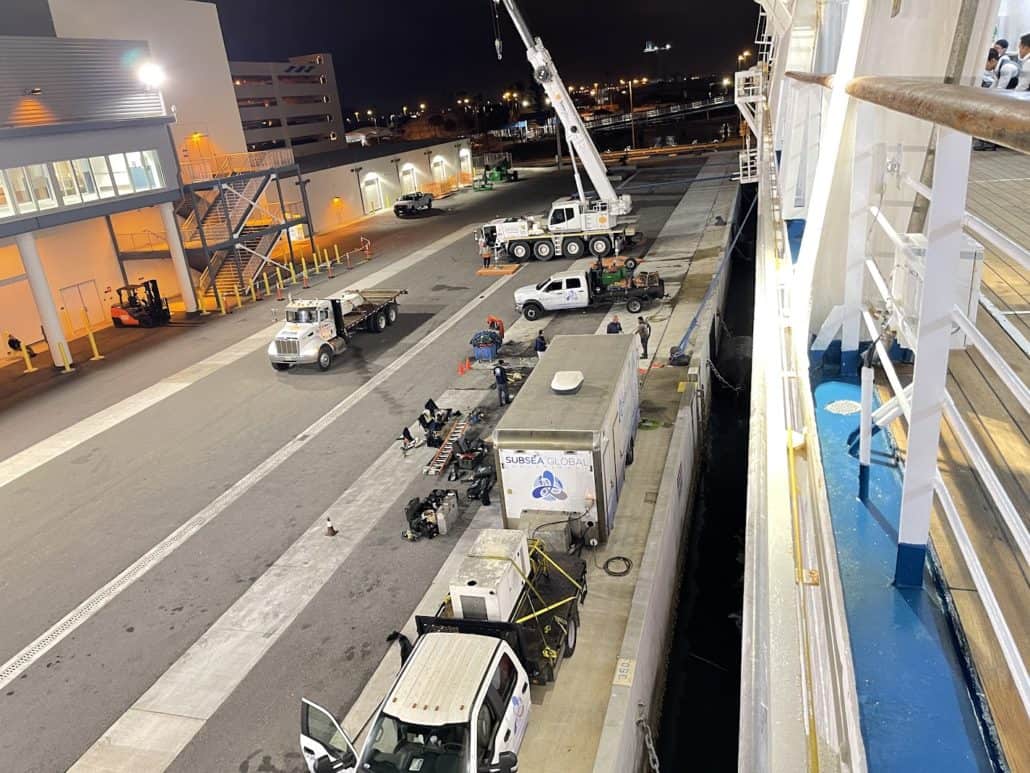 Carnival Liberty has been plagued with propulsion issues for years. Every time they got a grip on the thruster issue, something would happen again. The three-night cruise before ours must have been the straw that broke the camel's back with the propulsion issue because it returned to port 12 hours early so they could get repairs done. 
In 25 years of cruising, this was the first time I'd experienced a thruster being replaced while we were at the dock. It was a very cool sight to see involving cranes, trucks, dive vans, and cargo trailers along the pier. It was a huge undertaking with a lot of coordination between the underwater divers and the crew on the dock. 
We finally set sail around 8 p.m, and it was a chilly sail away for central Florida with temperatures in the mid-50s.
Carnival Liberty Main Dining Room
Although I usually prefer late dining, we went with the early seating this time so that nothing would interfere with the evening's activities. We were seated at the back of the aft dining room, which gave us a great view of the work being done on the ship. I'm sure that might have made some people nervous, but I found the whole thing fascinating.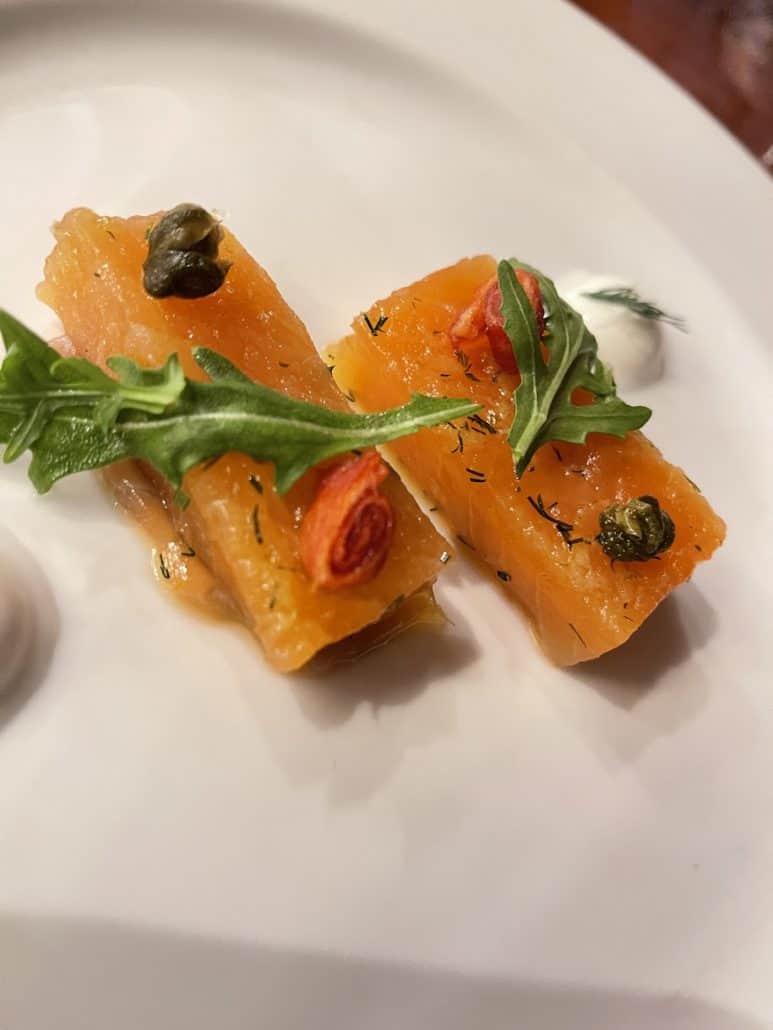 Tonight's dinner was candied salmon for a starter and grilled salmon for the entree. Even though I was really eyeing the Warm Chocolate Melting Cake, I skipped dessert. After all, it's not a Carnival cruise unless you have some, right? But it was only night one. There'd be plenty of time for that.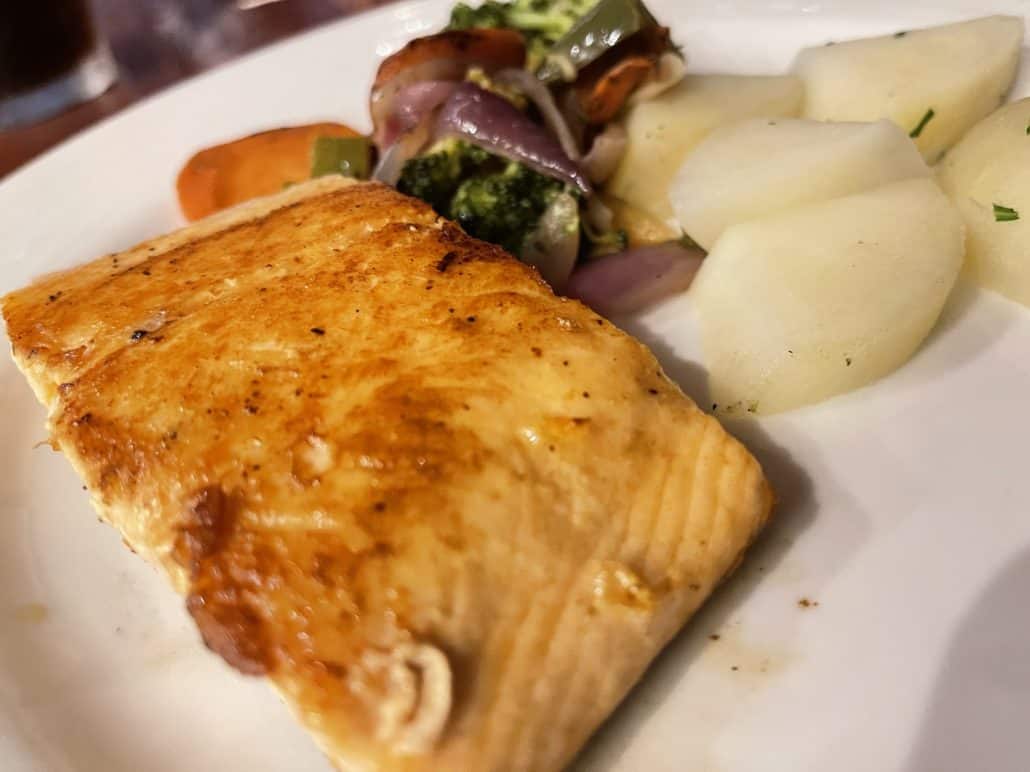 We were seated at a long table that could seat 12, but only four showed up. There's always that awkward thing under these circumstances when you're sitting with strangers and waiting for someone to break the ice. Fortunately, within a couple of minutes, we were all chatting and getting to know one another.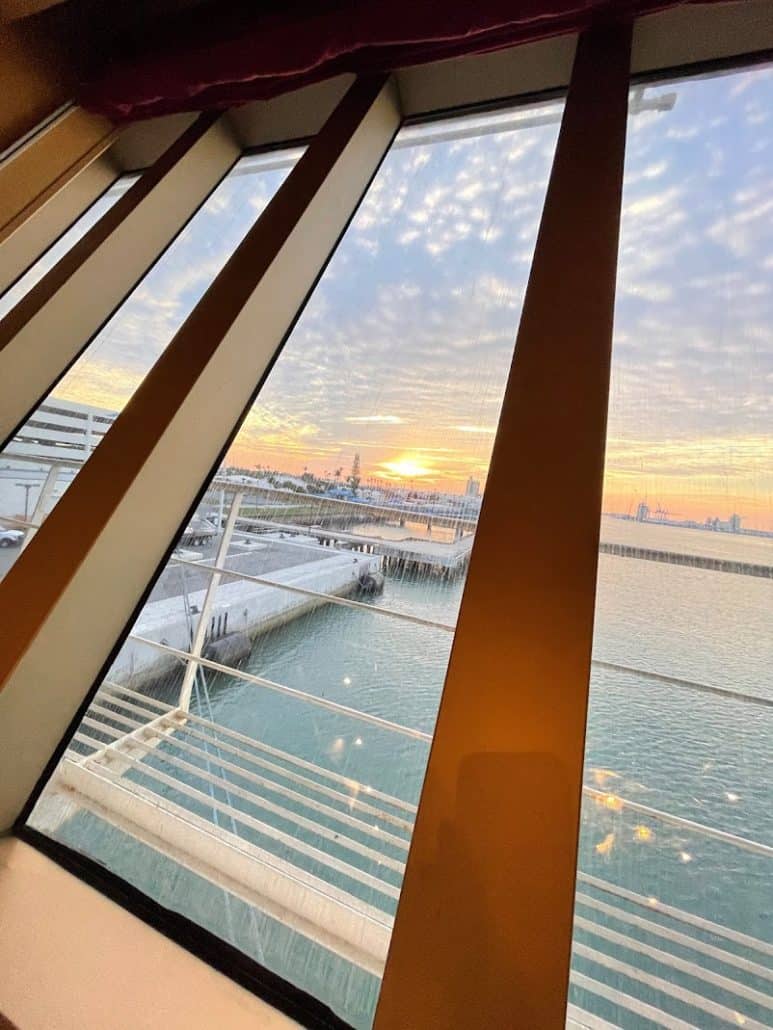 I'll admit that at first, part of me just wanted to sit with my friends, which is what I normally do. But in hindsight, I'm glad we wound up joining others. We met some new people who I was sure we'd wind up palling around with over the next few days.
Welcome Aboard Show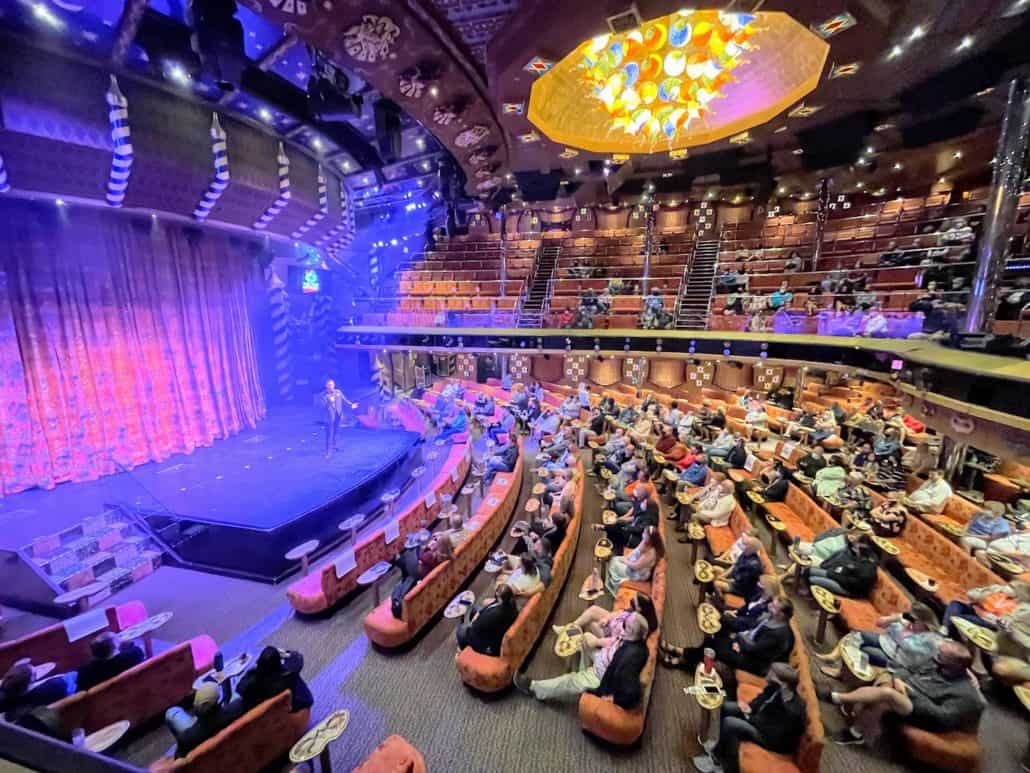 Typically, the Welcome Aboard show is done twice on the first night. But since the ship was operating at limited capacity, it was only being offered once, at 9:30, giving the folks who had late dining time to wrap up and catch the performances.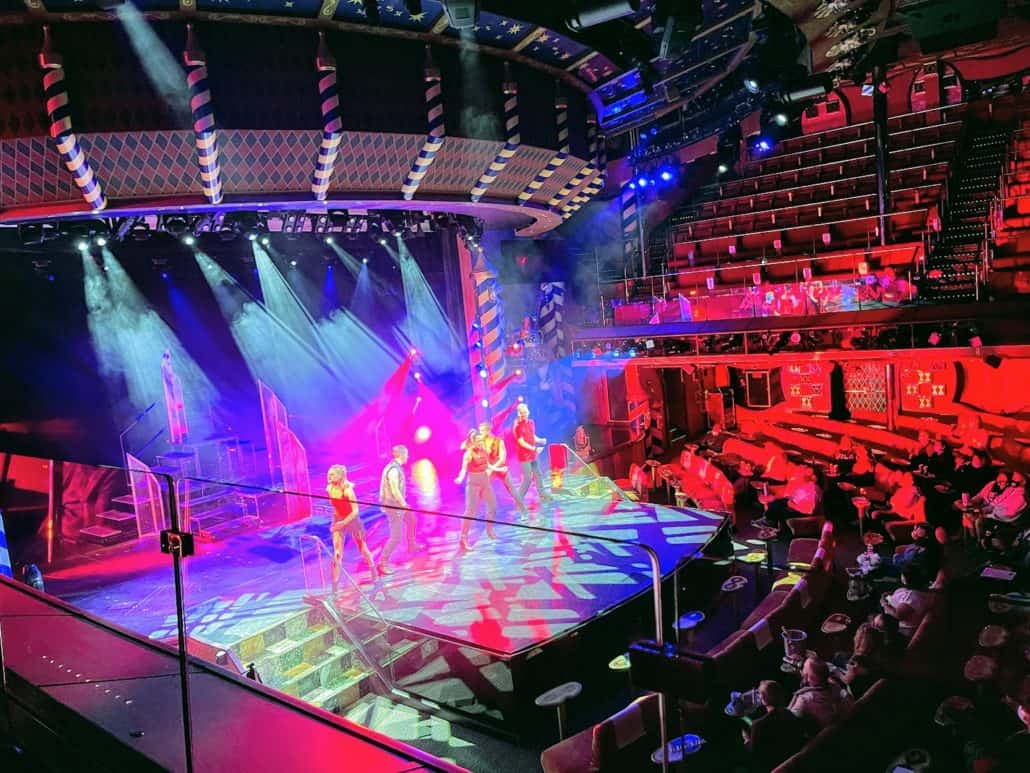 The Cruise Director, Dustin, walked us through the entertainment we'd be experiencing throughout the cruise, followed by the Playlist Production team giving us a small sampling of the shows they'd be putting on. The first Playlist show, Flick, is being staged tomorrow night.
This is where the first day ends because I woke up at 4 am this morning, worked until 10:30, then drove down to Port Canaveral.
Tomorrow is our one and only Fun Day at Sea this voyage, and if you know me, that means we'll be hitting the Seaday Brunch!
We'll save you a seat.
Don't miss my other Carnival Liberty trip reports: