I've always loved the views when you sail into Nassau, but because we arrived at the port so early, I missed them this time. By the time I woke up, the ship had already docked and cleared customs.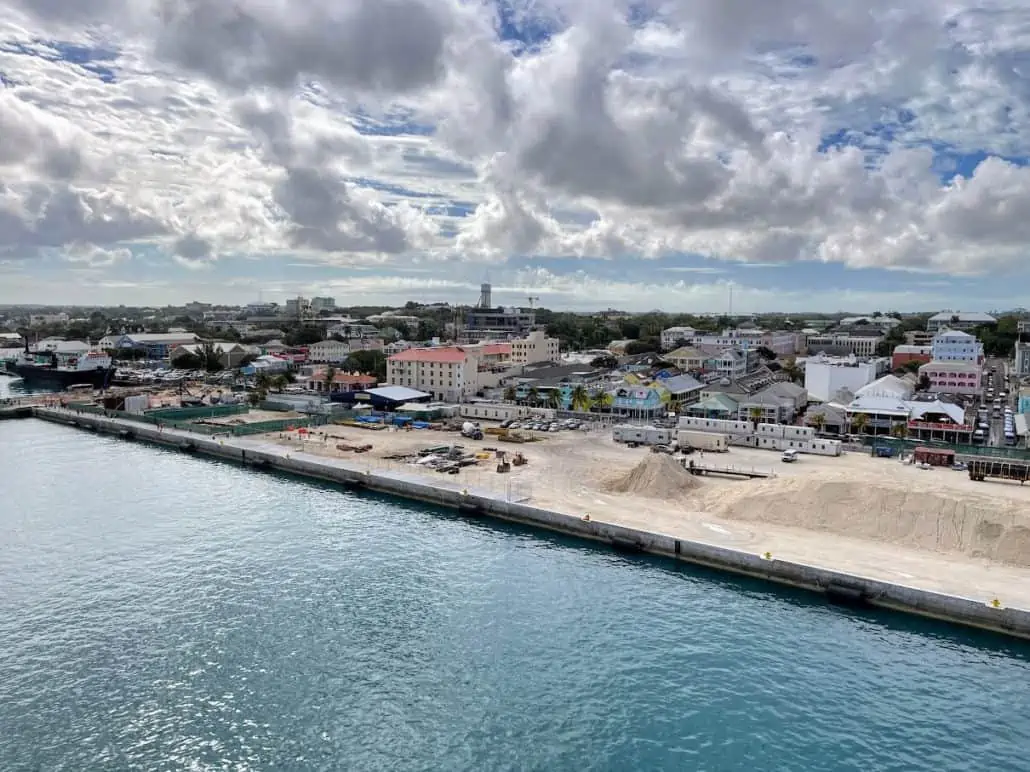 We weren't in any rush to get off the ship, so we slept in… but wound up missing breakfast in the main dining room. They stop serving at 9 am, and we woke up at 8:58 am, so we settled for a grab-and-go breakfast at the buffet.
I opted for a bowl of oatmeal and a couple of items from the bakery. For some reason, I've been packing on the carbs during this sailing.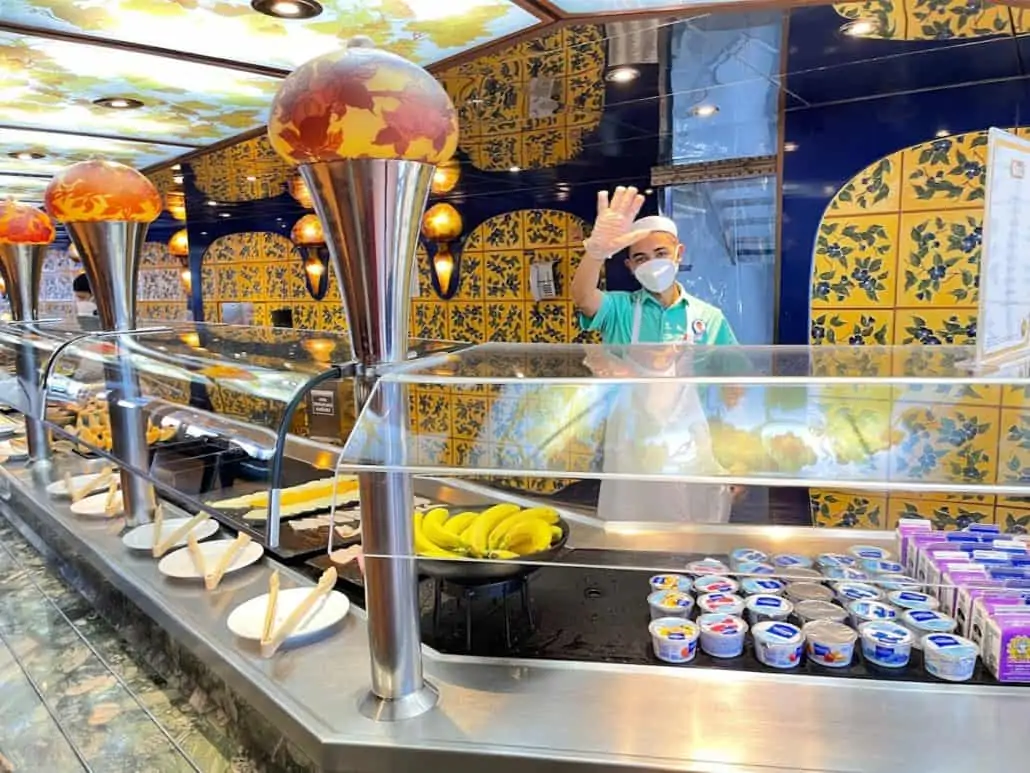 Carnival's Lido Deck buffet is self-serve as of now, with a crew member positioned at every entrance to encourage people to wash their hands and make sure people are wearing their masks. Or at least that was the case as of our mid-February sailing.
Checking Out the Port's Progress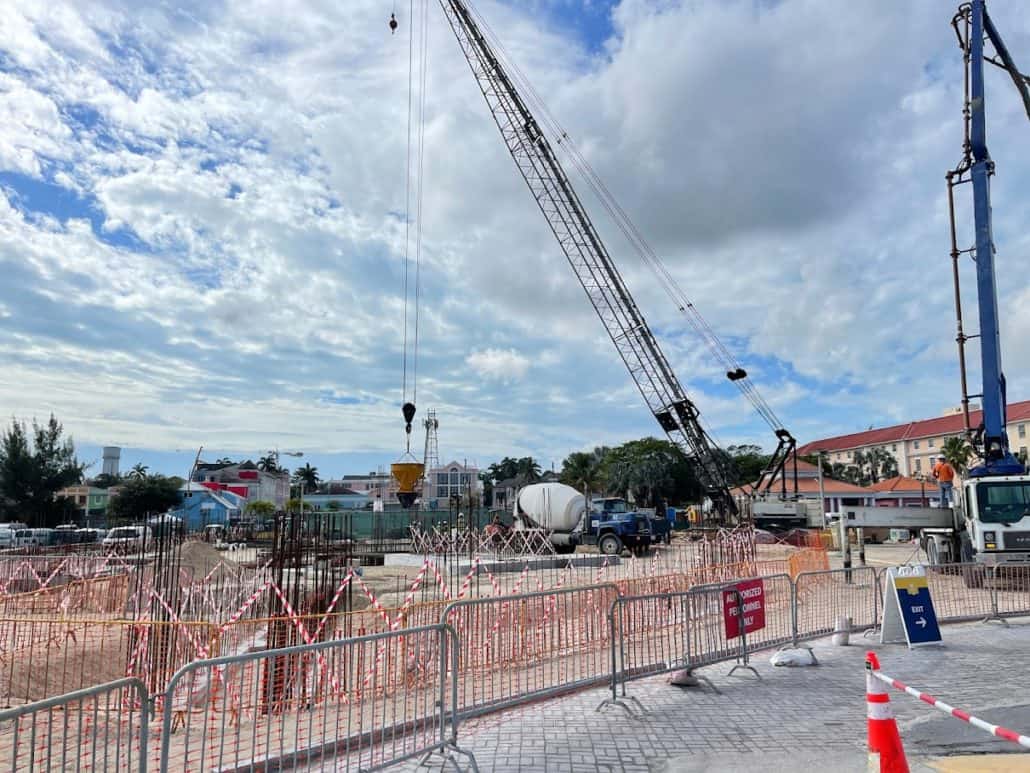 We were in port with two other cruise ships, Disney Cruise Line's Dream and Carnival Legend. Legend was on a seven-night cruise from Baltimore, and Disney Dream was doing a four-night cruise like us, except while we kicked things off with a sea day, their first day was spent at Castaway Cay.
As you probably know, Nassau is undergoing a major renovation, and it's coming along pretty well. They already have two new docks built out and the pier progress is looking really slick.
Having been in Nassau a handful of times since the cruise industry restart, it's been cool seeing the progress and how quickly they are getting things done.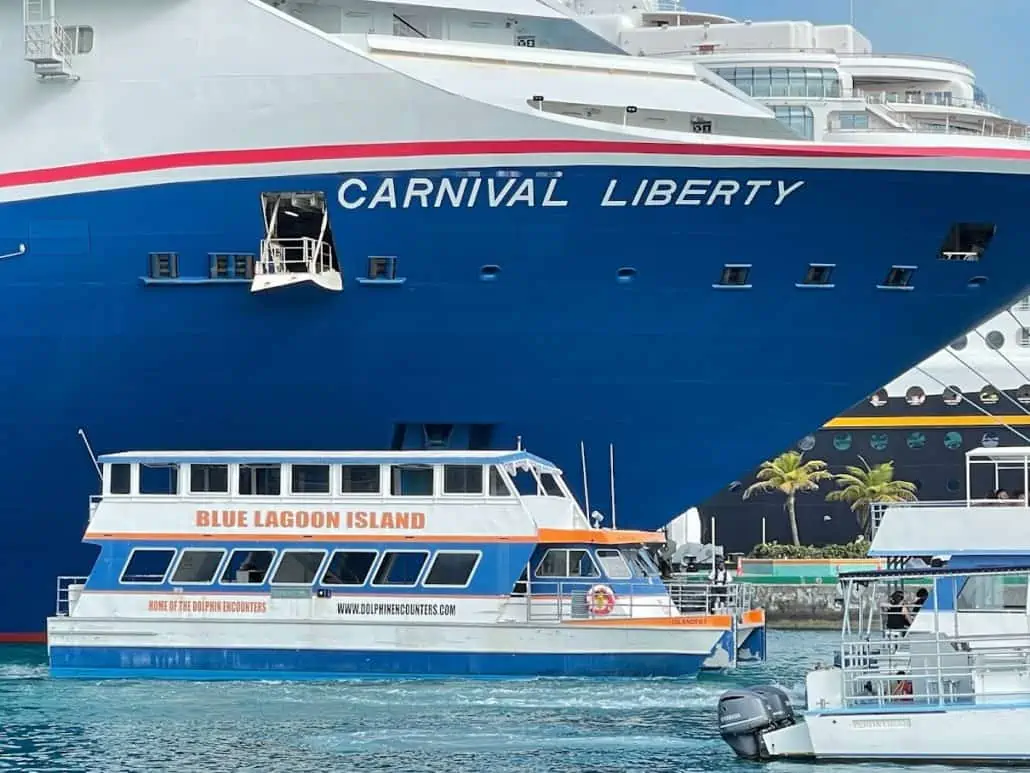 For years, we've been hearing that Nassau would be getting a new port, and they finally expedited plans and got things moving during the shutdown.  The banners still say it'll open in 2022, although they don't say exactly what month. It'll be interesting to see if they're able to get things up and running by year's end. If the shutdown taught us one thing, it's that delays definitely happen!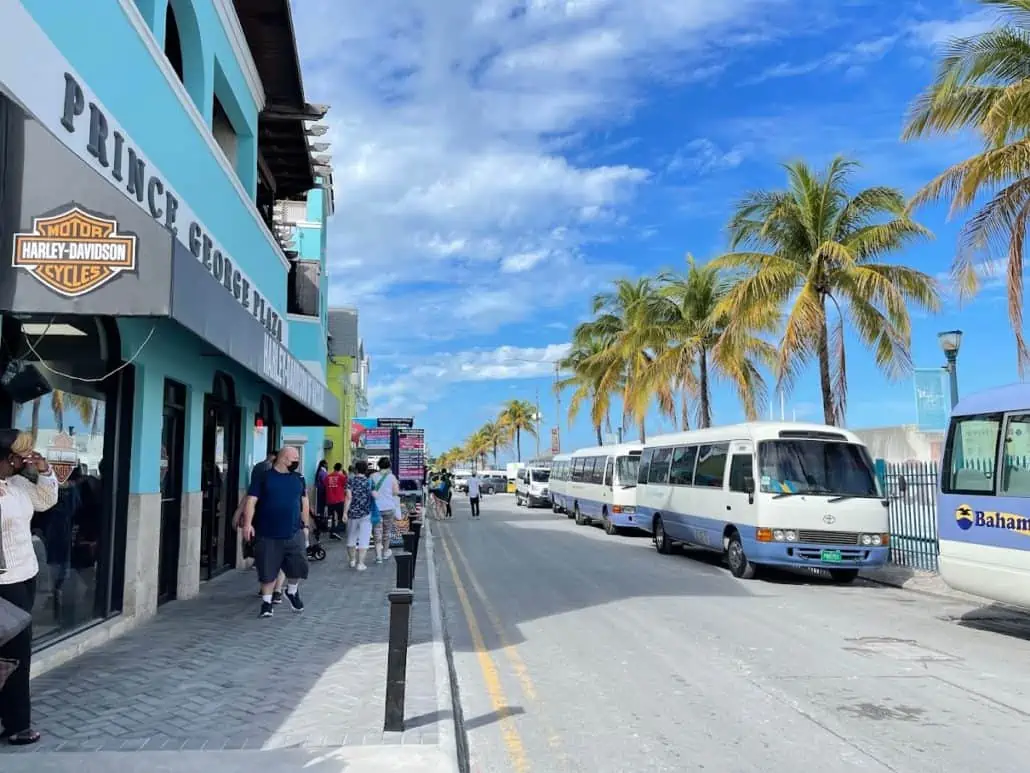 The last time I was in Nassau, we did an excursion to Blue Lagoon, and the time before that was right after Nassau had re-opened to ships and there were basically tumbleweeds blowing down the street. I'm happy to report that now, it's almost back to the old Nassau we all know.
This time, we took the 20-minute walk over to Junkanoo Beach to take some photos and check out the scene. It was open for business, and many cruisers were enjoying their day in the sun.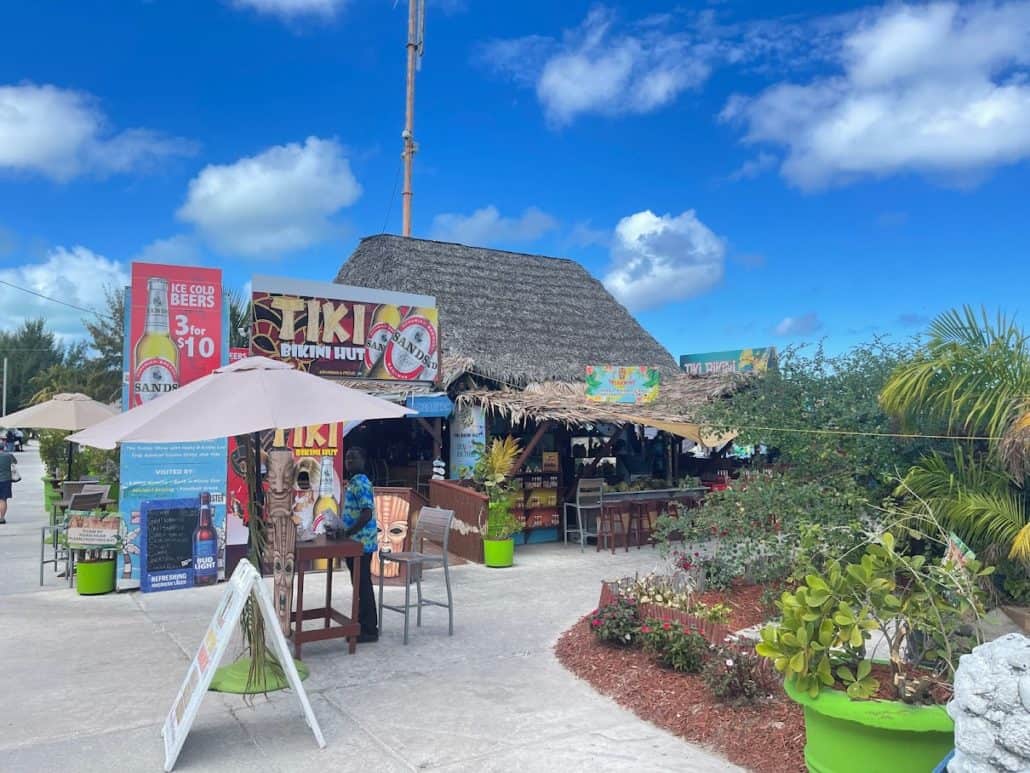 If you've never been to Junkanoo Beach, it's really a cool area with plenty of bars, food trucks, cold drinks, a little bit of shopping, and a lot of relaxation. During our visit, I noticed that the vendors on the beach weren't as aggressive as they've been in the past. Normally they hound you to buy a drink or check out their stores.
The straw market made up for it, though. We'll get to that in a bit.
Lookin' For My Lost Shaker of Salt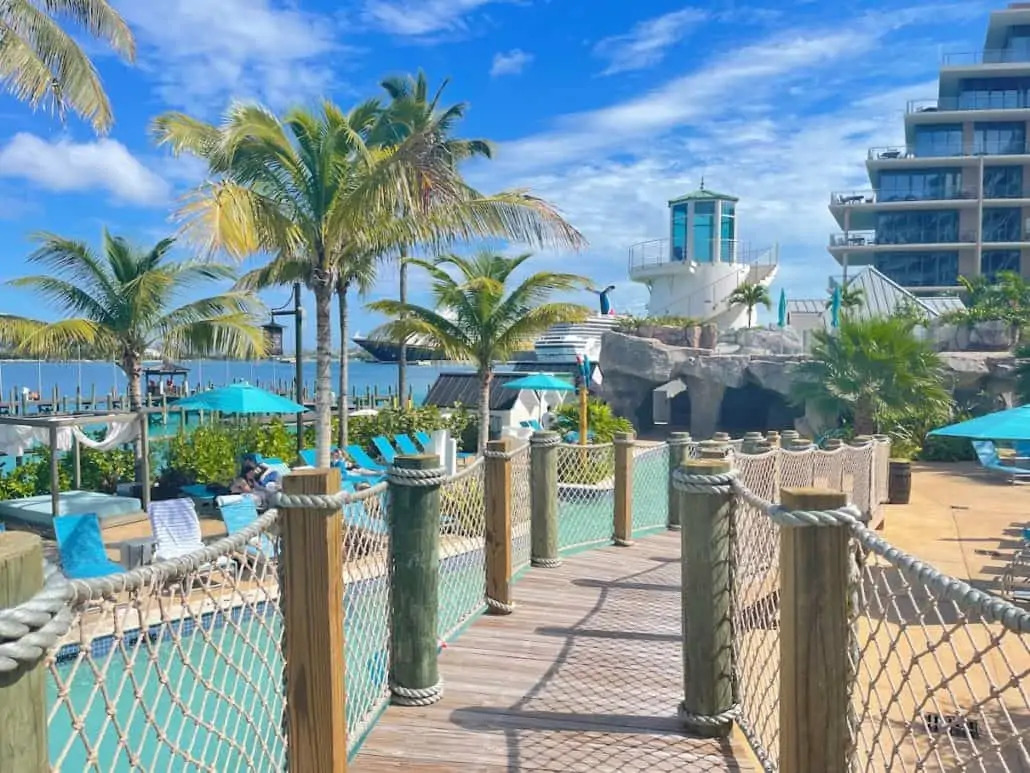 Nassau requests that you take your vaccination card ashore, and I'm glad I did because we needed it to get into the Margaritaville resort. They were just building this the last time I did a full day in Nassau, so it was good to see that they'd gotten things essentially completed.
The resort sells day passes starting at $59 and the pool area was pretty sweet with a big lazy river that went across the entire back end of the property. This place could give Atlantis a run for its money for a fraction of the price.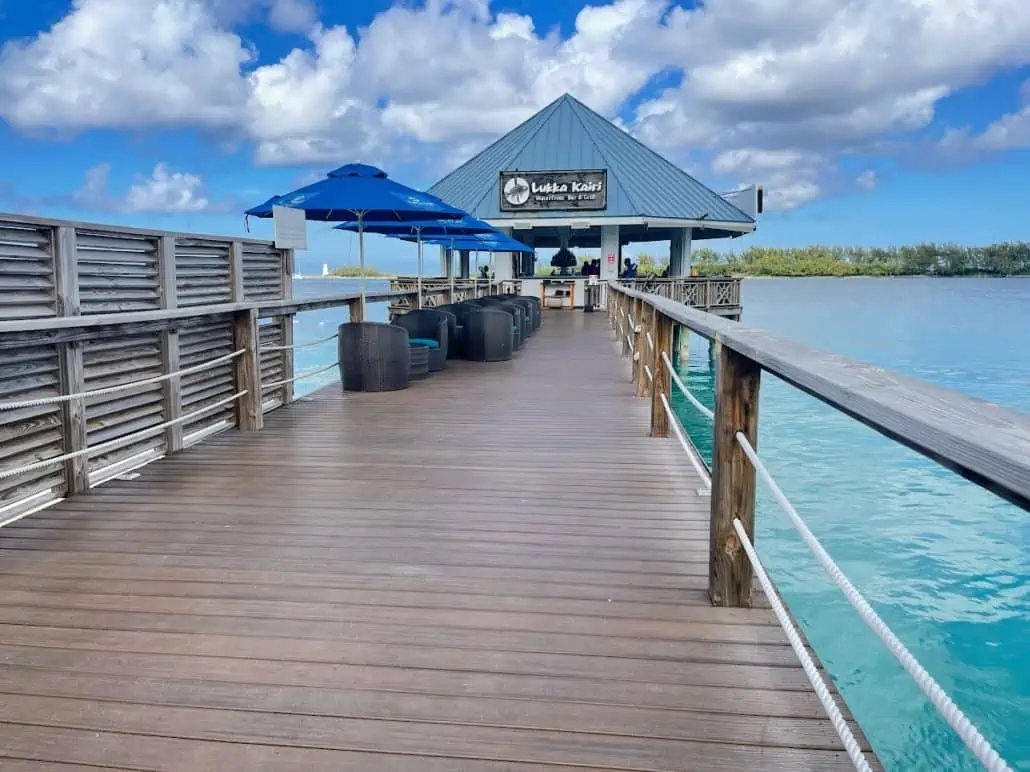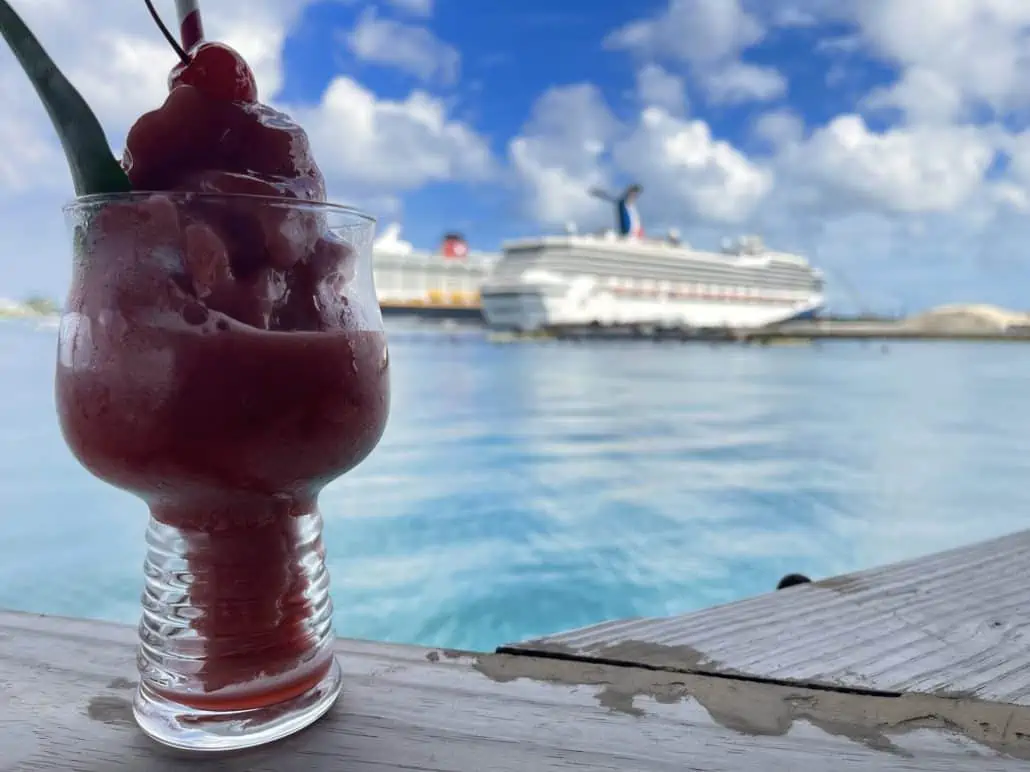 After visiting the beach, we planned to grab a drink at Señor Frogs but noticed that the tiki bar over the ocean was open, so we opted for that instead. It was such a beautiful day. Even though the drinks are a bit on the steep side at the Tiki Bar, we had to take advantage of the day! It really is the perfect place to grab a drink before heading back to the ship.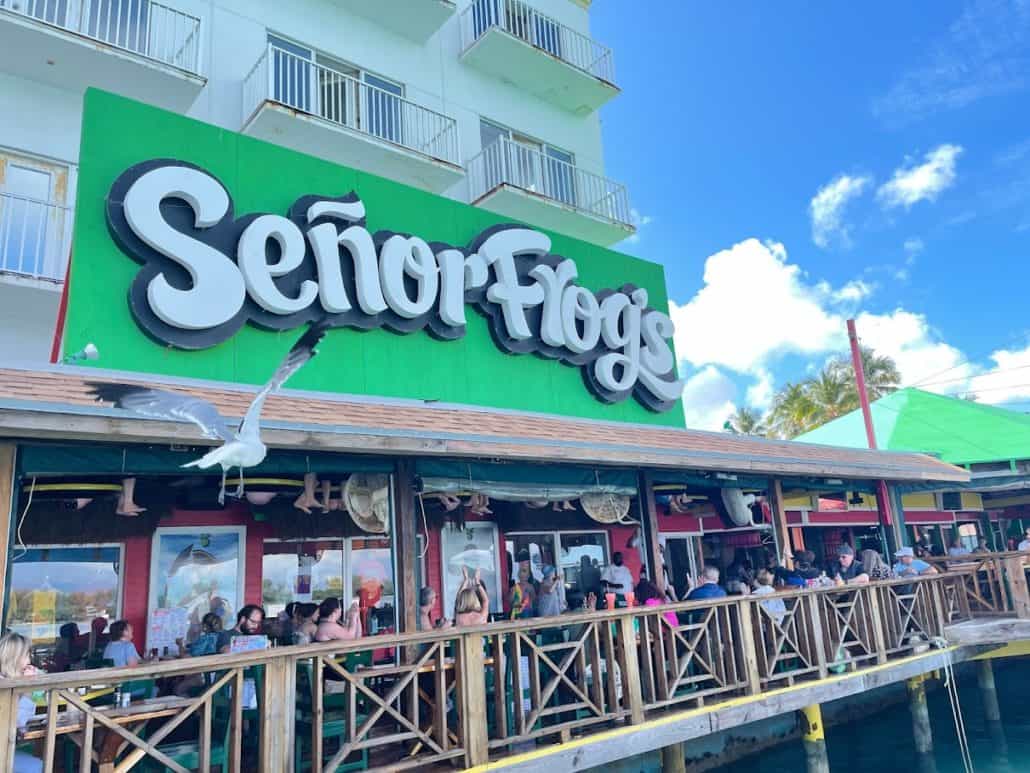 On the way back we headed to the mini market to pick up some potato chips for some of the crew members on board. Most of the Carnival Liberty crew couldn't disembark, although I noticed crew from Carnival Legend were walking around in port.
During a lot of our recent sailings, I'd walk up to random crew members and ask if they needed anything ashore. A lot of them tell you no because they do not want to inconvenience you, but then once you start throwing names of snacks and candy to them, they cave.
MORE: 21 Carnival Liberty Tips [PHOTOS]
Hitting the Straw Market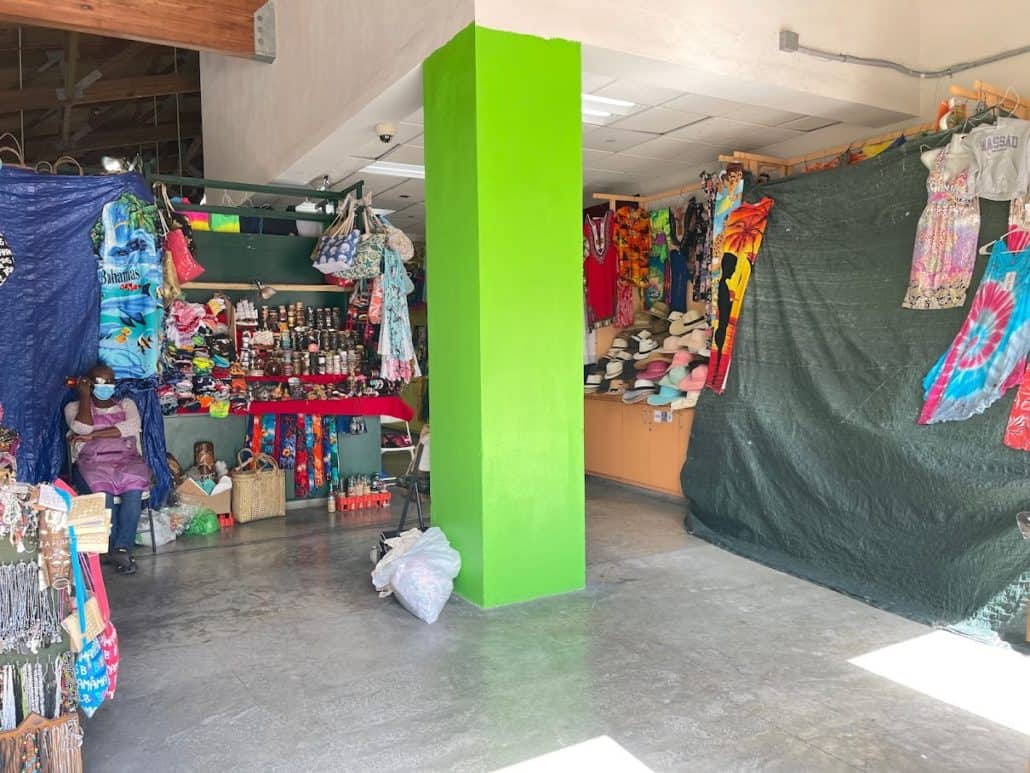 We headed over to the world-famous straw market, which is housed inside a huge building. The vendors here are majorly aggressive. I get that they're hustling to make a buck, and that they lost a lot of money during the shutdown, but it very quickly becomes too much.
Plus, it seems as if every table has pretty much the same products on display. Going to the straw market is definitely an experience, and I'm glad to pump some money into the local economy while respecting the hustle, but we didn't stick around too long.
An Emotional Sail Away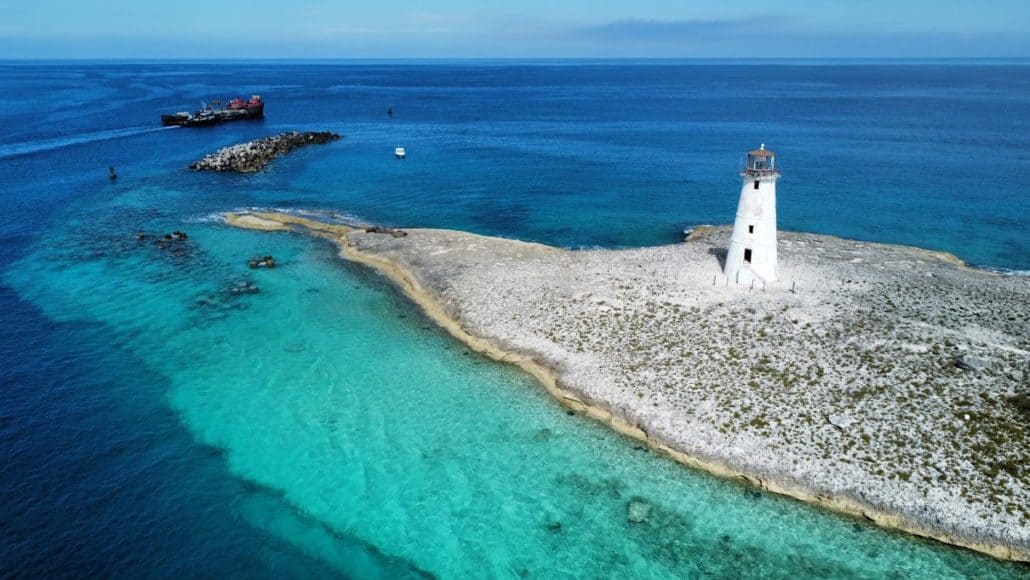 Sail away from Nassau was something I was dreading the entire cruise. Not because I'm particularly fond of the port, but rather because I knew this was going to be a really emotional moment.
I lost my dad a couple of months ago, and for Father's Day in 2021, I bought him a cruise on the inaugural sailing of Carnival's Mardi Gras on July 31, which I was also on.
After I did the Blue Lagoon excursion, I met dad at Guy's Burger Joint and then we walked up to the Serenity Retreat for sail away. We watched from there as the ship left the dock and the pilot boat came to pick the pilot up. It was such a special moment, and one I'll never forget.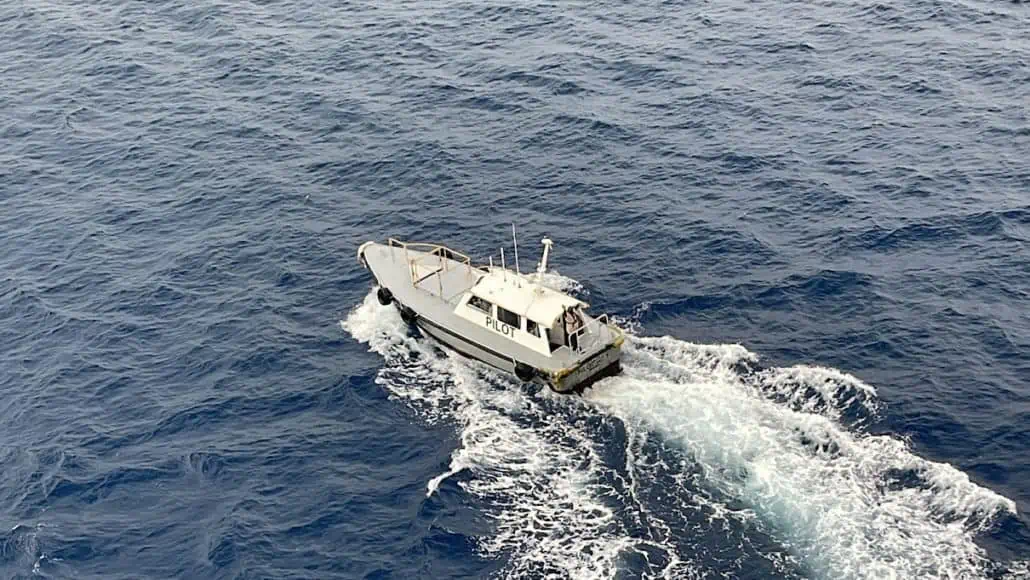 When we left Nassau on this cruise, it was pouring down rain. Like a torrential downpour type of rain. Despite this, I stayed out on deck as we dropped the lines and remained there until the pilot boat left our side.
It was every bit as emotional as I knew it would be, and it felt as if my dad was standing there by my side.
He'll always be with me, but never more so than whenever I'm on a ship, pulling away from the port of Nassau.
Dinner in the Steakhouse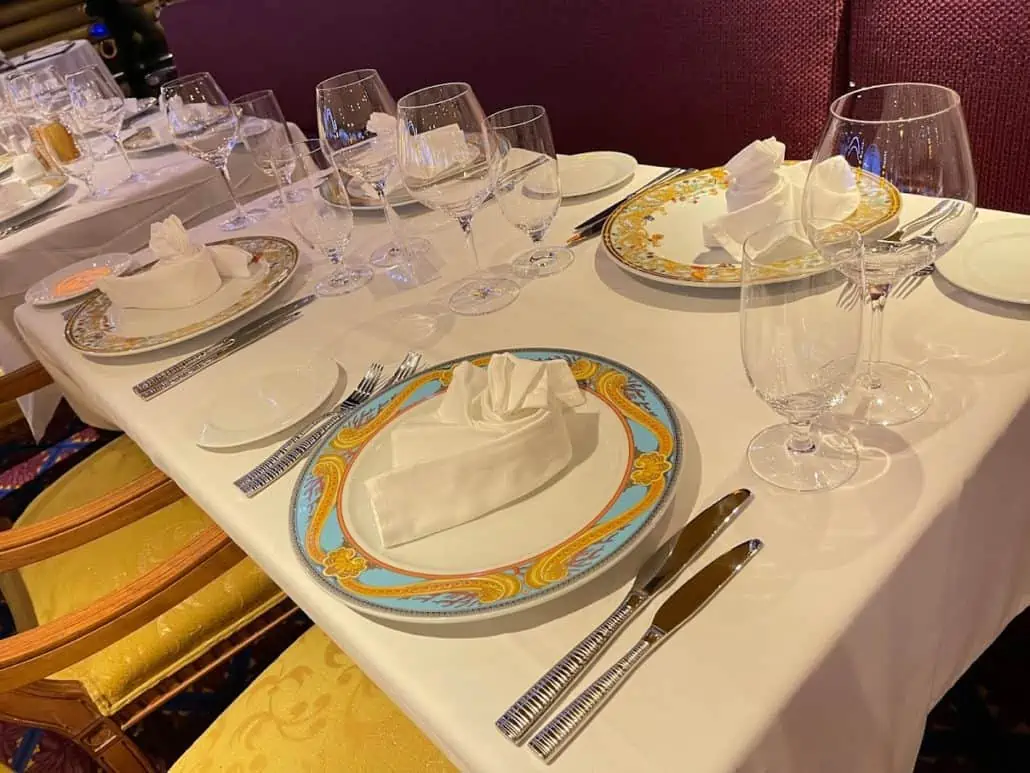 We had dinner in the Diamonds Steakhouse and if I'm being honest, it was nothing to write home about. It was actually subpar, and that was very surprising.
We try to do the steakhouse onboard on every Carnival sailing because you can't beat the $38 price, especially for the quality of the food you get.
I went with the French Onion Soup, Spinach Salad, Cowboy steak, and Art at Your Table dessert. The meal was great, as always. The service, however, wasn't.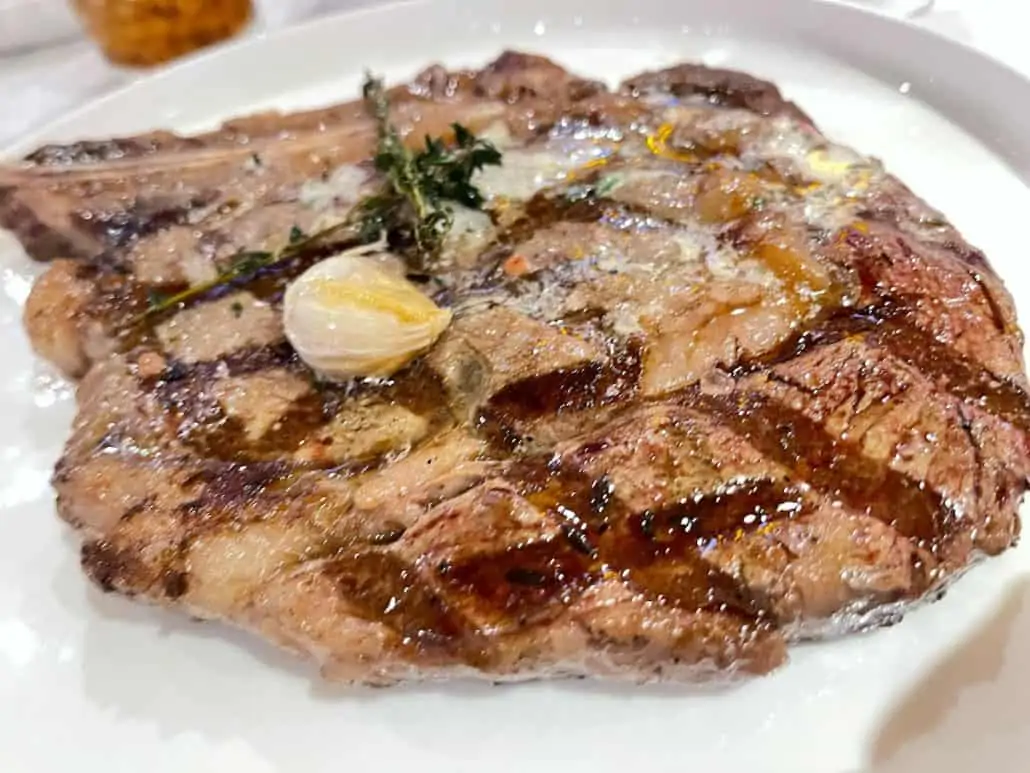 I'm going to chalk this up to an off night because I'm not really sure how it's possible to drop the ball so many times and still act like nothing was wrong.
Other guests were out of there in half the time it took for us to be served.  I asked for béarnaise sauce for my steak and was brought a bottle of A1. When the server brought me the sauce, I asked again for béarnaise, and she pointed to the bottle of A1.
Perhaps a language barrier? I'm not sure.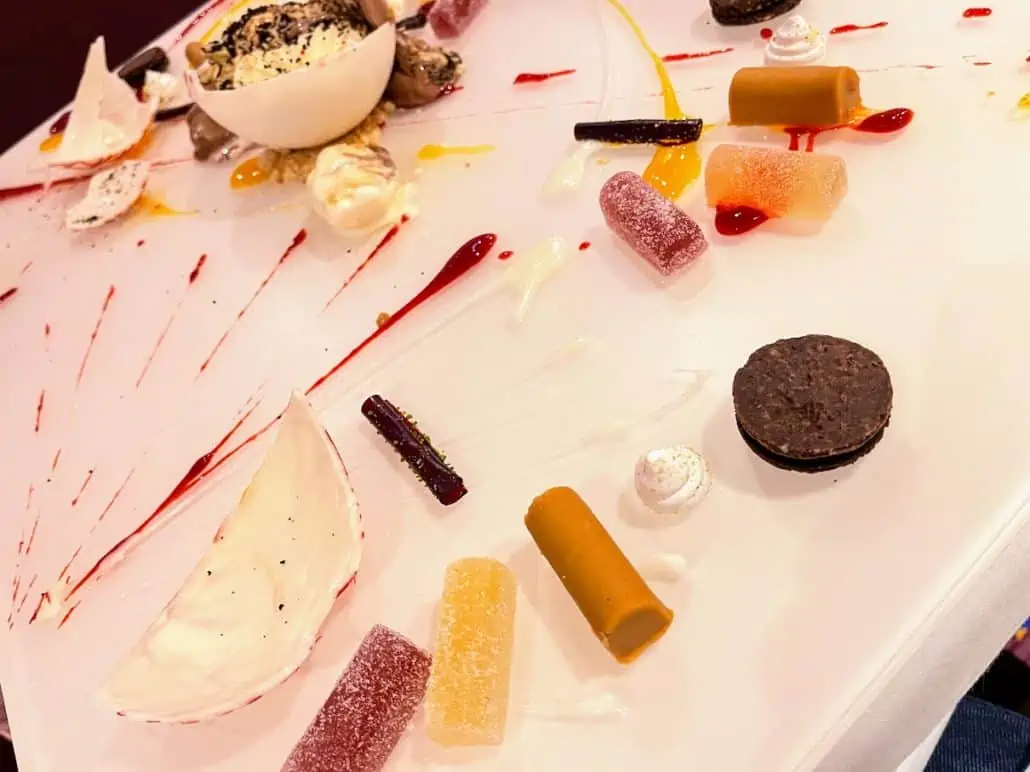 Also when it came time for the check, they put the entire table's bill on my tab when I made it a point to approach the steakhouse manager and ask that they bill us separately. Because the checks auto settle after you eat, I didn't notice it until the last night and went to guest services. They made us go back up to the steakhouse and settle it with them. It wasn't a big deal, just something that could have been avoided entirely if it was done right the first time.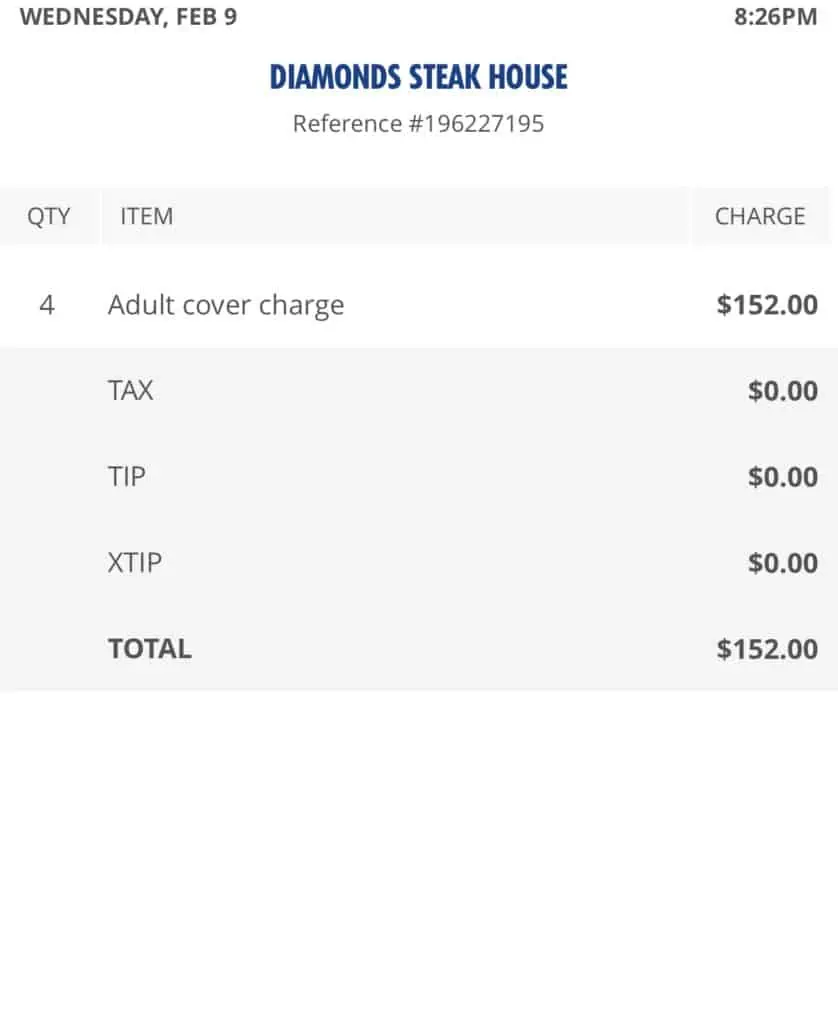 There's a chance that this ship has a new crew because it came online a few weeks early, but that isn't an excuse for a subpar experience. We got better service in the main dining room, and didn't have to pay $38 there.
To make sure I wasn't going crazy, I asked the question in a popular Carnival Facebook Group, and there were over 80 replies, half of them echoed my same thoughts in one way or another. Hoping for a better experience next time!
After Dinner Winnings!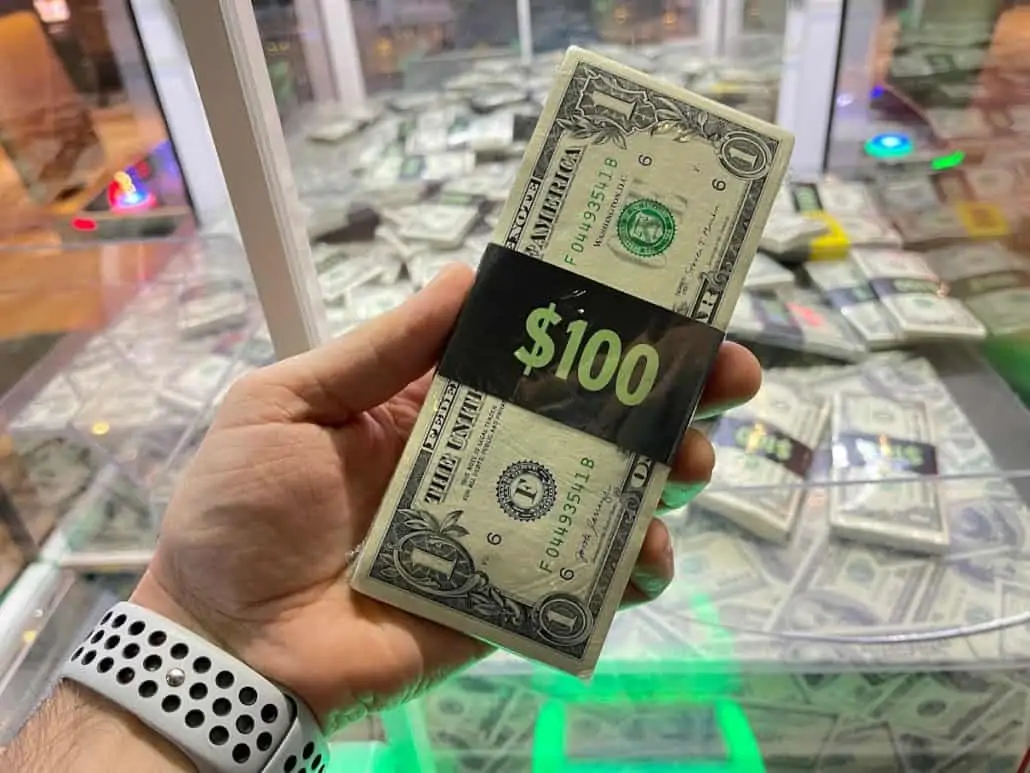 After dinner, we went to play the claw machine in the casino. I know, I know, it's like throwing away your money, but it was a lot of fun and there was a $100 stack and a $500 stack just waiting to be grabbed!
We each played a few times, and my friend actually wound up scoring the $100 brick!
The secret? Get the claw around the entire brick of cash longways. It also pays to be the first one to play it when the casino opens because they restock it at the end of every night, and usually the casino is closed while the ship is in port.
An interesting observation about the casino: There are a lot more slot machines than the last time I was on board. And that makes sense, given that a report published in 2021 said that slot machines can account for up to 65 percent of the ship's revenue.
It's off to bed to rest up for tomorrow when we hit Bimini, where we booked an excursion to the Bimini Beach Club.
Catch up on my other Carnival Liberty trip reports!