After a good night's sleep, we woke up to hit what's always one of my favorite meals when I'm on a Carnival ship, the Seaday brunch. As with dinner, brunch was held in the main dining room on deck 3.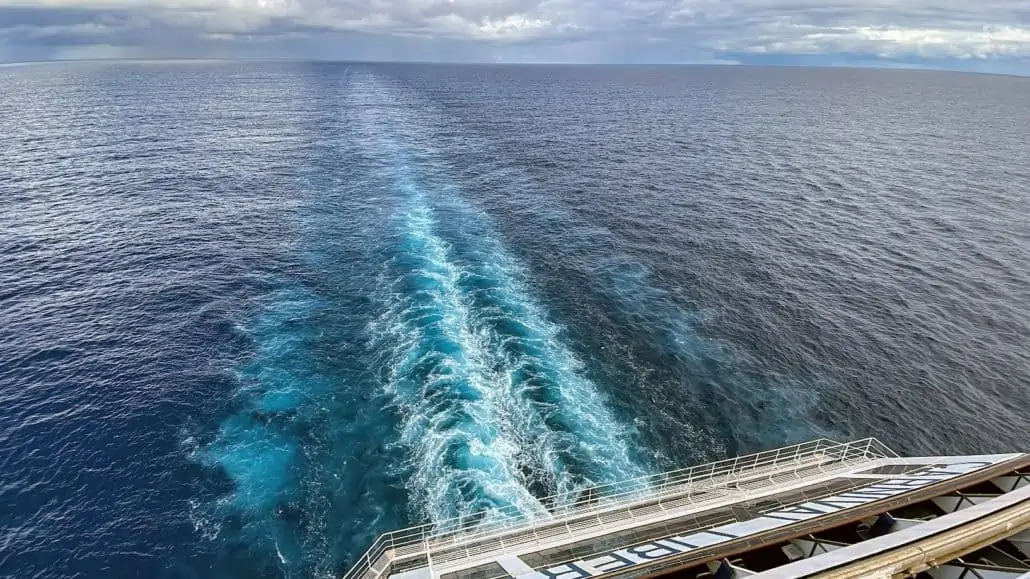 Even before the pandemic, cruise lines were moving toward using their apps in new and inventive ways. But of course, the technology really came in handy as they started trying to reduce as many touch points as possible.
I know some people complain about losing their ability to fully disconnect on a cruise, but I have to say that for the most part, I find things so much easier.
If It's A Sea Day, There Must Be Brunch!
I mention this now because, in order to attend the Seaday brunch, they require you to check your party in on the Carnival HUB app. When the table is ready, you get an alert. This helps eliminate all the people standing in line when the doors open, which of course helps with the whole social distancing thing.
It's also convenient in that you can do something other than stand in line while you wait. Stop in a gift shop, grab a drink, whatever… they'll let you know when your table is ready.
Of course, if you don't have a smartphone, you can still check in at the podium.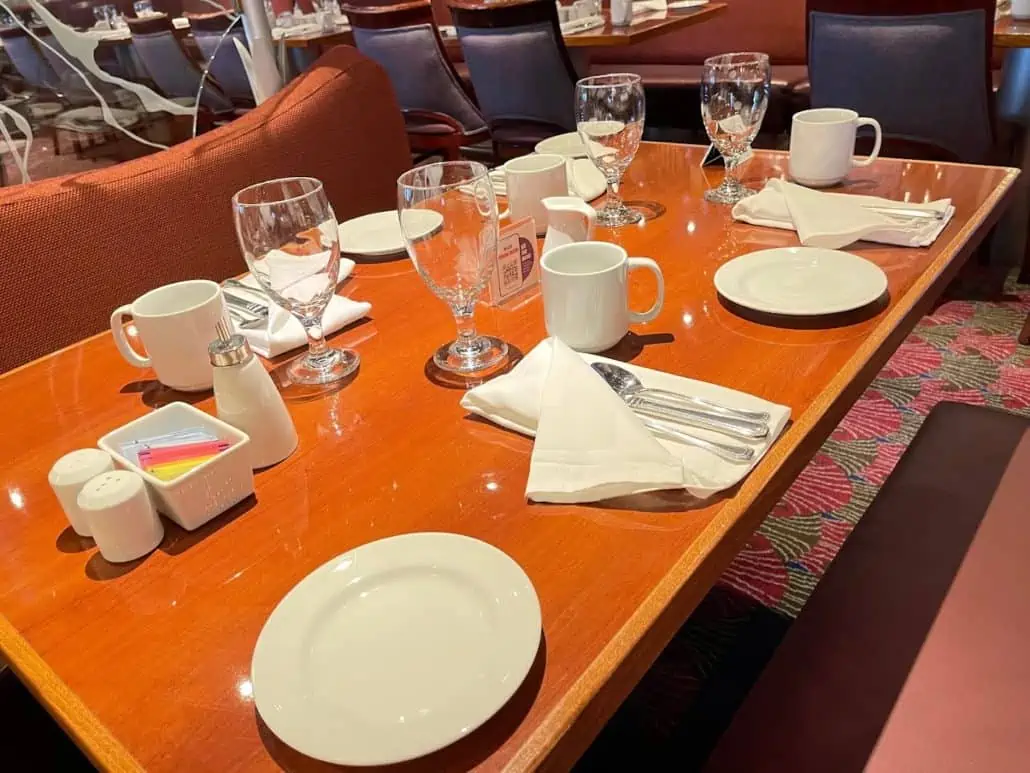 About five minutes after we put in a request for a table, the app notified us that we could head to the dining room. Despite there only being two of us, we wound up in a comfy booth for four.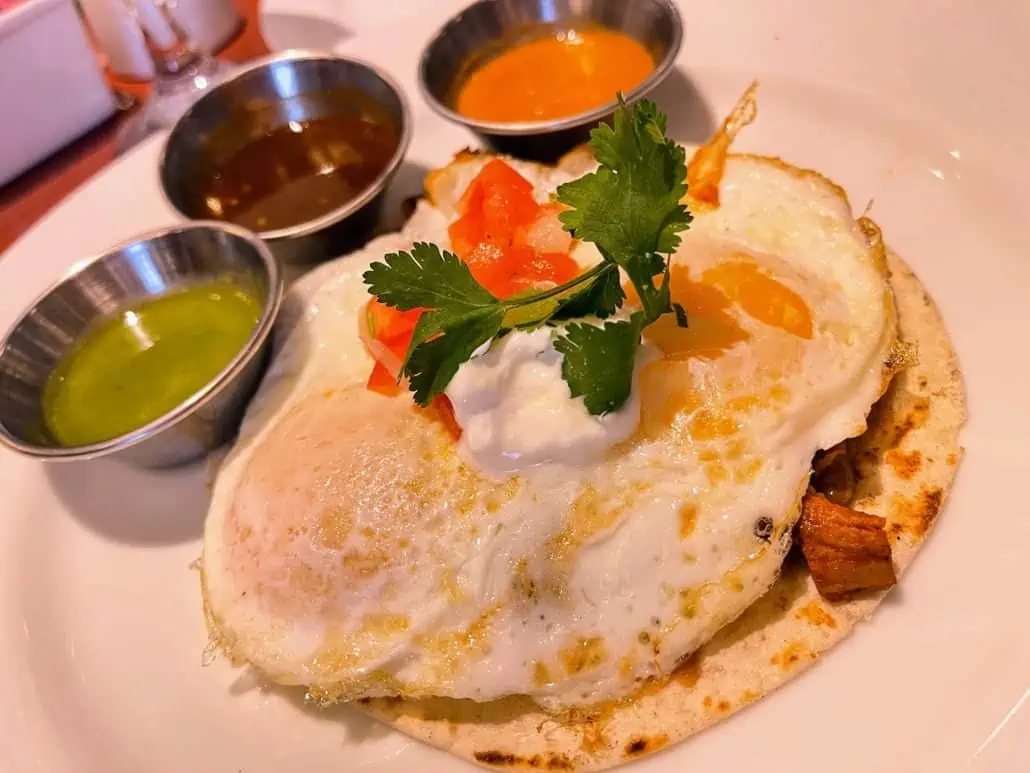 A while back, Carnival majorly expanded the brunch menu. It was expanded to the point that if you even tried to order everything that sounds good, you'd wind up looking like a pig and eating more than is probably a good idea.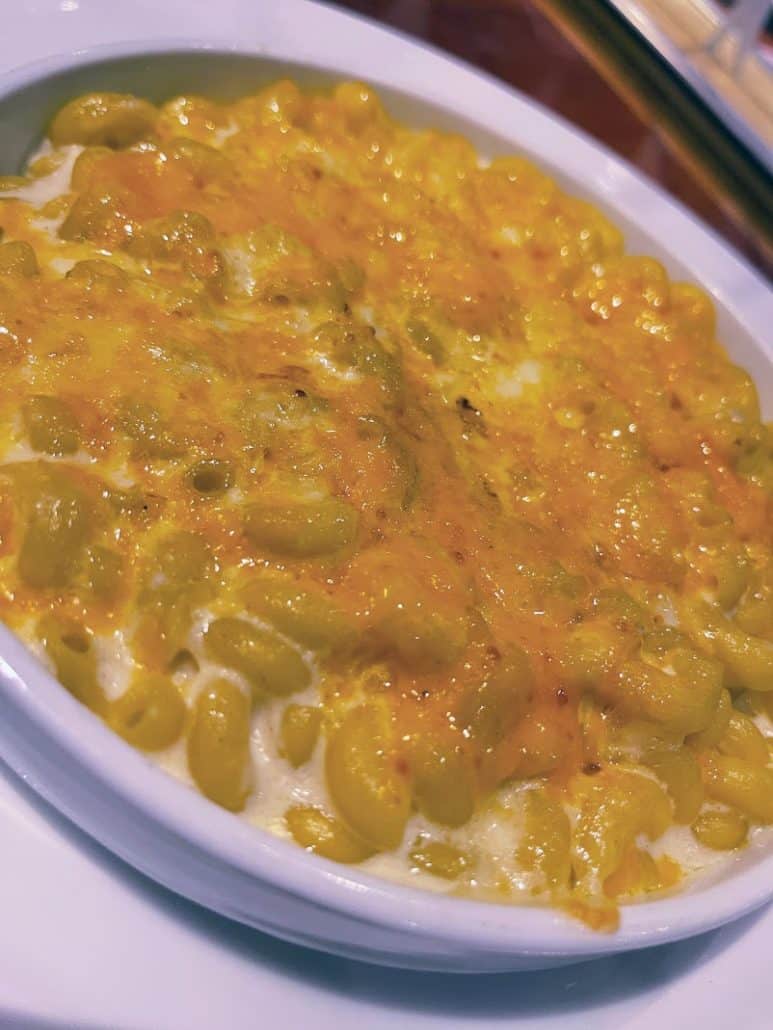 That said, I gave it my best! I went with the filet (without eggs), mac and cheese, and huevos rancheros. The service was great and perfectly paced. The lido deck buffet and the BlueIguana Cantina were also options for lunch, but the sea day brunch is one not to miss.
Hit The (Lido) Deck!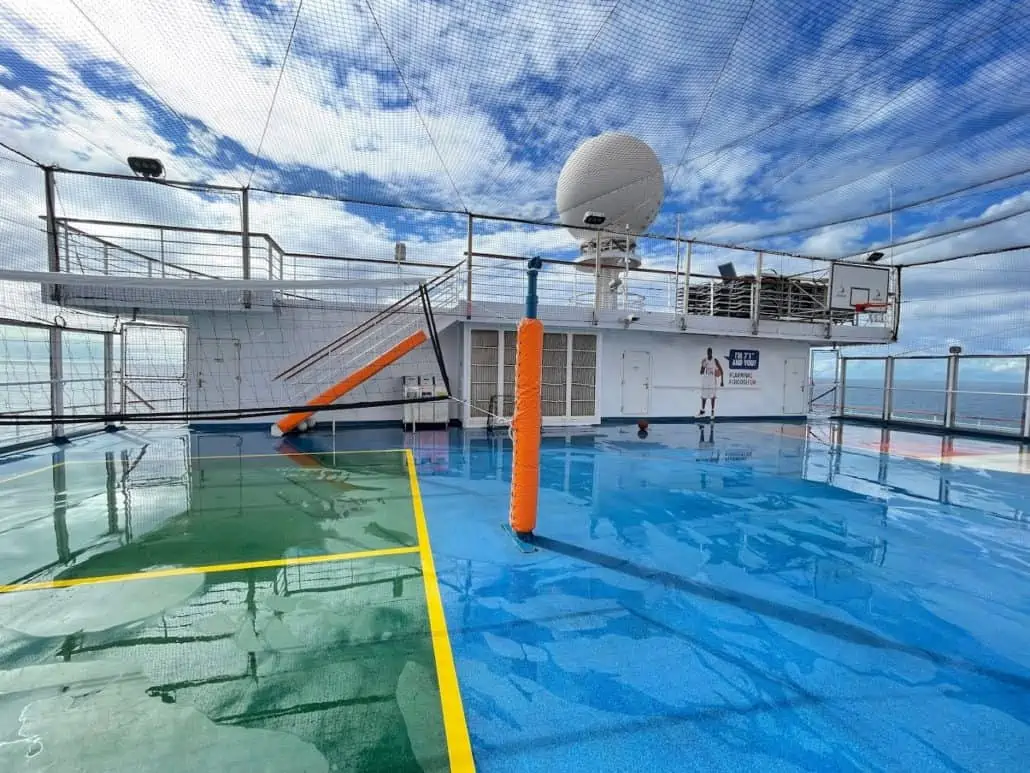 After brunch, we went up to the top deck to play some basketball and burn off all the calories we'd packed on during brunch… or at least a few of them. It turns out, we really suck at basketball, although it's a lot easier to blame your lack of coordination on things like wind and being on a moving ship than it would be if we were playing on land.
We caught the tail end of the morning show that's held in the theater and broadcast in staterooms (on your TV) and on the big screen by the pool. Some of the morning shows are more lively than others, but it's always a great way to find out what's going on that afternoon. This time around, it was led by our cruise director, Dustin, and two members of the entertainment staff.
The ship felt oddly empty despite the embarkation team telling me there were about 2,500 people sailing. At noon, the lido deck was virtually empty. By mid-afternoon, more people began to show up.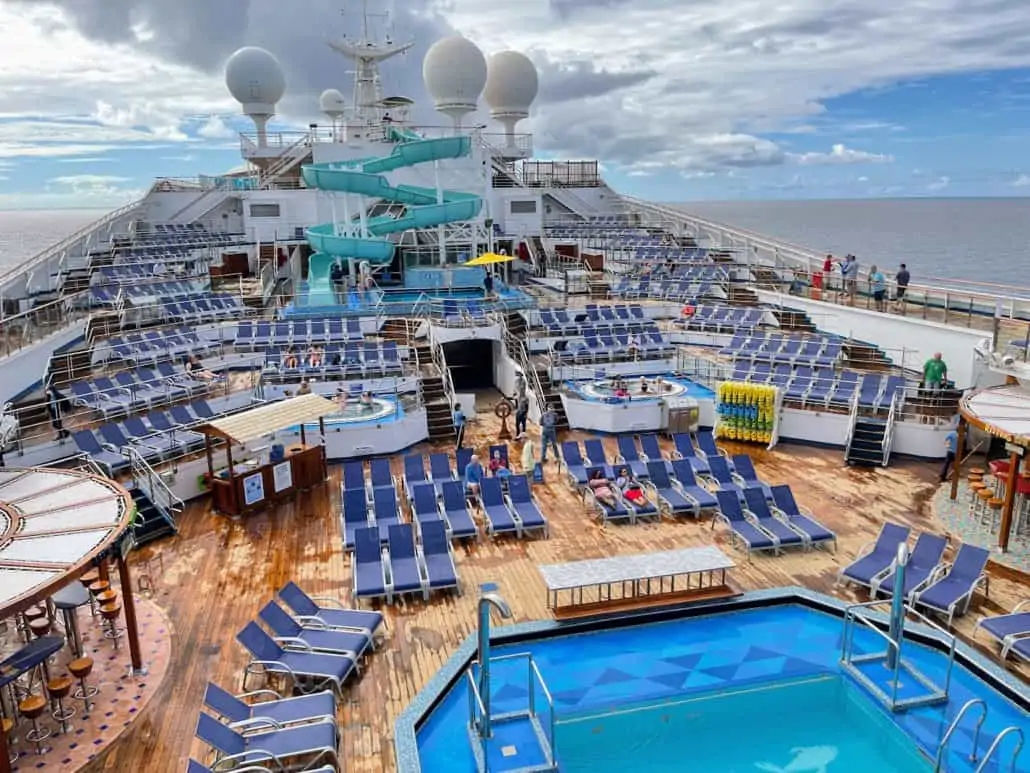 Maybe since it was a sea day — and a lot of people party hard their first night onboard — folks were sleeping in. As we talked with various people, it was fun to meet so many for whom this was their first cruise since the shutdown.
Some were extremely emotional, while others were just going all-out as if making up for lost time by diving into all of the activities (and, in some cases, a lot of frozen concoctions).
Feeling Grateful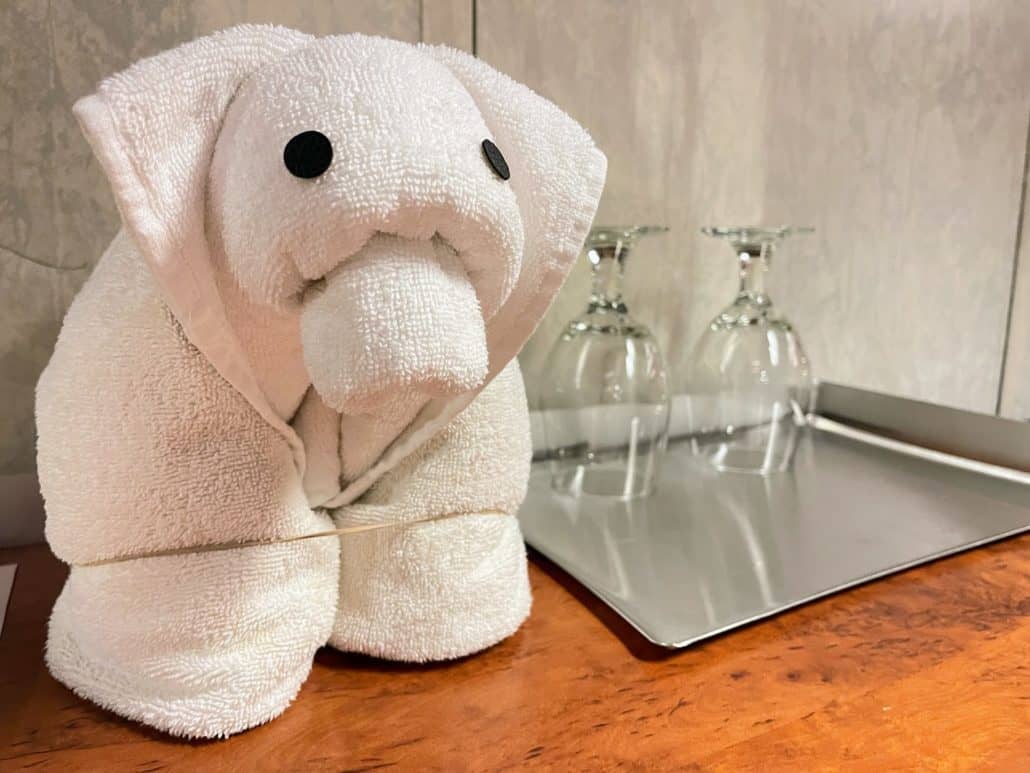 I spoke to a few of the cabin stewards during our sailing. During normal times, each member of the team will typically have between 30 and 35 rooms to clean each day.
Those I spoke to on Liberty said they had around 8 to 10 on this sailing. Your first thought is probably something along the lines of, "Sweet! That's gotta mean less work for them!" And while that might be true, it also means less pay.
In talking to crew members from around the ship, it was heartbreaking to hear their stories about what life was like during the 15 months they were out of work. One who lives in a small village in Indonesia spoke about having to sell items on the side of the road to make ends meet. Another was selling produce just to make what would equate to $15 a week here in the states.
You can't hear stories like that and not think about how blessed we are. I mean, $15 for a week's worth of work? Workers in fast-food joints get that much an hour, and many consider them underpaid.
One thing came shining through: The crew members were happy to be working again and able to send money home to their families. Many of them send their kids to college on the money they make onboard.
Hey, Mister DJ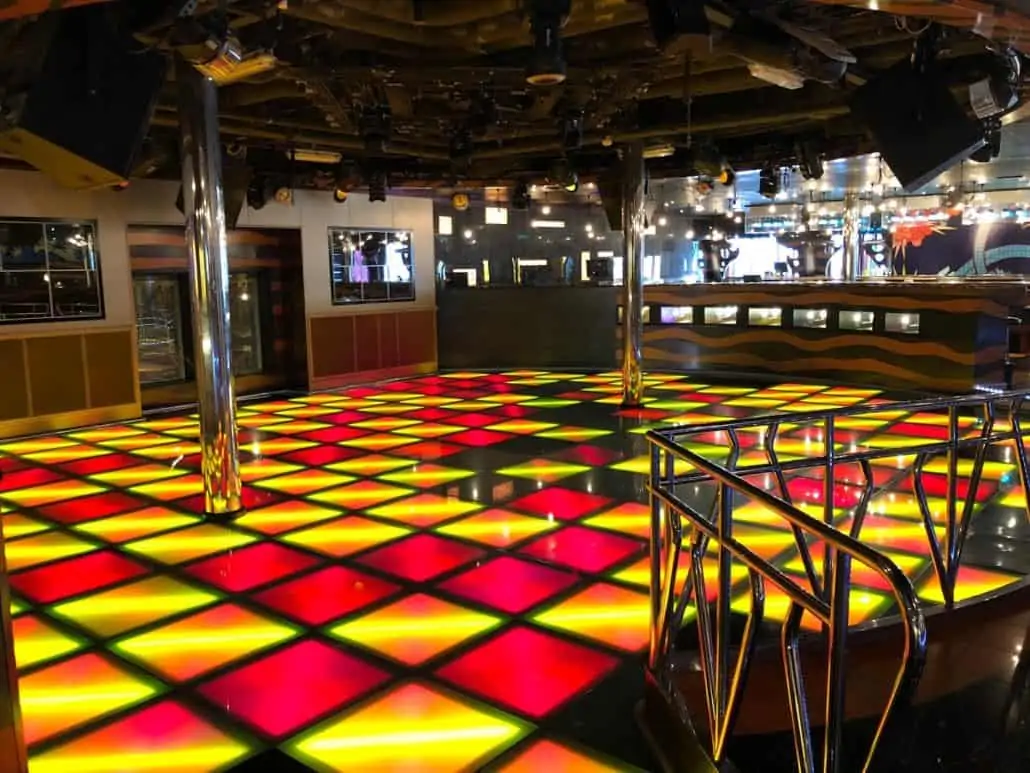 The music around the ship has been really good. We've listened to steel drums by the pool, a soloist playing on the promenade near the casino, and the house band jamming in the atrium.
The nightclub has been open, but it isn't what you'd call a hot spot. There's probably only been about 20 people in there at any one time, max.
If I could offer a piece of advice to the onboard DJ, it would be to learn how to read a room. If you're playing a song and the dance floor clears out, ditch that tune and spin something they want to hear. When your audience is 50+, playing the latest TikTok song probably isn't going to fill the floor. People were requesting songs he didn't have, so they turned and walked out.
At midnight, a cruise ship's club should be hopping with people who've had a few after-dinner drinks shaking their groove things. If it's not, you're doing something wrong.
The Cure for What Ails You
Before dinner, we stopped off at the Alchemy Bar for a drink. Thanks to a great concept and a menu featuring drinks you won't find anywhere else on board, this is always a popular spot.
The mixologists not only make fantastic drinks, but also tend to be among the most entertaining bartenders you'll find on the ship. My doctor had been on the ship the week before us and said he'd loved watching the alchemists do their thing. And sure enough, they had some Vegas-style moves like lining up a dozen martini glasses on the bar and filling them all at once.
I'm pretty sure if I ever attempted that, I'd wind up with a big mess and several broken glasses.
I went with my favorite Alchemy Bar drink, the Cucumber Sunrise (which I tried to make a while back and failed miserably, despite having the recipe).
There was another tasty drink on the menu that was made with champagne and strawberries, but the name escapes me. Drinks here run about $13 if you don't have the drink package, and if you don't like what's on the menu, describe your ideal beverage to the mixologist and they'll whip up something unique just for you.
MORE: 21 Carnival Liberty Tips [PHOTOS]
Another Dinner, Another Show
Dinner in the main dining room was solid. I'm not going to say that I've never had a bad meal on a cruise ship — whether Carnival or other lines — but I will say that more often than not, I'm a pretty big fan of main dining room food.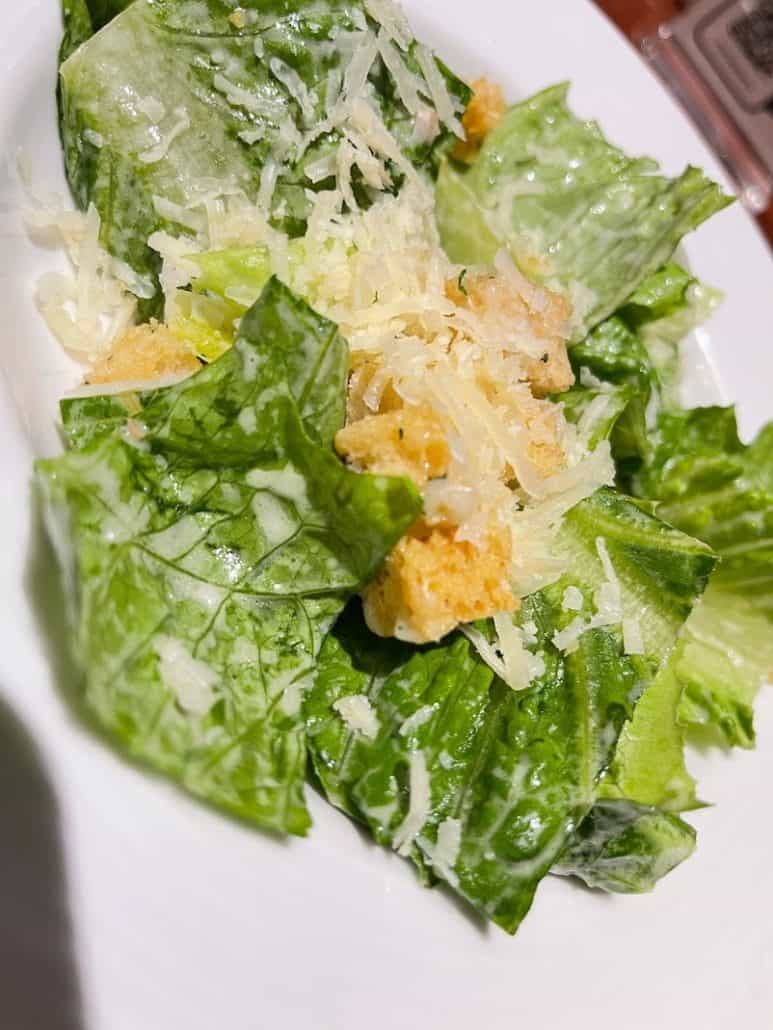 In this case, I had a Caesar salad, shrimp cocktail, grilled salmon, and the warm chocolate melting cake that I'd passed on last night.
Our dining team was working in perfect harmony with one another, and everything came out perfectly timed.
You know how sometimes there's a long lag between one course and the next? That wasn't the case here.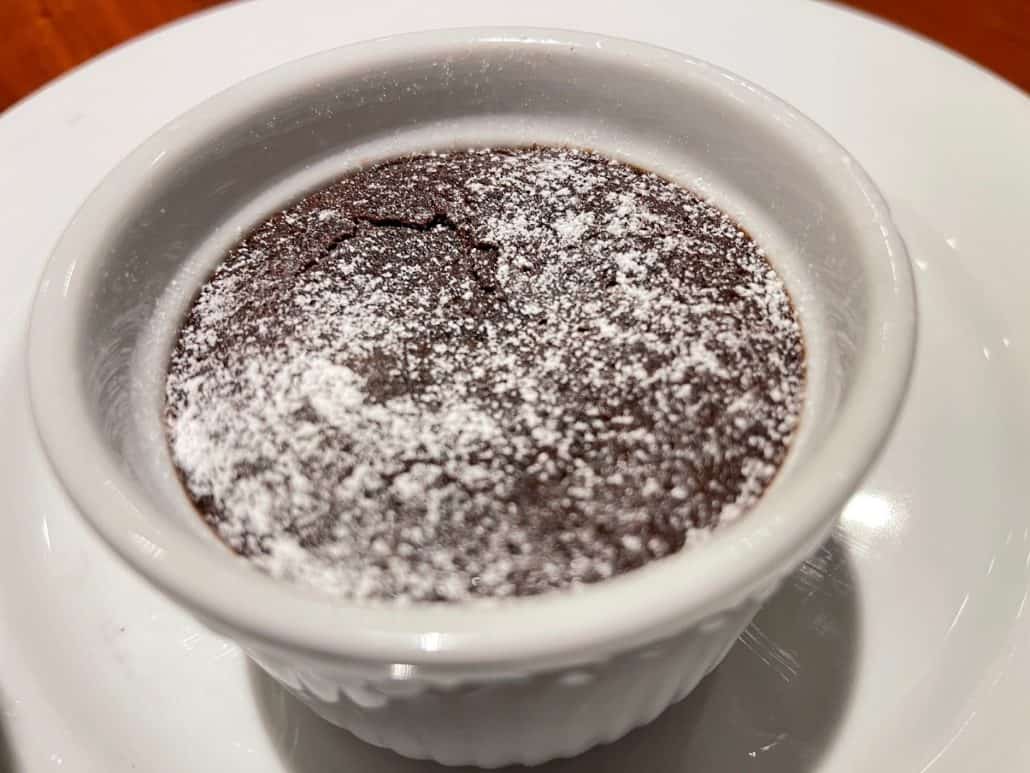 No sooner were the appetizers taken away than the main course arrived, right on schedule.
What's impressive to me is when they manage to do this and then, despite having worked their butts off, put on a little song-and-dance performance for us.
We had about 90 minutes to kill between when dinner ended and when the Playlist Productions show, Flick, was set to start. We headed to the Fun Shops so I could get my must-have souvenir (a ship model), then went back to the Alchemy Bar for another drink.
The Venetian Theater has entrances on decks three, four, and five. We used the entrance on deck four for tonight's show, meaning we weren't on the floor, but we also weren't in the nosebleed seats.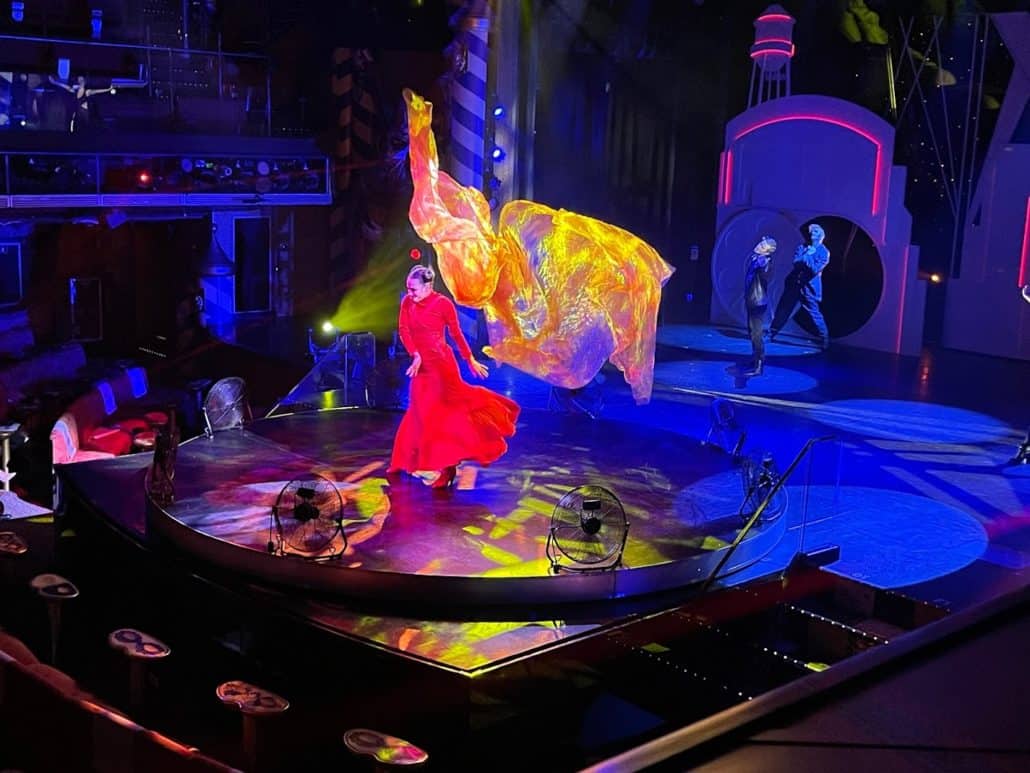 The middle seemed just about right. Flick is a decent show that they first rolled out on Carnival Vista back in 2016 before it was introduced across the fleet.
Like most of the Playlist Productions, it's a jukebox musical featuring a dozen or so musical numbers from various movies. It runs about 40 minutes and while they normally do two shows a night, they were only doing one because of reduced capacity on board, so the theater was fairly packed.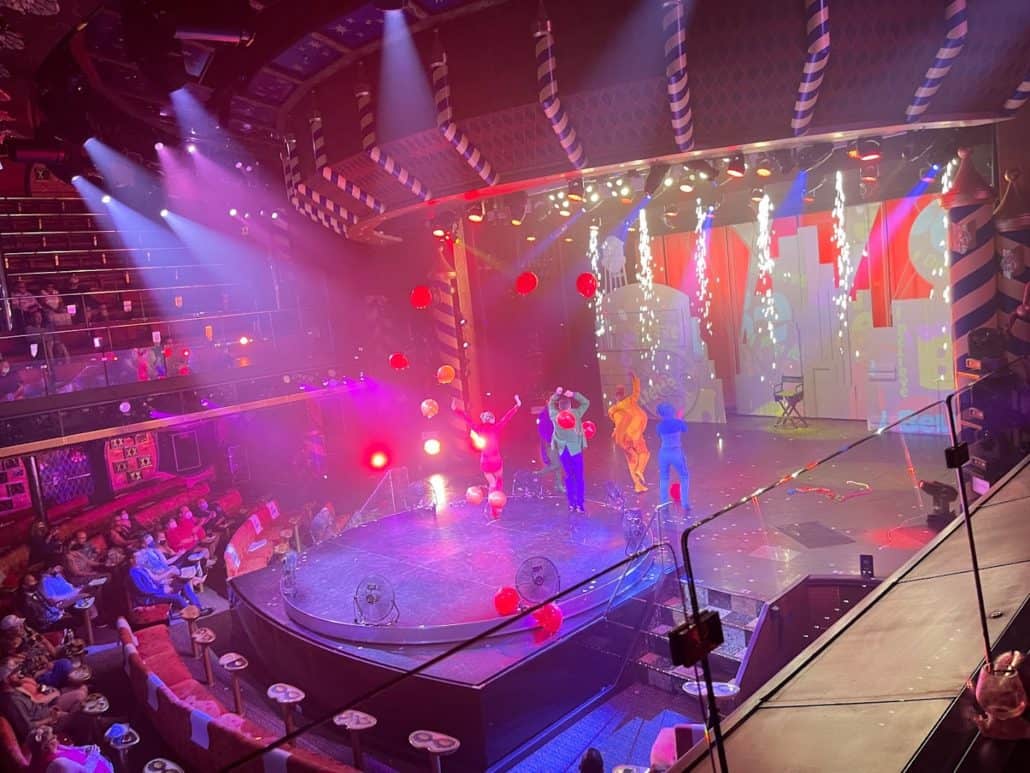 Tomorrow is Nassau, and even though we don't have much planned aside from checking out the new Margaritaville, we still want to get a semi-early start to the day so we called it a night around 10:30… or at least that was the plan.
But it was four hours from my last feeding time, so we went to get pizza, ran into people we knew, and wound up talking for about an hour before finally heading back to the stateroom.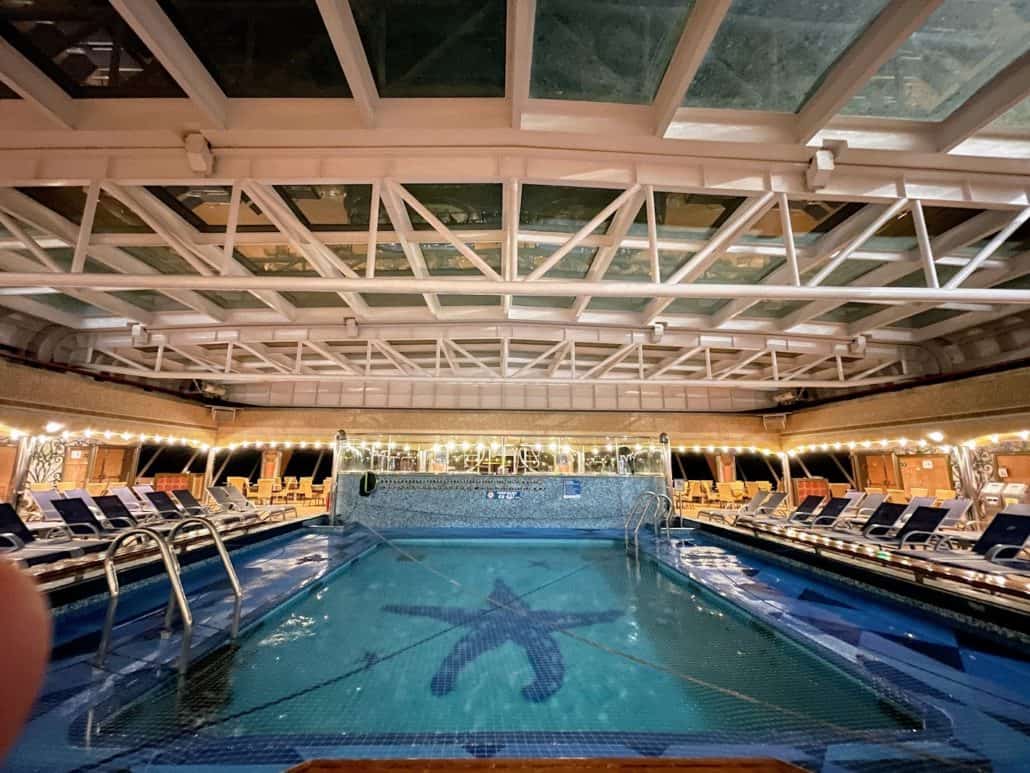 I don't care if you're stone-cold sober or have been working the Cheers! package extra hard, Carnival's pizza always hits the spot, especially if you ask them for extra cheese.
The secret to avoiding the lines that form as the night gets later? Hit the pizza place right after the comedy show or the theater lets out.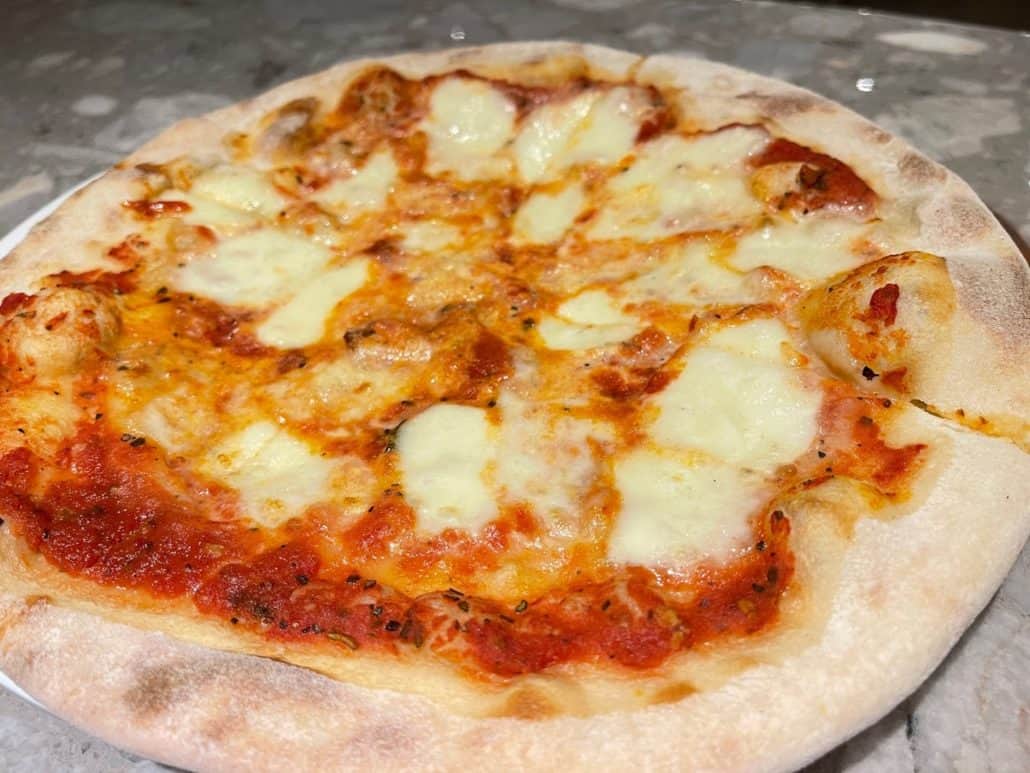 People usually wander around for a while before they realize that they want that late-night pizza. Wait too long, and you'll have to stand in a line… but it'll so be worth it.
Until tomorrow…
Don't miss my other Carnival Liberty trip reports: