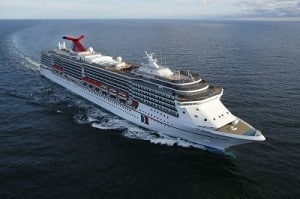 The 2,124-passenger Carnival Miracle begins service from New York City today, giving guests a chance to check out the Big Apple before embarking on an eight-night voyage.
Carnival Miracle is offering three unique eight-night itineraries on a rotating basis:
Eastern Caribbean departures to San Juan, St. Thomas and Grand Turk.
Bahamas departures with their private beach Half-Moon Cay, Grand Turk and Nassau.
Bahamas/Florida departures to Port Canaveral (Orlando), Nassau and Freeport.
The first sailing from New York will be the eight-night Eastern Caribbean itinerary.
In 2013 Carnival Miracle will reposition to the West Coast offering guests sailings to Alaska, Hawaii and the Mexican Riviera. Carnival Splendor will move east and take over the Big Apple sailings.
Subscribe to our Cruise News Updates.