Carnival Cruise Line officially announced on Tuesday that they will be sending another ship to Sydney, Australia, in December 2019: Carnival Splendor. At 113,000 tons with a carrying capacity of 3,006 passengers, Splendor will be the newest and largest of Carnival's ships to sail there year-round.
Carnival President Christine Duffy confirmed the news while in Australia at a media conference onboard Carnival Spirit, which operates year-round sailings in Australia alongside Carnival Legend's seasonal sailings. The arrival of Carnival Splendor in 2019 will increase Carnival's capacity in the Australian market by 66 percent.
"Today's announcement reflects Carnival's serious commitment to the Australian market," said Duffy. "We've had over 800,000 Australians cruise with Carnival since we launched in Australia just five years ago – a number that would fill the Sydney Cricket Ground 17 times over."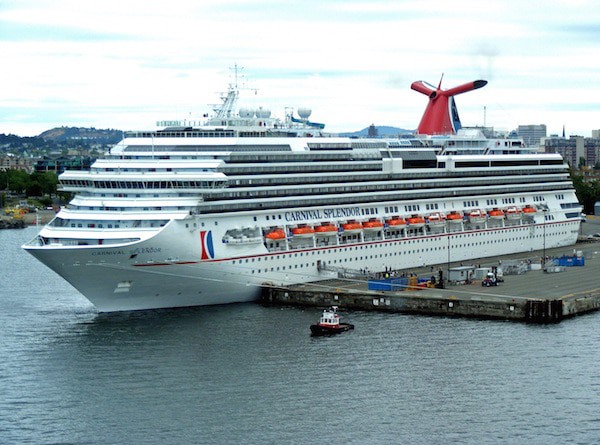 Carnival Splendor's maiden voyage from Sydney will follow a repositioning cruise from Singapore. Bookings for the ship's 2019 Australian sailings will open in March, and for 2020 are expected to open up this summer.
Splendor will also receive a bow-to-stern upgrade before departing to its new home. The new features will cater to the Australian guests, including new dining experiences tailored to local tastes and a brand-new waterpark. The ship will also have Carnival's first ever goddaughter: 6-year-old Matilda Jenkins, a patient at The Children's Hospital at Westmead, a hospital that Carnival supports through an ongoing partnership.
Just this week, Carnival Splendor arrived at its new home port of Long Beach, California. From there, it will operate 7-day Mexican Riviera sailings as well as longer-length sailings to Alaska and Hawaii. There is no word yet on which ship will replace it when it moves to Australia, though an announcement is expected in the near future.
Carnival Corporation initially announced a little over a year ago that Splendor would be transferring to P&O Cruises in 2019 to sail in Australia, but plans changed and now Princess Cruises' Grand Princess is scheduled to transfer to P&O Cruises in its place.
Carnival Splendor was built in 2008 and originally ordered by Carnival Corporation for the Costa Cruises brand. However, during construction the plans changed, and the ship was then set to order for Carnival Cruise Line. Today, Carnival Splendor is one of the few ships in Carnival's fleet to remain untouched by the Fun Ship 2.0 upgrades.
Listen to a review of Carnival Splendor here.
SaveSave