It's a beautiful day here on the Carnival Sunrise as Day 2 of our virtual cruise kicks off.
We've got a bit day ahead, including perhaps the best meal to be had onboard and a great show, so let's kick things off.
A Room With A View
What better way to start the day than by stepping out onto our aft-facing balcony and taking a deep breath of that fresh sea air?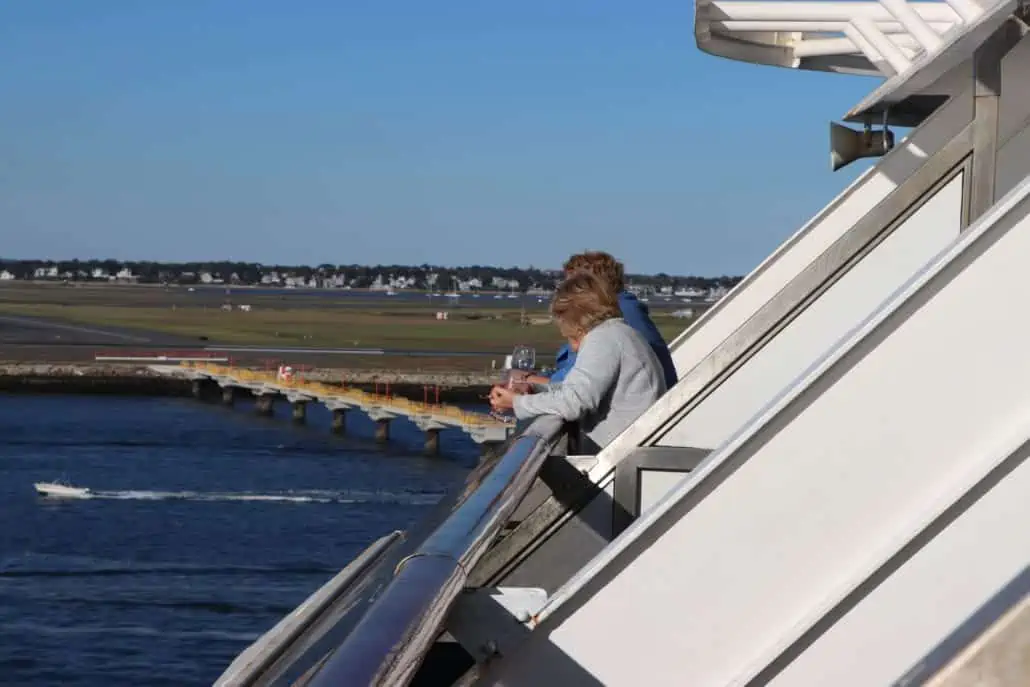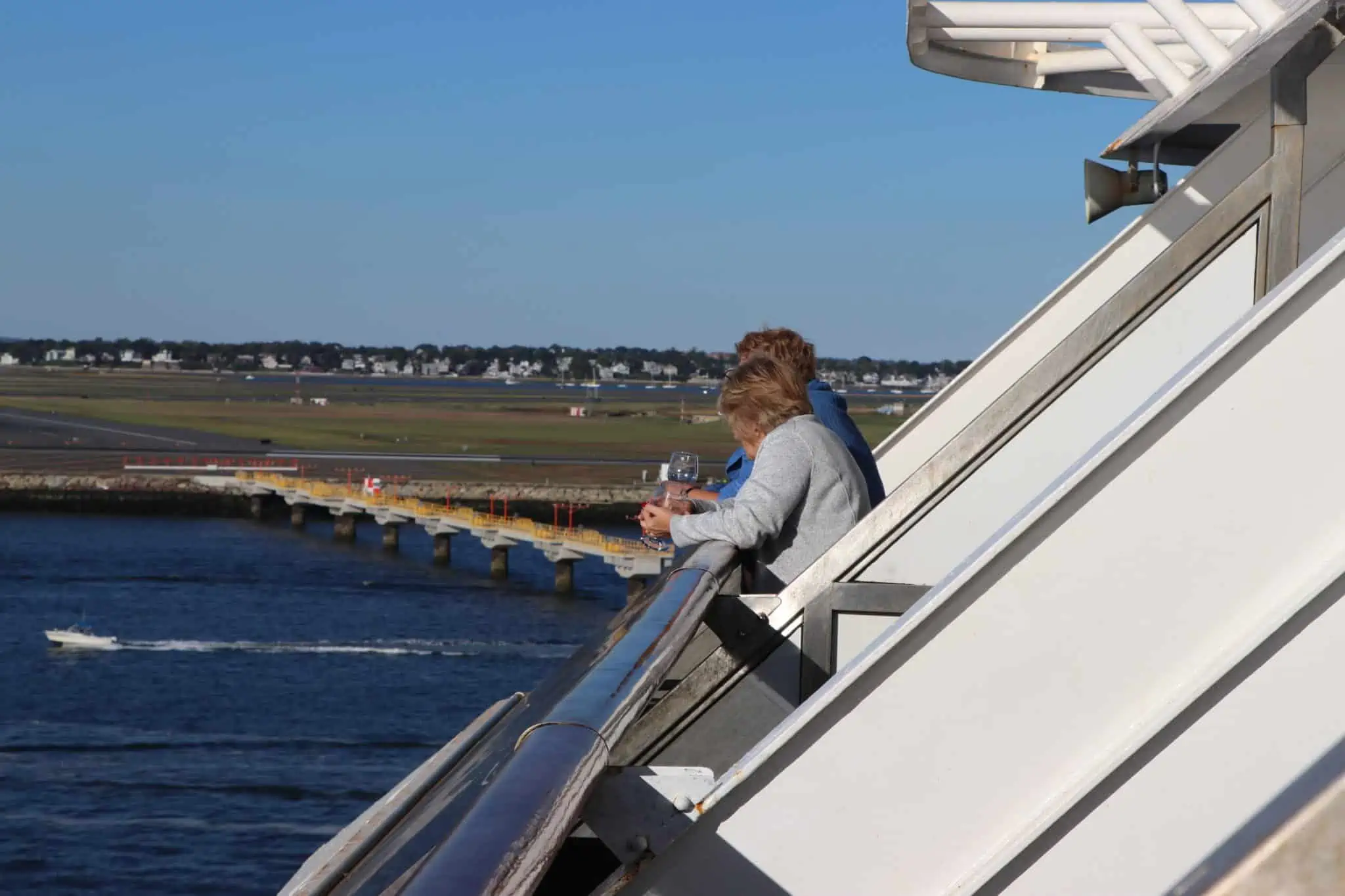 If you're like me, back home you're not much of a morning person. But put me on a ship and I'm up to see the sunrise as often as possible. Perhaps it's because I don't want to waste a single moment of my precious, hard-earned vacation. Maybe it's because on a cruise, I often do something I rarely have time to do at home: nap.
The other thing I do on a ship that I rarely do back home is start my day with a cocktail. Now, don't judge. In fact, instead come on down to the atrium with me for a Bloody Mary.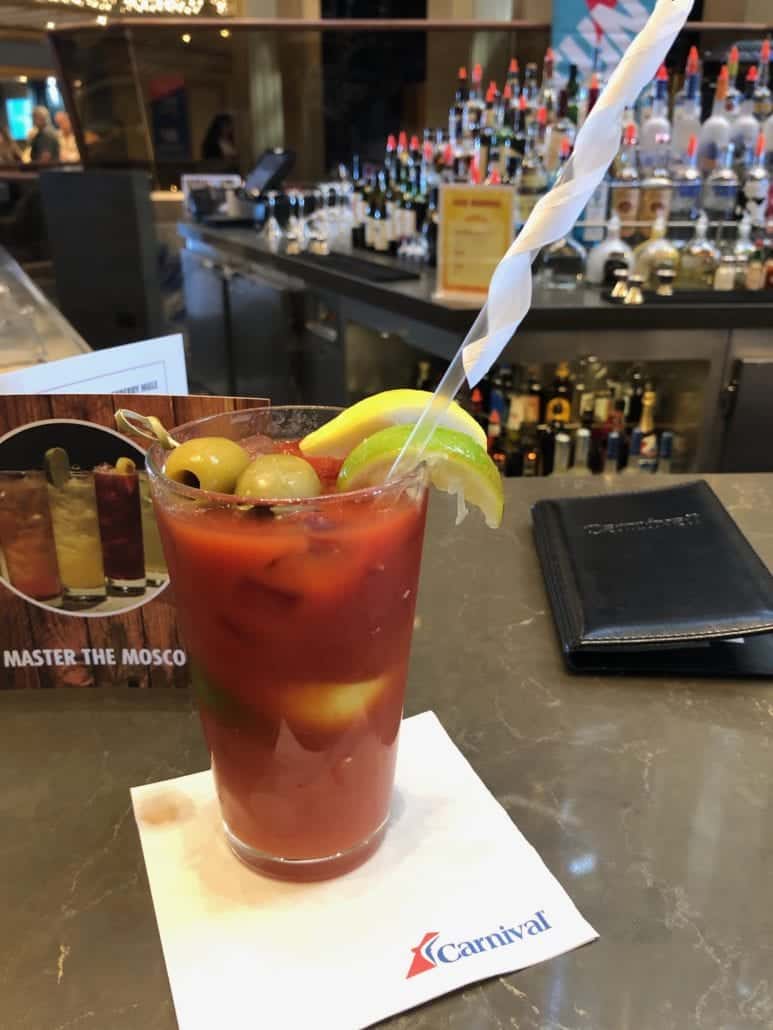 One thing you can be pretty sure of is that no matter how early you grab that Bloody Mary, you're not going to be sitting at the bar alone, at least not for long. One of the things I've taken to doing over the past few cruises is hosting sort of an informal Top O' The Mornin' cocktail hour.
By day three or four, you have a group of regulars who compare what they did the night before, ponder their plans for the day and just generally enjoy one another's company.
This is a shorter-than-usual trip, though. After all, our virtual cruise spends today and tomorrow at sea, and then we disembark. So we'll have to see how many folks get with our Bloody Mary program in such a short period of time.
Putting The Fun In a Fun Day At Sea
I've long said that when it comes to cruises, my attitude is that it's the journey, not the destination. I don't care where the ship is going, I just want to be on it. In my mind, the more sea days, the better.
Now, I don't want you to think less of me, but one of my favorite ways to spend a sea day is to find a bar — preferably one outdoors — and let the day unfold around me. Talk to complete strangers. Cheer on those brave enough to take part in the pool-side competitions. (Hey, if they don't judge my day drinking, I won't judge them for entering the Hairy Chest competition.)
Because it's a gorgeous, sunny day, let's wander up to the top of the ship and play a few holes of miniature golf.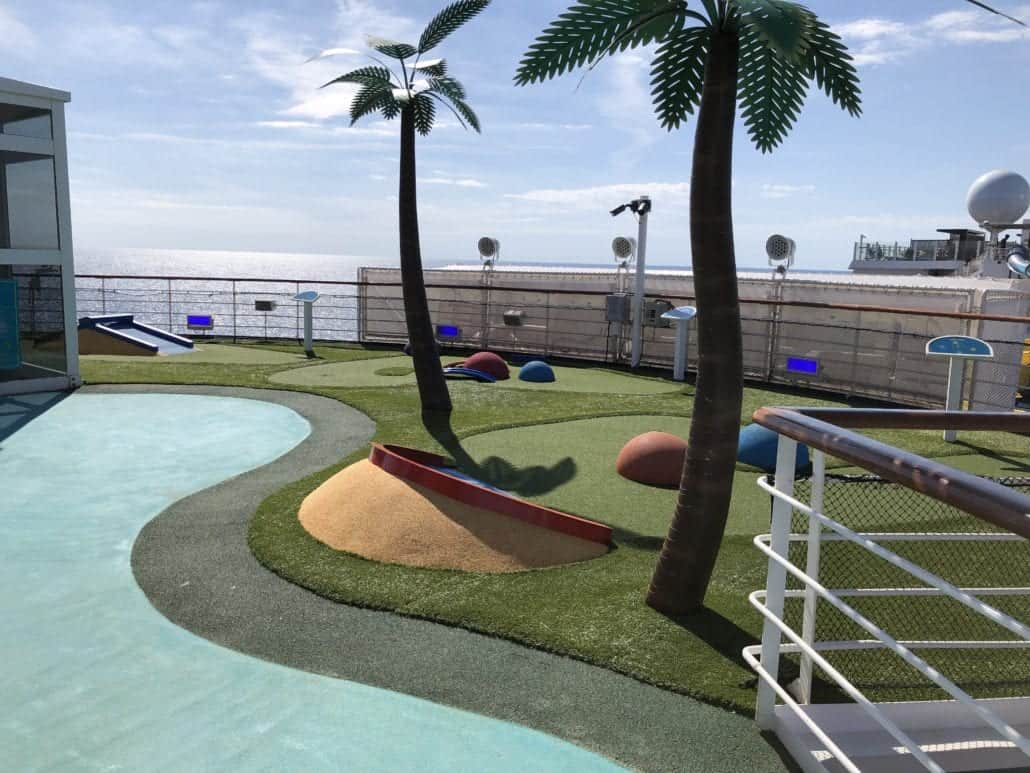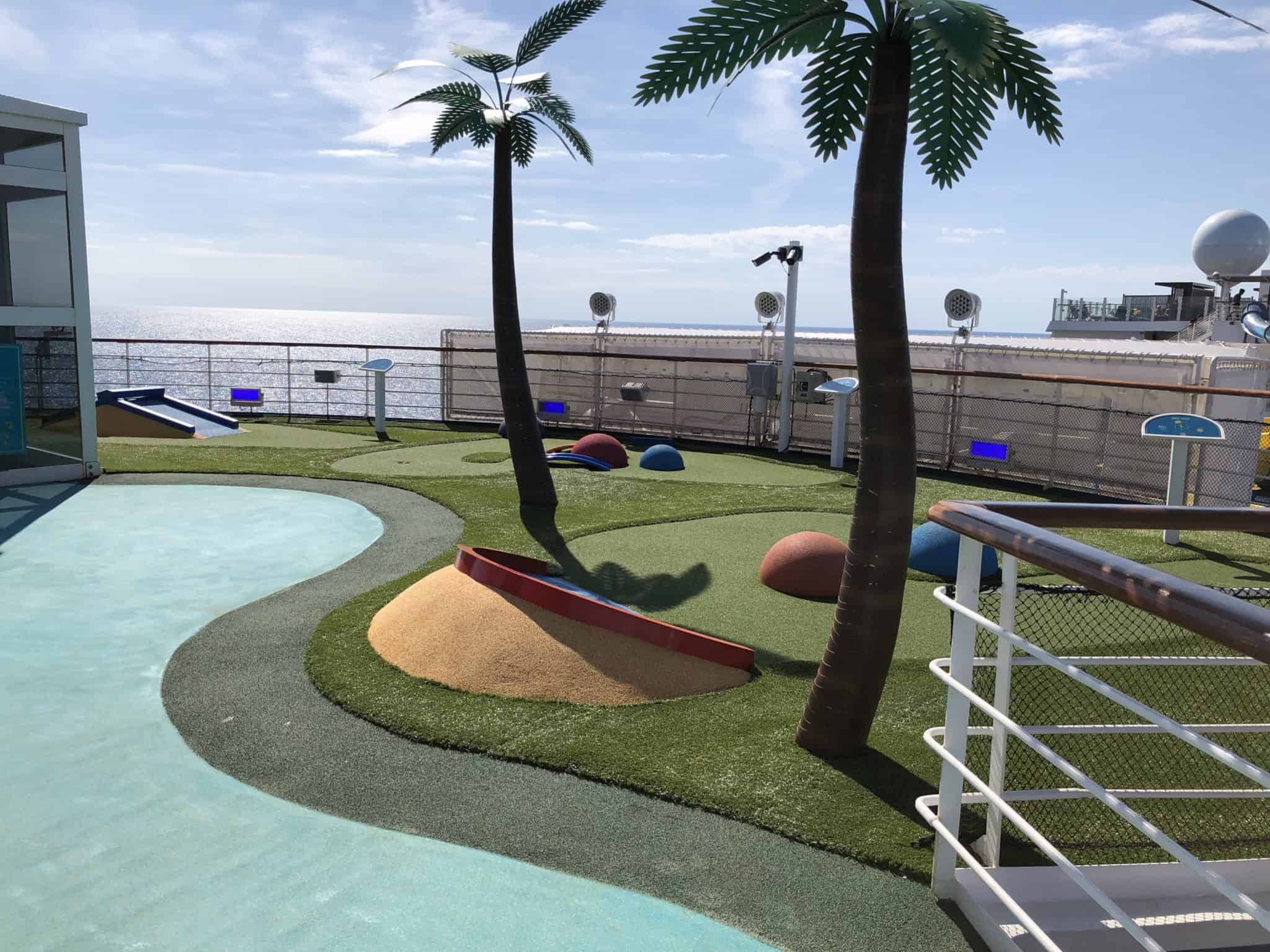 I'm going to let you in on a little secret: Even the best golfers will find this course challenging. Not because the holes are particularly tough, but because on even a marginally windy day, you have about as much control over the trajectory of the incredibly lightweight balls as you do the weather.
Somehow, that just makes the whole thing even more fun.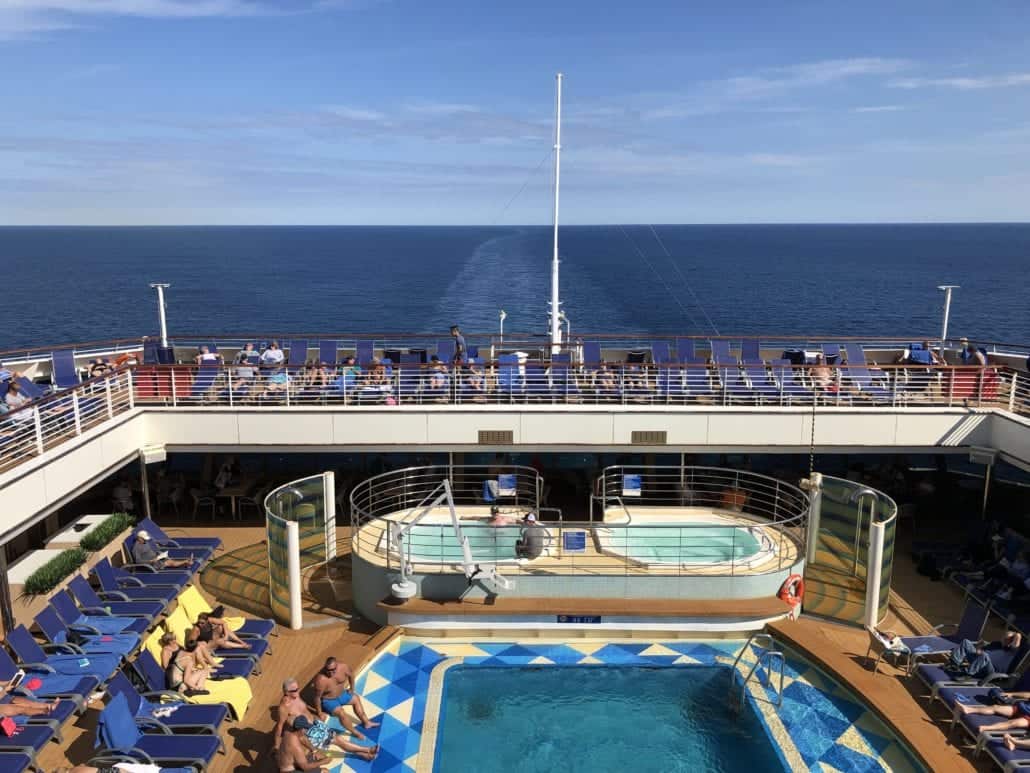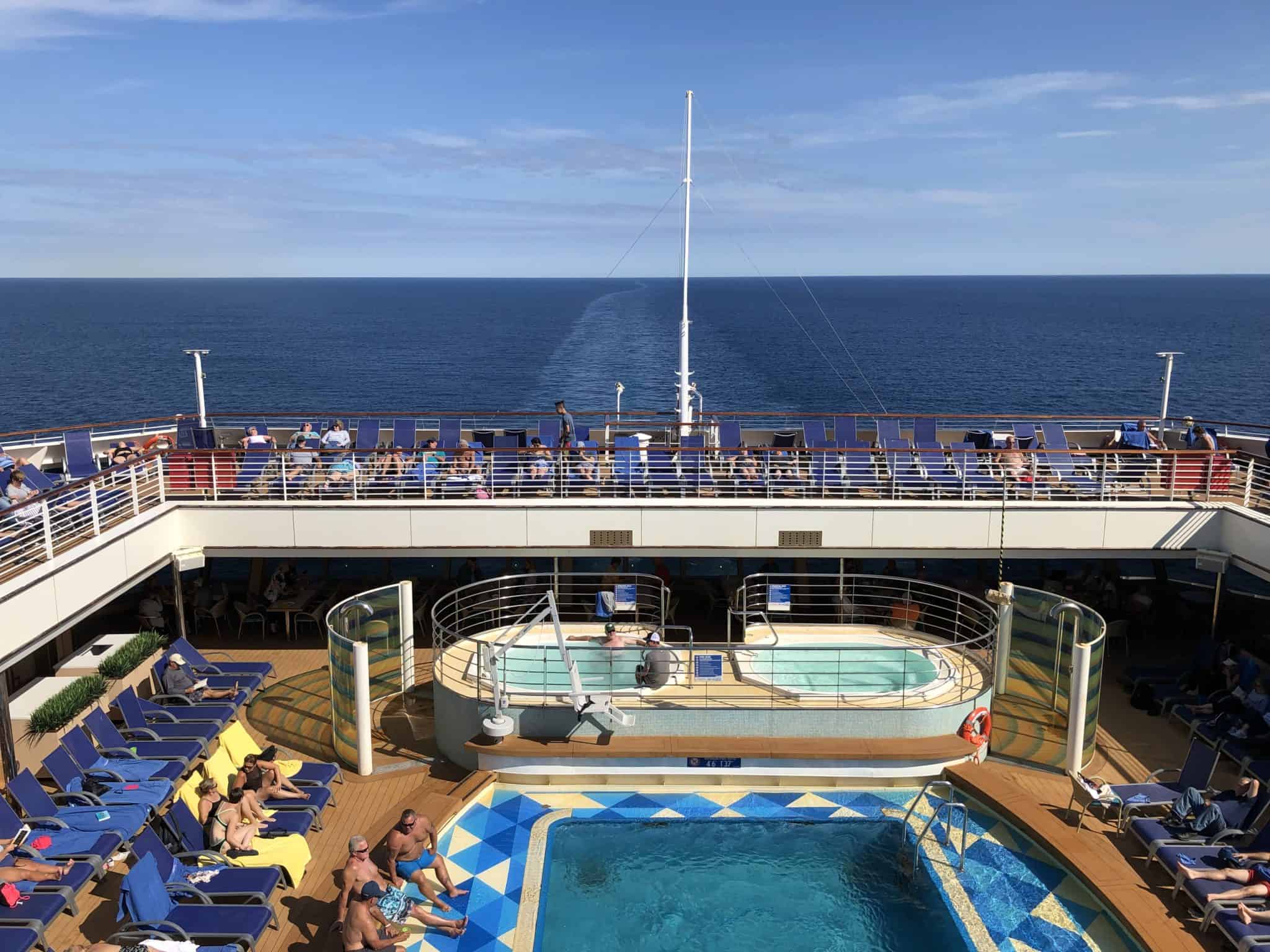 As you can see, everyone's out, soaking up some rays, including here at the aft pool and hot tubs. Personally, I prefer it back here to the larger main pool. Sure, there's usually a band playing, DJ spinning or a game being played at the larger watering hole, but I like being away from the madness.
In fact, let's go somewhere even more peaceful, shall we? Let's wander over to the Serenity Deck.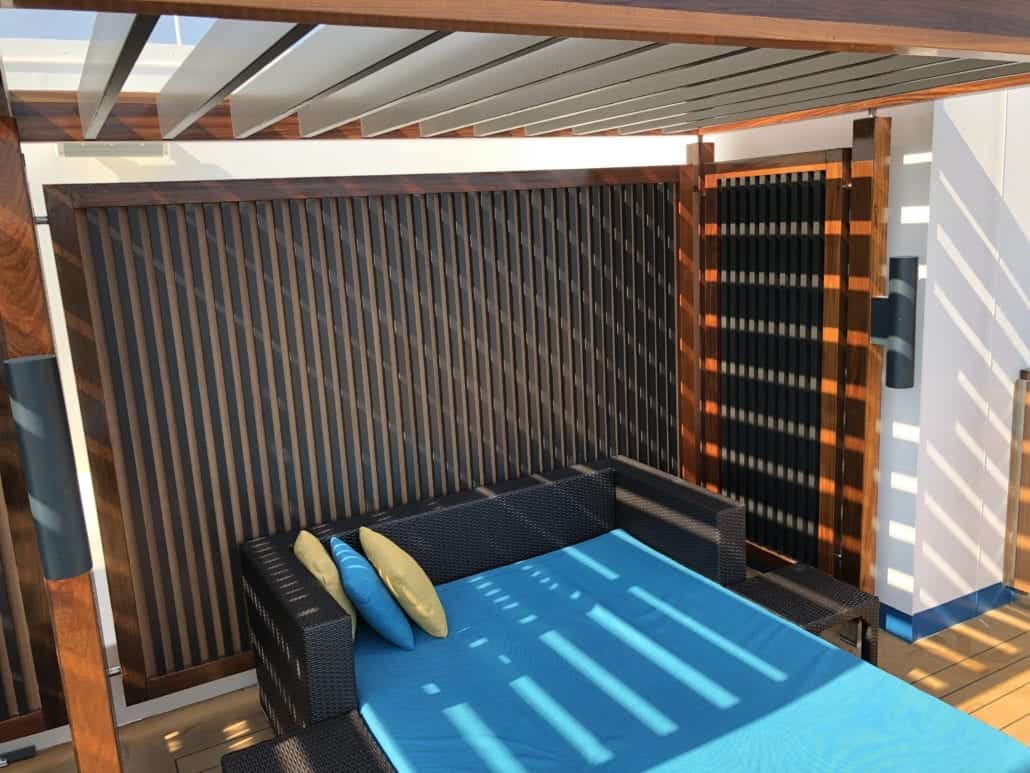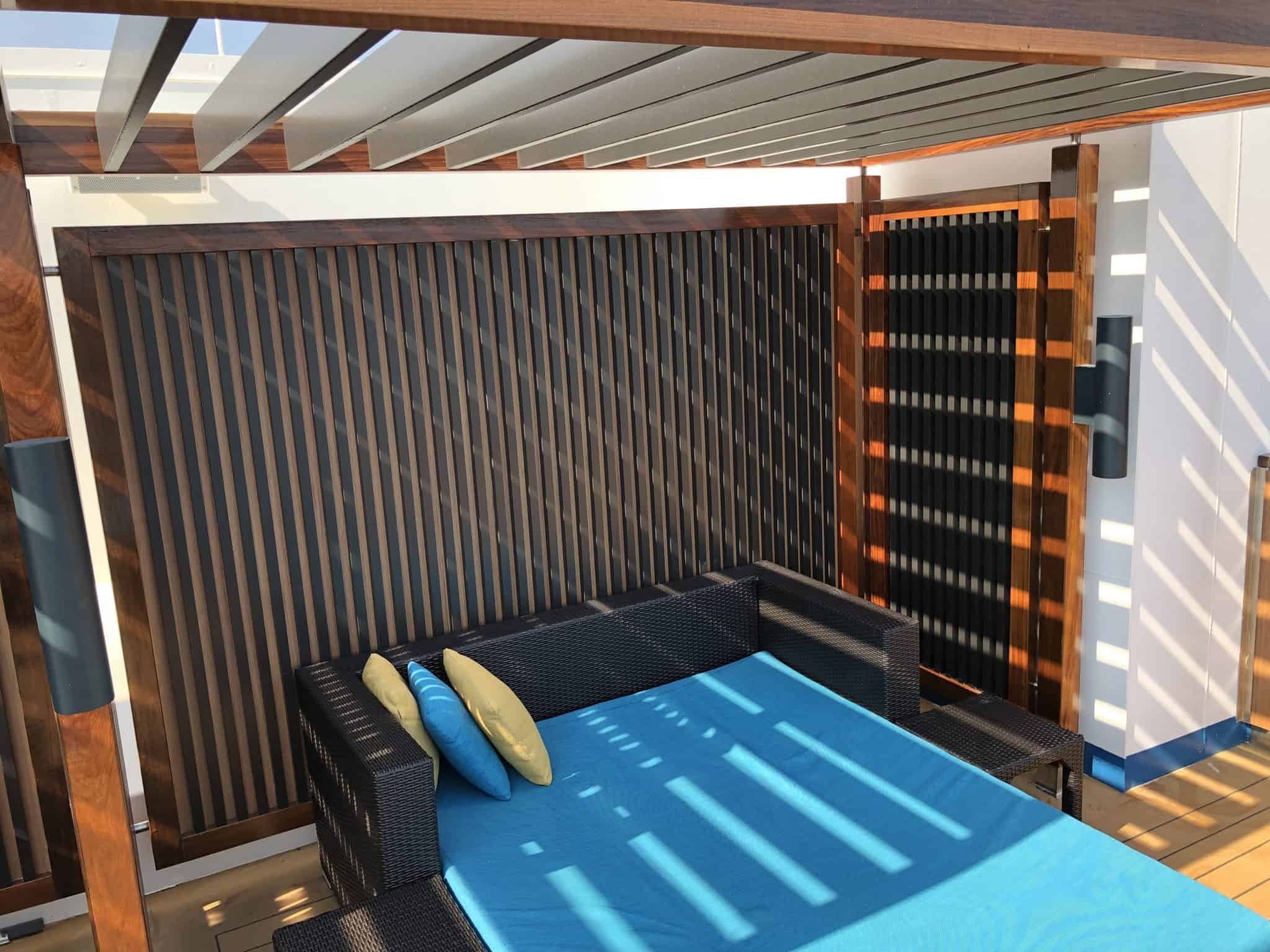 Comfy, padded loungers, a private bar, secluded hot tubs… there's an awful lot to love about the Serenity deck. But if I'm being honest, the thing I love most is what it doesn't have: children. It's okay, parents, you can admit that you like sneaking away to the adults-only haven for a little peace and quiet. Remember, this whole trip is a judgment-free zone. (I'm not even going to comment on the fact you've already gone to Guy's Burger Joint — twice.)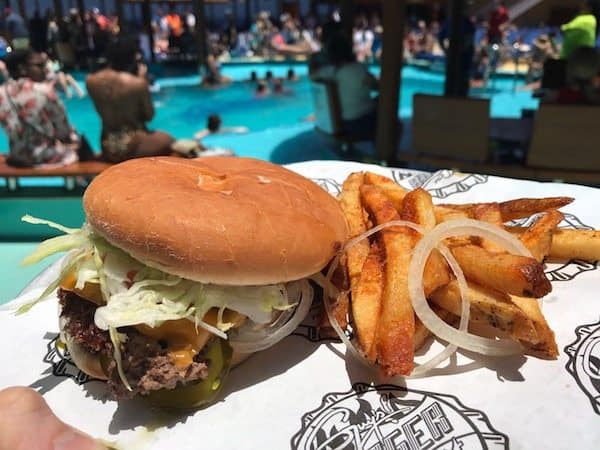 Personally, I'm skipping lunch, because I'm super stoked about our dinner plans. Oh, didn't I tell you? Well, I got us the best seats in the house for the best meal at sea. That's right, tonight, we're doing the Chef's Table. You're in for a real treat.
READ MORE: 15 Carnival Sunrise Dining Venues
But since we still have a little time to kill, why don't you guys go explore for a while. There's Trivia going on in the RedFrog Pub, and a jewelry sale in the Fun Shops. Oh, and don't forget the Power Hour in the arcade, when all the games are half-price. (If you're worried you'll be the only adults there, trust me, you won't be.)
As for me, I'm going to head back to the room for that much-anticipated nap. How about we meet up for pre-dinner drinks at the Alchemy Bar?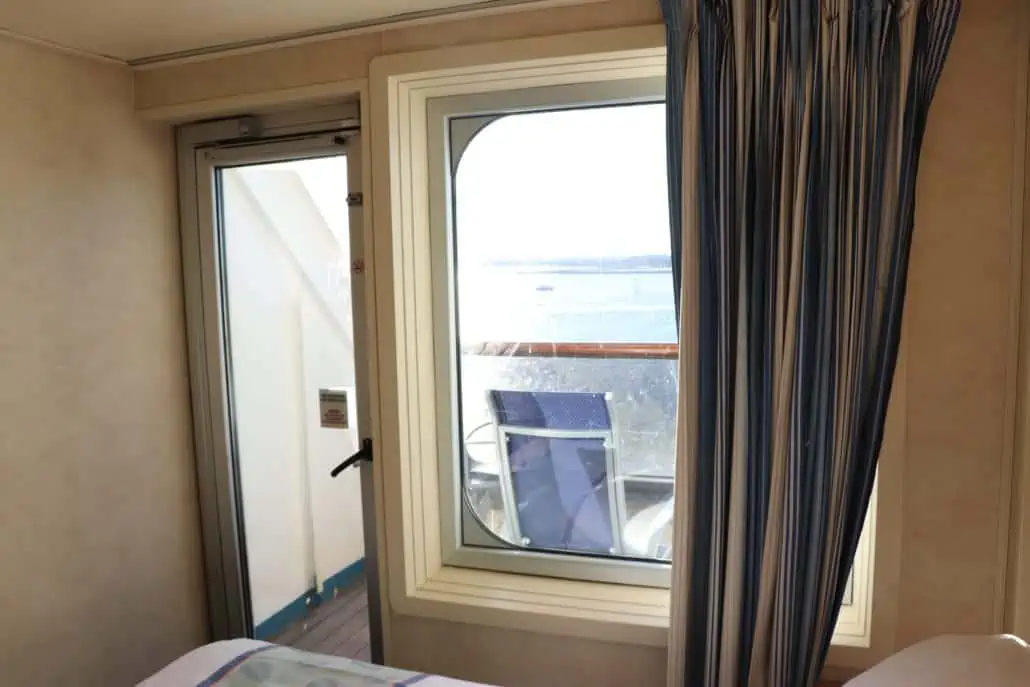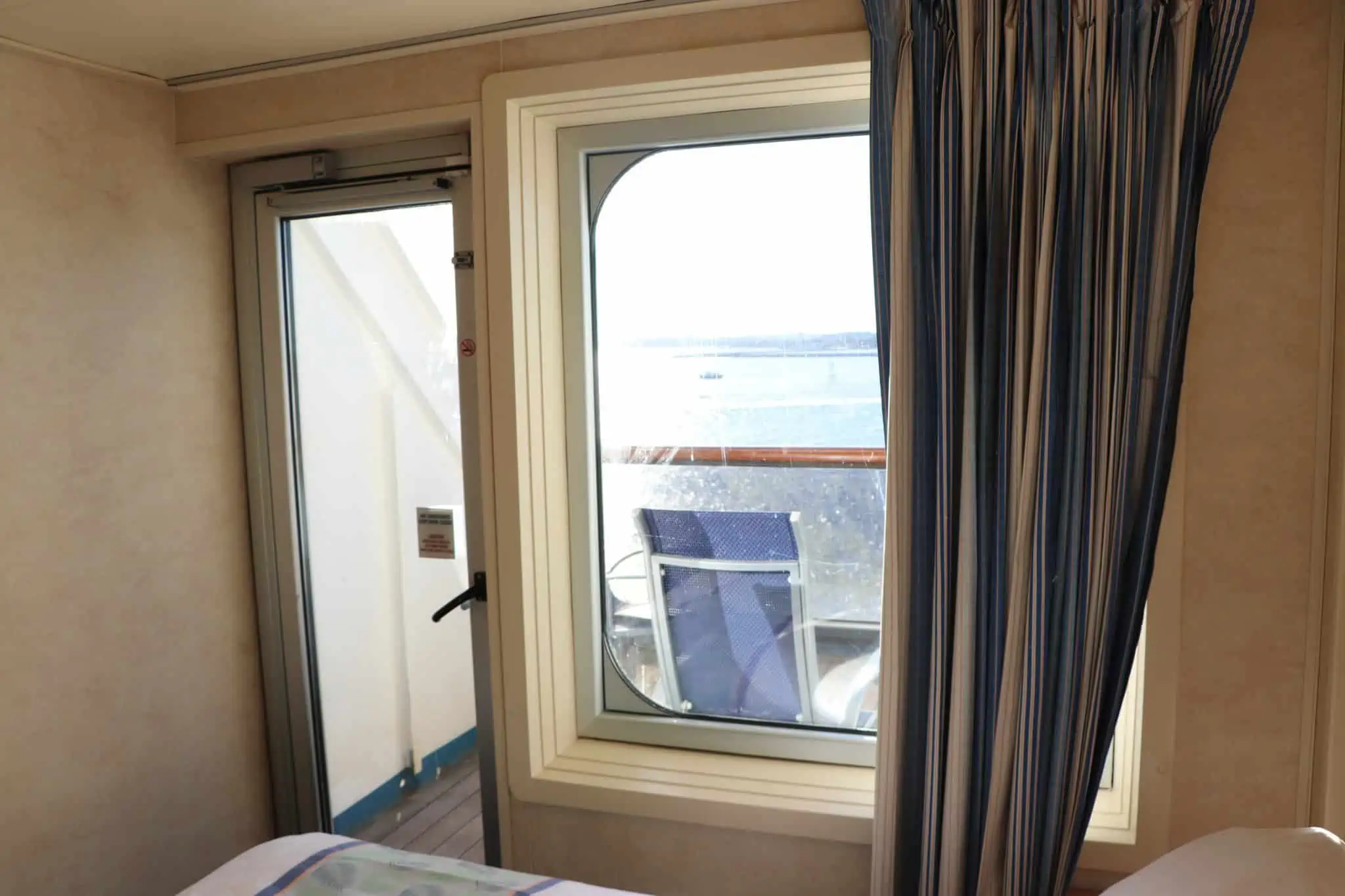 A Dinner You'll Never Forget
So, did you have a fun afternoon while I was napping? (Time flies when you're having fun, even on a virtual cruise.) Glad you could come hang at the Alchemy Bar before dinner.
Ever since my first Carnival cruise, which was on the Sunrise's sister ship, the Carnival Sunshine, I've been a huge fan of the Alchemy Bar. The mixologists here really do, as advertised, have the cure for what ails you.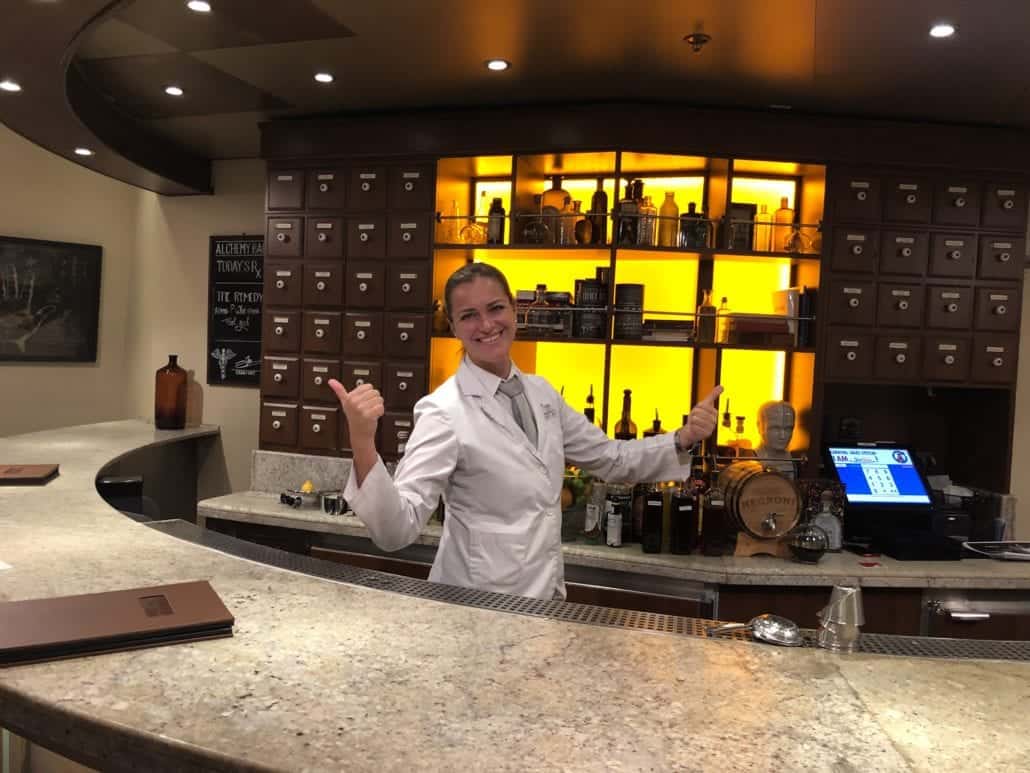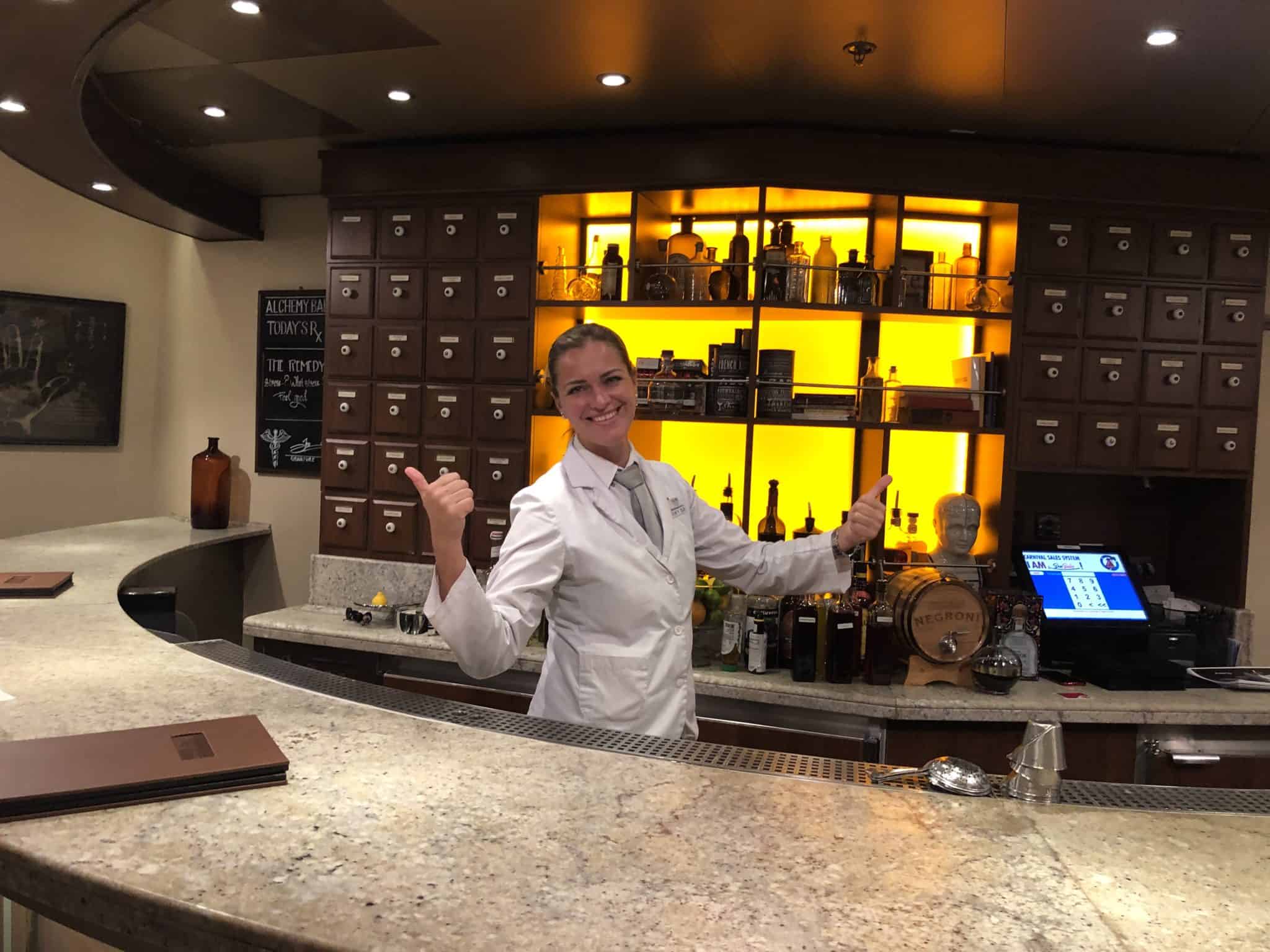 If it's your first time here and you're not sure what to get, I'd recommend one of two things: First, you could always just tell the mixologist exactly what kind of drinks you like — give them an idea of your flavor profile — and put your libatious fate in their hands.
Or you could go with what has to be the most popular drink on the menu, the Cucumber Sunrise.
How to Make a Cucumber Sunrise
Here, go ahead, have a sip of mine.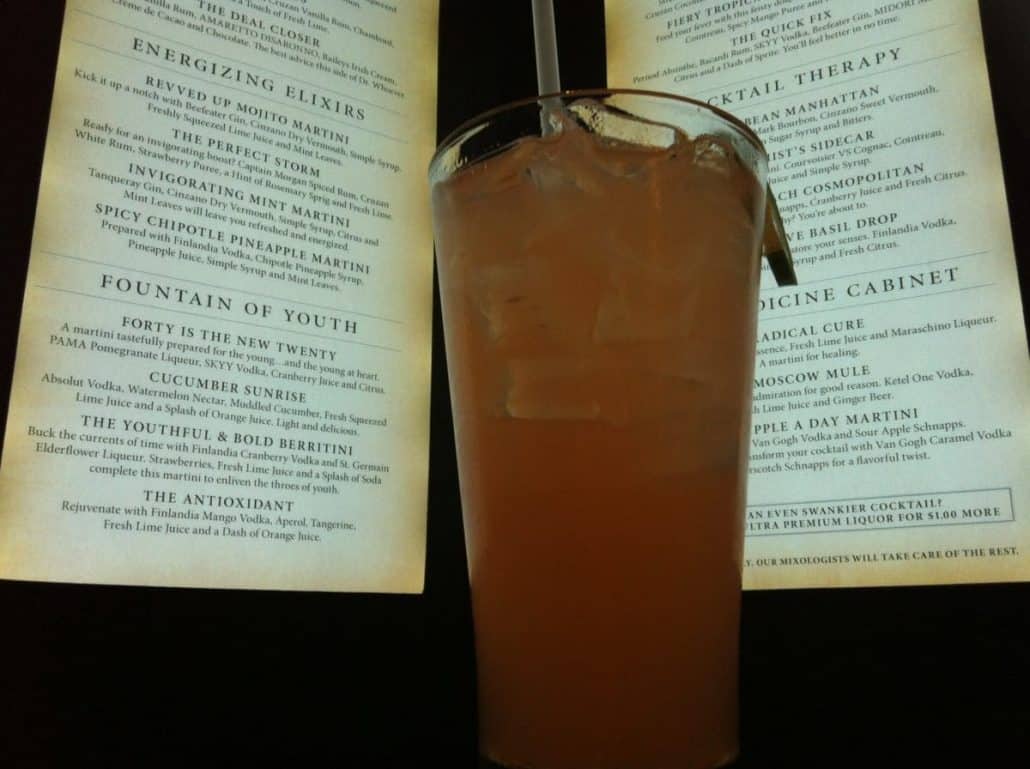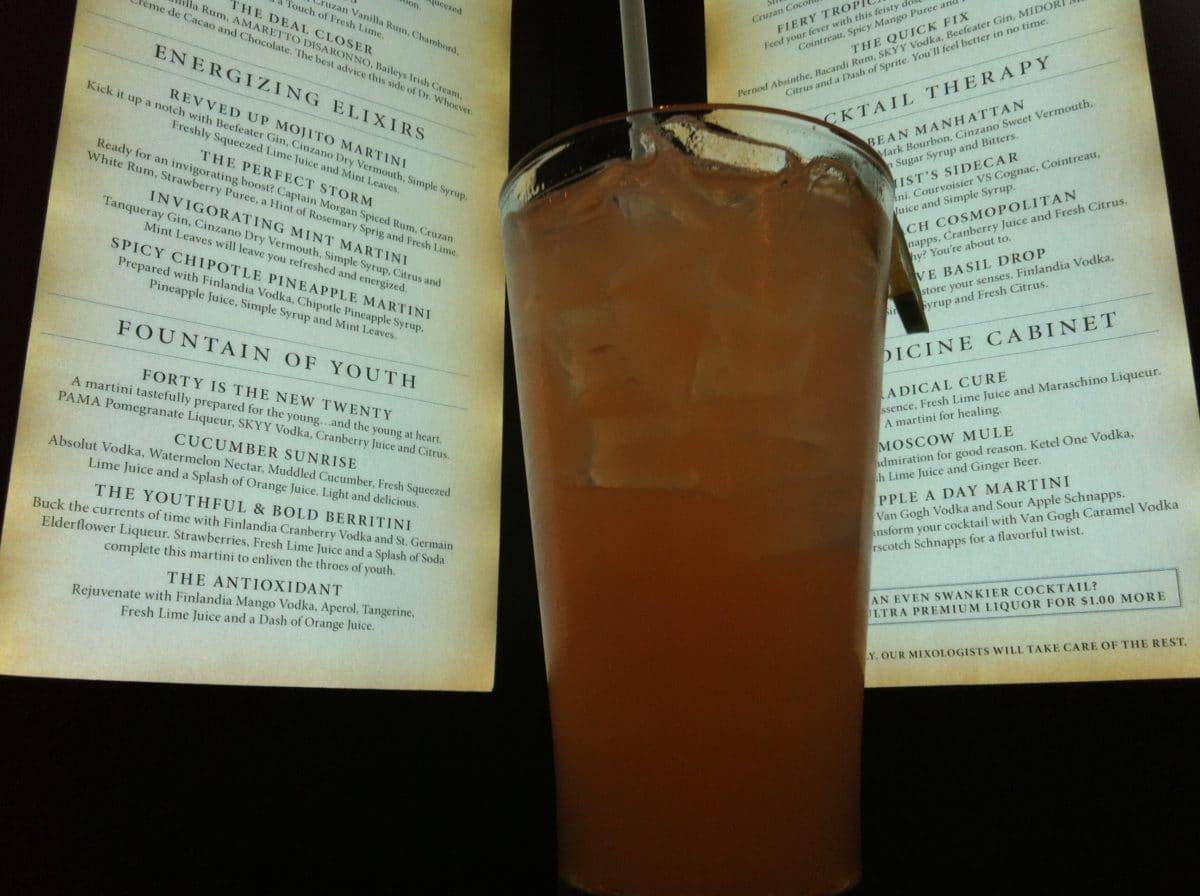 A word of warning: Be careful at the Alchemy Bar. The libations go down easily, and they pack a punch. Grab another to go if you want because we're gonna be late for the Chef's Table. (Although you can also just do the wine pairings with dinner if you want.)
READ MORE: 7 Alchemy Bar Recipes To Whip Up At Home
The first top on our culinary adventure is the galley, where they serve up a series of appetizers that are tasty and, in a few cases, tricky. One even involves a spinning pillow. (Confession: This appetizer was clearly smarter than me, cause my pillow refused to cooperate. It was still delicious though.)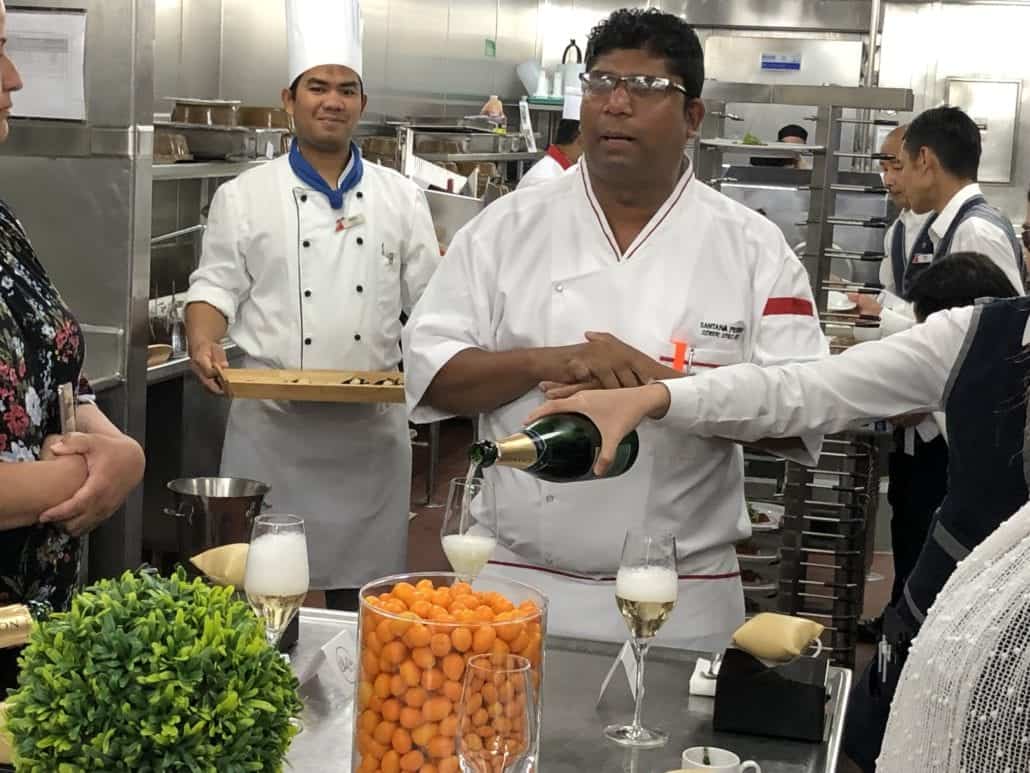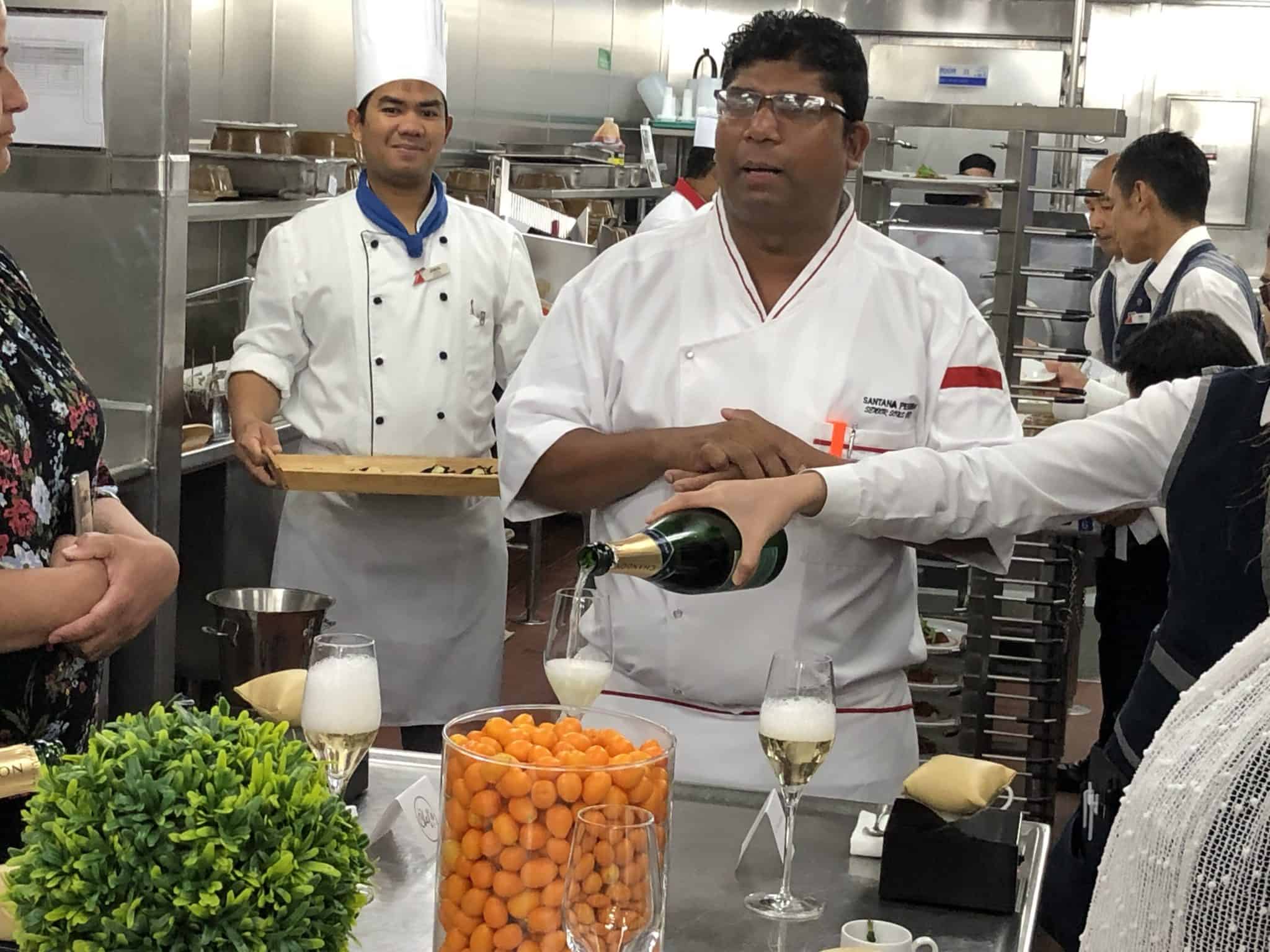 Next, we'll head into the gorgeous, newly-created space in which our special meal is going to be served. If any of you have special dietary needs, they've already noted them and will make alterations to the menu as necessary. Oh, and that printed menu they give you? Keep it handy, because as you taste each course, I guarantee that you'll say, "Oh my God, wait, what is this?" Then you'll pick up the menu and try to figure out how the words you're reading correspond to the explosion of flavor your mouth is experiencing.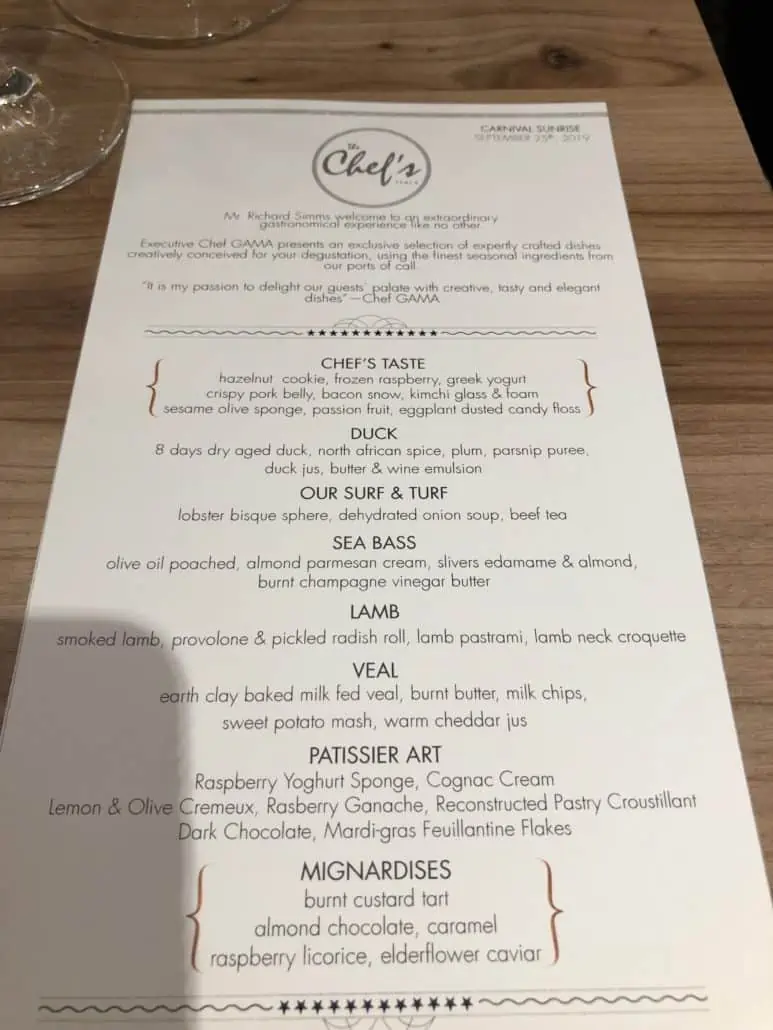 I had actually done the Chef's Table two or three years ago on a different Carnival ship, and this menu is almost entirely different. That said, even if the menu were the same, I'd do it again in a heartbeat. It's a special night, well worth the cost. (But hey, don't worry. Because this is a special night, Carnival's picking up the tab for all of us.)
So originally, I'd planned for us to go see a show after dinner, but between that meal, the drinks and being out in the sun, I'm kinda beat. So how about if we put off the show until tomorrow? We'll also be doing another fun meal tomorrow. I won't tell you exactly what, but I will say it involves a colorful cast of characters and some creative twists on brunch foods.
For now, I'm going to head to the casino, see if maybe lady luck (who sometimes goes by the name Margo) will be on my side this evening.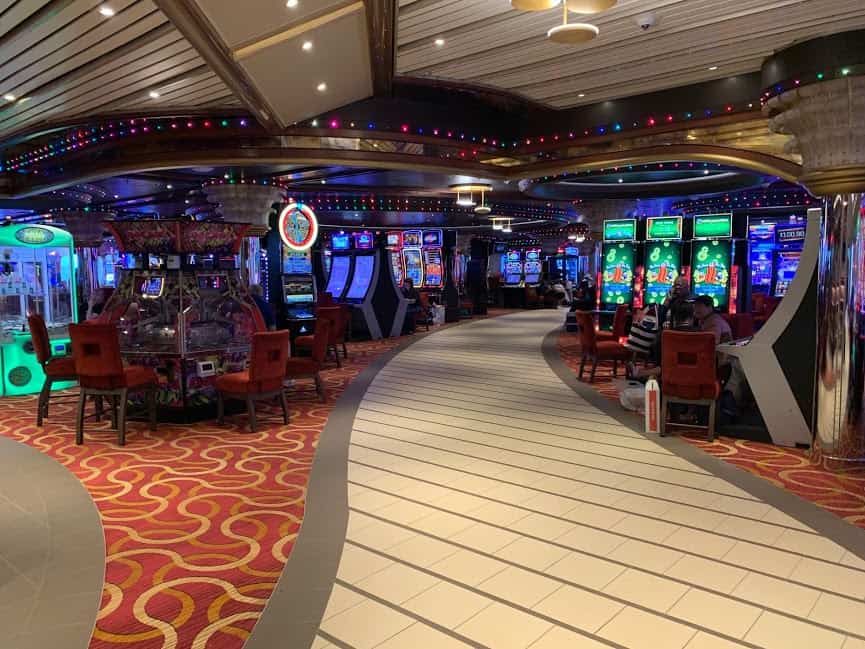 But the night is young, and so are you (hey, it's virtual reality, you can be as young as you wanna be!), so go out and play. There's a band playing in the RedFrog Pub, people are singing along with the piano man in (where else?) the piano bar, and there's a pretty kick-butt party going on out by the pool.
Or maybe you just wanna take the hand of that special someone and stroll the deck in the moonlight. I've heard tell that the sea has the power to bring out the romantic in even the most curmudgeonly of souls.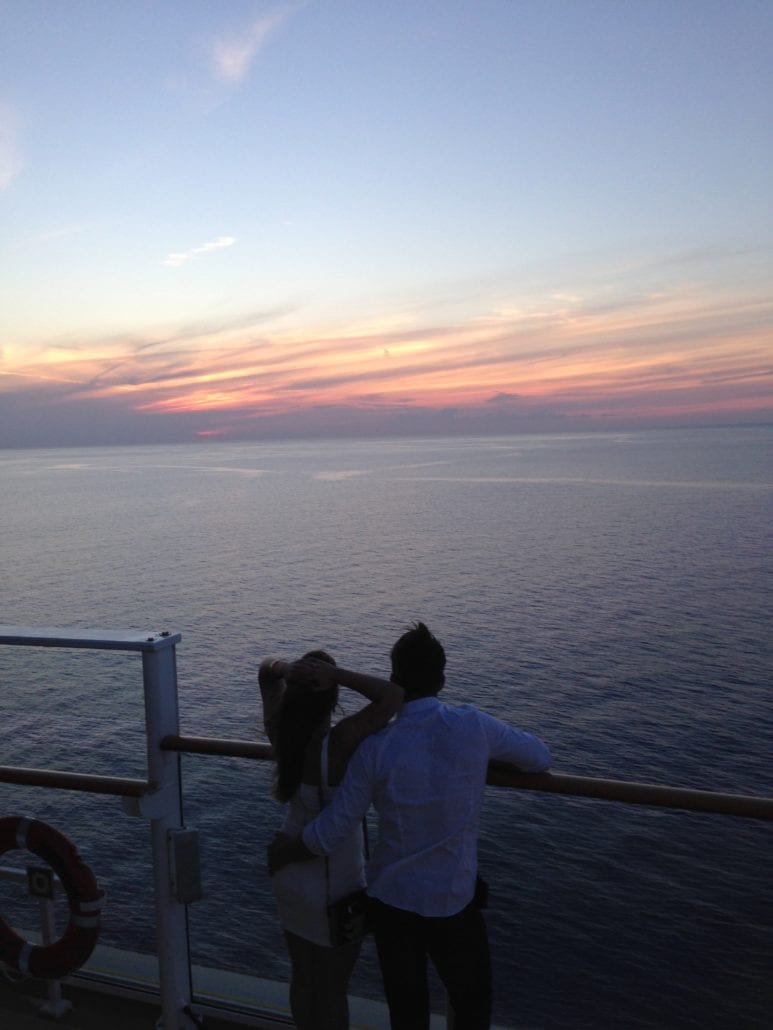 Until tomorrow…
Read previous entries:
31 Carnival Sunrise Tips