Carnival Sunrise was introduced to the world in April 2019.  As part of the $200 million dollar renovation,  a slew of new places to eat were added to the ship. We break down the 15 places to eat onboard Carnival Sunrise.
15 Places to Eat on Carnival Sunrise
1. Lido Marketplace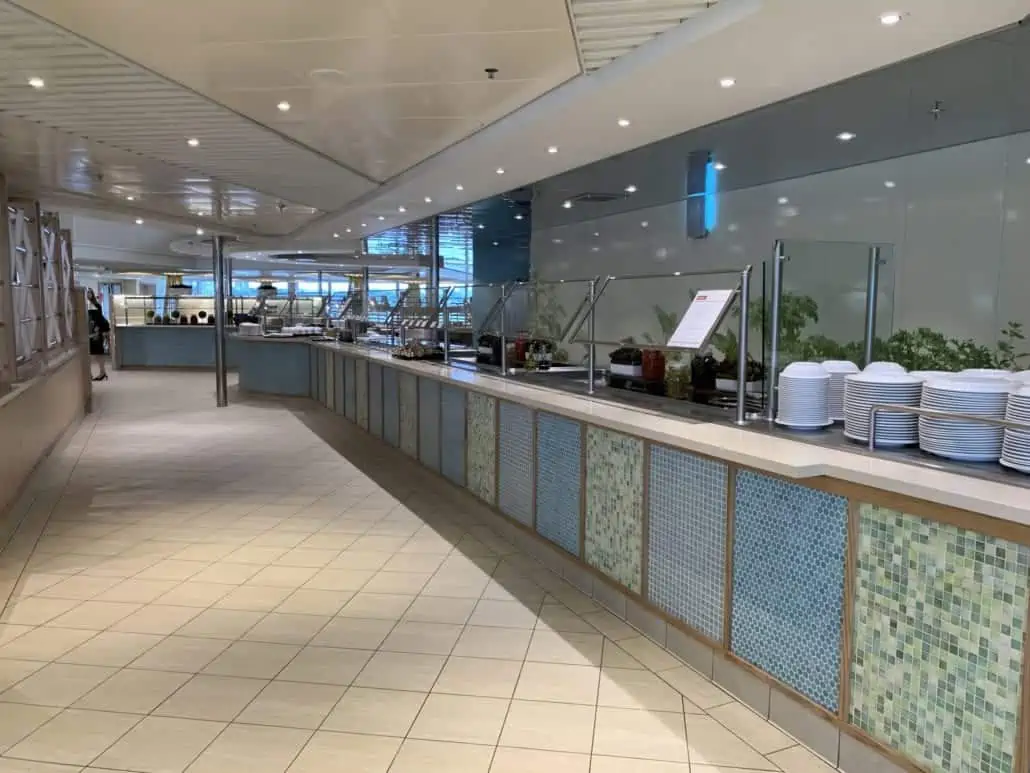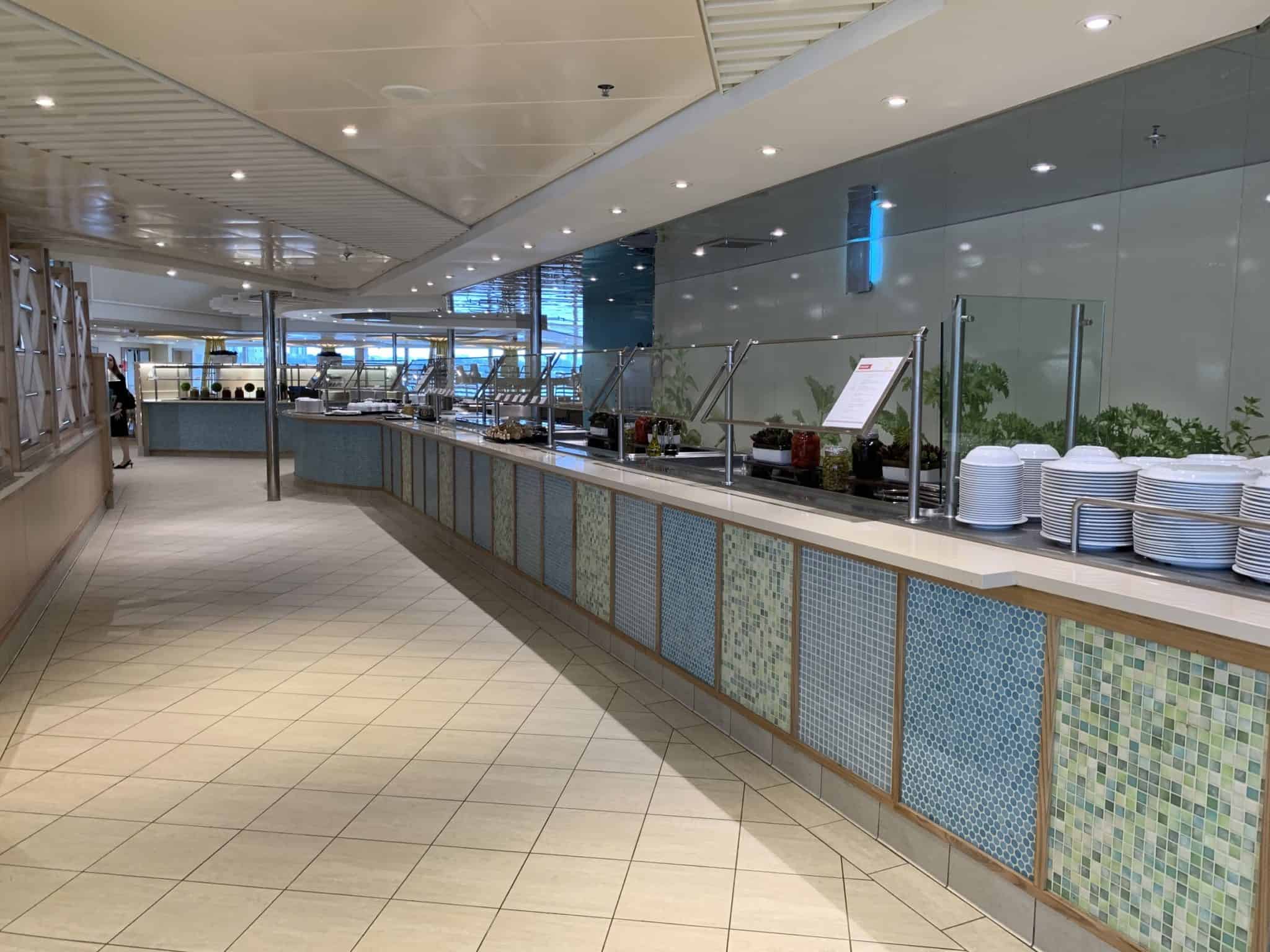 Cost: Included in your cruise fare 
This spot is the most popular dining venue. Located on deck nine, Lido Marketplace serves breakfast, lunch, dinner, and late-night snacks. In other words, just about any time you get hungry, there will pretty much always be something here to satisfy your munchies.
You'll find buffet favorites in here like the meat carving station, salad bar, a dessert station, and also themed selections, like Italian, that will change throughout the cruise.
Seating is available in the Lido area if you want to dine inside or on the outside decks; deck nine also has some covered seating poolside by the mid and aft pool.
Since this is a complimentary venue you could literally eat every meal here and not spend a dime during your cruise.
2. Lucky Bowl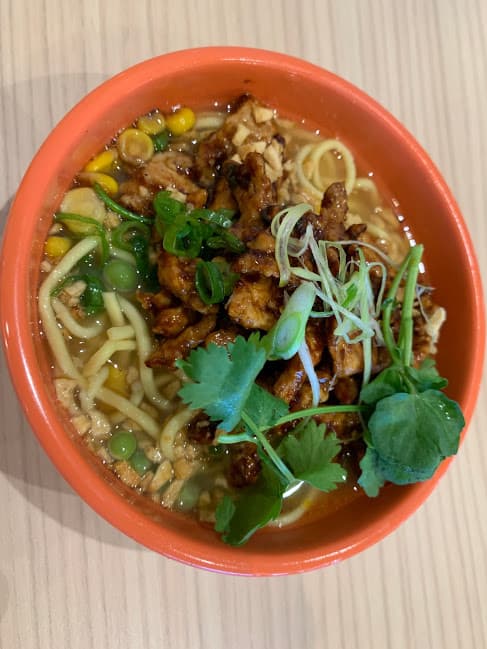 Cost: Included in your cruise fare
This is a first for Carnival, with three different bowls to choose from every day. It seems to have replaced the Mongolian walk area that you typically found on the Lido deck. Lucky Bowl was open until about 3:00 p.m. every day, but the operating hours do vary. Menu items are like Cantonese pork and Korean fried chicken presented in bowls.
There are four different menus that rotate, so there are different options every day of your cruise.
3. Carnival Deli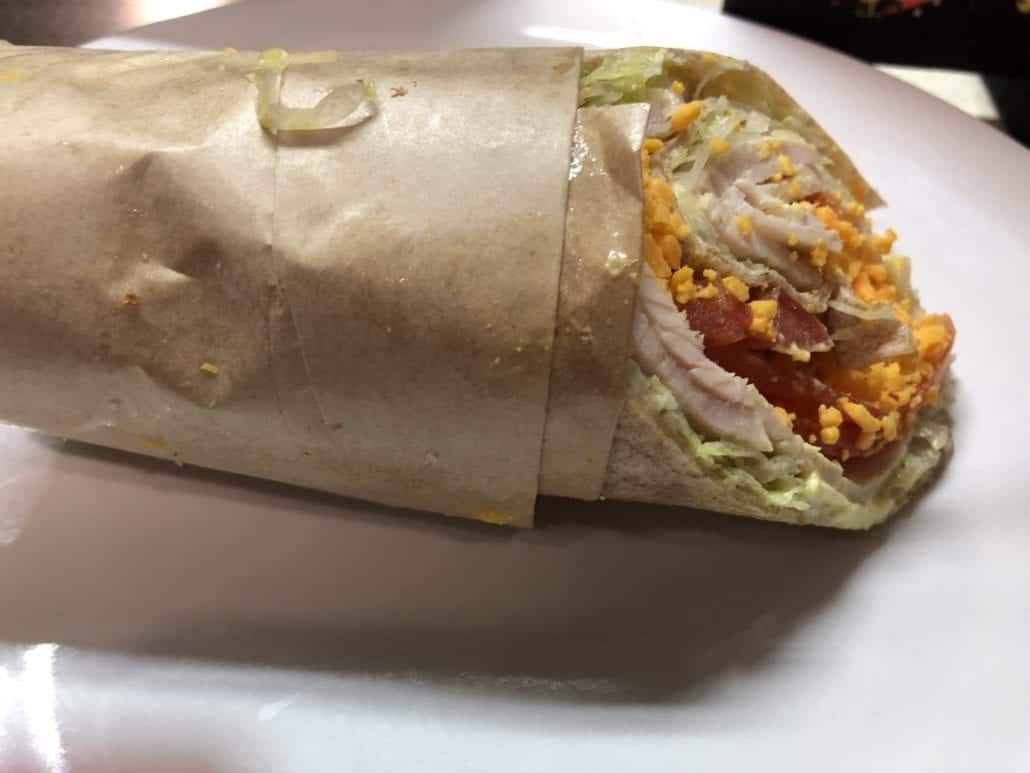 Cost: Included in your cruise fare
Just opposite of Lucky Bowl on deck nine is Carnival Deli. This is where you'll find wraps, sandwiches, fries and one of my favorite snacks, the chocolate salted cookie.  The lines at the deli can get kind of crazy  around lunchtime but it is open typically from 11:00 am to 11:00 pm, so you have a good twelve-hour span. The Carnival Deli seems to be the least crowded in that lag time between lunch and dinner, and later on in the night.
4. Pizzeria del Capitano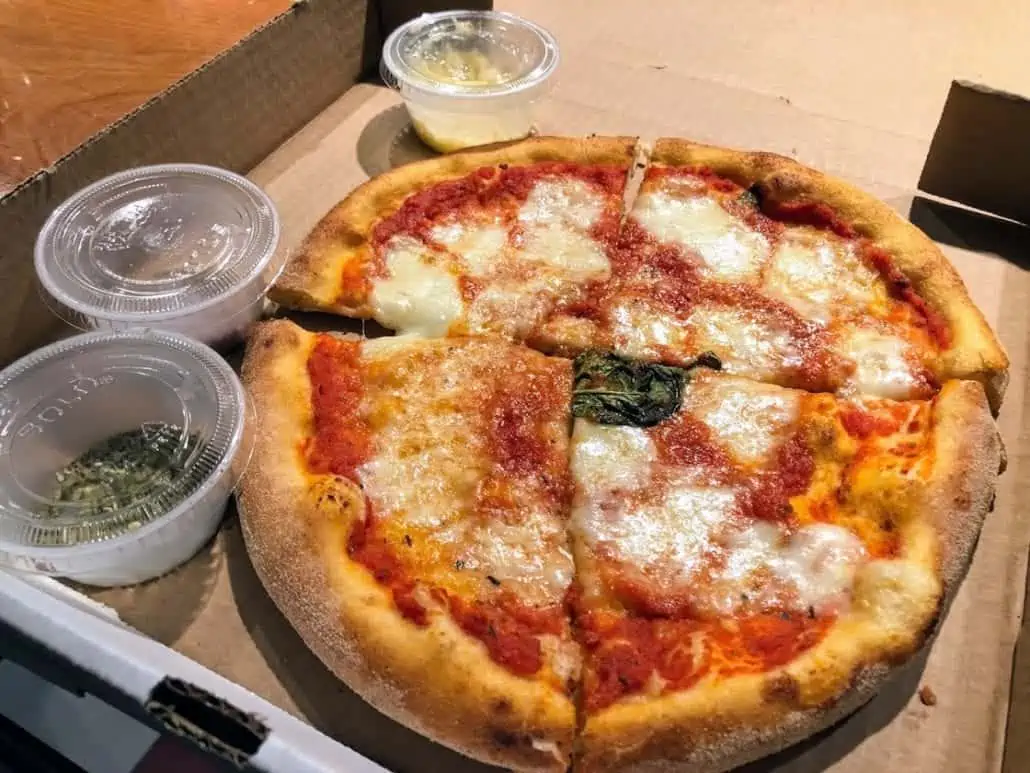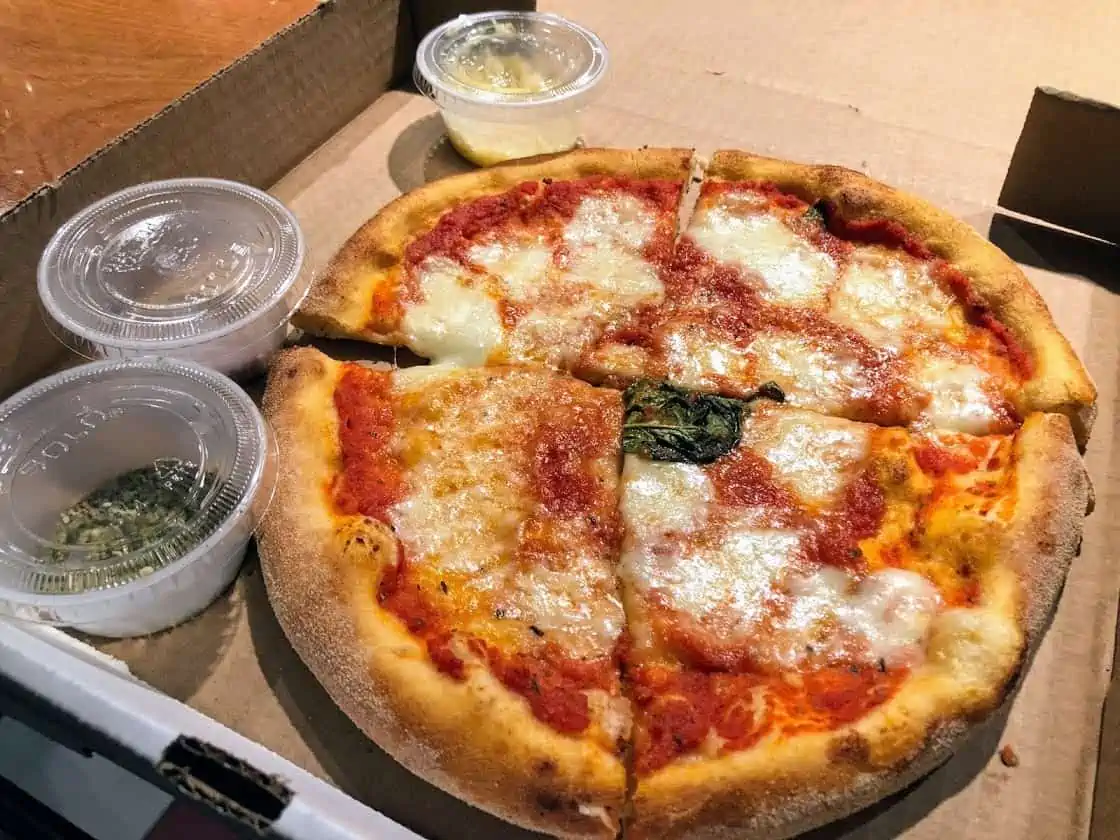 Cost: Included in your cruise fare
The pizza restaurant is in the back of the ship located on deck nine aft. You can choose from a few different pizzas here and have made it fresh for you while you wait. This is included in the fare of your cruise.
Depending on the time of day, there could be a short wait to here to get your pizza. But if you don't feel like waiting you can launch your carnival hub app and$5 have your pizza delivered to you anywhere on the ship. This place seems to be the busiest around lunchtime, after dinner, and since it's open 24 hours, just after the bars close down.
5. Seafood Shack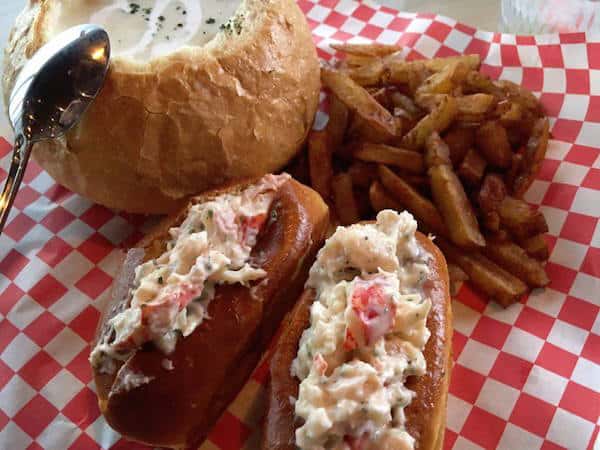 Cost: a la carte dining
Located on deck nine aft, you'll find the Seafood Shack. One of my favorites is the Lobster Roll because it's tossed in butter or mayo (your choice). You will also find clam strips, buffalo fried shrimp, clam chowder, fresh fish, fried oysters, and fresh crab legs. This is counter service, meaning you walk up to place your order and receive a pager. The pager will buzz when your food is ready.
6. Guy's Burger Joint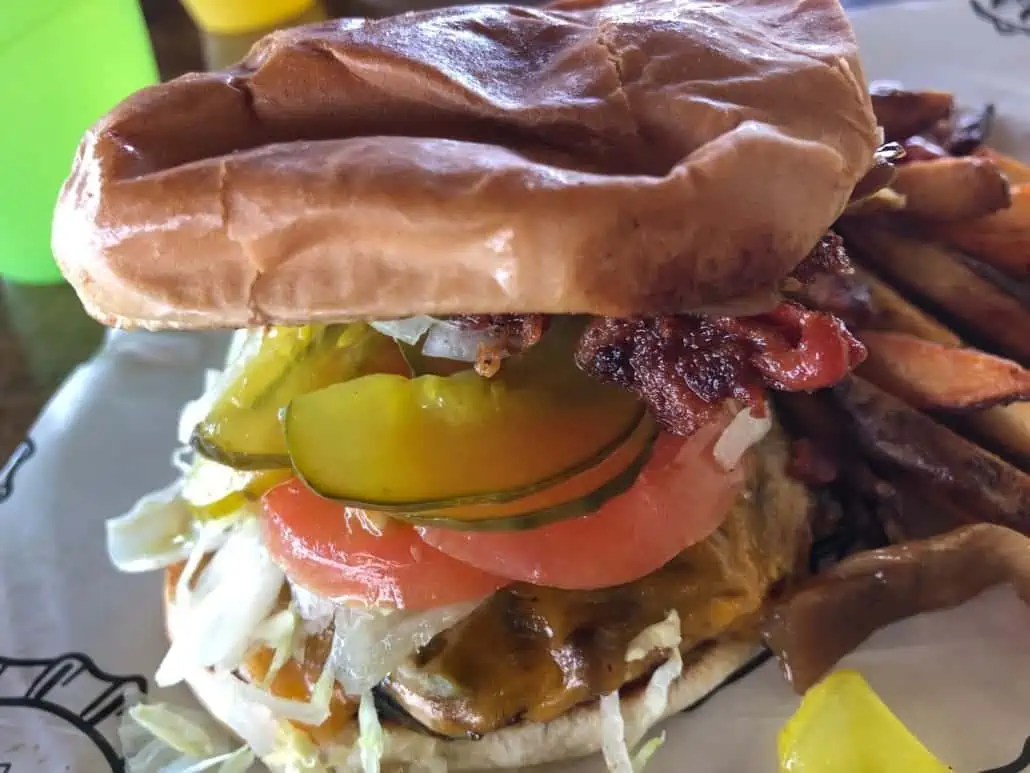 Cost: Included in your cruise fare
Next up is one of the most popular restaurants to ever be put on a Carnival Cruise Line ship. There are five different types of burgers to choose from here. You can go with cheese or without, throw an onion ring on it or add bacon. Then after that you can walk over to the toppings bar and go wild with even more toppings.
READ MORE: Guy's Burger Joint Review
Honestly, this is so popular I don't see how Carnival hasn't started charging for it yet. But I'm sure if they started charging it wouldn't be as popular, and they'd also have a mutiny on their hands.  This venue is open every day from lunchtime til 6 p.m.
7. BlueIguana Cantina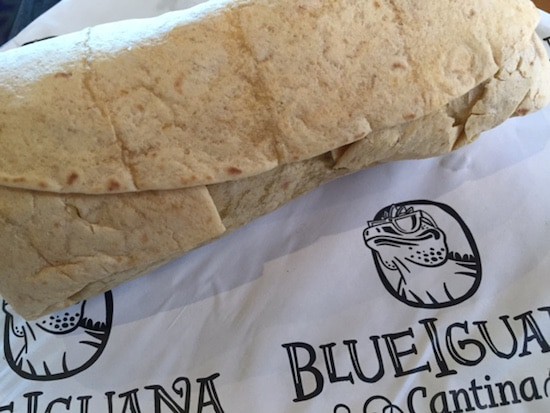 Cost: Included in your cruise fare
Next up is the BlueIguana Cantina that's located just opposite of Guy's Burger Joint. They serve up burritos and tacos with different proteins to choose from. They also offer a killer breakfast burrito here. BlueIguana is typically open until 2:30 pm.
8. Cucina del Capitano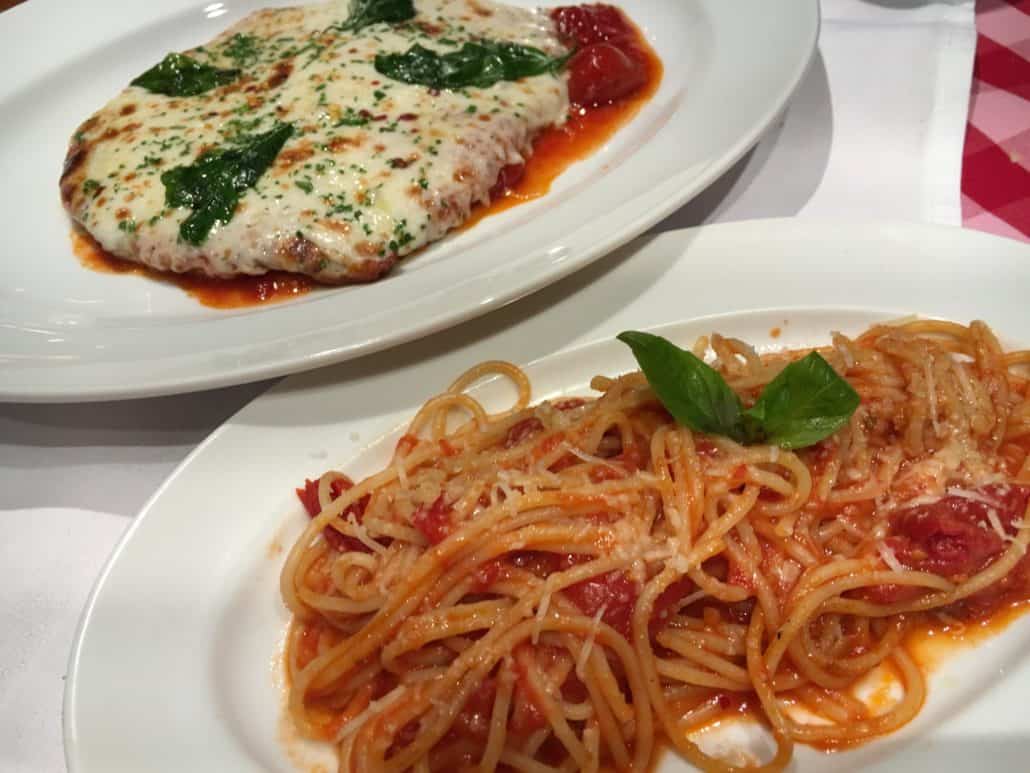 Cost: Lunch is included in your cruise fare, dinner $15
If you're in the mood for some Italian then head over to Cucina del Capitano on deck 10.  This is a new addition to Carnival Sunrise.
For lunchtime, they have a complimentary meal here called the Captain's Pasta Bar. It's worth checking out.
READ MORE: Review of Cucina del Capitano
Dinner is served family-style in here, and reservations are suggested; expect about a two-hour dining experience.
9. Guy's Pig & Anchor Smokehouse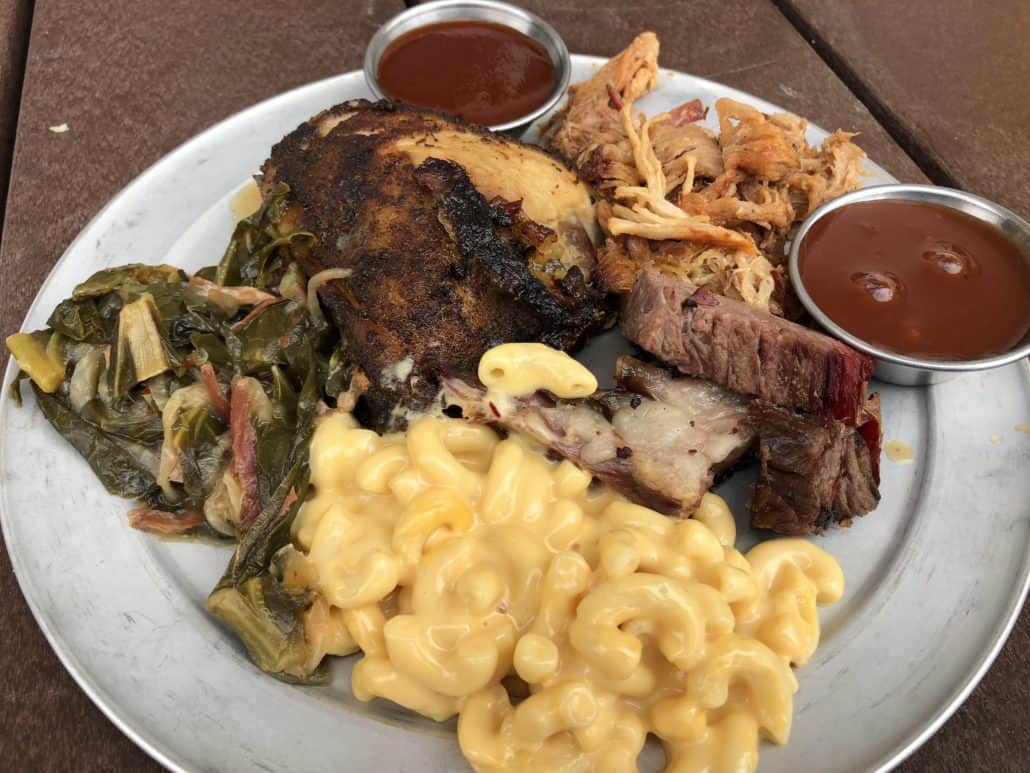 Cost: Included in your cruise fare
If you like barbecue make sure to check out Guy's Pig & Anchor Smokehouse, especially on embarkation day. They serve brisket, pulled pork, chicken sausage, and killer side dishes.
From personal experience that it's really easy to overeat because the food is just-that-good. This place gets really busy on sea days. In fact, there were people tailgating here forty-five minutes before they even opened! They're open for lunch and the food  is included in your cruise fare.
10. Main Dining Room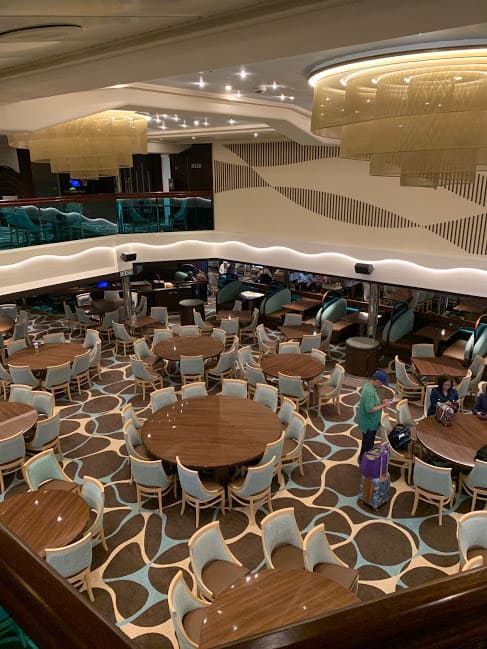 Cost: Included in your cruise fare
Next up is the main dining room that is located on decks three and four. There are two different main dining rooms: the Radiance (mid) and Sunshine restaurants (aft).
READ MORE: The Ultimate Menu Guide to Carnival's Main Dining Room
You have your choice between traditional dining, meaning that you'll dine at a set time and have the same table and waiters every night. Or you can do anytime dining, where you have different servers and tables each night, though you can request to get the same table and server if they're available.
READ MORE: 31 Carnival Cruise Main Dining Room Tips
The cuisine is pretty traditional in the main dining room with a menu that changes every night. You will have a different selection of fish, meats, and vegetarian dishes. And of course the world-famous Warm Chocolate Melting cake.
11. Fahrenheit 555 Steakhouse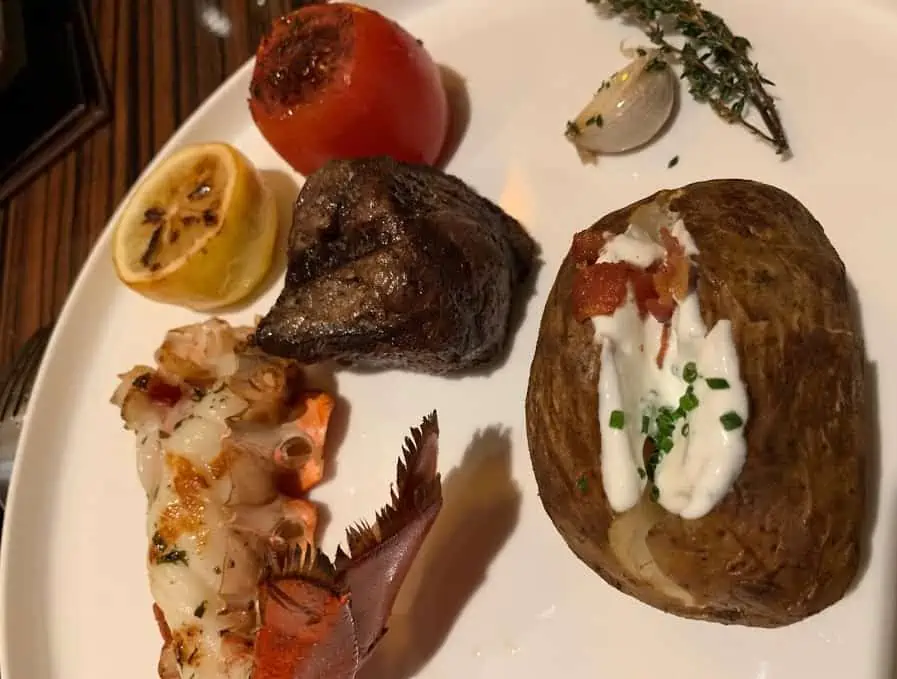 Cost: $38 cover charge per adult 
The Fahrenheit 555 Steakhouse located on deck four is the place to go for celebrations or for a good steak.
Menu items consist of jumbo shrimp cocktail, crab cakes, smoked oysters, 18-ounce cowboy cut steaks, and surf and turf. This steakhouse is a little bit smaller than the other steak houses on other Carnival ships because they built it into the main dining room, so make your reservations early.
READ MORE: Carnival Steakhouse Review
12. Chef's Table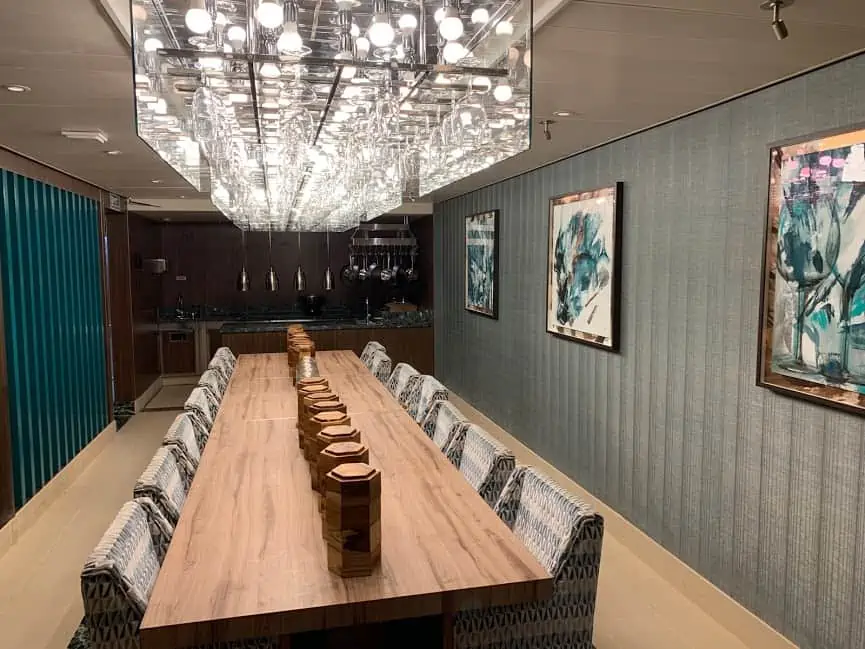 Cost: $75-$95 per guest (depending on ship)
Another new addition to Carnival Sunrise is the beautiful new space in which they hold the chef's table. It's tucked away in the very back of the midship main dining room. This is not included in your cruise fare and is the most expensive dining experience you'll find onboard.
READ MORE: Carnival Chef's Table Review
But if you're a foodie, it's totally worth every penny. The menu is preselected so it's not for picky eaters, but it's prepared tableside by a chef who explains the ingredients and the thought behind every dish. This is only done once or twice per sailing so, it's a tough ticket to get. I suggest if you want to do the Chef's Table then make your reservations at guest relations or in the main dining room as soon as you board.
13. Bonsai Sushi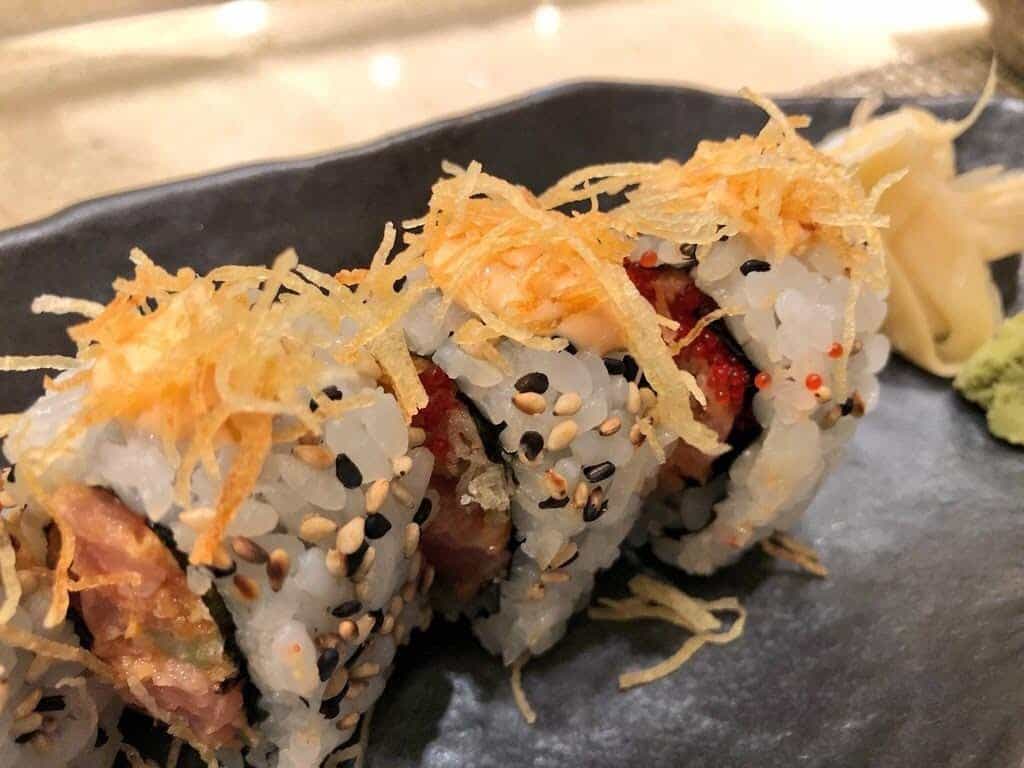 Cost: a la carte dining
This sushi joint is open for lunch and dinner. Like the steakhouse, this isn't as large as on other Carnival ships. They serve different types of sushi rolls, skewered meats, salads, and soups. You can make reservations here or just walk up. You can either sit at the bar where the chef creates your order in front of you or grab one of the 12 tables. This is an a la carte venue.
READ MORE: Bonsai Sushi Review
14. Java Blue Cafe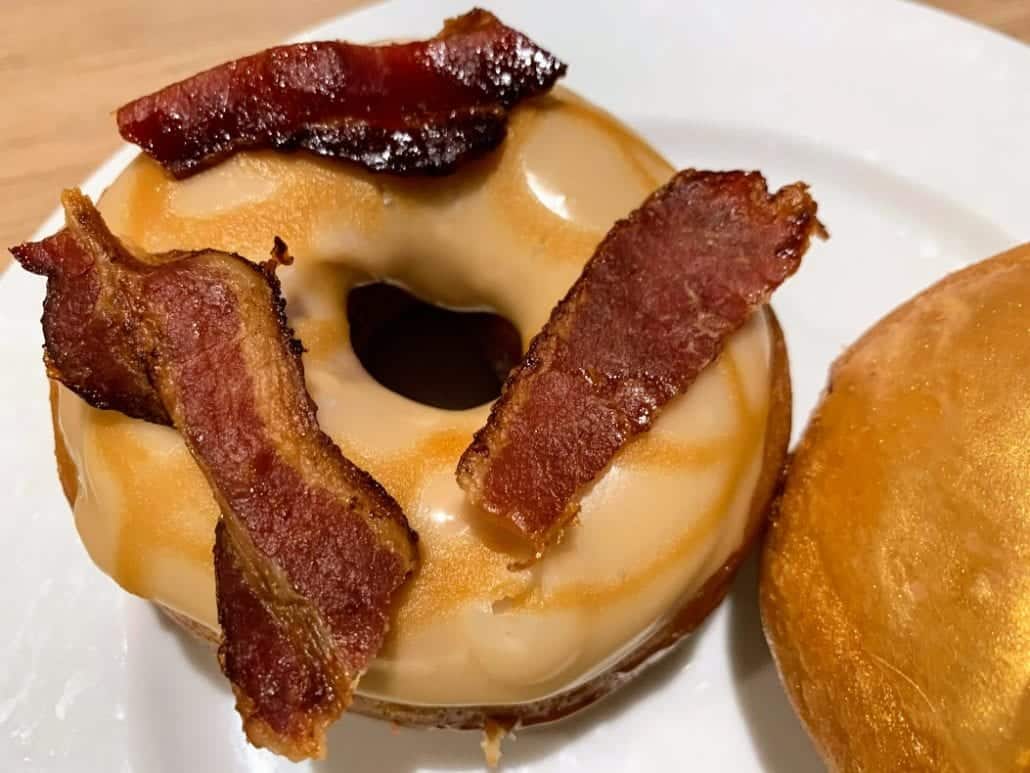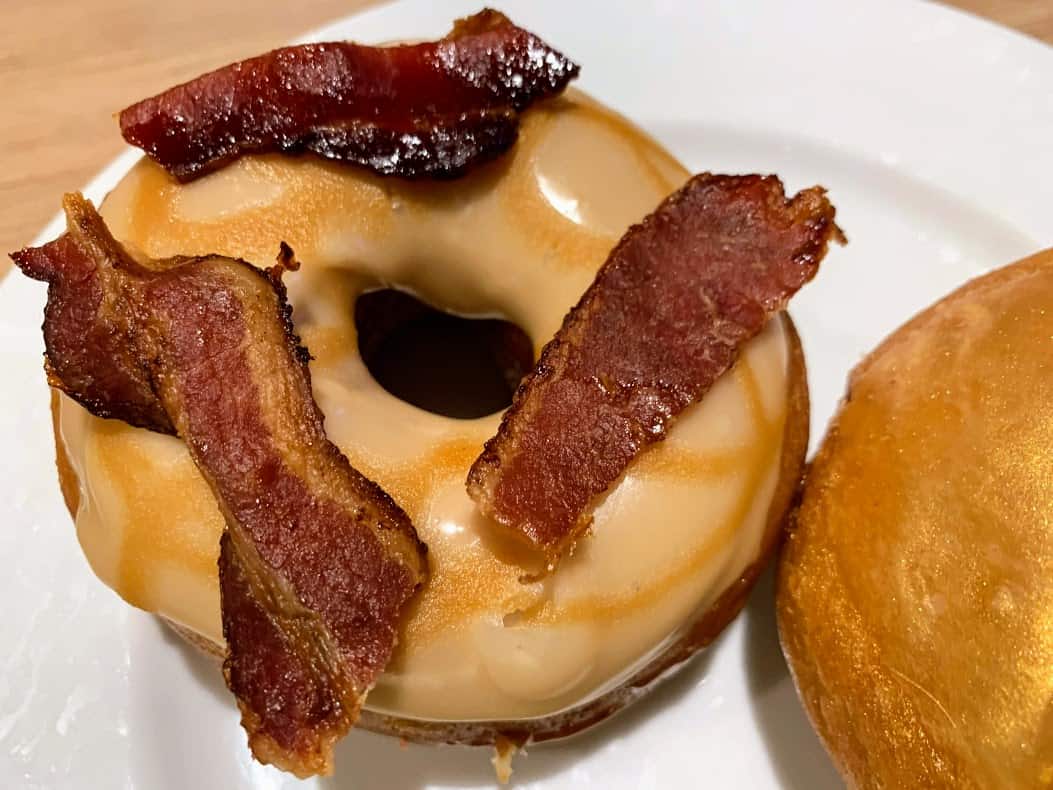 Cost: a la carte
This is the place to satisfy your sweet or caffeine craving. They serve up different types of coffees here along with a selection of sweets. Hands down the maple glazed bacon doughnut takes the prize. If that isn't your thing you'll also find a selection of cupcakes displayed.  The hours of operation are typically from 6:30 am to 11:00 pm.
15. Room Service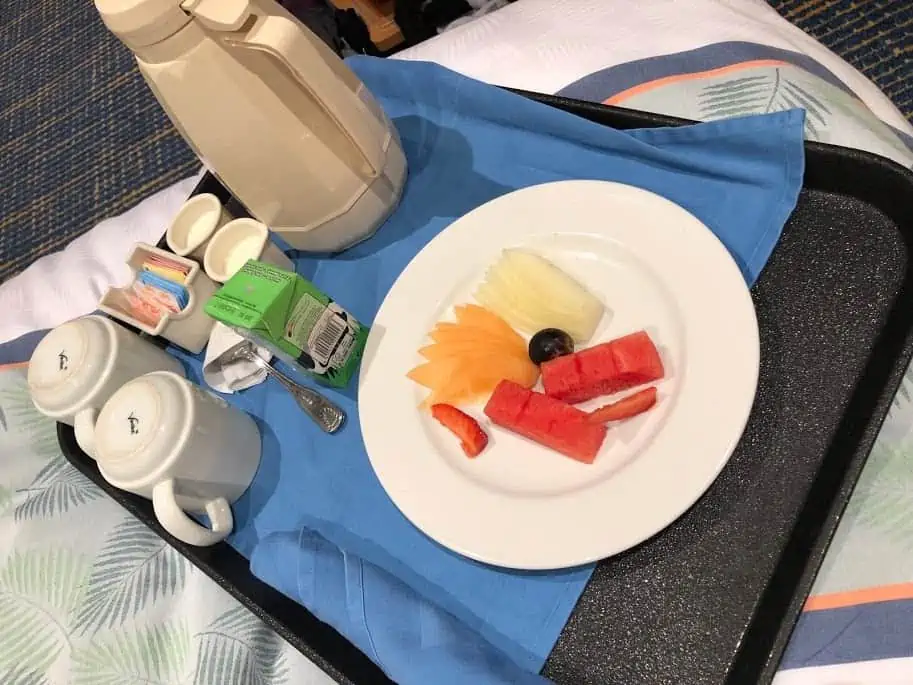 Cost: complimentary and a la carte
Room service really isn't a venue per se but I'm gonna throw it on the list anyway because hey they do serve food. Better yet, they bring it to you 24 hours a day! They have both complimentary and a la carte menu items. They'll deliver it from 5:30 am until 10:00 pm. However, after 10:00 pm, everything on the menu will come with a small fee. But when you have the munchies at 2:00 a.m. you'll pretty much pay anything, right?
Watch The Video