If you've been following Carnival Venezia's five-night Bermuda cruise, you've heard about the change in its itinerary.
Mother Nature threw a curveball in the form of Hurricane Tammy.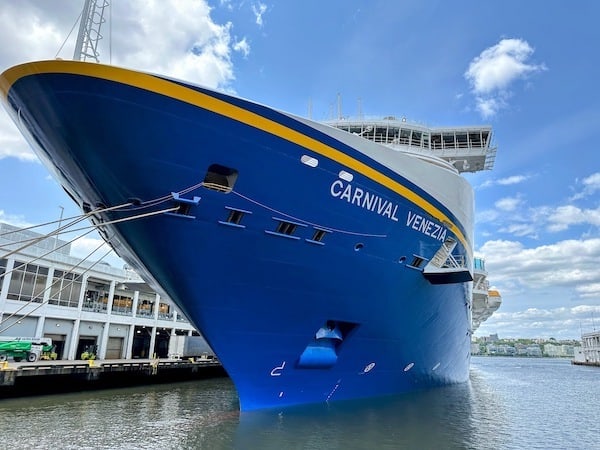 While passengers aboard the Carnival Venezia were looking forward to Bermuda, it turned out a bit different.
A note from the navigational bridge
Captain Crescenzo Palomba had to make a tough call for the safety of everyone on board. The distant Hurricane Tammy, although not directly in the ship's path, was generating strong winds that extended far from its center.
These gusts posed a significant challenge, making it unsafe for the ship to dock at Bermuda's port.
He wrote, "I know this is very disappointing news, and we are very sorry for this unexpected change of plans. There are no nearby ports for us to visit instead. So, we will enjoy a couple of days at sea as we sail back to New York."
$200 compensation
Carnival Venezia is offering a compensation package to the impacted guests who missed Bermuda. Each stateroom will receive a $200 onboard credit. Additionally, passengers will be granted a 50% future cruise credit.
When you accept the cruise line ticket contract, you say you agree to the cruise line taking you on a cruise. They are allowed to change the itinerary at a moment's notice. As long as you are on a ship for three nights, they do not owe compensation. Compensation in a weather event is a gesture of goodwill.
Passenger Vessel Services Act (PVSA)
If you're unaware, a cruise to nowhere would technically be illegal with current maritime regulations because of the Passenger Vessel Services Act (PVSA). The PVSA is a US law prohibiting foreign-flagged ships from carrying passengers directly between two US ports without stopping at a foreign port.
This law creates a problem for cruises that start and end at the same US port and don't stop anywhere else, also known as "cruises to nowhere."
While the PVSA doesn't directly address "cruises to nowhere," the US Customs and Border Protection (CBP) has interpreted the act to mean that these cruises are not allowed on foreign-flagged ships (which most cruise lines are).
GO DEEPER: Why are Cruises to Nowhere Illegal in the USA?
This interpretation is based on the idea that the moment passengers board a foreign-flagged vessel, they are considered to have departed the US. When they disembark, even at the same port, they are considered to have arrived back in the US, technically making it a cruise to nowhere, a voyage between two US ports.
Carnival's Venezia was not the only ship that had its voyage disrupted. Hurricane Tammy also impacted a Disney and Norwegian Cruise Line ship out of New York City.
Here's to better weather on the next cruise.