We're so anxious over here – Carnival Vista is officially debuting tomorrow!  Our very last countdown topic is a really fun one – and the first of its kind at sea.  If you ever ride a bicycle and enjoy it, you're about to love this: the amped up bicycle experience at sea, SkyRide.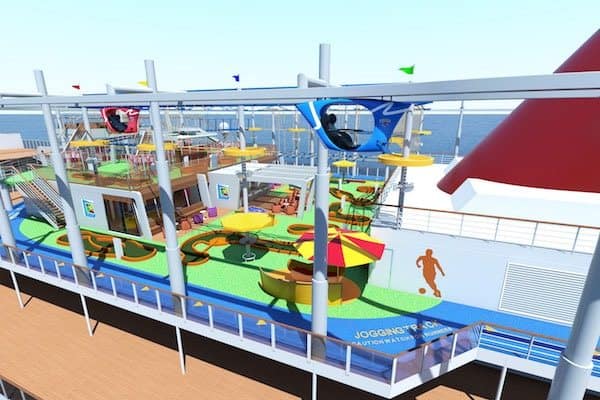 Towering 150 feet above sea level is a 800-foot track holding little vehicles suspended above the ship. Each one is powered by your own pedaling, so you'd better get your legs in shape for this one!  Each 'pod' can reach speeds of up to 25 mph, if you want to go that fast.  Anyone who has ridden a bike down a big hill and reached that speed, knows it feels REALLY fast when you're not in a car (I'm speaking from personal experience here!)
The SkyRide will give riders not only a beautiful view (think vista, hint hint!), but a chance to race their friends as well.  The suspended course features two tracks side by side, which means you can compete your cruising cohorts for the fastest time if your heart so desires.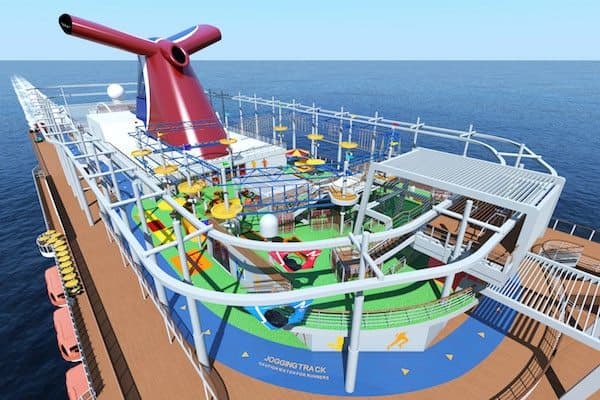 This fun, beautiful ride is located in the SportSquare area of the ship, and is included in the cost of your cruise, so you can go on it as much as you like.
For the rest of our Carnival Vista Countdown series, visit the links below!  Keep an eye out for all of our reports on the new ship when it sets sail next month!