From the moment details about Carnival Vista began dribbling out, we knew this ship was going to be special. But our hearts really began pounding when we caught a glimpse of her sexy Havana cabanas and suites… all of which include exclusive daytime access to the Havana pool!
Not Your Typical Balcony!
The balconies in the Havana area offer a unique outside space that is more like a lanai than anything else, with comfy furniture, including hammocks for suite guests! The décor runs toward soothing pastels of yellow, green and orange, and the suites feature a partial divider between the main sleeping area and the sitting area (where the couch converts to another bed).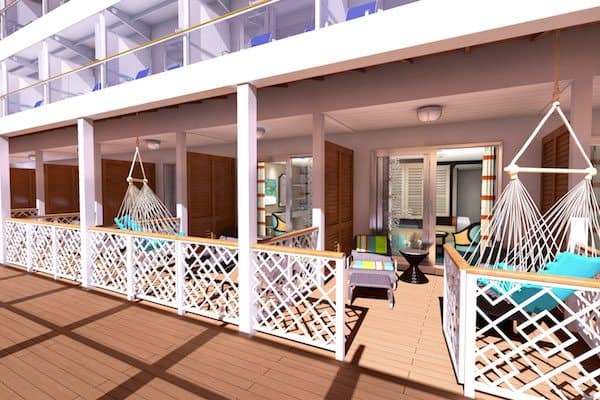 Your Private Playground
Another perk of staying in the Havana section aboard Vista is exclusive, daytime access to the Havana bar and pool. Serenity, the adult's-only area aboard the ship, is located at the front and open to all, while this section sits perched on the aft and only becomes a public space after dark. There's a pool, two hot tubs, and did we mention the bar? Or that it features handcrafted, classic Cuban style cocktails?
As Eddie Allen, Vice President of Beverage Operations, explained during one of the line's promotional videos, "We've taken what we did on Sunshine with the Havana bar and recreated it, blew it up [to] make it bigger, better than ever before, with an indoor/outdoor experience."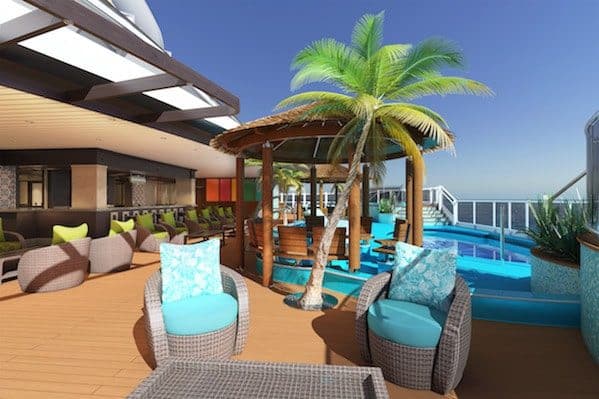 In the evening, the Havana bar becomes the place to party, with DJ's and live music working hard to make sure you dance the night away before heading back to your room for a good night's sleep… so you can head back to the Havana pool in the morning for a seaside bloody Mary!
Are you booked on Carnival Vista? What are you looking forward to most? And if you missed any of our series, follow the links below to read about all the different aspects of this ship that have us excited!