Waking up today I was a little bit upset, and it didn't have to do with the cruise itself, but because this is the last day at sea and this time tomorrow I'll be back on land. However, that didn't stop me from making the most out of my last Fun Day at Sea. I ordered room service this morning and got a pot of coffee to enjoy on the balcony. We really haven't had a meal out there all cruise so at least I could enjoy some coffee. The balcony has plenty of space to eat and today we actually ate twice on there. More on that later.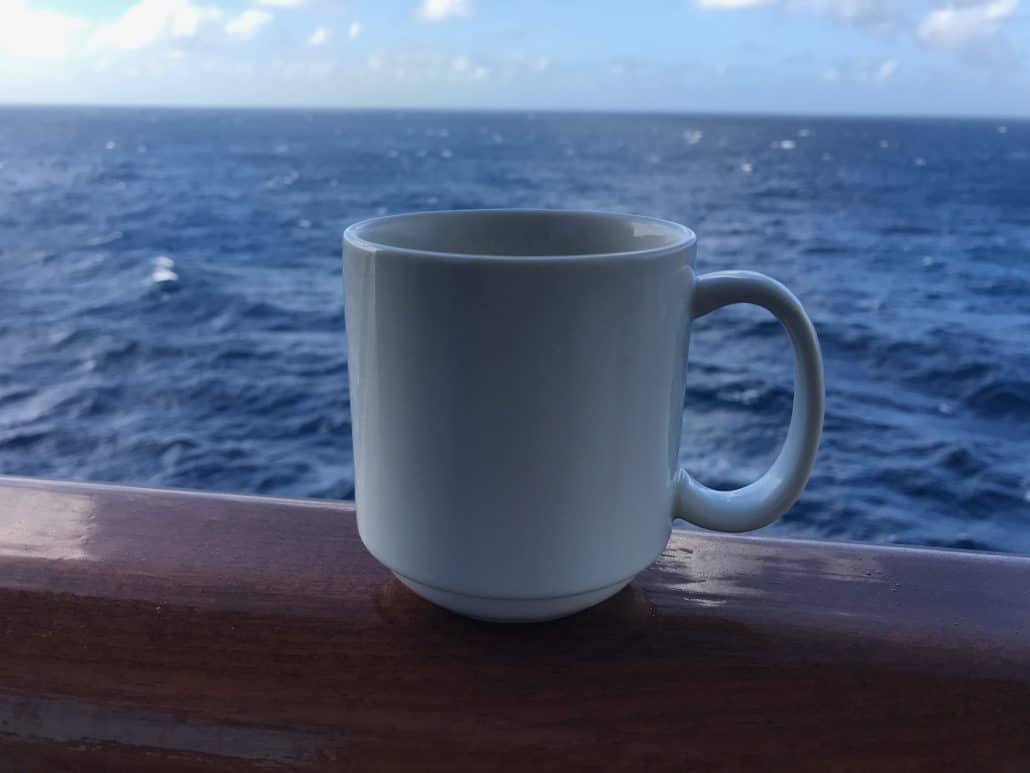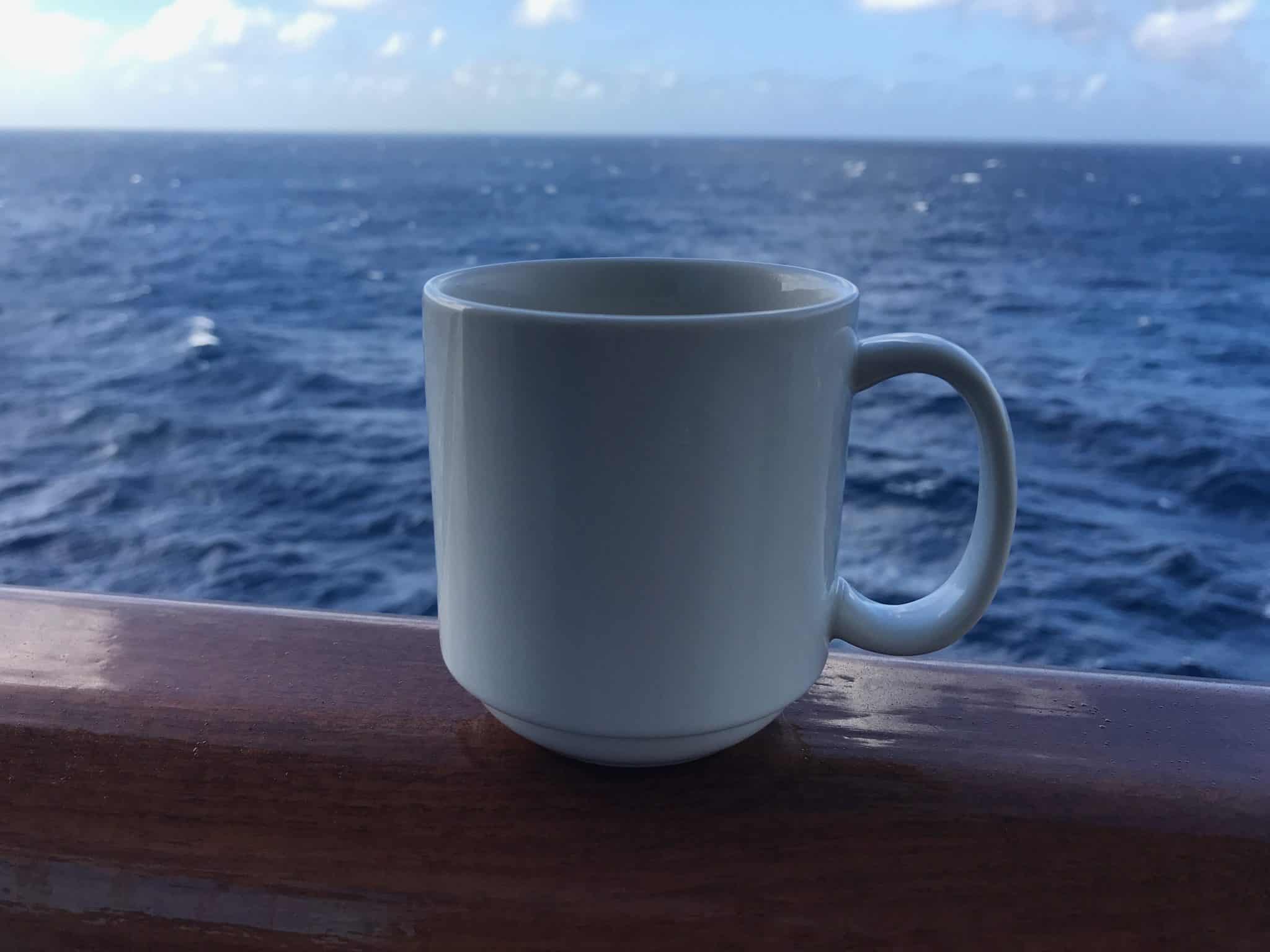 Before my last sea day brunch I went around the ship and took some pictures with my real camera and not my iPhone. It gave a good perspective on how the ship handles itself on sea days.
The last Sea Day Brunch included Fruit Loops crusted French toast and a sea salted chocolate cookie. Both were equally awesome. I'm not a big chocolate fan but anything that has sea salt in it grabs my attention. The service was decent in the main dining room for brunch. Again, we went around 10 a.m., so it was peak time when people were just starting to wake up and get in there.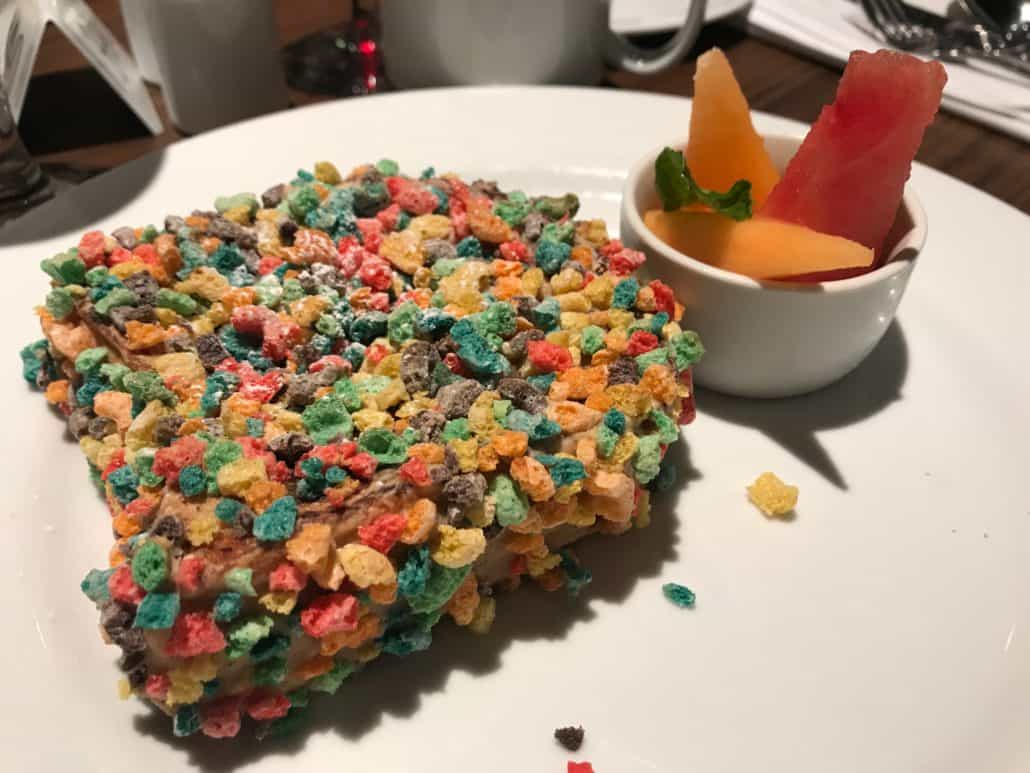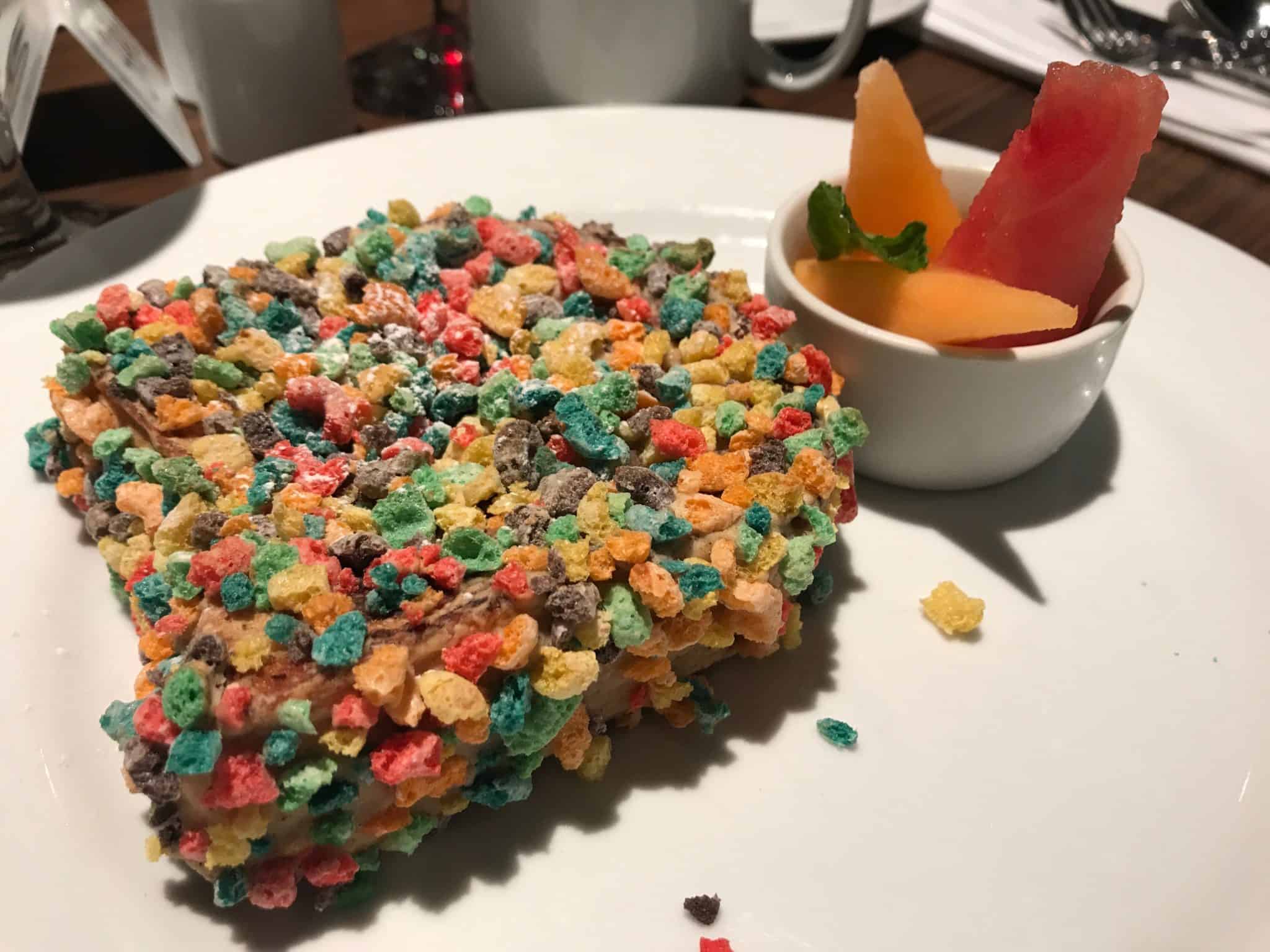 Since we're going to be returning to the cold weather tomorrow, we need to take advantage one last day of warm Caribbean sunshine and hop on the slides. They have two waterslides on Carnival Vista, the Kaleidoscope and Twister waterslide. The Kaleidoscope slide you grab a raft and take it to the top of sit down in. It's really psychedelic with all the colors zipping by you. Twister slide is the long yellow slide that you zip down. I always gave myself a head start on that slide and wound up using most of the runway when it came to shooting out the end of the slide. With 1200 kids on the sailing, the lines for the slides weren't that bad. There was maybe a 15 minute wait for both slides.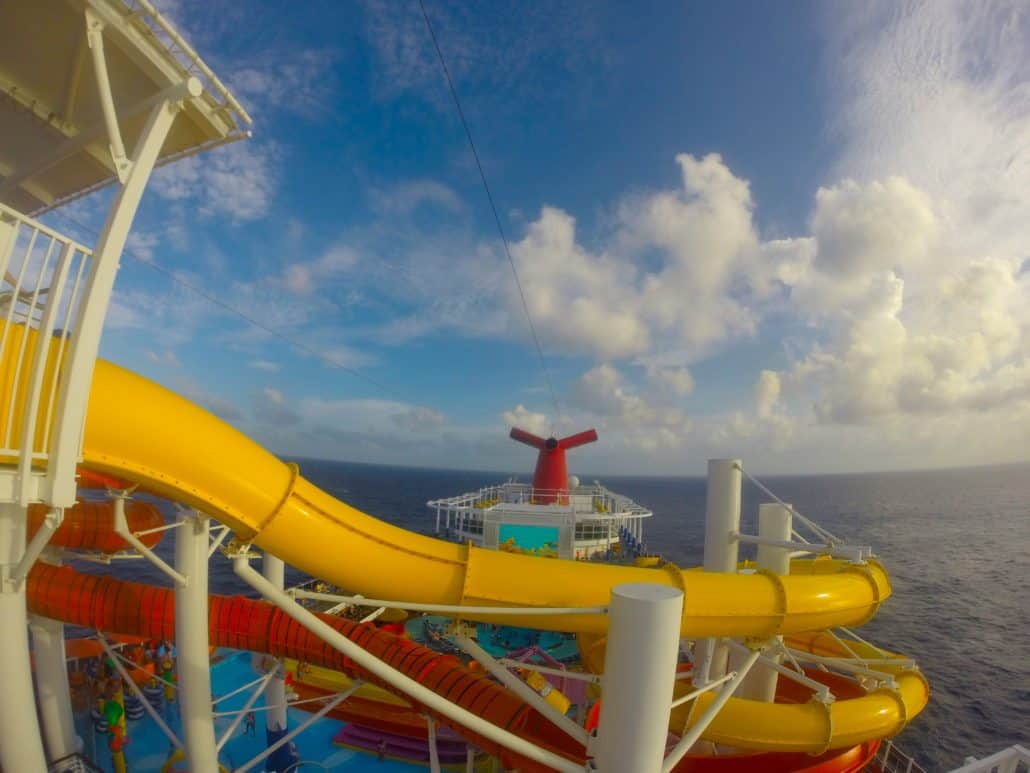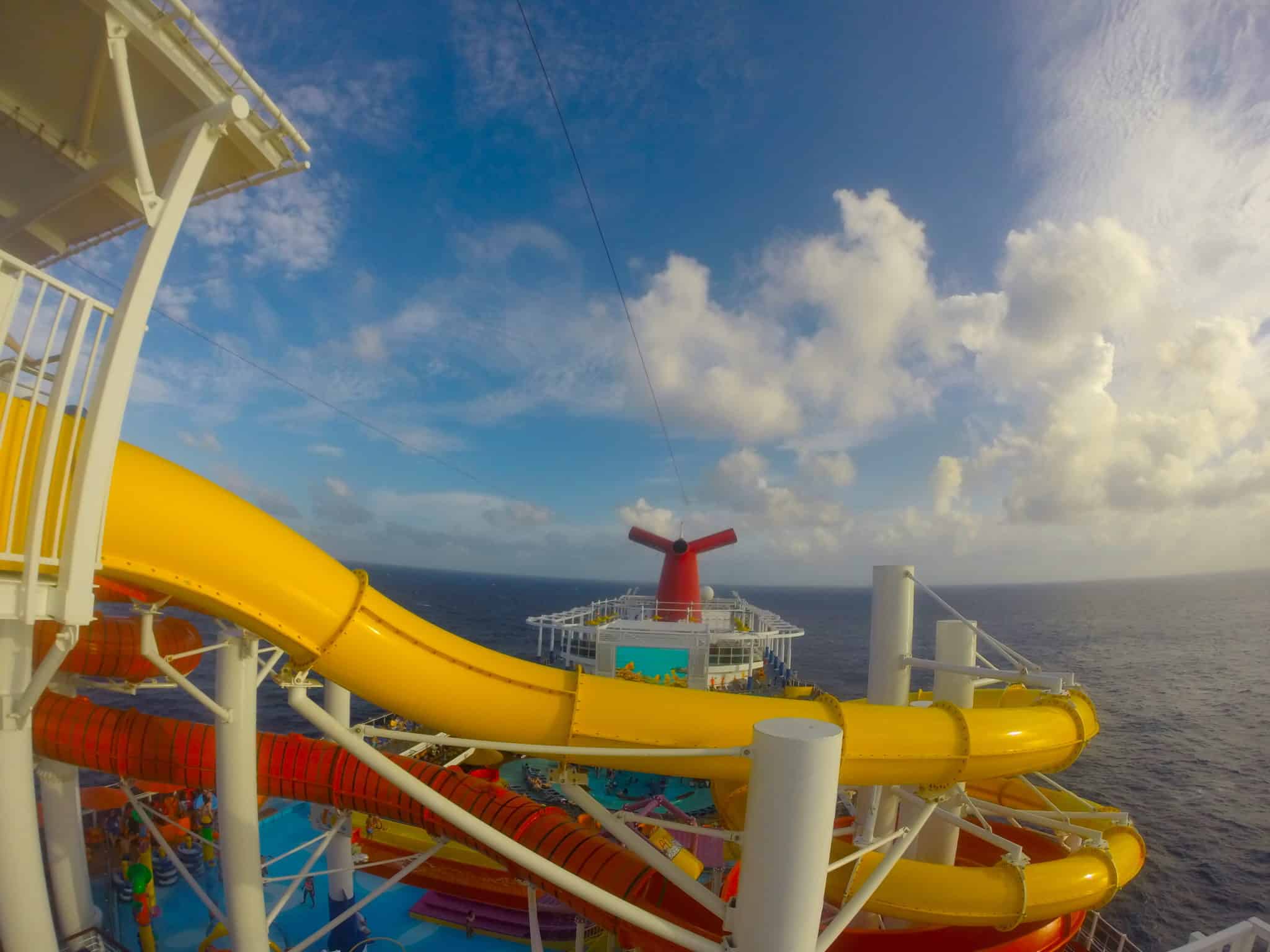 We got on the slides just in the knick of time because shortly after we went back to the cabin the sun went behind the clouds and the wind started.
Like Cucina del Capitano, JiJi's Asian Kitchen also offers a complimentary Mongolian Wok lunch with table service. Although, not nearly as organized as the Italian place. Today they were opened from noon to 2:30, and we must've just beat the crowds because we were sat as soon as we approached the hostess stand, but when we were leaving there was a 30-minute wait to be seated. The venue felt a little too crowded to me. I'd compare it to Cheesecake Factory or a restaurant in NYC where you're sitting on top of someone. It was a little too close to me so when we got the food we took it to the stateroom and had it on the balcony. They offered chicken, beef, pork, calamari, or mussels and clams for the meat and about a dozen different vegetables to mix it.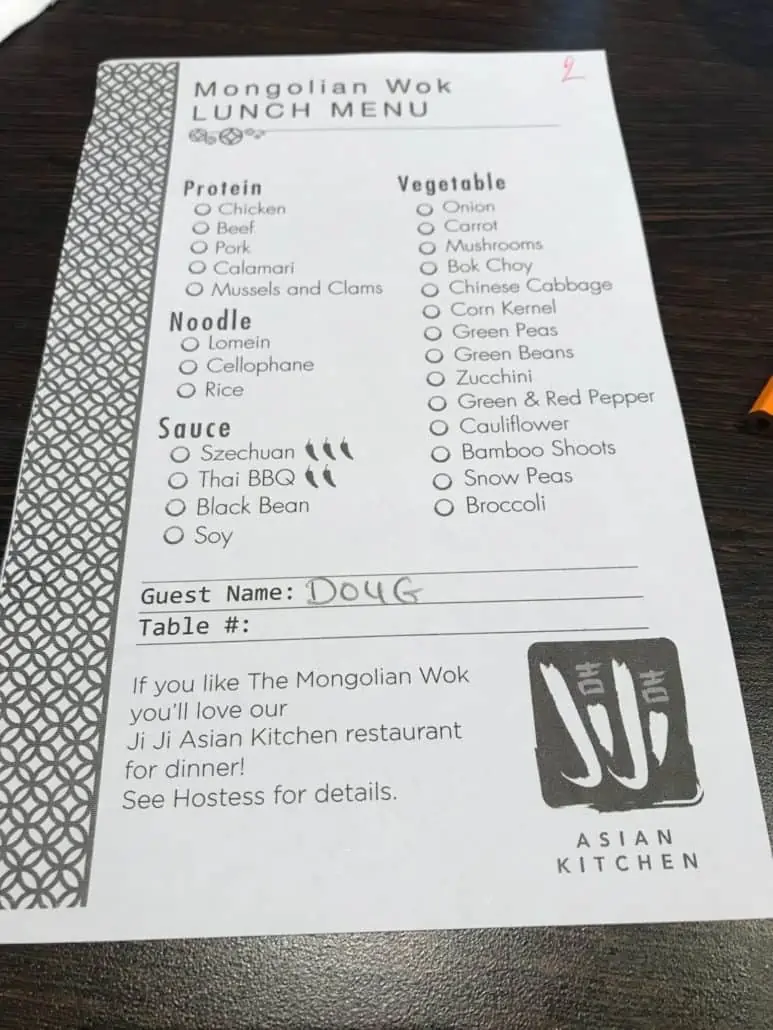 There was a Q&A session with Matt the cruise director this afternoon so we went to that. Since Matt was hosting it, it was surely to be entertaining. People were asking a lot of questions about his background, what life is like below deck, and a lot of the things people thought could be changed on Carnival Vista. Most of the comments about changes came to the layout of the Liquid Lounge.
READ MORE: Deck Plans for Carnival Vista
The past couple days they've been building a gingerbread house on deck five outside of the Library Bar and it's been really awesome watching it come to life. It started with a big white cutting board and by tonight it was a full blown gingerbread village. One of the Steakhouse Chefs were there taking photos of it with a professional camera and I started talking to him about how much chocolate they used to build the village, he said 300 pounds were used in this one display and that it takes teamwork to build them. For what I understood, different ships build different parts of the display for each other. So a chef will put in extra hours designing a certain section of the building, when they are in port with another ship, they will bring a section of the display to the other ship. So the Carnival Vista display pieces have been built across multiple ships. Pretty cool concept.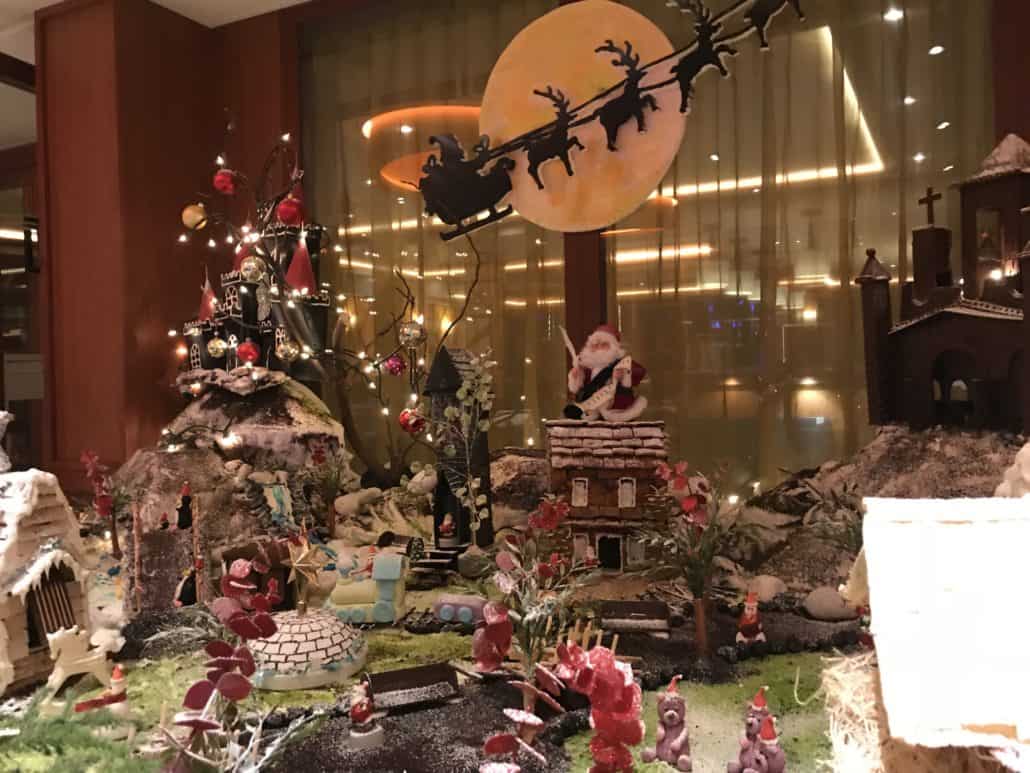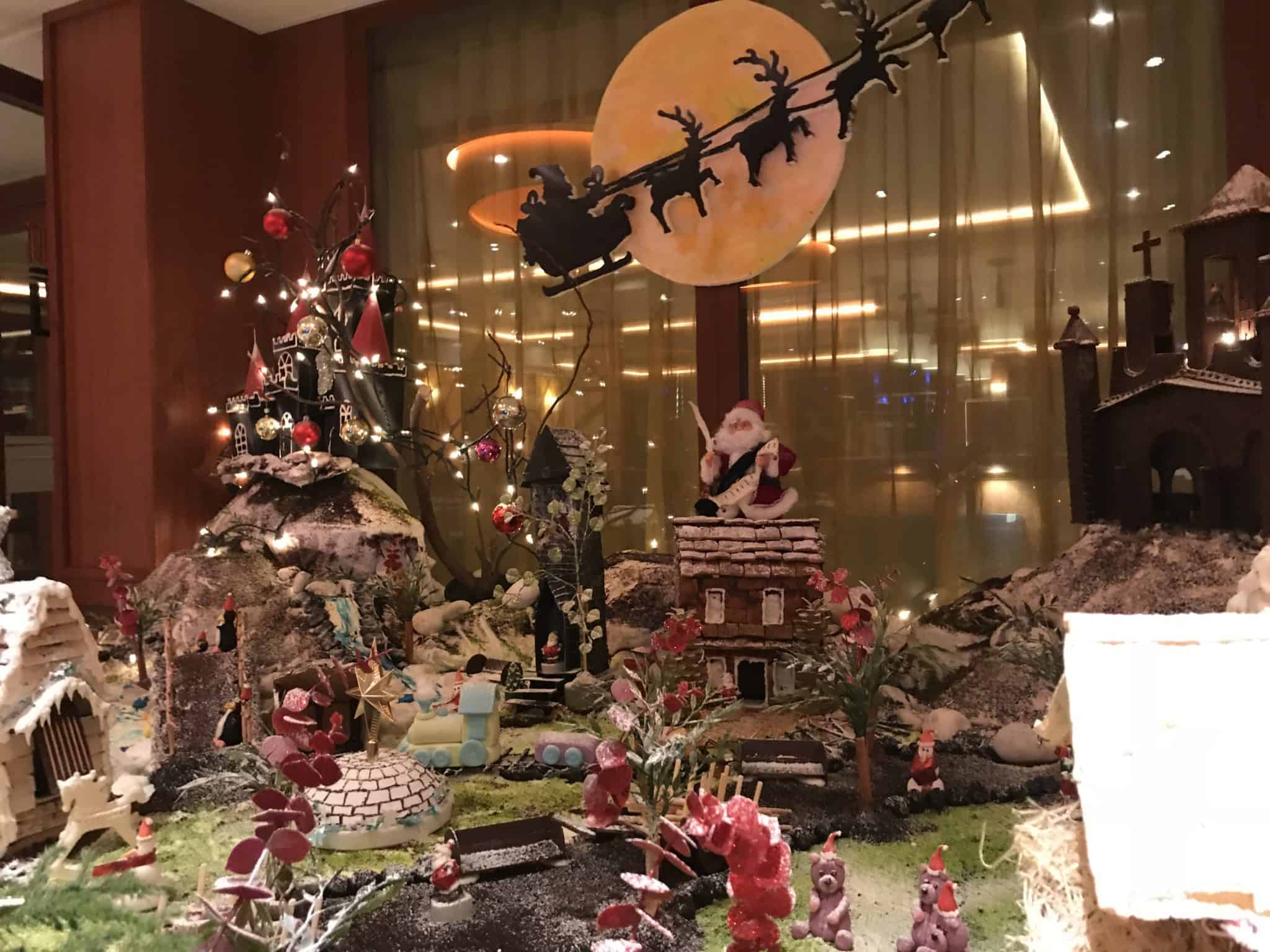 Today at Cherry on Top the store had their ice cream cookie sandwiches on sale for $2 (normally $3). So I went to get one last one. This time I went with a sugar cookie, vanilla bean ice-cream, and heath bar topping. I almost went back to get a second one but the reality of dinner being two hours away set in. You have an option to tip the cafe worker making your ice cream cookie, I usually tipped a $1 just because everything is made to order and nothing is prepared in advance.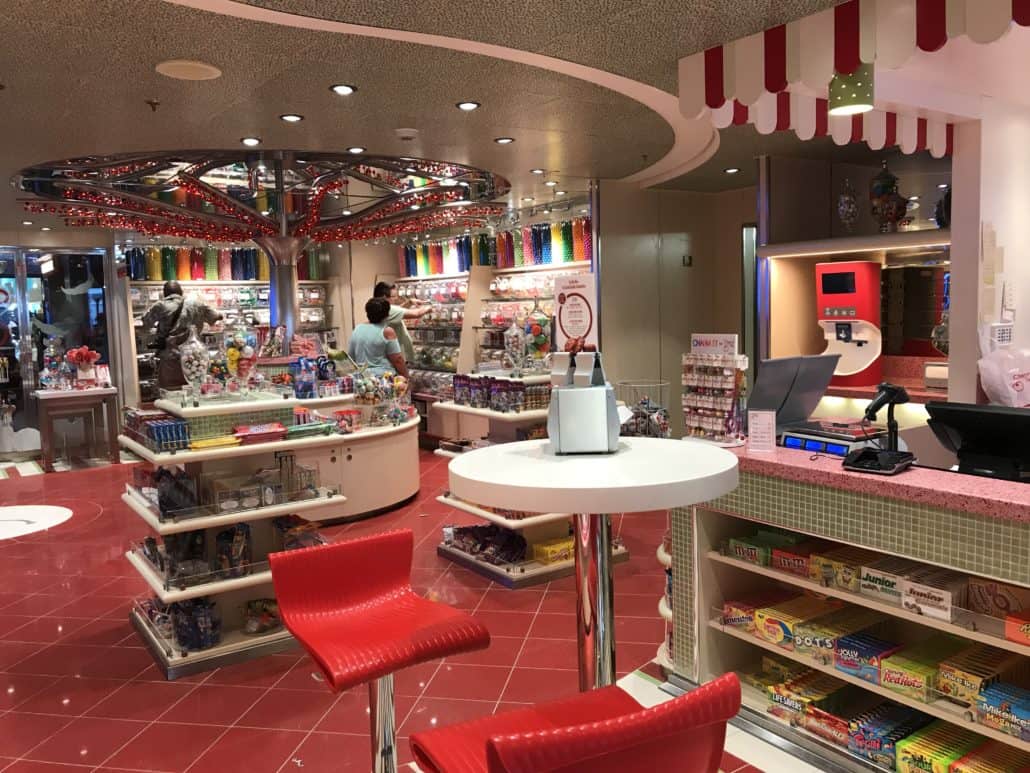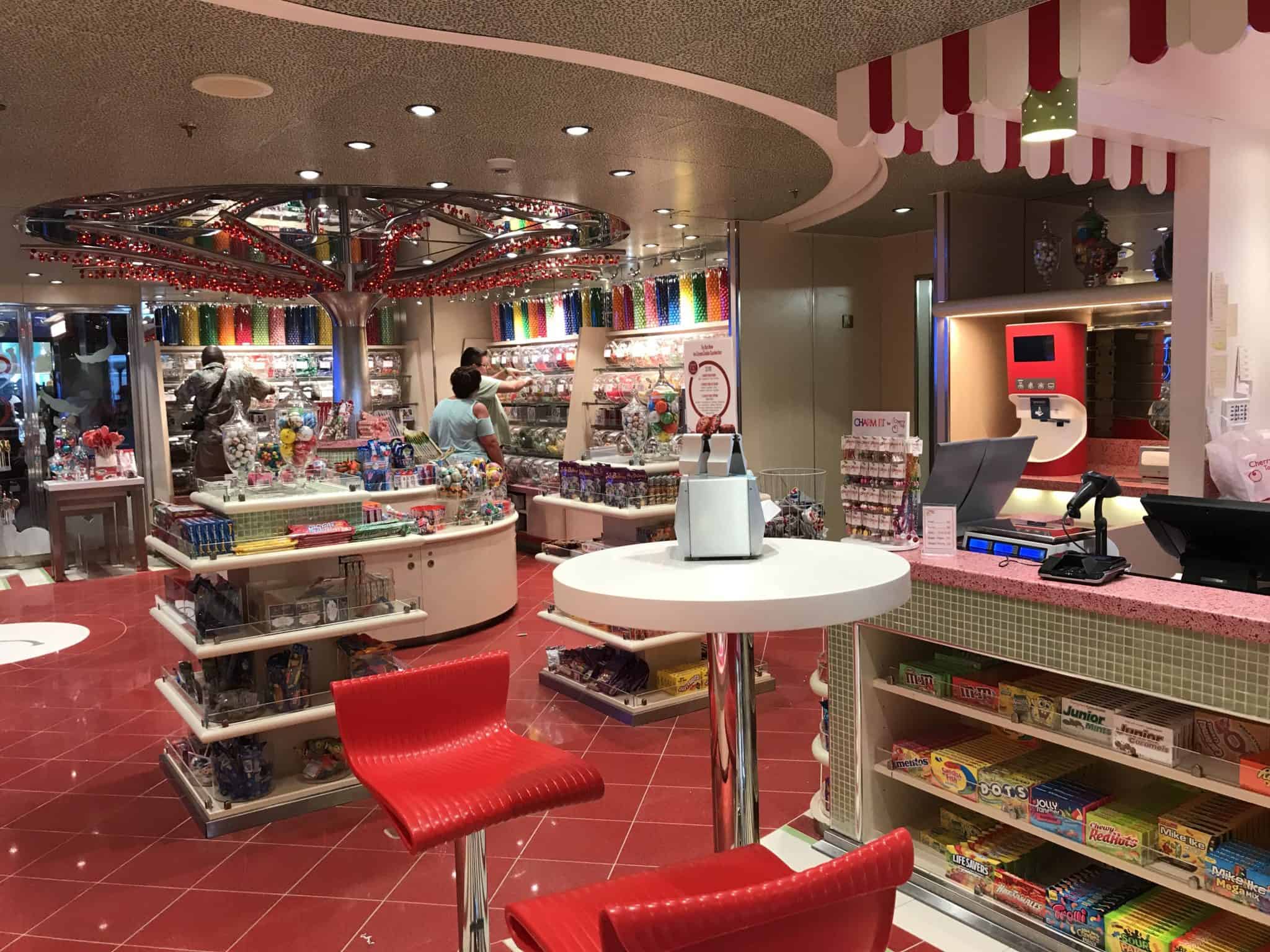 Before dinner they did Lip Sync Battle with two guests that competed earlier in the cruise. If you've ever seen the show on Spike TV, you know it's people lipping the words to songs that are chosen for them. Matt hosted it with a sidekick and it was entertaining. We sat in the balcony off to the very side and it wasn't
Turns out the couple sitting next to us at dinner had opposite specialty dining nights as us. So when we were in the main dining room they were doing specialty and vice versa. We also realized that we were on the same excursion in Aruba a couple days ago and they were equally as fascinated about the ship wreck as I was.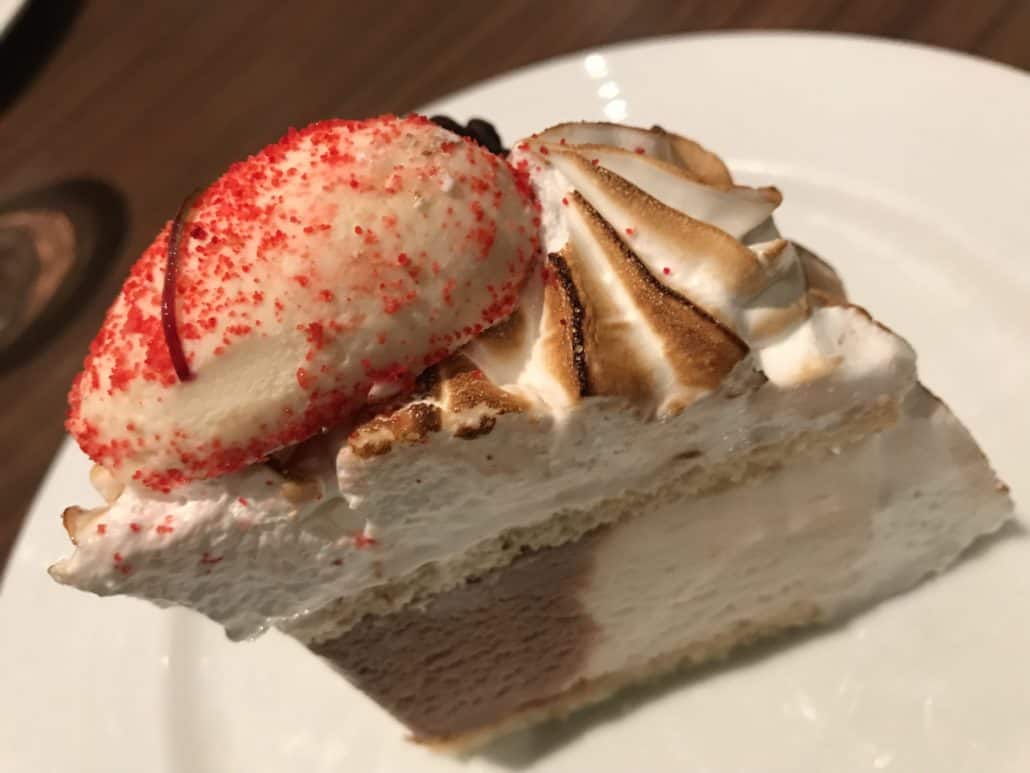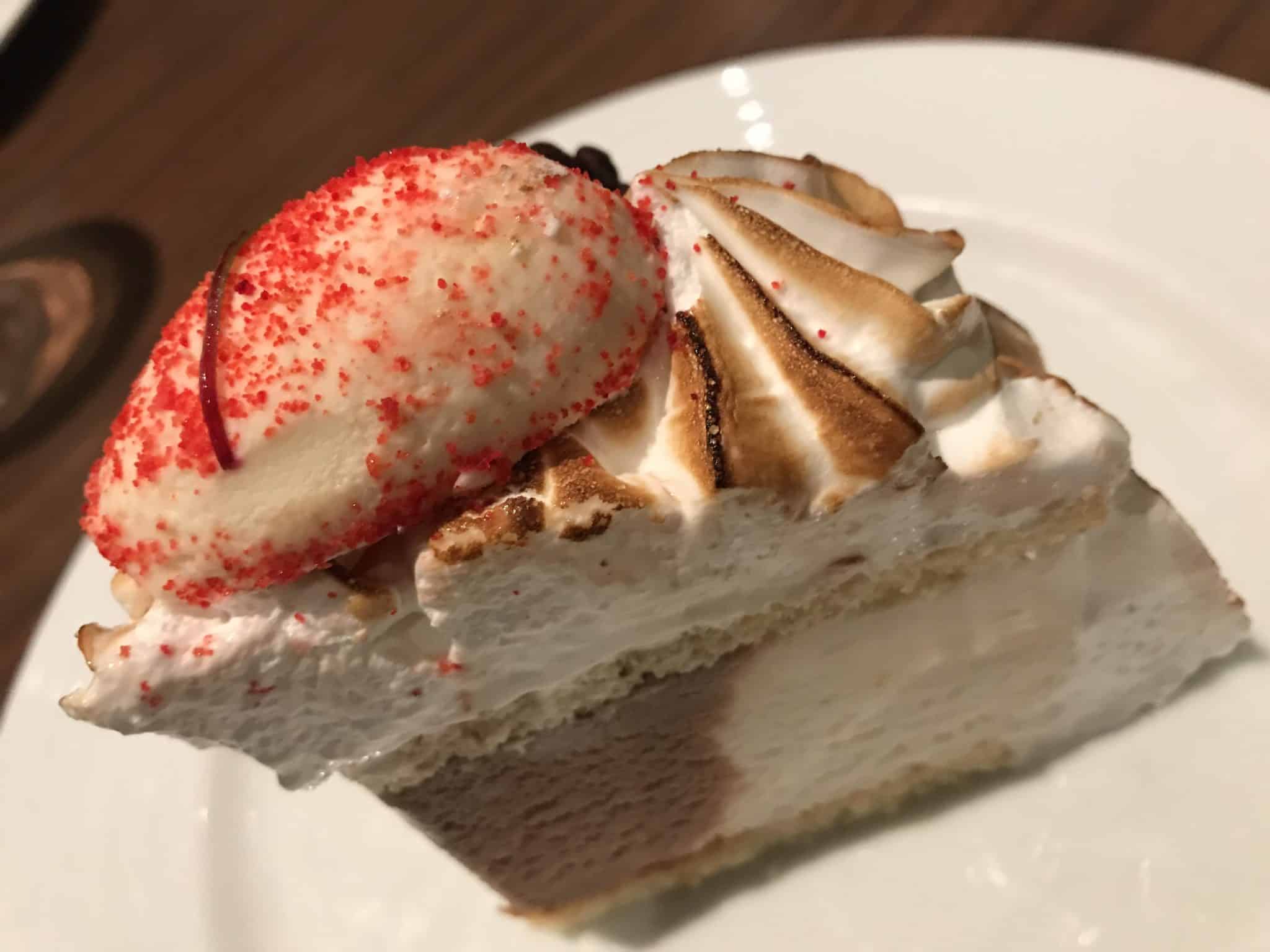 Tonight's dinner was shrimp cocktail, pork chop with baked potato, and Baked Alaska. This is one of the first sailings that Carnival has rolled out Baked Alaska on wowzers, it was awesome! They did the whole song and dance where they were parade around the main dining room with the dessert on fire and then served it to each table. They get an A+ for presentation and taste. It was so good the guy sitting next to me ordered a second and then proceeded to tell me that he needed to work out when he got back home. I love how people use that excuse when they eat a lot. Own the fact that you love to eat, I do!
We popped down to the Havana Retreat before returning to the stateroom for the night. The retreat is exclusively for Havana Suite guests during the day time and then after 7 p.m. it opens to the general public. For some reason people think it's still private at night because no one goes back there to use the pools or loungers. Obviously it's way more popular during daylight hours but the rest and relaxation back there is also nice.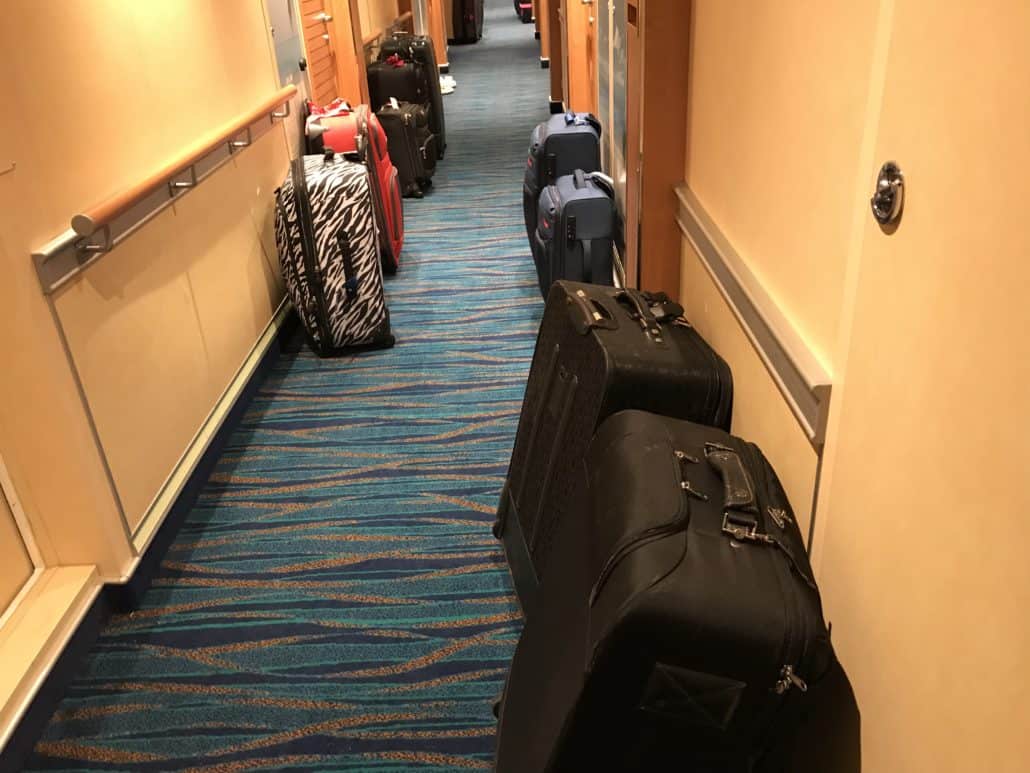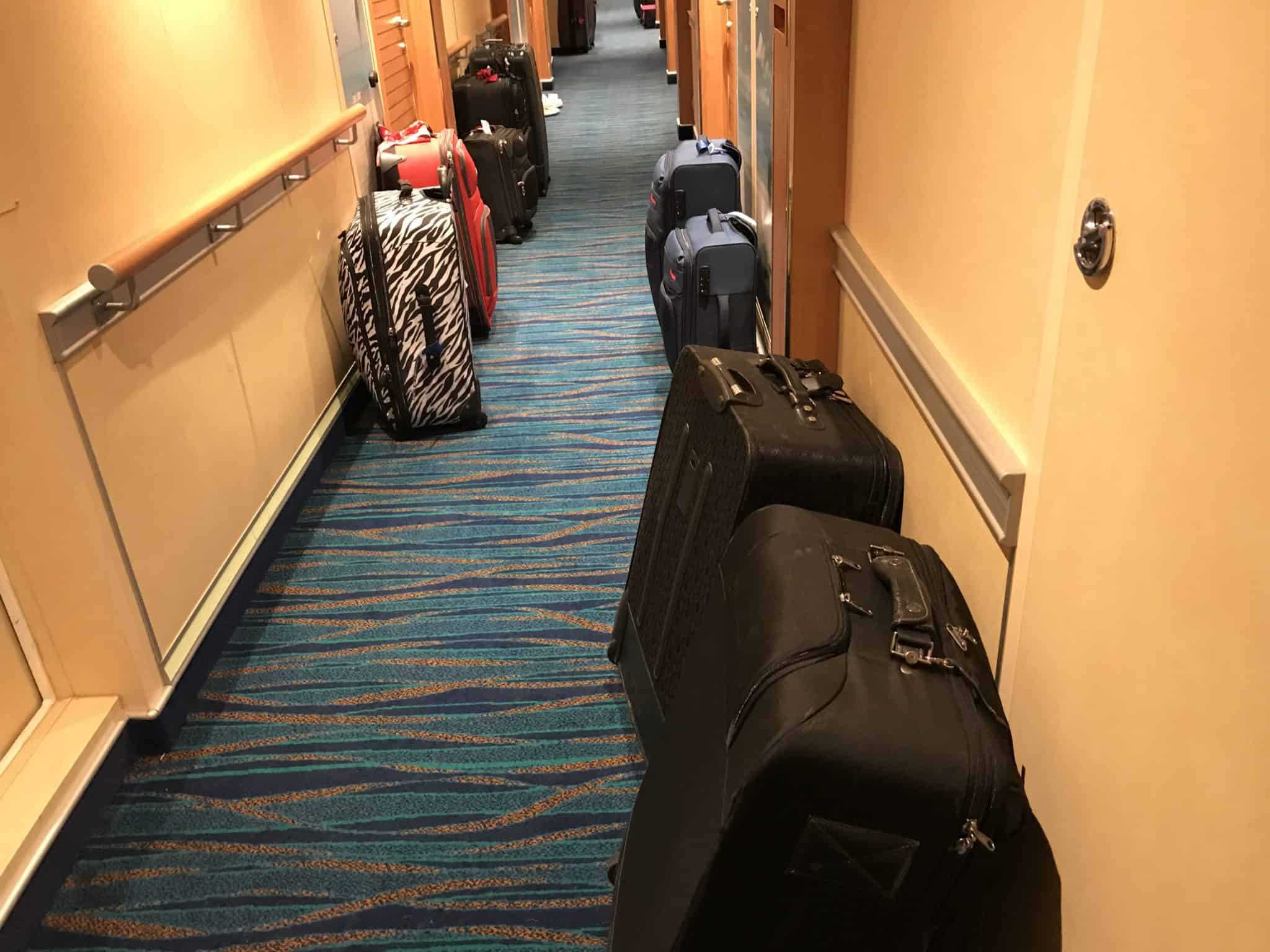 Walking back to the cabin it was the sad sight of seeing all the luggage in the hallways waiting to be collected for disembarkation. We are doing self-assist debarkation so we're going to carry all our bags off the ship with us.
Alright, the bags are packed and it's midnight. The next time I look outside this window it'll be Port Miami.
Until then, goodnight.