Over the years, I've gone on a lot of cruises and done a lot of shore excursions. So when I say that today's excursion was one of the coolest I've ever experienced, trust me… that's really saying something. But before we get there, let's back up a bit, because from the moment Carnival Vista arrived in Aruba, this was a special day.
We docked in Aruba around 7:45 a.m., and had to meet the shore excursion team dockside at 9 a.m., so that didn't leave a whole lotta time. But you know I wasn't about to skip breakfast, especially since it meant an opportunity to try the special port-day breakfast menu Carnival now offers. It's specifically designed for days like this, when you want a sit-down meal to power you up for the day, but need it to be quick so you can get where you've got to go.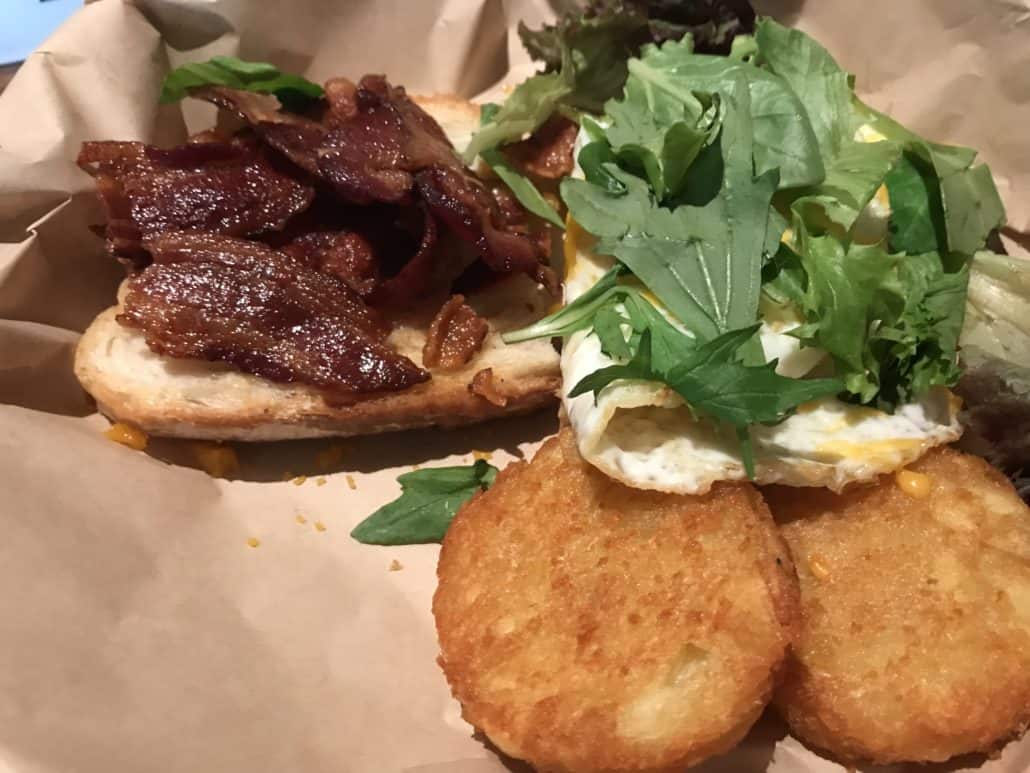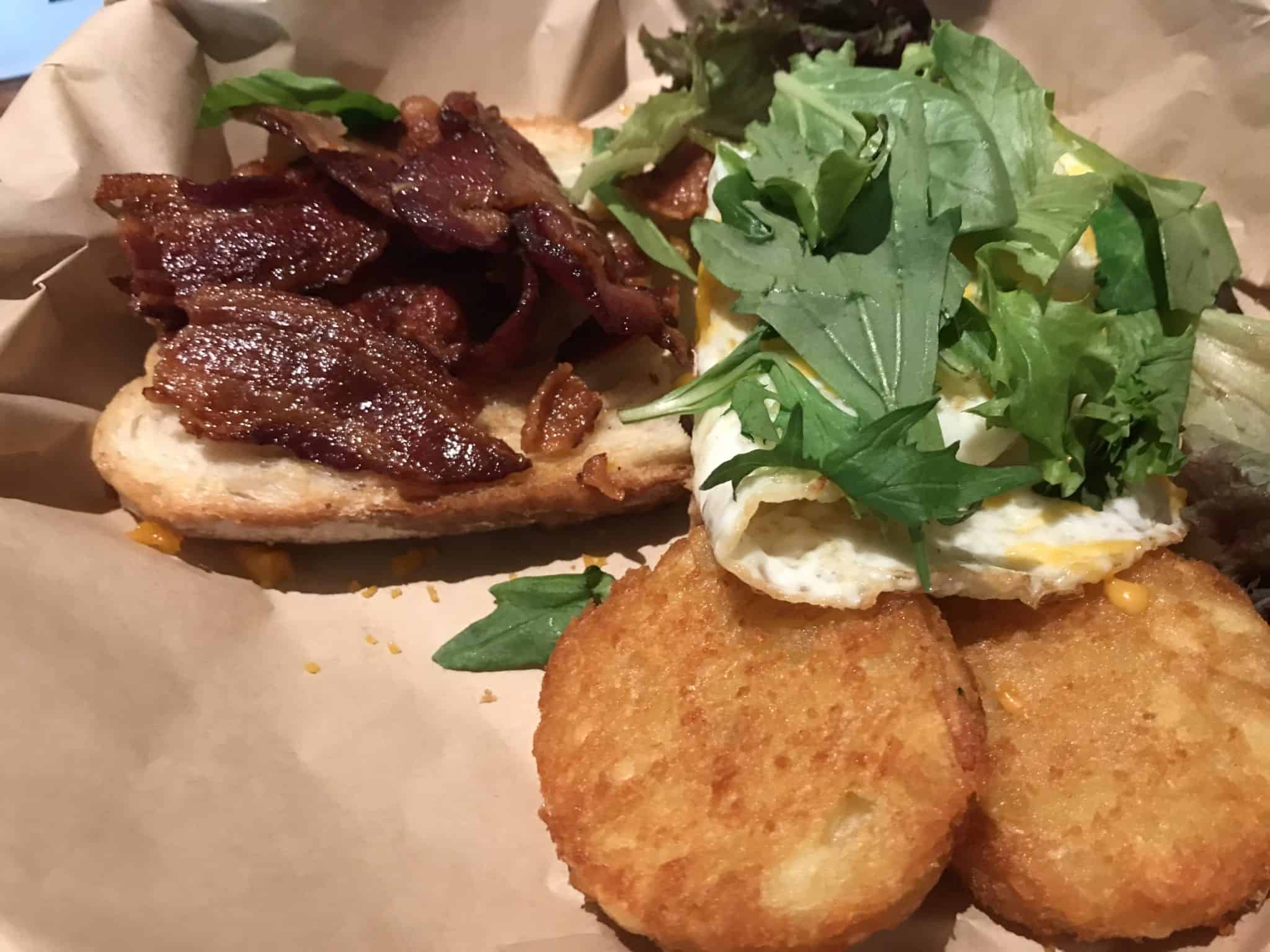 I freely admit that when it comes to breakfast, I'm a guy with pretty simple taste. So the port-day menu is a little too fancy for me. But I found something earlier in this week that I really liked, and I stuck with it this today: The cracked egg sandwich comes with a side of bacon and hash browns, and it's pretty tasty. After breakfast, I ran back to the stateroom to grab some sunscreen, then headed for debarkation. Since people had started getting off the ship an hour earlier, the usual mad dash to disembark was over, and we had an easy time walking off.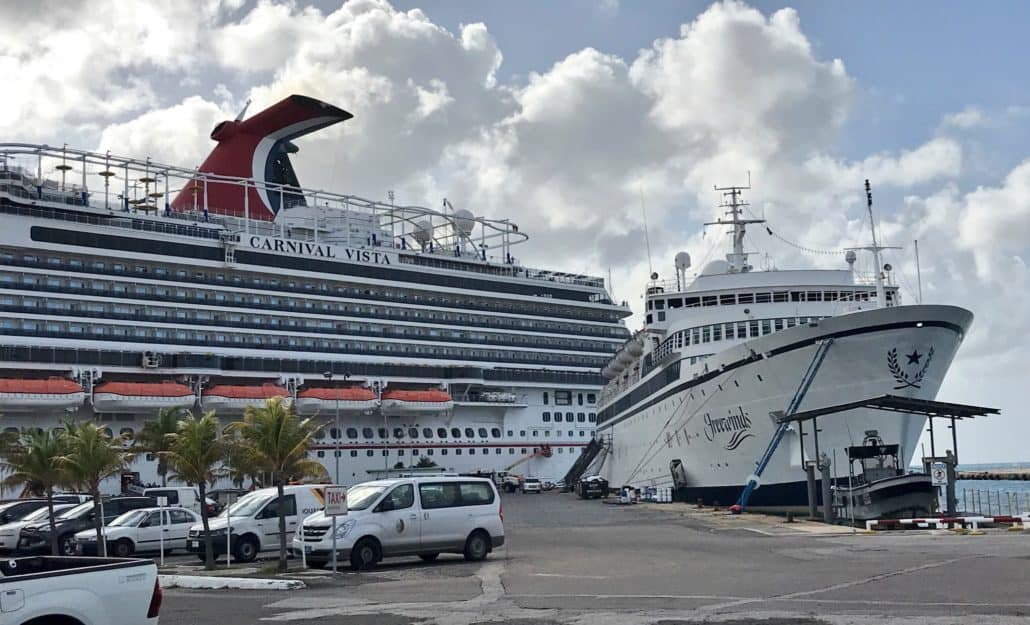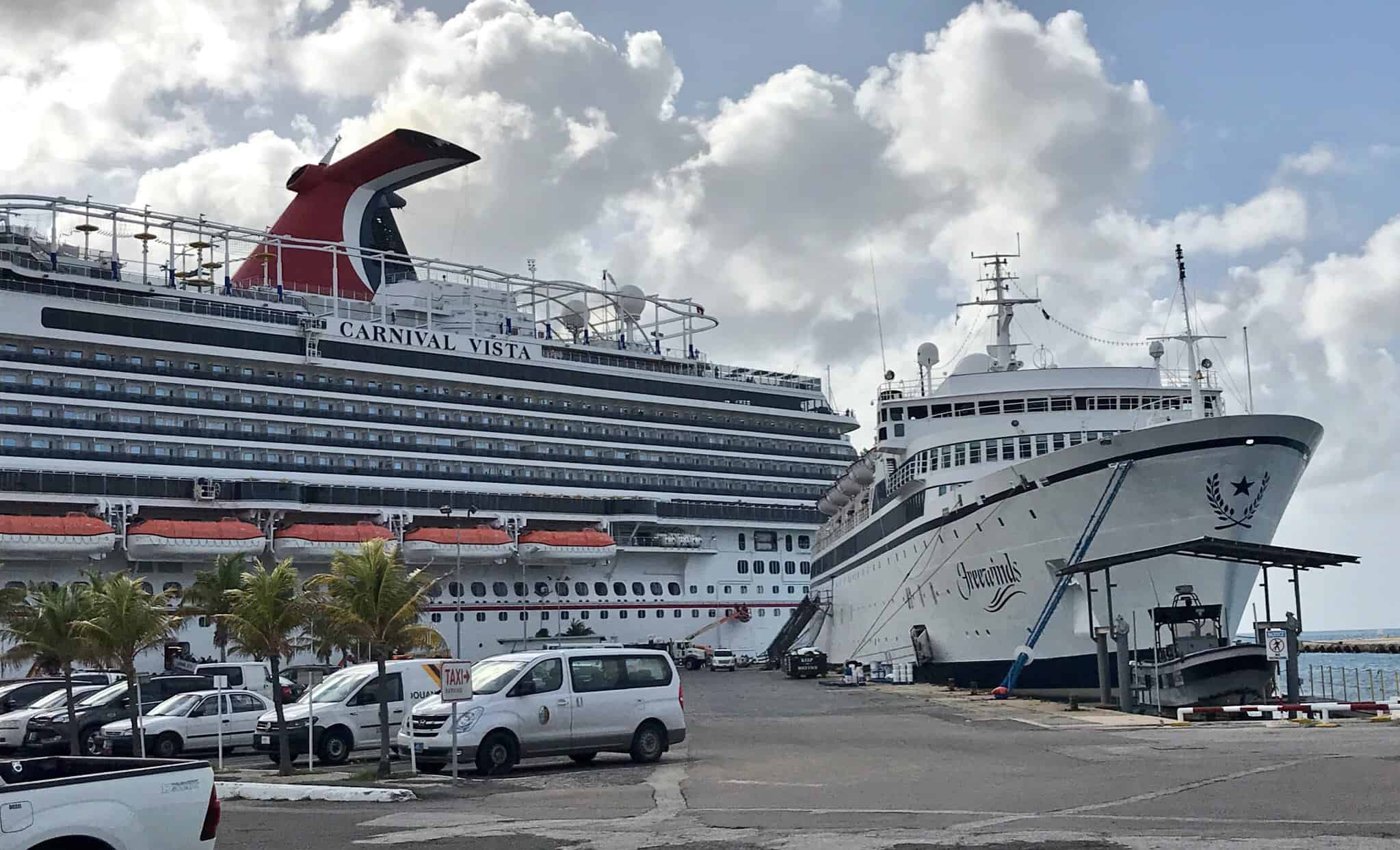 You may not be aware of this, but I don't just love cruising… I'm also really fascinated by the history of all things ship-related. So when we pulled into port, it was cool to research the ship docked next us called the Freewinds. Long story short, it's operated by the church of Scientology and, launched in 1968.  Seeing the Carnival Vista (which weighs in at around 133,000 tons) and the Freewinds (at a mere 10,000 tons) together was an amazing visual reminder of just how far cruising has come over the past five decades.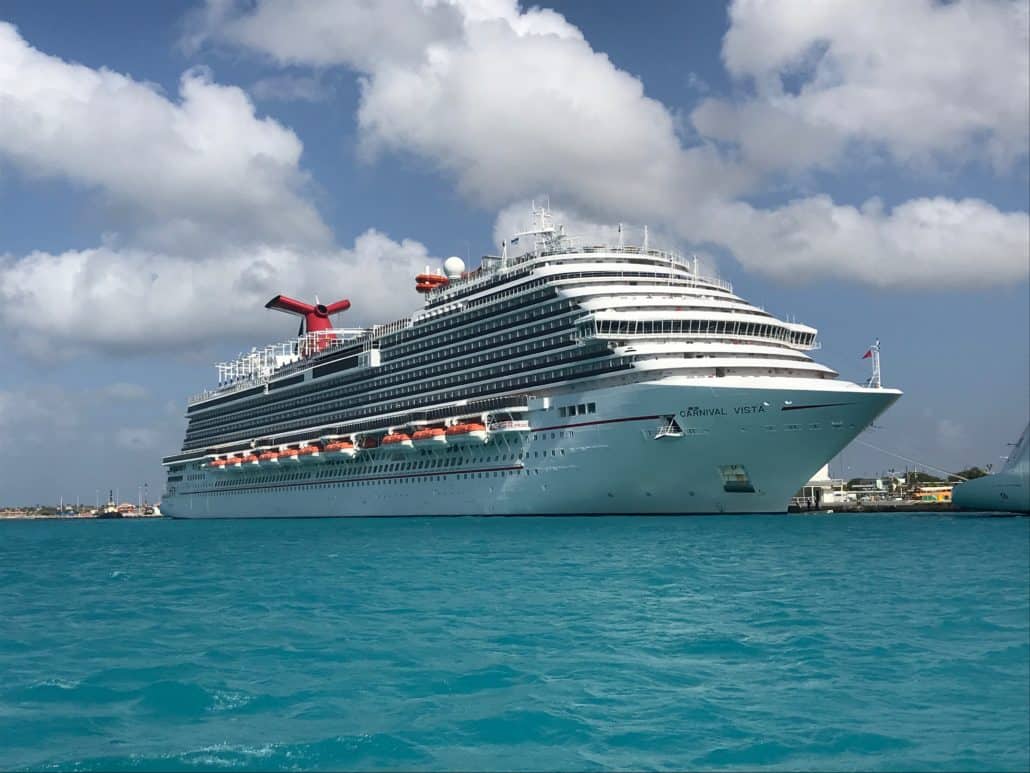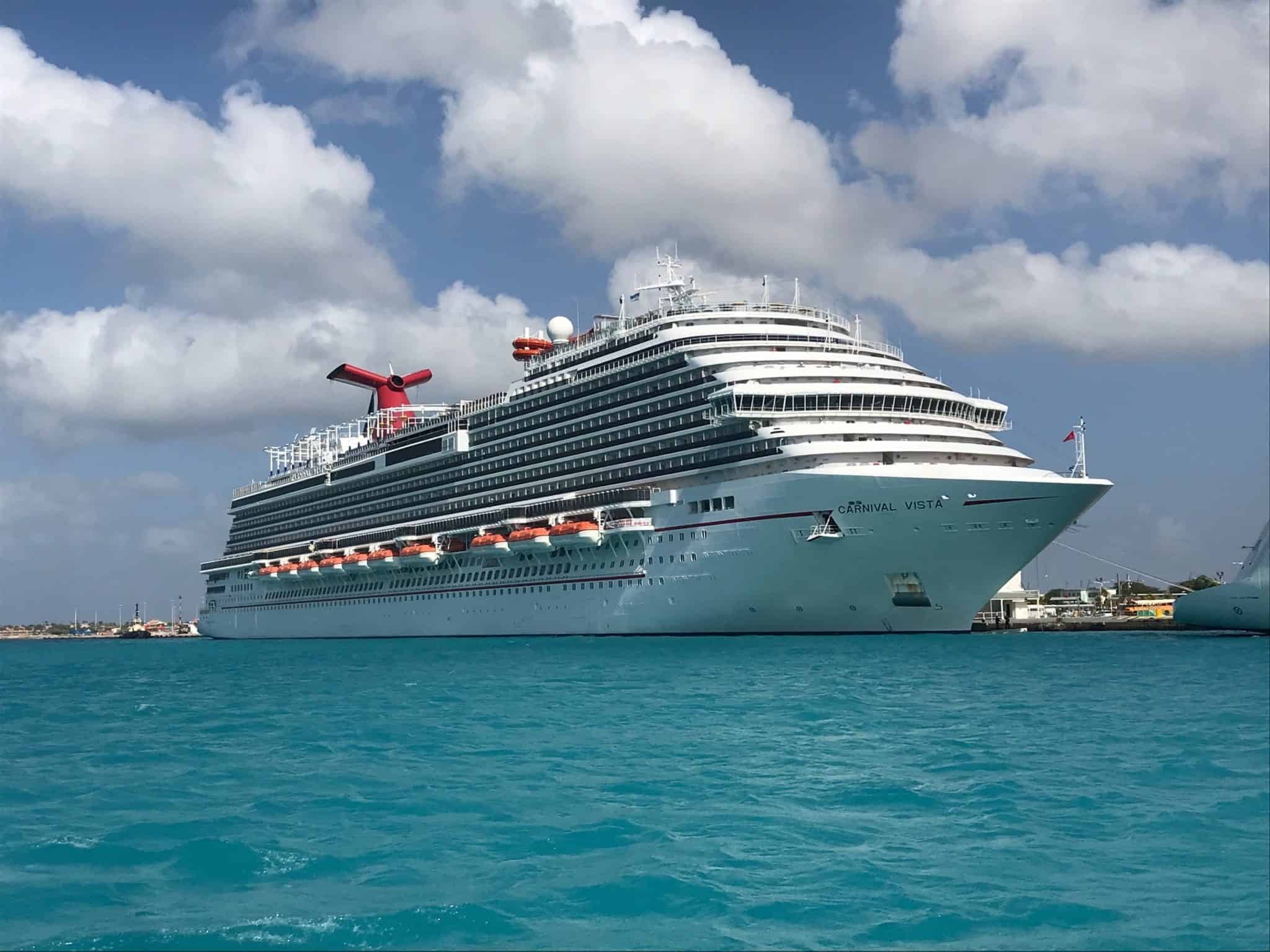 So back to that excursion I started raving about at the beginning of this entry. What were we doing? Taking a catamaran out into the waters so we could snorkel and/or scuba dive. After boarding the catamaran, we took off for a 45-minute trip to the first stop, where we spent 30 minutes in the water getting up-close and personal with some smallish coral patches and a lot of fish. We then got back on board the boat and headed out to a second site, where we could explore a ship called the Antilla which sank in 60 feet of water during World War II.
Put simply, this was absolutely breathtaking. The history of the wreck itself only added to the experience. The Antilla, having been built in 1939, was sank in 1940 when her captain decided it was better to sabotage the ship (by essentially blowing her boilers) rather than allowing her to be captured by the enemy. Miraculously, there were no fatalities as the captain and his crew were able to row safely to shore.
And now, here we were, diving down to explore the remains of the ship alongside the hundreds of sea creatures who now called it home. Like I said before, I've been on a lot of excursions while cruising the Caribbean, but this was indescribably incredible. The excursion I did is the Sailaway Snorkel and Beach Cruise.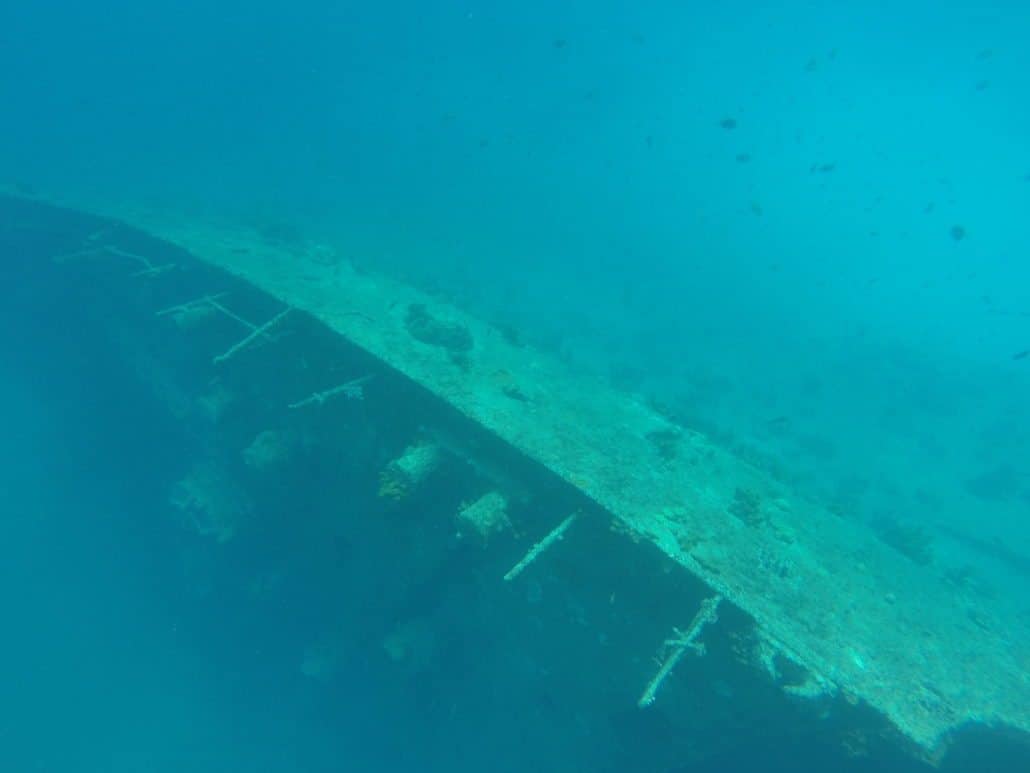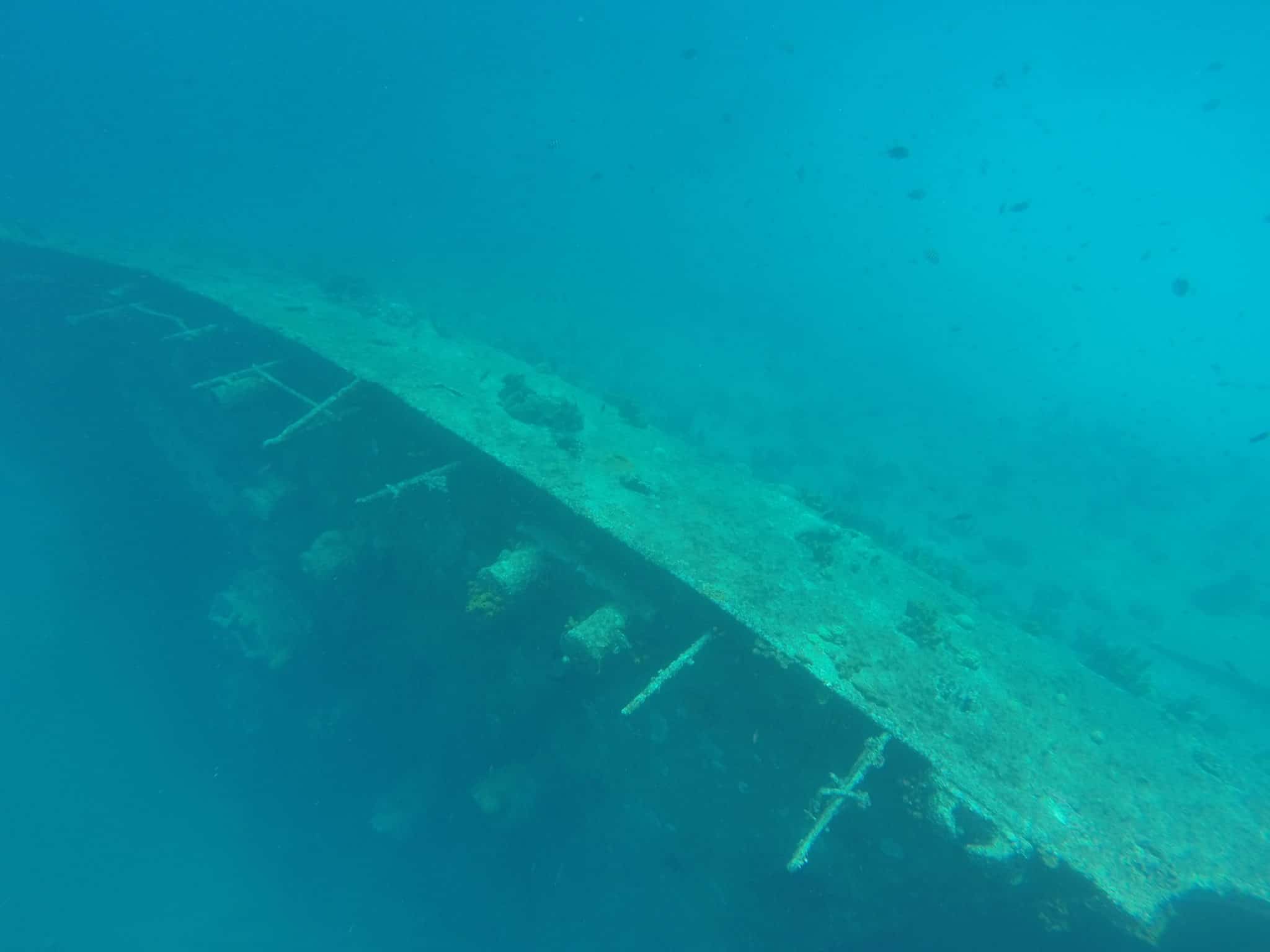 On the trip back to the pier, we stopped at a tiki-style bar and grabbed some BBQ. Plus, the catamaran had an open-bar during the return trip. Yeah, best excursion ever.
When I was on the Carnival Vista's inaugural voyage last spring, I wound up eating 12 lobster rolls from the Seafood Shack. Not wanting history to repeat itself, I've been avoiding the Seafood Shack this entire cruise, only allowing myself one lobster roll. I started to wonder if maybe I have a lobster roll issue, or even an obsession, so I asked a couple folks around me what they thought about the Seafood Shack. If I do have a problem, there are those who have it worse: One woman admitted to me that she loves it so much, she ordered two pounds of the crab legs at a cost of $40. So in retrospect, my $12 lobster roll (with fries!) isn't so bad.
READ MORE: Review of Carnival's Seafood Shack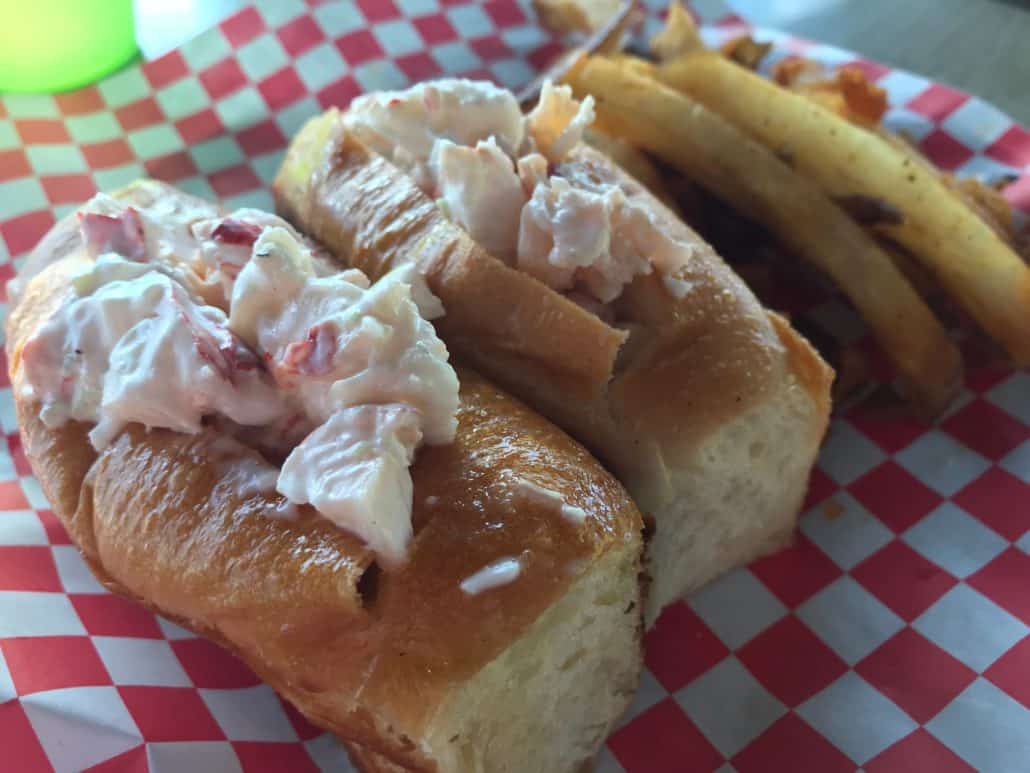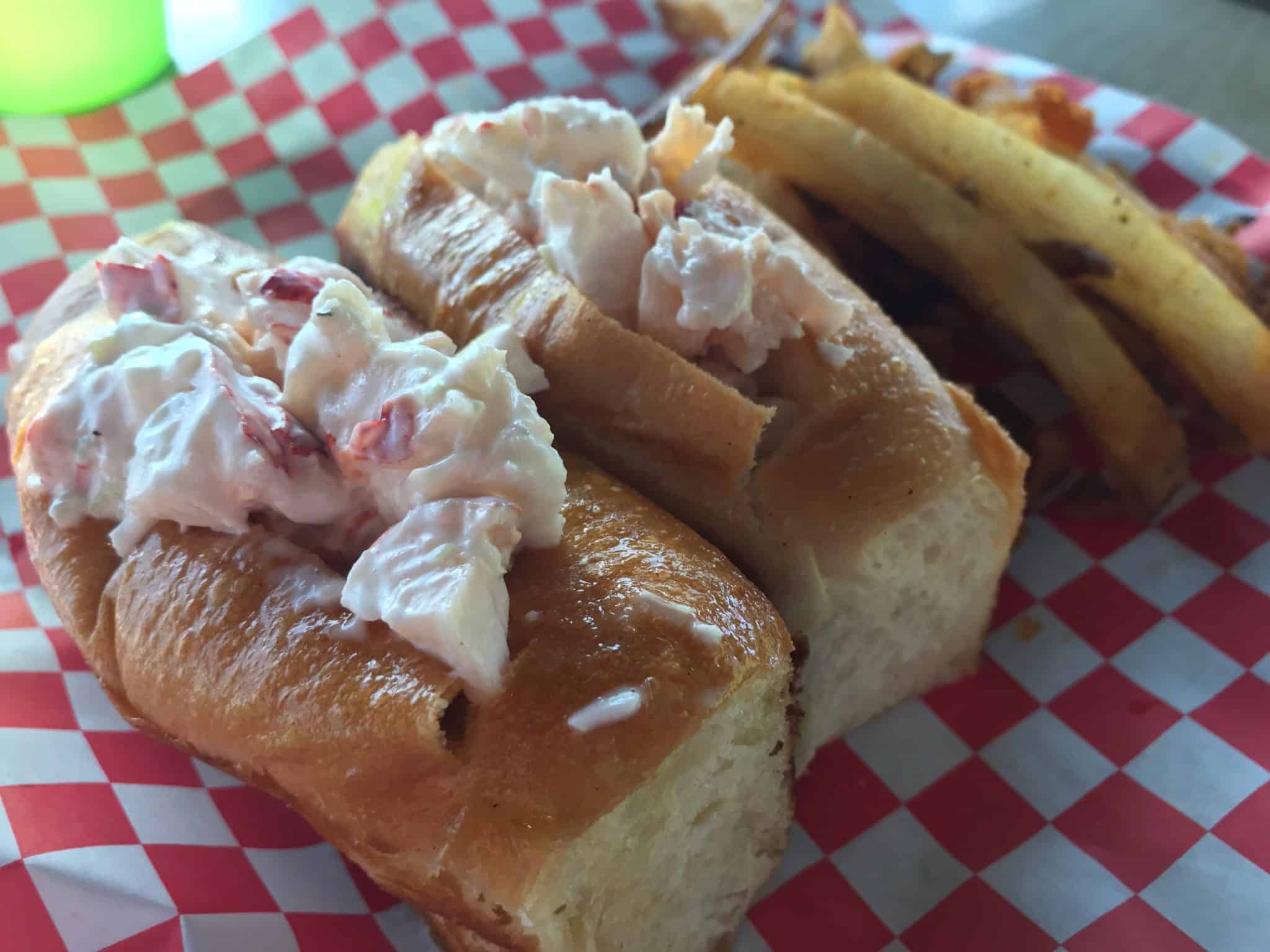 We caught one of the Playlist Production shows called Flick before dinner. Flick features a lot of show tunes and some cool effects, and it all seems to be taking place during the Golden Age of the motion picture industry. If we're going to be honest with each other — and we've come this far together, right? — I had no clue what it was about. But it was an entertaining way to pass some time before dinner.
I mentioned this yesterday, but it bears repeating: If you're going to see a show in the Liquid Lounge — aka the main show theater — make sure to get there early. For a space in which a lot of the entertainment takes place, the sight-lines are awful. If you don't arrive early and find a good seat, there's a great chance at least part of your view is going to be blocked by a pole. There was a running joke during the entire week suggesting that some of the passengers were going to meet in the theater during the dead of night, seek out some tools and renovate the space.
How did the Carnival Vista wind up with this problem? The theater was designed to serve dual functions by hosting shows and, as the night went on, morph into a nightclub. But the late night noise from the nightclub generated a lot of complaints from guests staying in cabins on deck 6 forward, so the Limelight Lounge (on deck four aft) wound up being used as a night club.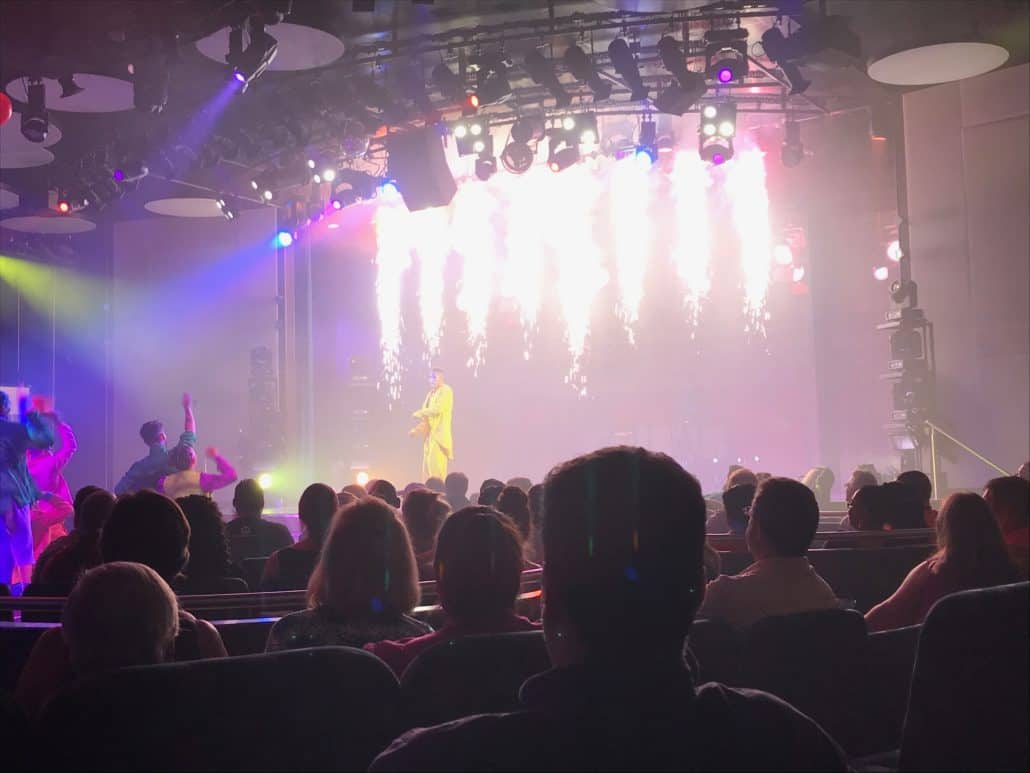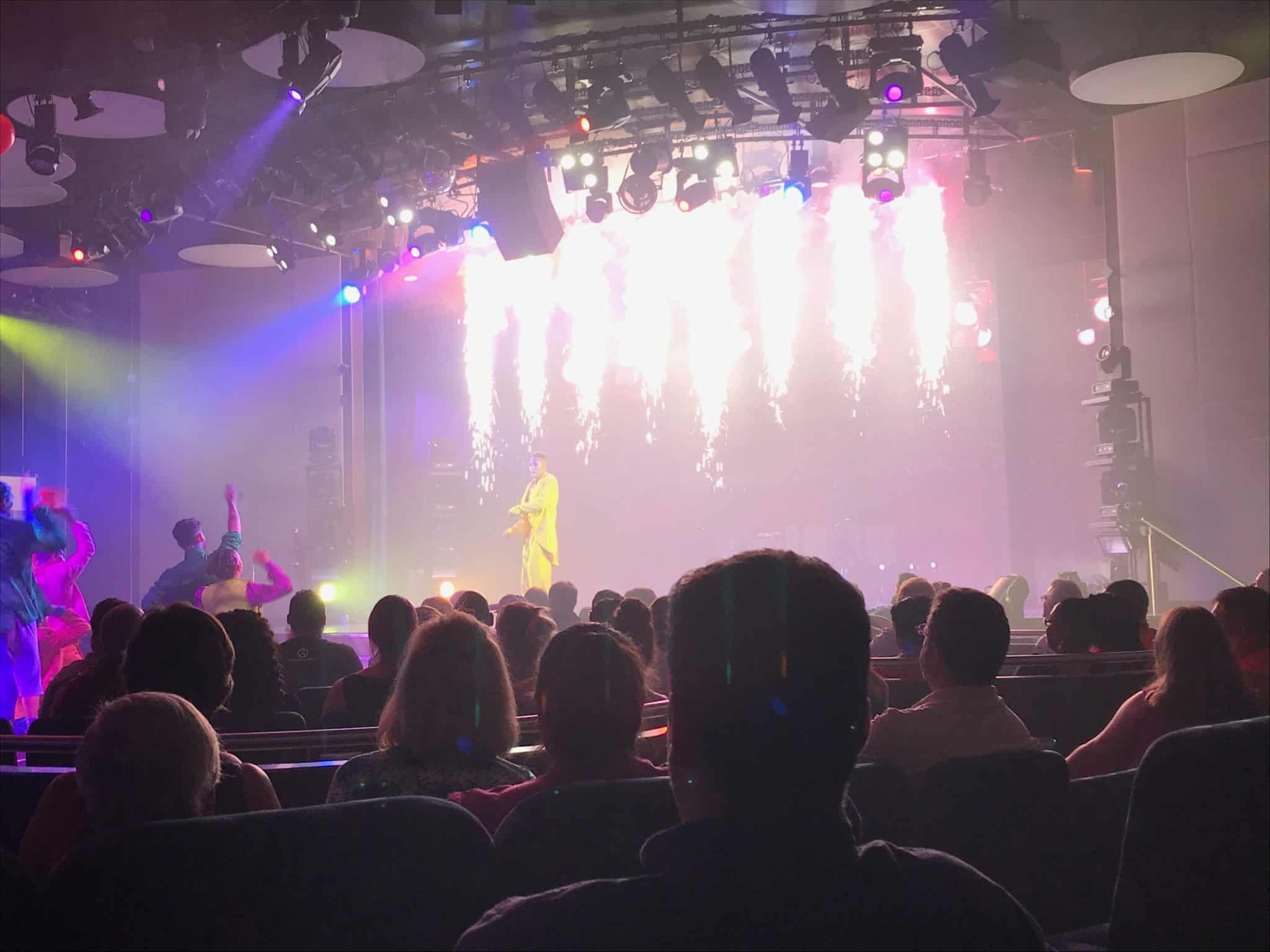 Before dinner, we stopped by the Alchemy Bar for a Cucumber Sunrise. Alchemy Bar's drinks are unique and pack a real punch, and it's the perfect place to stop for a pre-dinner cocktail. (Two or three, however, and you might wind up under the table as opposed to eating at one!) We were eating in the main dining room tonight and, having had my lobster roll earlier, I wasn't all that hungry.
We've only seen the people seated at the table next to us once during the entire cruise. I assume either they're doing specialty restaurants most nights, or they really didn't like our conversation that first night and have been avoiding us ever since. (I'm kidding… I think/hope!)
In talking to people over the course of the week, I've heard a few people complaining that service during Anytime Dining in the Horizon Dining Room has been on the slow side. Here in the Reflection Dining Room, the servers have been great.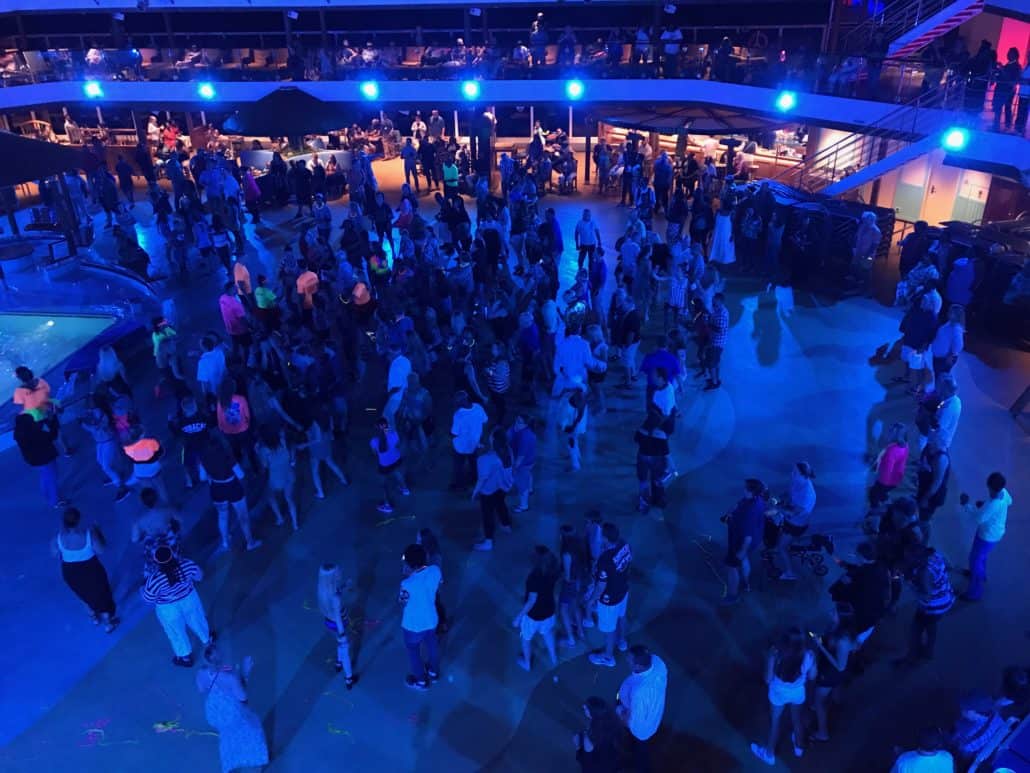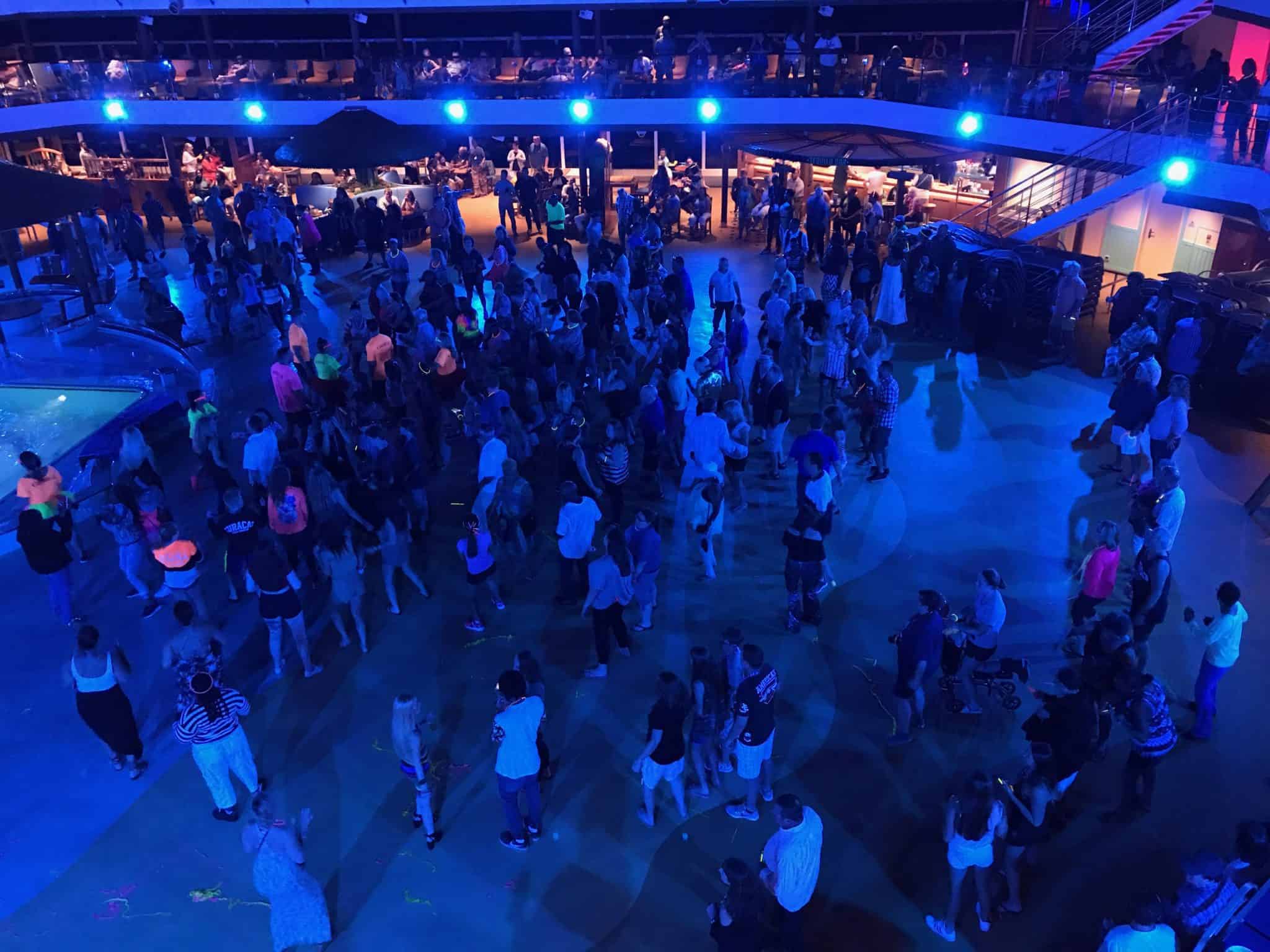 As you've probably noticed, I haven't been much of a nightowl on this cruise. But tonight was the 80s party, and I wanted to hit that. For one thing, 80s parties tend to be a lot of fun. But I also wanted to attend because it was being hosted by Matt, and as I've mentioned already this week, he's by far the best cruise director I've ever sailed with. His energy is contagious… and it was definitely needed tonight.
Why do I say that? Well, cruises that run longer than a week tend to attract an older demographic, and this one is an 8-night sailing. And while music from the 80s is popular with just about everyone in general, including those older folks, the fact that the party didn't start until 11 p.m. definitely cuts down on the number of attendees. (Not that I should talk, given that I've been in bed by around 9 p.m. most nights!) But thanks to Matt, the music was pumping, the crowd was dancing and a good time was had by all.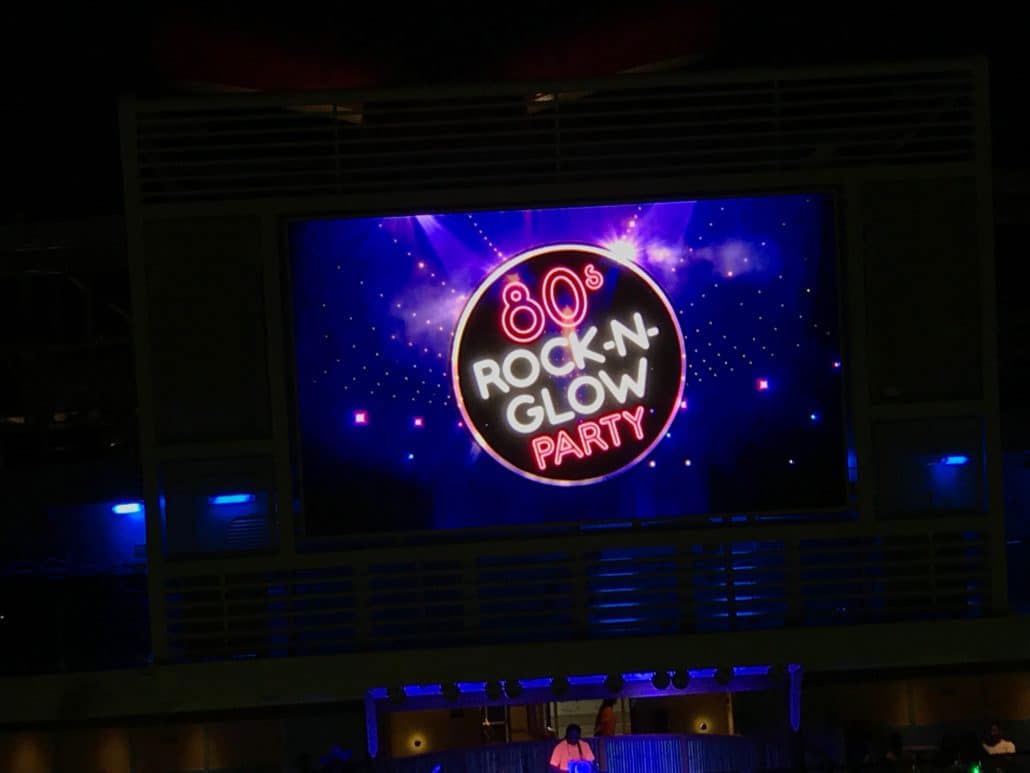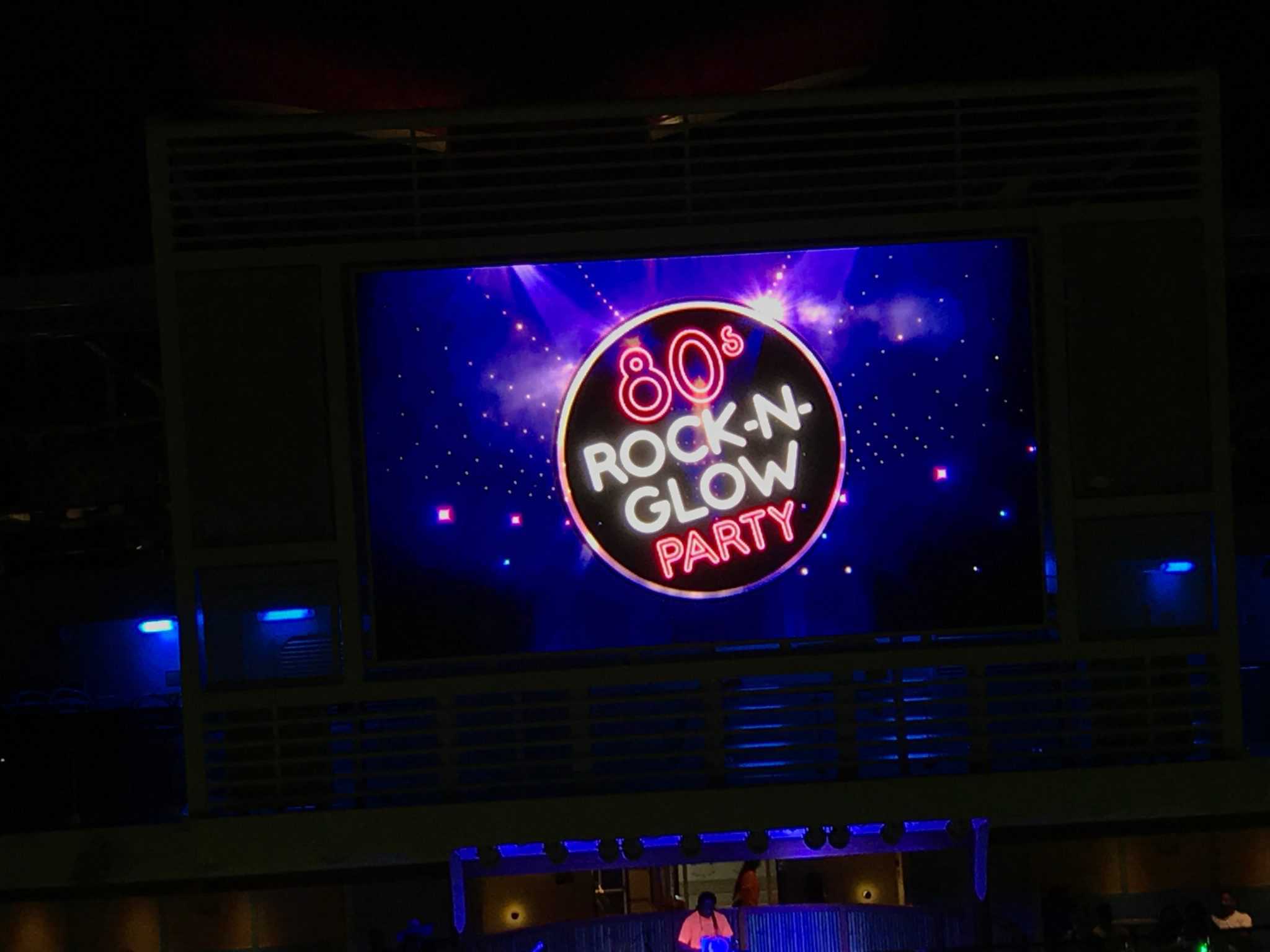 Aruba was the last of the ports we'll be visiting on this sailing, and I'm sort of glad that the excursion was so incredible. Nothing like ending on a high note, right? Not that the cruise is over, as we still have two sea days ahead of us before we get back to Miami. I intend to enjoy them and soak up the sun, because I hear that there's some chilly weather back home right now. Which just goes to prove what I always say: Life is better at sea.
Until tomorrow… goodnight.