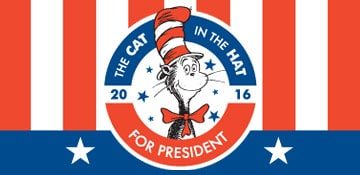 Election Day is only three months away, and a new, unexpected candidate has decided to join in the running for president: The Cat in the Hat!
Coinciding with the release of new Dr. Seuss book "One Vote, Two Votes, I Vote, You Vote," Carnival Cruise Line will serve as the Cat in the Hat's official seagoing headquarters for the campaign.
Now I know what you're wondering…what does this actually mean in reality?  Glad you asked.
Joined by running mates Thing 1 and Thing 2, The Cat in the Hat will be decked out in special presidential attire on each Carnival ship beginning this week.  He will do the usual campaign duties: shake hands, lead parades, smile for photos, and, of course, hand out stickers to excited constituents.
Carnival will also offer a variety of #CatinHat4Prez activities designed to teach kids about the importance of voting and the election process.  As part of the Seuss at Sea program, activities will include patriotic face painting and arts and crafts poster-making sessions that will be used in the Presidential Parade aboard the ship.

Ballot boxes will also be in Camp Ocean/Camp Carnival on each ship, where kids will vote for their favorite Dr. Seuss book and receive a custom voting certificate.  Kids will also be able to star in The Cat in the Hat's official campaign commercial, which will be shown on the in-cabin TV channels.
The Seuss at Sea program features activities such as the Seuss-a-palooza Parade, story time, The Green Eggs and Ham character breakfast, family reading venue Dr. Seuss Bookville, and themed games, movies, and toys.
Images: Carnival Cruise Line