It's been a weird couple of years for the cruise business, as evidenced by Celebrity Apex. No sooner was the second ship in Celebrity's Edge class delivered than the industry shut down.
So instead of welcoming guests and making money for the company, Apex spent a year either docked at a shipyard or helping to repatriate the crew members who suddenly had no jobs.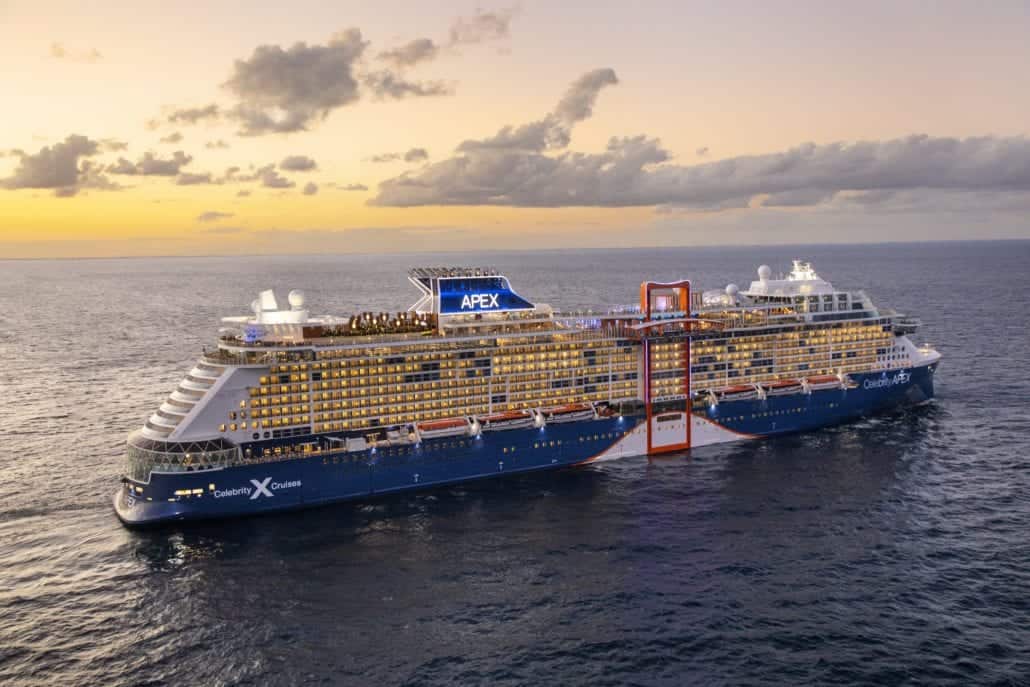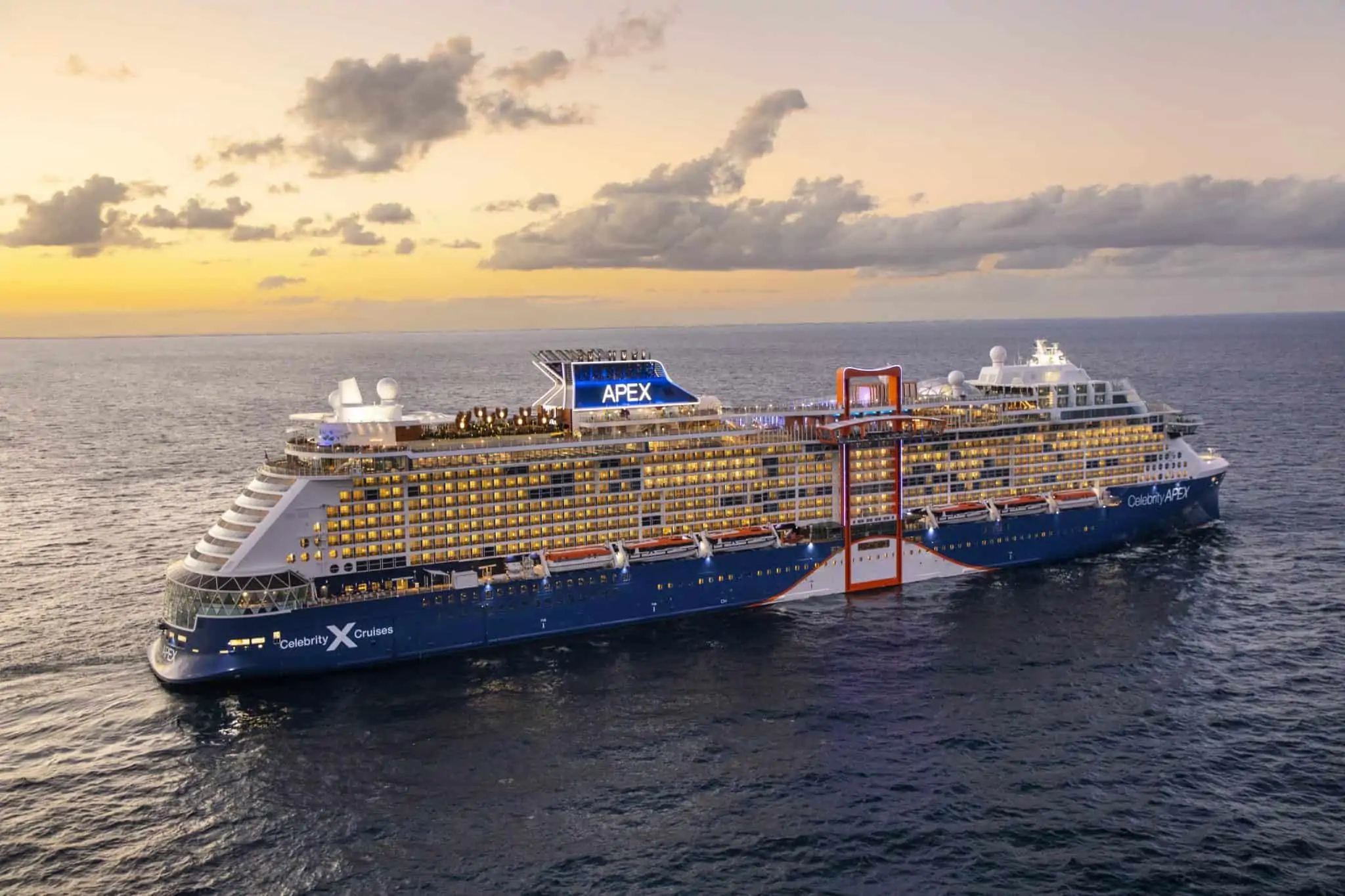 Earlier this summer, Apex finally resumed service in Europe before repositioning to North America in late October.
Now, finally, the ship is sailing out of Port Everglades, giving us an opportunity to jump on board for a two-night sailing during which we got a small taste of everything Apex has to offer.
Just The Facts
Cruise Line: Celebrity Cruises
Launched: 2020
Size: 130,818 gross registered tons
Measurements: 1,004 feet long by 128 feet wide
Staterooms: 1,467
Capacity: 2,910 passengers (double occupancy); 3,405 total
Crew: 1,320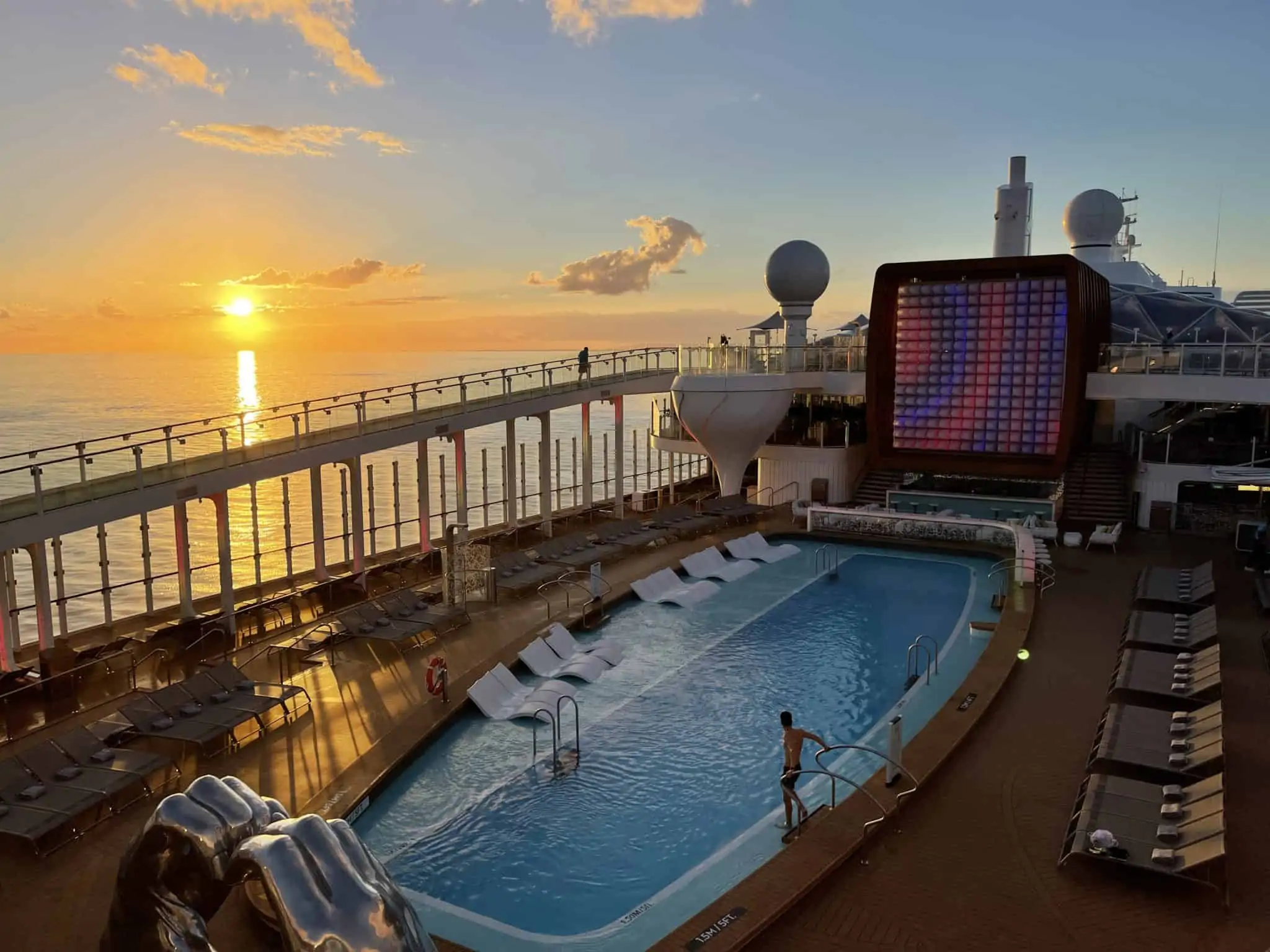 Similar, But Different
As often happens within a class, Apex and Edge have quite a bit in common.
So much time and effort are put into developing the first ship in a new class that what follows usually involves making tweaks as opposed to doing a major overhaul. The overall layout is nearly identical, as are most of the venues you'll find onboard.
Having been on one of Edge's first cruises when she resumed sailings back in June, that ship was still fresh in my mind, so the fact that Apex is so similar gave me a cool sense of déjà vu.
As on that ship, I absolutely loved the warm, welcoming feeling of the grand atrium, with its open design and the beautiful martini bar serving as a focal point.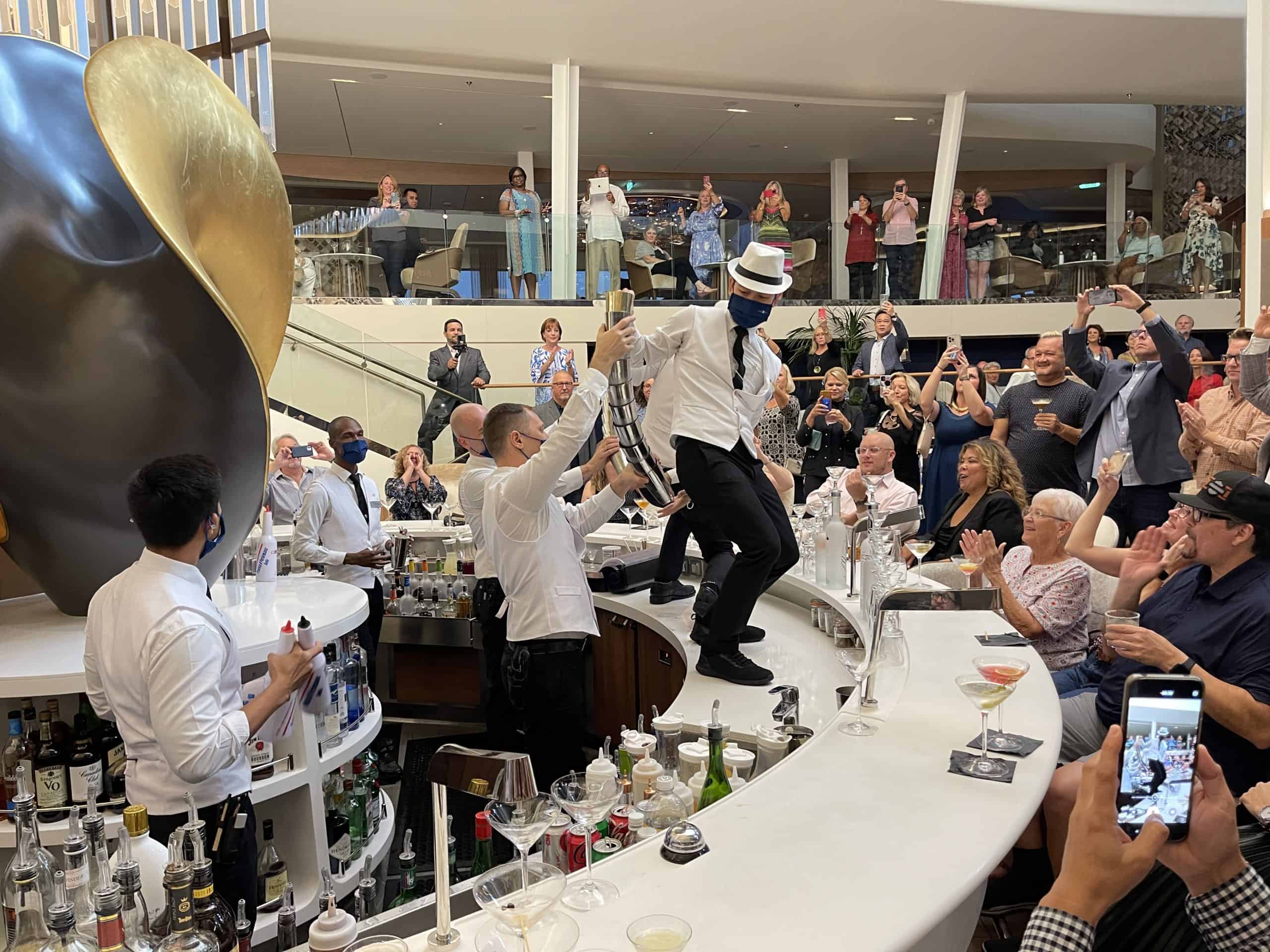 When Edge was introduced in 2018, one of the groundbreaking concepts it introduced — and something that, like the Magic Carpet, generated a whole lot of buzz — was the "infinite veranda" staterooms.
These cabins used technology to essentially eliminate the barrier separating the stateroom space from the balcony at the touch of a button. Essentially, it functions a lot like rolling down the window in your car.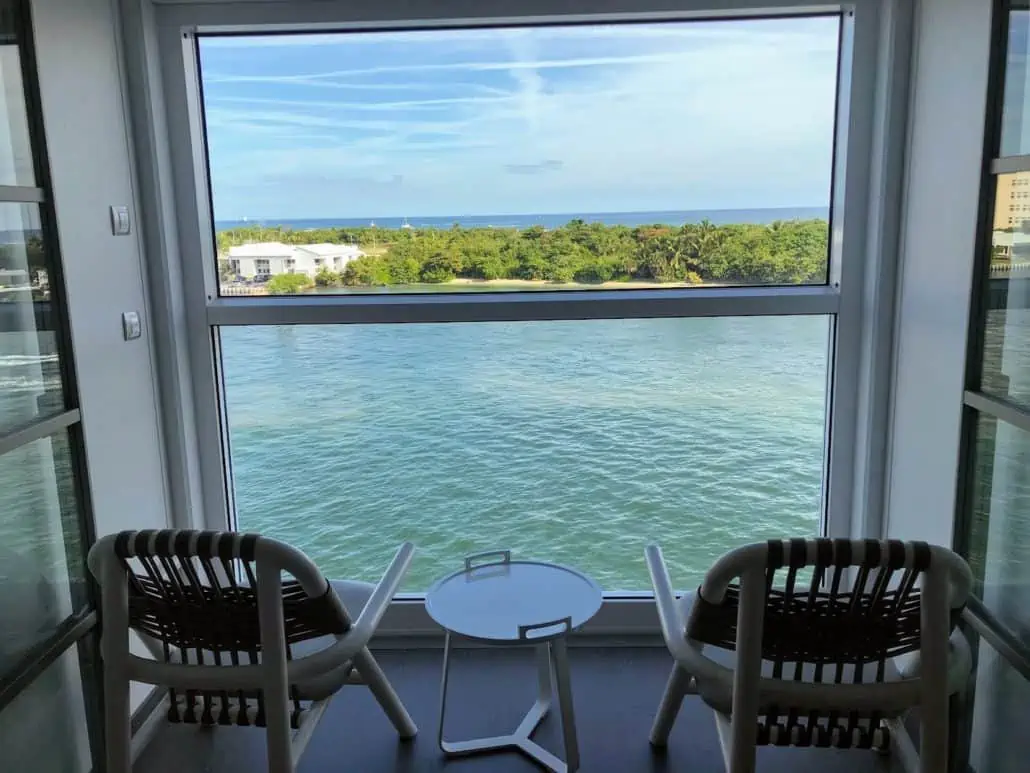 While I enjoyed giving it a try on Edge, I can't say that it was something I'd pay extra for. I prefer the more traditional balcony door, especially since I found that the infinite veranda could lead to humidity building up in the stateroom, not to mention create a wind tunnel if someone opened the cabin door.
READ MORE: Celebrity Edge Review
During this sailing, we had the more traditional-style balcony stateroom. As on Edge, the space is designed with the modern traveler in mind. There are plenty of both USB and regular outlets.
The lighting design of the stateroom is also extremely modern. It's funny how little attention you pay to something like lighting until you become aware of how good or bad it is when you're trying to get to the bathroom in the dark or apply makeup at the vanity.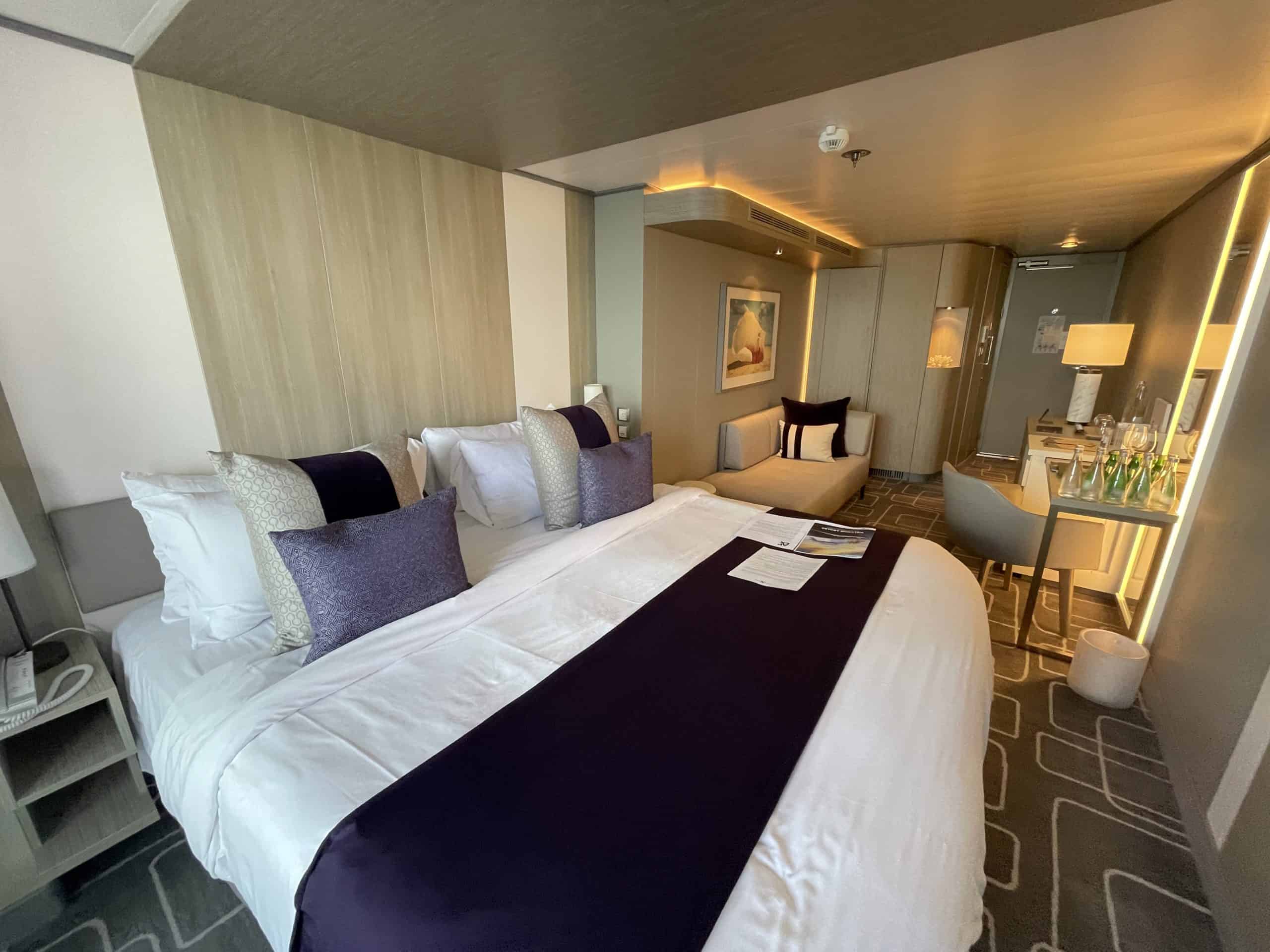 Color scheme-wise, the grey and blue tones featured in the Apex staterooms are soothing, managing to be both classic and modern at the same time, not an easy balance to pull off.
The bathrooms were pleasant, well-lit, and featured a shaving bar in the corner-placed showers. If I'm not mistaken, Celebrity was the first line to add shaving bars to their showers, something that we're seeing other lines now do as well.
Other staterooms include interiors, oceanviews, concierge class, spa suites, aqua class, sky suites, Celebrity suites, Edge villas, and the Iconic Suite. The Iconic Suite starts at $75,o00 per week and is booked out for the next year!
So Much Food, So Little Time
While two-day sailings give you plenty of time to explore a ship physically, they don't allow for trying out all of the different venues a modern cruise ship has to offer.
We did, however, hit some of the primary dining venues: the main dining room, the Ocean Cafe buffet, and one of my favorite spaces on this ship: The Rooftop Garden Grill.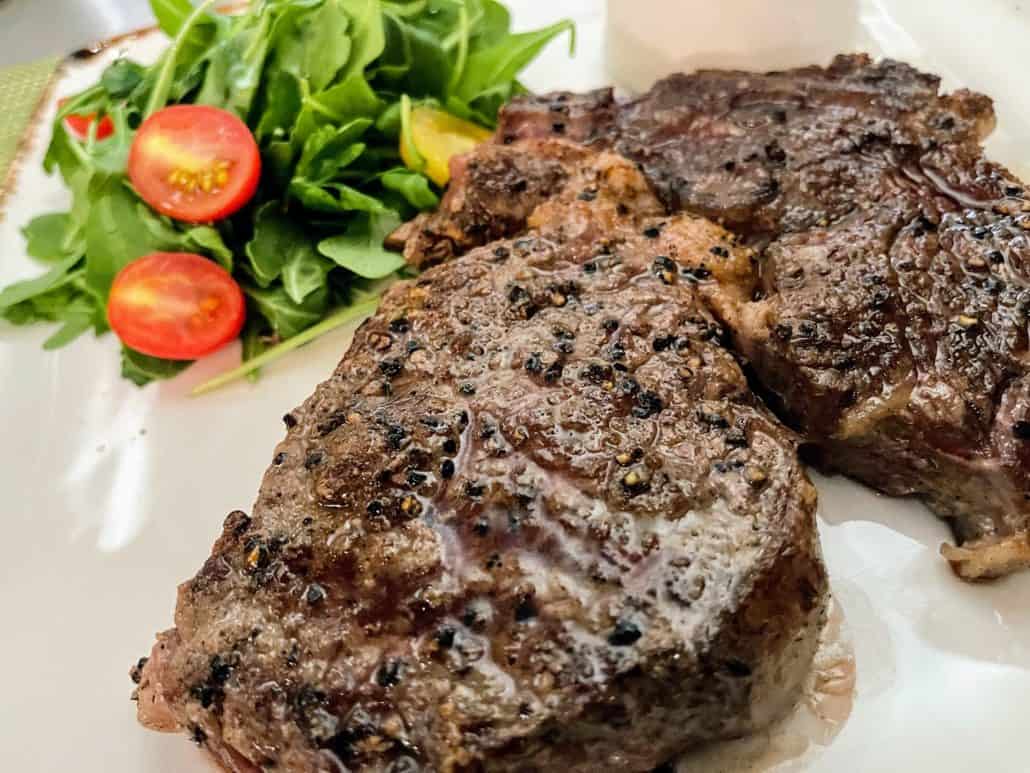 The buffet is fairly traditional, with a nice variety of fresh offerings. Something we never really had to wonder about in the past — but which is now a question that comes up with regards to every ship — is whether guests serve themselves or are served by crew members.
Here, as with most of the ships I've sailed since things started up again, it's a mix. Crew members were serving us at certain stations, while others had grab-and-go pre-plated options.
Everything we tried — from salads to pizza — was fresh and tasty. It's not a buffet that's going to revolutionize the way you think about food, but you're not going to walk away hungry or dissatisfied.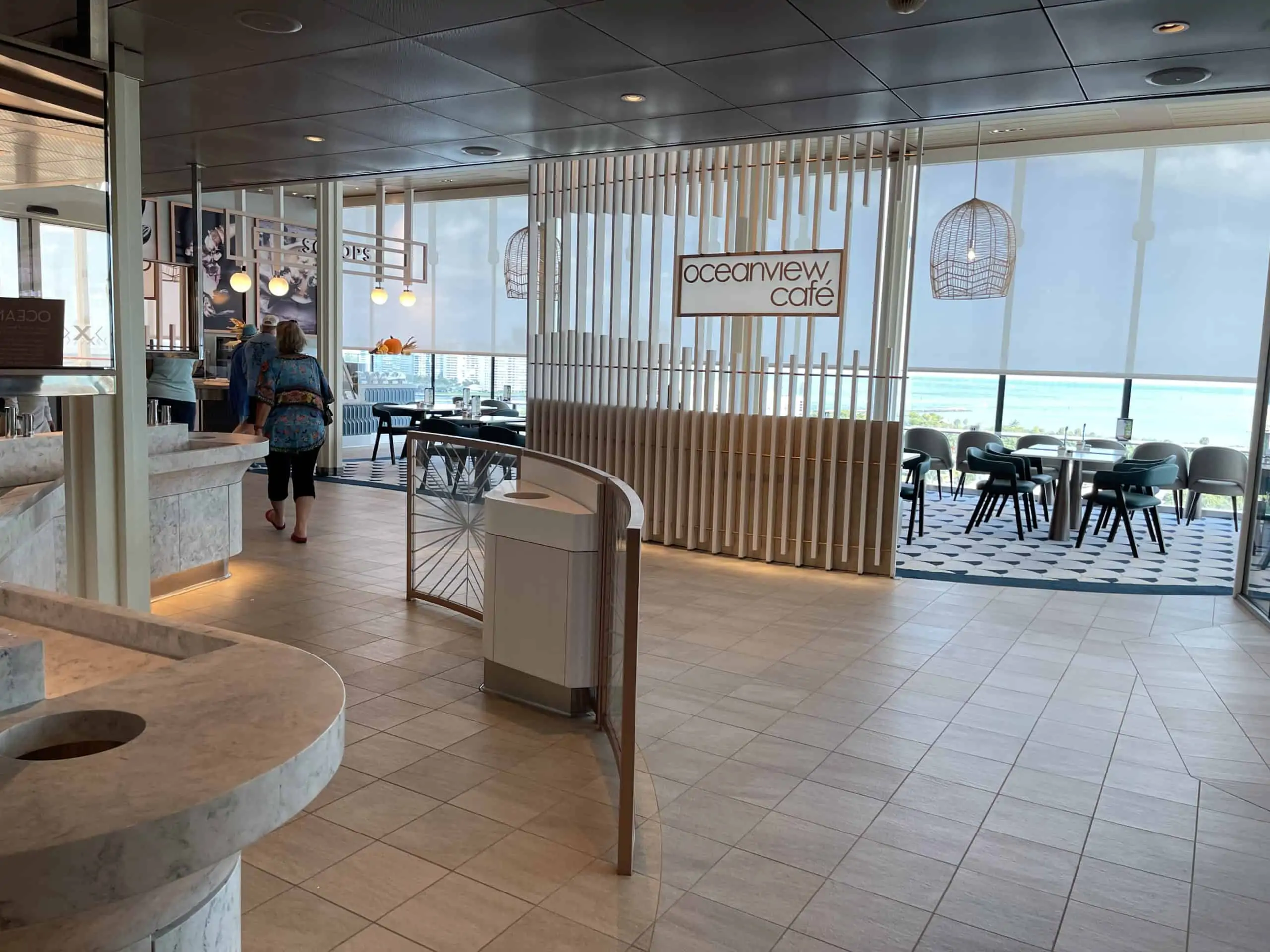 An interesting aspect of the space? Because the jogging track on the aft of the ship spans two levels, it allows one side of the Oceanview Cafe to have a very high ceiling, giving the whole area an open, airy atmosphere.
There are also large walls of windows which help contribute to that feeling. It's a subtle thing, but in an era where people are wary of feeling cramped or even being indoors, the openness of the space has a calming effect.
MORE: 15 Photos of Eden on Celebrity Edge
Want to eat outdoors? There's a dining patio on the back of the ship where you can take food from the oceanview cafe, and is a great spot for a late-night snack while listening to the sound of the wake.
The Rooftop Garden Grill is located outside on the back of the ship's upper deck. As the name implies, the spot specializes in things like steaks, chicken, wings, and even brisket at an additional cost of $45 per diner for dinner, and $25 per diner for a sea-day lunch.
The food we tried was excellent, although dining here comes with one caveat: Given that it's an outdoor spot, inclement weather could put a crimp in your plans.
When we dined here on a past sailing, we had a quick Caribbean shower pass by. The dining team quickly moved our table under an awning. By the time they moved our table and wiped down the chairs, the rain shower had passed.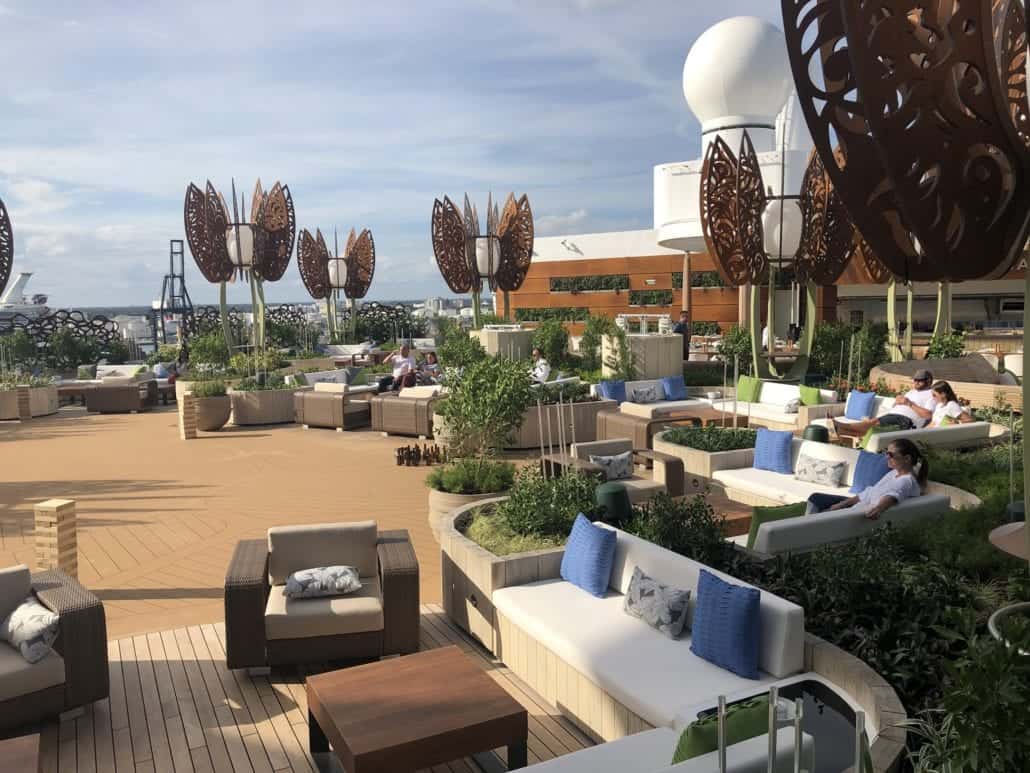 Apex has four main dining rooms: Cosmopolitan, Tuscan, Normandy, and Cyprus. All four share a common main menu each night and individual items unique to each restaurant and its given theme.
For instance, Normandy's French-themed menu will, in addition to traditional offerings, feature French onion soup and escargot, whereas Cyprus has a variety of Greek options.
We dined in Cosmopolitan, where the food was described as "new American with global influences."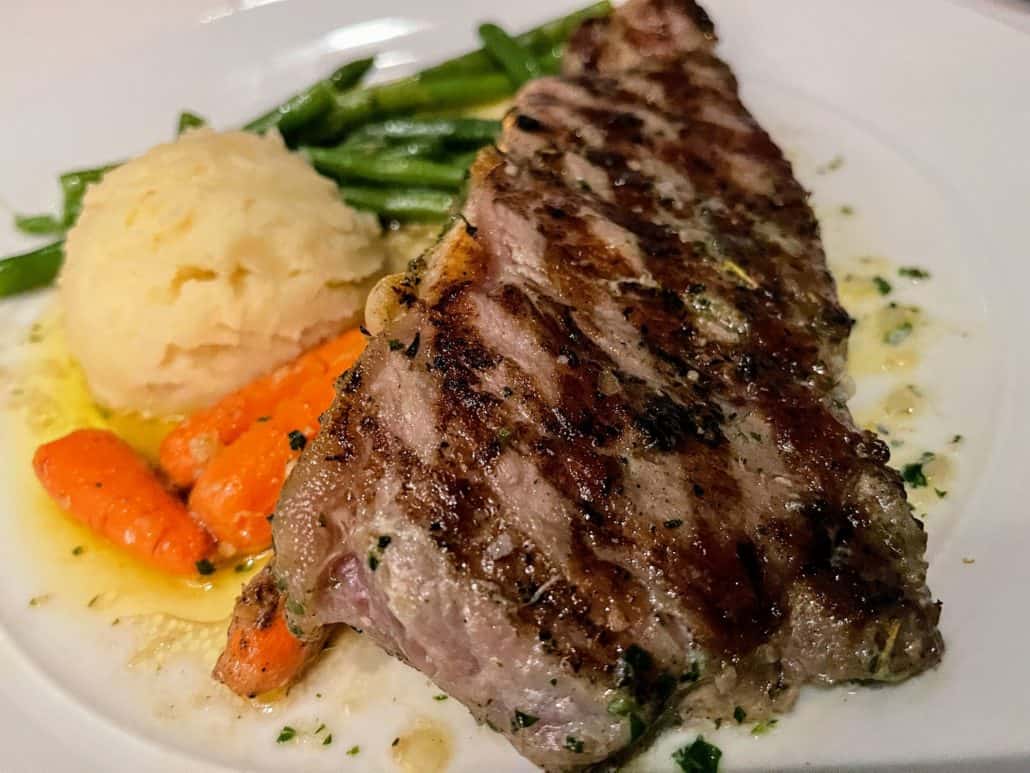 While I'm not the kind of foodie who could tell you exactly what that means, everything was fresh and nicely plated, and the service was great.
We told our server we hoped to catch the 9 p.m. show and he made sure everything was expedited in a way that left us plenty of time to do so.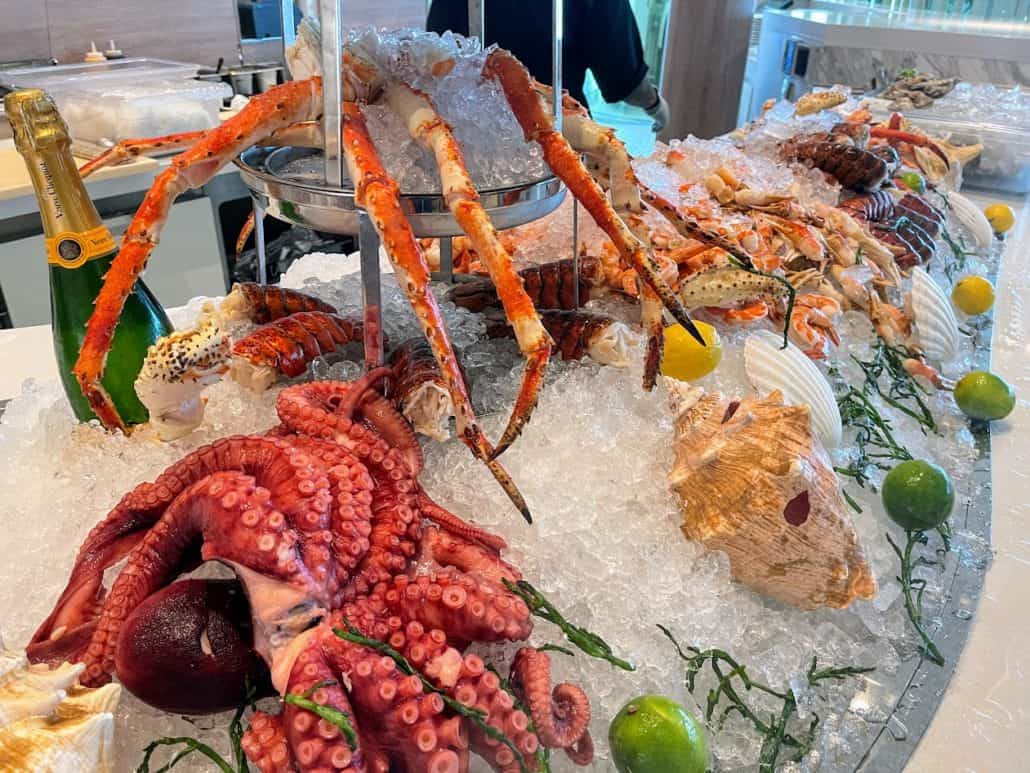 Other dining options on the ship that we did not have time to try on this sailing (but we have in the past) were Raw on 5 (seafood), Fine Cut Steakhouse, Le Petit Chef (table animation), Le Grande Bistro (French), Eden, and Blu (exclusive for AquaClass guests).
After Dark
We had a chance to check out two different shows onboard — one was in the main theater called Rockumentary.
In some ways, this was your standard jukebox musical, with a group of songs by various popular artists strung together.
But what elevated this production over others in the same vein was the fact that they used a live band instead of pre-recorded tracks.
Thanks to this — not to mention the high-tech production values — it wound up feeling more like a concert than a traditional song-and-dance show.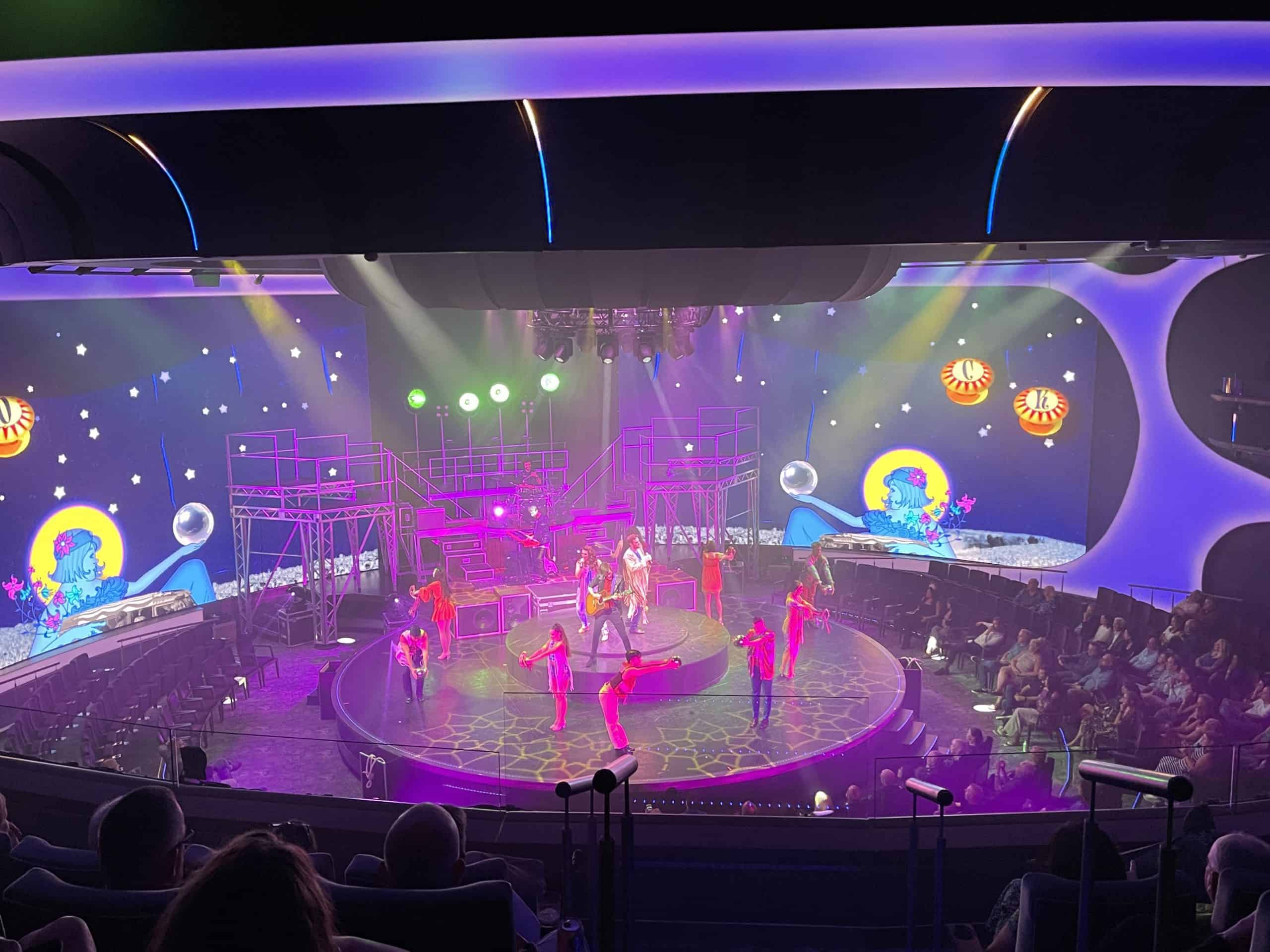 If there's one place on Apex where things are significantly different than what existed on Edge, it's probably Eden. When this space was introduced on the first-in-class ship, it quickly earned a reputation as featuring entertainment described as "interactive" but might better have been called in-your-face.
While I have friends who loved the experience, I found it very off-putting. I was not alone, as guest feedback played a significant role in their decision to rethink the nighttime offerings presented here.
Space-wise, Eden remains a large, beautiful, multi-purpose area. But the entertainment we saw here — Wonder at Eden — was more show and less like the acid trip I experienced on Edge. 
It's worth noting that Eden is not only a bar and performance space but also plays host to a specialty restaurant featuring an open kitchen. While we didn't have a chance during this short cruise to eat here, the meal I had in Edge's version of Eden was fantastic.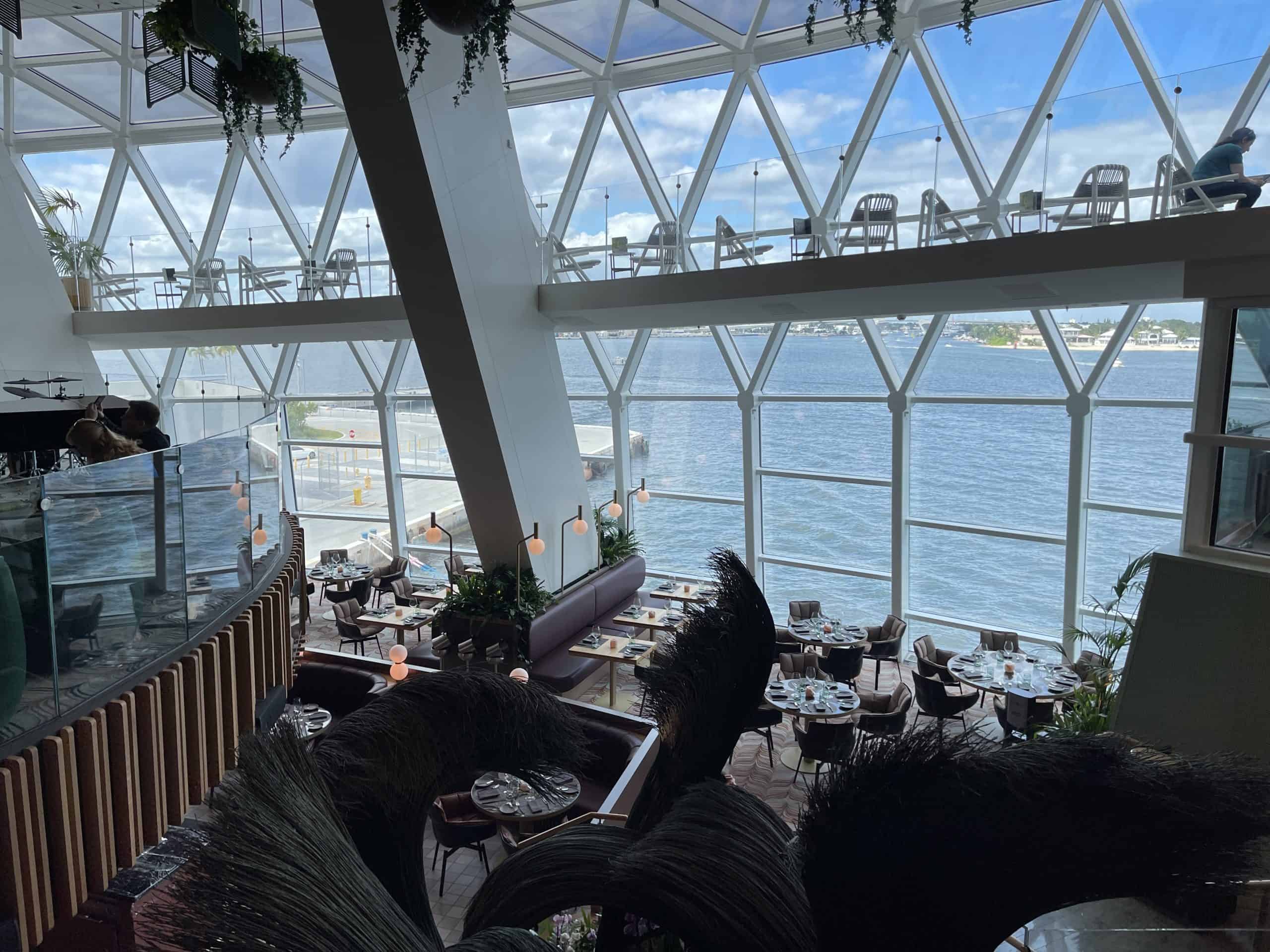 There was entertainment going on, day and night, all around the ship, most of which we didn't have time to experience.
Options for late-night dancing or conversation include The Club, Martini Bar, and the former casino bar, now called Craft Social (beers, cocktails, and bar bites).
It's also worth noting the casino on Celebrity Apex is smoke-free.
Outside Spaces
While one major draw of cruising has always been connecting with the ocean, there's been an added emphasis on that particular aspect over the past few years. We've seen it on pretty much every cruise line — whether it's Norwegian's Breakaway class introducing the Waterfront or one of the new "zones" on Carnival's Mardi Gras being Summer Landing — and the same extends to Celebrity.
Whether it's the always-popular Sunset Bar, the beautiful and tranquil Rooftop Garden, or even the two-deck jogging track, there are a slew of places where you can soak in the views.
It would be incredibly easy to spend whole sea days simply wandering from one place to another, taking in the sights.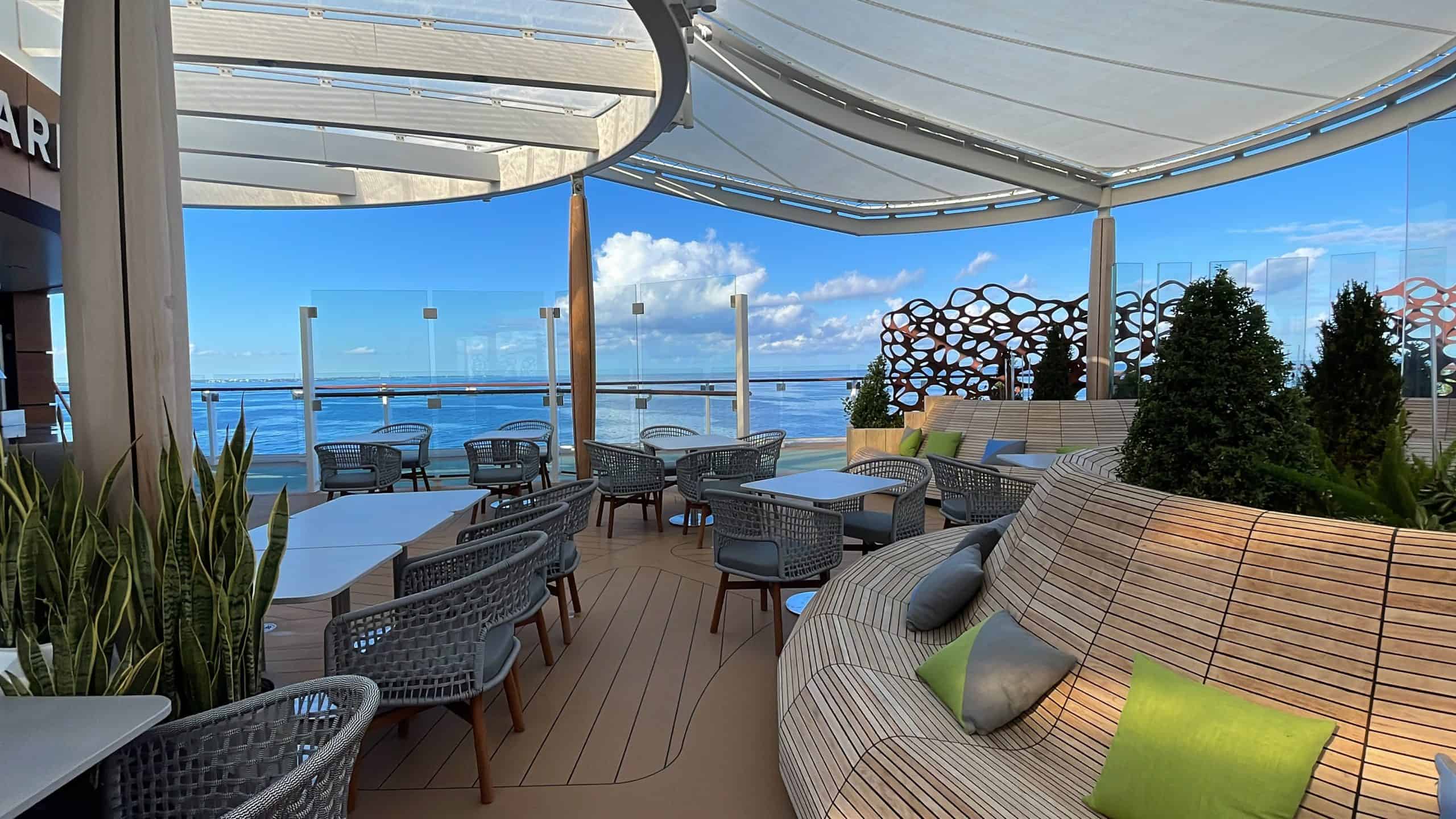 Like on Edge, the plunge pool here is massive and offers plenty of loungers. You'll also come across two champagne glass-styled hot tubs and cabanas to rent on the starboard side.
The adults-only solarium is also a relaxing space where I saw many people hanging out and relaxing during the day. During the morning, they have light breakfast options and fresh juices at The Spa Cafe.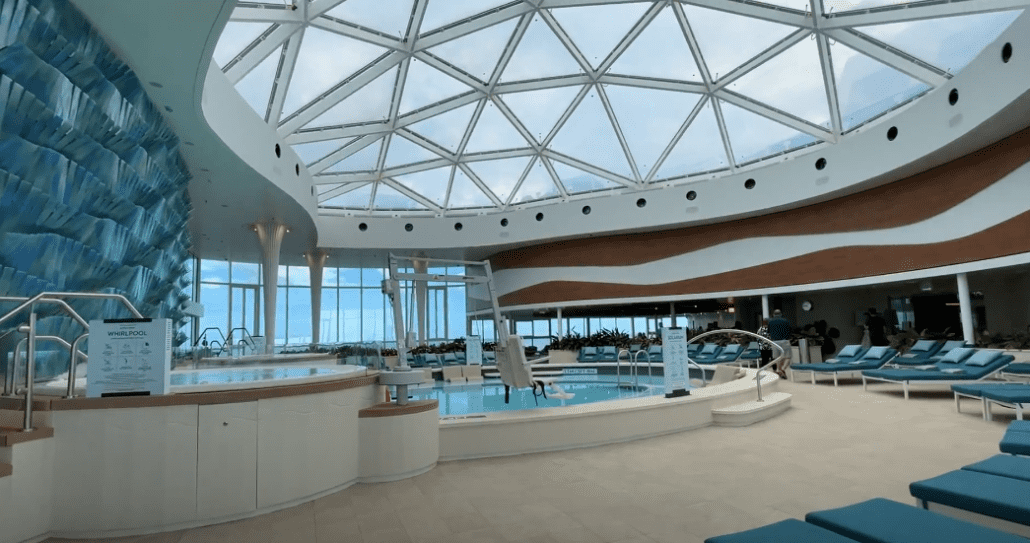 As on Edge, this is a ship that begs to be explored, as you never know what you'll find. Turn a corner, and you might find a quiet little spot in which to sit.
Walk out a door, and you could come face to face with an unusual sculpture. The overall feel of the ship is one of serenity and luxury, something you don't necessarily associate with a vessel of this size.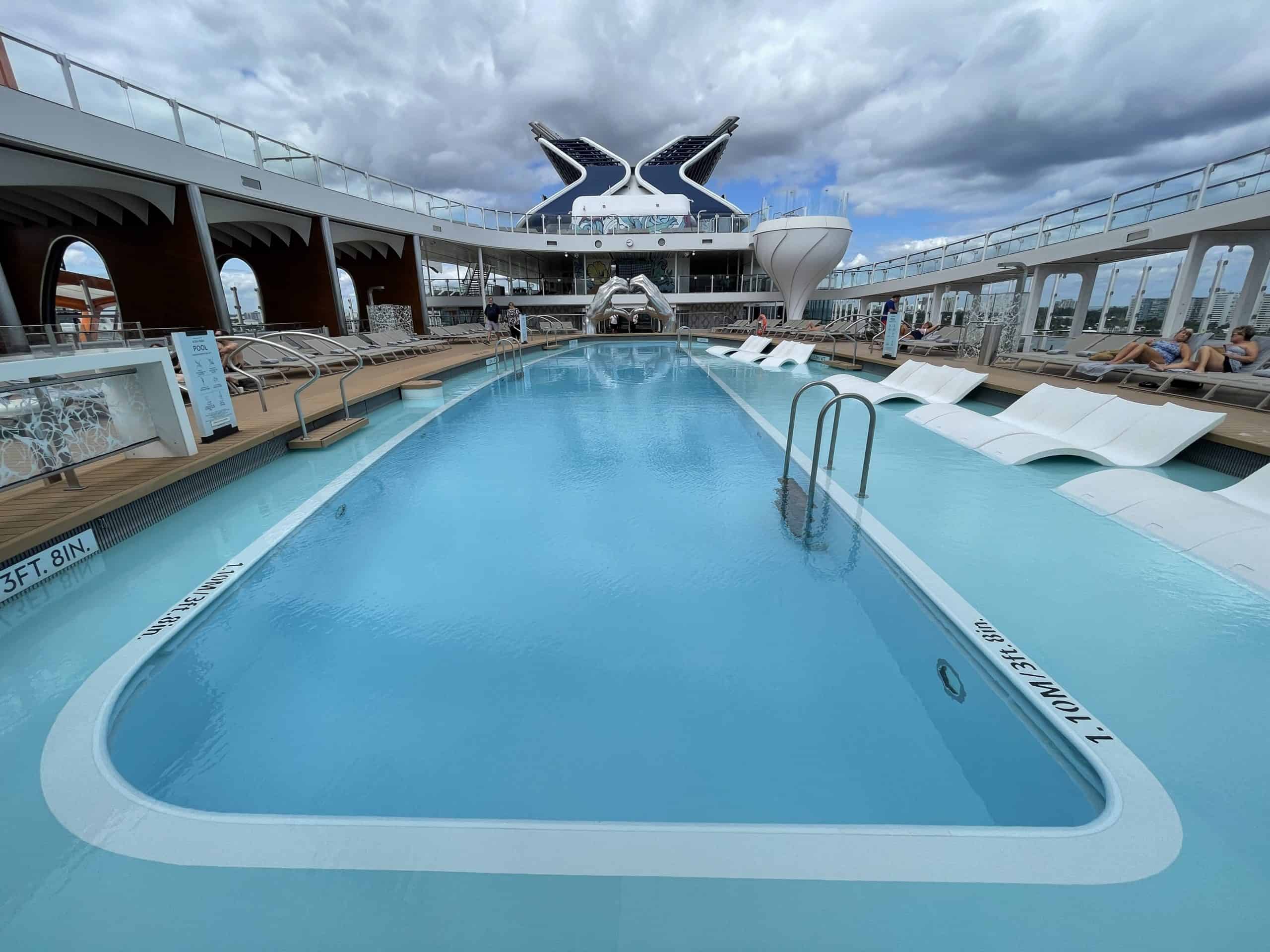 Pamper Yourself
The spa onboard has typical services like massages, haircuts and styling, manicures and pedicures, and other treatments.
The SEA thermal suite is out-of-this-world beautiful — it overlooks the front of the ship, and the heated tile loungers there provide the ultimate views.
You also have the rainfall water therapy room, Turkish bath, steam room, sauna, and aromatherapy rooms. Just above the spa is a full-service gym with Peloton bikes.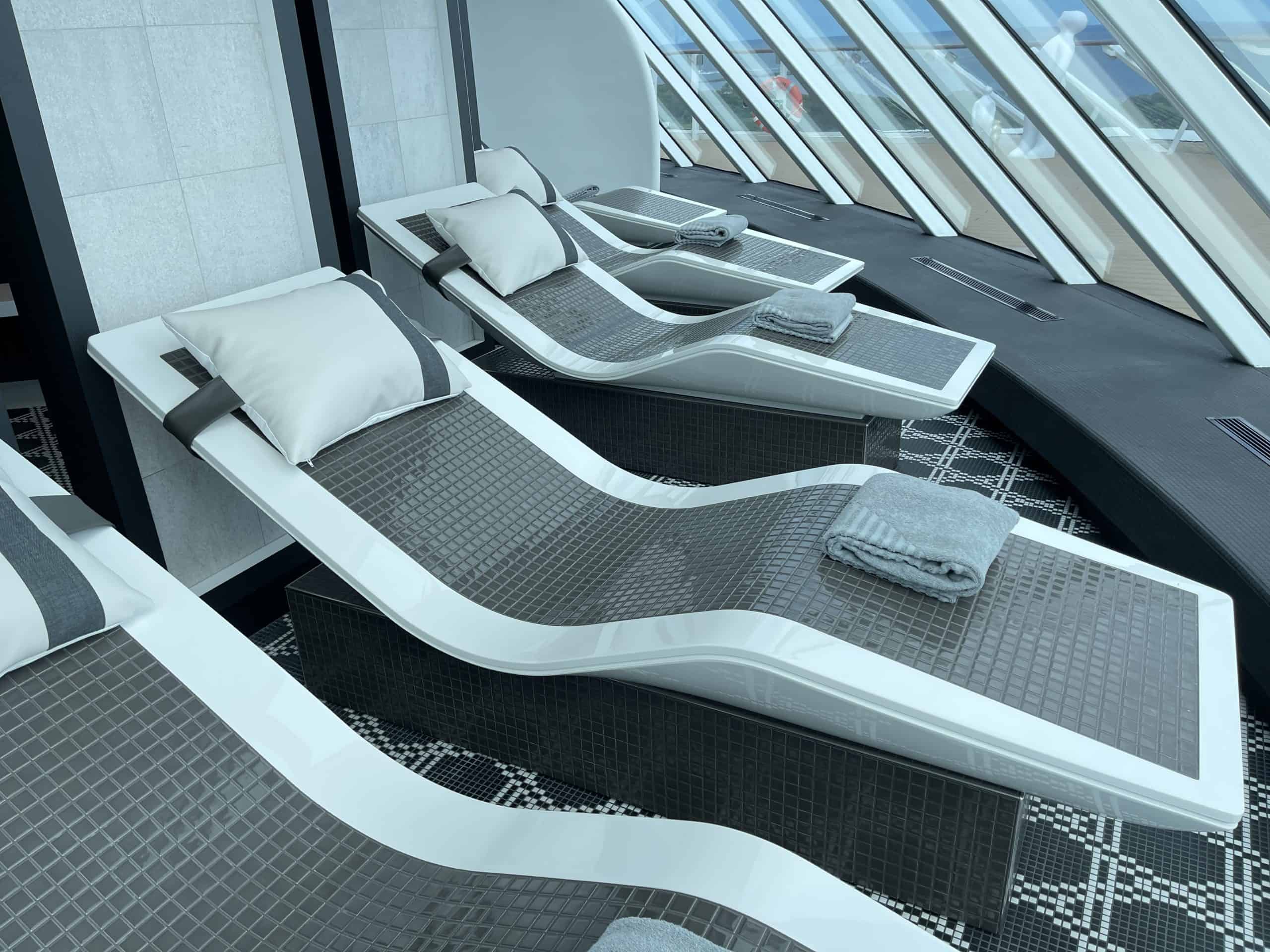 The Private Retreat
When it comes to large ships these days, we think of particular areas set aside for certain guests.
Here, it's The Retreat, which offers exclusive access only to those staying in suites and offers a beautiful retreat sundeck (with a private plunge pool) and a private indoor retreat lounge, both of which feature full-service bars.
Although we weren't staying in a suite, they allowed us to visit during the two-night preview cruise. It was pretty easy to see why The Retreat would be a real incentive to spend the extra money on a suite, especially if you were leaning in that general direction to start.
There is also a specialty dining for suite guests room called Luminae.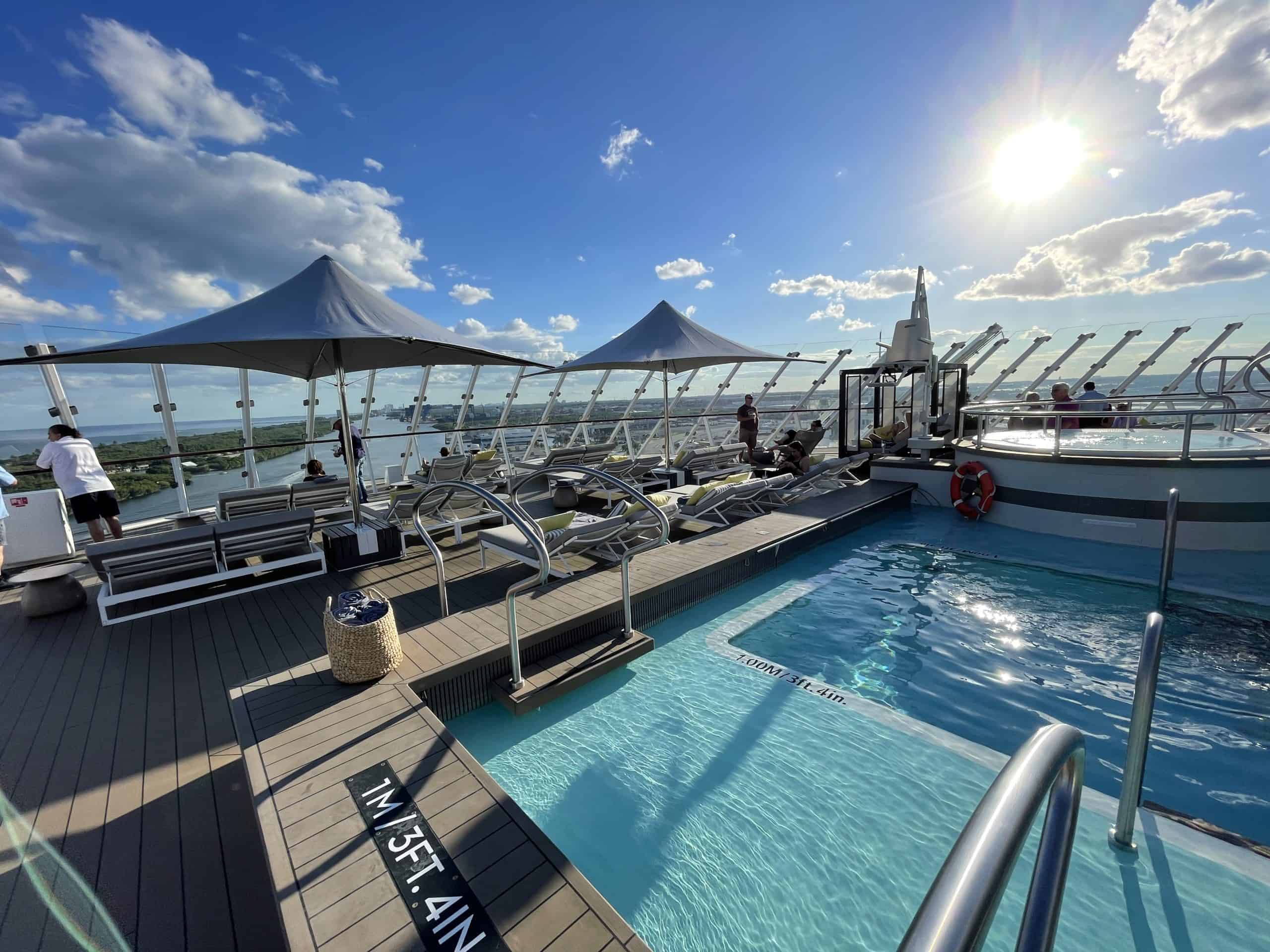 Kids Spaces
While there weren't any kind on our sailing, deck two had dedicated space for the line's Camp at Sea kids club program. Celebrity divides the kid's programs into shipmates, cadets, captains, and teens. Each space has activities conducive to the age group.
Final Thoughts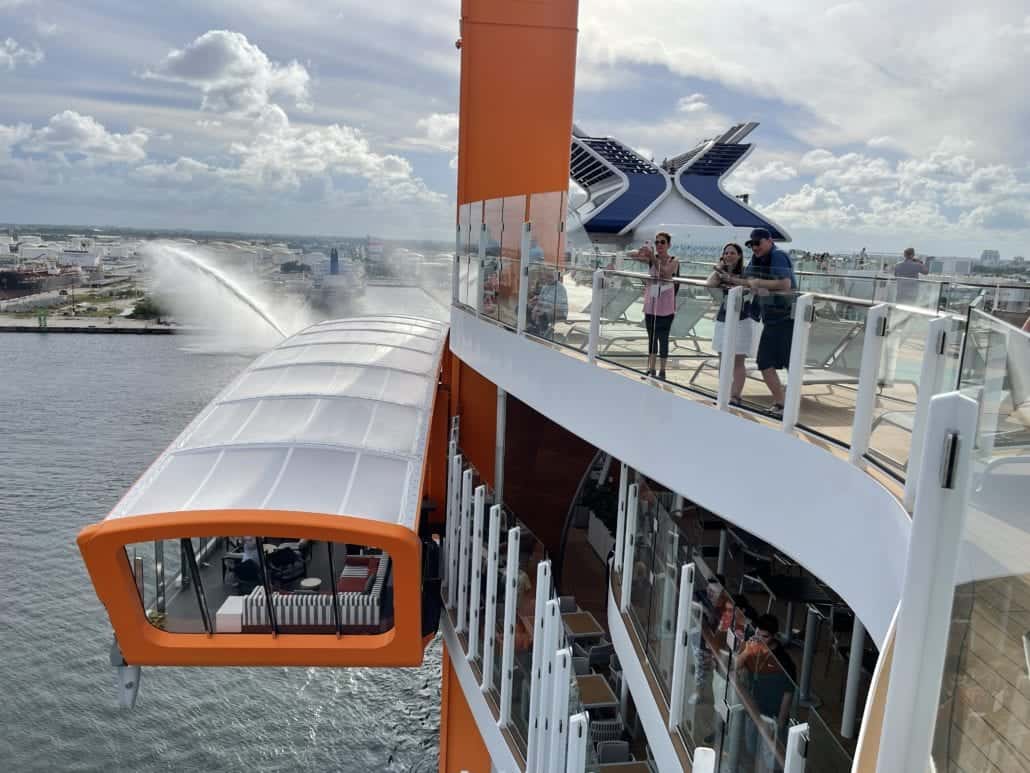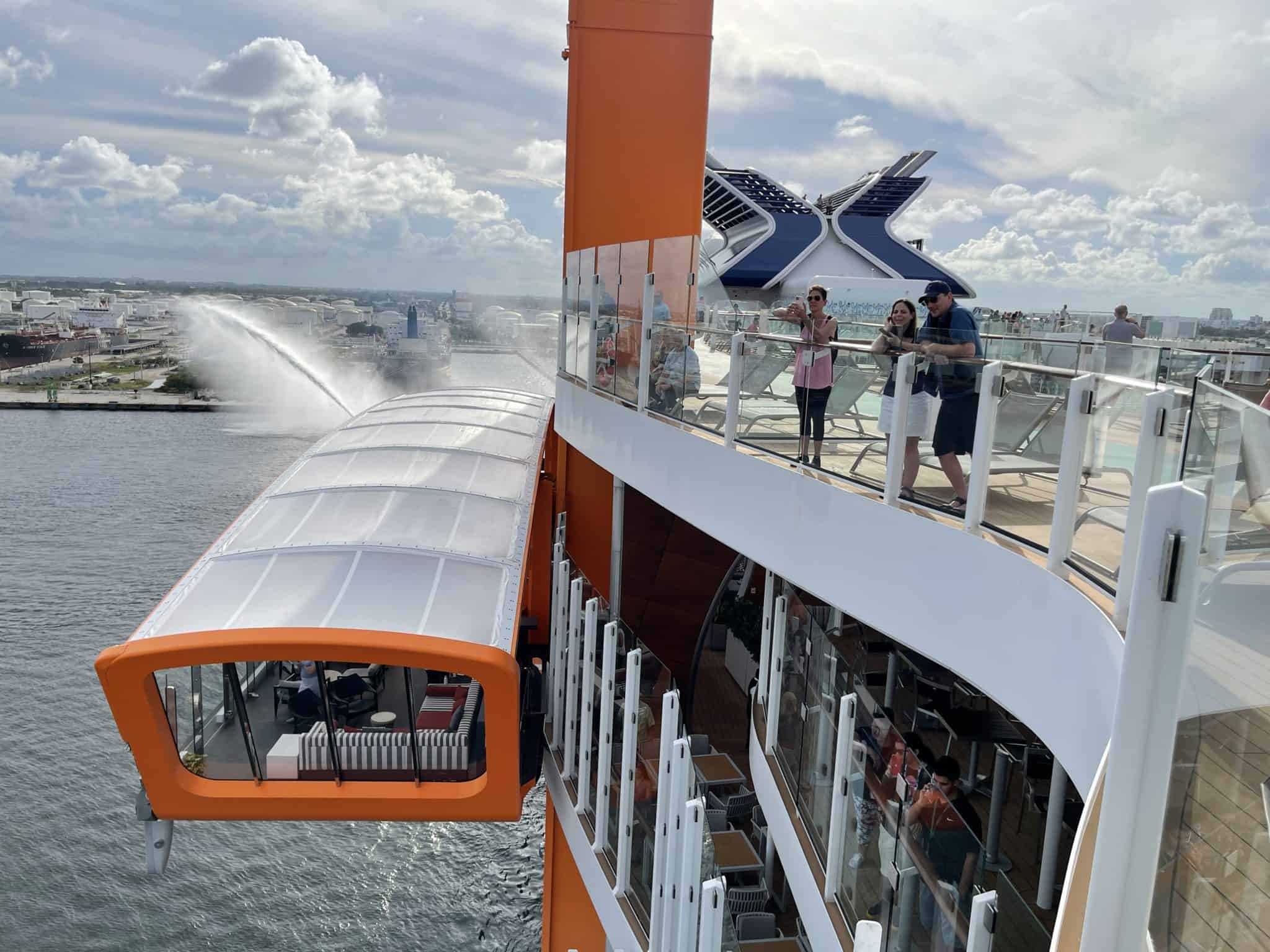 Like Celebrity Edge, the Apex is in every way a modern cruise ship. Given that the line already was moving toward incorporating more technology into every aspect of sailing, they were ahead of the game regarding tech-related changes brought about by the pandemic.
The big orange Magic Carpet that hangs over the side of the ship is worth a visit, if nothing else to get some awesome pictures of the ship plying through the water. On sea days, it's a bar and there is no cost to take in the views.
While this isn't an adults-only ship, a la Virgin Voyages' Scarlet Lady, it is what I'd call an "adult-friendly" ship. I mean that while families with children are welcome, this feels like a ship that skews a bit more toward the 30-something-and-older crowd.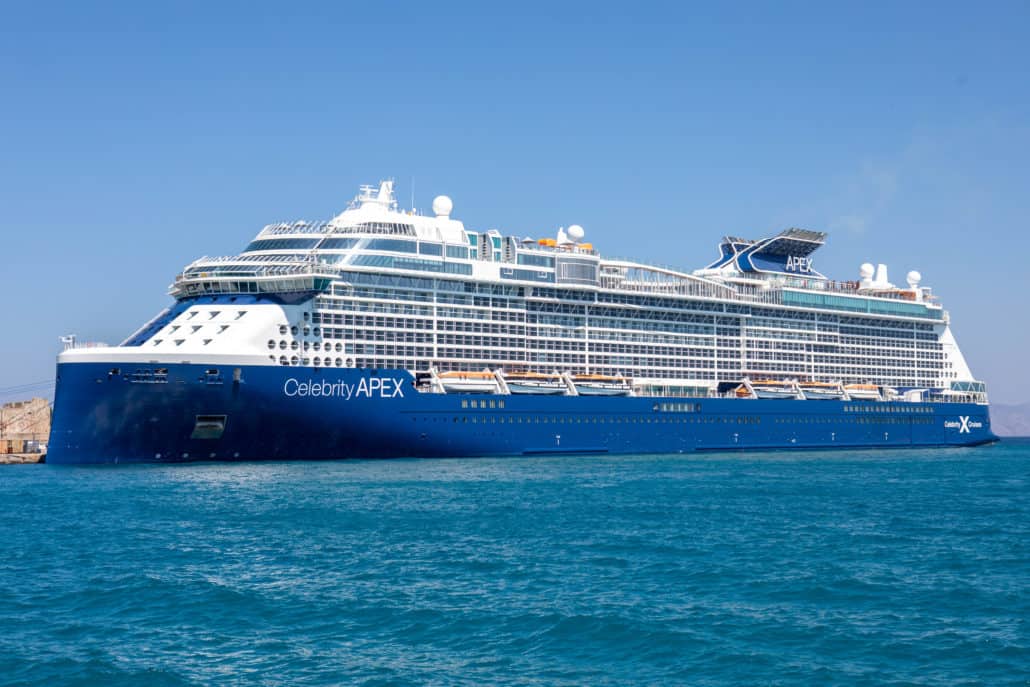 This Edge class ship is different from other ships in the fleet. You won't find a roller coaster or go-kart track on the top deck — the types of things that tend to appeal to younger cruisers (as well as those of us who are just young at heart).
As I mentioned earlier, this ship feels both classy and luxurious without ever feeling pretentious or stuffy. It's a gorgeous vessel with a lot to offer and one I can't wait to spend more time on to explore the many, many things we didn't have time to check out during a two-day preview cruise.
READ NEXT: Celebrity Edge Trip Report, Day 1: They're Back, And So Are We
Pin it!