If you've complained in the past that Speedos shouldn't be allowed poolside, this cruise probably isn't for you. But if you hate tan lines and haven't yet made your vacation plans for 2019, you might want to consider joining the folks of Bare Necessities for their Big Nude Boat sailing aboard the Carnival Sunshine!
Cruising Nude On The Carnival Sunshine
The popular group's 2019 sailing aboard the Carnival Sunshine will depart Port Canaveral on Friday, January 25th and sail to Half Moon Cay, Ocho Rios, Mahogany Bay, and Cozumel before heading back to Florida.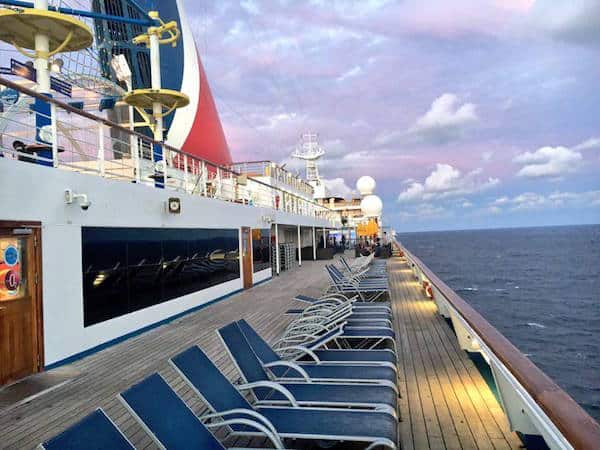 Now, before you join the panties-in-a-bunch squad (distant cousins to the nickle-and-dime squad), it's important to know that nudists aren't swingers. In fact, there are very strict rules about what is — and what is not — allowed. Orgies in the hot tub? Not allowed. Clothing in the restaurants? Required at all times. And guests are asked to sit on towels whenever nude in any public space. And yes, Bare Necessities — whose cheeky slogan for the sailings is "See You In Bare-adise — charters the entire ship for their annual cruises. Also, all guests must be 21 years old or above.
So why cruise nude? Nancy Tiemann, president of Bare Necessities Tour & Travel, offers an explanation on the organization's site. "It has been my experience that people who are able to leave their clothing behind in a social setting," she writes, "are also more able to check their egos at the door and be themselves, as they really are, rather than who they think others would like them to be."
Think it's too early to book a cruise for 2019? Think again, as the Bare Necessities trips are incredibly popular, with many of the most popular rooms — meaning both the cheapest and most expensive — being booked quickly. That said, there are still some spaces available on their 2018 trip, which will take place on the Carnival Victory. That sailing will sail from Miami to Half Moon Cay, Amber Cove, Curacao, Bonaire and Aruba before returning to Miami on February 12th.
Would you consider going on a "nude cruise?"