Another cruise ship collision occurred over the weekend. On Sunday, the cruise ship P&O Britannia collided with an oil tanker off the coast of Palma in Mallorca after breaking free from the dock during a severe storm. Several passengers were injured during the weather-related incident to brought hurricane-force winds to the island.
The Cruise Ship Collision
The Britannia was pushed toward the oil tanker by winds reaching 75 mph. According to P&O, a limited number of passengers experienced minor injuries during the event and were cared for in the ship's medical center.
Eyewitness Account
Ricky Stubbs, one of the passengers aboard, gave a play-by-play of the incident. In a report filed by The Guardian about the incident, he stated that a deafening crash echoed from the ship's sunset bar as he and his children prepared to disembark. This was followed by a rush of people fleeing the impact and battling the fierce winds and rain.
"Within minutes, the captain addressed us through the speakers, asking everyone to return to their rooms for safety reasons," said Stubbs. The crew and guests promptly assisted others, including those who suffered minor injuries from flying debris or falls.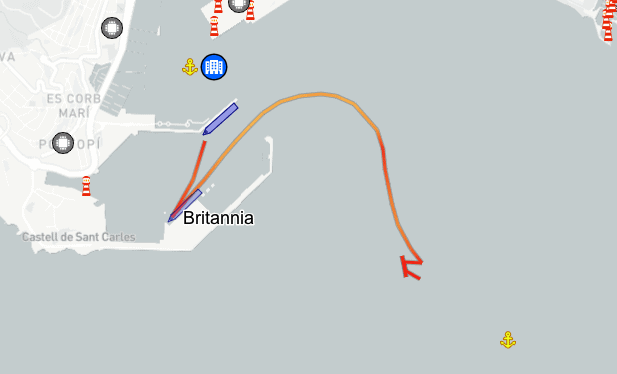 Stubbs admired the captain and the crew members for their composed demeanor throughout the ordeal. "Announcements were made at regular intervals of 10-15 minutes, keeping us updated and reassured," he added.
Official Statement and Immediate Actions
A spokesperson from P&O Cruises provided an official statement confirming that the Britannia was involved in a weather-related incident. "A few individuals have sustained minor injuries and are currently being attended to by our onboard medical team," said the spokesperson.
To evaluate the extent of the damage, the ship will remain docked in Palma de Mallorca, offering onboard entertainment and activities to the passengers in the meantime.
At the time of the incident, Mallorca was already on an amber weather alert due to extreme winds and torrential rains.
Over the summer, nearly six ships have broken free in Europe during strong winds and thunderstorms.
P&O's flagship Britannia entered service in 2015 and is 143,000 gross registered tons.
As of Monday morning, the ship was docked in Palma to undergo technical inspections.