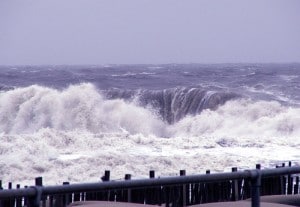 Cruise lines make the safety of their guests, crew and vessels their highest priority. Unlike other vacation settings, by virtue of being a completely mobile vacation, cruising allows passengers to continue their vacations by altering itineraries should Mother Nature intervene.  If your cruise is coming up between June and November, you'll want to know about Hurricane Season and what it means for cruise passengers.
The cruise lines are prepared to keep us out of harm's way. In the event of severe weather, certain operational protocols are in place for cruise lines.  Today's cruise ships feature the most technologically advanced weather forecasting systems and equipment available, allowing officers and company officials to forecast weather-related disturbances in advance. Today's cruise ships are completely mobile and able to alter, cancel shorten or extend ship itineraries to keep guests safe in instances of threatening weather.
In the event that ports of embarkation and debarkation are closed due to severe weather conditions, cruise lines can use a nearby alternative port. In these cases, cruise lines coordinate the logistics of loading food and supplies and getting passengers to and from the original port.
Here are three quick tips to consider when booking a cruise during hurricane season:
Be Flexible– Understand that the

cruise line

can and will change the itinerary in order to keep out of harm's way. Safety always remains the first priority. Cruise lines communicate itinerary changes up until the sailing date to their passengers. Travelers should monitor cruise line websites and contact you, their travel agent, for modifications to itineraries prior to finalizing travel.
Believe that the cruise line will do the right thing– We have yet to see a cruise line not make accommodations for weather-related events to the best of their ability.  Most often a modified itinerary will be used.  They commonly run itineraries backwards, shuffle ports or spend an extra day at sea, away from harm.
Buy Travel Insurance- but not to help if there is a hurricane-The purchase of travel insurance is always a good idea in case you or a member of your immediate family becomes ill after final payment is made and you don't want to go on the cruise.  Be warned though:  Most all travel insurance has NO compensation for weather-related events should you decide not to sail because the big scary hurricane bothers you.  Most travel insurance has coverage if your luggage is lost or flights are delayed so there may be some indirect coverage there.  Check with a licensed insurance agent to know exactly what your insurance covers.
In the rare instance a cruise is cancelled due to weather-related circumstances, cruise lines, on a company-by-company basis, traditionally offer various solutions that extend to guests the opportunity to enjoy a future cruise vacation within a reasonable time period and with the guest's convenience in mind.
Flickr photo by Jackie via Compfight

Chris Owen is a travel writer from Orlando Florida charged with sharing frank, inside information on cruise vacations with travelers. Certified a Master Cruise Counselor by the Cruise Lines International Association, Chris can be found via the popular travel blog, ChrisCruises.net and on the long-running cruise information website, YourCruiseDream.com.
Related articles