All too soon, it was our last day of the cruise. It seemed like I blinked and it was over.
A gift from John and sea day brunch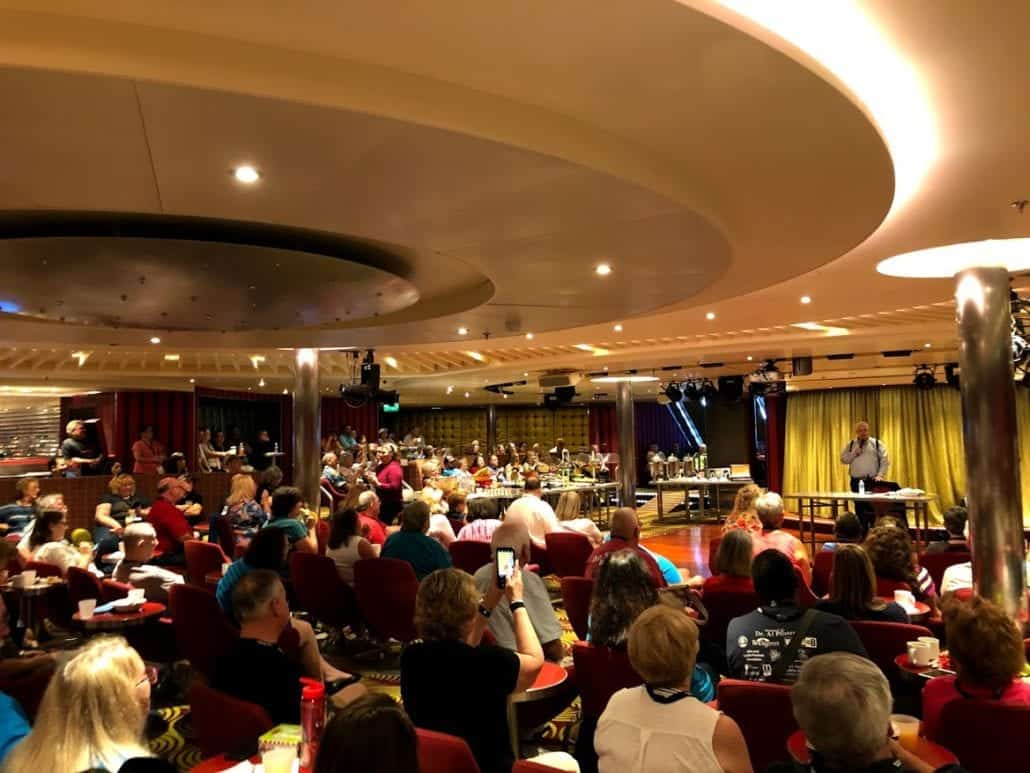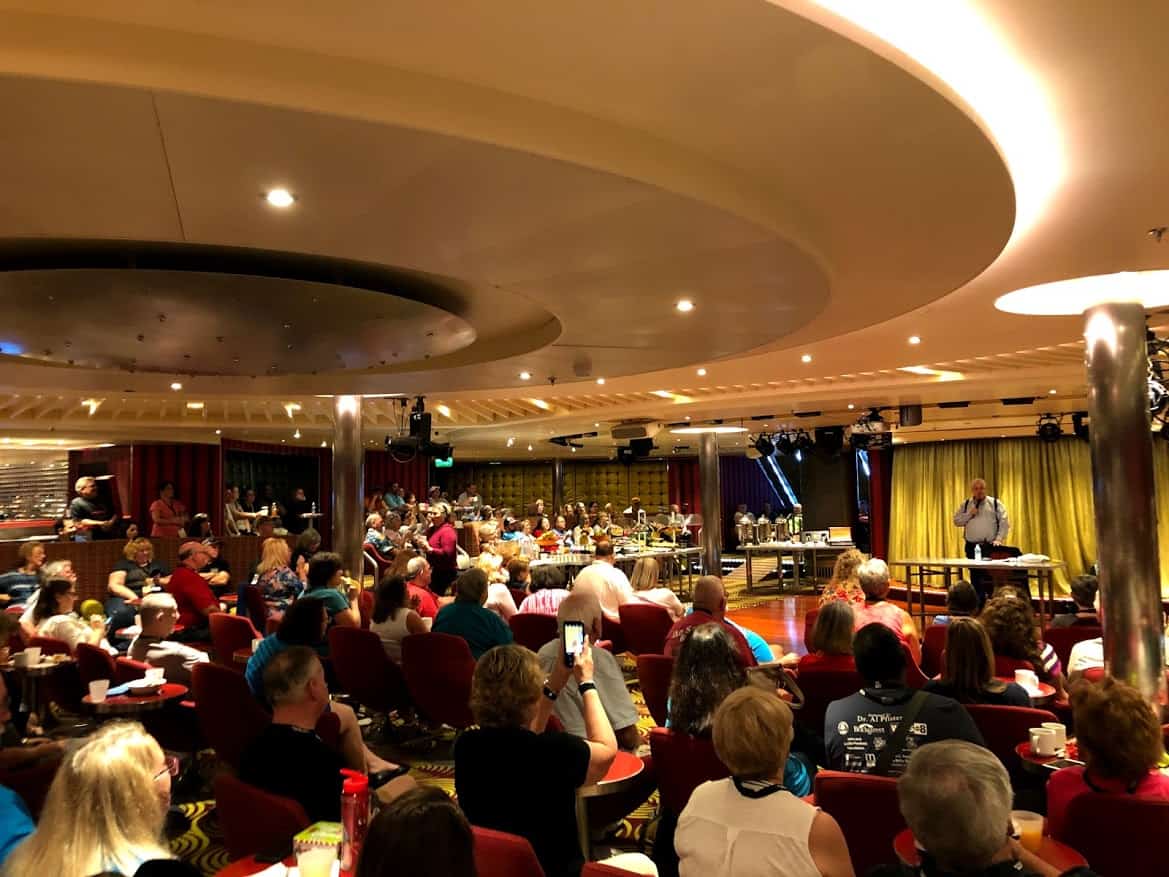 Our first item on the day's agenda was to pick up a "special gift" from John Heald as part of the bloggers FFS cruise group. We stopped by the lounge and each received a t-shirt as well as a coffee tumbler.
As soon as we grabbed our swag, we went down to the dining room for sea day brunch. The line to be seated was out the doors, down the hall, and into the stairwell. We considered leaving, but it was the last day and we just love the sea day brunch. Surprisingly, we actually only waited in line for less than 10 minutes, though they weren't allowing couples to request private tables.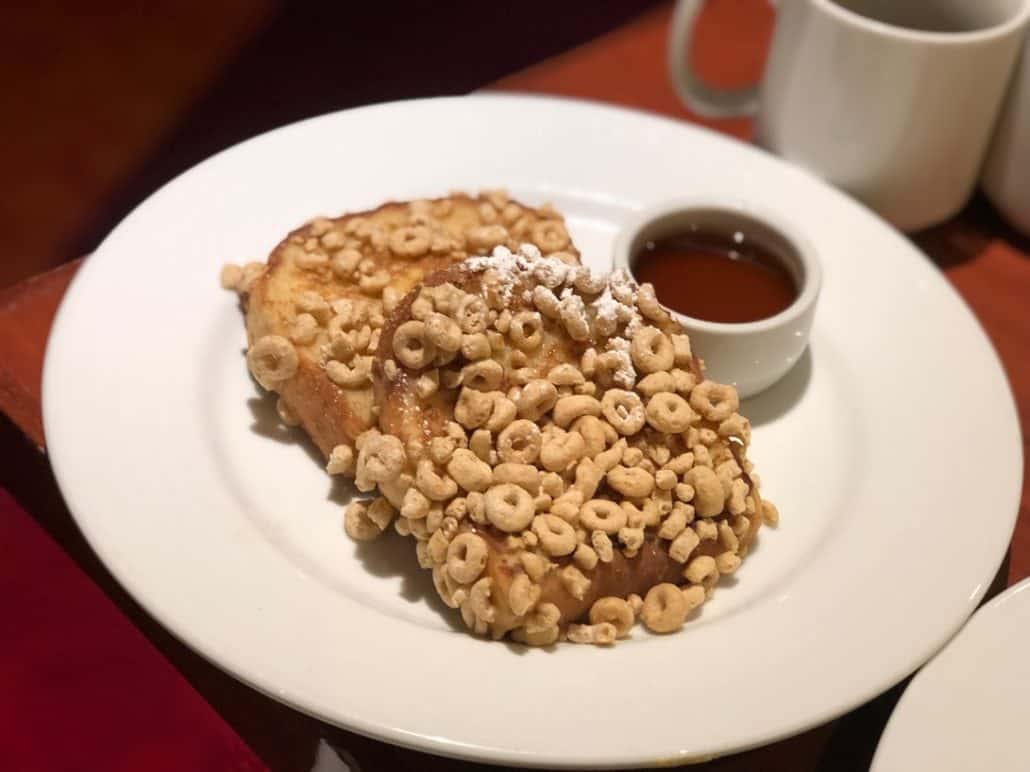 I heard a rumor that on this sailing of the Breeze, the chef would be introducing the new brunch menu that was being tested on Carnival Horizon. However, that wasn't the case. I wasn't upset though, because the French toast and mac and cheese are two of my favorite dishes, and they're both eliminated on the new menu.
Groove for St. Jude and trying out the Thrill Theater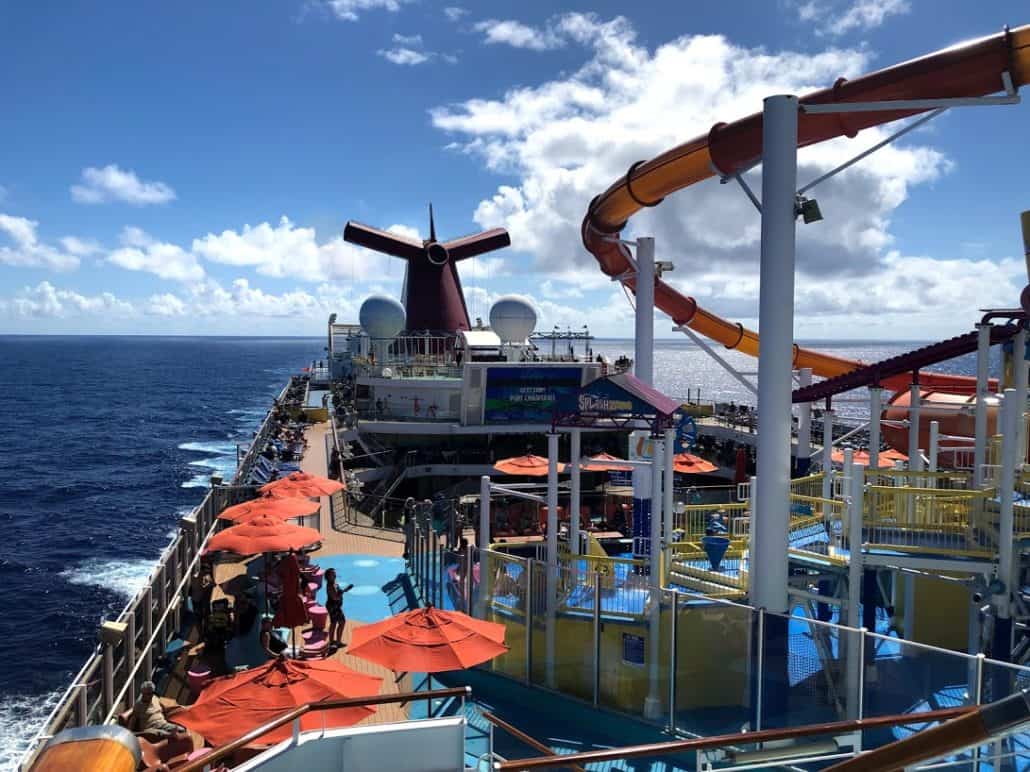 After breakfast, we relaxed out by the main Lido pool for a few hours. While on the first sea day at the beginning of the week everyone disbursed well around the ship, it seems like on this last sea day everyone was trying to catch as much last-minute Vitamin D as possible.
The deck chairs were all full, though the bars weren't overly busy, and we took a quick walk through Serenity to see that it was untouchable. For the first time all cruise, the WiFi was actually running slow and cutting out for me, and I'm guessing the crowds had something to do with that.
Read More: 5 Ways to Fight Deck Chair Hogs
At noon we returned to the Lido pool to watch the Groove for St. Jude party. Just like the line for brunch, the line to donate to St. Jude Children's Research Hospital passed the deck loungers, wound inside into the hallway, and finished just behind the elevators. And trust me, no one was upset about waiting in line to donate to benefit sick children and their families, myself included.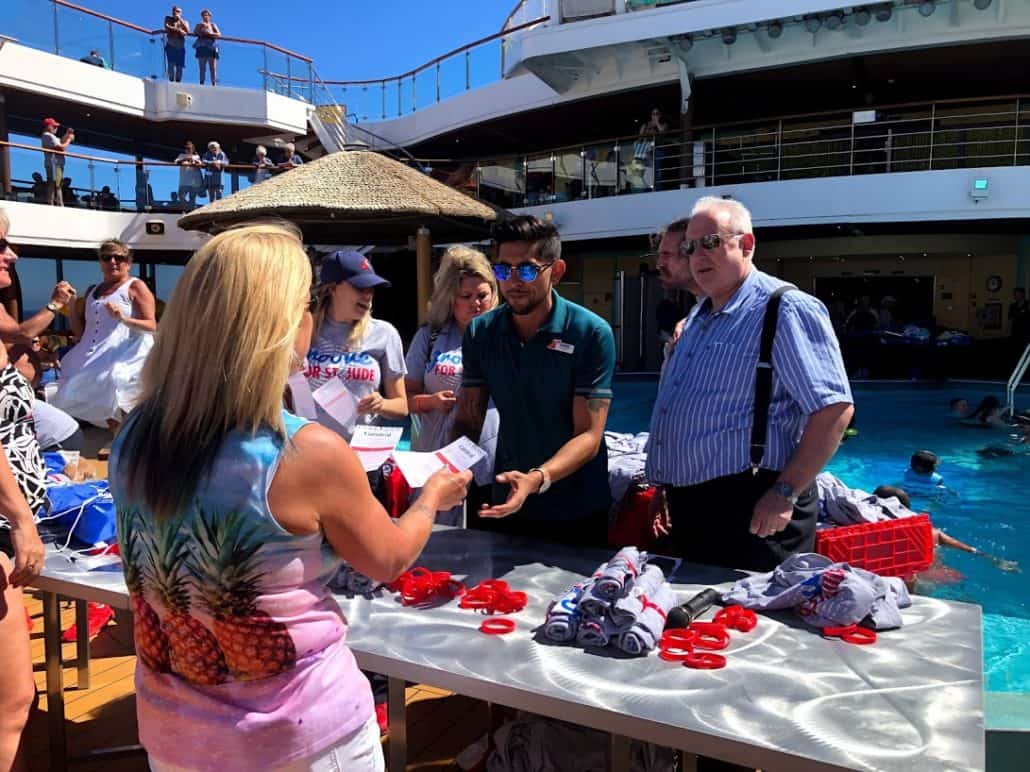 John Heald was there, too, though he left all the speaking to our cruise director, "Donkey." Instead of talking, he helped to personally hand out the t-shirts, bracelets, and a "special edition" teddy bear and bag. I could tell those who had waited were very grateful for some one-on-one time with him, even if only to shake his hand.
After we donated to Groove for St. Jude, we ventured down to Deck four to try out the Thrill Theater. I'd never done it before, and curiosity got the best of me. I can honestly say it was a ton of fun and I'm glad we did it. I expected it to be underwhelming and boring, but I was proven wrong when a giant spider appeared on the screen and something tickled my feet and I screamed. I was laughing non-stop after that!
More spa time and a farewell party with John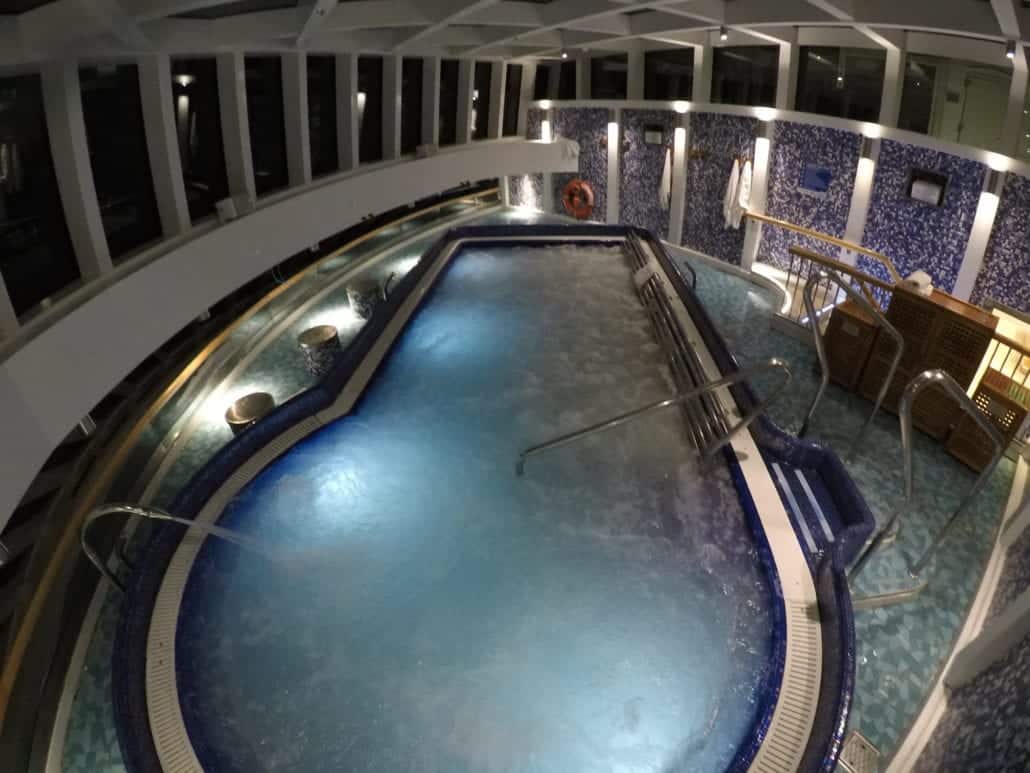 Knowing our time left to take advantage of the spa was dwindling, we changed and headed to the thermal suites. Lucky for us, we had a perfect view of the sunset from our heated chaise loungers. The sky was melting away in orange and pink and purple, and I tried to close my eyes and burn the image into my memory, knowing it would be my last sunset at sea for a while.
After a dip in the thalassotherapy pool, we showered off and made our way to the main theater for John's farewell party. We walked into a sea of purple, as everyone was wearing their FFS cruise shirts we picked up that morning. Waiters were gliding up and down the aisles with trays of sushi rolls, buffalo chicken wings, and all the free cocktails you could drink (responsibly).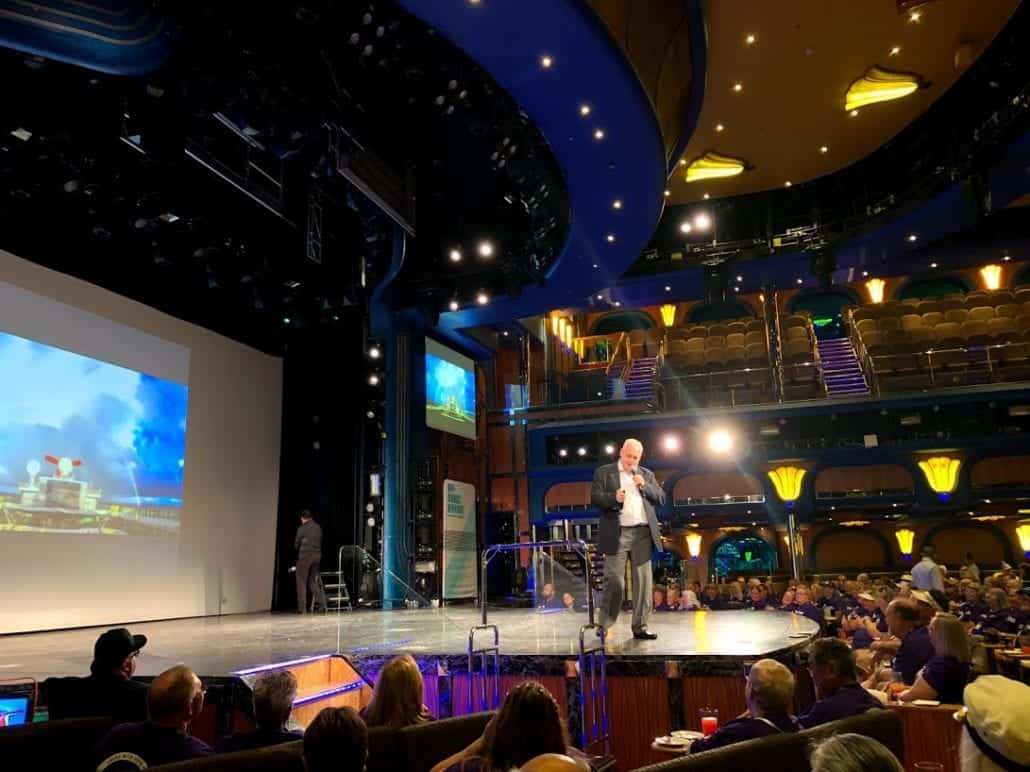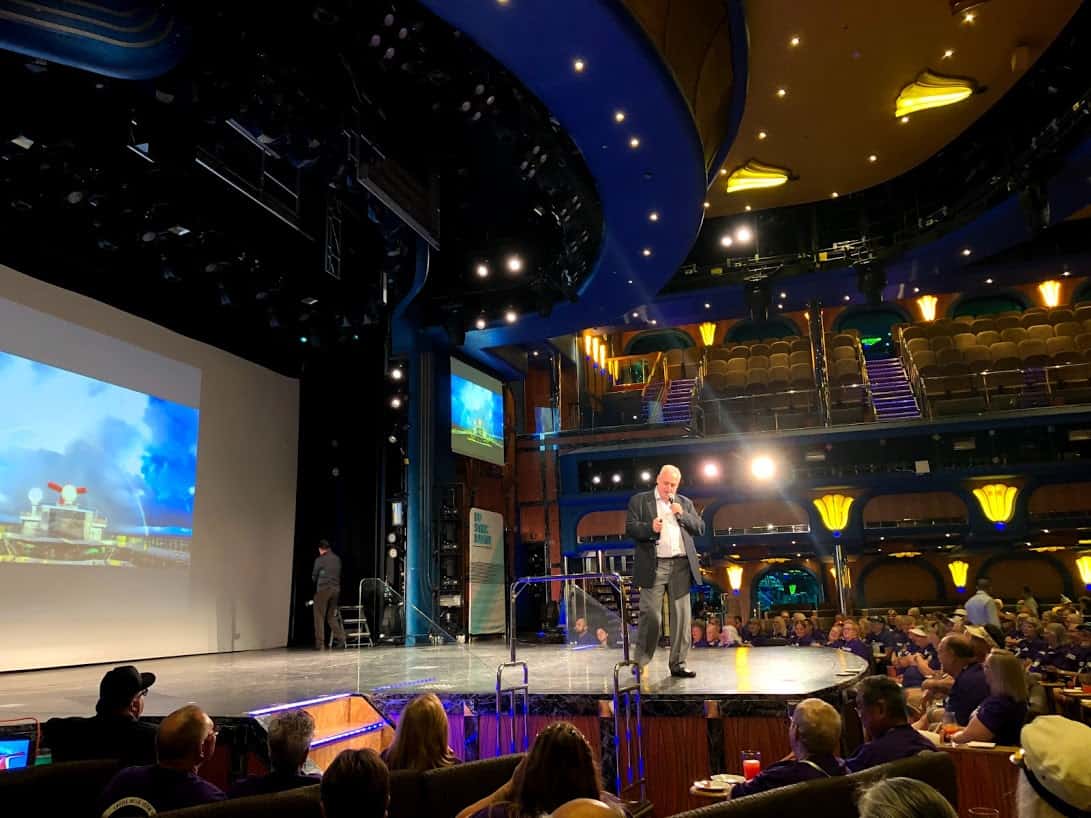 John kicked off the party by handing the mic over to anyone in the crowd who wanted to say something, and most people thanked John, thanked each other, and thanked the crew for another great bloggers cruise. Then, there was a quick photo contest and an auction for a specially made coin and Chef's Table dinner, the proceeds of which went to St. Jude.
It was then time for our group photo, taken by the popular Mr. Radu. He had to stand on a stool and take three separate photos across that he morphed into one large panoramic, but somehow he managed to capture all 600 of us in one photo. After that, it was sadly time to bid adieu to the bloggers' cruise group, and John actually snuck off through the backstage, probably to avoid another two hours of people rushing to him for photos and stories.
Dinner and an unwanted souvenir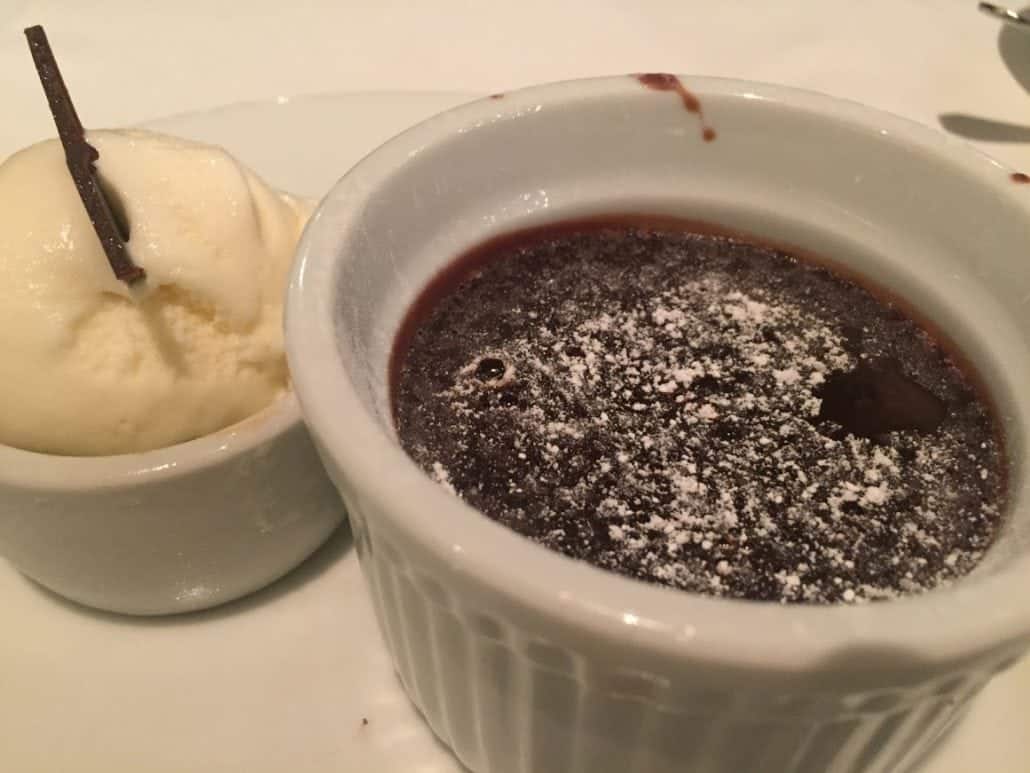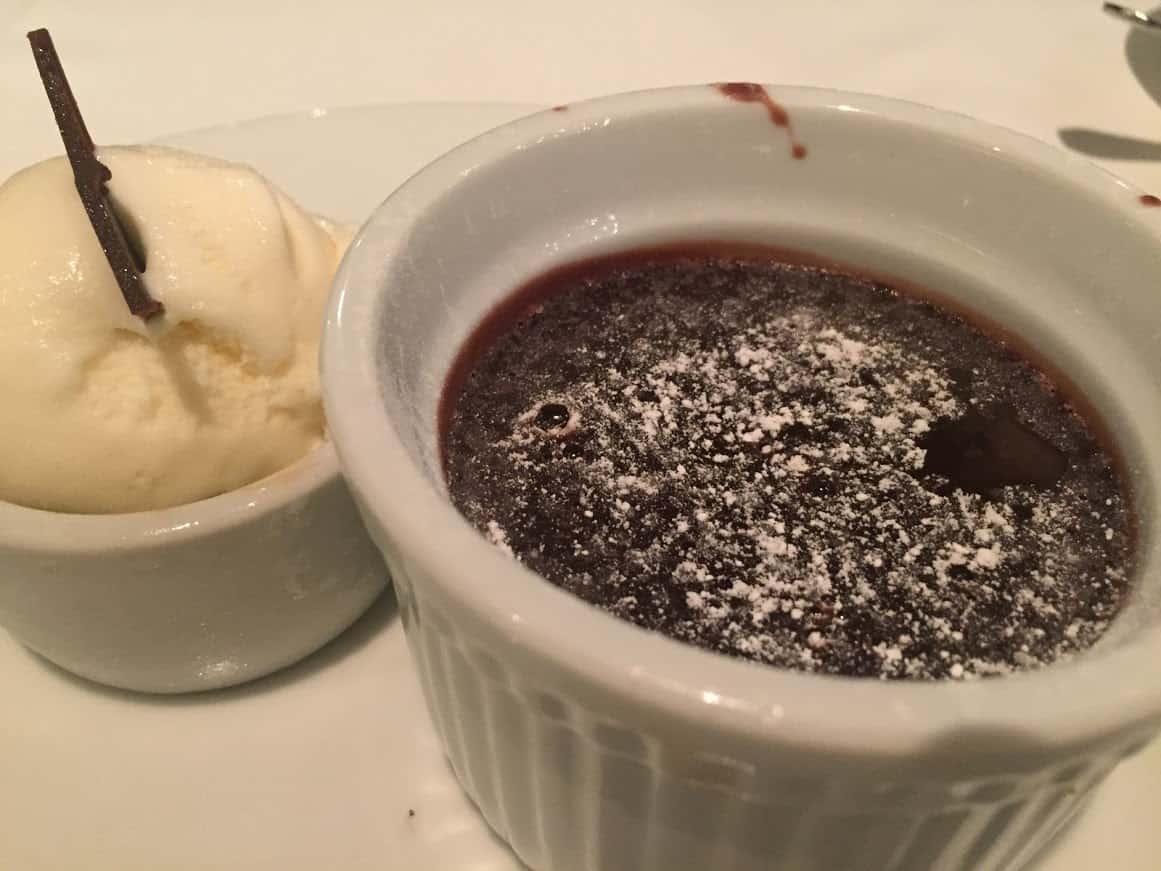 For our last night at dinner, we finished off the cruise in the main dining room again. I ordered a delicious Caribbean pepper pot soup off the "Ports of Call" menu for my appetizer and a shrimp penne pasta as my main. For dessert, they were offering the famous Baked Alaska, but I had to order the equally famous chocolate melting cake, as I hadn't yet had it.
After dinner, we talked about going to Al Ernst's comedy show, but we heard that for last night's show people were showing up an hour and a half early to reserve seats, and I just didn't have the patience for that (sorry, Al!).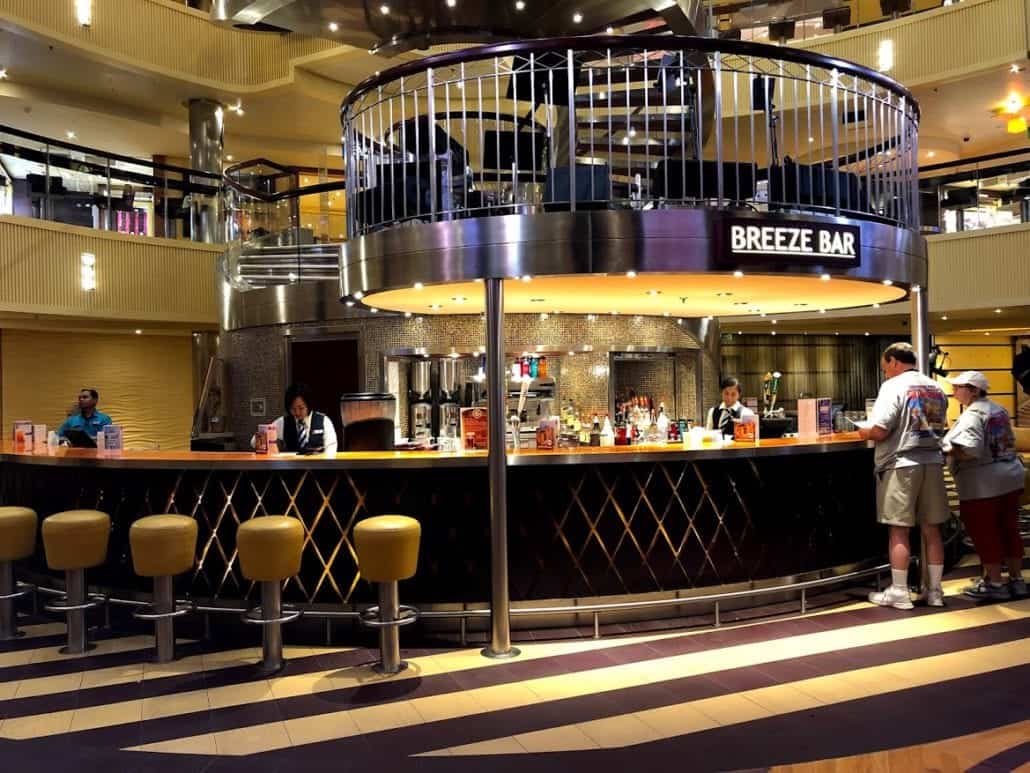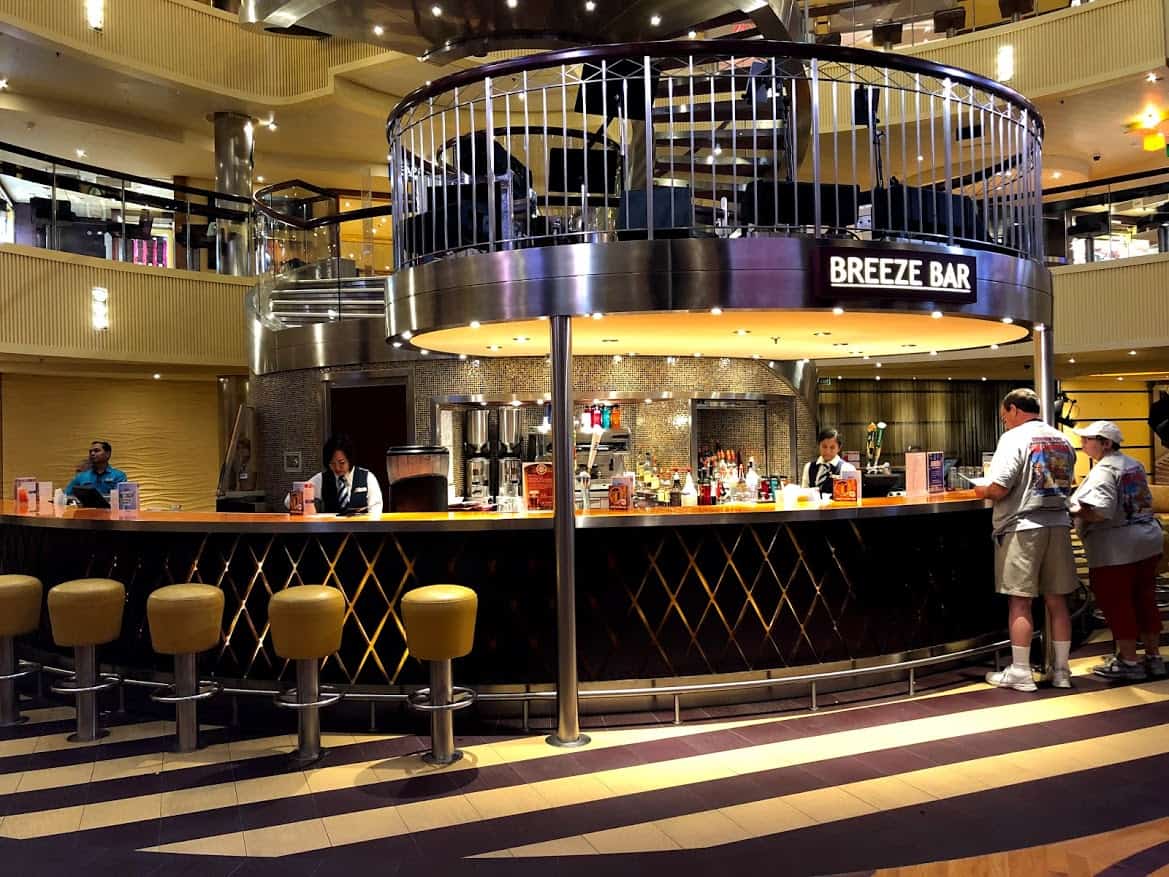 We had resolved to end our cruise at the atrium bar, where some of our favorite bartenders Gede and his wife Rini work, but I felt cold and wanted to grab my sweater from my room first. Well, I never made it back out of my room. It turns out I was getting the chills due to a fever and, as I'd come to find out in two days, the flu. My husband became sick as well. Like most people keep telling me, "at least you weren't sick on the cruise!"
Thank you, Carnival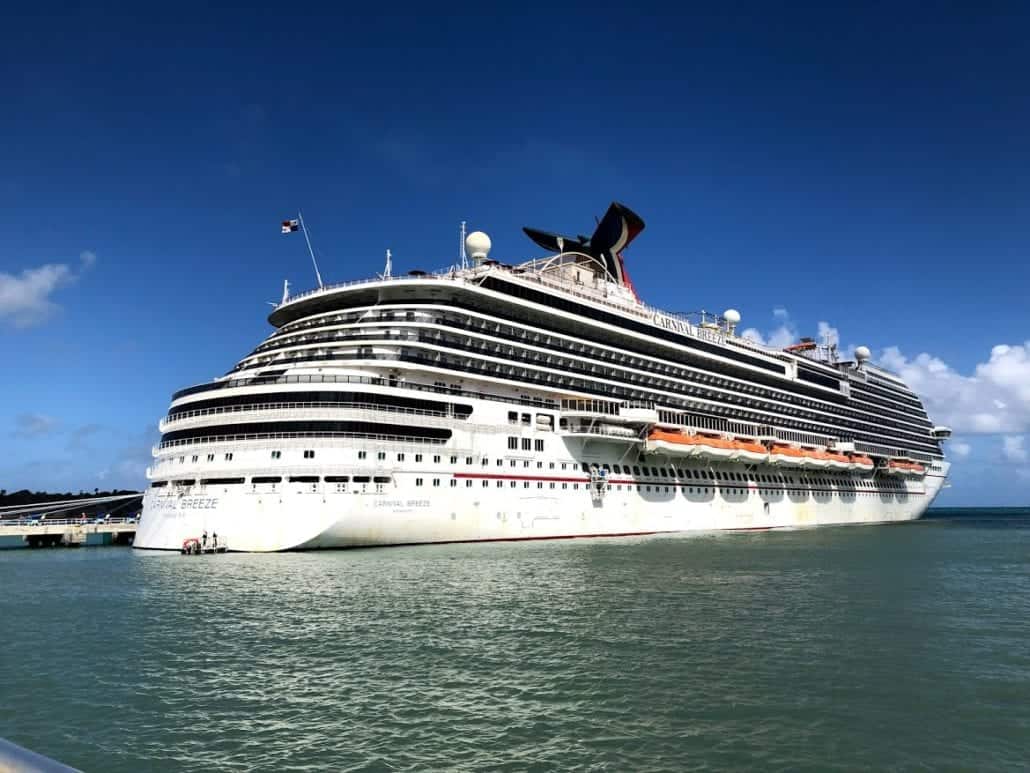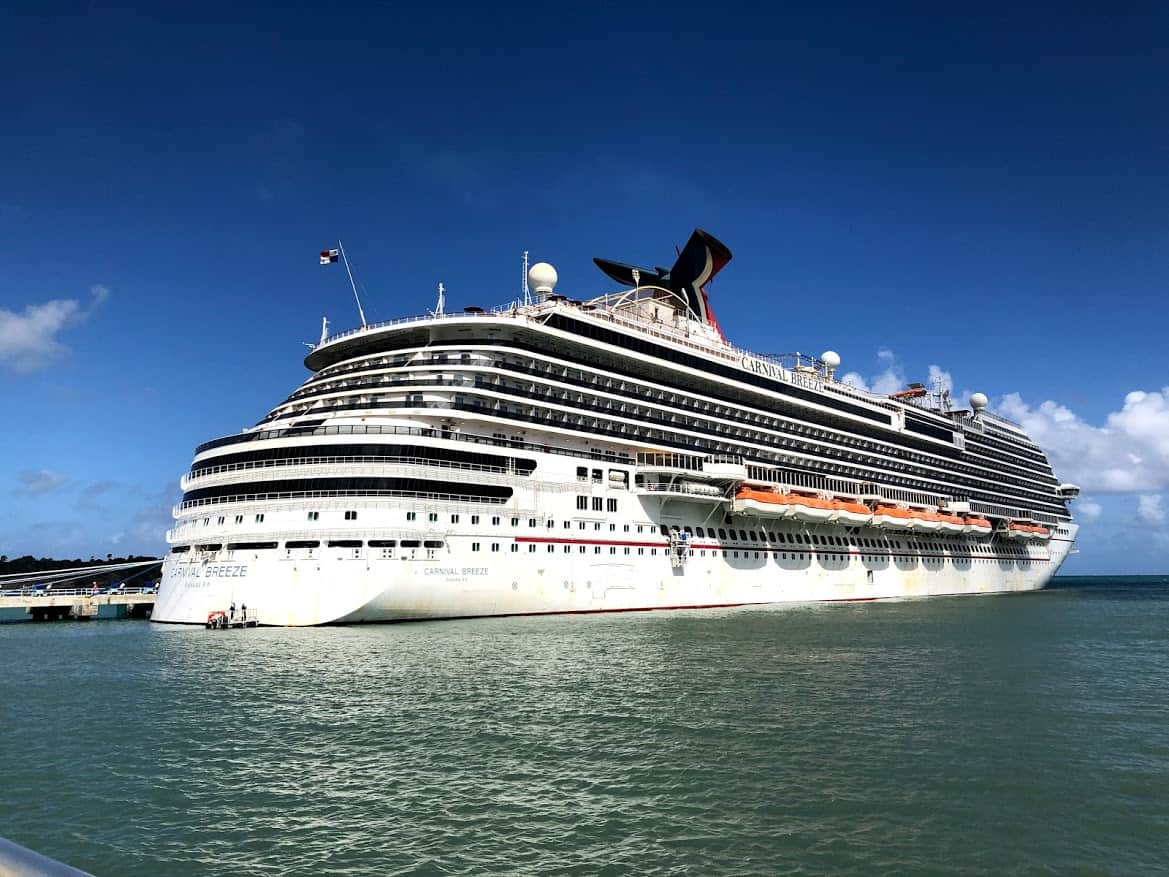 This was a fantastic cruise that I was honored to be a part of. John picked one of the best ships in the fleet and an incredible itinerary for this FFS bloggers cruise. I'm already trying to plan when I can revisit those ports again.
Thanks again to John, fellow bloggers, Breeze crew, and to everyone else at Carnival working behind the scenes for a fun, memorable, and inspiring week.
Miss Day 6? Catch up here.