Move over, towel animal invasion… the cruise ducks are taking over! We're not sure exactly when, why or how hiding ducks on cruise ships for other passengers to find became a thing. What we do know is that it's become wildly popular with many folks even as it raises the hackles of others.
Whether you're new to the idea of cruise ducks or looking for tips on where to buy (or hide) them, we've got you covered.
Here A Cruise Duck, There A Duck…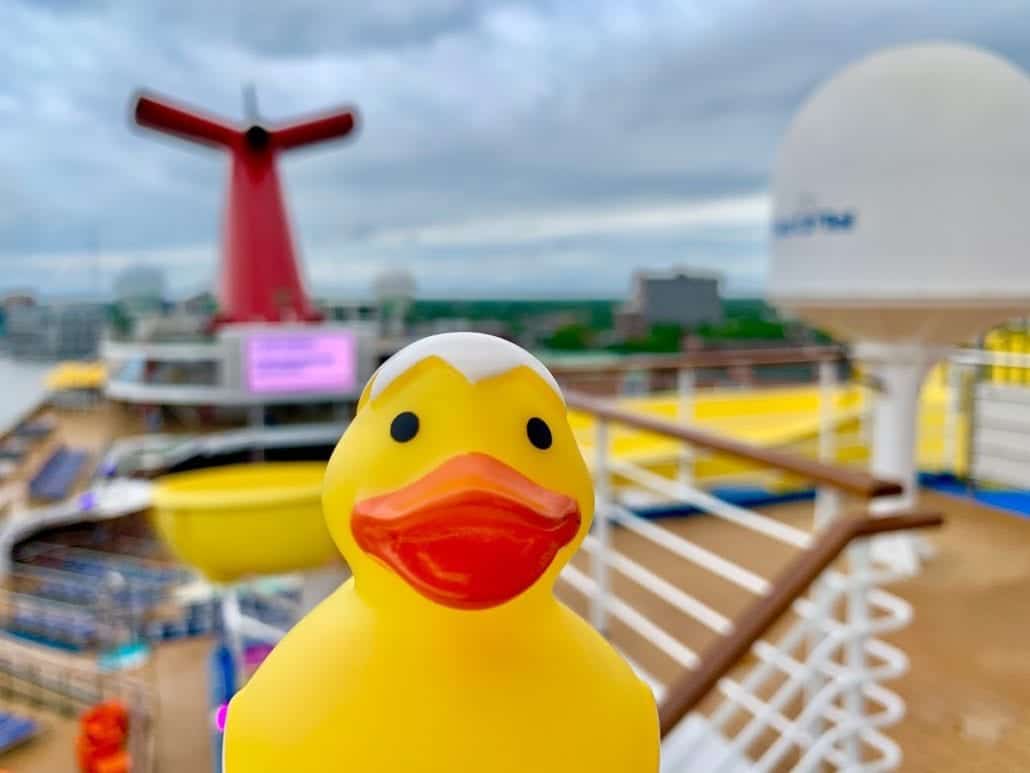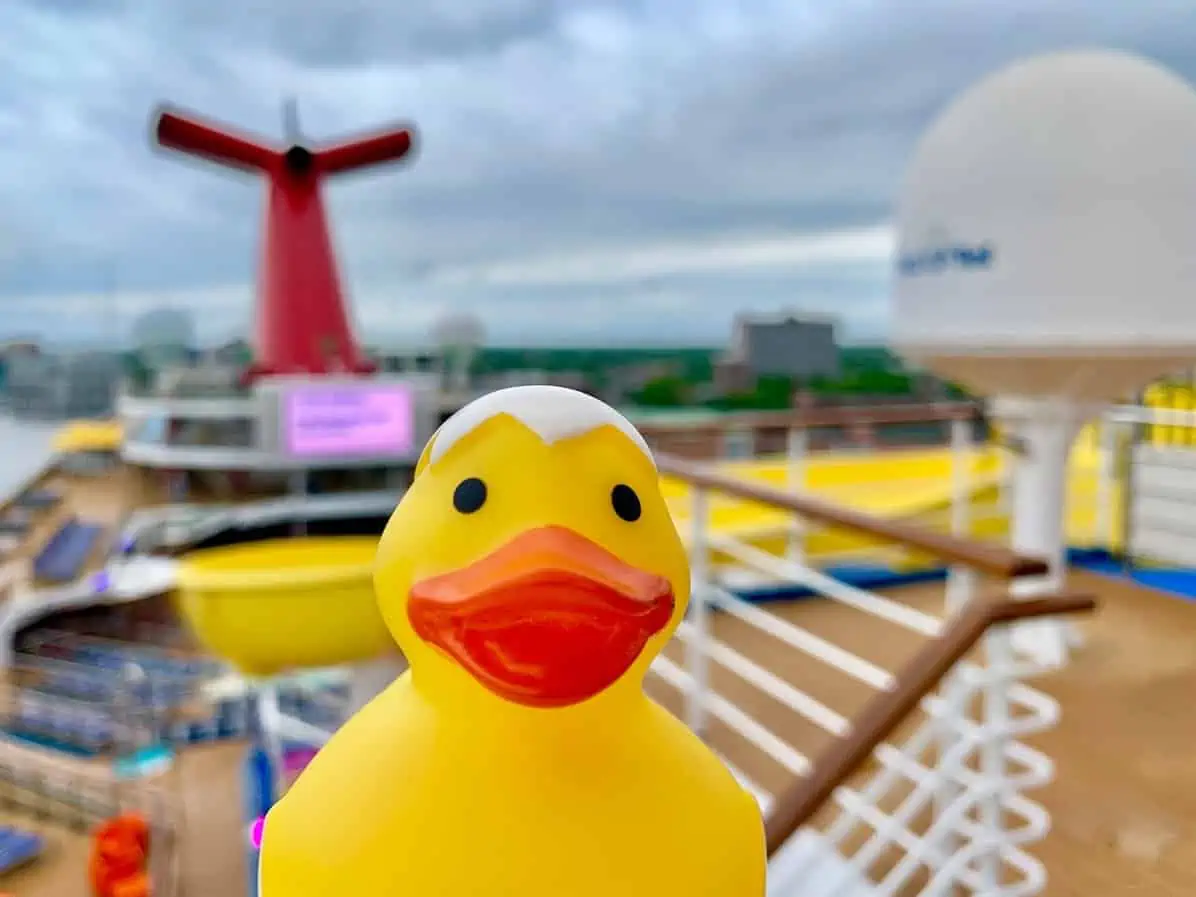 In case you've somehow missed out on the cruise duck phenomenon, it's pretty simple: Folks buy (or, if they're really creative, make) ducks, then hide them around the ship for others to find. Sometimes, the ducks come with notes asking that their original owner be contacted or that, once found, a picture be posted in a specific Facebook group. In other cases, the ducks are emblazoned with the name of the ship and the date of the sailing, making them great souvenirs.
Whenever a duck is located, its finder must make a sometimes tough decision: Do they keep it for their collection or, after taking a picture and posting it wherever the tag asks, do they re-hide it for someone else to find?
Think this is just some silly little game played by children? Think again! There are numerous social media groups devoted to cruising ducks, including the Cruising Ducks Facebook Page, which has over 25,000 members. (The page is also a great resource, especially for those looking for templates for the "Passports" many use to tag their ducks.)
Although credit for the trend is largely given to a 10-year-old girl named Abby who hid about 50 ducks on the Carnival Breeze back in the spring of 2018, references can be found to people playing hide-and-seek with the adorable plastic creatures as far back as 2015.
Abby's adventure, however, seems to have really kicked things into high gear and started a movement, the main purpose of which is simply to make other people smile. It's also been suggested that cruising ducks are a distant relative of the painted-rocks phenomenon, which is essentially a landlocked version of the same game.
Most people purchase rubber ducks (you'll find all kinds of places now sell them on Amazon), although others get creative. On one recent cruise, a fellow passenger had crocheted over 50 ducks, each unique and most with the date of the sailing and the ship included. Others have craftily created things like duck key chains and postcards.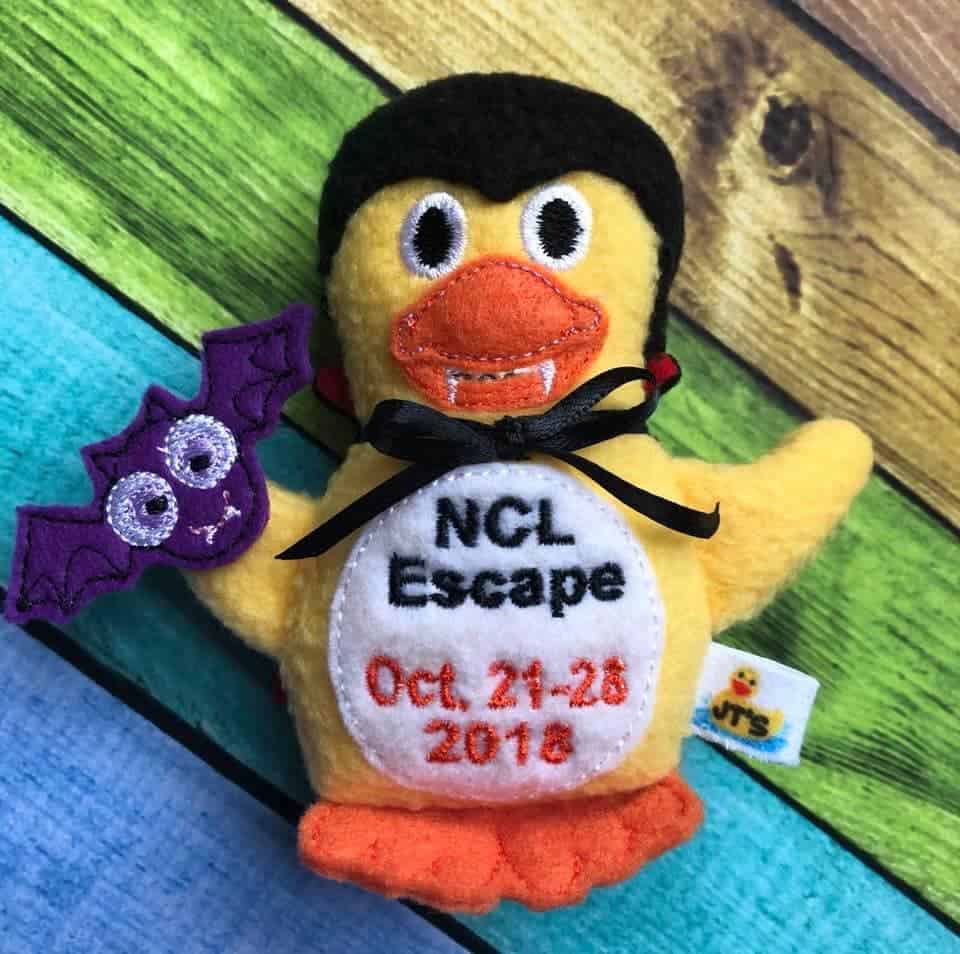 Needless to say, ducks aren't the only rubberized animals which find their way on board. While many different animals can be found, pigs seem to be the second most popular variety, with flame-red devil ducks also making a strong showing.
While there aren't official rules, per se, there are general guidelines. Among them:
Hide the ducks in public areas (although some folks leave one in their stateroom for the next guests to find).
Do not hide ducks in the shops on board the ship.
Avoid places where a gust of wind might send the duck flying into the ocean.
Given how many children enjoy searching for the critters, avoid using obscenities on the attached notes.
Where To Hide Your Cruise Ducks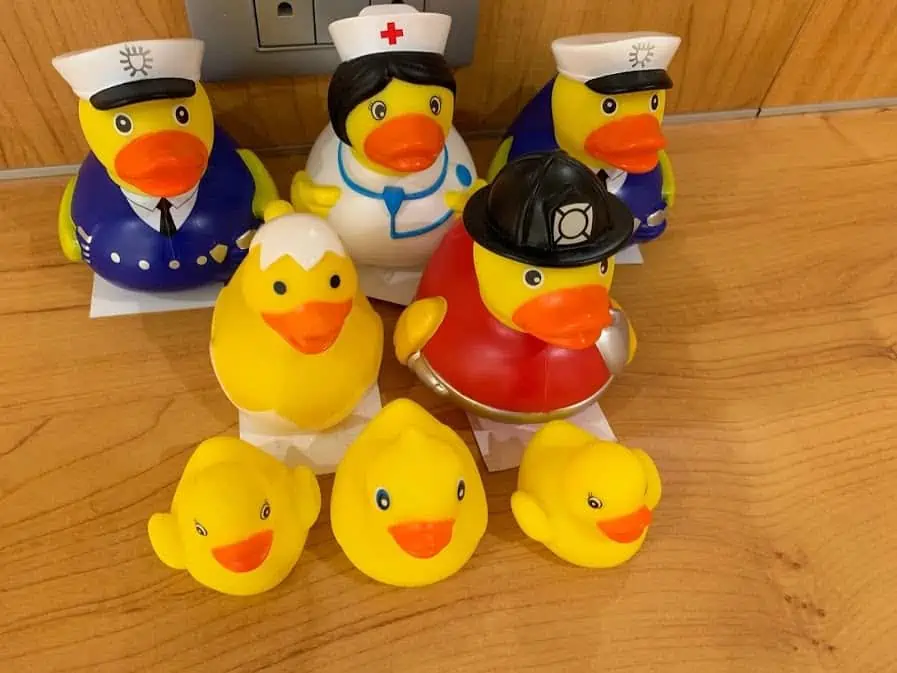 With relatively limited restrictions, folks can get pretty creative when it comes to finding hiding places for their little quackers. Sometimes, the ducks lurk in the greenery in a public space… or, in some cases, the faux greenery. If you want to be almost guaranteed to find a duck while on a Carnival cruise ship, head to the RedFrog Pub and look in the nooks and crannies of the fake palm trees.
They can also often be spotted resting gingerly atop signage for various venues around the ship, or peeking out from behind furniture in the atrium. Those wanting to leave a surprise for the next passengers occupying their stateroom have even been known to put a duck or two in the cabin's safe.
That's not to say that everyone necessarily gets creative when it comes to placing their plastic friends. Some wind up in places like elevator corners or in stairwells, looking for all the world as if they were dropped as opposed to hidden. (This casual approach does not in any way, shape or form lessen the delight felt by the person who happens to look down and spot a duck hanging out at their feet.)
It's All Fun & Games Until…
Of course, as we all know, every party has that notorious pooper. Perhaps not surprisingly, given how big the whole cruising duck phenomenon has become, this particular party has attracted several varieties of complainers.
Inexplicably, there are those who have never seen a duck on board a ship and yet are still inexplicably perturbed by the entire notion. "If I ever see one of these stupid ducks everyone is talking about," posted one such curmudgeon to Facebook, "I'll take it home, set it afire and post a picture of that. Man, people are stupid."
Others have gone so far as to suggest that rubber ducks should be banned aboard cruise ships, prompting one concerned traveler to ask Carnival Cruise Line's Brand Ambassador, John Heald, if this would happen on their ships. He not only assured his Facebook followers that the ducks were welcome on board ("Hide them. Find them. Have fun with them," he wrote), but assured would-be hiders that "most" of the crew members knew not to throw them away if they came across them.
Have you hidden (or found) rubber ducks while on a cruise? Show us your finds in the comments, and offer up your favorite hiding places!