Private destinations play an important role in cruise line itineraries, and one of the most sought-after Eastern Caribbean cruise stops is the Grand Turk cruise port.
As it approaches its 20th anniversary, it continues to attract more than a million cruise guests annually. But what sets this destination apart and makes it so appealing to cruise passengers? Let's dive in.
Grand Turk Cruise Port History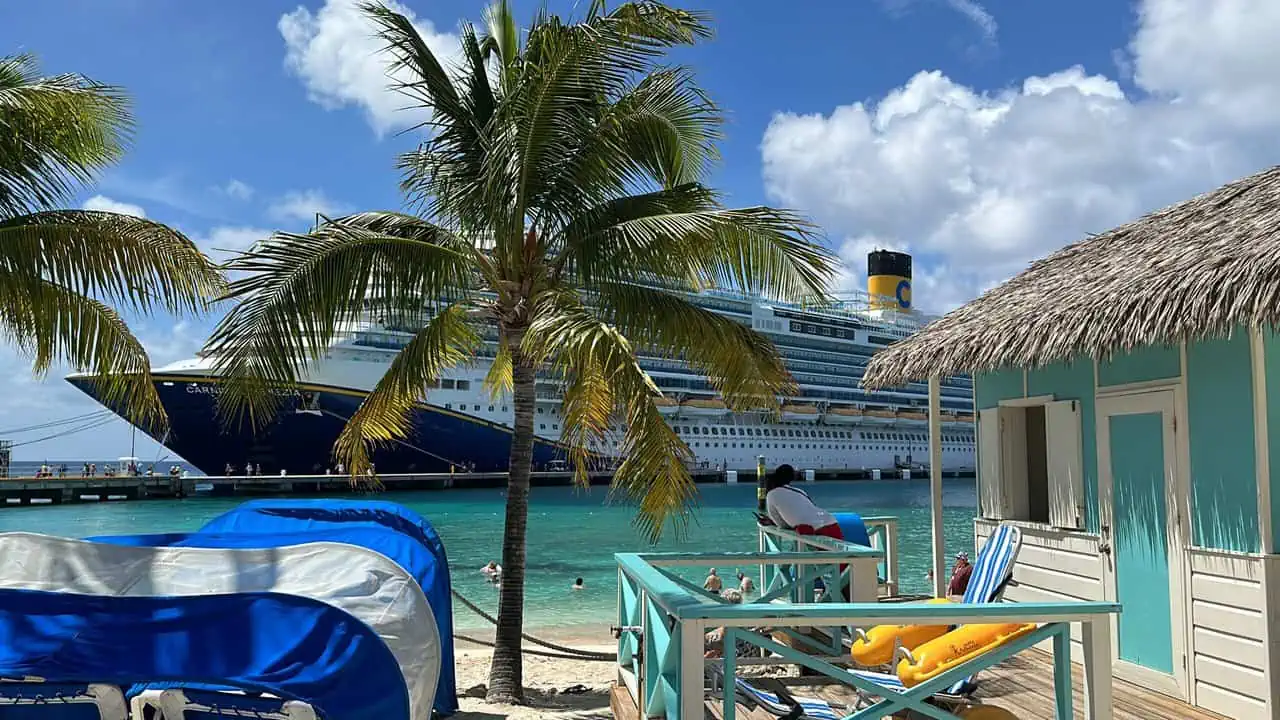 Built in 2006 by Carnival Corporation, the $50 million cruise center is located on the Turks and Caicos Islands, a British Overseas Territory, meaning they are under the jurisdiction of the United Kingdom.
The Grand Turk Cruise Center encompasses 14 acres and features a two-berth pier, port complex, bars, a pool, retail, a shore excursion hub, on-site attractions, and gorgeous white-sand beaches.
Grand Turk Cruise Port: Just The Facts
Location
200 NM south of Nassau, Bahamas
Cruise Berths
2
Terminal Owner
Carnival Corporation, established 2006
Average Temps
85 Fahrenheit and 29 Celsius
Known for:
Beach day and diving the Grand Turk Wall
Currency
US Dollar
The beaches are just a short walk from the cruise center, allowing visitors to swim, sunbathe, and relax in the warm Caribbean sun.
A wide range of water sports and activities are available right off the ship, like diving, parasailing, and floating obstacle courses. The island offers many options for guests to take an organized tour or explore independently.
A recent addition is a beach on the right side of the cruise pier when walking off the ship. This beach offers more shade and trees than the main beach, along with a bar, a beach shop, and facilities.
Cruise Lines That Visit Grand Turk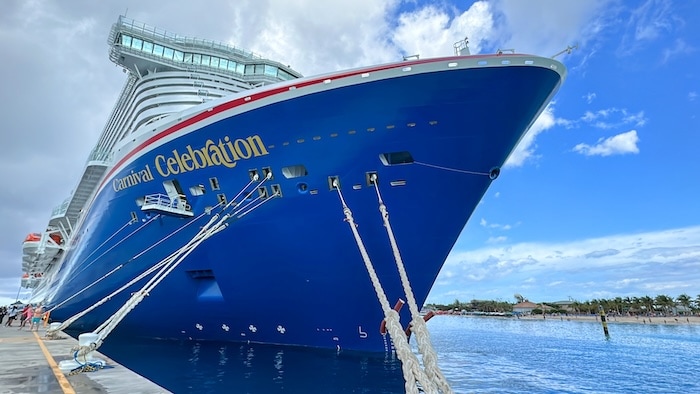 The Grand Turk Cruise Center is a popular destination for several major cruise lines, including Carnival Cruise Line, which owns and operates the port. Carnival Cruise Line has a long history with Grand Turk, with the first ship docking at the port in 2006.
Since then, Carnival Cruise Line has brought millions of passengers to the Grand Turk, making it one of the most popular private destinations in cruising.
Several cruise lines visit the Grand Turk Cruise Center:
Carnival Cruise Line
Holland America Line
Princess Cruises
Marella Cruises
Carnival Cruise Line operates several ships regularly visiting Grand Turk Cruise Center, including the Carnival Venezia, Carnival Horizon, Marella Discovery, and Carnival Celebration.
PRO TIP: Check out the Grand Turk Cruise Center calendar to see how many ships are in port with you.
Location of the Grand Turk cruise port
Grand Turk Cruise Center is situated on the island's western side, just a short distance from the capital city of Cockburn Town, home to about 5,000 residents.
The pier can accommodate up to two mega-ships at a time, making it a popular destination for cruise lines leaving from the East Coast. The pier was recently expanded to accommodate Carnival's largest ships, including the 180,000-ton, 5,200-passenger Excel class.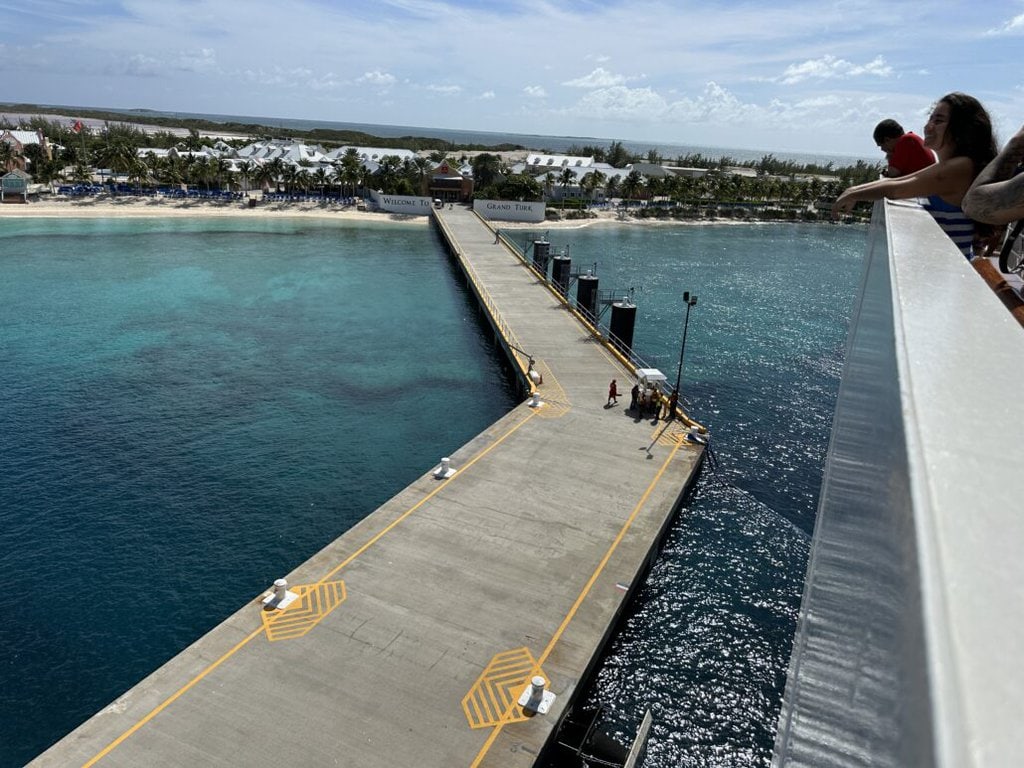 Additionally, the terminal is easily accessible for visitors with disabilities, with ramps and other accommodations available to ensure equal access for all. Some locals can assist if a guest has mobility issues and can not walk down the long pier.
(NOTE: Extending a few dollars' gratuity if you require assistance is customary as the cruise line does not employ the individuals.)
Attractions and Facilities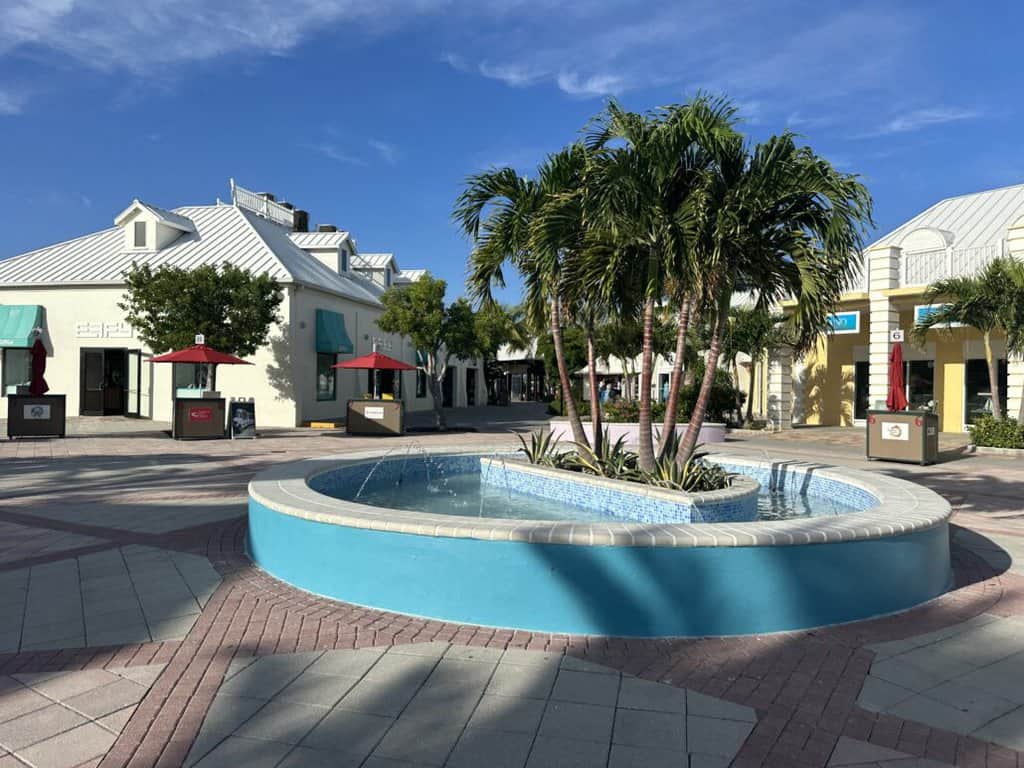 One of the main attractions at the center is Margaritaville. This popular restaurant and bar offer a lively atmosphere with music, drinks, and food.
One standout for Grand Turk's Margaritaville is a swim-up bar where guests can enjoy a cool, refreshing beverage without leaving the pool. Cabanas are available for those who want to relax in a more private setting.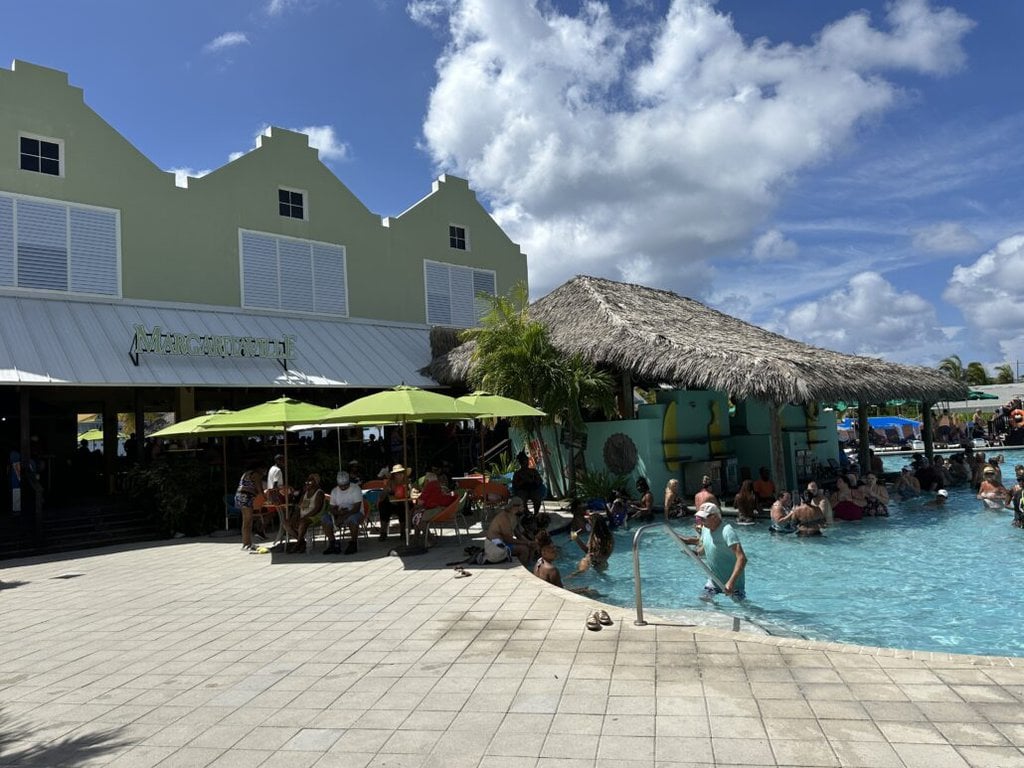 The pool area at Margaritaville can sometimes be inappropriate for children due to alcohol and language, so be cautious.
Two public restrooms in the cruise port area are attended by janitorial staff who work hard to keep the facilities clean and tidy.
In addition to the pool at Margaritaville, there are two beaches at Grand Turk, the main beach off to the left side of the pier and a recently added second beach on the right side of the pier with shade trees at the main beach, beachside bar, ice cream, and retail shop.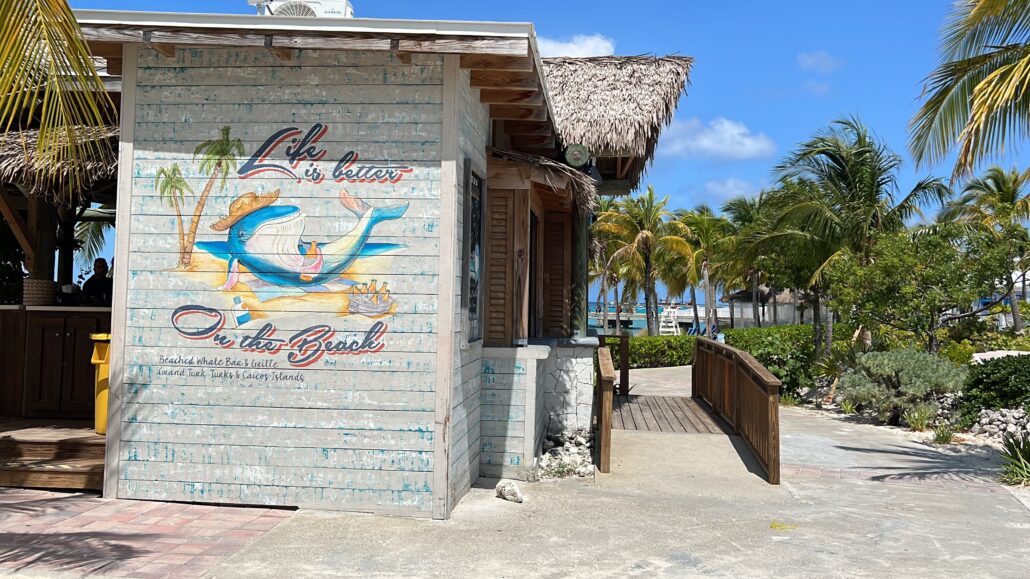 For the adventurous, the FlowRider is a must-try. This simulated surfing experience suits all levels, from beginners to experts. This is the same experience found on Royal Caribbean ships but is less reliable than its shipboard counterpart as it is only sometimes operational.
There are also loungers for guests to relax and soak up the warm Caribbean.
Be mindful of sand fleas at the beach early in the morning and toward the end of the day; they didn't seem as prevalent in the day's heat.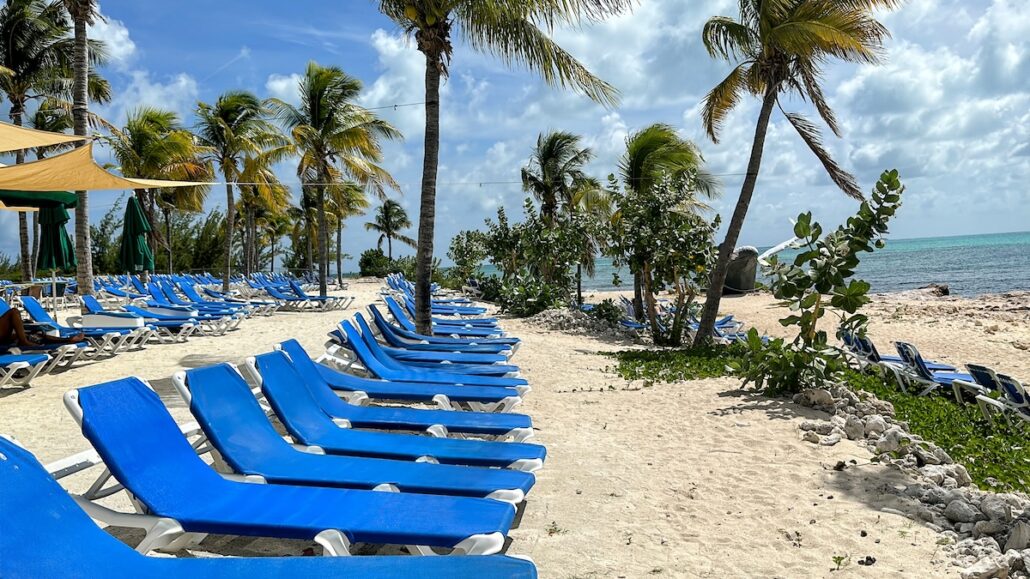 Governor's Beach is a little past the port, but it is not accessible unless you leave the port complex, as there is a cargo dock with no trespassing signage between the two beaches. Once you reach Jack's Shack, you can only get a little further.
Poolside cabanas are available for those who want to relax in a more private setting. The cabanas can go fast depending on how many ships are in port (remember, two ships can dock there, adding up to a combined 10,000 visitors a day.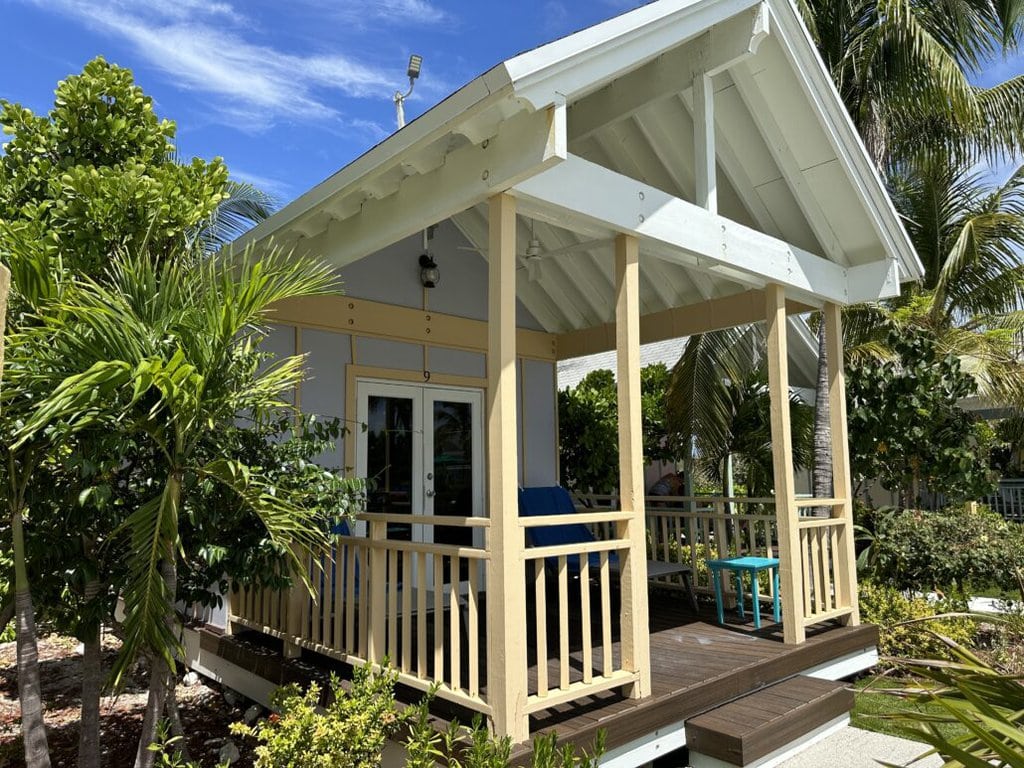 As of late 2023, the cabanas are $399 for six hours and do not come with food or drinks, making the price steep. Cabana renters won't have to go without nourishment as a dedicated server from Margaritaville is assigned to deliver food or drinks from the restaurant.
Starbucks at Grand Turk
For those who need their caffeine fix – even in the Caribbean – there's an on-site Starbucks just outside the duty-free shop where guests debark the ship – it's hard to miss as it's a giant pink building albeit a little pricier than a typical U.S.-based Starbucks, the Grand Turk version offers various drinks. A large latte costs $8.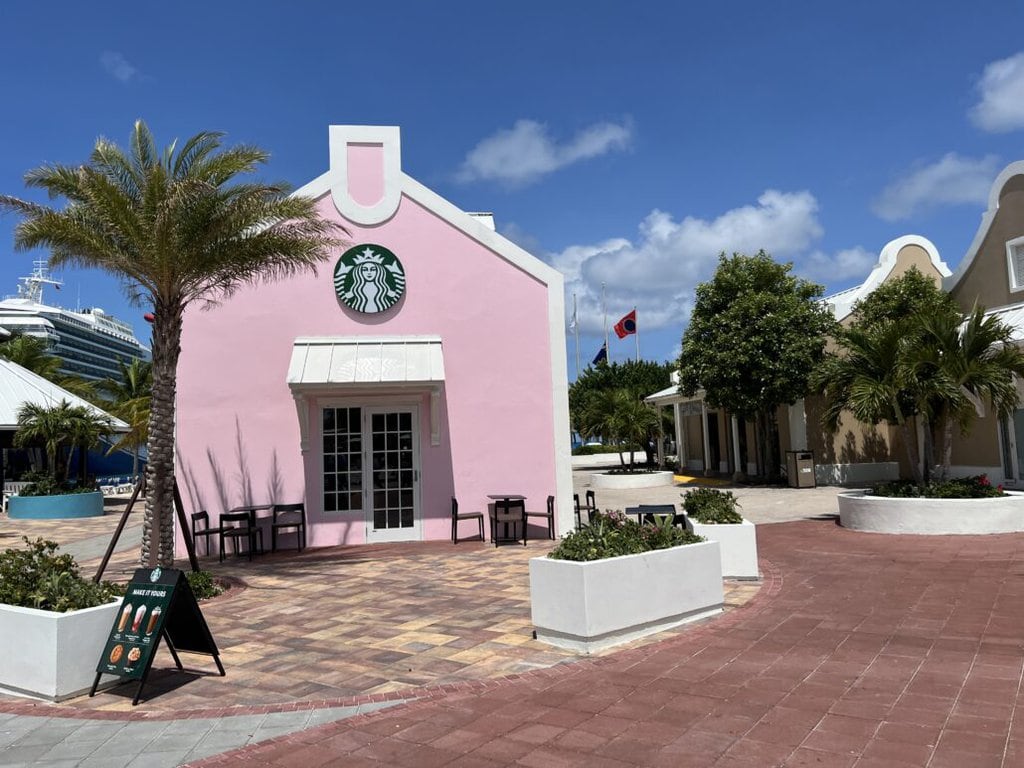 Note that the Grand Turk Starbucks does not accept the Starbucks app for payment – it is strictly cash or credit card. The credit card machine is hit or miss, so having cash as a backup wouldn't hurt.
Outside of the Port Area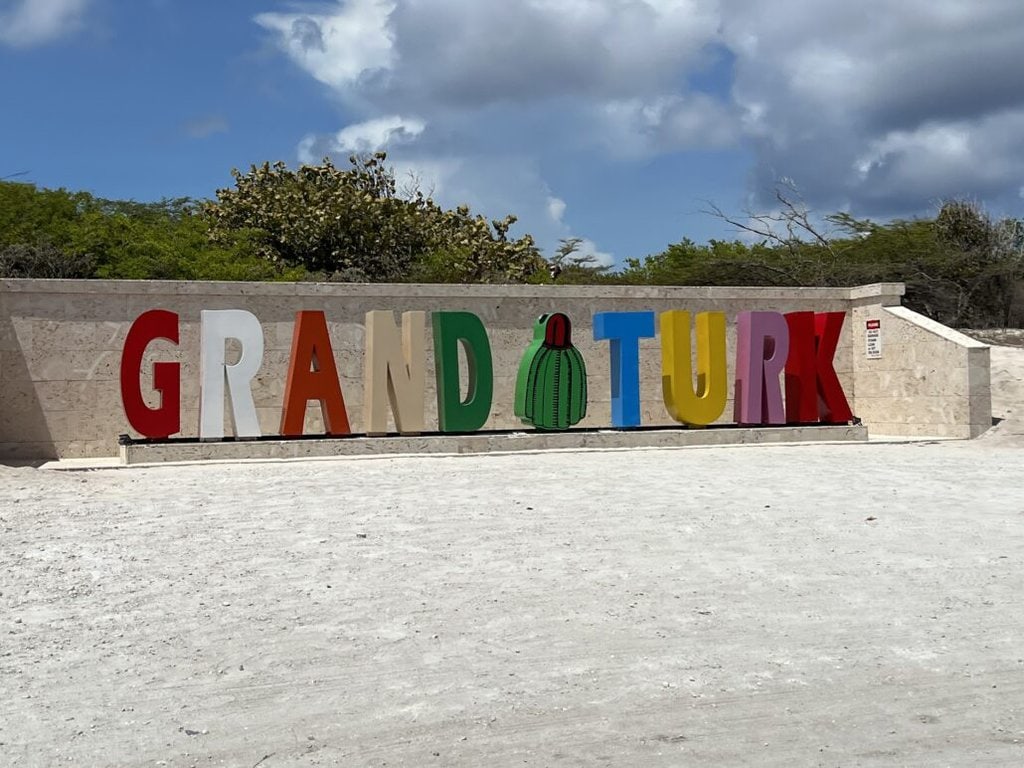 Grand Turk is a beautiful and scenic destination with lots to do outside of the port area, but remember that when you are off Carnival's property, you are not under the eye of port security.
While Grand Turk is generally as safe as any other tourist destination, it's always best to use common sense when traveling. Once guests are past the gates, they can be approached by vendors trying to offer them everything from trinkets to boat rides.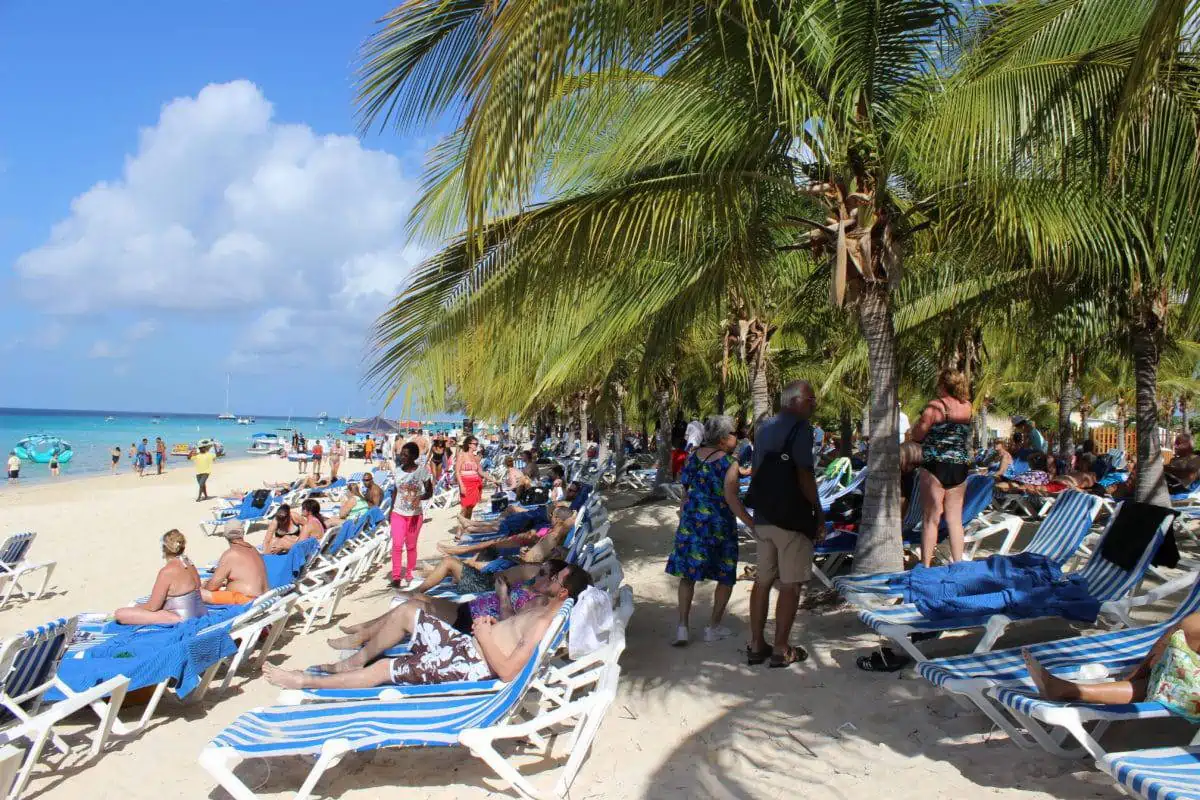 One caveat – beach chairs are available for rent outside the cruise port property. Many guests think that is part of the package, but fees are associated with umbrellas or other services, so be forewarned.
Best Things to Do at Grand Turk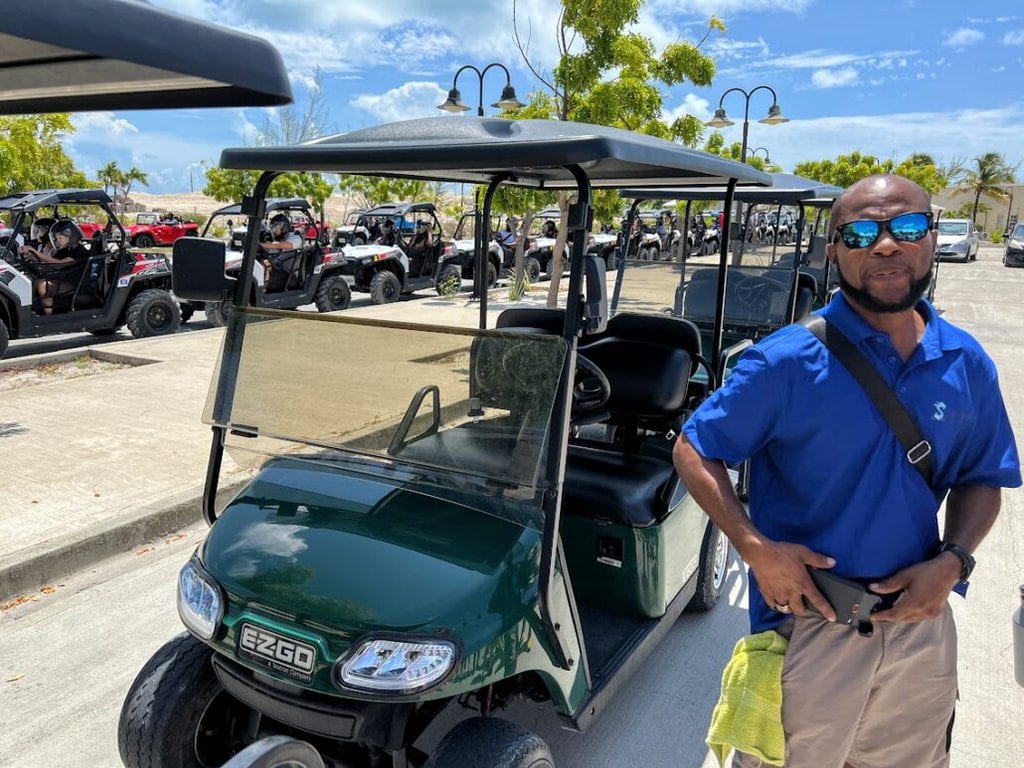 In addition to the beach, the Grand Turk Cruise Center offers visitors the opportunity to explore the island with organized tours onboard the ship.
Some popular tours are:
Island Golf Cart Tour
Diving Tour
Jeep Tours
Dune Buggy Adventure
Reef Snorkel
Duck Boat Adventure 
The island has various historic sites and attractions, including the Grand Turk Lighthouse, a visit to the salt mines, and the Turks and Caicos National Museum.
Shore excursions are available through third-party vendors; however, because there isn't a lot of competition on Grand Turk, prices for independent tour operators companies and the cruise line tend to align with one another.
Diving the Grand Turk Wall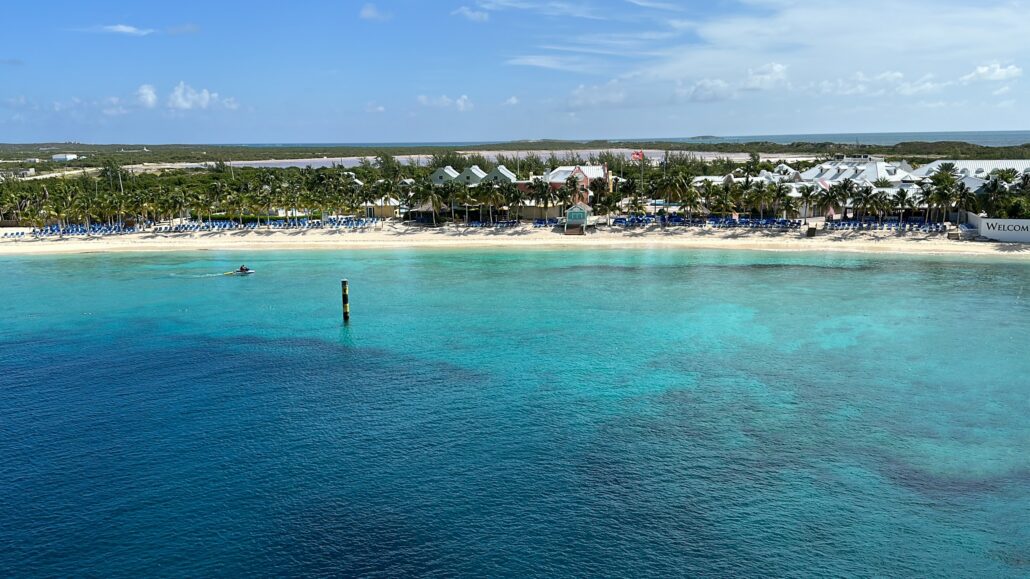 The Grand Turk Wall, also known as the Grand Canyon of the Caribbean, is a massive underwater cliff that drops off 7,000 feet just off the coast of Grand Turk in the Turks and Caicos Islands. It is one of the deepest walls in the world and is home to a diverse range of marine life, including sharks, rays, turtles, and colorful fish.
The Grand Turk Wall is a popular destination for cruise shore excursions because it offers a unique and exciting opportunity to experience the underwater world.
Snorkeling and diving tours are available, and visitors can get up close to the wall and see the incredible marine life that calls it home.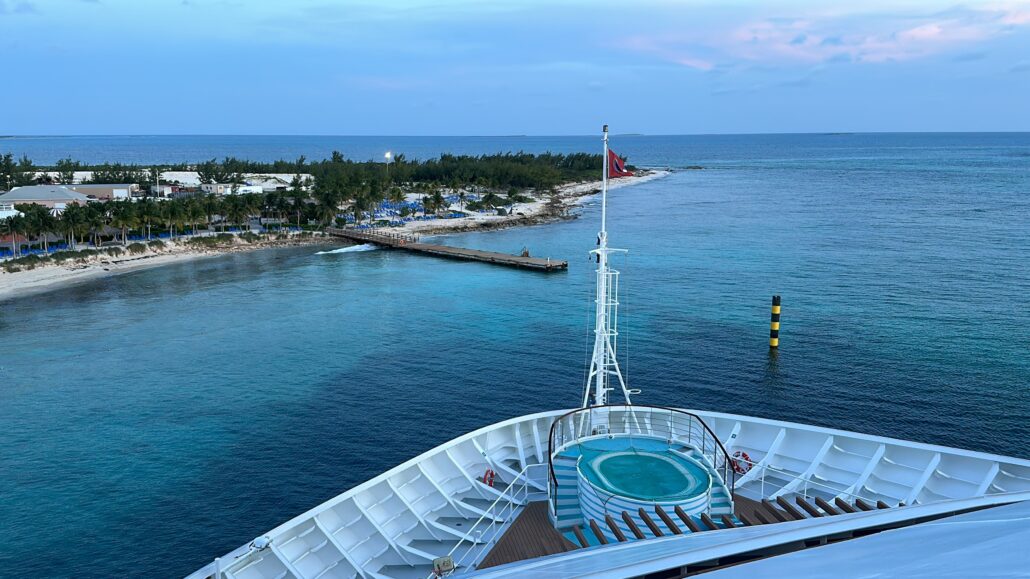 In some instances, a cruise-organized tour can be less expensive than Carnival's Stingray excursion, which costs $89 per person – roughly $10 cheaper than those from independent tour operators.
The Turks and Caicos National Museum, located near the Grand Turk Cruise Center, offers visitors a chance to learn about the islands' history. The museum has a collection of artifacts that tell the story of the islands' history, including exhibits on the Lucayan Indians, the salt industry, and the wreck of the Molasses Reef. A highlight is a replica of a traditional Caicos sloop used for fishing and transportation in the 18th and 19th centuries.
Shopping at Grand Turk Cruise Center
Like most Caribbean destinations, Grand Turk Cruise Center offers a variety of retail stores. Remember, the island has nothing unique – think of spots like Diamonds International, Effy, etc.
Most retail shops are limited to the cruise port as the island is not developed for tourism besides the occasional grocery store, electronics shop, or bar.
One of the most popular shops at the center is the Ron Jon Surf Shop, offering surf gear, beachwear, logo items, and accessories. Visitors can find everything they need for a day at the beach, including swimwear, towels, and sunscreen.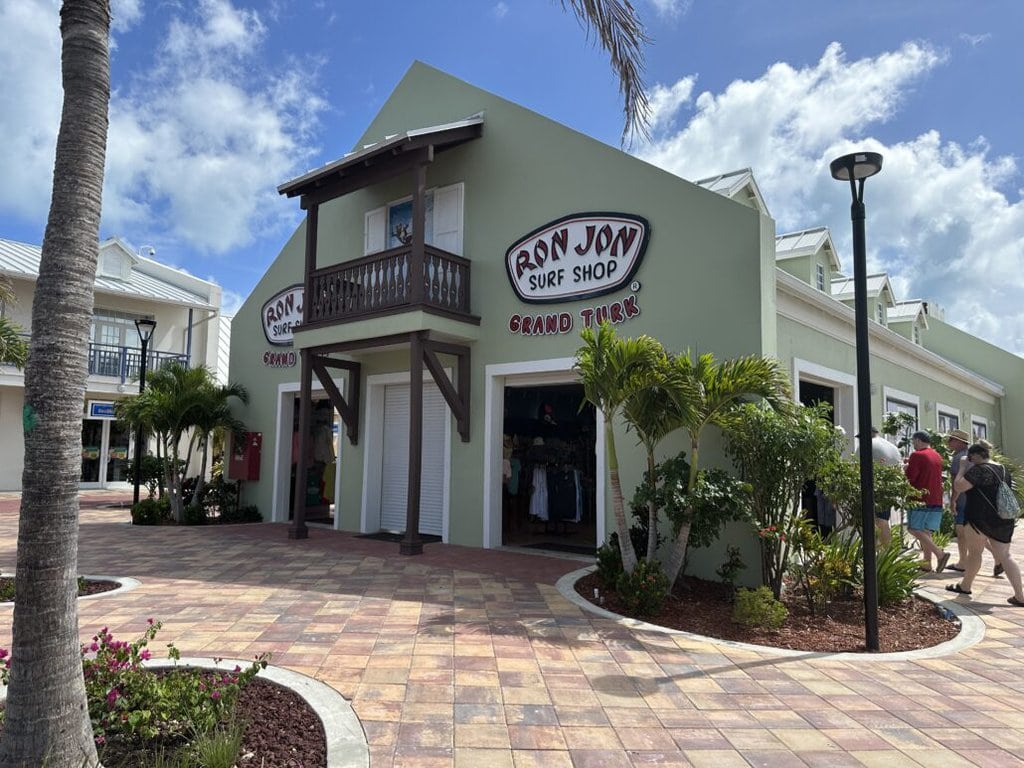 Cruisers sailing out of Port Canaveral might be tempted to pick up a Ron Jon shirt in Grand Turk and then go to the Ron Jon Surf Shop in Cocoa Beach, located minutes from the Port Canaveral cruise terminal, to get one.
Margaritaville has a small gift shop with T-shirts, towels, magnets, and other trinkets with stand-alone kiosks and stands offering souvenirs and other items.
Dining Options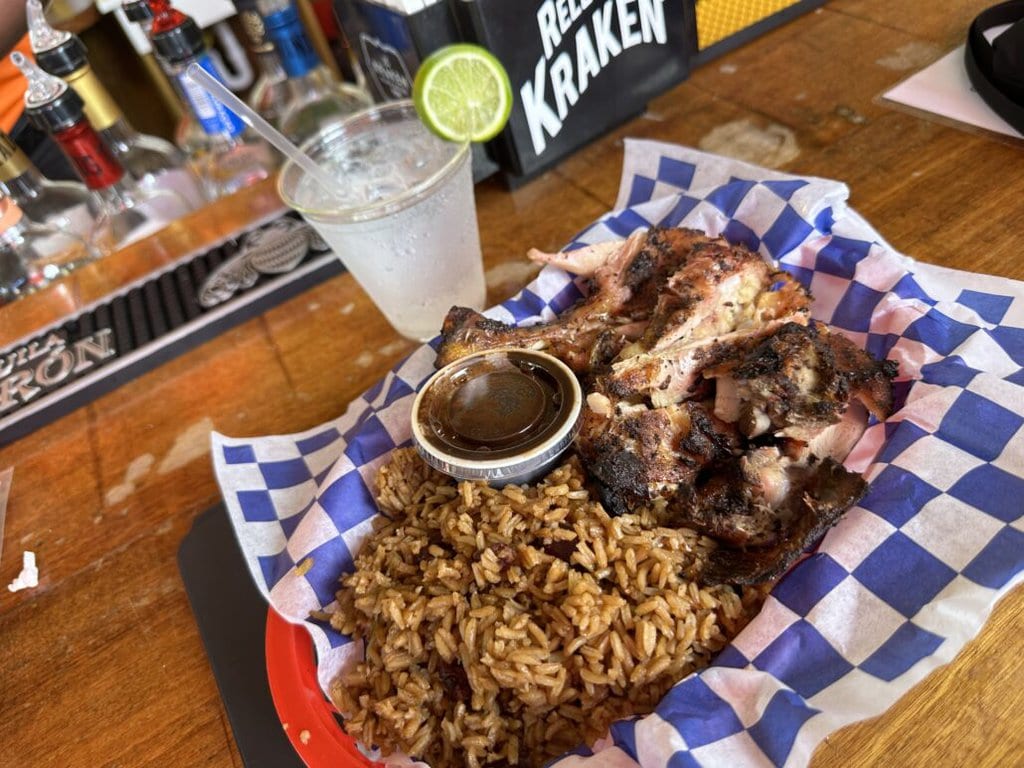 Grand Turk does offer its share of restaurants, but guests who plan on eating something ashore – whether it's a full, sit-down meal or just a snack – can expect a pricey dining experience. Generally speaking, island cuisine tends to be pricey because of the logistics of getting food from the mainland to the island as food and beverages arrive on cargo ships.
Here are a few notable places to eat:
Jack's Shack
Just a short walk from the cruise port, Jack's Shack is a favorite among visitors. It offers a relaxing beachfront setting where diners can enjoy tasty Caribbean and American dishes with their toes in the sand. Their jerk chicken and fresh seafood options are particularly popular. A jerk chicken combo and cocktail will set guests back about $30.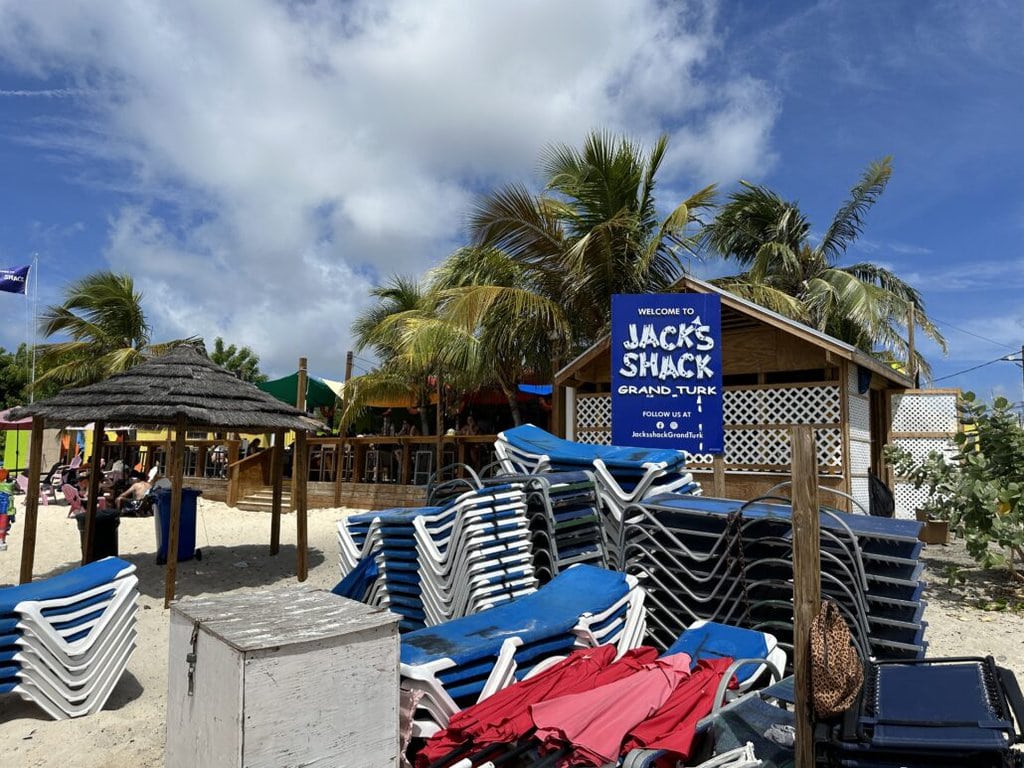 For those who don't want to make the 10-minute walk to Jack's Shack, a taxi ride costs about $7 each way. Note that the walk is not accessible for people with mobility issues.
Margaritaville at Grand Turk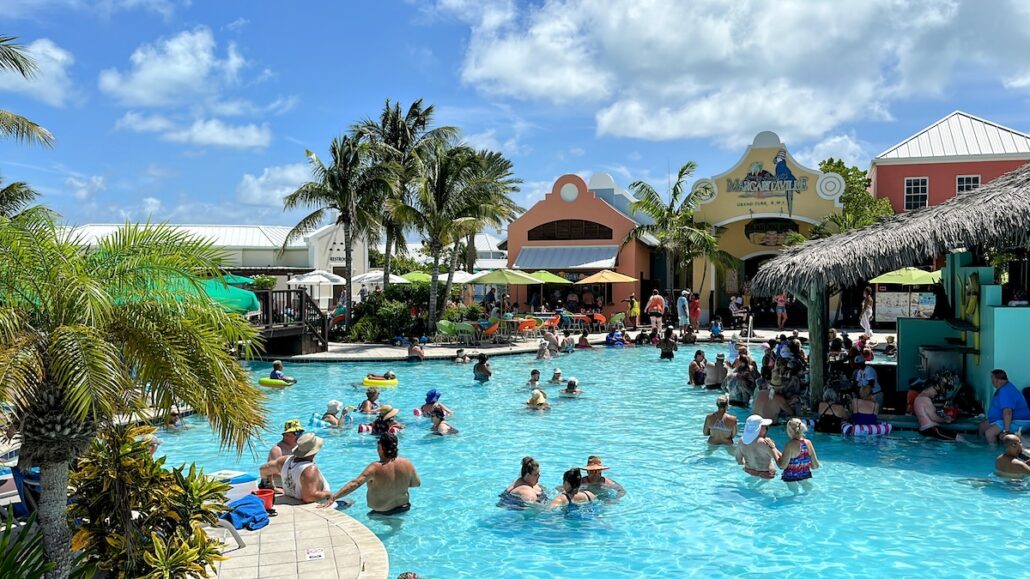 Located steps from the Grand Turk Cruise Center, Margaritaville is convenient for cruise passengers. This chain restaurant offers a familiar menu with various burgers, salads, and its famous (and pricey) margaritas. It's a fun, laid-back place to enjoy a meal, with a large pool, swim-up bar, a DJ, and a lounging area for guests to relax.
One can't-miss is their signature margaritas. Just bring your wallet, as the "frozen concoctions that help you hang on" start at $18.
Beached Whale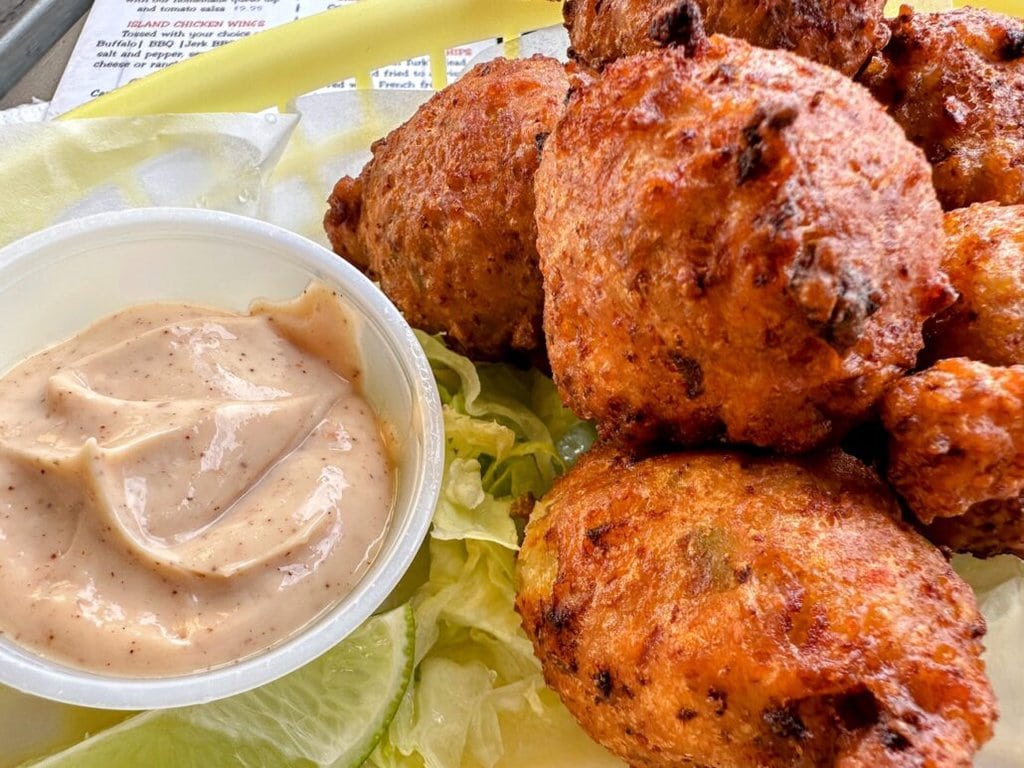 A fairly new addition to the Grand Turk cruise port is the Beached Whale Bar and Grill. This offers Caribbean eats and drinks, with open-air views and servers that will tend to you in the shade or on the beach. Having eaten at different venues within the cruise, this is by far the best choice. Great food with Margaritaville prices (this is a subsidiary of Margaritaville)!
Local Eats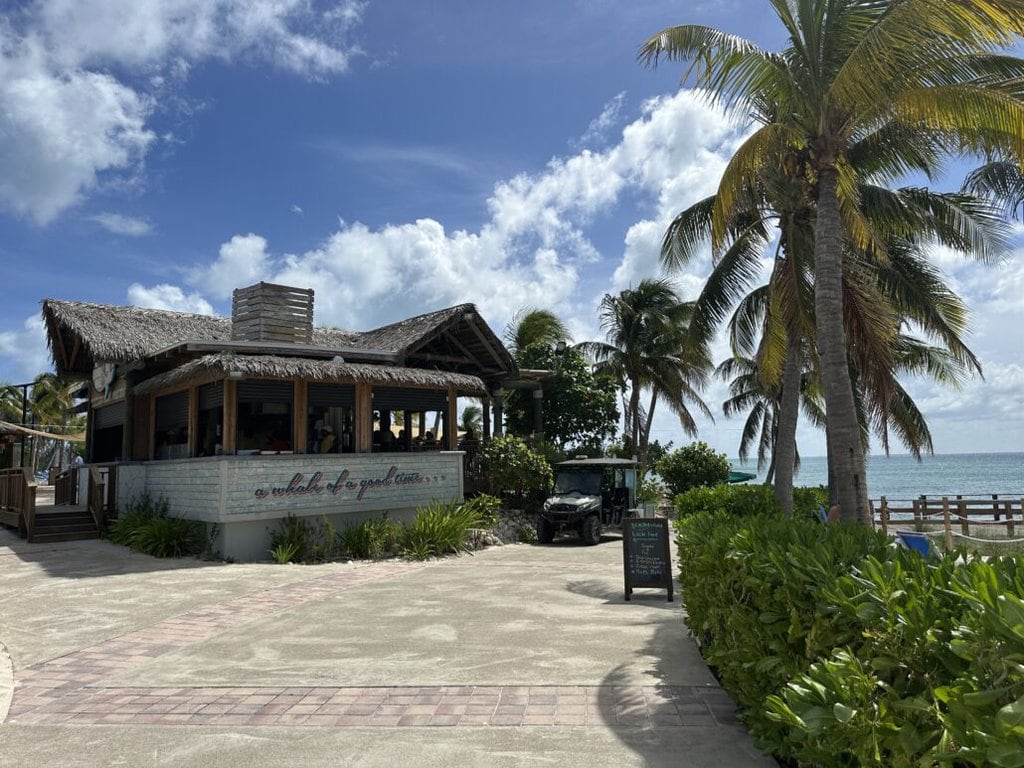 Guests who are up for a short taxi ride or a stroll, venturing into downtown Grand Turk opens up more dining options with eateries that serve up traditional Turks and Caicos cuisine, allowing you to sample dishes like conch fritters, peas n' rice, and other island specialties.
Rooted in History and Space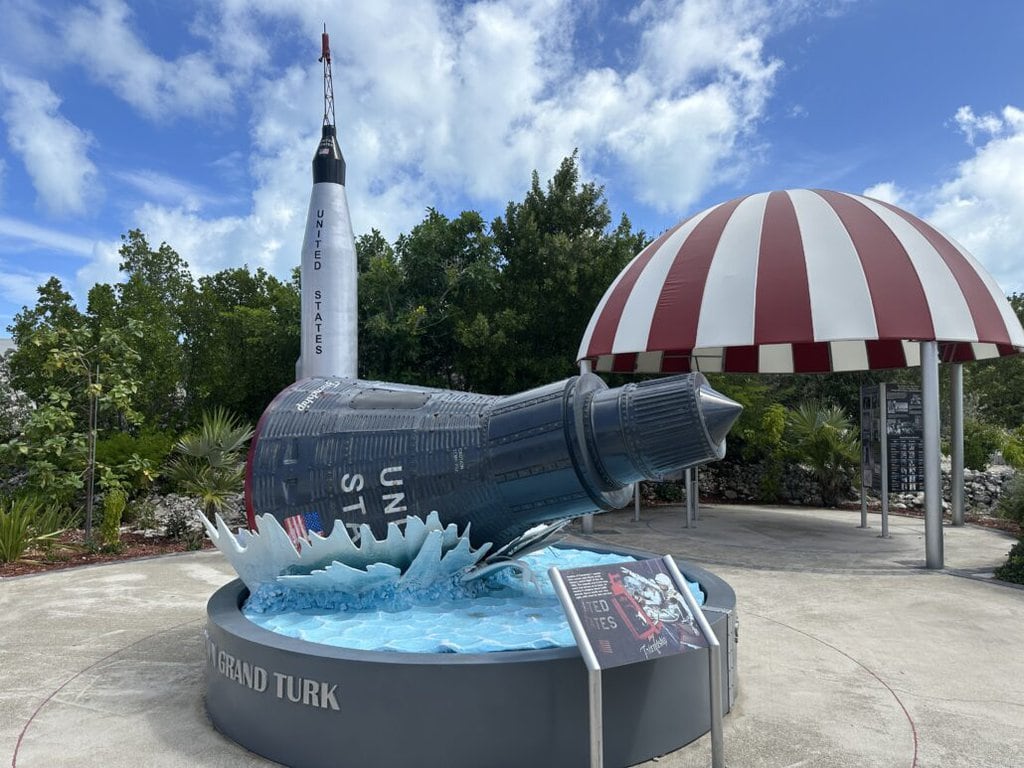 Grand Turk Cruise Center is not only a popular tourist destination but also has historical significance dating back to the pre-Columbian era and has played a significant role in the history of the Turks and Caicos Islands.
One of the most notable events in Grand Turk's history was the landing of astronaut John Glenn in 1962. Glenn became the first American to orbit the Earth, and he made history when his space capsule splashed down right outside Grand Turk.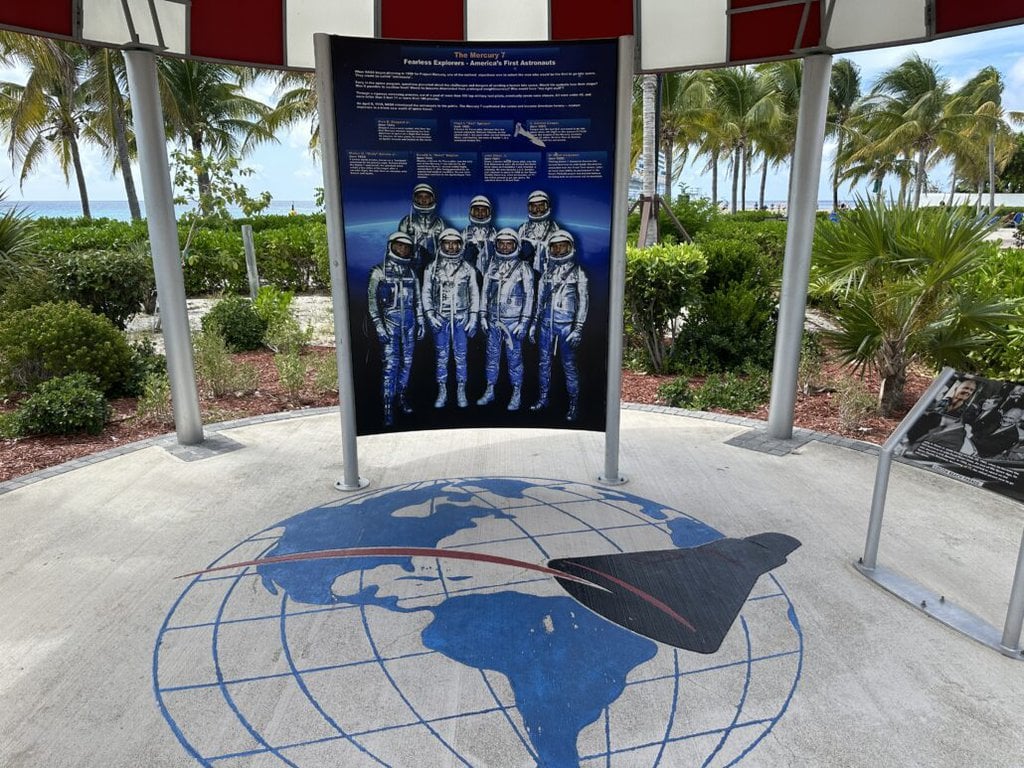 Today, visitors can visit the landing site and see the replica capsule and monument commemorating this historic event. Grand Turk has also played a role in the history of navigation.
Aside from serving as an important stop for ships traveling between Europe and the Americas, Grand Turk was used as a base by the United States Navy during World War II. Today, visitors can explore the island's historic lighthouse and view maps and other navigational tools used by sailors in the past.
READ: Grand Turk Cruise Profits Fall, Cites Drugs and Brawls