Holland America Line is going to have five ships and 30 cruises to choose from in the Panama Canal next year. Full transits will range from 14 to 23 days, and partial transits will be 10 or 11 days long.
Full Transits
From January to December 2019, Amsterdam, Nieuw Amsterdam, Eurodam, Oosterdam, Rotterdam, and Volendam will make 17 transits between the Atlantic and Pacific oceans from four departure cities. Guests can sail to or from Fort Lauderdale, Los Angeles, San Diego, San Francisco, and Vancouver.
On full transits, guests will visit cities in Colombia, Costa Rica, Guatemala, Mexico, Nicaragua, and various islands in the Caribbean. Some of the cruises also include a stop at the company's private island, Half Moon Cay.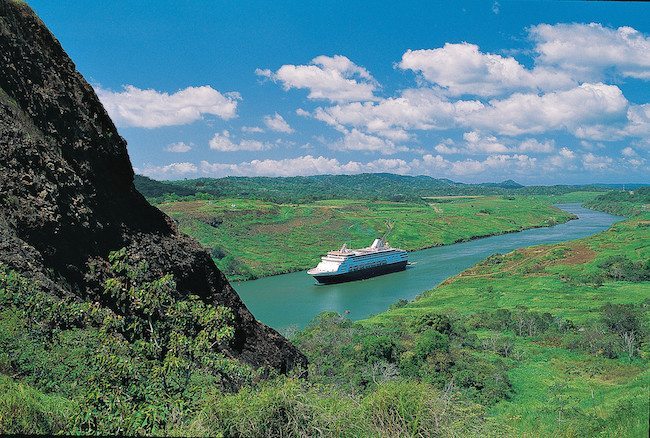 Partial Transits
Zuiderdam and Eurodam will make 13 partial transits of the Panama Canal next year. Cruising roundtrip from Fort Lauderdale, the 10 and 11-day Panama Canal Sunfarer itineraries include an exploration of the Canal's Gatún Lake with a combination of southern Caribbean calls in Aruba, Curaçao, Colombia, Costa Rica, Panama, and Half Moon Cay.
Full transit fares start at $1,329 and Sunfarer rates start at $949, all per person, based on double occupancy.
Several of these sailings are eligible for the Explore4 promotion. This promotion is for guests booked in any category stateroom and includes a signature beverage package, dinner at the Pinnacle Grill for two, free or reduced fares for the 3rd and 4th guests in a cabin, and 50 percent reduced deposits. Guests receive all benefits if bookings are made by November 19, 2018.
Explorations Central Brings Panama to Life
Throughout the cruises, EXC programming brings Panama's local customs, cuisine, and cultural experiences on board. Travelers can practice their language skills, learn about local traditions, and enjoy storytelling. Experts will also be on the ship to give EXC Talks about the history and drama of the construction of the canal. The in-cabin EXC television channel will feature a selection of films, documentaries, and TV shows exploring the destinations on the itinerary.
READ: Holland America Wins 24 Travel Weekly Awards