Holland America Line has announced the new restart schedules for two of its ships: Volendam and Zaandam.
Because of the schedule change, the line has also announced the cancellation of the Grand World Voyage and Grand South America and Antarctica Voyage set for 2022. Instead, the sailings will take place in 2023.
Volendam
Volendam is set to resume sailings on May 1 in northern Europe, offering 14 to 25-day itineraries to the Baltic, Norway, the British Isles, and Iceland — all roundtrip from Rotterdam, Netherlands.
The vessel will also sail along the Iberian Peninsula and down to Egypt and Israel.
Zaandam
Zaandam will restart on May 12 in Canada and New England with a cruise from Fort Lauderdale to Boston. Following that, the ship will operate itineraries between Boston and Montreal.
In July, Zaandam will offer a 35-day Voyage of the Vikings itineraries that sails roundtrip from Boston to Canada, Greenland, Iceland, Norway, the Netherlands, the United Kingdom, and Ireland.
READ: Updated Guidance: CDC Says 'High-Risk' People Should Avoid Cruise Travel
Grand Voyages Resume in 2023
Guests booked on the 2022 Grand South America, and Antarctica Voyage will be automatically moved to the 2023 departure aboard Volendam, which will set sail on January 3 and be 74 nights long.
Those booked on the 2022 Grand World Voyage aboard Zaandam will be automatically moved to the 2023 Grand World Voyage aboard Zuiderdam.
The Grand World Voyage on Zuiderdam will be 128 nights and depart on January 3, 2023.
"Our 2022 Grand World Voyage booked in record time, and with the pent-up demand to get back to world cruising, we moved the cruise to Zuiderdam," Antorcha added. "For the first time on a Grand World Voyage, our guests will be able to book a verandah stateroom category, which makes for spectacular scenic cruising, breakfast with a view, or relaxing outside without leaving your stateroom."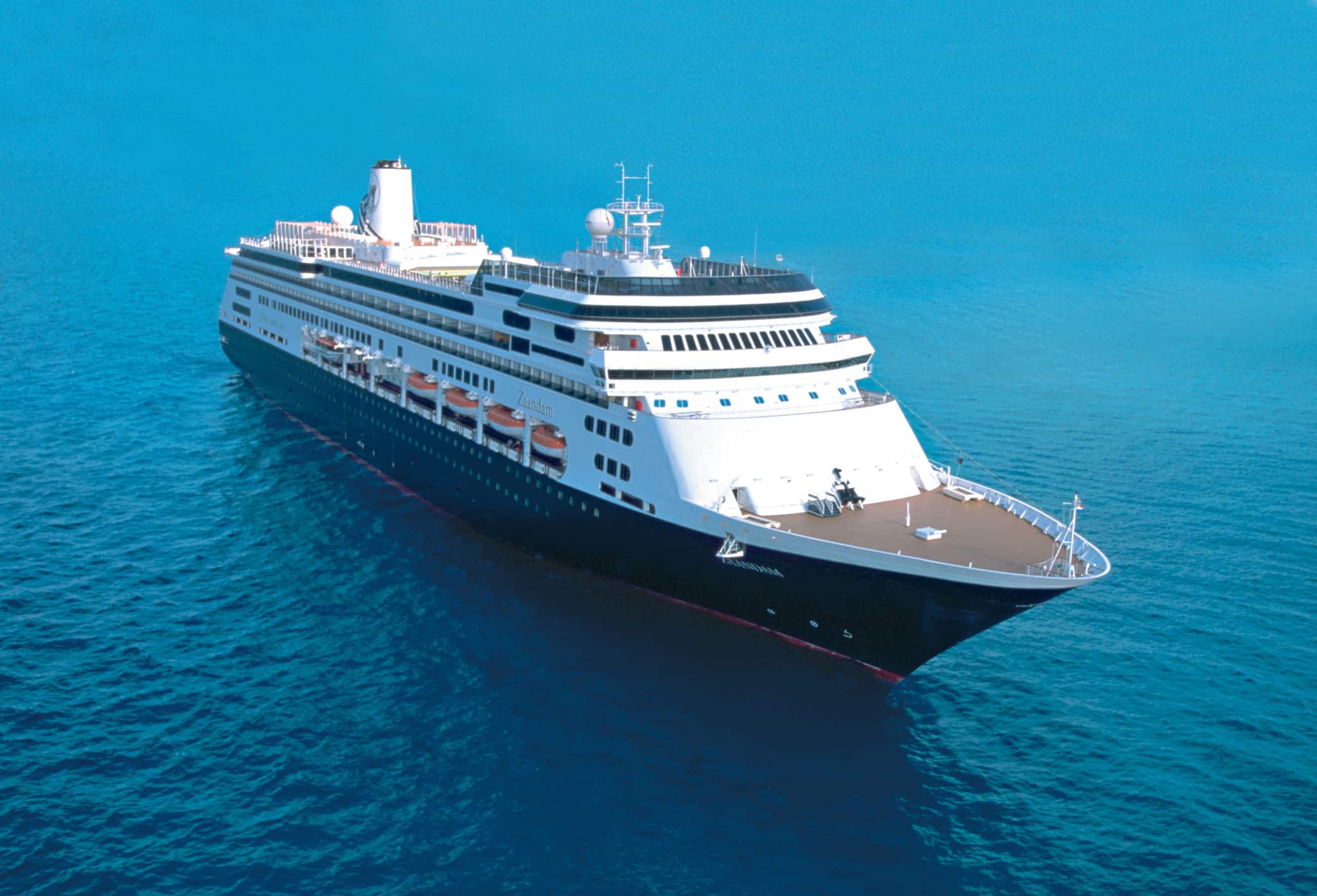 Koningsdam to Visit South Pacific in 2023
With Zuiderdam embarking on the Grand World Voyage, Koningsdam will take over the ship's longer itineraries in 2023.
Koningsdam's 25-night Mexican Riviera and Circle Hawaii Collectors' Voyage will move from a January 31, 2023 departure to January 7, 2023, for 24 days.
In February, the ship will offer the 35-night Hawaii, Tahiti, and Marquesas itinerary roundtrip from San Diego, and all guests booked for that departure aboard Zuiderdam will be moved to Koningsdam. 
Zuiderdam's Panama Canal cruises in January and April 2023, and a 10-night Mexico and Sea of Cortez cruise will be taken over by Zaandam. 
Those who prefer a refund instead of having their sailing moved to a different ship or different date can go to Holland America's Cancellation Preferences Form to indicate their preference by September 24, 2021.
READ NEXT: Details on MSC Group's New Luxury Cruise Line, Explora Journeys