The landlocked capital of Alaska welcomes many ships to its newly renovated docks. The downtown area continually improves and new options for visitors keep the area fresh even for those who have been to Juneau multiple times. Don't just stay on the ship because you have been to Juneau before!
Select a theme or mix and match options for planning a perfect eight hours in Juneau.
History, Art, and Culture
Having inhabited these lands for thousands of years, the Tlingit culture remains a constant in Juneau and throughout Alaska. As you stroll the streets of Juneau, you will notice an emphasis on Tlingit culture. Notice the signs with Tlingit art. Street signs have Tlingit translations. Totems and other artwork are on display around town.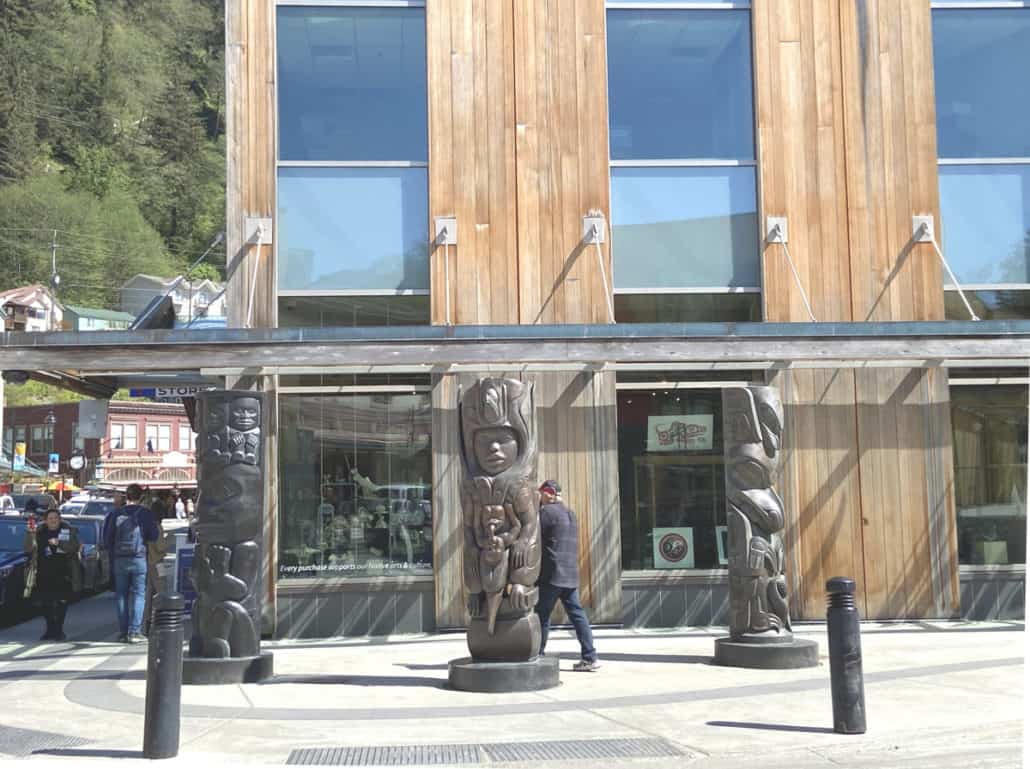 The Alaska State Library, Archives & Museum contains exhibits about Alaska's Russian past and also about Alaska's history including exploration, mining, government, shipwrecks, and more. The main collection in this museum focuses on Alaska Natives including Alaskan Eskimo, Athabascan, Aleut, and Northwest Coast groups. On display, items from their daily lives offer insight into these Alaska Natives.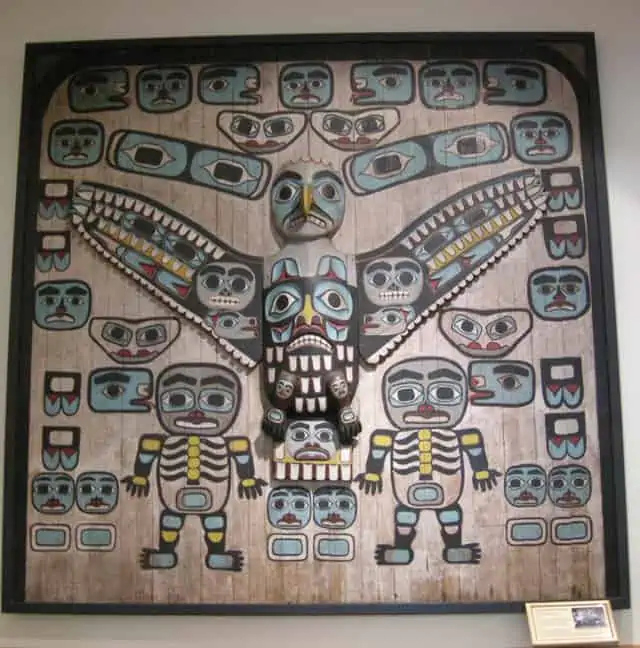 Juneau's pier has been redesigned and one of the most obvious additions is the 10 sculptures regularly placed along the way. The Aquileans (a combination of the Latin words for eagle and whale) use bollards that cruise ships tied up on before the pier renovations. The sculptures light up at night and reflect the sunshine during the day.
Although there was a Russian influence in Alaska, St. Nicholas Russian Orthodox Church was built entirely by the local Tlingit community, who adopted that religion. The church has a shop that showcases local artist and religious products.
Like many towns in Alaska, Juneau claims a gold mining past. Mine tours and a mining museum share the story of mining with visitors. At the end of the tour, try your hand at panning for gold.
Eat and Drink
Regular visitors to Juneau have their favorite restaurants and watering holes. Popular spots for seafood are Tracy's Crab Shack, Alaska Fish & Chips Company at the Flight Deck, The Hangar On The Wharf, and Deckhand Dave's.
But don't rule out trying new spots! An interesting option is a collection of food stands with a variety of options, many including fish. Located near the intersection of Franklin and Front, some call this spot the Franklin Food Court. A few picnic tables provide seating for those getting food from the six different eateries.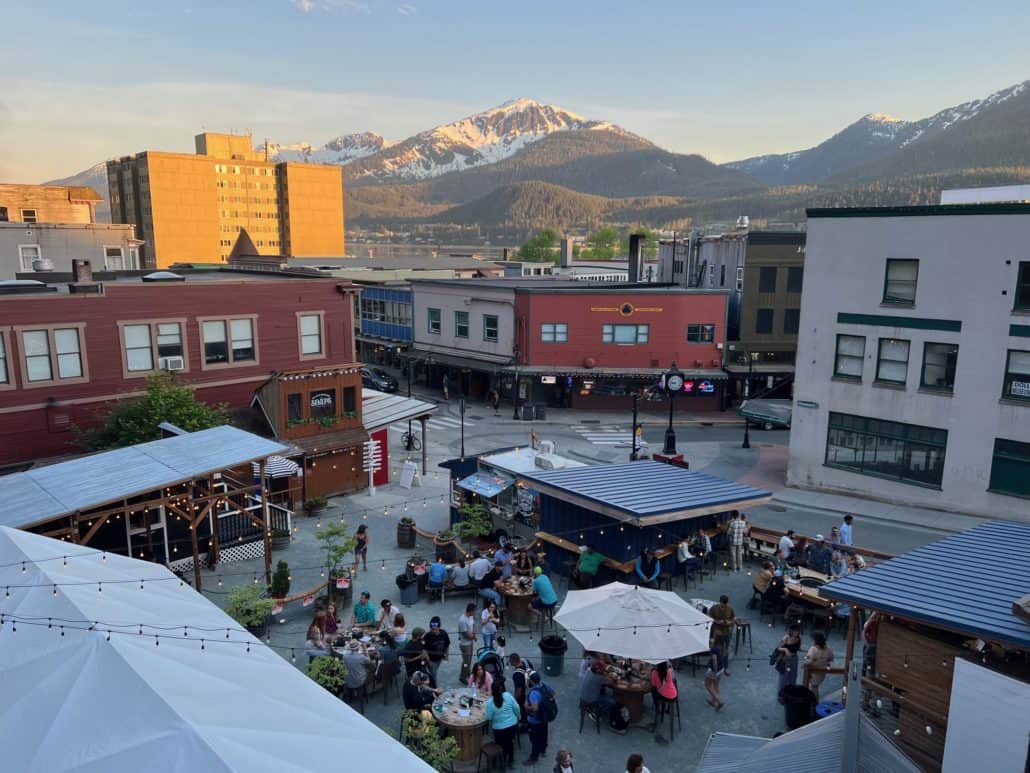 Breweries and Distilleries continue to pop up in Juneau and the local area. Alaskan Brewing Co. established in 1986 and based in Juneau remains well-known, even beyond Juneau. New breweries, like Devil's Club, can be reached by just a short walk from the ship. There are other breweries and distilleries in town. Why not find one and try it out?
If you want a taste of several different restaurants, consider a progressive meal with a group of friends or join a food tour.
MORE: Overview: Experiencing Glacier Bay, Alaska on a Cruise
Nature and the Great Outdoors
Plopped in the middle of the Tongass National Forest, Juneau bursts with plenty of outdoor and nature-related activities. Some require working up a sweat, while others don't require quite the endurance. Some are even accessible.
One of the first attractions seen from a ship is the Tramway. It's an easy trip to the top where a film is shown highlighting the local Native culture. A short walk from that center is an eagle exhibit with rescued eagles. The views from here overlooking the ships below are worth the ride up.
Adventurous types looking for some physical activity might consider hiking around the trails at the top. More adventurous types should walk up to the center. The path starts on the other side of the downtown area and climbs for most of the trail. It takes about two hours to reach the visitor center. Celebrate your success with a drink or food from the restaurant or buy yourself a gift as a reward and get a free ride back down the Tramway.
A guided tour of Glacier Gardens through the temperate rainforest via a tram is an easy activity. Based on Thunder Mountain, the tour showcases manicured gardens and also offers great views of the surrounding area.
One of the most popular destinations in Juneau, Mendenhall Glacier, provides ample opportunities for all types of activity. The Steep Creek trail includes a bear viewing area and a good chance of actually seeing a bear or two.
Walking to scenic Nugget Falls, close to the face of the glacier, takes about an hour on the mostly flat path, which is about two miles roundtrip. If time permits, longer hikes explore the forest.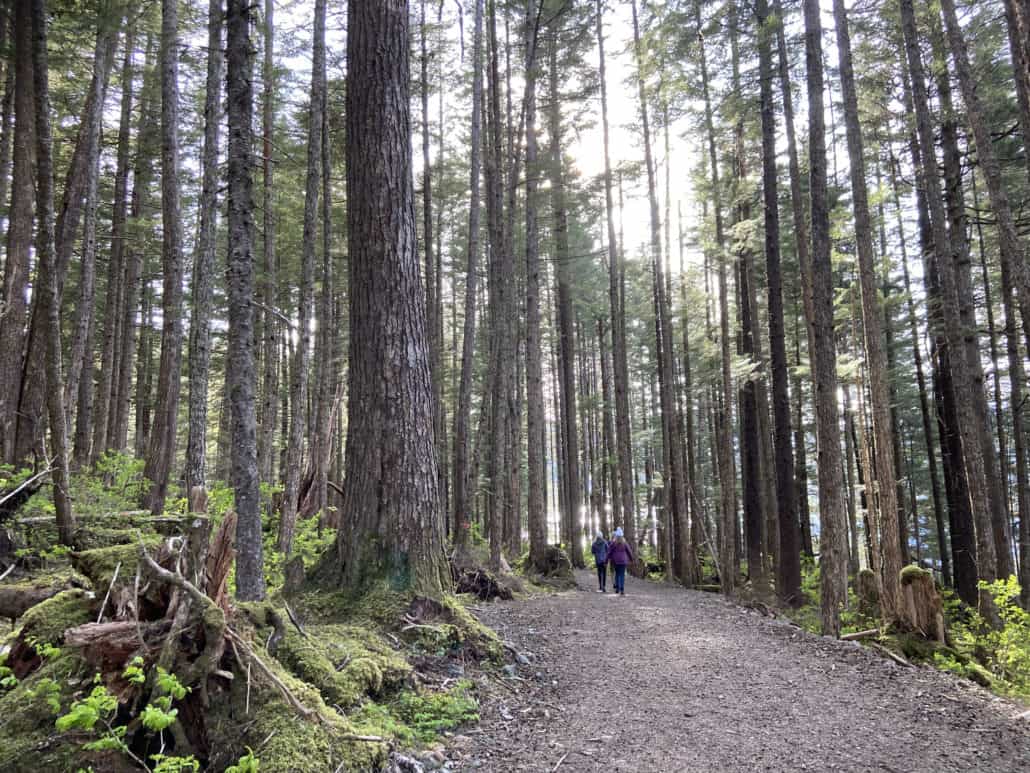 The Visitor Center shows a film and several exhibits explain the geology of the glacier and also the local habitat. A glacier viewing area allows those with limited time to take a short stroll for capturing a few photos and enjoying the view.
Kayaks and rafts utilize the lake in front of the glacier to get a closer look at this icy wonder.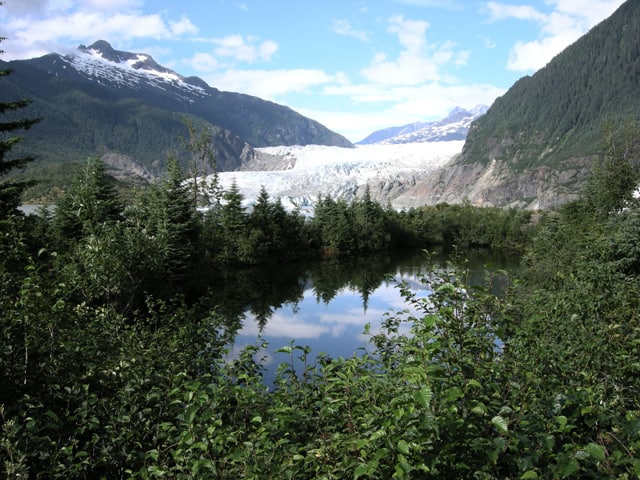 Other activities in Juneau include wildlife watching, glacier landings, seaplane tours, dogsled adventures, whale watching and so much more. Juneau has more trails than roads, so this port offers plenty of hikes that can be fit in during a ship visit.
Consider what you want to do in Juneau or Alaska in general. Be sure that you pack for the variable weather. Breathable water clothing and footwear makes every adventure more pleasant. With the proper gear, you won't be deprived of the perfect Juneau adventure.
With eight hours in Juneau, it's possible to get a taste of everything. Whether you have an appetite for good food, history, art culture, or adventure, you will find it in Juneau.
Cruise passengers may book excursions with the ship or find outfitters at the pier.
READ NEXT: Top 12 Things to Pack For an Alaska Cruise
Pin it!