The debut of Carnival's Mardi Gras also saw the debut of several new dining venues for the cruise line, including Shaquille O'Neal's Big Chicken and Emeril Lagasse's Emeril's Bistro 1396.
Another new restaurant that debuted on Mardi Gras is Rudi's Seagrill by Chef Rudi Sodamin. Sodamin has already been a fixture in the Carnival Corporation company, serving as the Consultant Master Chef for Holland America Line.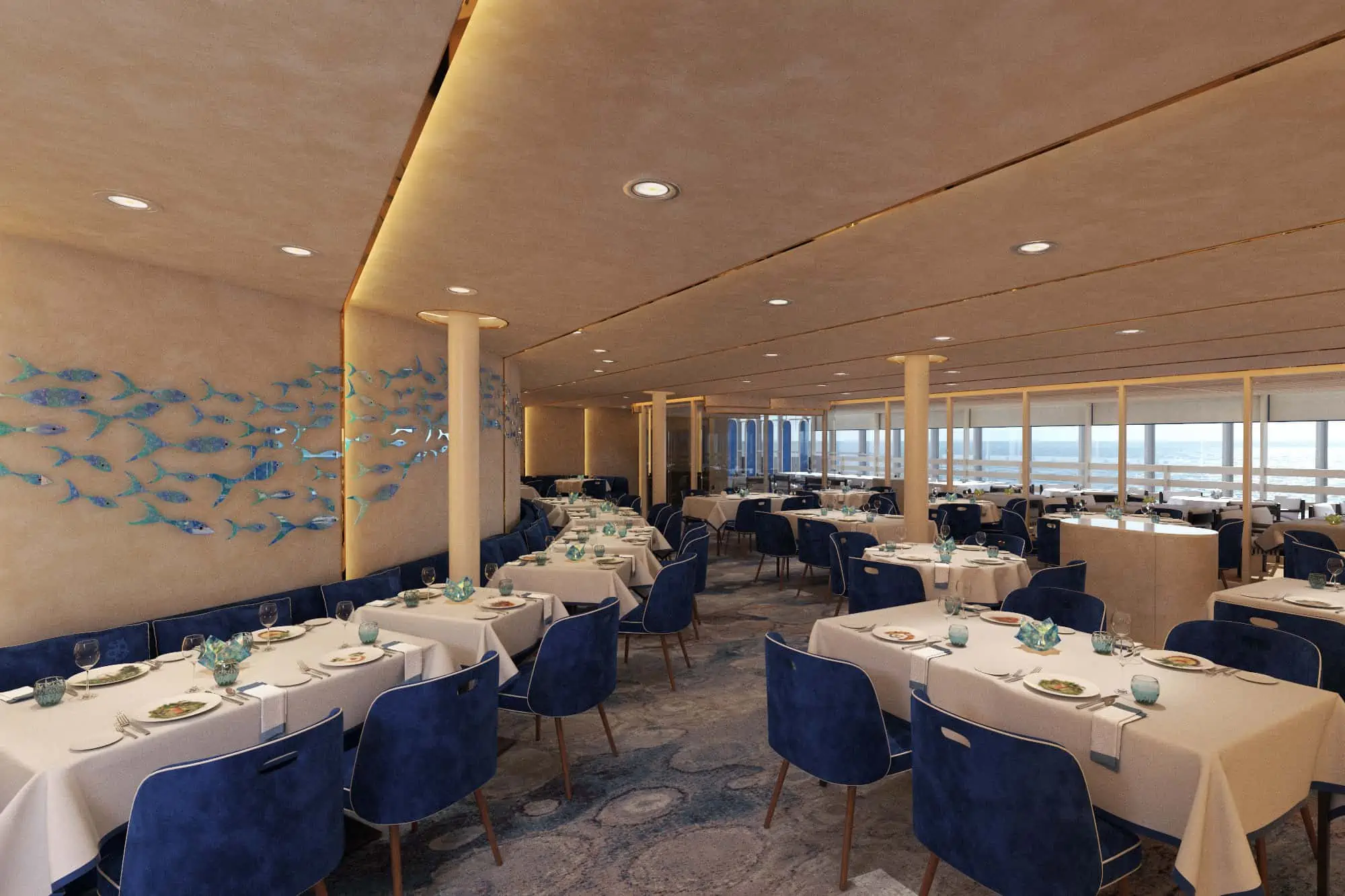 As the name implies, seafood is the star of the show at Rudi's Seagrill. Here's the current menu as of 2021.
Starters
Wild Caught Tuna: red onions, kimchi emulsion, lemon herb crisps
Blue Mussels: sopressata, pepperoncino, toasted garlic
Coquilles Saint-Jacques: scallops, gratinated cheese sauce, parmesan crumbs
Seared Shrimp: smoked paprika butter, poppy seed langoustine wafer
Salt-Roasted Prawns: rosemary, burnt chines & pepper oil
Lobster Mac n' Cheese: four cheese, garlic butter crust
Calamari: marinara sauce
Soup & Salad
Seafood Bisque: lobster, crab, shrimp, cream, and sherry
Cioppino: fisherman's stew, garlic bread
House Tossed Salad: crisp iceberg, cucumber, vine ripened tomatoes, baby red radish, carrots and red onion, sherry vinaigrette
Baby Romaine: roasted cauliflower, honey nut squash, pickle pepper crackers
Entrées
Crab Stuffed Lobster Tail Imperial: roasted carrot, fennel, parmesan, lemon
Roasted Halibut: grilled asparagus, baby tomatoes, butternut cider beurre blanc
9 oz. Broiled Lobster Tail: crab risotto, drawn butter (also available as Surf n' Turf)
Grilled Colossal Shrimp: cooked whole, head-on, butter & garlic, charred lemon
Crab Cake: caramelized red cabbage, tarragon mustard hollandaise
Red Snapper: Florida-sourced, baked red pepper relish
Dover Sole: roasted brussels sprouts, tasting of potatoes
Grill
Free Range Chicken: lemon marinade, fregola pasta, roasted wild mushroom, gruyere fondant
Berkshire Pork Chop: Beluga lentils, candied shallot glaze
14 oz. Prime New York Strip: grilled corn bruleé, cheddar onion rings, port wine jus
Dessert
Apple Cheese Cake: limoncello whipped cream
Chocolate Truffle Cake: layers of fudge cake with chocolate truffle cream and chocolate mousse
White Chocolate Bread Pudding: dark chocolate nibs, bourbon sauce
Key Lime Pie: homemade key lime pie in a vanilla crumb crust tart
Cocktails
Polaris: Domain Chandon 'Sweet Star' Sparkling Wine with St. Germain and Fresh Lemon Juice
Seagrill Sangria: Beso del Sol White Sangria with Mint, Fresh Citrus, and Tropical Fruits
Marseille Spritz: Lillet Rose, Domaine Chandon Brut, Club Soda, and Thyme
Santorini Martini: Bacardi Limon, White Cranberry Juice, Fresh Lime Juice, Blue Curacao
Chilcano de Pisco: Macchu Pisco, Fresh Lime Juice, Orange Bitters, and Ginger Ale
Tropical Smash: Bacardi Superior Rum, Malibu Coconut Rum, Appleton Estate Rum, Pineapple Juice, Orange Juice, Angostura Bitters, and a splash of Sierra Mist
Port of Margarita: 1800 Silver Tequila, Agave, Fresh Lime Juice and topped with Grahams 'Six Grapes' Port
Smooth Seas: Starr Rum, Fresh Watermelon, Watermelon Syrup, Lime Juice topped with Ginger Beer
Honey Sour: Jack Daniels Honey Whiskey, Fresh Lemon Juice, Honey Syrup, and Cherry Bitters
Island Spices: Chila 'Orchata, Bacardi Spiced Rum, Chocolate Liqueur, topped with Whipped Cream and Nutmeg
READ NEXT: DINNER MENU: Chibang Chinese & Mexican Restaurant on Mardi Gras
Pin it!