One of MSC Cruises' ships caught fire on Friday off the coast of Corfu, Greece.
MSC Lirica can be seen in the nearly hour-long video — which you can watch in its entirety below — with smoke pouring out of the starboard side toward the middle of the vessel, on what appears to be the outdoor promenade deck where the lifeboats are kept. Flames were also visible.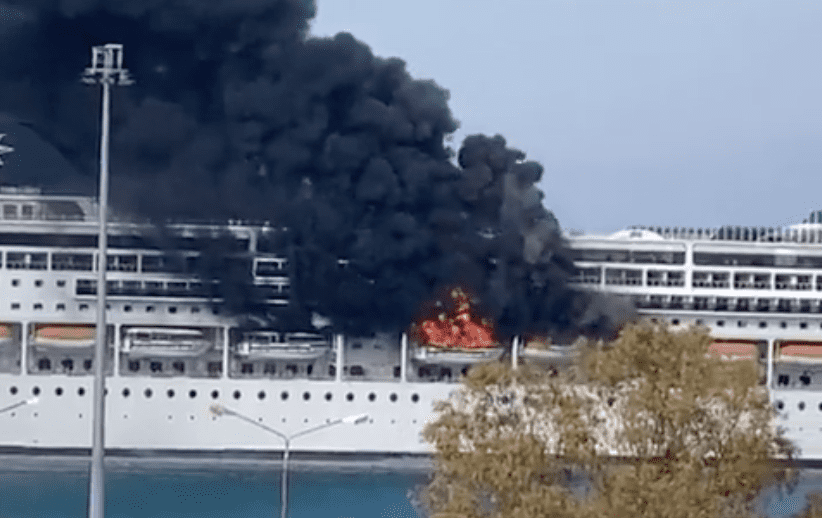 [UPDATE] MSC Cruises put out the following statement on March 12 at 12:35 pm EST:
"Today at 3:42 p.m. local time in Corfu where she is currently in warm layup, MSC Lirica reported a fire incident into the MSC Maritime Support Centre in London, UK. The fire originated from one of the ship's starboard-side fiberglass lifeboats on deck 6.
The fire has since been brought under control thanks to the intervention of the ship's two fire brigades and the support of the local emergency services. The incident operation was declared completed by 6:58 p.m. local time. There were no injuries among the 51 crew who were on board the ship at the time of the incident.
From a preliminary assessment, there was no damage to the inside of the ship but only to her side due to the flames and the dense black smoke caused by the fiberglass lifeboats. A full investigation is now in progress."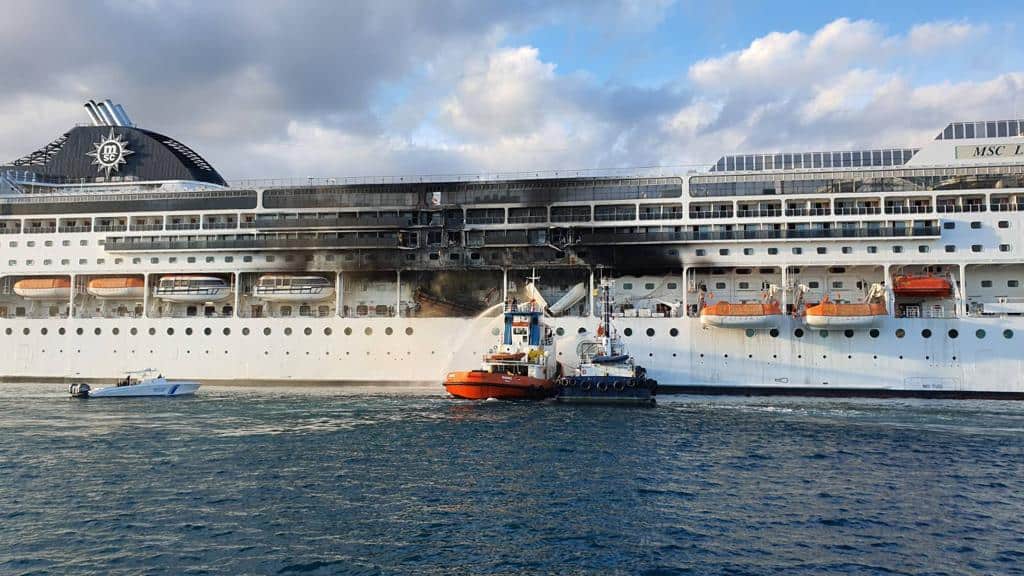 MSC Lirica was launched in 2003, and was MSC Cruises' very first new build ship. It can hold 1,984 passengers at double occupancy and approximately 700 crew members. In 2015, the ship underwent an extensive dry dock during which it was cut in half and lengthened to add cabins and enlarge public areas.
The vessel was set to launch Mediterranean cruises from Ancona and Venice, Italy in May.
After being shut down along with the rest of the cruise industry last March, MSC Cruises officially resumed sailings in the Mediterranean in August 2020. Right now, MSC Grandiosa is operating seven-nights cruises in Italy and Malta. In May, MSC Seaside will join Grandiosa in the Mediterranean to sail itineraries in the same region.
In the United States, MSC Cruises currently plans to resume cruising in May 2021. The line has three ships based in Florida: MSC Meraviglia and Armonia in Miami, and MSC Divina in Port Canaveral.
WATCH:
READ MORE: MSC Reveals New Details on Upcoming US-based Cruise Ship
Update on March 15 at 11:15 am with an updated photo of the damage.
Update on March 12 at 2:20 pm with an updated statement from MSC concerning the incident.