With just six months until MSC Cruises' new ship MSC Seashore enters service, and nine months until her arrival in the United States, the line has just revealed new details on the upcoming vessel.
Building on the pioneering design of the Seaside class of ships, MSC Seashore will be the first Seaside EVO ship — enhanced with a variety of new features and spaces for guests.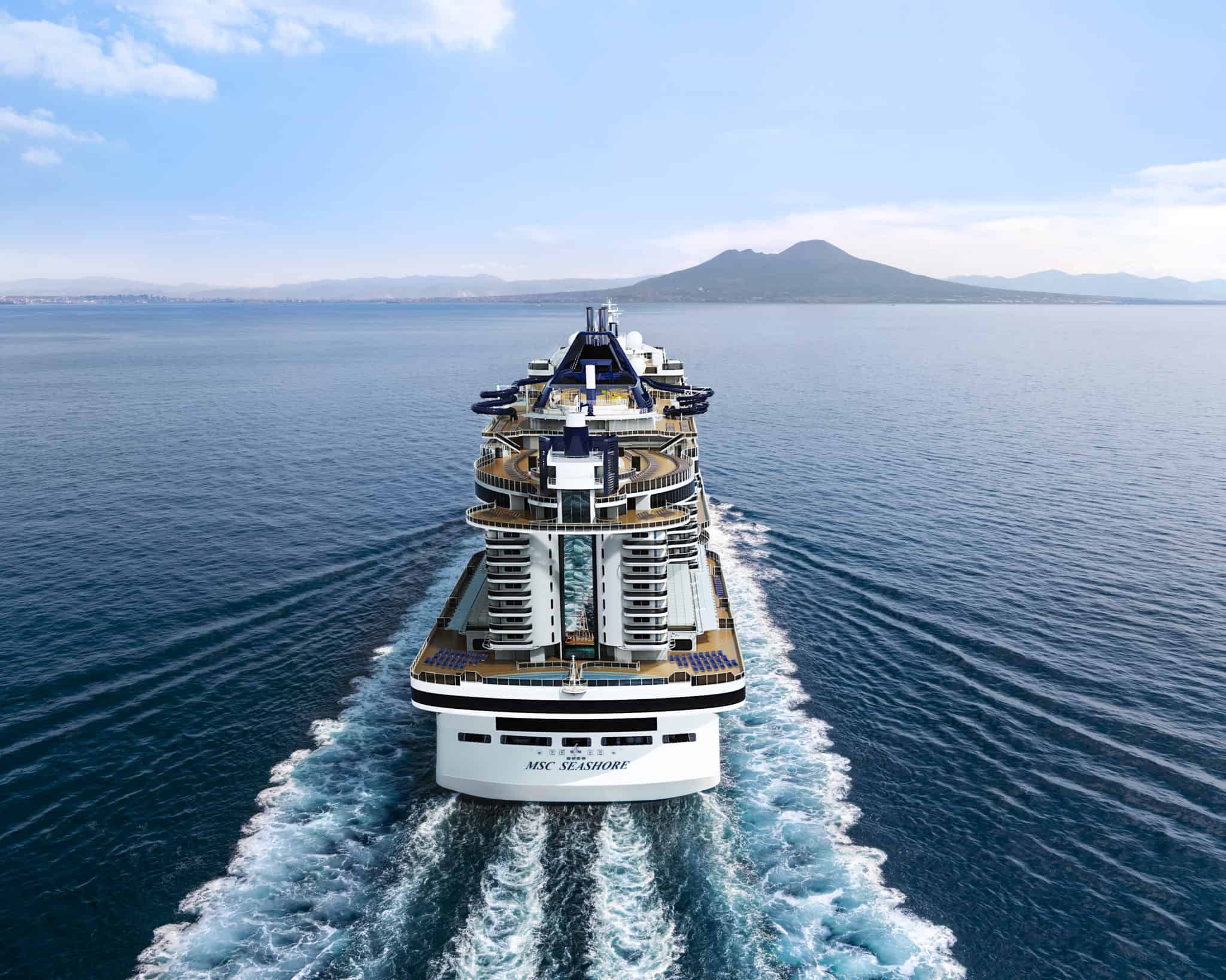 "With each new ship we build, MSC Cruises continues to innovate and push design boundaries. MSC Seashore represents an evolution of the Seaside class as an extended and further enriched ship," said Executive Chairman of MSC Cruises Pierfrancesco Vago. "65 percent of the public areas have been reimagined to create something truly unique for our guests."
He continued, "MSC Seashore will be the first cruise ship in the world to feature a new air sanitation system developed by Fincantieri. 'Safe Air' uses UV-C lamp technology eliminating 99 percent of viruses and bacteria to guarantee clean and safe air for guests and crew… MSC Seashore will also be equipped with the latest-generation environmental technology with improvements to energy efficiency, the latest systems to reduce air emissions, as well as an advanced waste water treatment system with purification standards that are higher than most wastewater treatment facilities ashore."
MSC Seashore Highlights
Some key highlights of MSC's newest flagship will include:
139,930 square feet of outdoor space, with a wide choice of outdoor bars and dining, pools, and deck area for relaxing
Six swimming pools with enlarged poolside areas, including a new Infinity Pool and two new Infinity Whirlpools
An approximately 1,772 foot long waterfront promenade close to the water, ideal for al fresco dining or taking a stroll to enjoy the fresh air
The largest and most luxurious MSC Yacht Club, spanning around 32,292 square feet over four decks
11 different types of staterooms and suites with balconies, including aft suites, 50 terraced suites with extended balconies, and 32 suites with private outdoor whirlpools
"This new ship is the first of its kind — an enhanced and enlarged version of the extremely popular MSC Seaside — and we couldn't be more excited to introduce our U.S. guests to this new cruising experience," said Rubén Rodriguez, president of MSC Cruises USA. "Featuring generous outdoor spaces, new and redesigned venues and our largest MSC Yacht Club to date, MSC Seashore is already driving significant demand."
New Design Features
At close to 1,112 feet, MSC Seashore will become the longest ship in the MSC fleet, and be the largest ship ever built in Italy by Fincantieri. Stand-out design features include the glass-floored Bridge of Sighs on deck 16 (which is 72 feet above the Infinity Pool on deck 8), as well as panoramic aft elevators and glass-floored catwalks on both sides of the ship on the waterfront promenade.
Pools
The aft pool has been redesigned to create an Infinity Pool, which now extends right up to the end of the ship with a glass wall offering uninterrupted views of the ocean. It will be one of the largest infinity pools at sea, offering different depths as well as sunbeds sunken into the water.
The vessel will also introduce two infinity whirlpools, one on each side of the outdoor promenade on deck 8. They will include 20 sea-facing seats so guests can relax while enjoying beautiful sea views.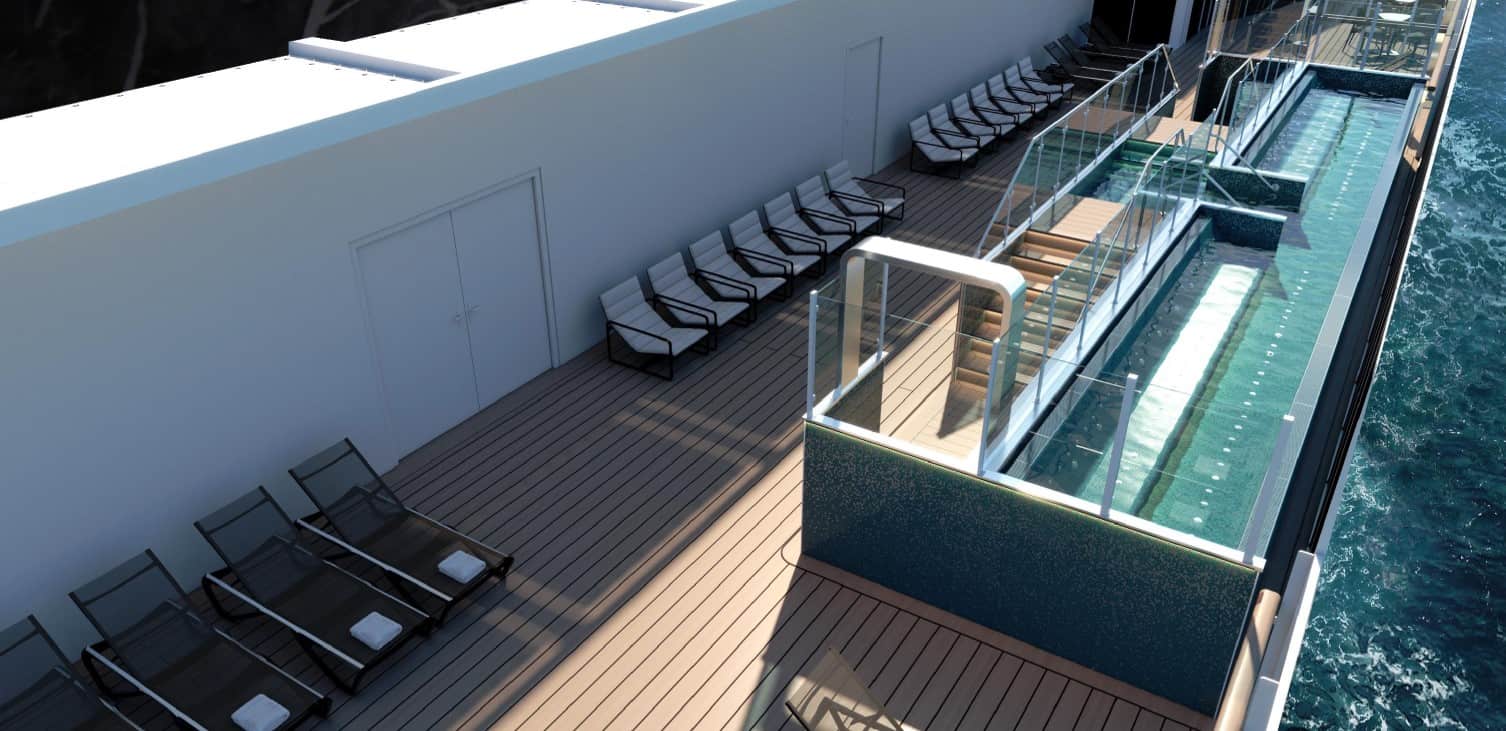 Deck 18 is where you'll find the ship's main pool, called Long Island Pool — offering two different depths so guests can choose to swim or simply stand and hang out in the water. The area will also include a 360-degree water fountain island in the center, as well as a new lounge space within the pool.
The Long Island pool is now connected with the aqua park with a Pirate Cove theme to create an extensive water area. The kids' clubs are also located on deck 18, which will make it a go-to deck for families.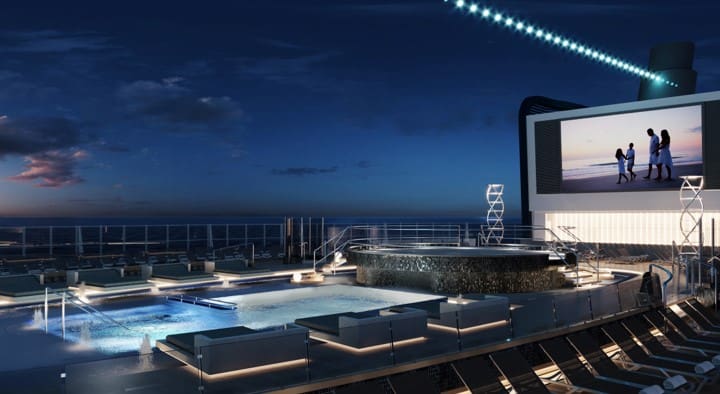 Though the ship is designed for warmer weather, the Jungle Pool will feature a larger magrodome that can be closed to create an indoor pool area when there's inclement weather. The area has been enlarged, and now includes an additional deck over and around the space, providing new areas for lounging.
It's a conveniently short walk to the newly located buffet on deck 16, perfect for families to grab a quick lunch without having to miss out on much time by the pool.
READ MORE: Move Over Royal Caribbean, MSC Debuts Robotic Bartender
Al Fresco Dining and Drinking
MSC Seashore will introduce a new location for the Chef's Court on deck 8, which houses five specialty restaurants. The new positioning will allow for the restaurants to have an improved sea view, and the Butcher's Cut steakhouse will have outdoor seating for the first time.
The ship's expansive buffet will now include a new outdoor aft dining area as well as bar — the Sky Bar — which will enable passengers to enjoy their food outdoors or relax and unwind at the top of the ship in the evening.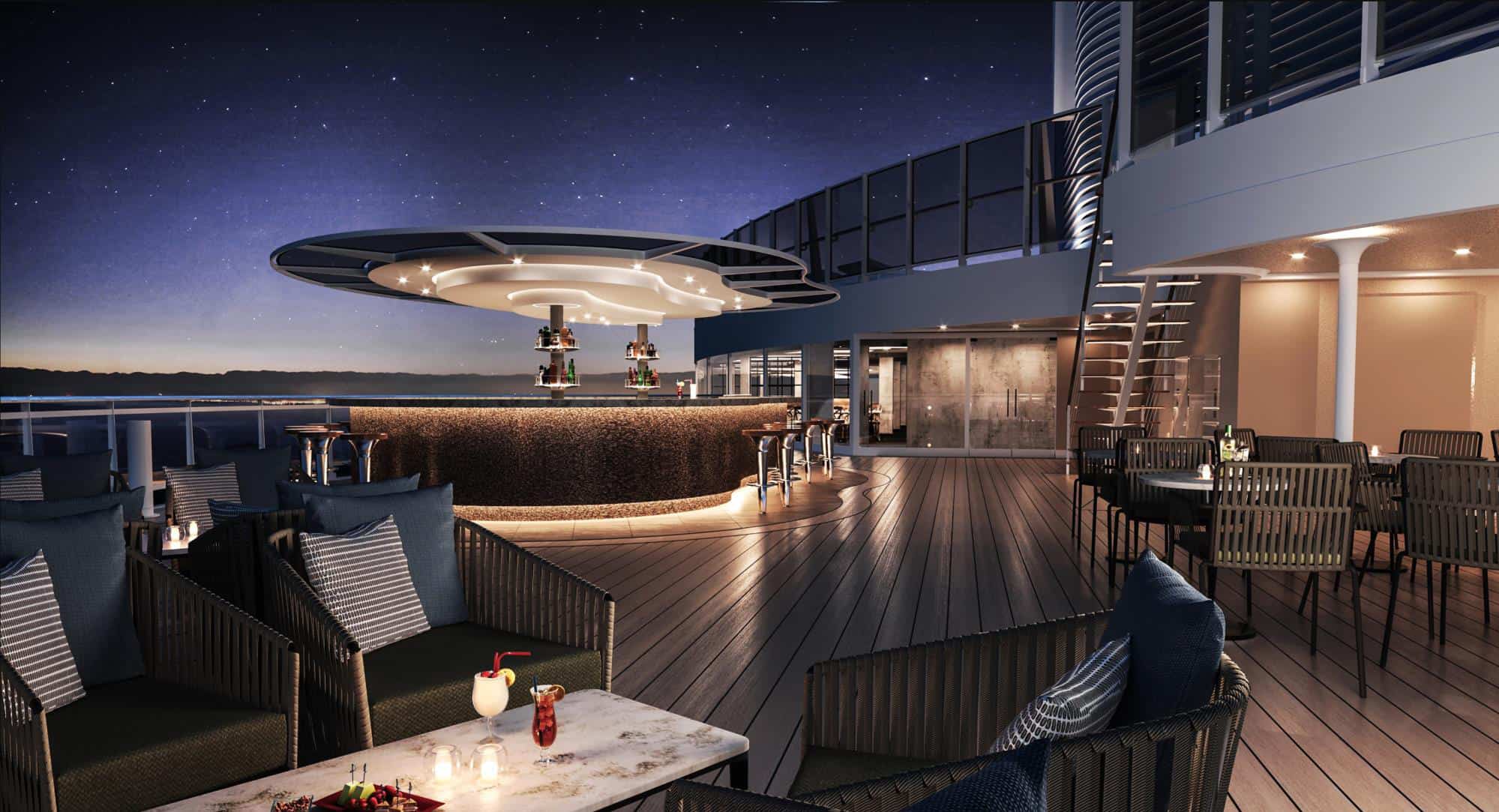 Also new on MSC Seashore, Aurea guests will be able to enjoy the exclusive Top 19 Solarium with its chic outdoor lounge area and bar.
The Largest MSC Yacht Club Yet
Spanning four of the coveted foredecks of the ship, the MSC Yacht Club on MSC Seashore will be the largest and most luxurious in the MSC Cruises fleet, with over 32,000 square feet of space.
Travelers looking for an all-inclusive cruise experience with private amenities and 24 hour butler service — while still enjoying the recreation and entertainment that the rest of the ship offers — can choose to sail in this exclusive "ship-within-a-ship" area.
On Seashore, the entrance concierge area for the MSC Yacht Club is even more impressive and glamorous, with a three-deck tall back-lit Onyx wall and MSC's signature Swarovski staircases.
Passengers can relax in the elegant Top Sail Lounge and dine in the Yacht Club's private gourmet restaurant, complete with beautiful sea views and an outdoor area connected to the lounge.
An enhanced pool area and sundeck will offer 21,528 square feet of space, featuring a larger private pool and panoramic whirlpool with eight seats and individual jets.
Deluxe MSC Yacht Club accommodations have also been increased, now featuring 131 suites across five categories.
Mediterranean and Caribbean Itineraries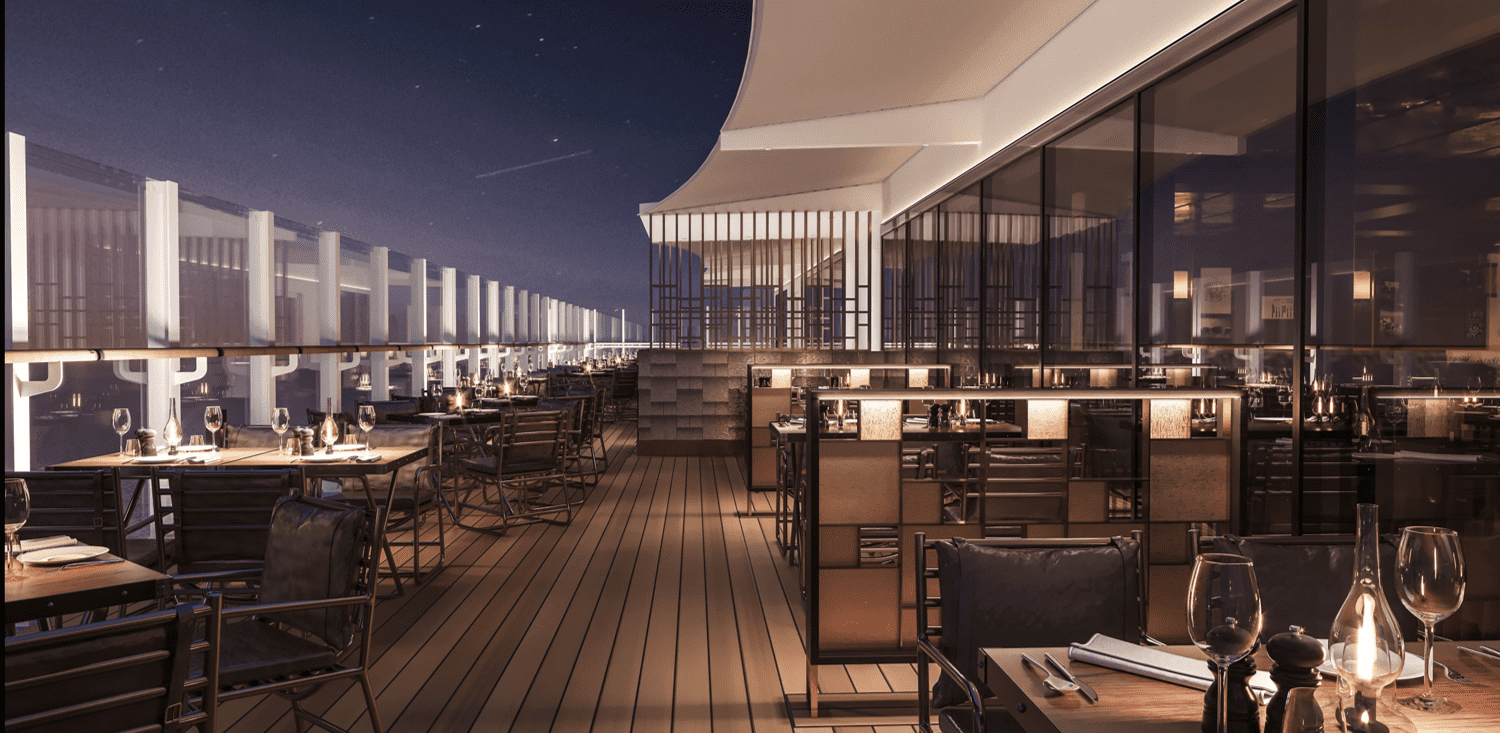 After entering service in August 2021, MSC Seashore will spend her inaugural season in the Mediterranean, calling in Genoa, Naples, Messina, Valetta, Barcelona, and Marseille.
After that, the ship will head to the U.S., where she will homeport in Miami and offer seven-night eastern Caribbean, western Caribbean, and Bahamas itineraries — including stops at MSC's private island, Ocean Cay.
READ MORE: 15 Tips for Visiting Ocean Cay MSC Marine Reserve