Recently I had a chance to sail Holland America Line's Nieuw Statendam through the Eastern Caribbean. This sailing was a seven-night, round-trip cruise from Port Everglades to Nassau, Bahamas; St. Thomas, San Juan, and their private island, Half Moon Cay.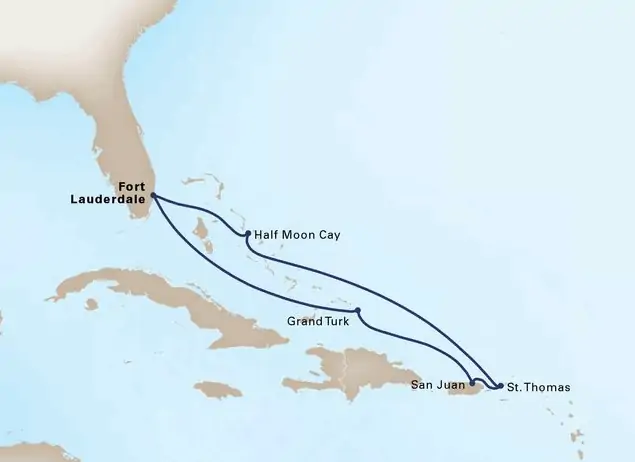 I was excited to board this ship because it had been over a year since I last sailed with Holland America, and almost three years since I sailed on their last new launch, ms Koningsdam. From everything I'd heard, it sounded as if Holland America was taking Nieuw Statendam in a different direction in terms of entertainment and onboard programming.
It's always exciting when this happens because figuring out exactly what's right for a particular cruise line's clientele can be a tricky thing. Given that Holland America has traditionally been thought of as a line which skews slightly older, and perhaps more conservative when it comes to their entertainment, I was interested to see exactly what the ship had to offer.
First Impressions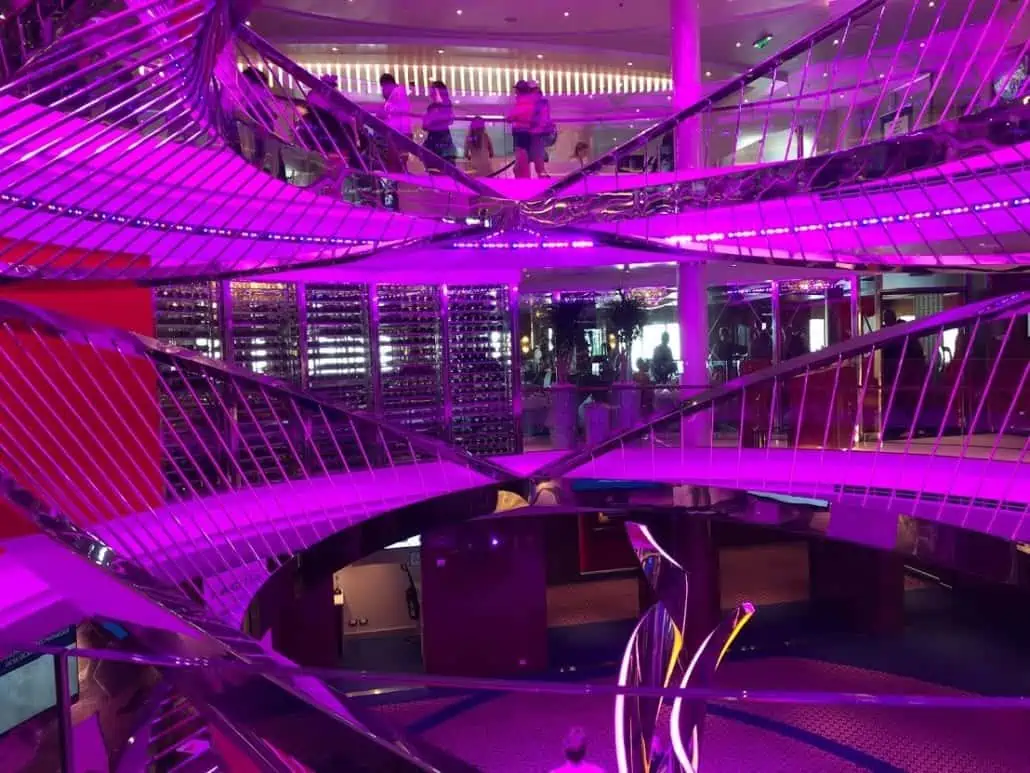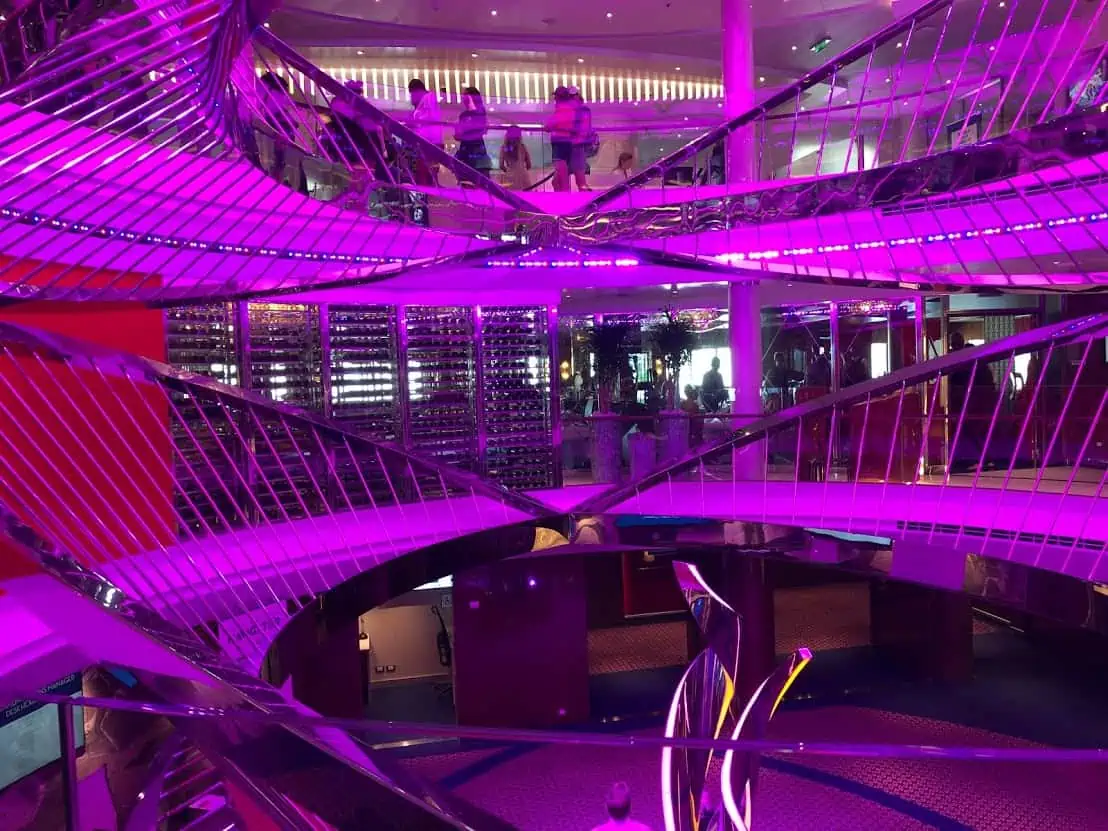 The ship has a very calming vibe to it. Even the most vibrant colors are somehow soothing and muted. It manages to feel modern and timeless at the same time. The public spaces have an open feel to them… so much so that it sometimes feels as if there's no barrier between crew members and guests, which makes them feel more accessible. For instance, the guest relations staff stood behind podiums as opposed to a large counter.
Read More: 30 Facts About Holland America's Nieuw Statendam
It may not sound like much of a difference, but it somehow completely changes the feel of your interactions with the crew — in a positive way.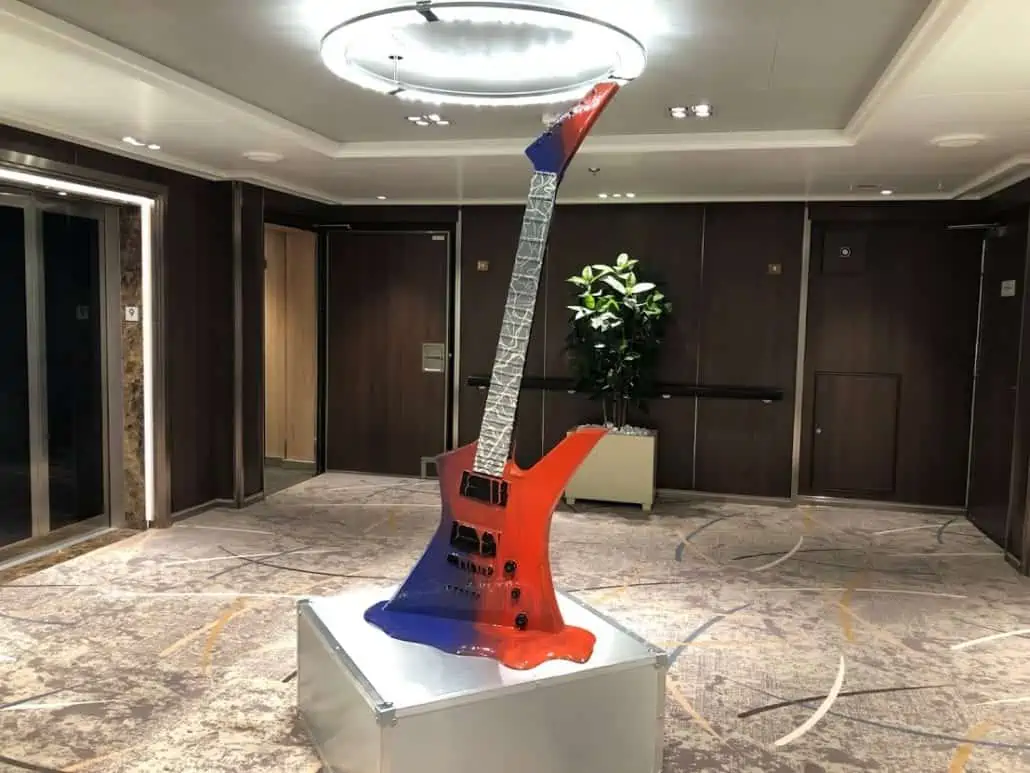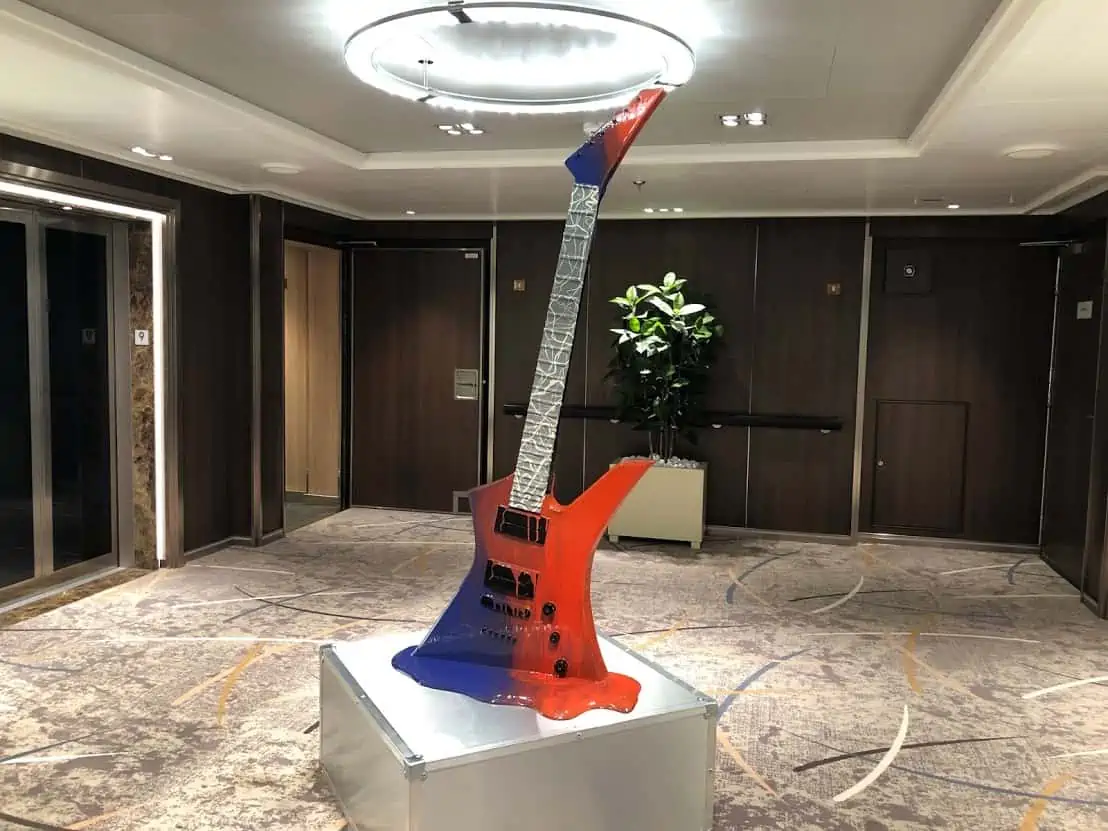 It was clear that Nieuw Statendam was designed for music lovers. The atrium of the ship feature a massive steel structure which gives the impression of being a deconstructed harp,  the elevator lobby of one deck holds an electric guitar which appears to be melting into the stand on which it's perched, and in a stairwell a whimsical portrait of David Bowie seems to be keeping a watchful eye on guests.
Stateroom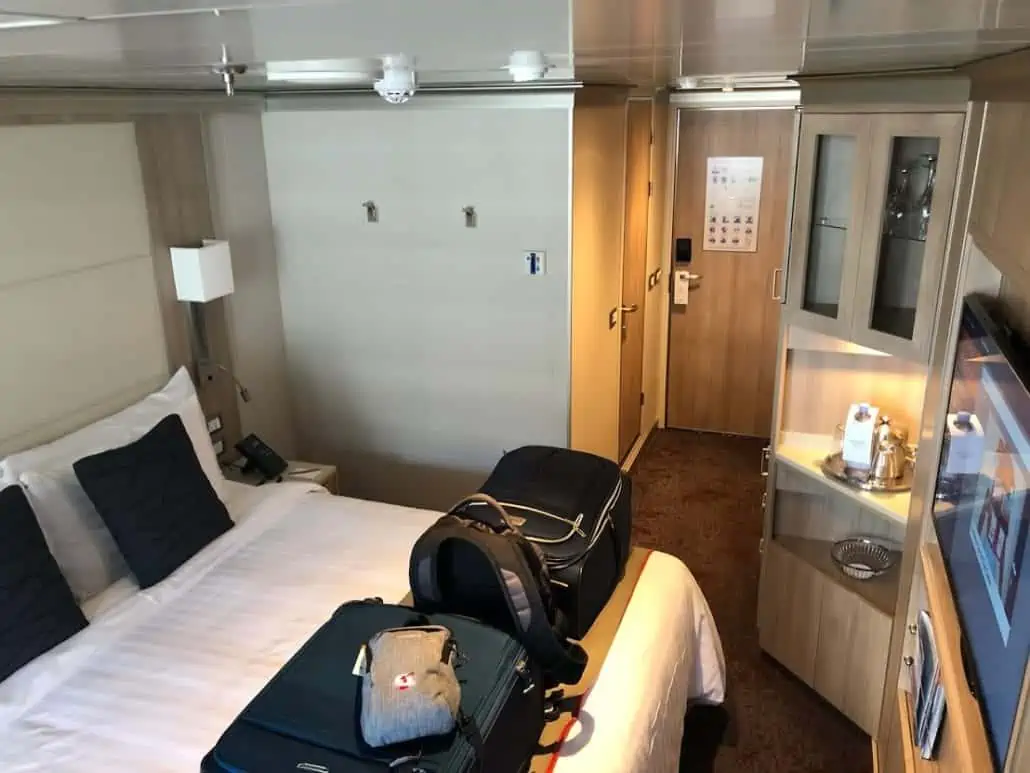 After doing a bit of exploring, we went to check out our cabin, which was a veranda stateroom on deck four (Beethoven Deck) toward the aft of the ship. Two things really struck me immediately upon entering the space. The first was the size of the balcony. Turns out, those at the very aft and forward sections of the ship are larger than those found midship. (And that's not even including the large aft-facing balconies perched on the very back of the ship.)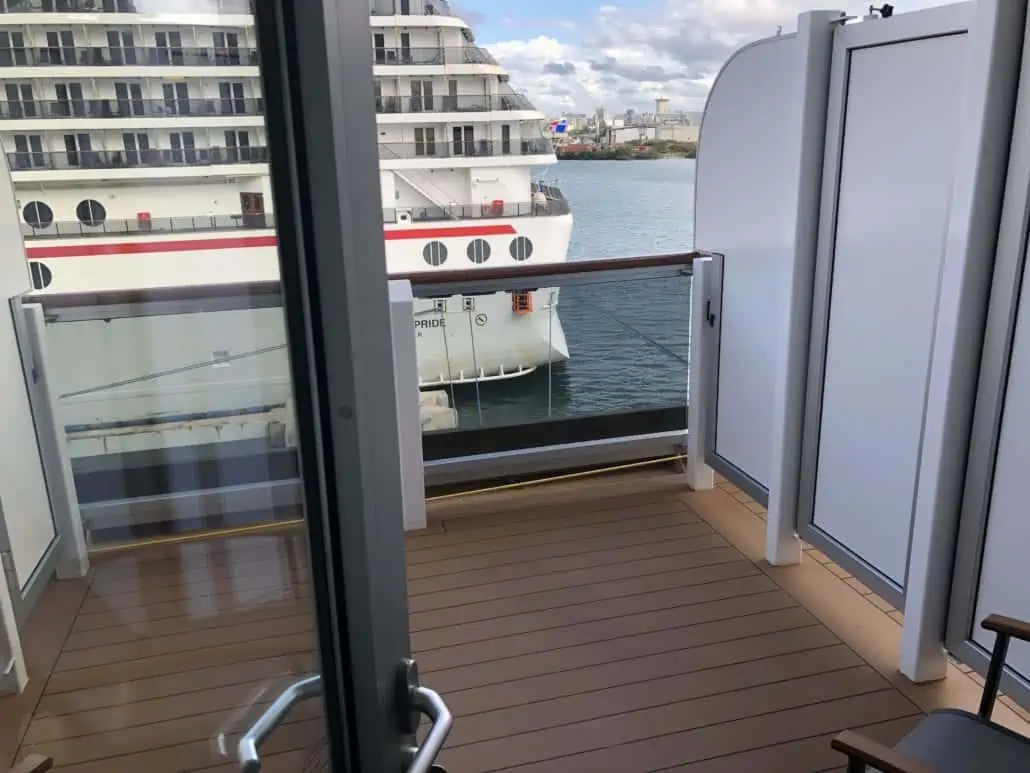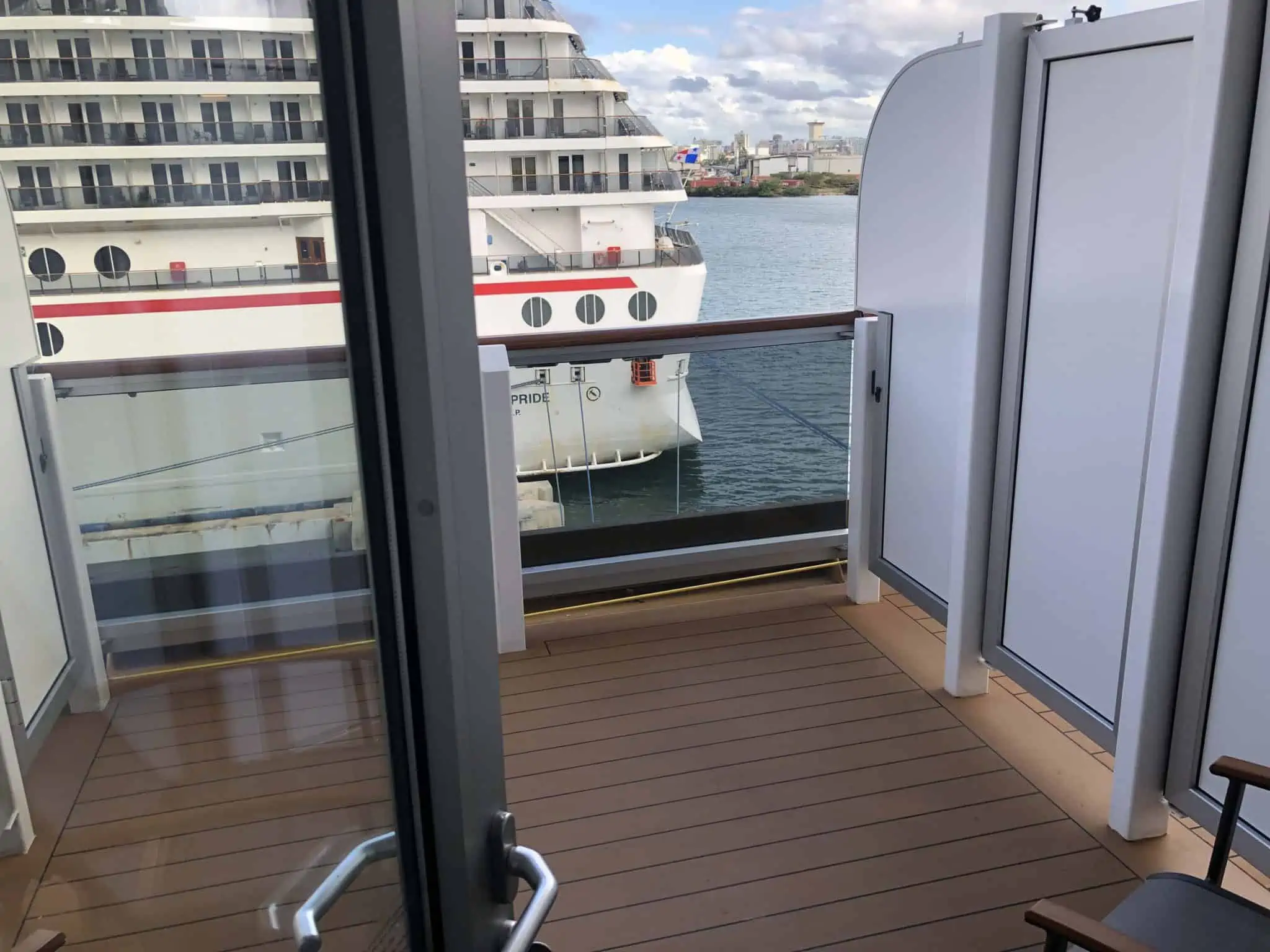 The second thing I noticed was the amount of storage. Some modern ships tend to skimp a bit in this area, but that wasn't the case here. The two closets in the room offered plenty of space to hang things, as well as drawers and shelves. At the foot of each bed was another drawer for extra storage.
Meanwhile, Holland America is really paying attention to the tech-savvy cruiser with this ship because there were four USB ports/electrical plugs (two on the desk and one at each side of the bed), as well as an interactive television with account access and free movies on-demand.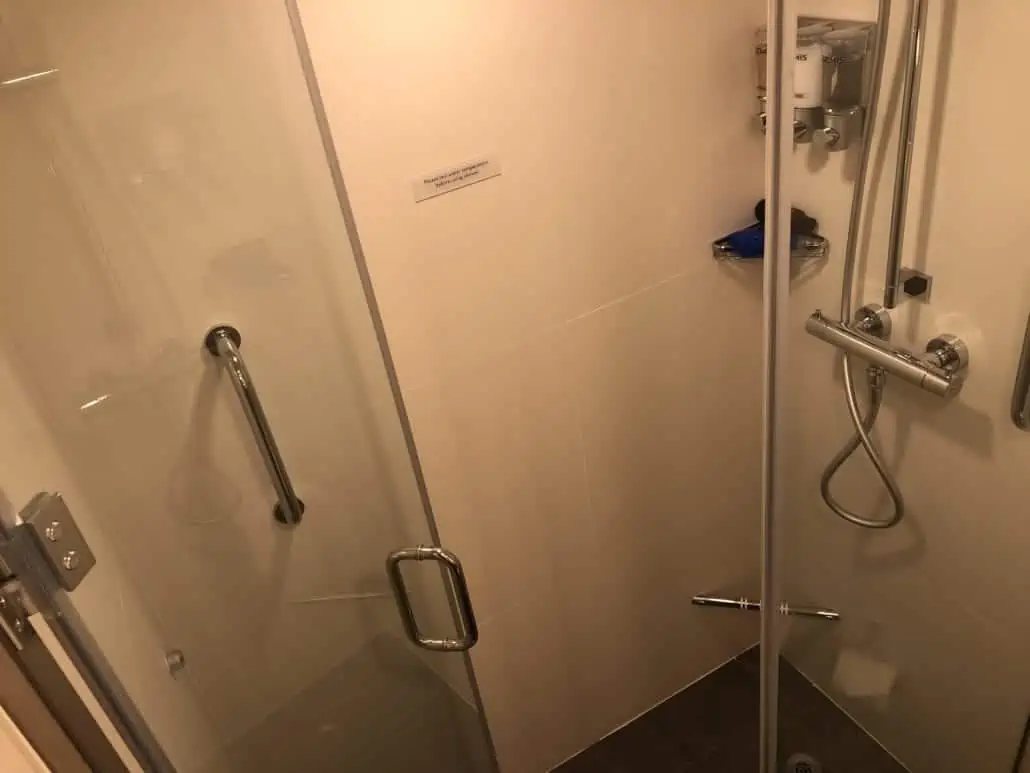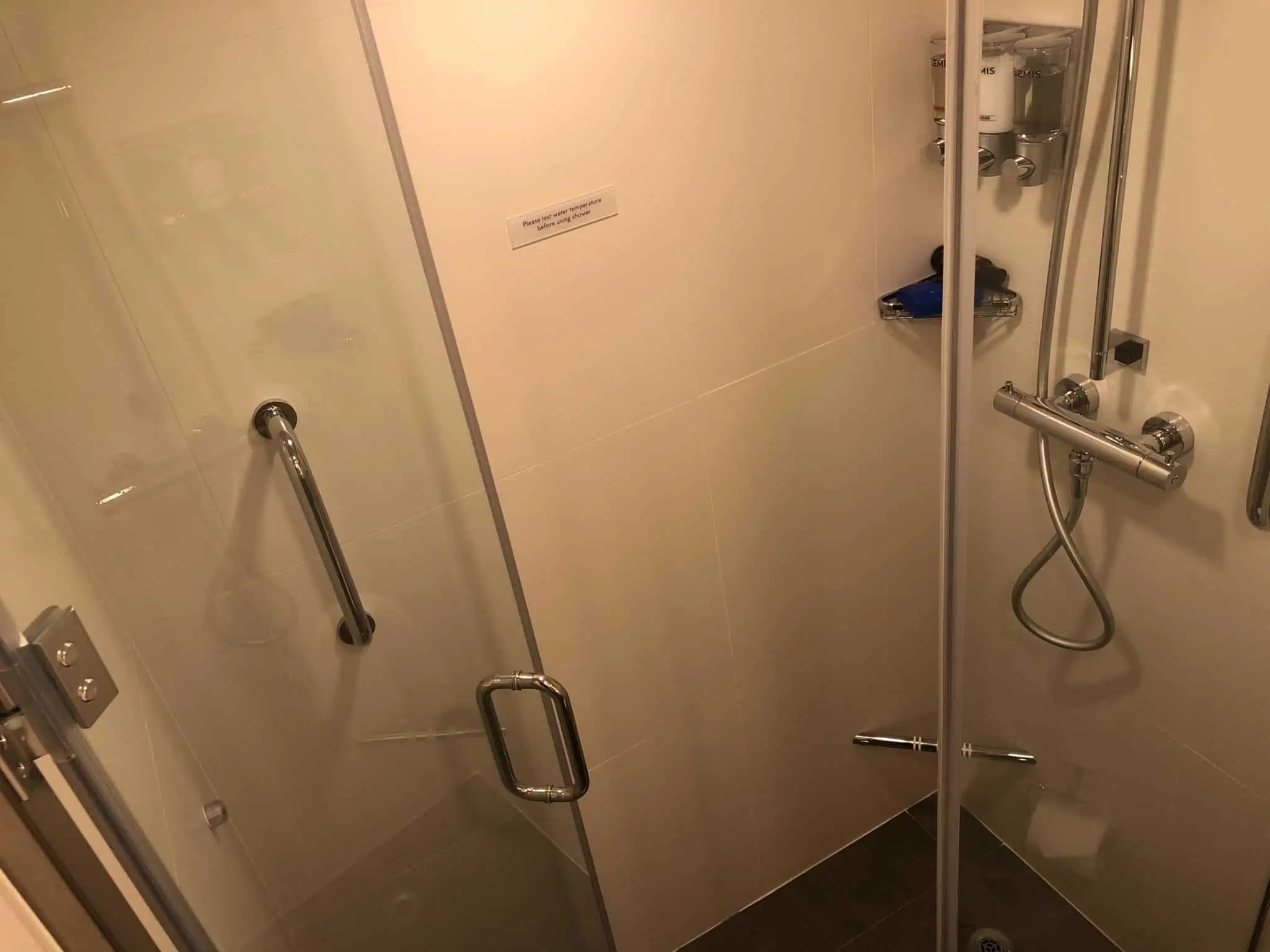 The bathrooms were also amazing. The showers got steaming hot with great water pressure and, best of all, it was glass-enclosed. No pesky, clingy shower curtain here.
Food and Dining on Nieuw Statendam
During my days on board, I tried to squeeze in as many meals in as many restaurants as I could. To make it easier to navigate, I'll break things down by venue.
Main Dining Room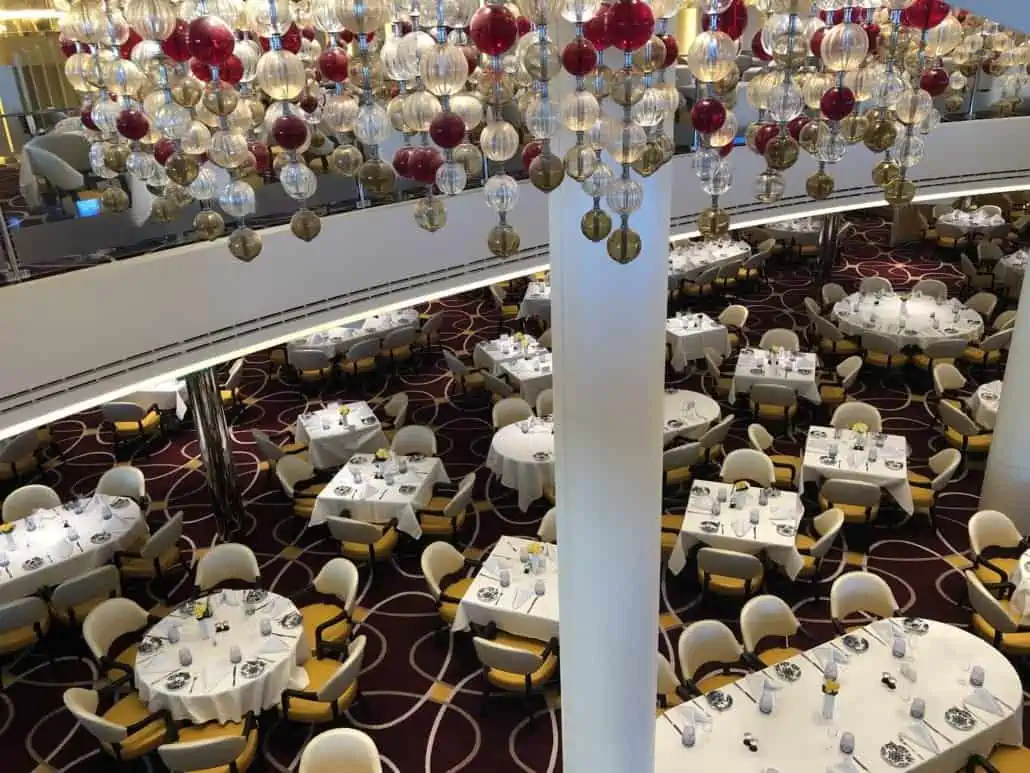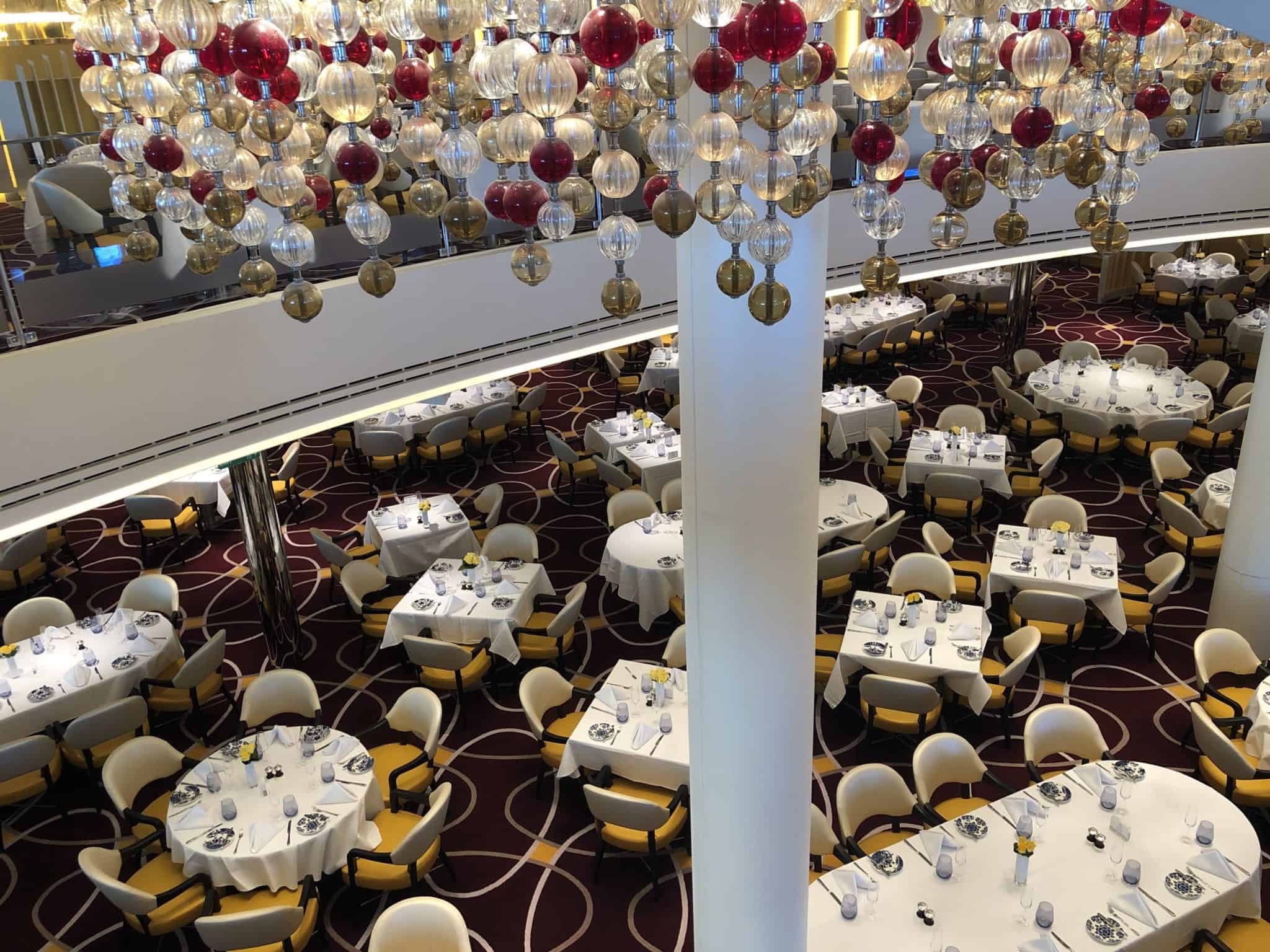 From the simple but classy decor to the scrumptious dishes (including a nightly selection from their culinary council chefs) I can not say enough good things about the main dining room. Breakfast, lunch, and dinner were all served here. Even with the staff handling two set dining times (at 5:45 p.m and 8:00 . p.m.) as well as the always popular As You Wish Dining (read: anytime dining), things still couldn't have gone smoother.
Lido Marketplace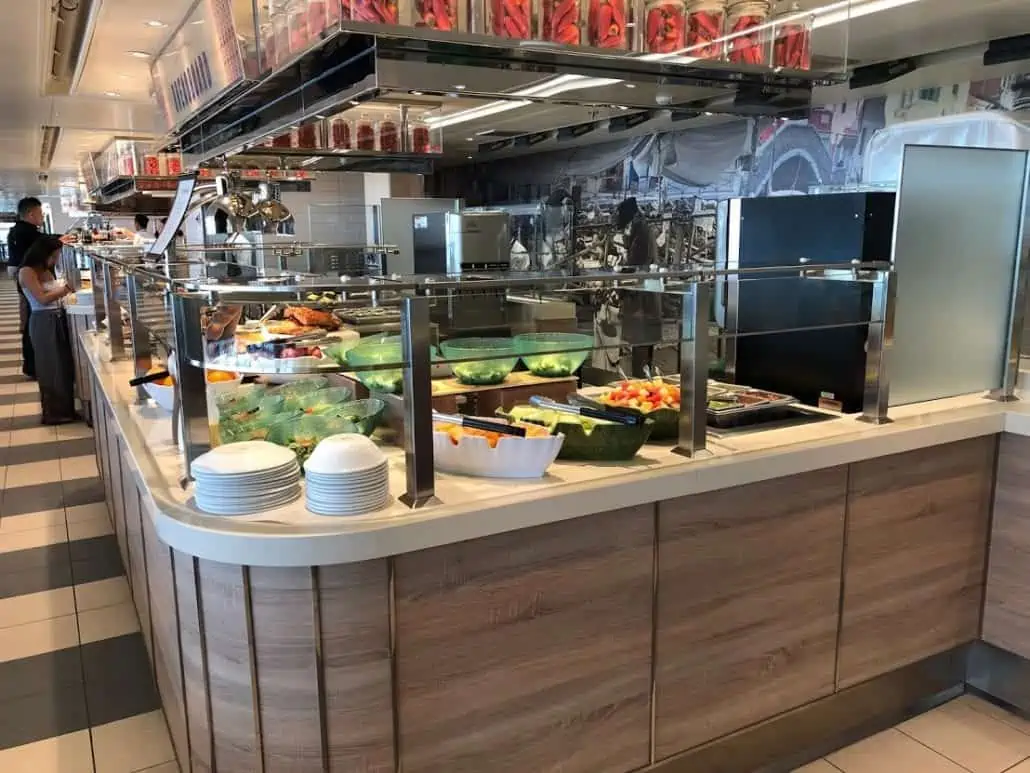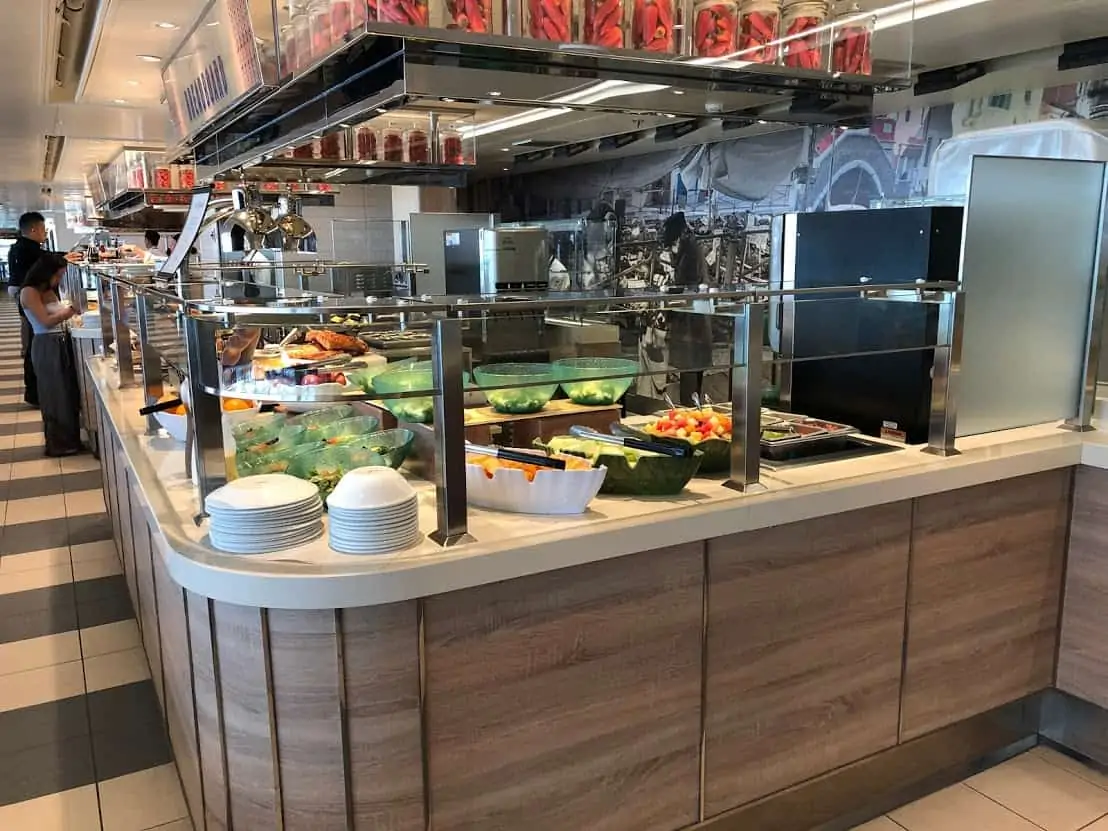 The buffet area consists of a handful of food stations (pasta, salad, sandwiches, meat carving, and desserts), with mirrored offerings on the port and starboard side. Because of this duplication, the space never seemed crowded (at least once people realized that both sides are the same). The salad station — where you could pick selections and have them hand-tossed — was incredibly popular thanks to its colorful variety of offerings.
Dive In on the Terrace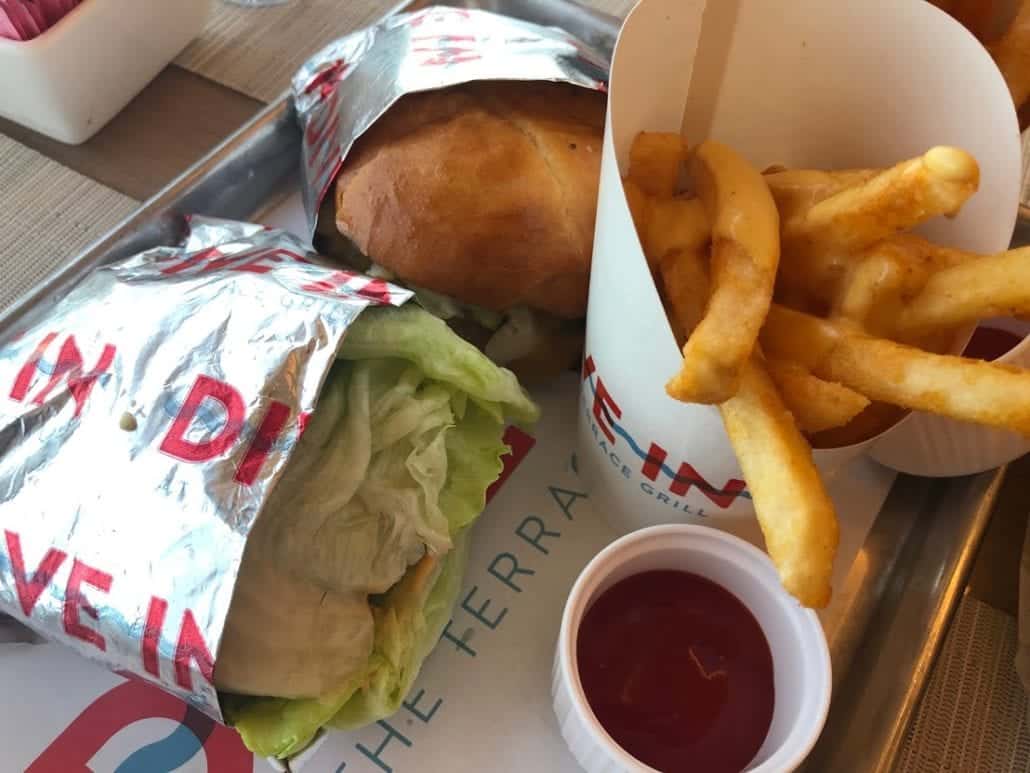 This is the burger joint on the ship and it definitely gets the job done. Sure, it's not Guy's Burger Joint (which has become sort of my Gold Standard of onboard fast food), but there's a good selection of offerings (including hot dogs and cheese fries). It's next to the pool and it's complimentary, so you can't really go wrong when it comes time to grab a quick bite.
NY Pizza and Deli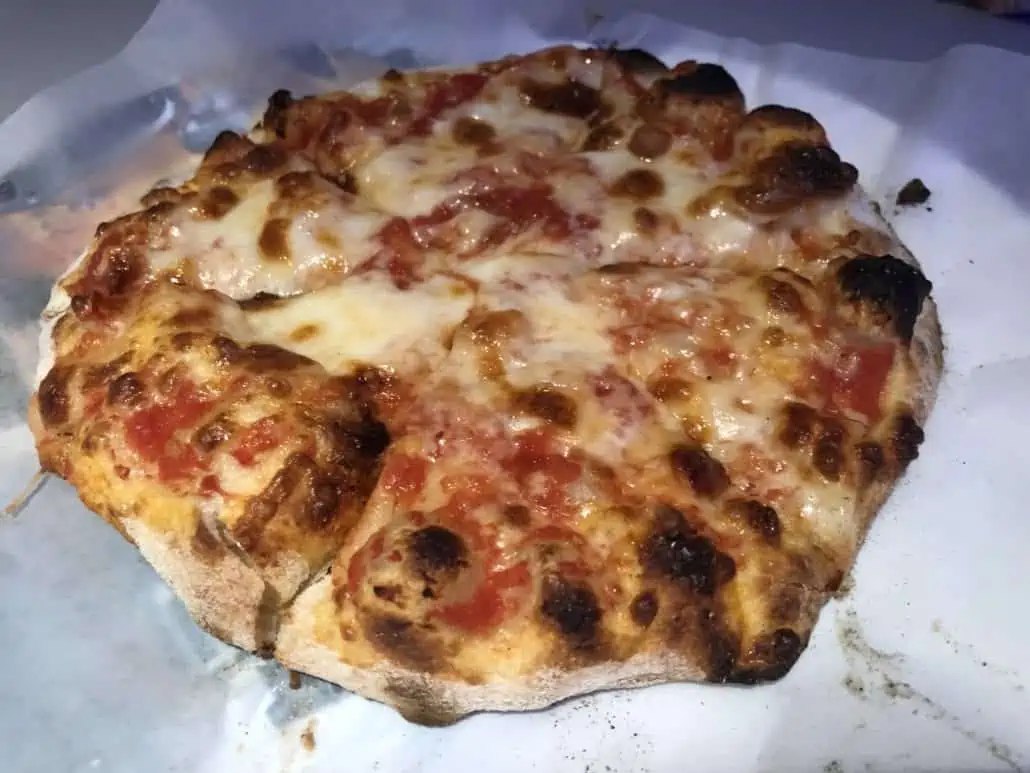 This is not grab-and-go pizza, but rather made-to-order. It's delicious, freshly made, and free — so it can get busy. It's also a great option if you want to have something to snack on during the movies shown by the pool. We grabbed a pizza before the screening of Bohemian Rhapsody, and it made for a really fun evening under the stars.
Pinnacle Grill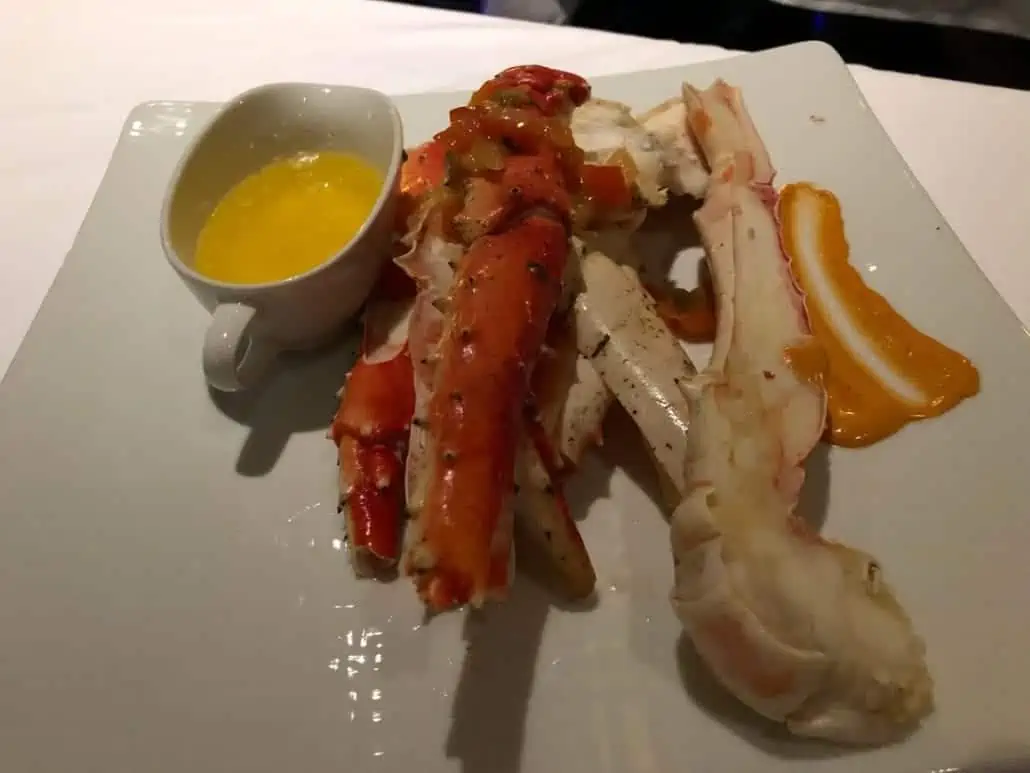 Holland America's steakhouse is exactly what you expect (and want) when you hit a steakhouse. A selection of high-end meats, great sides, and a nice selection of cocktails and wine. If there's one thing this isn't, it's a quick meal. You're going to want to set aside a couple hours to fully enjoy this experience, but it's worth it.
Read More: Review of Pinnacle Grill
Every item is made to order and comes out as hot as it is fresh. I went with the Alaska King Crab while my travel companion went with the more traditional filet. Oh, and bacon lovers? Do not miss the amazing sugar cured bacon appetizer. Trust me, if you don't order it and see it being delivered to someone at the next table, you'll kick yourself… especially when you overhear them raving about it. The steakhouse runs pretty standard-for-the-industry, $35 per person, and is worth every penny.
Tamarind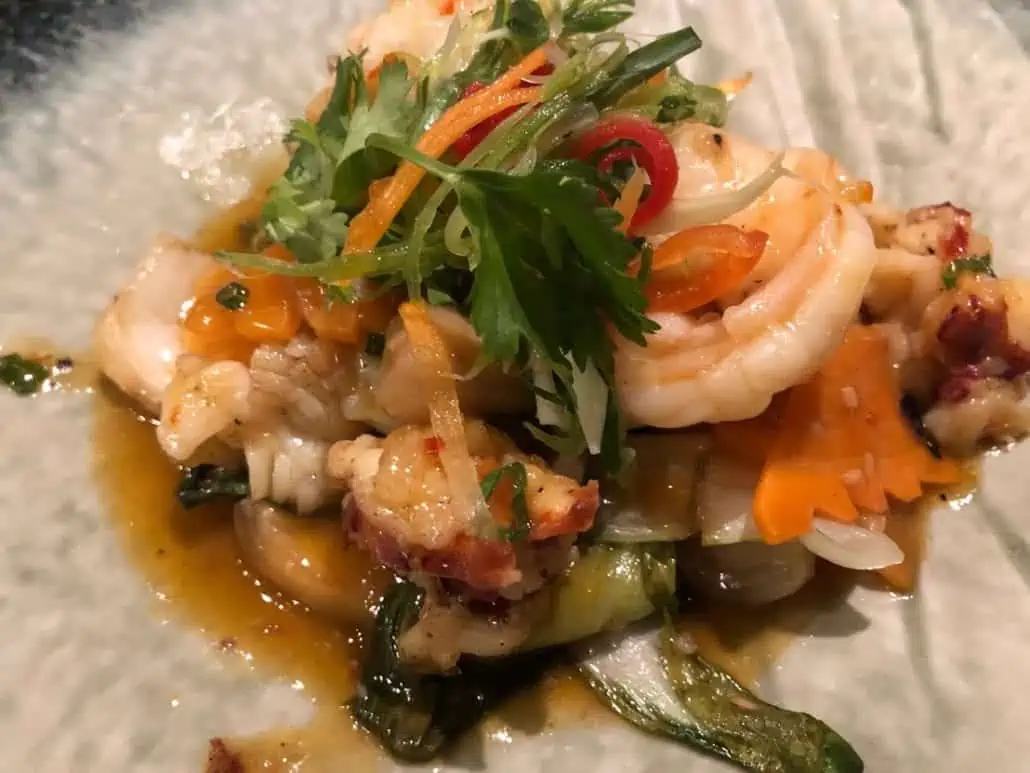 This is the Asian fusion restaurant onboard where you'll find Southeast Asia dishes like curry chicken and seared shrimp and lobster. The flavors are fresh and practically explode in your mouth, making this the kind of restaurant you regret not having time to go back to during your trip. There's also a sushi bar created by master sushi chef Andy Matsuda, who is a part of the cruise line's culinary council. This main venue has a set charge of $25 per guest and the sushi bar is a la carte.
Canaletto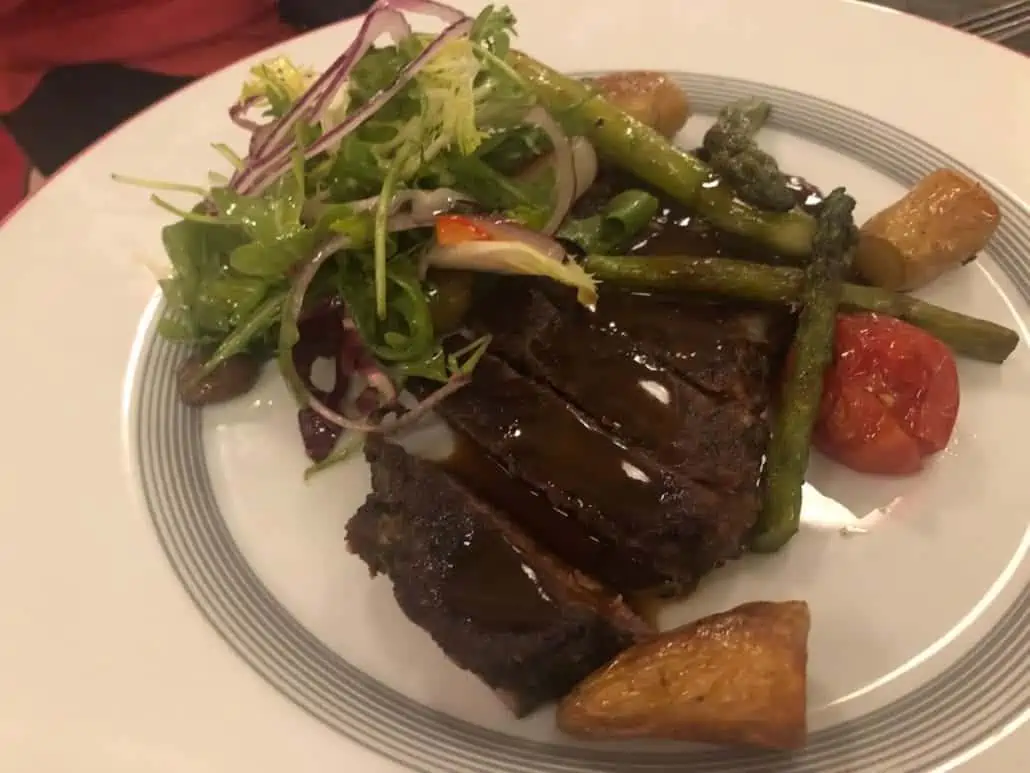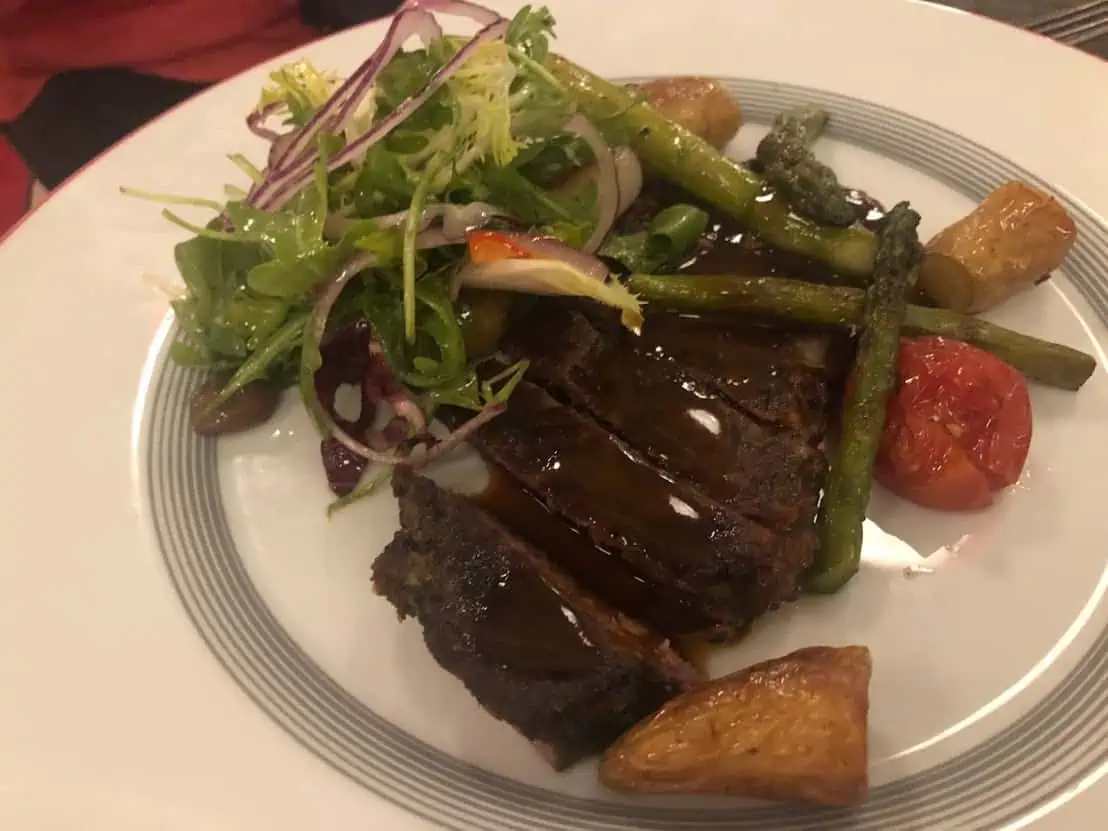 This is a semi-enclosed Italian venue located within the Lido Marketplace. During breakfast and lunch hours, anyone can eat in here because of its location. But at dinner, the venue is only open to guests with reservations. I'd like to say you'll find classic Italian dishes in here, but it's more chicken cacciatore al forno, branzino ai ferri, and garlic shrimp ravioli than it is spaghetti and meatballs. Chicken parmesan is only available one night, so if your heart is set on the parm, check the menu before you book.
Grand Dutch Cafe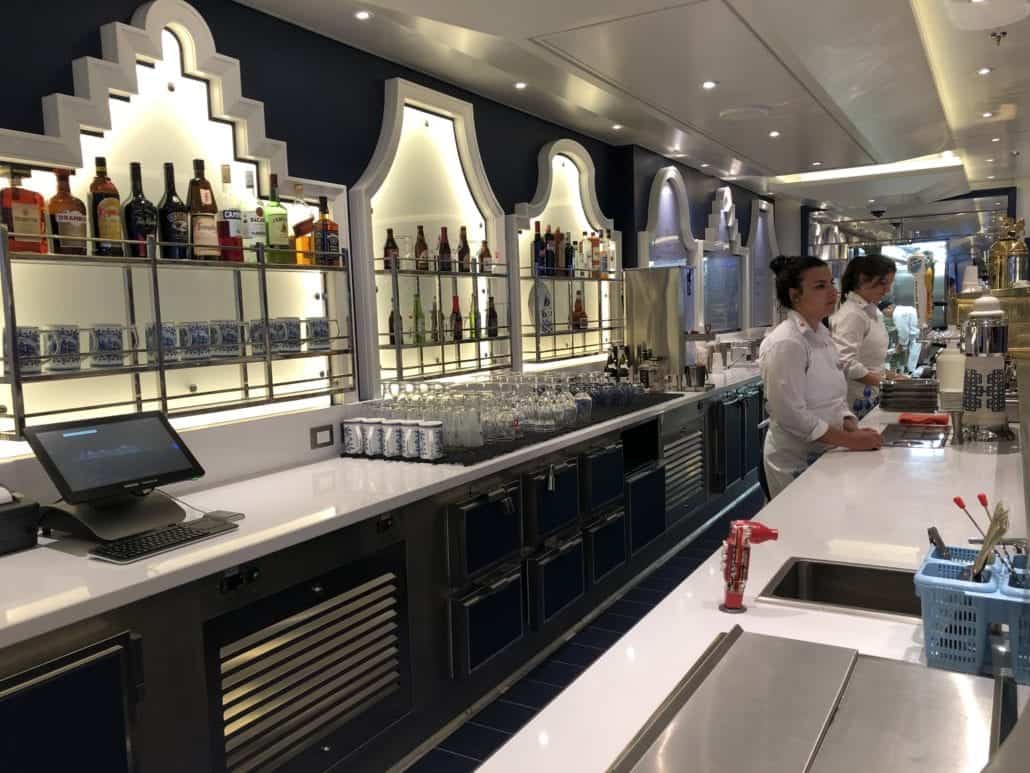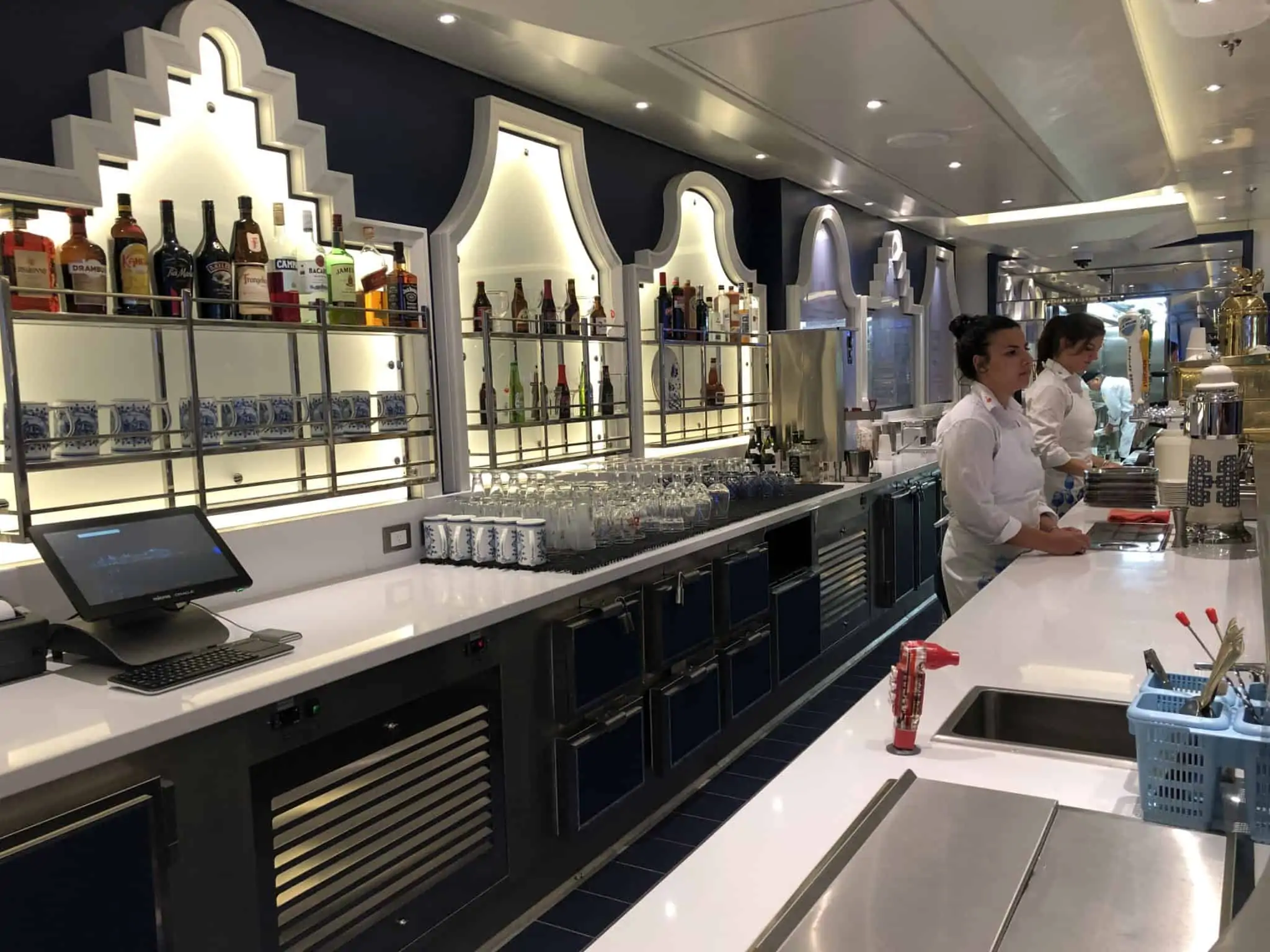 This isn't a place to have a full meal… but they do have Dutch samplings here, which can hit the spot if you're looking for more than a snack but less than a meal. You can order items like split pea soup, as well as Dutch specialties such as open-faced herring sandwiches or apple-and-bacon pancakes. They also have 16 beers on tap here. The food is complimentary but the drinks and specialty coffee come with a fee.
The only restaurant that I wound up not getting to try — hey, even I can only eat so much during any given sailing — was Rudi's Sel de Mer. This is the a la carte French restaurant with an emphasis on seafood. I enjoyed this venue when it first debuted on Koningsdam but haven't had a chance to visit again since. The guests who I spoke with really enjoyed the experience, the only strike against it was that a meal here takes about three hours. And, if I'm being honest, once you cross the two-hour mark, I start getting antsy.
Entertainment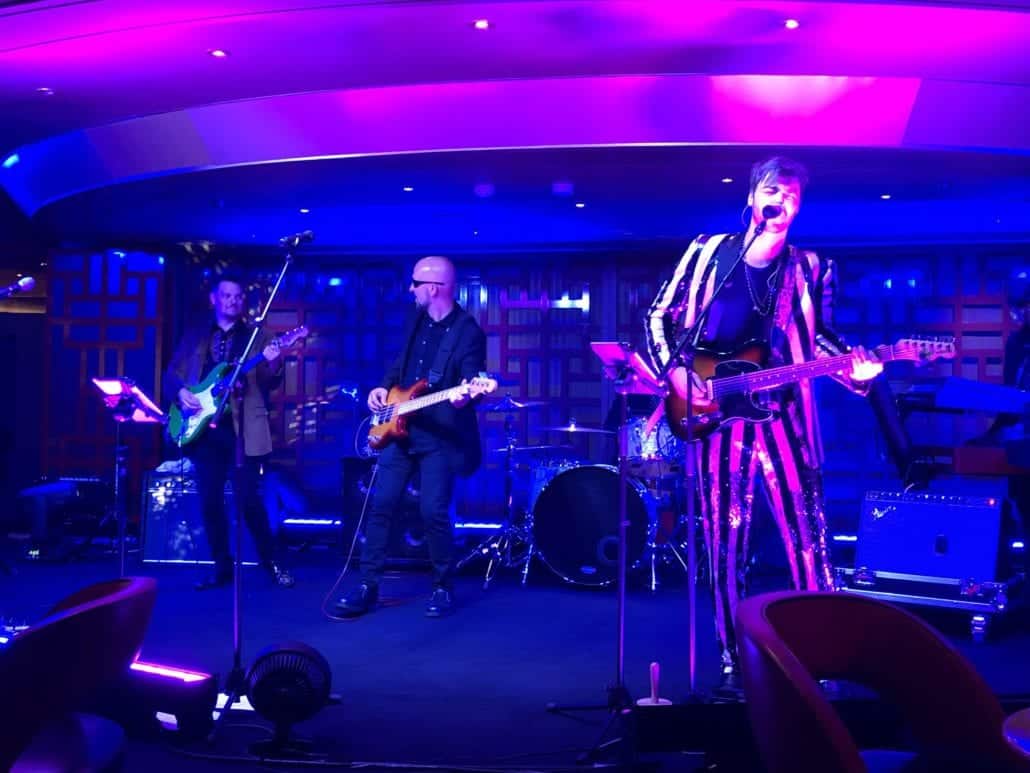 As I mentioned earlier, Nieuw Statendam is a music lover's ship. For me, a personal favorite was the Rolling Stone Rock Room, where rock musicians slayed the guitar until late at night. This venue really comes to life after dinner, as did the dueling piano bar across the corridor at Billboard Onboard.
The B.B. King Blues Club was a great alternative if you're a fan of the blues, as are the comedy shows and BBC Earth presentations held in the World Stage (main theater). But for me, it was all about the rock. Too often, music on cruise ships tries to take a middle-of-the-road approach to avoid offending anyone. That was definitely not the case on this ship, especially where the jazz and rock performances were concerned. These bands were playing the real deal, and it was fantastic.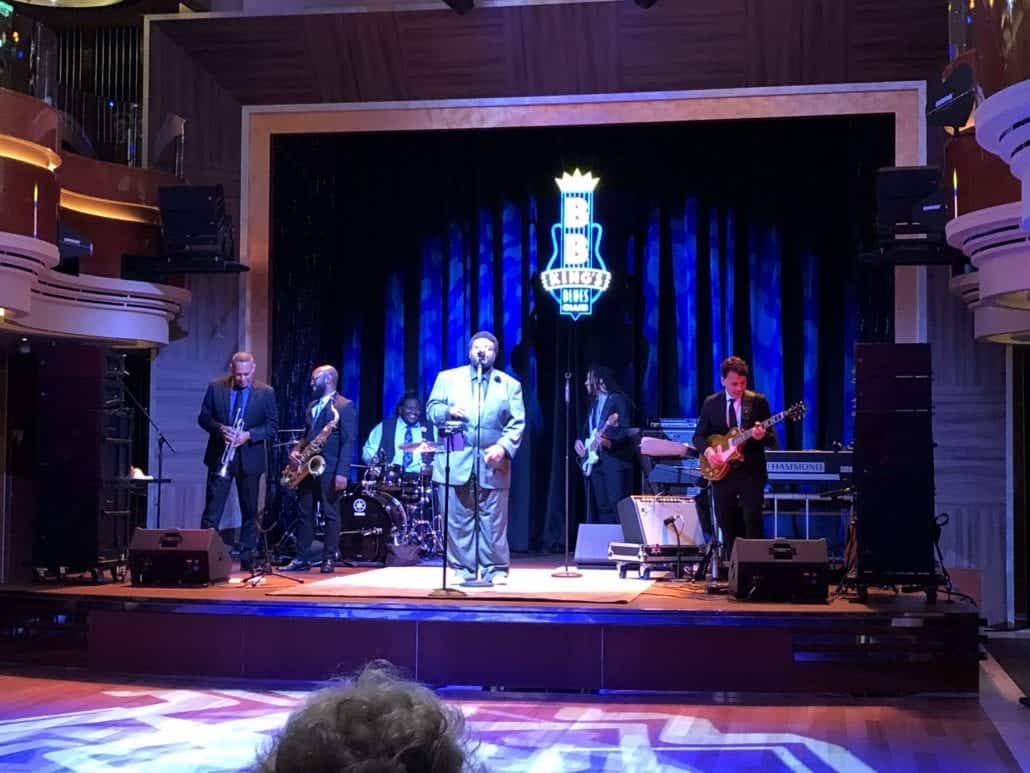 The casino was a decent size, featuring more slot machines than table games. One thing that's different here than on most ships: They actually have times during which the entire casino is smoke-free. While I'm sure the folks who have allergies (or just find smoke annoying) appreciated it, I have to say the casino was fairly dead during the smoke-free hours. (There's a reason ships don't offer totally smoke-free casinos: for many passengers, smoking and gambling clearly go hand in hand, for better or for worse.)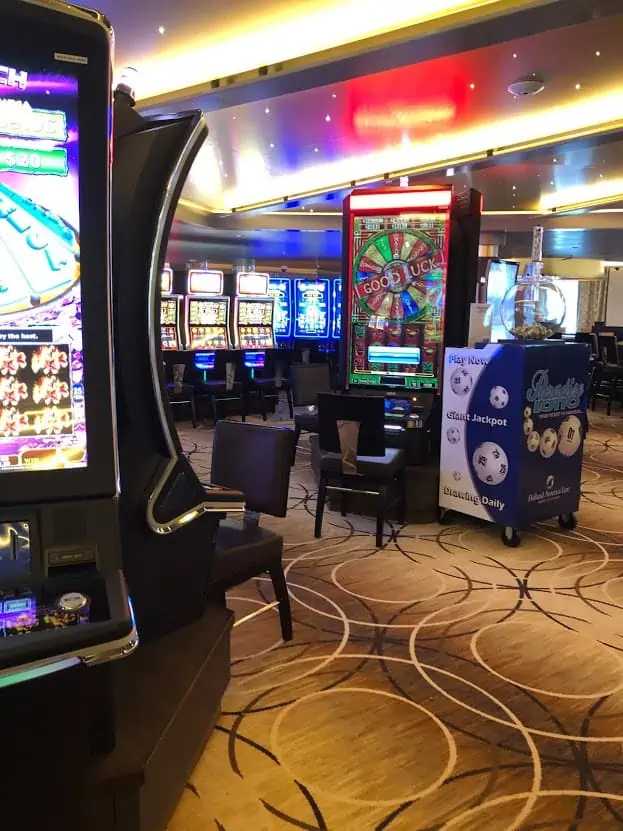 A great place to relax and take in the views is the Crow's Nest on deck 12 forward. You have 180-degree views of the ocean, and it's a great place to read on a sea day or even escape the heat to watch sail away. This is also where you'll find the shore excursion desk, some digital navigation screens allowing you to track exactly where the ship is at any given moment, and of course a bar and coffee shop.
Sea Days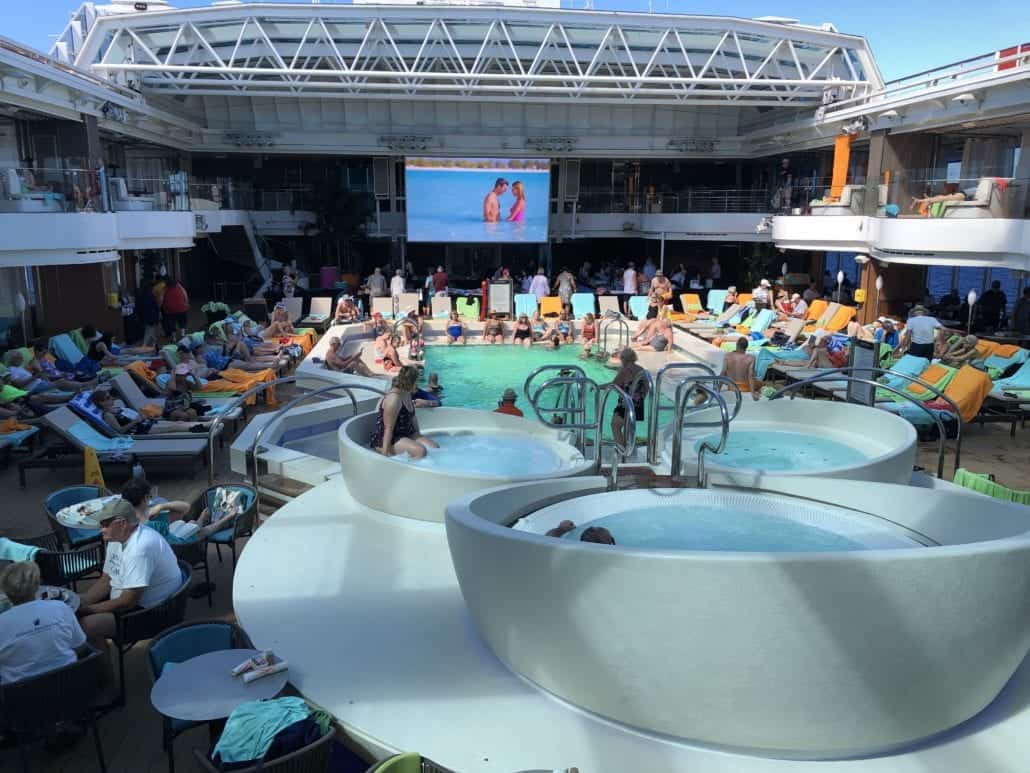 I believe one thing that really determines how well a ship was designed and laid out is how it handles crowd capacity on a sea day. After all, sea days are what separate a cruise ship from a land-based hotel. As you're moving from one port to another, everyone is on board, and they all want to either relax or be fed and entertained. So, it's important that a ship be able to offer something for everyone without guests feeling crowded. Happily, this ship never had that issue. Even during the midday lunch rush, the Lido Marketplace never really felt like the madhouse it sometimes can become on other ships. Having so many dining options available during the day (including lunch in the main dining room) really helped distribute people and prevent the buffet from feeling overcrowded.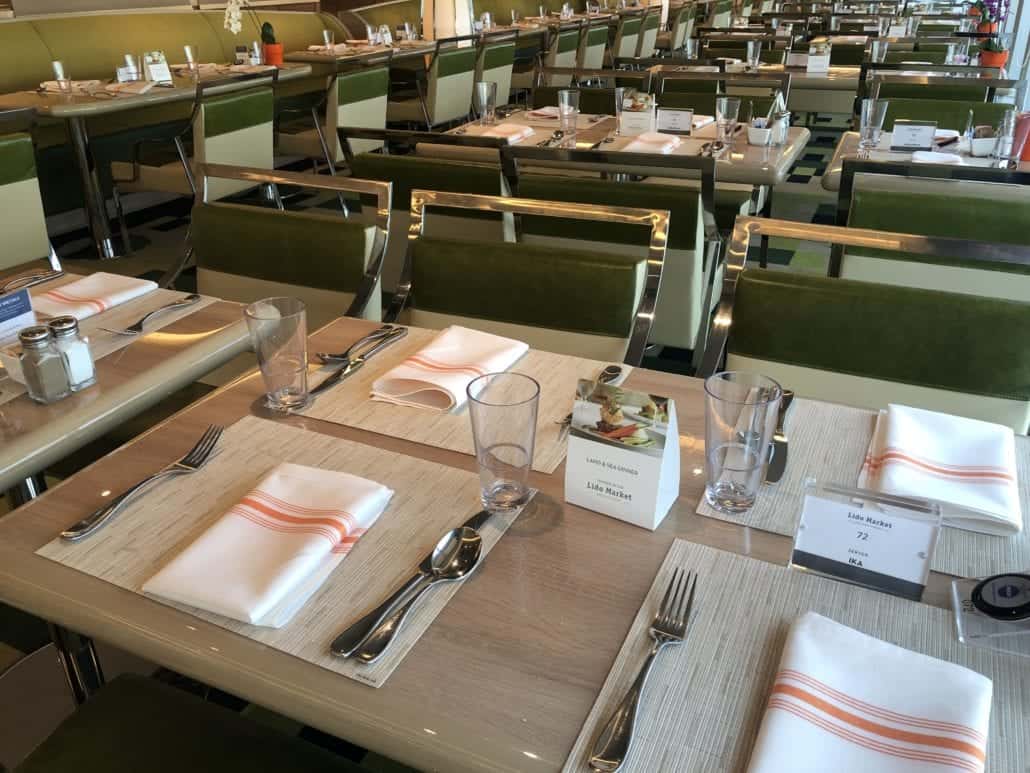 There are two pools on board, one midship (with a retractable roof) and one on the aft. The midship pool seemed to be the most popular with the crowd on our sailing… which is probably why I preferred the aft area. (If there's one downside to pool areas with retractable roofs, it's that even with the roof open, you're not getting the fresh ocean breeze and air circulation that you get on an uncovered pool.)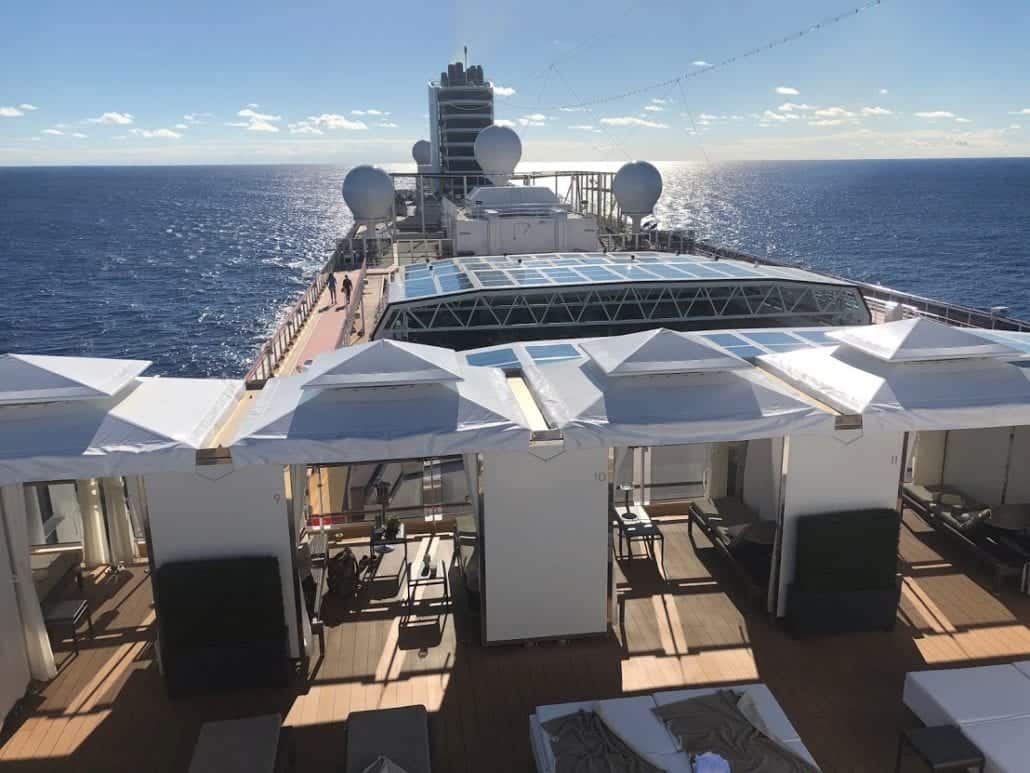 If you want a little bit more of a premium experience on your sea day you can rent a cabana in The Retreat. These cabanas — which can be rented for a daily rate of around $189 — come with a butler and are stocked with non-alcoholic drinks.
The Spa and Fitness Center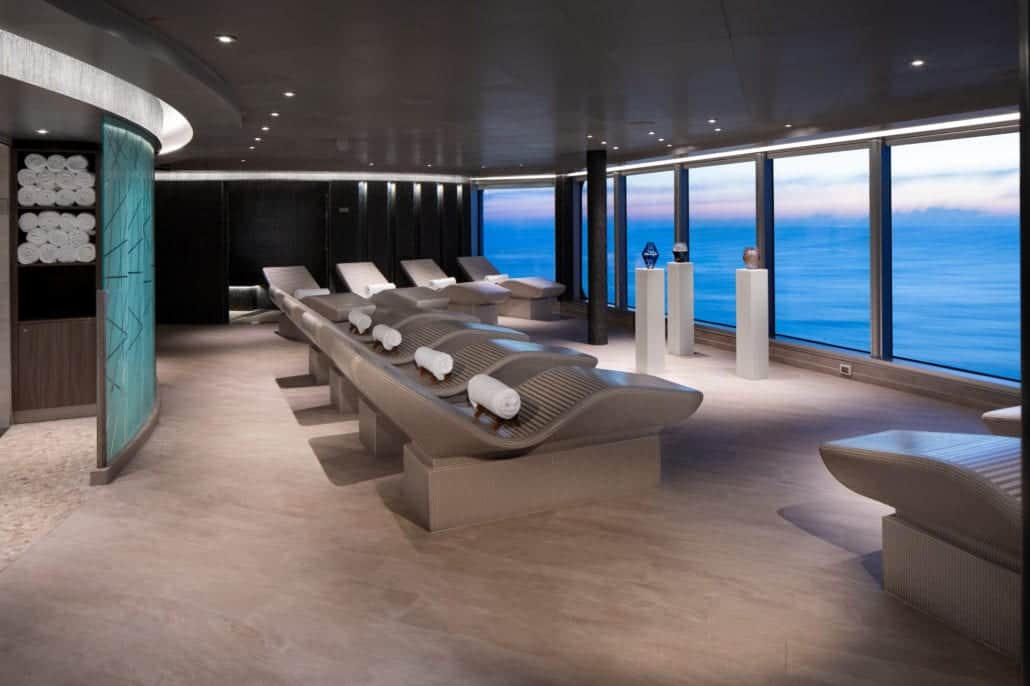 Regular readers know that over the past few months, I've become a new convert to the joys of a thermal spa. Until recently, I didn't really understand the appeal. And while I didn't actually spend time in the Greenhouse Spa & Salon, I took a tour and spoke to people who sang its praises. Heated loungers with a view of the ocean, therapeutic whirlpools and, for those looking to up the experience, a whole variety of personal pampering services are available. There's also a fitness center with a decent selection of treadmills, ellipticals, and the like.
Club Orange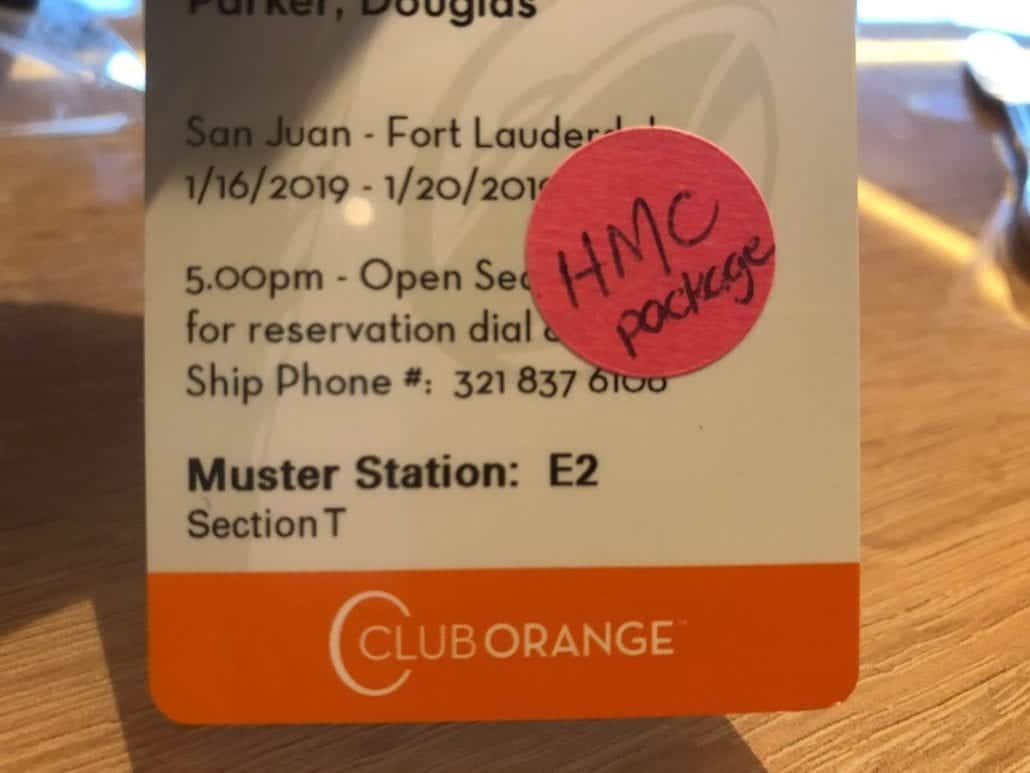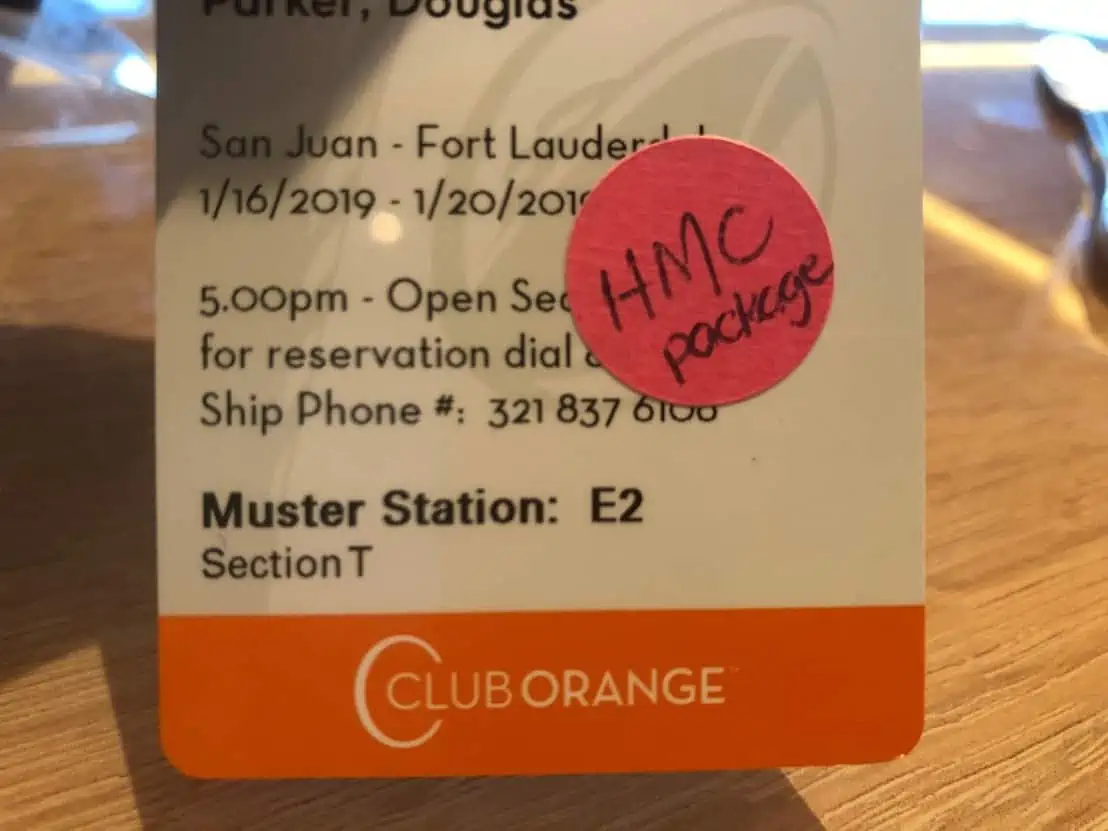 Holland America recently introduced a new program aboard a couple of their ships called Club Orange. Guests who opt to buy into the perks program can enjoy access to a private dining room, dedicated service lines, priority boarding, tendering, a free tote bag, and a glass of wine. This is included in suites or for $50 per person per day. A lot of companies are moving towards the pay-for-perks model, so it's easy to see why they are offering it. Truth be told, I have mixed feelings about Club Orange.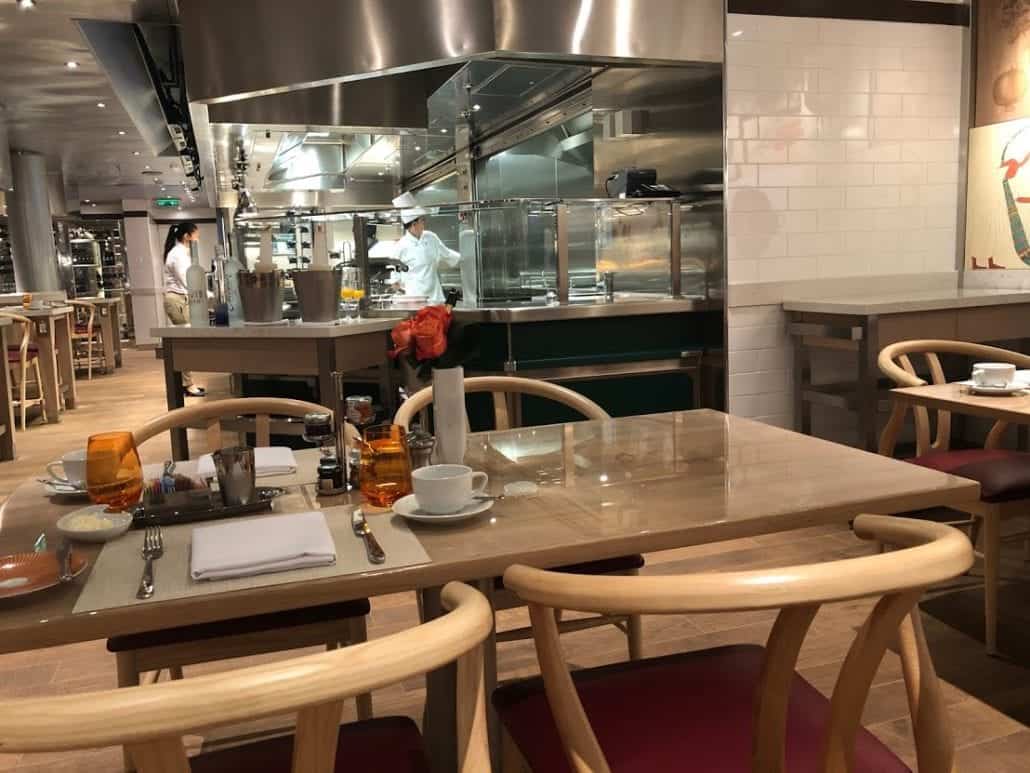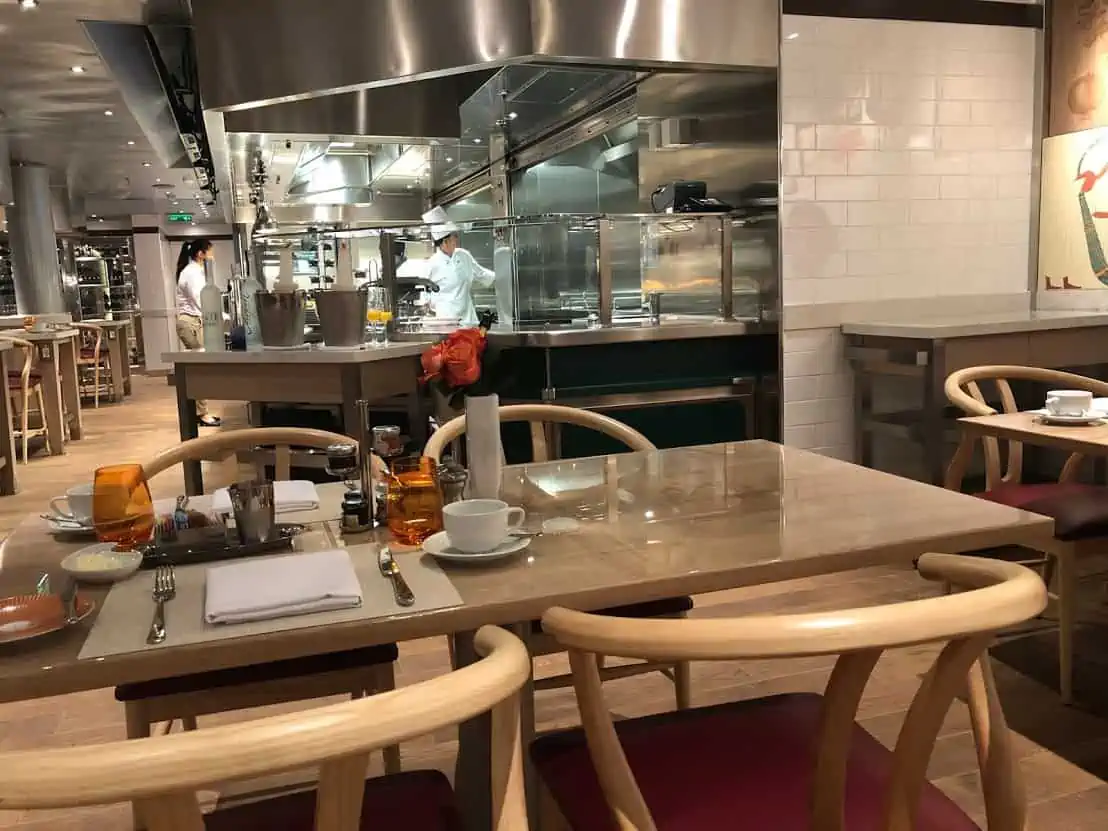 The pros: Only a limited number of these passes are sold per sailing. The enhanced room service menu of steak and eggs and salmon benedict was enticing, and the same can be said for the private dining room and priority boarding.
The cons: For a seven-night cruise, it's an additional $350 per guest if you're not staying in a suite. Since it's per person, everyone in the stateroom needs to purchase it. That will set you back an additional $700 for a week. For that price, you could potentially upgrade to a suite which already offers Club Orange as a perk (depending on the time of year you sail).
Ultimately, vacation spending comes down to what you think something is worth. If this appeals to you, go for it.
Disembarkation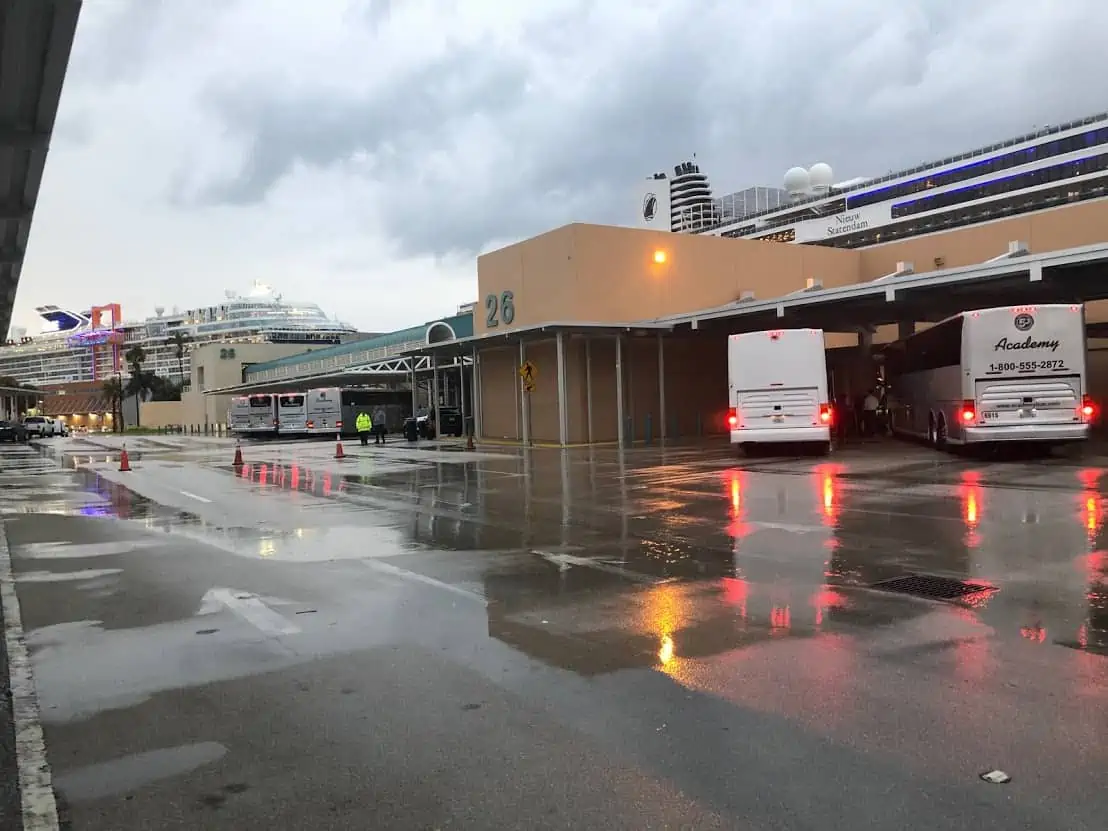 One thing that Holland America Line has down is disembarkation. I've sailed their ships in the Caribbean, Alaska, and Europe and the process has always been flawless. The only thing we had to do upon arriving in Port Everglades was show our passport to the customs agent and we were sent on our way.
From ship to curb was under 10 minutes. The longest part of the debarkation process was waiting for the customs agent's computer to do an update in the middle of disembarkation.
Final Thoughts 
I really enjoyed my time aboard Nieuw Statendam. In my opinion, Holland America Line has some of the best crew members in the industry. The cruise line has always had great food and they've elevated their dining experiences (even if some come with an added price).
It's worth noting that when Holland America ships visit Half Moon Cay, passengers can opt to buy a drink package which offers 15 beverages for $24.95 (gratuities are paid separately). That's a nice perk, and one that isn't offered by Half Moon Cay's more regular visitors, the sister ships of Carnival Cruise Line's fleet.
I'd compare Holland America to Princess Cruises or Celebrity Cruises in that they definitely skew a little older but they know who their guest is and what that passenger wants. It's refreshing to see a cruise line cater to a certain psychographic instead of demographics.
Video Tour of Nieuw Statendam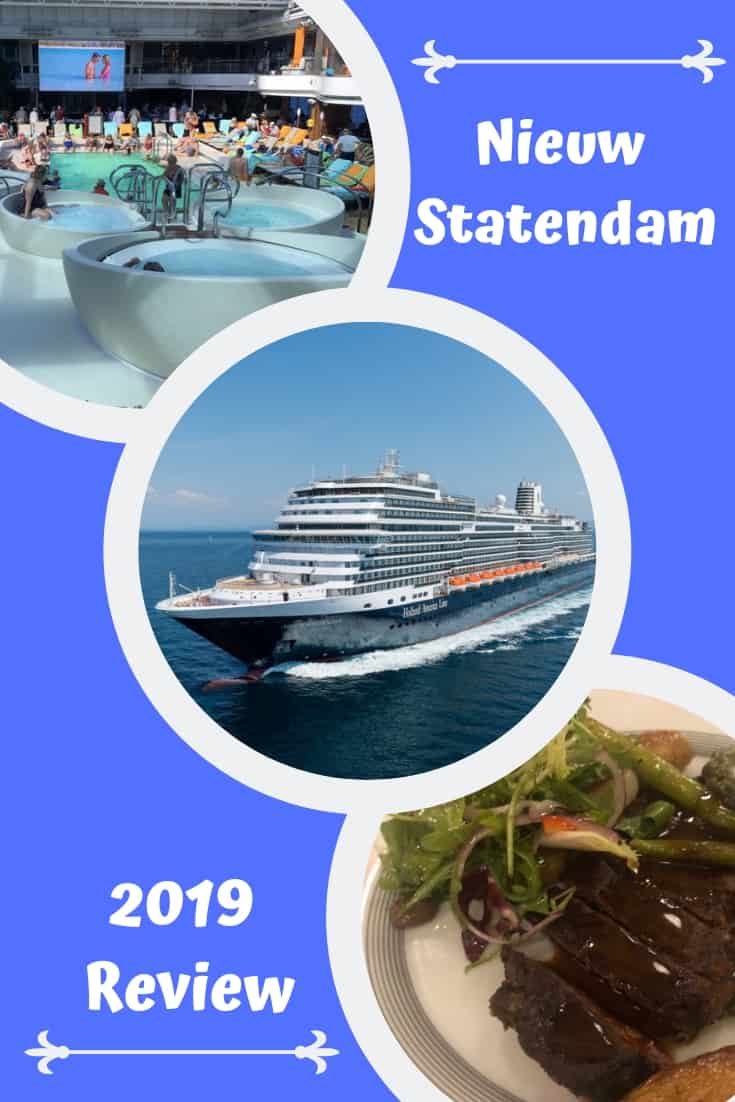 [su_wpwidgetads1]