Teppanyaki (aka hibachi) — a Japanese style of cuisine using hot iron surfaces on which to cook — has become one of my favorite ways to eat. It can seem a little pricey, until you consider the fact that it generally involves not only a meal but a show, too. And if there's one thing you know for certain, it's that the food you're being served has been freshly prepared. You're literally watching it be made, so it's definitely not sitting under a heat lamp waiting for a waiter to pick it up and deliver it to your table.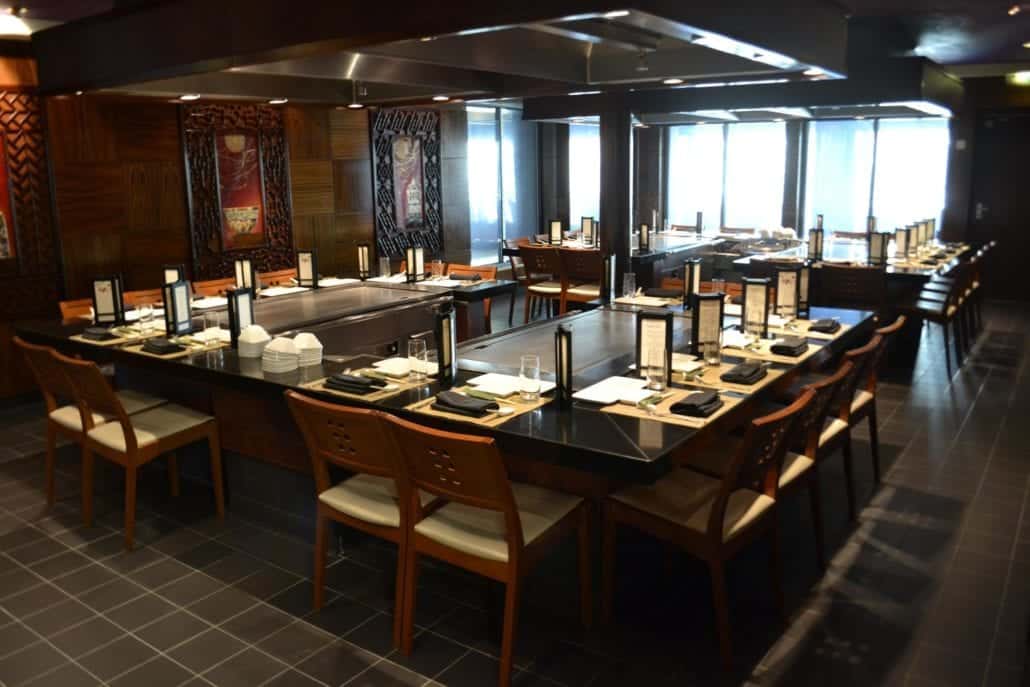 On my first trip with Norwegian Cruise Line, I decided not to go to the ship's Teppanyaki venue. This was mainly because it was more expensive than the one in my home town, but I also wasn't interested in the "seaweed salad" on the menu. Usually, these venues serve a different type of salad which comes with a ginger dressing — that is one of my favorite parts of the meal. 
During my more recent sailing on the Norwegian Gem, I had the dining package, which made the idea of hitting the Teppanyaki very appealing (For those not using the dining package, there is a flat fee of around $30, which can vary from ship to ship; however, with the dining plan, I was able to eat here "free" as one of my specialty restaurant allotments). The menu also features two signature cocktails and, since I had the drinks package as well, I opted to order both! 
READ MORE: Carnival's Bonsai Teppanyaki Review
The Wasabi Cocktail was sweeter — and less spicy — than you might expect of a drink with the word "wasabi" right there in the name! It was good though, and it worked out that Husband actually liked this one better. My preferred drink was the Shaku-Shaku, which I could have sworn had the wasabi in it. But I now know that I was wrong. I do wish that the slice of cucumber it came with had been bigger, as I'd have eaten it! I'd also have preferred for both of these to be served on-the-rocks, as they didn't taste as good once they got a little warm.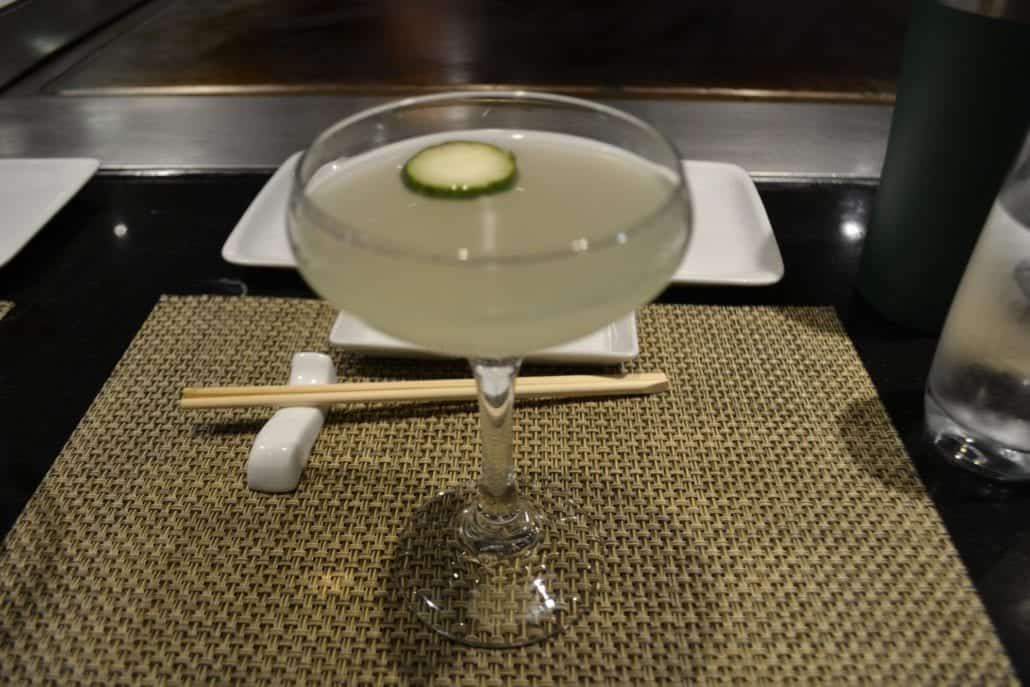 The first thing we were served was a small bowl of edamame which was… exactly what you'd expect it to be. Next was the Miso soup, which was pretty standard, which is what I wanted. It was maybe a little heavy on the seaweed, which I always leave at the bottom of the bowl.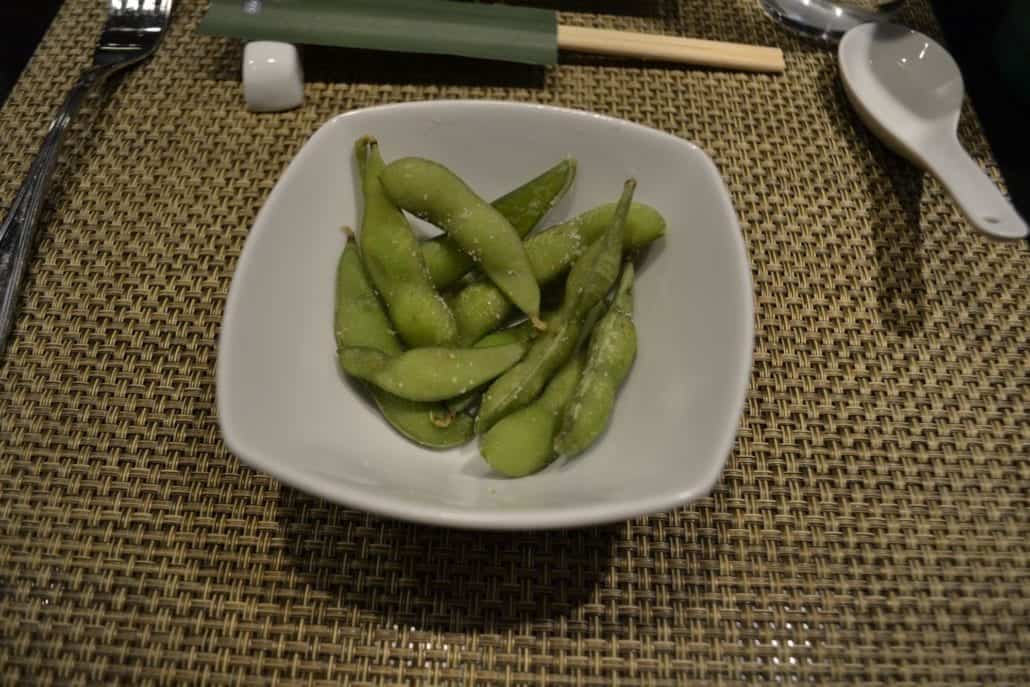 Next up was the seaweed salad, and it was at that moment that I remembered the main reason I'd skipped the Teppanyaki restaurant when I sailed on the Breakaway. However, there was really just a little bit of seaweed on top of what I would otherwise expect of a salad in a Teppanyaki restaurant. I pushed that aside and then was able to enjoy my salad. The ginger dressing was a little bit different than what I'm used to, but it was still good.
After about 10 minutes our chef came out with a cart covered with the ingredients that would become our dinner. He introduced himself and then got to work. The show included bouncing an egg off his spatula and catching it in his hat. He didn't throw any food at our faces the way some teppanyaki chefs do, but I didn't really want him to so that was fine by me.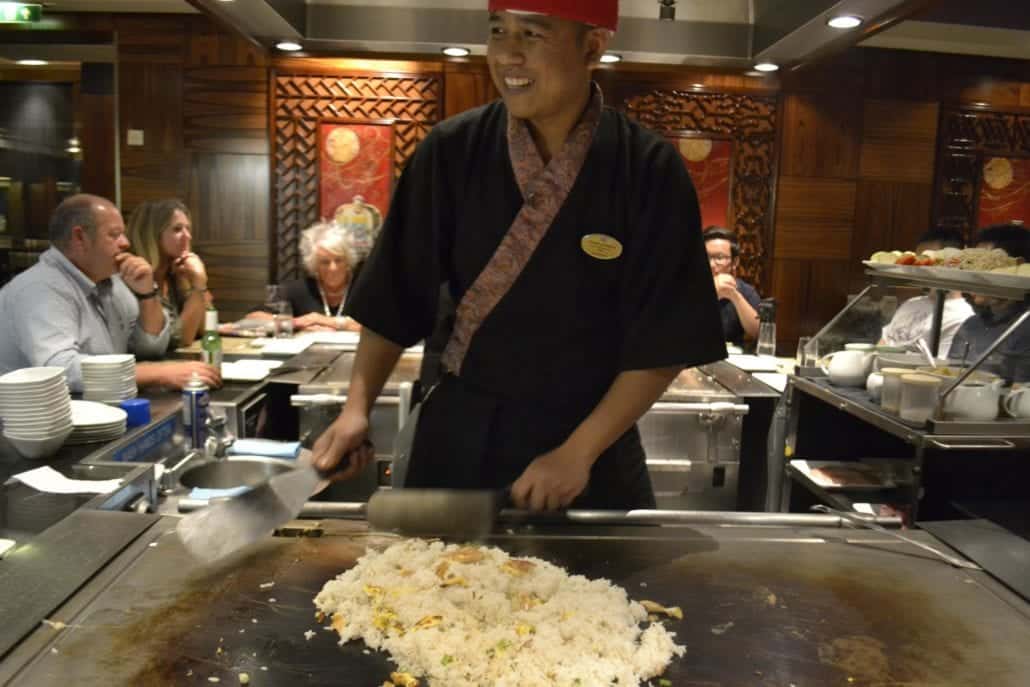 He also entertained us with a variety of songs (which I sang along with) and taught us his catchphrase – "more butter; more better." I had to agree with that particular philosophy. The first thing he prepared was a (delicious) fried rice, which he served to us in bowls.  There was some left over, which he dished out to anyone wanting more… which most people did!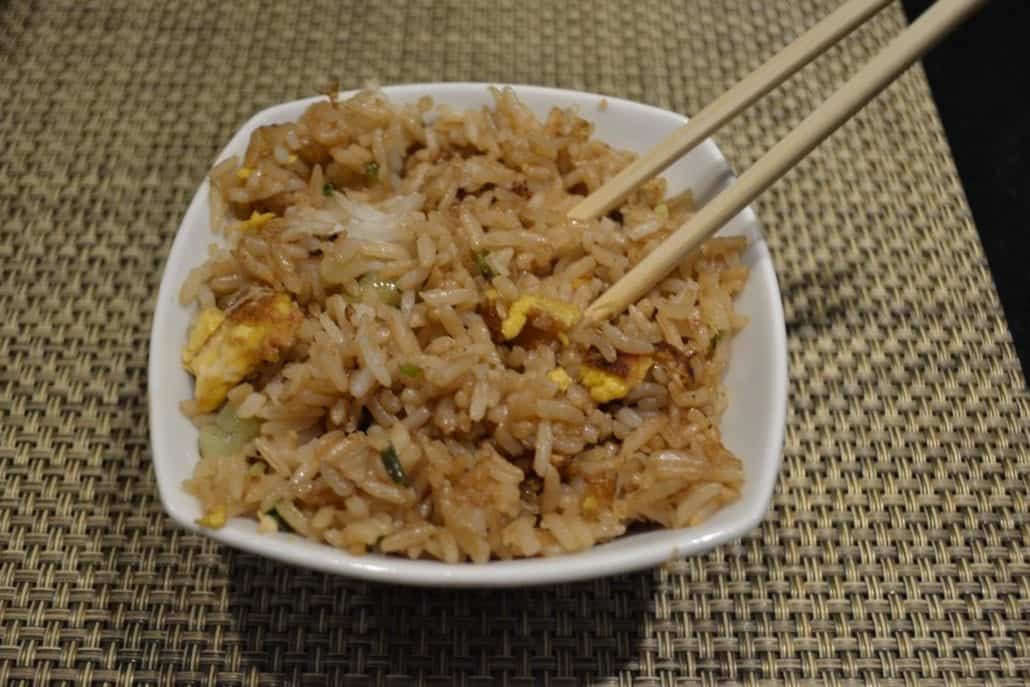 Then he started cooking our vegetables and entrees. The vegetables were served in little stacks which looked cute, but I would have preferred if they were sliced up. While the veggies were cooking he started our entrees.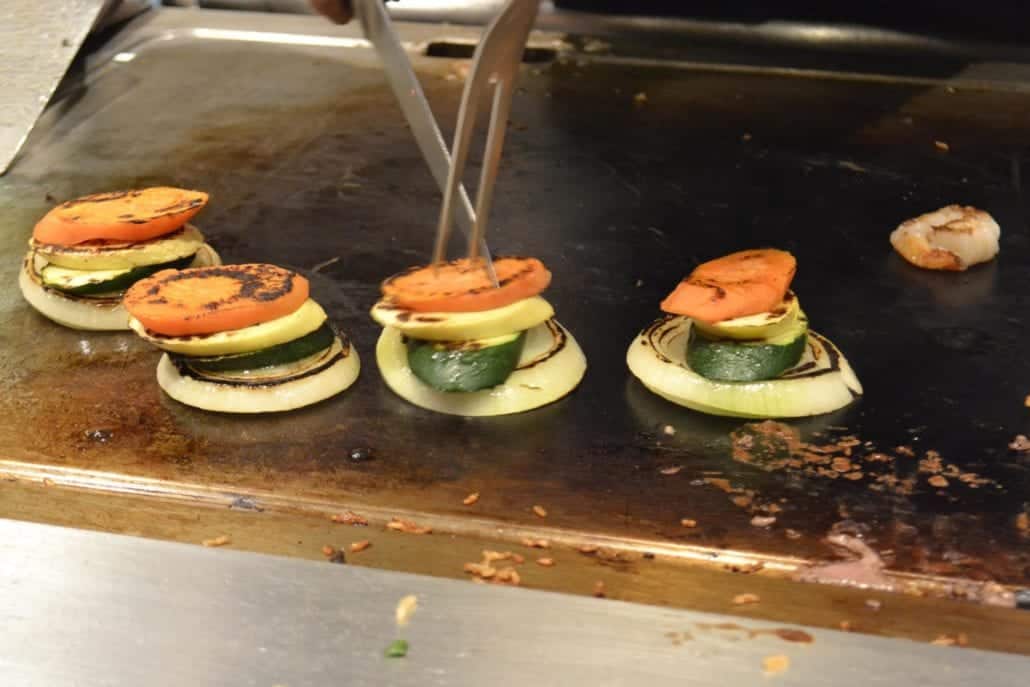 Entree-wise, I ordered the "Edo" from the Teppanyaki Combinations part of the menu which included sea scallops and jumbo shrimp. Both were cooked with garlic butter (more butter; more better!) and "Japanese Diet Coke" (aka soy sauce) and were so good. Such a simple way to make good food taste so great.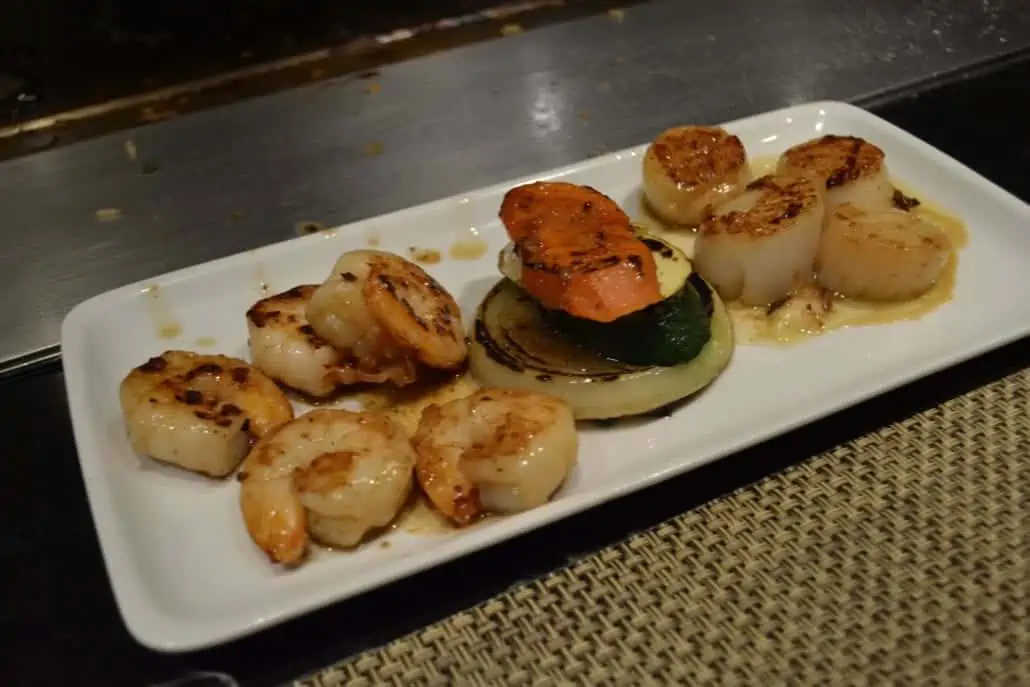 I don't usually find shrimp to be all that exciting, but these were excellent. My scallops were also very good and cooked beautifully. Husband ordered the Filet Mignon – also cooked with soy sauce and garlic more-butter-more-better. He ordered it rare (hoping for medium-rare) and it was our favorite item of the night. Make sure to eat it hot, though, as it was not as good when it got a little cold sitting on the plate.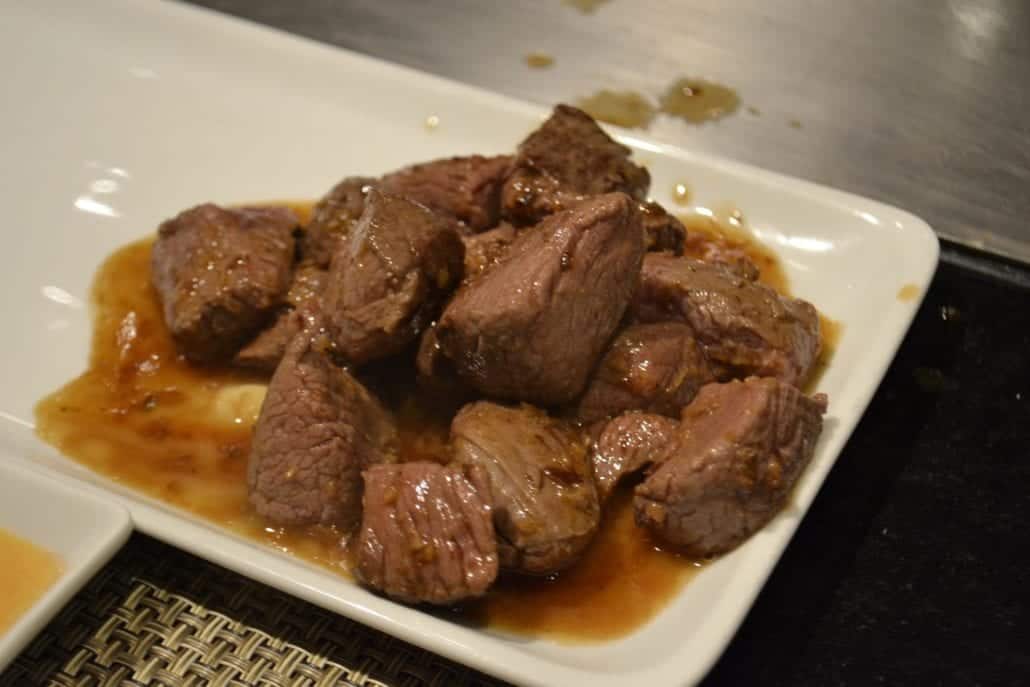 One of our tablemates ordered the calamari which I need to remark on. I decided not to get the entree that included the calamari because it sounded weird since I'm used to deep-fried calamari. But the way they cut it up, it curled up into these crazy, white, spiky rings that I really wanted to try… although I didn't get to. The owner of the calamari told us it was tender and delicious. I may have to go back to Teppanyaki next time I'm on a Norwegian ship just so I can try the calamari!
READ MORE: Norwegian Gem Trip Report, Day 1
We each got an onion and a mustard sauce to go with our food, but it wasn't needed, everything was already plenty flavorful. I actually poured some of Husbands filet mignon juice on my fried rice because it was so tasty!
After clearing our plates it was time for dessert. I decided that we should get one of each dessert so that we could try both of them. I picked the Green Tea Cake, which was listed as coming with cashew nut brittle. It was nothing like what I expected. I didn't expect much as I didn't know what cashew nut brittle was, but it was so good. Green tea ice cream is one of my favorite things, and the cashew nut brittle turned out to be a glaze that was poured over the cake and then hardened into a crunch. I didn't eat all of the cake because I was very full, but I ate every bite of the crunchy part… and it was even better with the ice cream.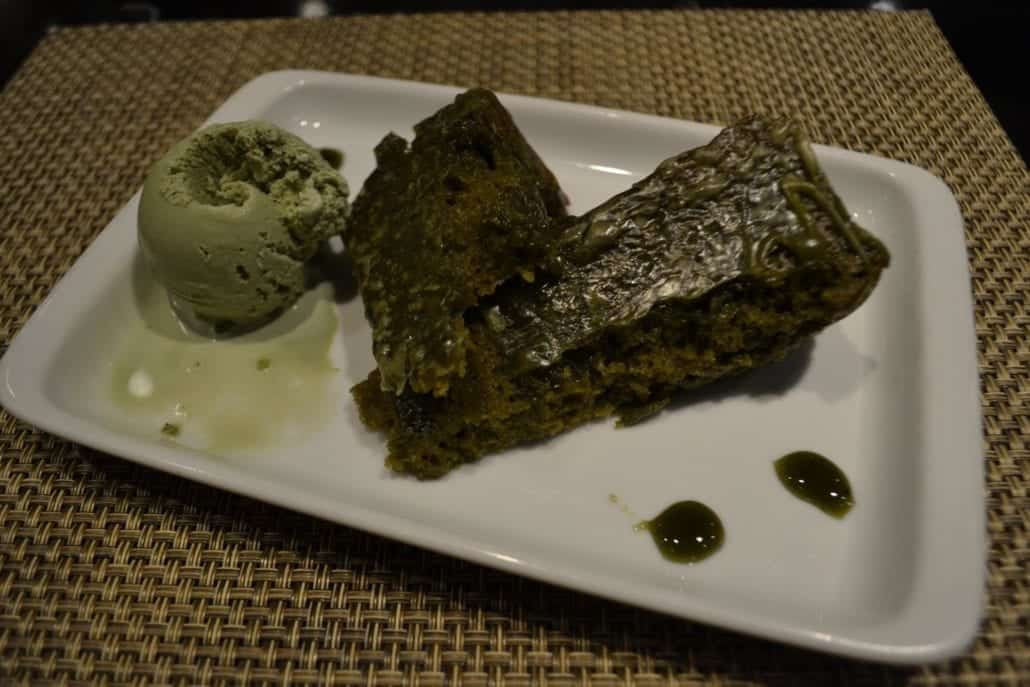 The fruit was far less impressive, but exactly what I expected. It's cleverly named Fresh Fruit Sashimi and is cut into blocks that look like regular (fish) sashimi. The menu promised "sliced exotic fruits." I predicted that it would consist of pineapple, cantaloupe, and honeydew melon.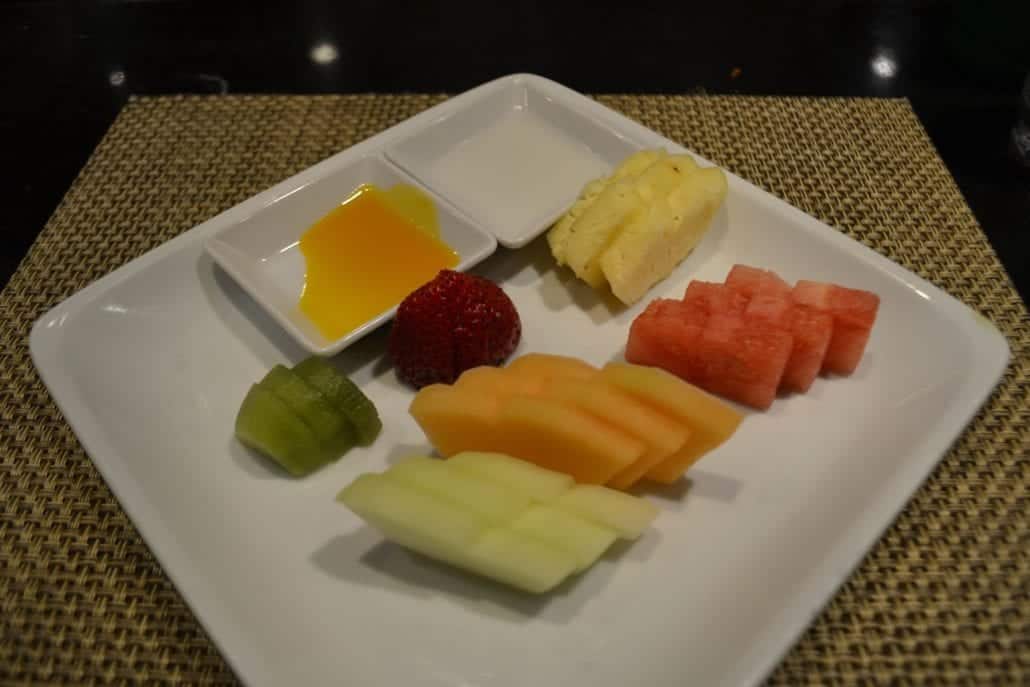 I was close. There was also watermelon, one strawberry, and for the most exotic: kiwi. It was served with vanilla and mango dipping sauces. The fruit was all fine, it's just that you can get this from the buffet. It's probably so that there's a healthy, vegan and/or gluten-free option.
I'm really glad that I had the dining package so that I could experience Norwegian's Teppanyaki menu. I had a great time and the food was delicious. I won't go back on every Norwegian cruise that offers it because of the higher price tag, but I'll likely go back about every other cruise. After all, I still have to try that calamari.
Want to read more from our special guest columnist Lauren Rodgers? Visit her blog, Lauren of All Trades.