For many cruisers, beaches play a crucial role in their vacation. This seven-night itinerary was scheduled to give those folks two different opportunities to wiggle their toes in the sand — Great Stirrup Cay and Nassau. Three if you count Port Canaveral, which weirdly, I never do. Make of that what you will.
Thanks to weather-related issues, the stop at the private island was nixed. But after overnighting in Florida, we finally arrived at Nassau in the Bahamas on Thursday morning.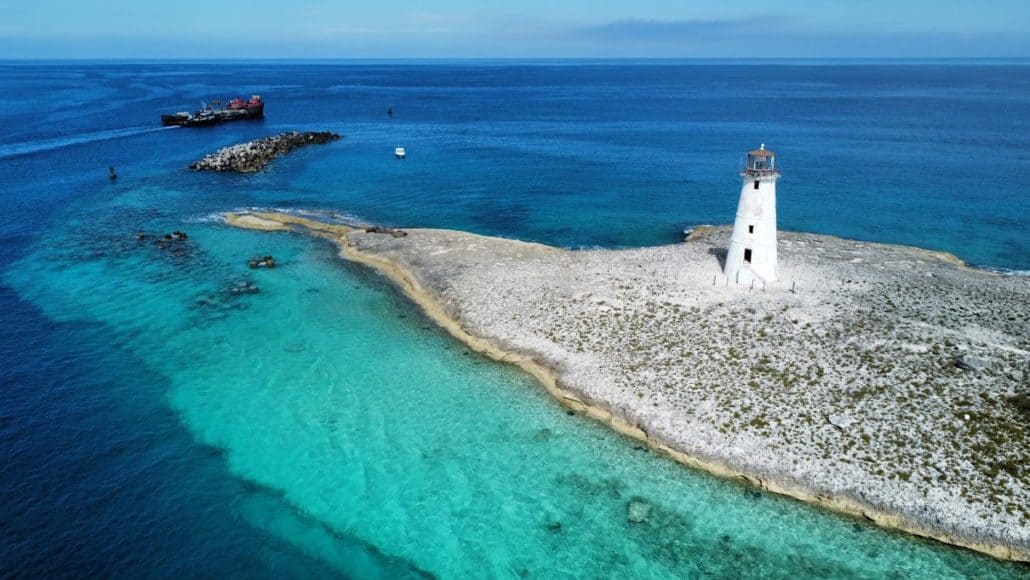 Ugly Naked Guy's Revenge
I'm not sure exactly what time we arrived in Nassau. At one point, I looked outside and saw that we were still sailing and the sun was slowly rising. A while later, I got out of bed and stumbled into the bathroom… only to discover that we'd definitely arrived, as the big ol' window in my bathroom was giving a great view of my barely-clothed butt to guests aboard the Carnival Freedom, which was now docked next to us.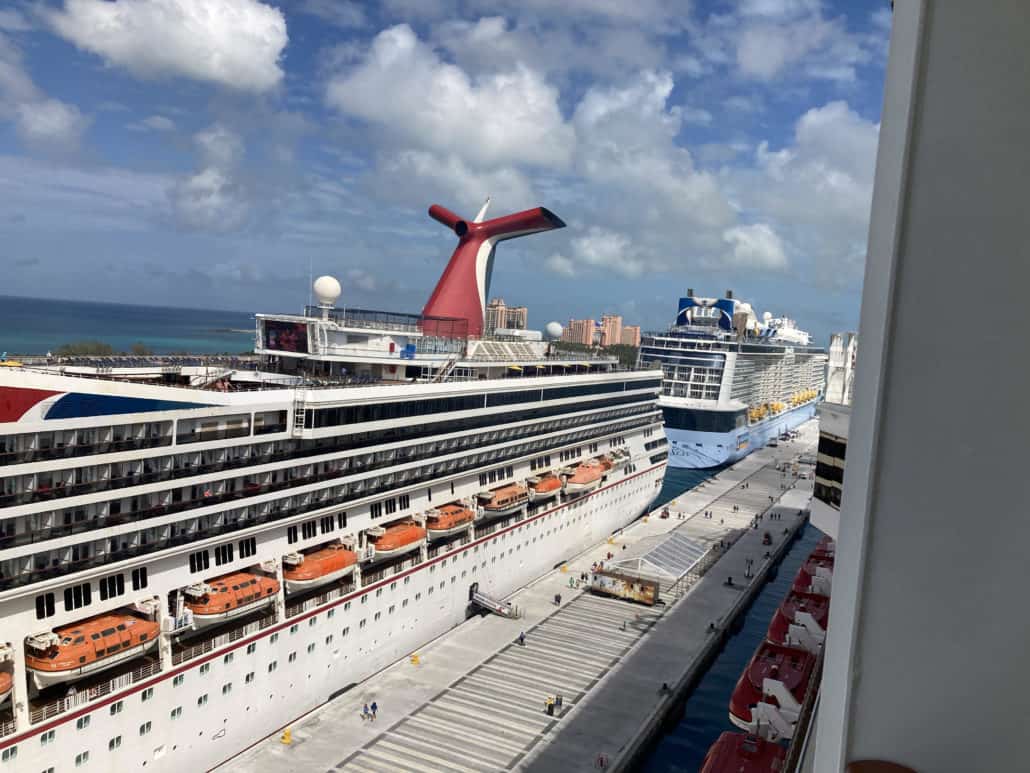 Remember Ugly Naked Guy from Friends? The dude who lived across the way from the titular pals? I felt a whole lot like him when I realized that just as I could see out, those on Freedom could see in. Unlike the Friends character, though, I hoped that maybe my seafaring neighbors would be distracted from looking at me by looking at the awesome bathroom out of which I was quickly backing out of. I mean, as I've said since day one, that bathroom puts the sweet in this suite!
Food For Thought… And Also Eating
We only had a few hours before Doug had to disembark so he could fly to Miami. But there's always time for a little food, right? So we swung by The Haven restaurant for breakfast, where we each ordered the steak and eggs.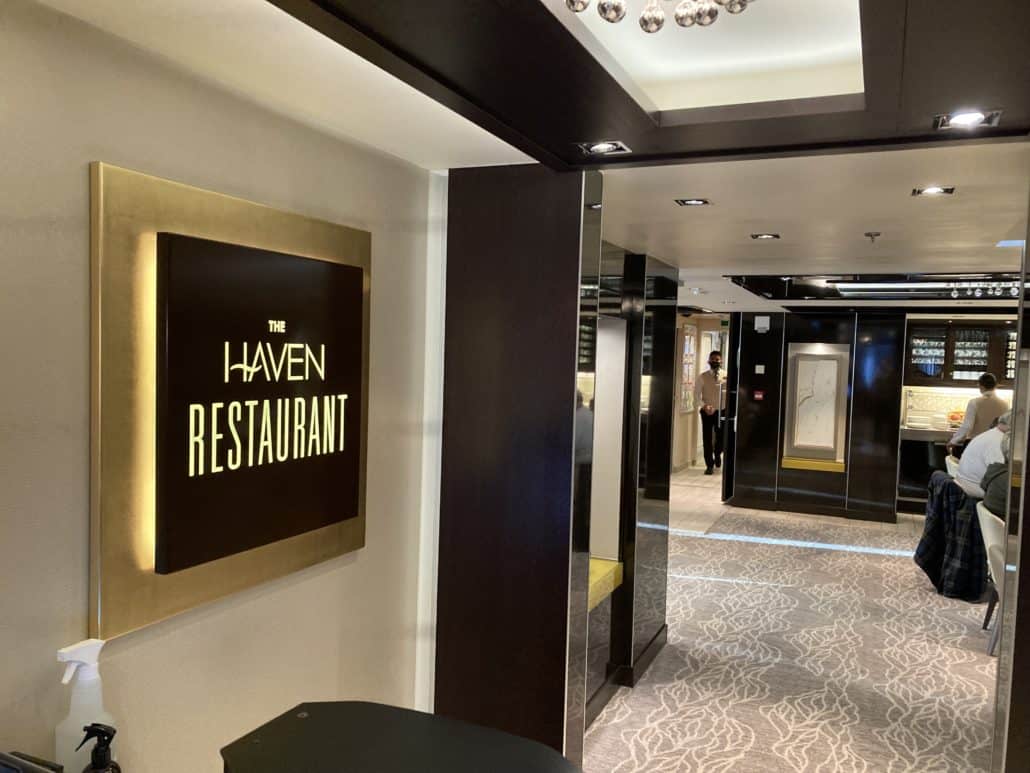 Let's talk about The Haven Restaurant for a second, shall we? Obviously, access to a private restaurant is a great perk. But it's also a perk that is only as good as the quality of the food offered. I mean, if the food sucked, it would be kind of a worthless "benefit," right?
Well, I'm happy to say that nothing could be further from the truth. Over the course of the week, I've worked my way through a significant portion of the fixed menus offered for breakfast, lunch, and dinner and am happy to say every single thing has been fantastic. It lives up to what you expect when you think of an elevated dining experience, from the selections to the quality of the service.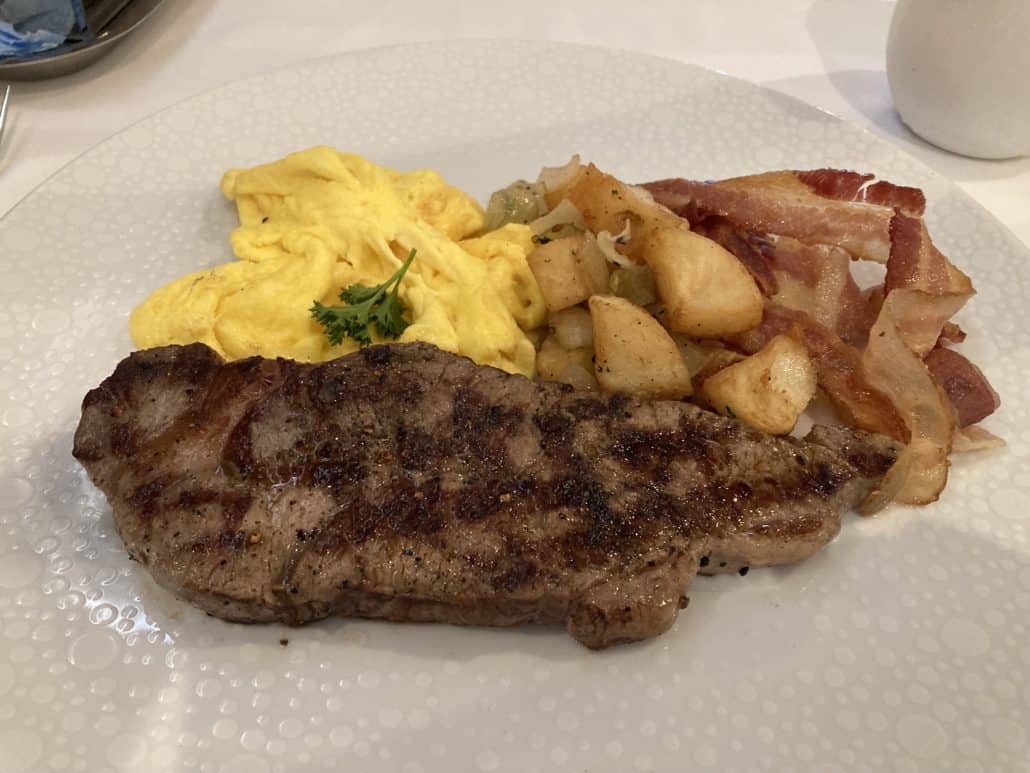 Some people complain about the nature of the fixed menu, saying it doesn't offer enough variety for a seven-night sailing. I suppose if you were going to eat every meal in The Haven, that might be true. But given that there are so many other food options on the ship, that seems pretty unlikely, right?
By the time this trip is over, I'll have had dinner in specialty restaurants four times — Ocean Blue, Moderno, and two visits to Cagney's. That left three evenings where I ate in The Haven, and there were plenty of options. (Now, if I was on a 14-night sailing, that might be a different story…)
It will be interesting to see how people react when Norwegian Prima rolls out with fixed menus in the main dining rooms on board.
READ MORE: Five Big Changes Coming to Norwegian Cruise Line
One Man's Junkanoo is Another Man's Treasure
After breakfast, we disembarked in order to head over to Junkanoo Beach. I've been to the Bahamas numerous times, but have never visited this particular spot. Usually, I either bop around a few shops or visit a bar. We walked past the main beach, where you find vendors hawking their wears, in favor of the stretch past that which is much quieter.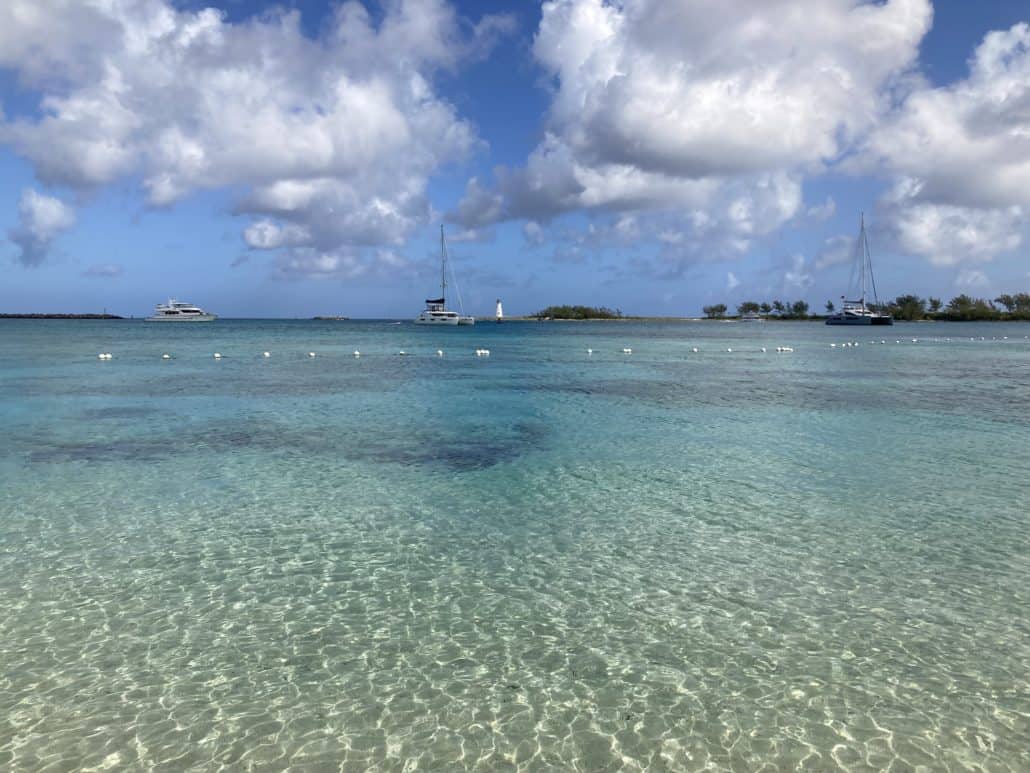 I'm a water person. Put me near a stream, fountain, lake, or ocean and I fill with a sense of contentment. Heck, leave the water running in the sink and I'll pretend it's a fountain. So when we got to the beach, I immediately kicked off my shoes and waded in. The waves were gently lapping at the shore, the water was what I'm sure others could consider chilly but it felt warm to me. In other words, I was happy.
I should have worn my swim suit and taken a swim, especially since we wound up skipping Great Stirrup Cay. But for some reason, I didn't think about it. I soaked in as much of the ocean's positive vibes as I could before we made our way back to the ship. After throwing his things into his suitcase, Doug was outta here, heading for the airport.
All That And a Plate of Chips
I was thinking about what I wanted for lunch when the doorbell rang — did I mention suites have doorbells?  It was our awesome butler (Well, I suppose now he, like this two-bedroom suite, is mine, all mine!) with afternoon snacks. A bowl of potato chips, some delicious turkey sandwich squares, cheese and crackers. Suddenly, there was no need to seek out food, as it had found me.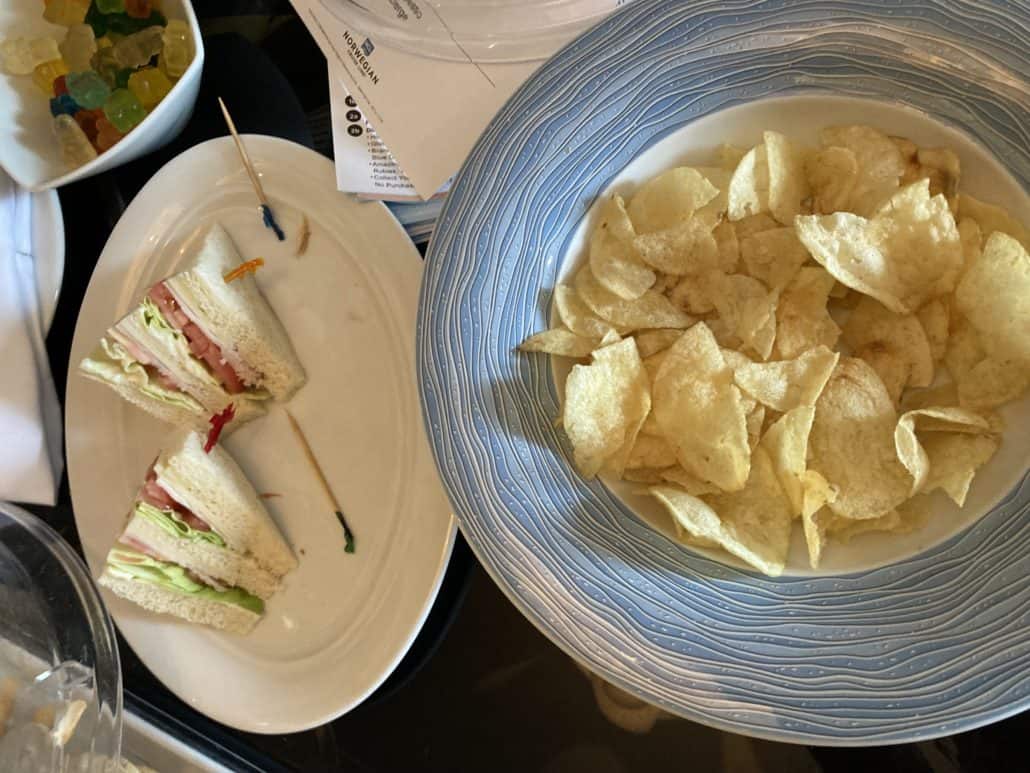 Looking out into The Haven courtyard, I saw that it was completely empty. What better time to change into a swimsuit and soak in the hot tub? I also brought my Kindle and did some reading while lounging on one of those chairs that sort of sit in the shallow water of the pool. I've always wanted to do that, but never got around to it. Well, another item I can strike off my list… and say I can't wait to do again.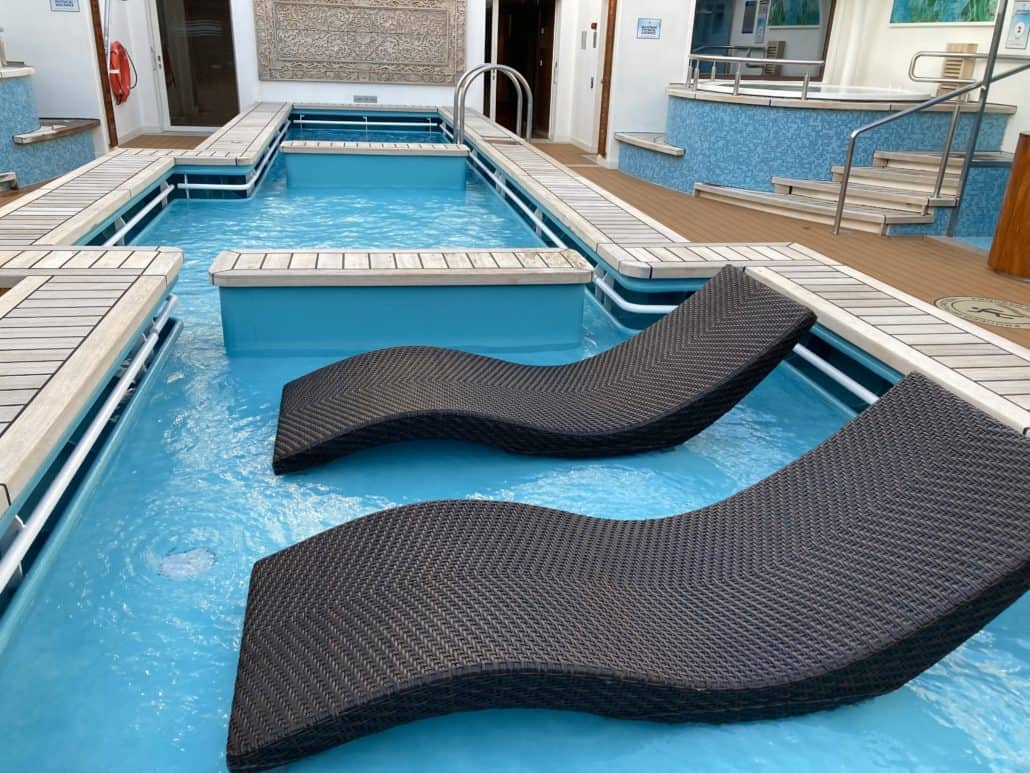 At 7 p.m. I went to the main theater to see the comedian, Chris James. Very funny dude, but man, did he have his work cut out for him. When you see a comic in a venue like a bar or comedy club on board, it's a smaller area than the theater and that sort of creates a sense of community. When your neighbors laugh, you do, too. It's human nature.
But with only maybe 100 or so guests in the theater, all of them spread out, it took a while for the audience to sort of decide on their own, "Do I like this guy?" Eventually, they realized they did… maybe around the point where he shared that he'd once been a male model, and a later girlfriend's reaction was, "Really? Are you sure?"
MORE: 9 Cruise Concepts That Didn't Quite Catch On
No Big Bucks, All Whammies
After the show I hit the casino, but had absolutely no luck. Had Doug packed it in his suitcase? I begged the Crazy Money machine to bring out the deep voice, but it refused to tell me I should "Spin… the Sky Wheel!" I tried a few other machines, but nothing was hitting.
When it comes to the casino, I think of it a lot like The Amityville Horror. Remember the part where the priest is being swarmed with flies and suddenly, he hears a voice telling him to leave? Well, my philosophy is that when the house tells you to get out, you get out. Same with a casino. When you can just tell that the vibe isn't right, stop throwing good money after bad. There's always tomorrow.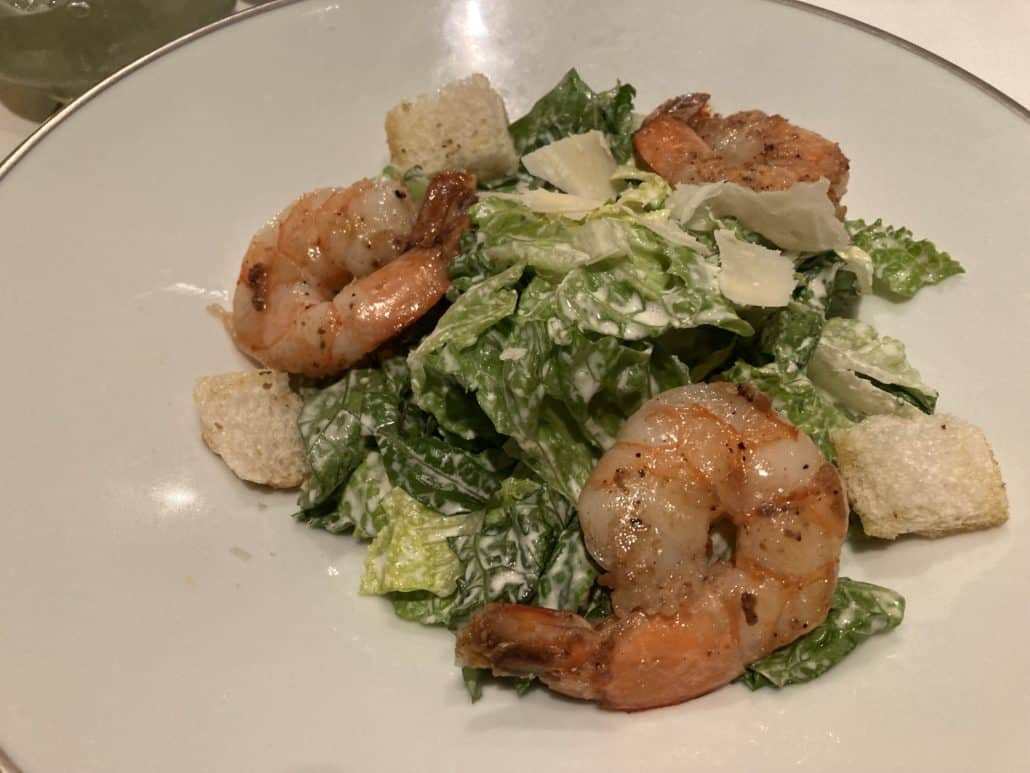 Since I hadn't yet eaten, I went to The Haven restaurant, which serves until 10 p.m. Following the pork belly appetizer and the shrimp caesar (which has quickly become a favorite thanks to those large, juicy shrimp!), I tried the panchetta-wrapped lamb. Ho. Ly. Crap. Between the perfectly-prepared meat, the crispy green beans, and the cool smashed potato it sat on top of (I didn't need the extra fries… not that I didn't eat them all!), this was an amazing dish. As usual, they tried to push dessert on me, and somehow I put up a brave fight in the never-ending battle.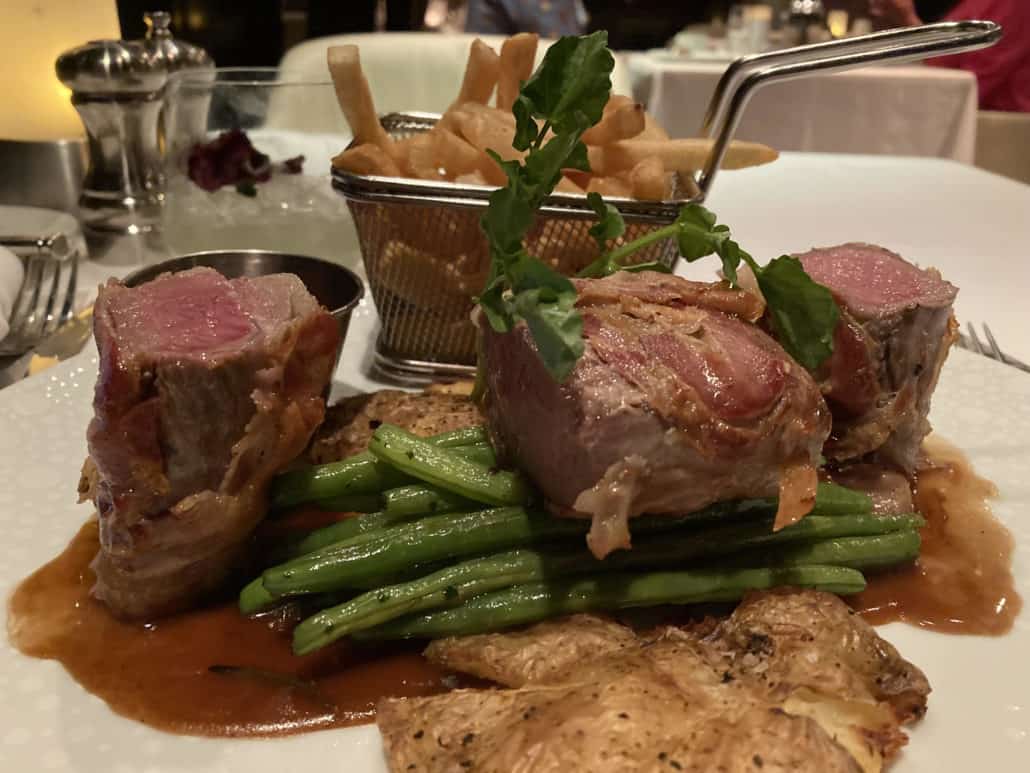 Heading back to the suite, I took advantage of another Haven perk: Free movies. Even the ones that are normally pay-per-view are free for Haven guests. Which is awesome, because so far I've slept through several, and it would annoy me if I'd been paying for them. Tonight? I made it at least 10 minutes into House of Gucci before I was snoring with the intensity of Lady Gaga's attempts to seduce Adam Driver.
But it was good that I was getting some sleep, because the next day, I'd be doing something I've thought about trying for years, but never been brave enough to actually do…
Read my other Norwegian Getaway trip reports: