Paradise Beach is one of Cozumel's highest rated beach clubs for good reason. Offering 350 feet of white sandy beaches and Cozumel's largest heated pool, Paradise Beach is a beautiful and family-friendly beach. It's also been the go-to beach excursion my family has enjoyed the most as a break, when our cruise ship docks in Cozumel.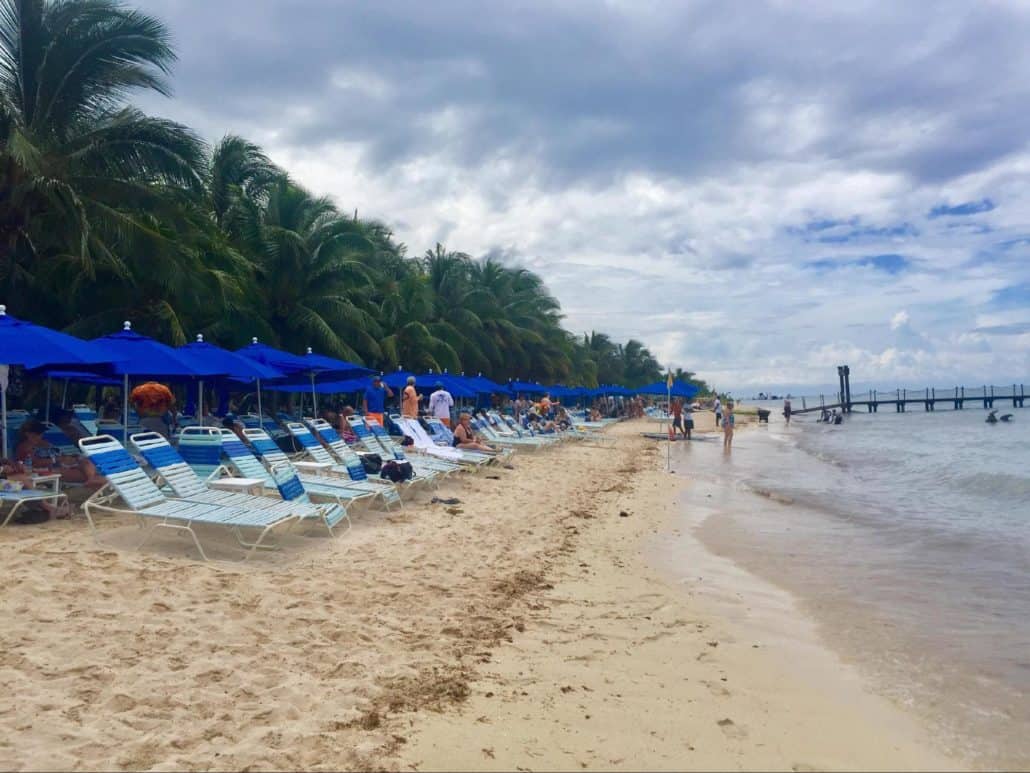 Unlike other popular beach clubs by the cruise port, Paradise Beach Cozumel offers an a la carte experience, giving guests an opportunity to enjoy the beach while spending the day not breaking the bank.  But drink and food orders can add up quickly if you aren't keeping track.
Cruisers who don't want to worry about a surprisingly high bill at the end of the day will be excited to hear that Paradise Beach is now offering an all-inclusive package.  
Paradise Beach All-Inclusive Experience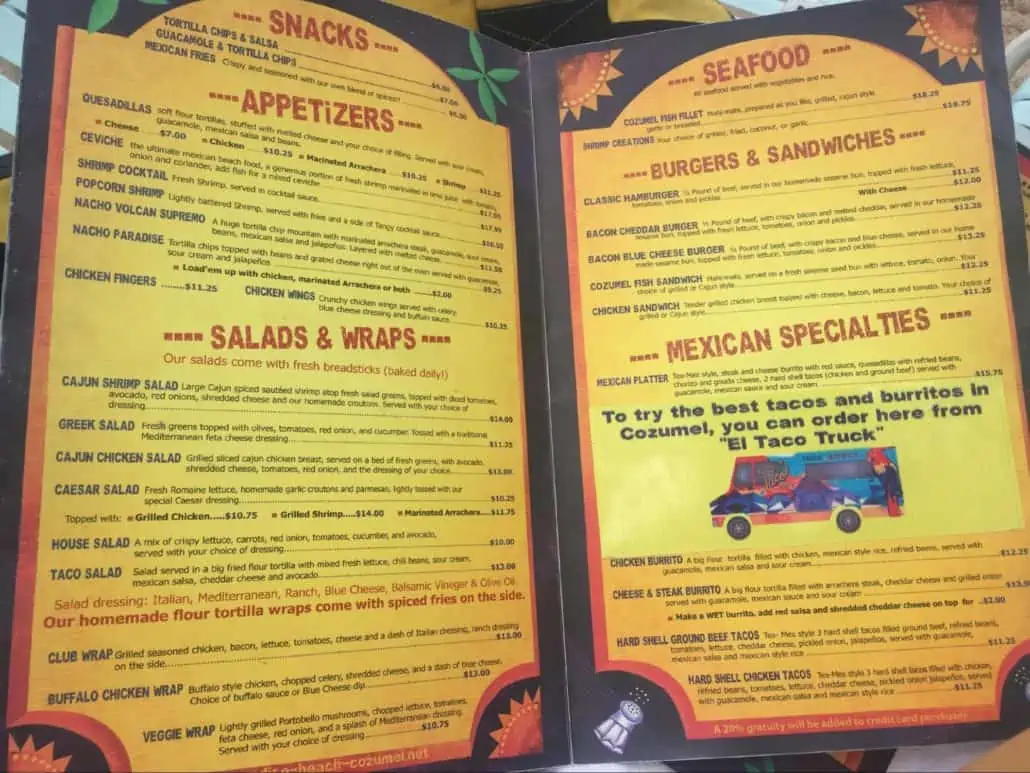 Those who choose to book Paradise Beach's all-inclusive package will be able to order from the menu at both of the restaurants, the taco truck, or from the comfort of their lounge chair.  Included beverages are domestic alcohol, frozen drinks, Sol and Dos Equis Beer, non-alcoholic drinks, soda, and water.
Note: Not included are premium and top-shelf liquor, novelty drinks (i.e. yard drinks, drinks served in coconuts or pineapples, etc), water park passes, and motorized water activities.  
The cost of the all-inclusive option is $63 per adult, $44 for teens ages 12-17, $35 for children ages 11-5, and children under 5 are free.  All members of the same party must purchase the all-inclusive package.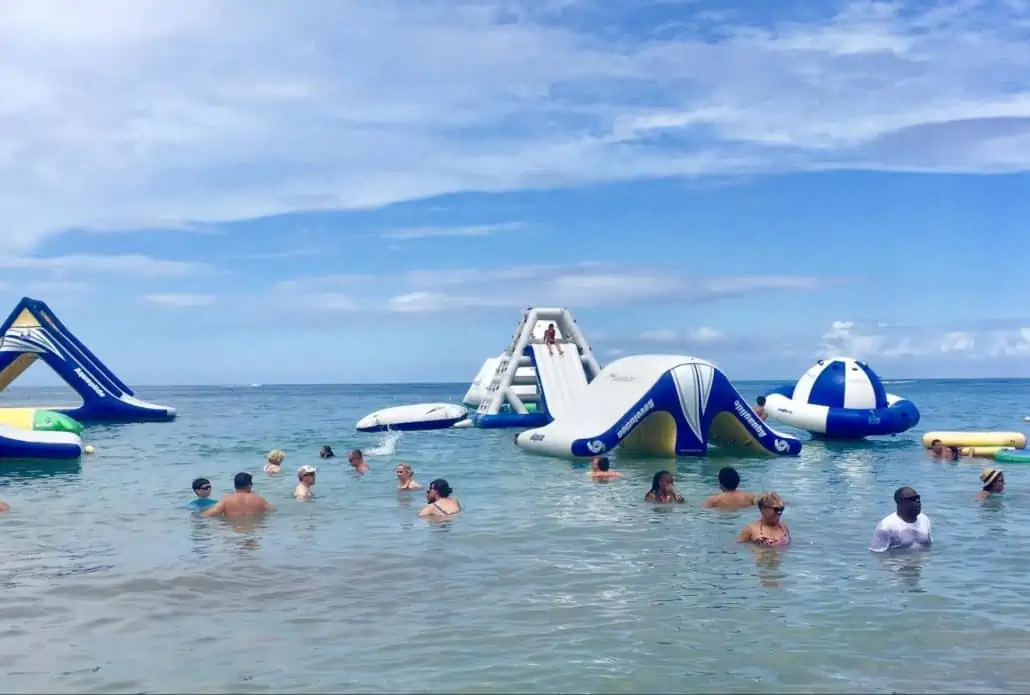 Fun Passes, which include access to the water park (water trampolines), as well as the use of kayaks, snorkeling gear, paddle boards, and other water toys are just $14 per person when purchased with the all-inclusive package.  
A 50% deposit via Paypal is required at the time of booking.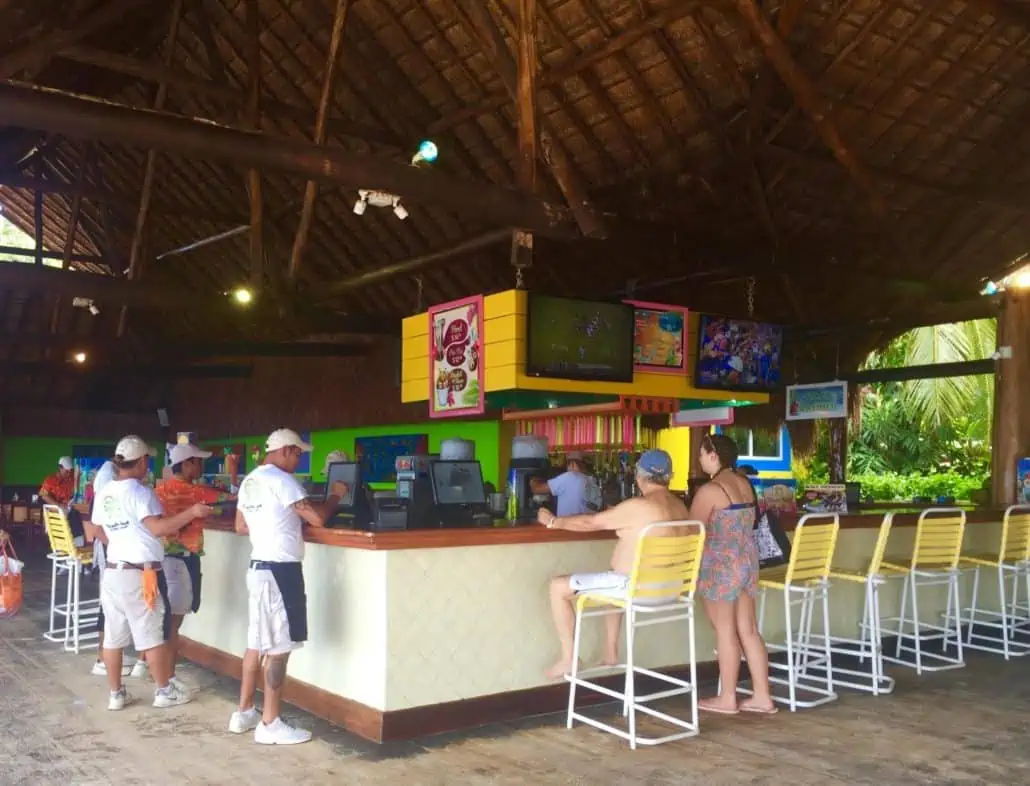 NOTE: Now through 4/14/19 use the code SPRING2019 when booking online to receive a 10% discount on the all-inclusive package.
A La Carte Options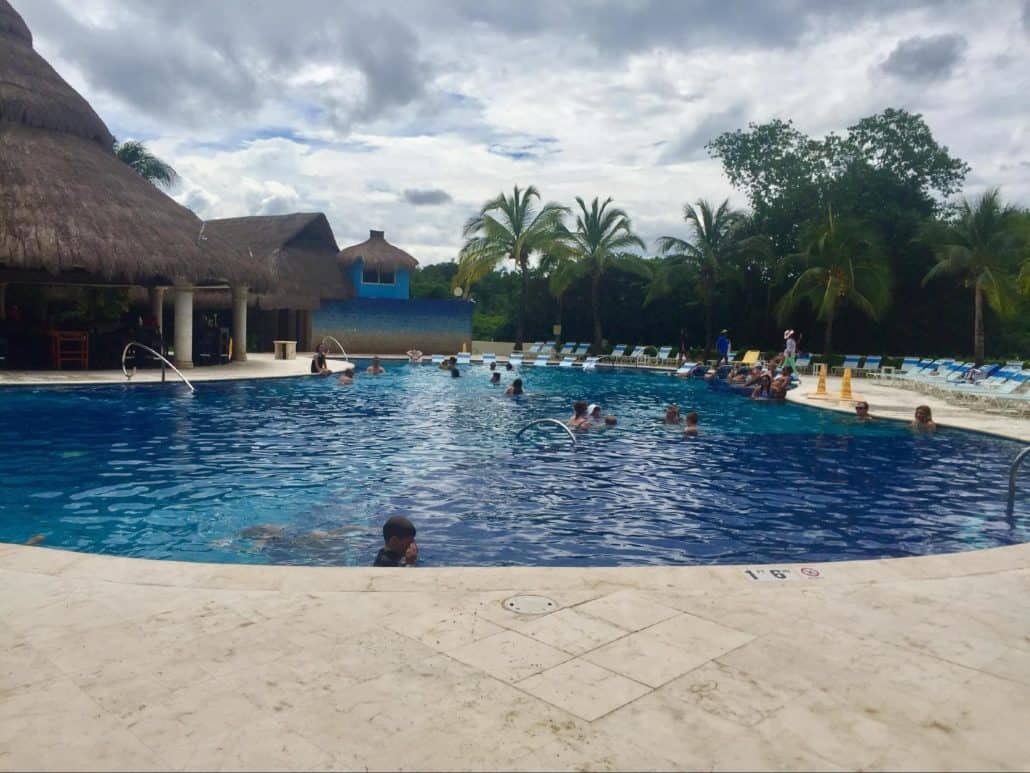 For those looking to enjoy the beach at a bargain, Paradise Beach still offers its a la carte option.  The $3 entrance fee provides access to all facilities and a lounge chair at the beach or by the pool. However, it is requested that a minimum of $10 in food or drink is purchased per person.
Fun Passes may be purchased for $18.  

Advance reservations are NOT required when choosing the a la carte option.  
Getting to Paradise Beach Cozumel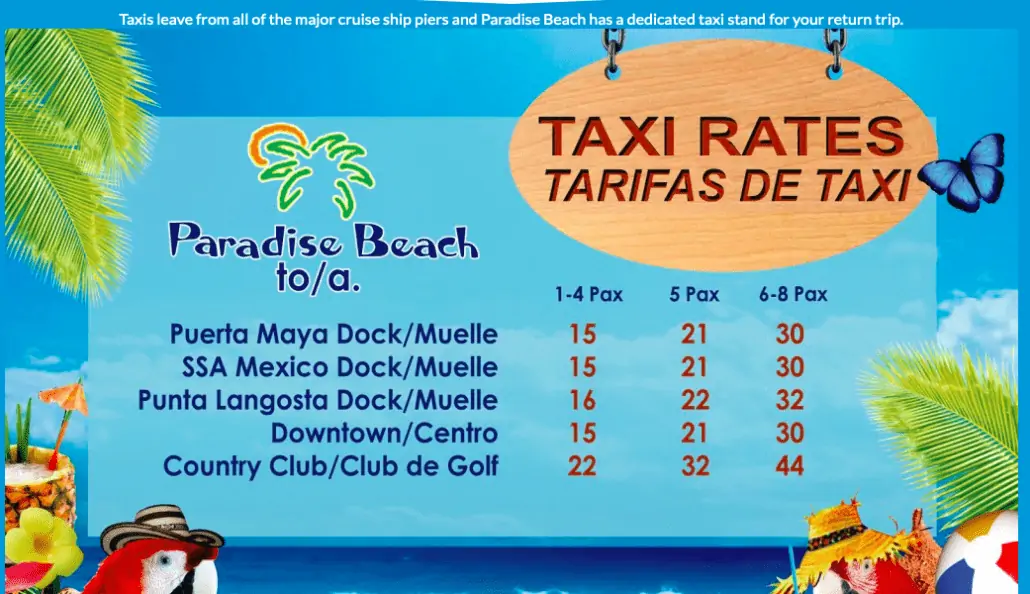 A visit to Paradise Beach is a short 15-20 minute taxi ride from the cruise piers. Cozumel taxis are regulated and fares to popular tourist destinations are prominently posted at the port taxi stands.  Rates listed are per vehicle for 1-4, 5, and 6-8 passengers.  Currently, a trip for 1-4 passengers to Paradise Beach will cost $15-16 each way, depending on which pier you are traveling from.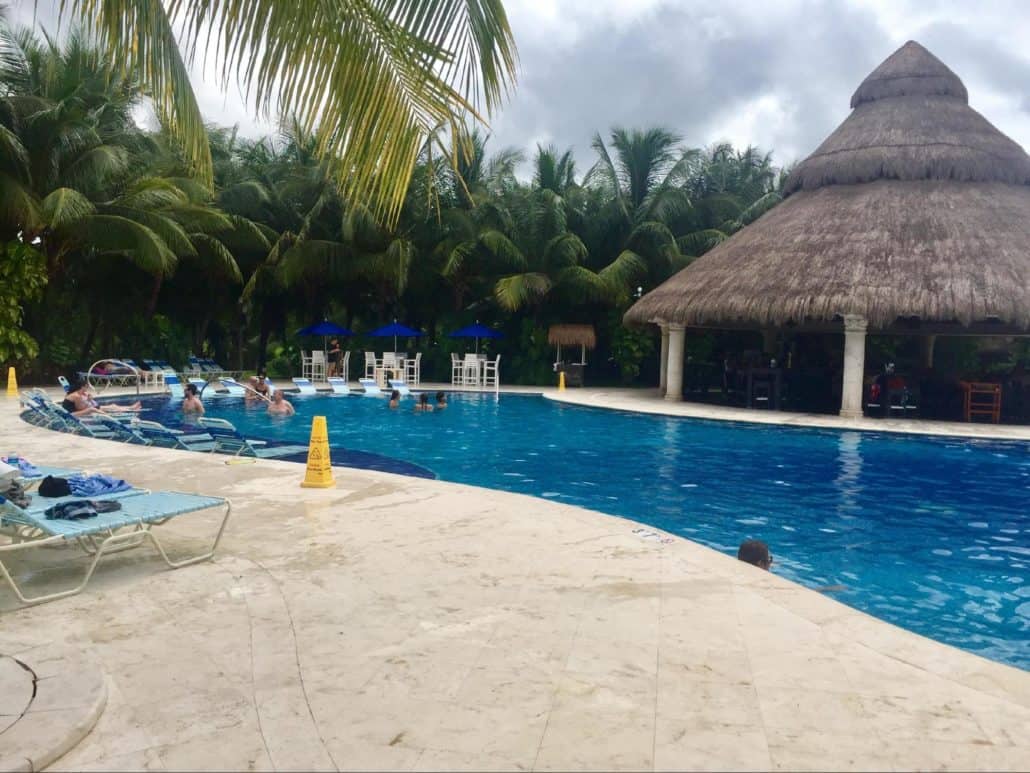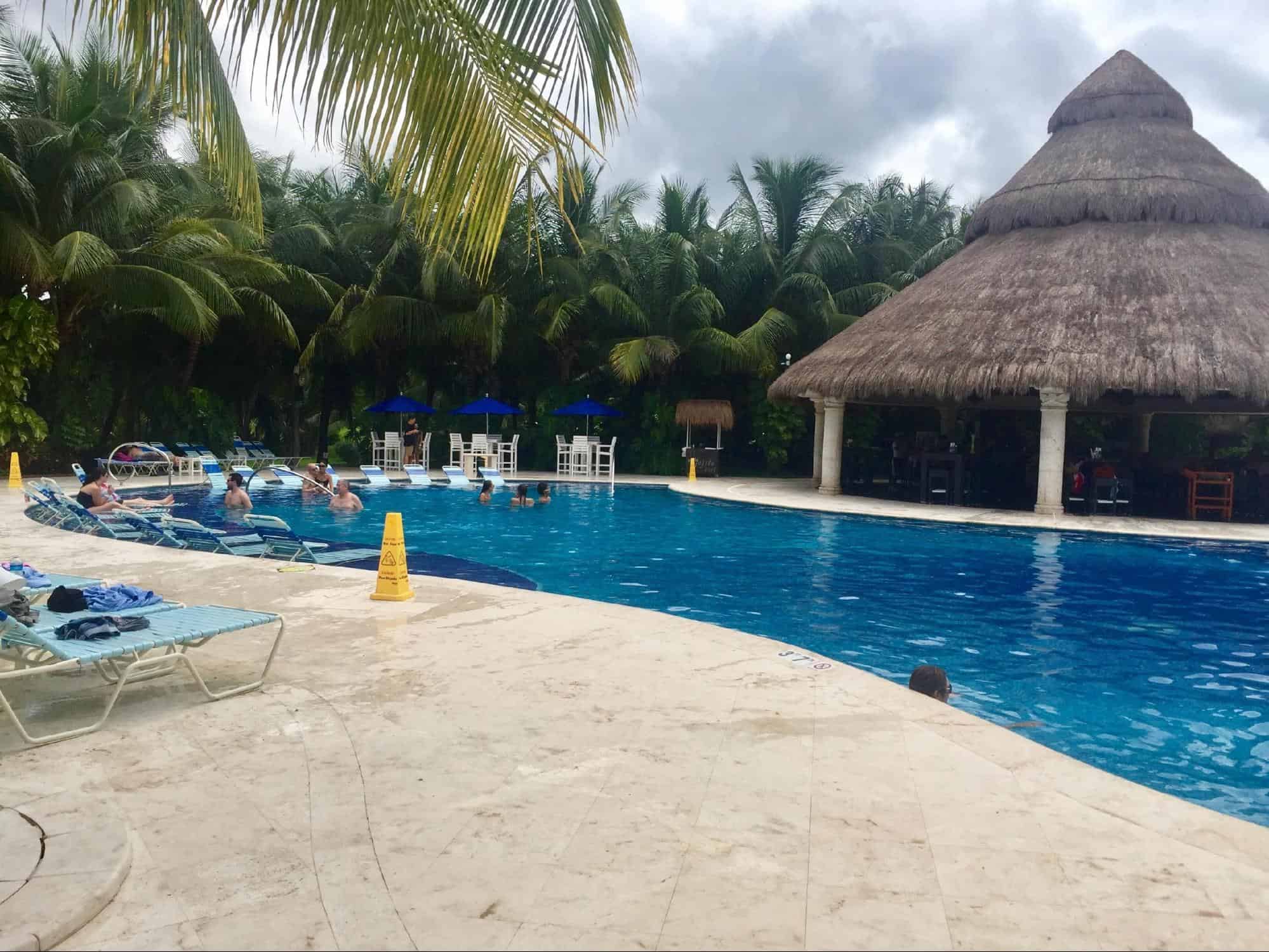 There's no need to worry about getting a ride back to the port at the end of the day.  There are plenty of taxis waiting in the parking lot when you are ready to head back to your ship.
We don't always want to eat or drink a lot while on shore, especially near the end of a cruise when we're already feeling quite full.  Paradise Beach's a la carte option is something we've appreciated in the past. However, the addition of an all-inclusive option is an exciting development we may decide to try on our next visit to Cozumel.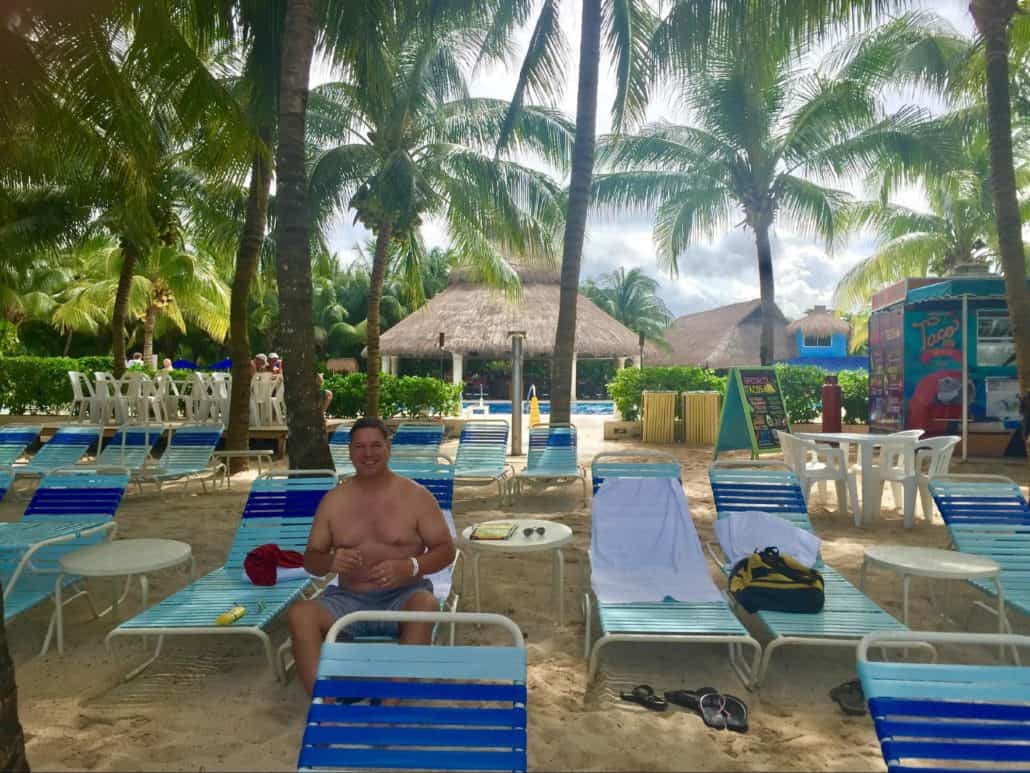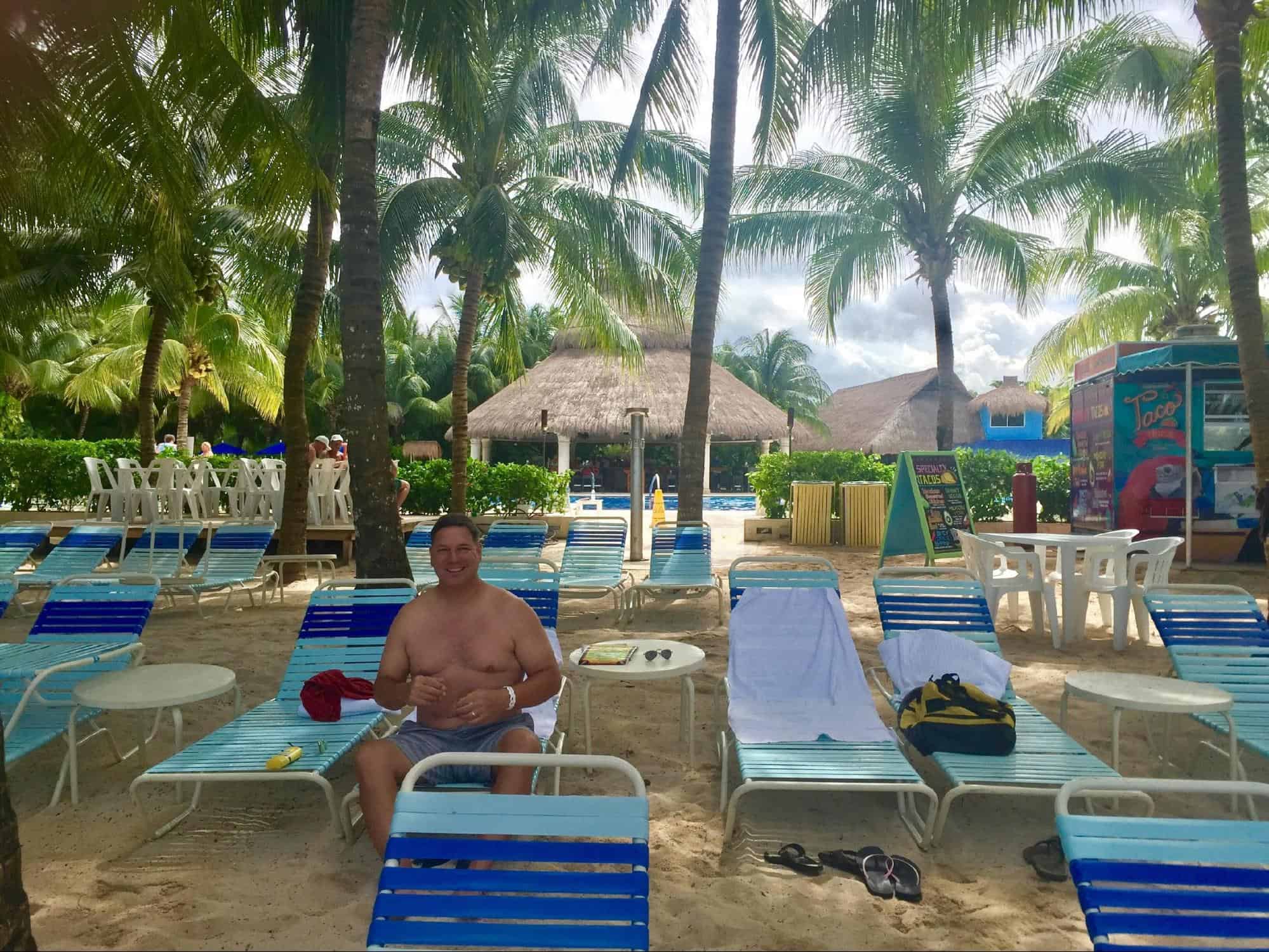 Other Cozumel beach clubs can be crowded, loud, expensive, or just don't offer all of the amenities we are looking for. Between the beautiful pool, beach with plenty of natural shade, and water park inflatables for the kids to enjoy, my family is always happy to visit Paradise Beach.  Their new all-inclusive option gives us another reason to return.
5 Cruise Tips For Cozumel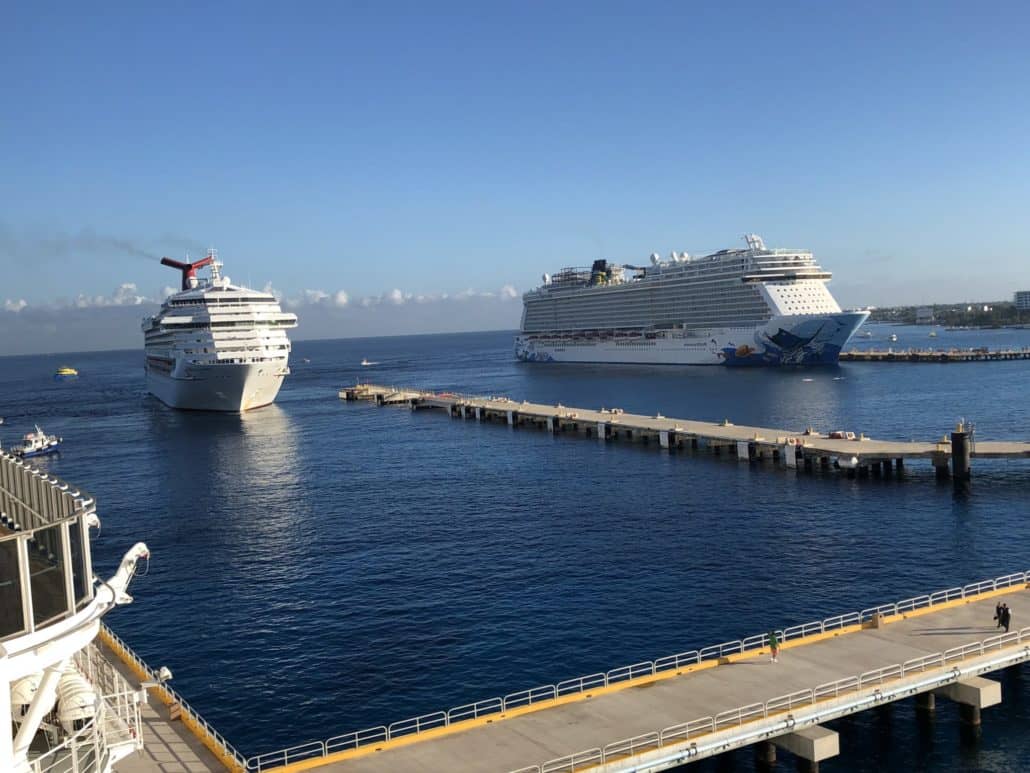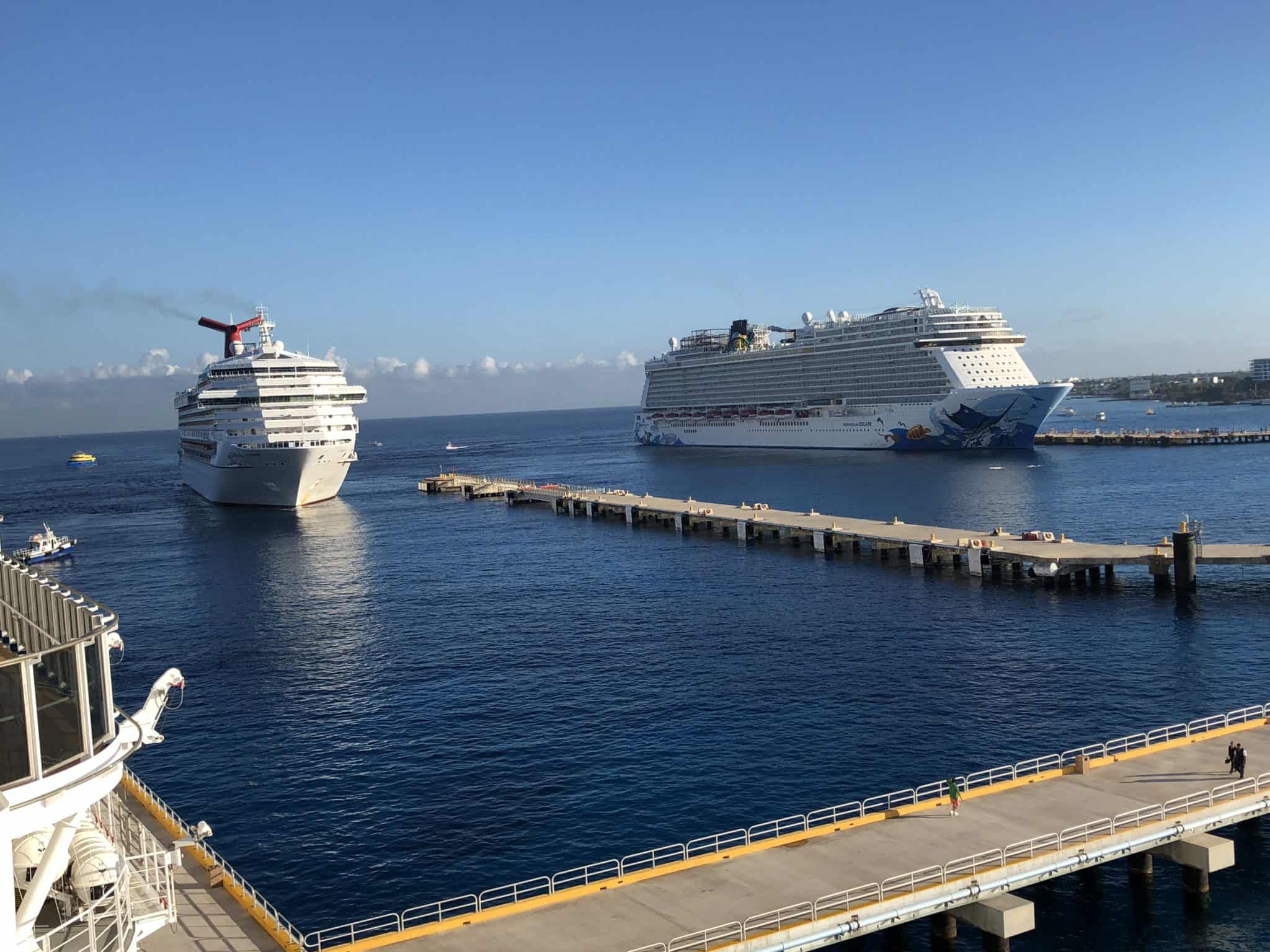 1. The taxi cabs in Cozumel are cash-only so make sure you have enough cash to not only get to Paradise Beach, but also back to your cruise ship.
2. Make sure you remember what pier your cruise ship docked. There are three different docks in Cozumel and on busy days cruise ships will be docked at all three of them.
3. If you're familiar with Nachi Cocom or Mr. Sanchos, Paradise Beach is a little before those two resorts. Giving your party 30 minutes to get back to the ship is usually plenty of time.
4. As you know Cozumel is an island with plenty of beaches, however, paying for beach access is worth it. The resort beaches are typically well maintained and are monitored to prevent locals coming up to sell you trinkets.
5. American dollars are accepted in Cozumel so you'll be safe with using the dollar and not have to worry about currency conversion.
This guest post was written by Melissa Lagerquist.