Cunard is the only major cruise line that allows passengers to bring a pet dog or cat on their cruise vacation — and only aboard one ship: Queen Mary 2. But you can't just bring Fluffy onboard QM2 and plunk her down on a travel bed in your cabin. Cats and dogs on cruises must be booked and paying passengers, and Cunard's Queen Mary 2 has plenty of pet policies and restrictions that must be followed.
Will you be able to cruise with your pet? Find out how to get your four-legged friend onboard.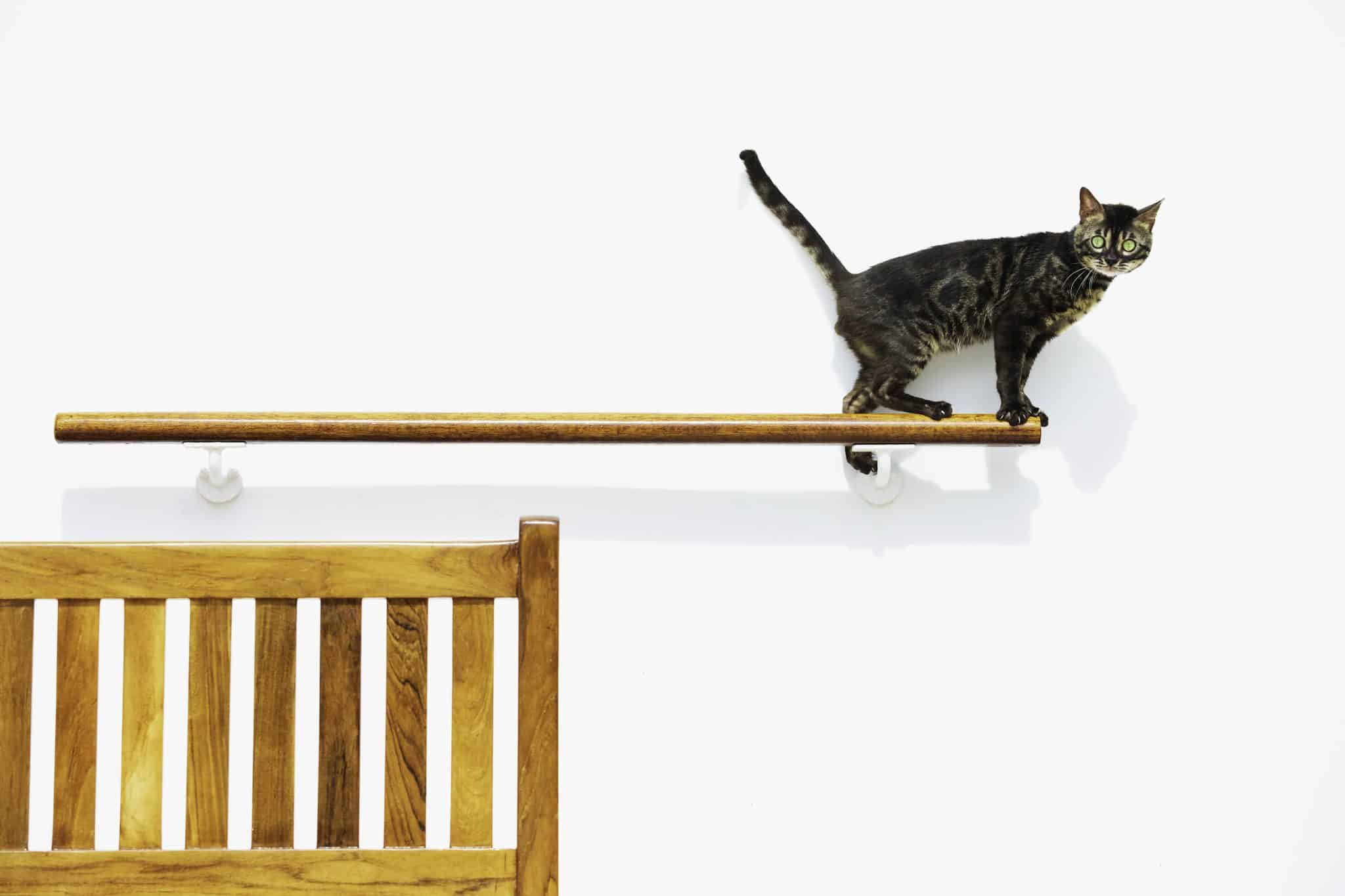 Can I take my cat or dog on the Queen Mary 2?
Yes. Dogs and cats are the only animals allowed to cruise with Cunard. Your pet hamster, parakeet, and snake need to stay home while you vacation.
But you can't take your pet on just any Cunard cruise. Cats and dogs are restricted to transatlantic cruises between Southampton (near London) or Hamburg and New York City; due to U.K. restrictions, pets cannot sail on back-to-back cruises departing from and returning to Southampton. In order to bring your dog or cat on the cruise ship, you will need to book them a spot in The Kennels, the ship's pet residences.
Queen Mary 2's pet policies include size restrictions on animals. Pets cruising in one of The Kennels' smaller cages must weigh 25 pounds or less; animals in the larger, lower cages must weigh at least 26 pounds. For one kennel, the maximum pet length is 35 inches from nose to base of the tail; for a double kennel, the maximum length is 60 inches. For any kennel, the maximum pet height is 27 inches from top of the shoulder to the floor.
Travelers with disabilities are allowed to bring service animals, but they stay with their owner and cannot use The Kennels facilities. Emotional support animals are not allowed on Cunard. For more about traveling with service dogs, see our story on pet cruises.
What are Cunard's Queen Mary 2 Kennels like?
The Kennels feature 24 individual kennel spaces, an outside walking area and indoor play room for pets, and an owners' lounge for their humans. (The space is decorated with a British lamppost and New York fire hydrant — the equivalent of a spa bathroom for dogs.)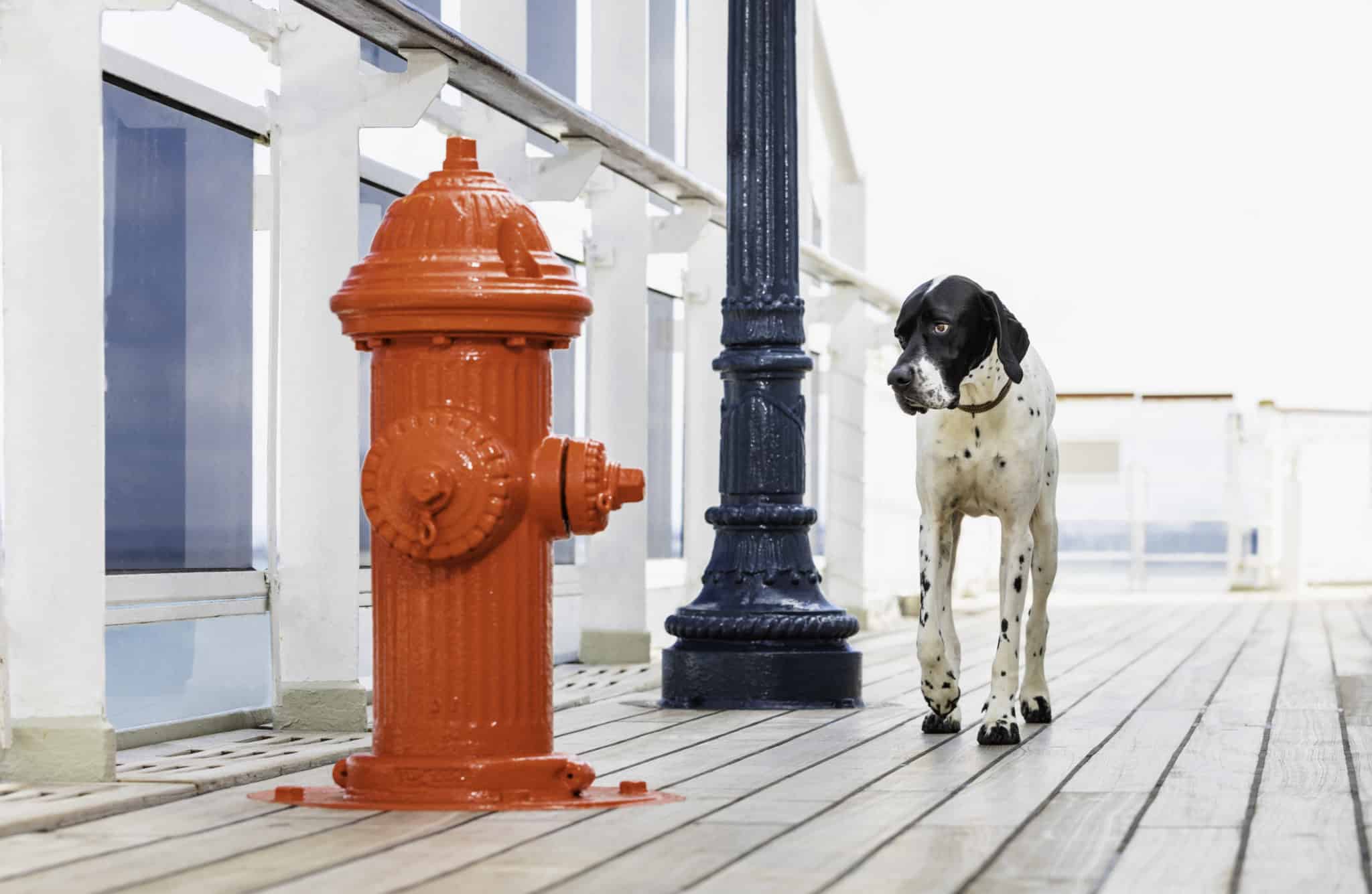 There are 12 upper and 12 lower kennels. The lower kennels are 36 inches high, 30 inches wide, and either 35 or 35.5 inches deep. The upper kennels are 27 inches high, 30 inches wide, and either 35 or 35.5 inches deep. Two kennels can be opened up to make room for a larger animal.
It is a Queen Mary 2 pet policy that only one dog can stay in each kennel, but a cat can share with another cat.
Pet owners do not have round-the-clock access to Queen Mary 2's Kennels. While passengers should check specific visiting hours when they come aboard, a typical visiting schedule might be 8 to 10 am, 11 am to noon, 3 to 6 pm, and 8 to 8:30 pm.
What should I pack for my pet on a QM2 cruise?
Pet cruisers are treated to Cunard's high levels of service. The ship will provide food and bowls for them, as well as toys and treats. Queen Mary 2 carries life jackets in small and large animal sizes. The pets even receive gifts including a coat with the ship's logo, photo portrait, fleece blanket, and dog biscuits. 
If owners would like to request a specific brand of dog or cat food for the cruise, you can fax a request to Cunard or bring your own.
You might want to pack your dog's favorite toys or treats, and a leash and carrying case for off-ship travel. Note that any leftover treats will not be returned, so only give the Kennel Master enough for your pet for the duration of the cruise.
How much does it cost to take a dog on the Queen Mary 2?
Don't think Fluffy cruises for free. Owners pay per kennel. The shorter upper kennels cost $800, and are meant for cats or animals weighing 25 pounds or less. While each cat requires two kennels, one for Kitty and the other for the litter box, two cat siblings can share a double kennel at no extra charge. The taller lower kennels cost $1,000 each, so a large dog requiring two will be charged double.
What else do I need to know about pet cruises on Cunard?
Even with cats and dogs on cruises regularly, Queen Mary 2 does not carry a veterinarian onboard. Pet owners cruise with their animal friends at their own risk.
Another Queen Mary 2 pet policy is that animals cannot visit their owners in their cabins or public areas of the ship. They must stay in The Kennels area the entire time they're onboard. As transatlantic cruises do not have port stops (with the exception of cruises from Hamburg that may stop in Southampton), you will not be exploring in port with your pet.
What do I need to know about traveling with my pet?
Passengers traveling with pets will need to make their own flight and transfer arrangements; Cunard's travel department will not handle those requests.
At check-in, the passenger should ask for the Kennel Master, who will come to bring the animal onboard and take it to The Kennels.
Cruising cats and dogs must adhere to the entry regulations set out by the U.S., U.K., and EU. That means showing proof of specific vaccinations or tapeworm treatments, or even a PET passport. The U.K. has restrictions on bringing pets back into the country, and might require a six-month probation.
Pets cruising from New York to Southampton need the following:
Microchip

Proof of rabies and tapeworm vaccinations

PETS certificate, official PET passport, or third-country certificate

Tapeworm treatment (dogs only) given one to five days before sailing
Pets cruising from Southampton to New York need the following:
Current health certificate stating that the dog or cat was examined by a vet sometime in the past 30 days

Proof of rabies vaccination given 14 days to 6 months prior to the arrival date in New York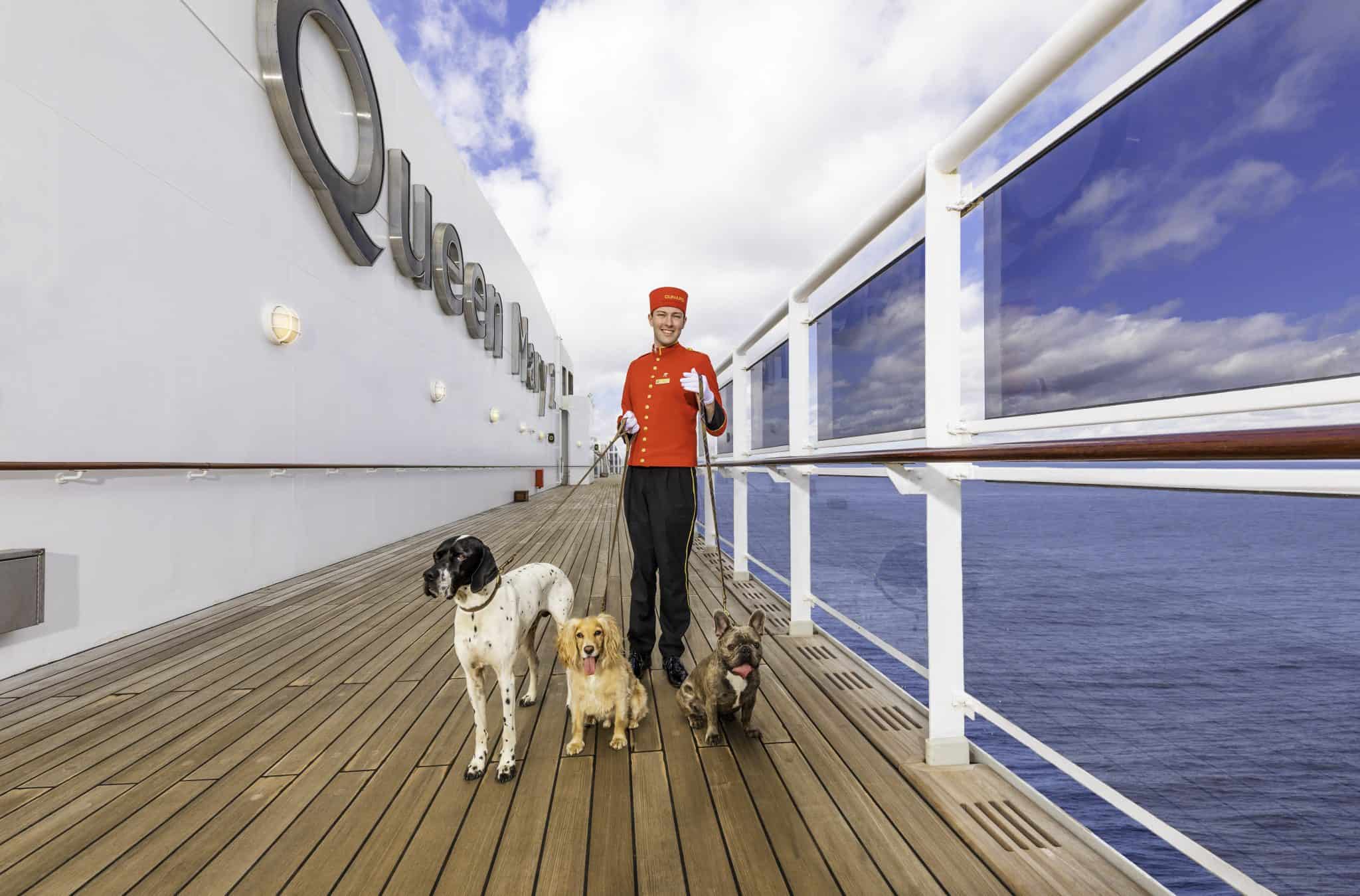 How do I make a Queen Mary 2 pet booking?
You need to book and pay the deposit on a cabin for the humans in your travel party before you can request a spot in Queen Mary 2's Kennels for your cruising cat or dog. That means you do run the risk that by the time you book, The Kennels will be sold out. You can check kennel availability with Cunard before you book.
Once you've booked the humans, call Cunard's contact center to make your pet booking for The Kennels. At the time of booking, you will need to provide the following information for dogs:
Dog's name

Breed

Height

Length in inches

Weight in pounds

Age at time of sailing

Gender
The QM2 can carry 2,691 passengers, so it's no surprise that the 24 kennels are popular and book up quickly. There's usually a waitlist.
To get on the Cunard kennel waitlist, you must have a confirmed cruise booking. However, if Fifi or Fido do not get off the waitlist and you can't bear to sail without them, you will have to pay the regular cancelation penalties.
READ MORE: How Much Does It Cost for Kids to Go on a Cruise?
Pin it for later!