Bringing a little slice of Miami to midtown Manhattan, Pitbull helped Norwegian Cruise Line President and CEO Andy Stuart celebrate the line's newest ship relocating to New York City. The line — which has had a ship sailing out of New York City since 2003, and built the Breakaway specifically for that market — will send that ship to New Orleans in 2018 and have the Norwegian Escape take her place in the New York Market.
Flashing back to the December 2002 christening of the Norwegian Dawn — which took place in New York City before the ship set sail for warmer waters — Stuart recalled that ship's Godmother, Kim Cattrall of Sex & The City fame, kicking things off with a bawdy remark. While pulling the large lever that would send a bottle of champagne crashing against the side of the ship, she quipped, "Don't let anyone tell you size doesn't matter!" During that ship's maiden voyage out of Manhattan, Stuart and his traveling companions realized that with warm weather only a day's sailing away from New York's snow, they could easily sail out of the port year-round. And, since 2003, that's exactly what they have done.
Norwegian Escape Make The Move
While Stuart said the Breakaway had been "a great success," he added that it was time to shake things up and "bring a new ship to New York. Escape is the newest ship in our fleet, so we're bringing our newest and our best here to New York!"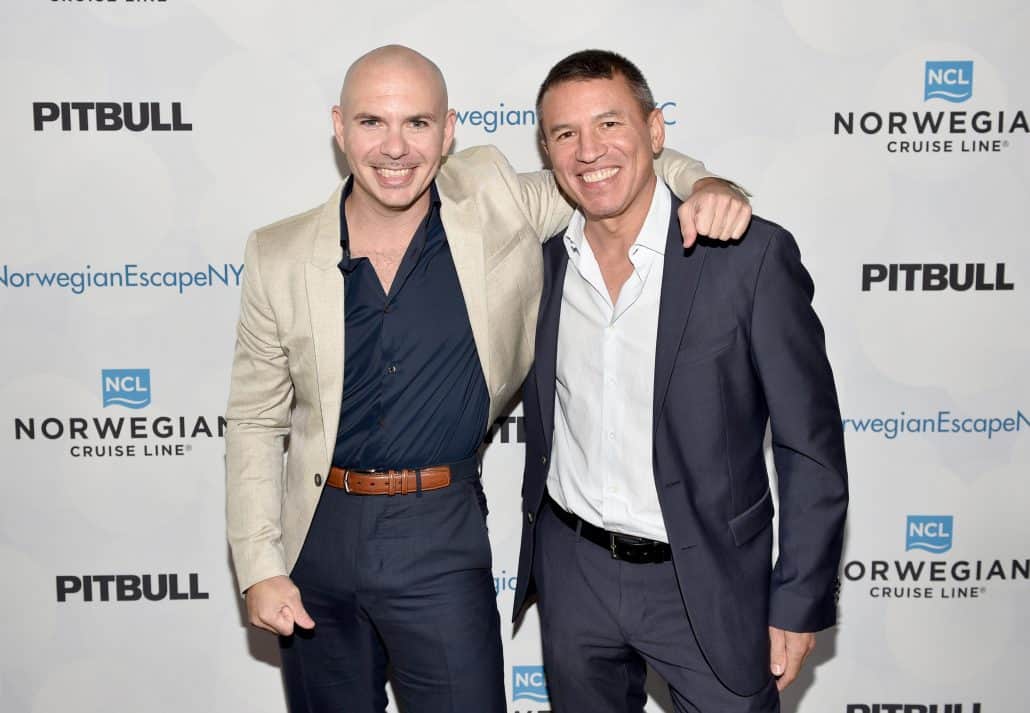 When Norwegian went looking for Escape's Godparent, the fact that it was originally designed for the Miami market made Pitbull an obvious choice. And Mr. Worldwide was honored… and, in some regards, surprised by how things worked out. "They said, 'We want to make it your ship,'" the Grammy-winner explained during the event, held at the Dream Hotel's PHD Lounge. "Usually, it doesn't work out that way. In an endorsement, they say, 'Look, this is what you're gonna do, this is how you're gonna do it, stand here, smile and bye-bye!'" Instead, he calls his arrangement with Norwegian "a true partnership."
He was, he admits, originally wary. "I've lived in good neighborhoods, bad neighborhoods, worse neighborhoods, very interesting neighborhoods," he laughed, "and anytime anybody comes up to you and says, 'Hey may, I want you to Godfather my son!' Usually means you're going to be in for a very big bill! So to be able to Godfather a ship and go all around the world on it and enjoy? It's a true honor and a true blessing!"
Norwegian Escape will begin sailing out of New York City in April of 2018. Like Breakaway, her runs will be a mix of Bermuda, Bahamas and Canada-bound trips.