Princess Cruises has announced their Alaska cruising and cruisetour schedule for 2020. The season includes eight ships offer 11 cruise-only itineraries, plus 25 cruisetour itineraries.
Cruise Highlights
Golden Princess debuts a full season of 14-day Inside Passage voyages, cruising round-trip from

Los Angeles 

with a visit to Hubbard Glacier.
Royal Princess returns as the largest ship sailing in the Gulf of

Alaska 

on the seven-day Voyage of the Glaciers itinerary, along with Grand Princess, Coral Princess, and the return of the smaller Pacific Princess.
Sister ships Ruby and Emerald Princess, sail on seven-day Inside Passage voyages out of

Seattle

, and Star Princess sails from

San Francisco

on 10-day Inside Passage voyages.
Award-winning enrichment program, North to

Alaska

, immerses passengers on board and ashore in all things

Alaska

, such as meeting Alaskans who come on board to share their stories and feasting on fresh

Alaska

seafood.
Discovery and Animal Planet shore excursions, giving travelers opportunities to catch a glimpse of

Alaska

wildlife, including bears, whales, bald eagles and more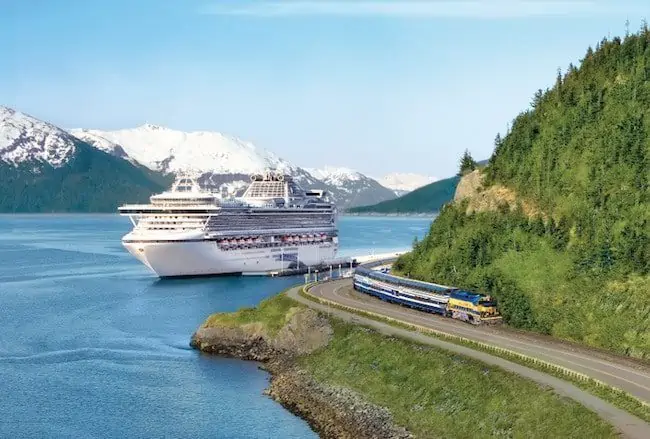 Cruisetours
With 25 cruisetour itineraries, passengers can combine a seven-day Voyage of the Glaciers cruise with three or more nights in the Alaska wilderness, including scenic rail travel and stays at Princess-owned lodges. New for 2020, Princess offers a 17-night Ultimate Cruisetour, with ten nights on land. This cruisetour includes two nights at each Princess Wilderness Lodge.
Princess also offers exclusive Direct-to-the-Wilderness rail service between the ship in Whittier and the Denali-area wilderness lodges, just outside the entrances to legendary national parks.
Captain's Circle Savings
Princess Past Guests are eligible for a special promotion when they book early, which is up to $100 off each person's fare, depending on the itinerary. This can be combined with launch and group promotions, but do not apply to third and fourth guests in the same cabin. Additionally, a reduced deposit is available for Captain's Circle guests when they book early.
Learn more at princess.com/alaska.