The funnel has officially been put into place on Cunard's upcoming ship Queen Anne, marking the latest stage of construction at the Fincantieri shipyard in Italy.
The process, known as the "funnel lift," is an important moment in shipbuilding that marks the installation of one of the vessel's most recognizable features.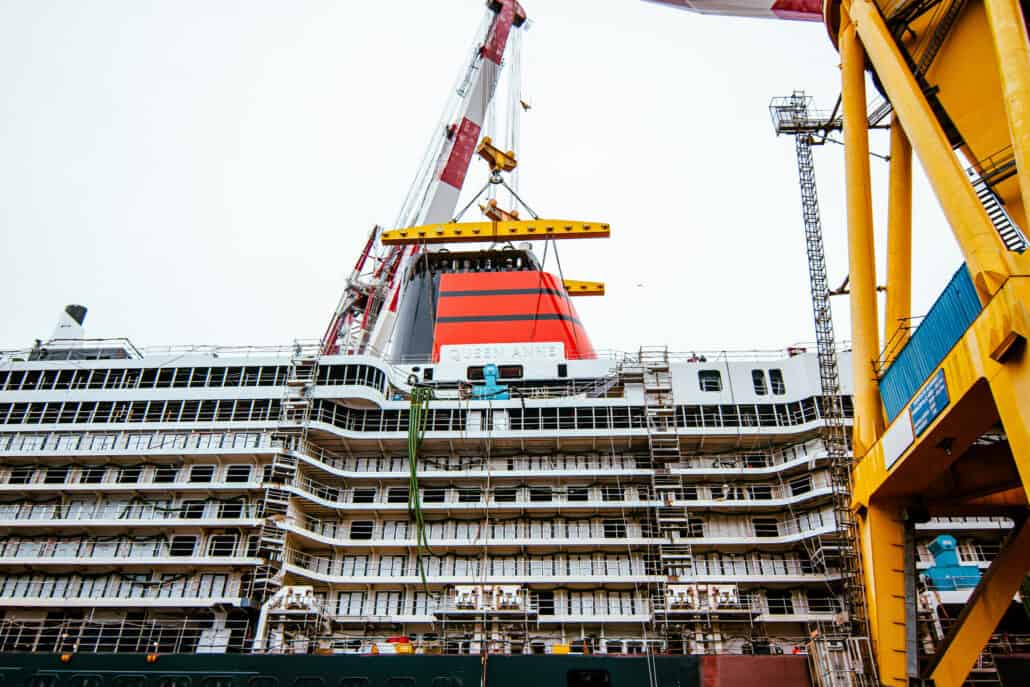 Queen Anne will be the 249th ship to sail under the Cunard flag, and the fourth in the line's current fleet following Queen Mary 2, Queen Victoria, and Queen Elizabeth. When she debuts in May 2024, it will be the first time since 1999 that Cunard will have four vessels at sea.
Cunard's distinctive red and black funnels have adorned its ships for over 150 years, and are the brainchild of Robert Napier — the shipyard owner who built some of the line's earliest ships. The color scheme endures to this day, making Cunard's vessels easily identifiable in ports around the world.
"Cunard's signature red and black funnel is a part of our heritage, and we are thrilled to see it installed on our newest ship," said Matt Gleaves, VP Commercial, Cunard, North America. "The funnel lift is a significant milestone in the building process, and we are now one step closer to welcoming Queen Anne into service."
Queen Anne is 14 decks tall, 113,000 gross tons, and will be able to hold 3,000 guests. Her maiden season will include voyages in the Mediterranean and northern Europe.
Watch a short timelapse of the funnel being installed here:
Today we celebrate another milestone in Queen Anne's construction! She's now been crowned with her iconic red and black Cunard funnel.

Discover Queen Anne – https://t.co/ej8b0C5X7W pic.twitter.com/LtfMjH2QRJ

— cunardline (@cunardline) April 18, 2023
READ NEXT: Rock Looming Over Cruise Dock Will Likely Disrupt Skagway Ship Schedule