Just The Facts
Built: 2022
Size: 30,150 gross registered tons
Measurements: 665 feet long, 77-foot beam
Staterooms: 189
Capacity: 378
Crew: 256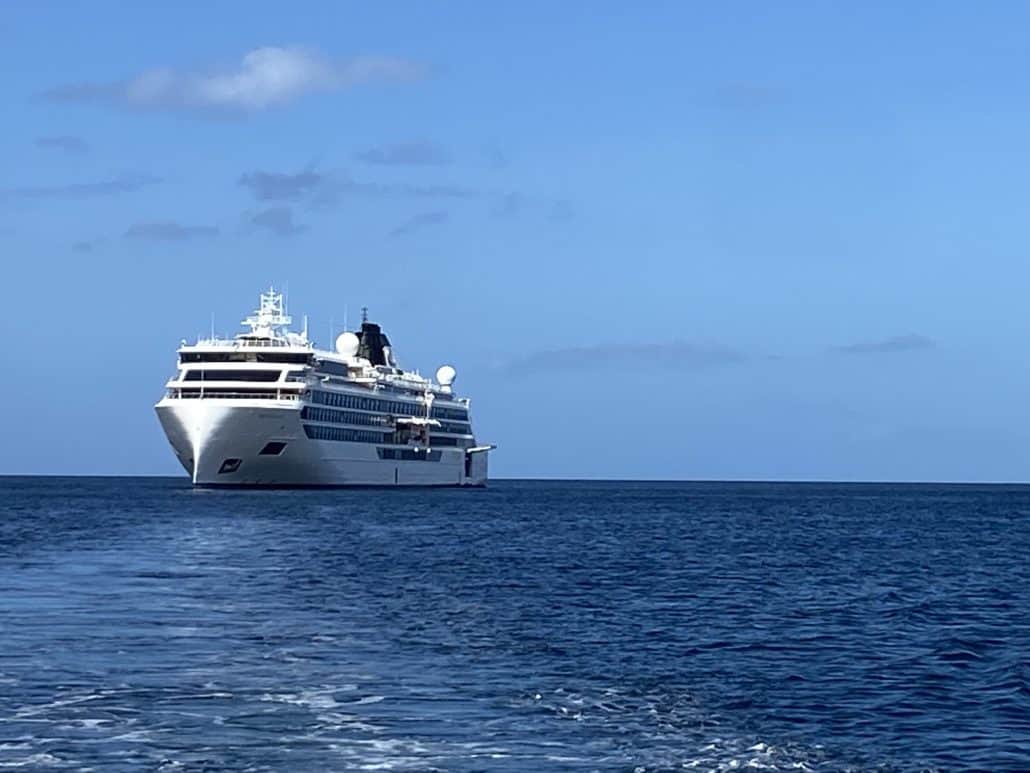 Overview
After having successfully launched both river boats and ocean ships, Viking entered the market with a sleek and stylish expedition vessel. Designed to navigate polar regions and the locks and canals leading to the Great Lakes, Viking Octantis easily finds its way into smaller harbors and remote ports of call. This Polar Class ship utilizes technological features that maintain the comfort of guests while protecting the environment.
Truly a cruise for the inquisitive and "For the Thinking Person," Viking expedition ships focus heavily on an immersive learning experience. Those curious about nature will thrive in this type of environment. Those looking to be entertained with shows, comedians, and lots of bells and whistles will do best to seek out a more compatible cruise.
The typical Viking Octantis guest is educated, curious, and older. Nature and discovery entertain them.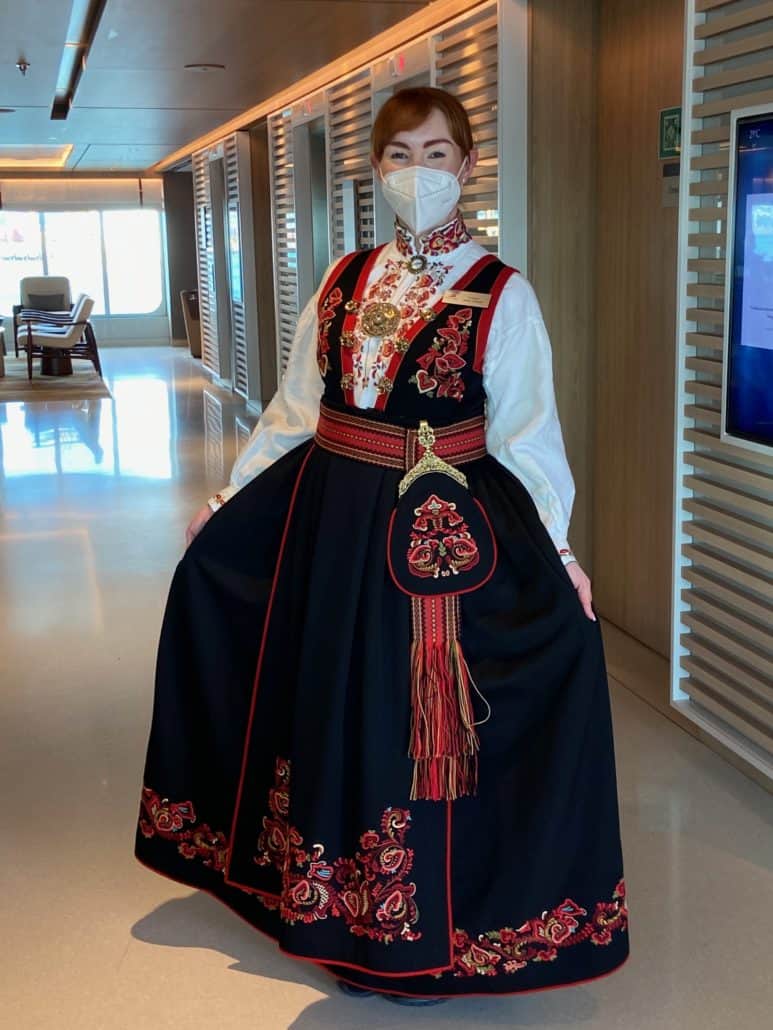 Layout
The ship makes very efficient use of space. Even the smallest corner becomes a welcoming spot. It may have a fireplace, cozy seating, or a great view of the sea. With only six passenger decks, Viking Octantis doesn't overwhelm guests. Having sailed on Viking Orion, a larger ocean-going vessel, I did have some trouble erasing my memories of that layout from my mind. After a few days, I felt comfortable reaching my destination without backtracking.
With its emphasis on expedition sailing, wildlife viewing, and becoming one with nature, it's not surprising that Viking Octantis has a real connection to the sea. From the open bow to the aft Finse Terrace, there's no lack of space for observing the world beyond the ship.
Staterooms
The staterooms on Viking Octantis range from the Nordic Balcony at 215 square feet to the sole Owner's Suite at 1,238 square feet. All staterooms include a flat-screen TV, coffee machine, drying closet, heated bathroom floor and towel racks, and anti-fog mirrors. For the viewing pleasure of guests, all staterooms have a Nordic Balcony — a large picture window that slides from top to bottom to give the illusion of being on a balcony. Wildlife viewing is enhanced with the provided binoculars.
My Nordic Junior Suite provided plenty of space for spreading out and more than adequate storage space. Although my cruise didn't require a huge amount of gear or layering accessories, I had plenty of space for storing what I had, as did my roommate. It helped that we each had a very large closet.
All rooms have space for lounging or reading. USB ports and U.S. electrical outlets are conveniently located throughout the room. There is even a floor light that functions as a guiding light to the bathroom. The switch for that helpful feature is next to the beds.
Scandinavian design dominates the style of the stateroom. Thrown over the bed, a nice woven blanket provides extra warmth if necessary. The beds are made up in a traditional European style with a duvet. Requesting an extra sheet to make the bed in the American style for this post-menopausal guest required quite the effort. Demonstrating this method of bed making required a few tries.
The spacious bathroom had two sinks, plenty of upper and lower shelves for toiletries, and even drawers for storage. The shower space is more than adequate with a bench. Toiletries are pleasant smelling and include body wash, shampoo, conditioner, and body lotion.
Dining
If enjoying local specialties suits your palate, The Restaurant should be on your list. Menus change daily and the chef sources local ingredients for your dining pleasure. A nice feature of Viking is that selected wines and beers are included at dinner. The table wine changes daily.
For those who enjoy Italian food, Manfredi's is the place to be. The menu is set, but with many options, including dishes not typically found on Italian menus. There are daily specials. The restaurant requires reservations and books out quickly.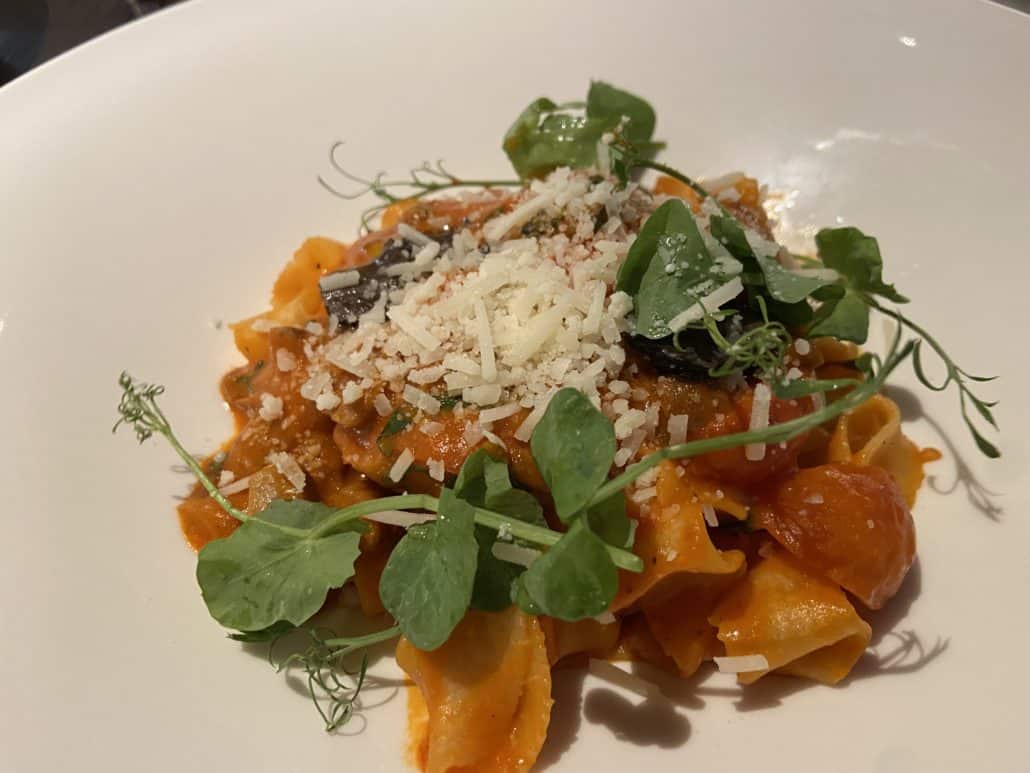 World Café, the self-service dining room, combines a variety of fresh and interesting foods to please any palate. Sushi, Asian, and a steak grill with live cooking make this casual venue ideal for those seeking to try new foods or old favorites.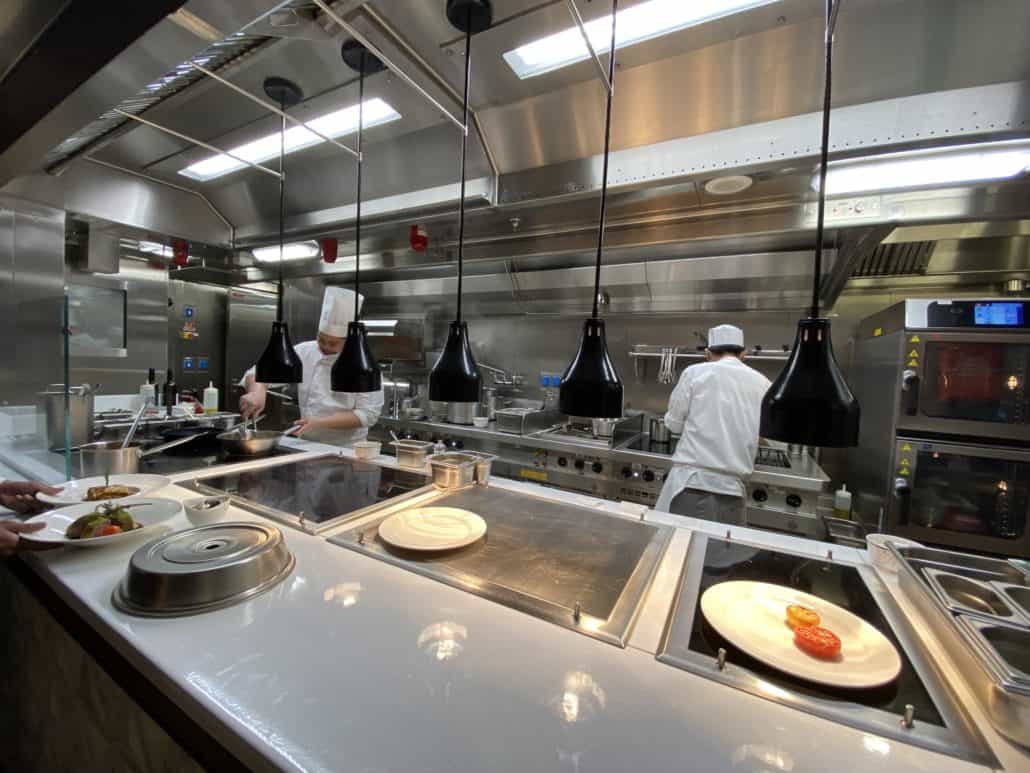 With a selection of lighter fare, Mamsen's is named after the family matriarch. A favorite is the Norwegian waffles, but there are other options including pastries, open-faced sandwiches, smoothies, and snacks.
Viking includes 24-hour room service for the convenience of guests.
Entertainment
Most of the entertainment on the ship comes in a more intimate style. During my cruise, there were pop vocalists, a violin/piano duo, a solo violinist, and a solo pianist. Don't expect magic shows, comedians, or large production shows. Reading, card games, and the puzzle table were quite popular during this cruise from Barbados to NYC.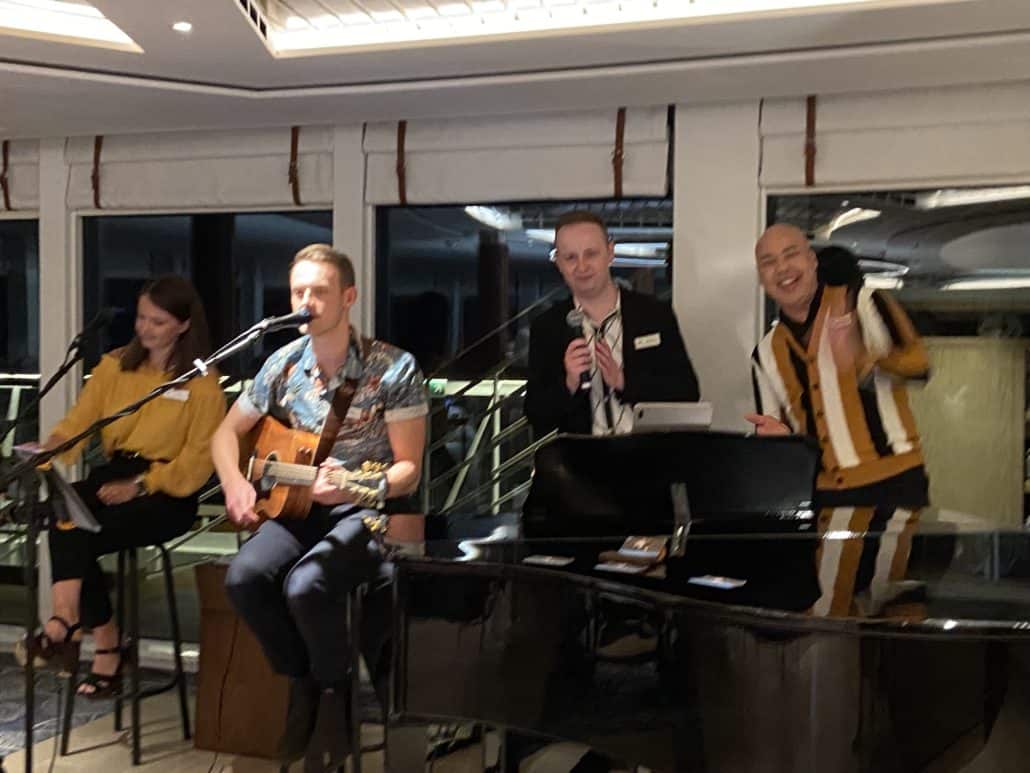 Public Areas and Watering Holes
Efficient use of space created several public areas for relaxation or socializing. The furniture and décor showcase Scandinavian design. Most of the areas have easy access to a coffee or traditional bar. Even if you aren't close to a bar, a server will find you. Aft is the Aquavit Terrace with both inside and outside seating for dining or imbibing in a favorite beverage.
Popular in the evening is the Explorers' Lounge with its floor-to-ceiling windows. Live entertainment happens in this venue. Passengers gather around the bar or sit gazing out the window or seated together in conversation areas.
Up on Deck 6, a large sundeck — like other spots of the ship — is efficiently laid out for maximum seating of guests. Don't miss this comfortable outdoor space.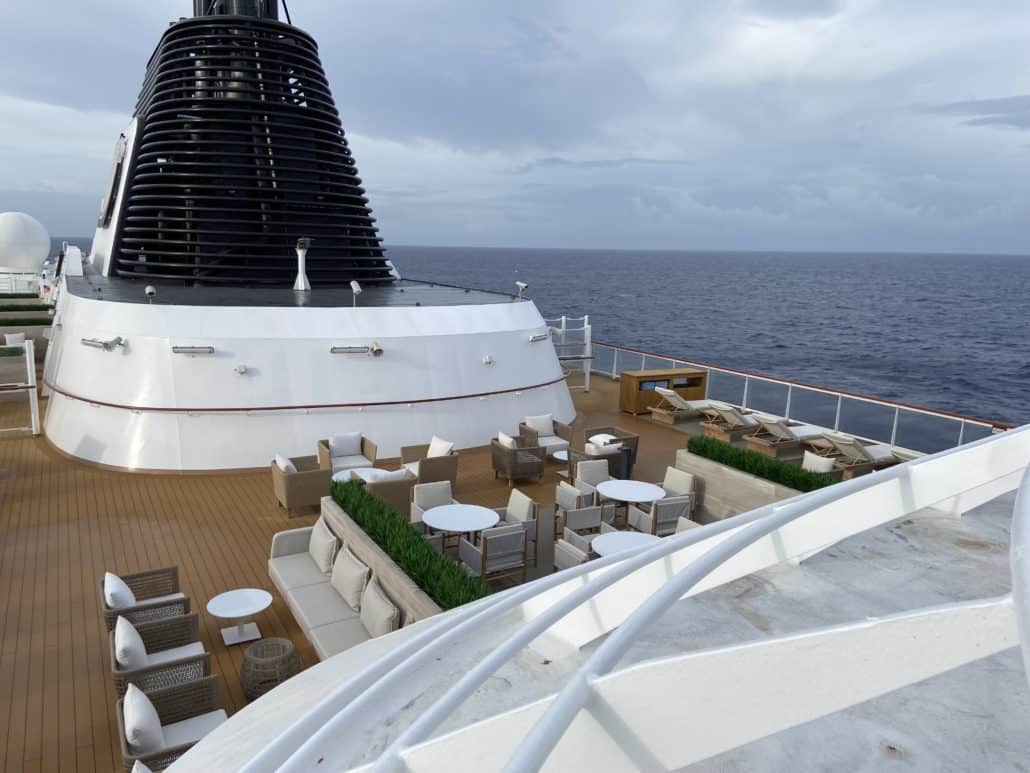 Fitness Center & Spa
The fitness center comes equipped with a variety of machines. Next to that area is a large open room for activities such as yoga or workouts. Guests have access to videos to help them with their personal fitness routine.
The spa has the largest pool on the ship – other smaller pools are within the Aquavit Terrace area. A steam room and sauna surround the pool area. In addition to these facilities, there are many spa treatments with a Nordic focus.
All guests are welcome to use the spa thermal area without incurring an extra charge.
Special Exploration Equipment
Being an expedition ship, Viking Octantis requires space for the equipment used in its explorations. A large area known as The Hangar acts as a garage for kayaks, two Special Operations Boats (SOB), two submarines, Zodiacs, and other equipment.
The Special Operations Boat launches directly into the water from The Hangar. Eliminating on-the-water entry into the boats, guests conveniently board from The Hangar. The boats then go down a roller conveyor and into the water.
The use of any of this equipment follows strict regulations depending on where Viking Octantis sails. In my case, I only tried the kayaks during a port stop in St. Kitts. Local laws govern the use of any of the watercraft, so many times it was impossible to launch any of the vessels. Unfortunately, I never had the opportunity to experience the motorized options. Usage is subject to so many variables. I had signed up for the submarine, which got canceled early on the day of my assigned time due to sea conditions. The opportunity to try the Special Operations Boat conflicted with my kayaking expedition.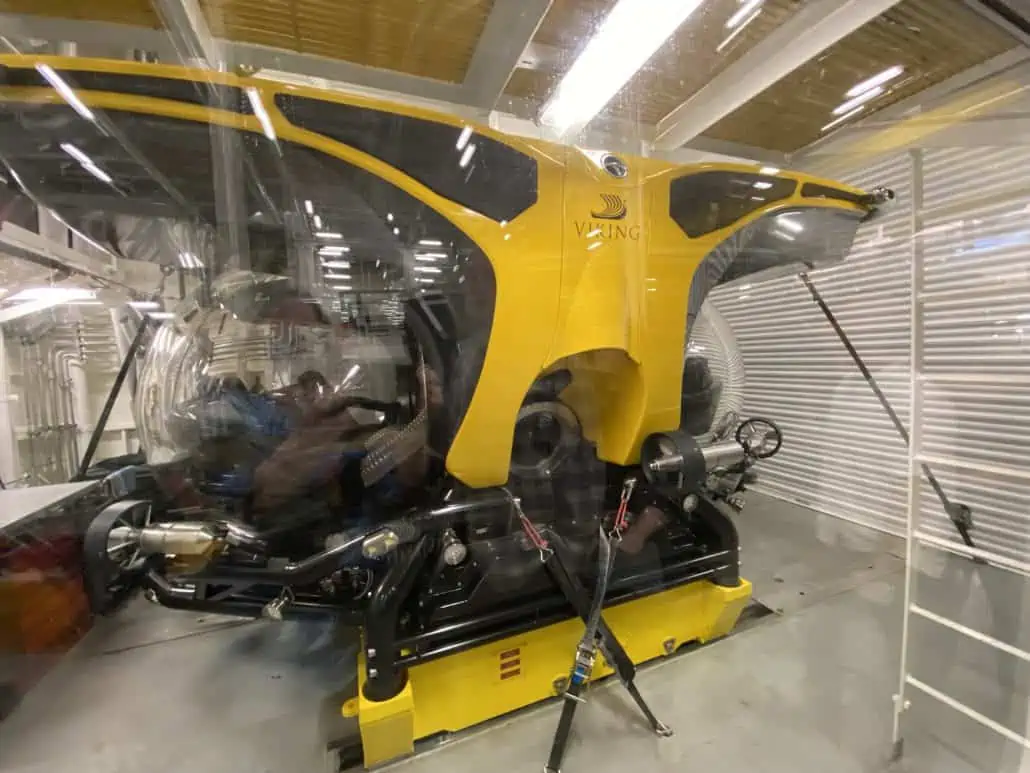 Only six guests fit on the submarines, and weight limits may reduce that number to five guests. Many, like me, expressed disappointment that the opportunities were so limited. At this time, experiencing these watercraft is included in the fare. Considering the high demand and the many disappointed guests, there was some talk about charging for the submarine experience in the future.
Labs & More
Immersive activities give guests on Viking Octantis a chance to learn about science and nature. The expedition team members enthusiastically share their knowledge of the area traveled. On Deck 2, Expedition Central is the meeting place for those looking to learn more about nature, the environment, or the wildlife in the area. Experts position themselves here and share their knowledge with guests.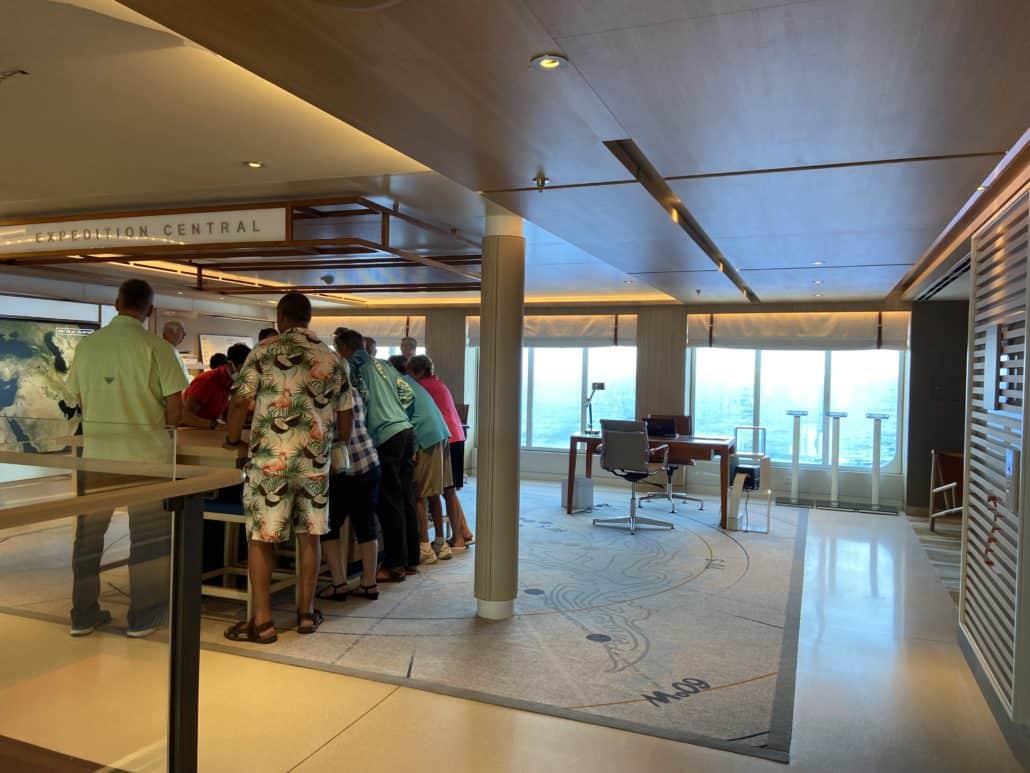 A very different experience is the lab on board. I experienced this interesting component of Viking Octantis. A lab equipped with microscopes and other high-tech equipment connects guests with science.
We used microscopes to look for objects in some of the water samples collected on our voyage. Resident scientists explained to us what we were seeing and how Viking Octantis is the first cruise ship to be involved in collecting such data.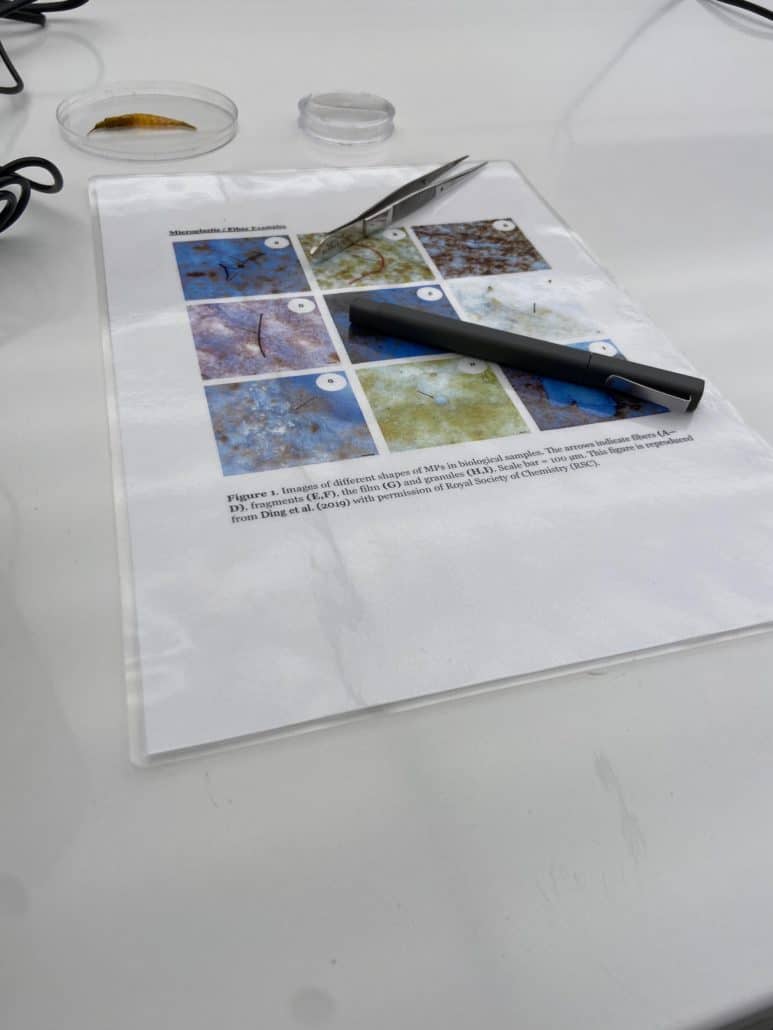 Toward the end of the cruise, we also went up to a top deck and watched as a weather balloon was released. Watching the inflation of the large balloon and then seeing it drift off higher and higher until out of sight made for an exciting start to the morning.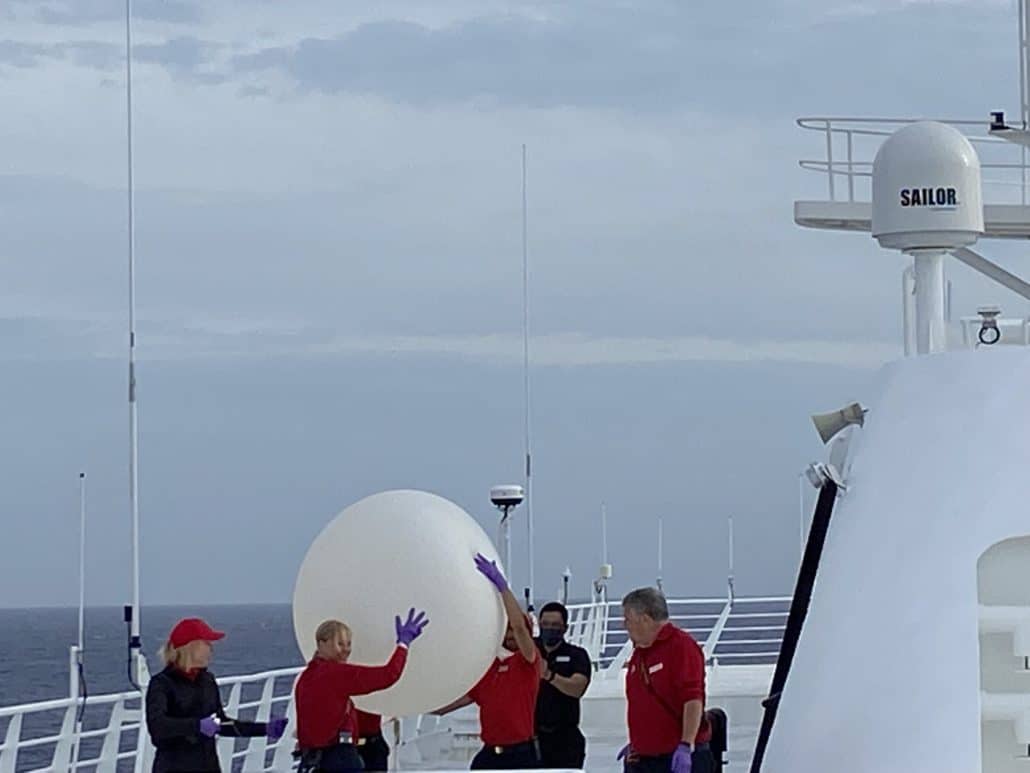 Closing Thoughts
Having sailed on Viking Orion to Bermuda, I knew that I enjoyed the Viking experience and wanted to try Viking Octantis as I appreciate quiet and sedate cruising and have enjoyed previous expedition-style cruising. Viking Octantis did not disappoint. Everything about this ship instills a real sense of serenity. Never did I feel compelled to search for a quiet relaxing spot.
While I found this optimal, others may feel just the opposite. Before booking such a cruise, read the brochures and comments. Know that expeditions and enrichment rank high on Viking Octantis. Those needing constant entertainment in the form of shows should search elsewhere.
If I had anything negative to say about this cruise, it would be the lack of opportunity to experience some of the watercraft. I did know in advance that the chance to experience the submarine was limited.
As with most cruises, the quality of the crew makes a huge impact. Friendly and professional, the crew exemplified the importance of great hospitality and Viking excels at that.
Note: I sailed Viking Octantis on behalf of Cruise Radio, which was invited by Viking to experience the ship. That being said, all thoughts and opinions are my own.