When Carnival was looking to expand their offerings onboard Mardi Gras, they wisely looked at the roster of celebrity chefs already working within the larger Carnival Corporation family and decided to give Rudi Sodamin a venue in which to serve his playful seafood creations.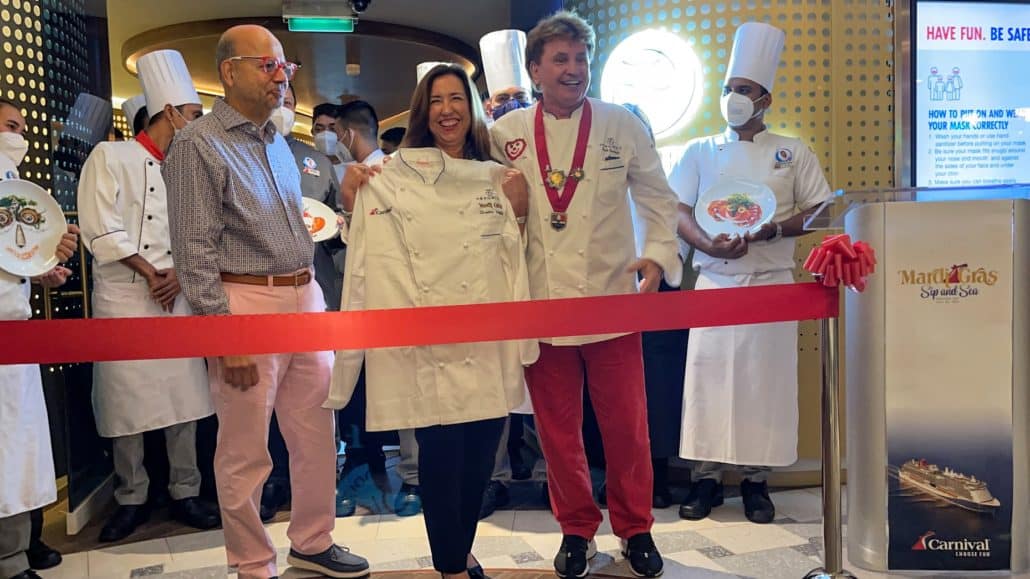 Already a member of the Holland America Culinary Council, Sodamin now joins the ranks of Emeril LaGasse and Guy Fieri with Rudi's Seagrill, his first restaurant for Carnival Cruise Line.
Rudi's Seagrill Restaurant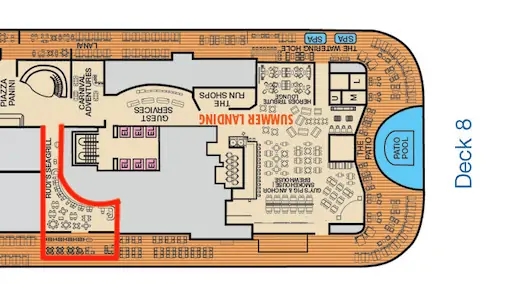 Location: Lido Deck, 8 aft
Type of venue: dinnertime table service at $38 per guest (gratuity included)
Everything about Rudi's can be summed up with one word: delightful.
Not only was the food and service wonderful, but the plating, decor and ambiance made for a truly unique dining experience. This is also one of the many restaurants that offer both indoor and outdoor seating options.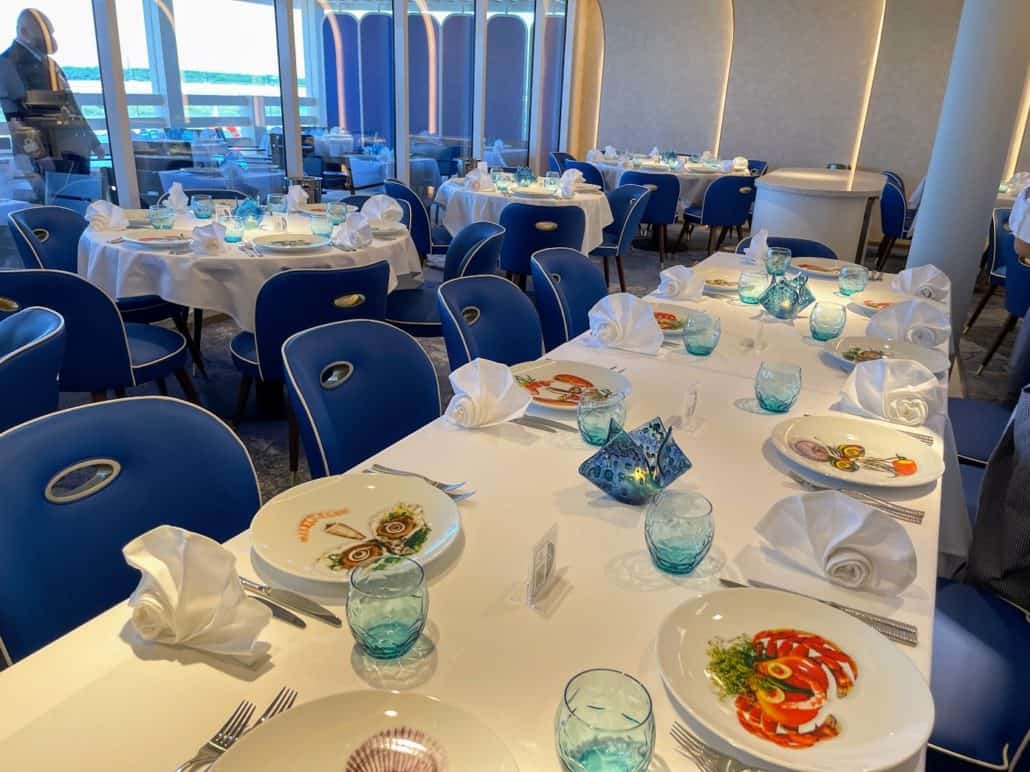 Every aspect of the restaurant — from the decor to the table settings — is themed, whether overtly or subtly, to the sea. My personal favorite touches were the water glasses and candle holder, each of which was reminiscent of the sea glass you might find while walking along a beach.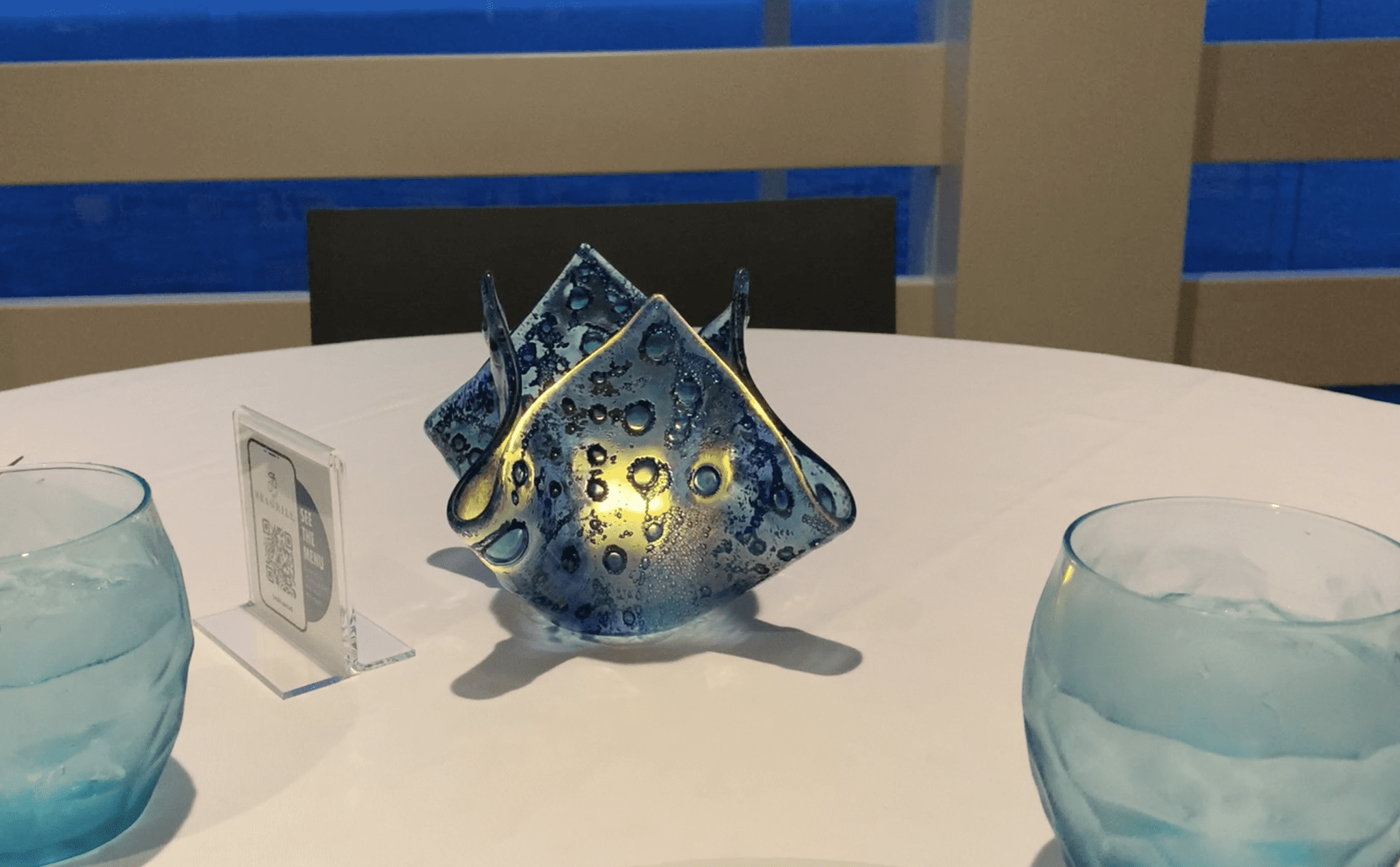 I knew from experience that when you go to Carnival's steakhouse on night one or two of your sailing, they typically give you a complimentary bottle of wine with dinner. Hoping this would also be the case at Rudi's, I made my reservation for the first night of our cruise and was pleased to learn that my hypothesis proved correct! While we usually get the merlot (my favorite) at the steakhouse, we opted for the chardonnay since we would be eating seafood here.
Before our appetizers, we received an amuse-bouche served in a spectacular bowl. As with the steakhouse, the amuse-bouche here might differ from sailing to sailing, but we had what was called a Rasberry Sphere in a Cucumber Gelee.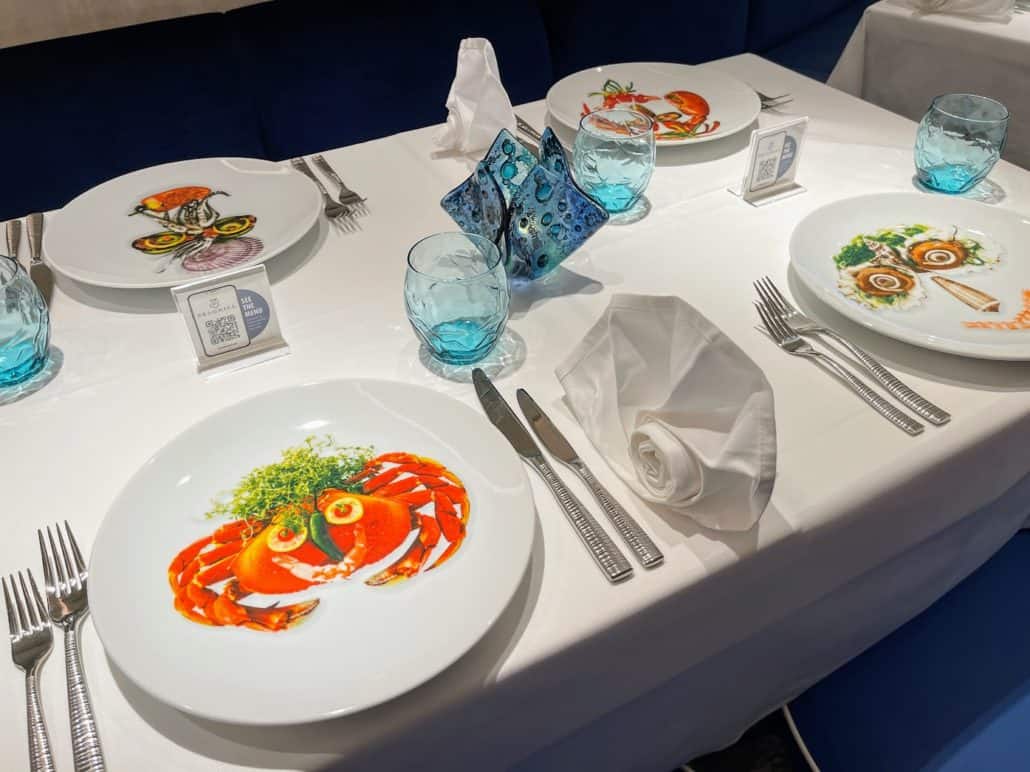 A bit of advice? If you happen to be served this particular dish, make sure to eat the sphere in one bite. Trying to bite it in half will likely result in a mess-producing spurt that will leave you wearing at least some of it!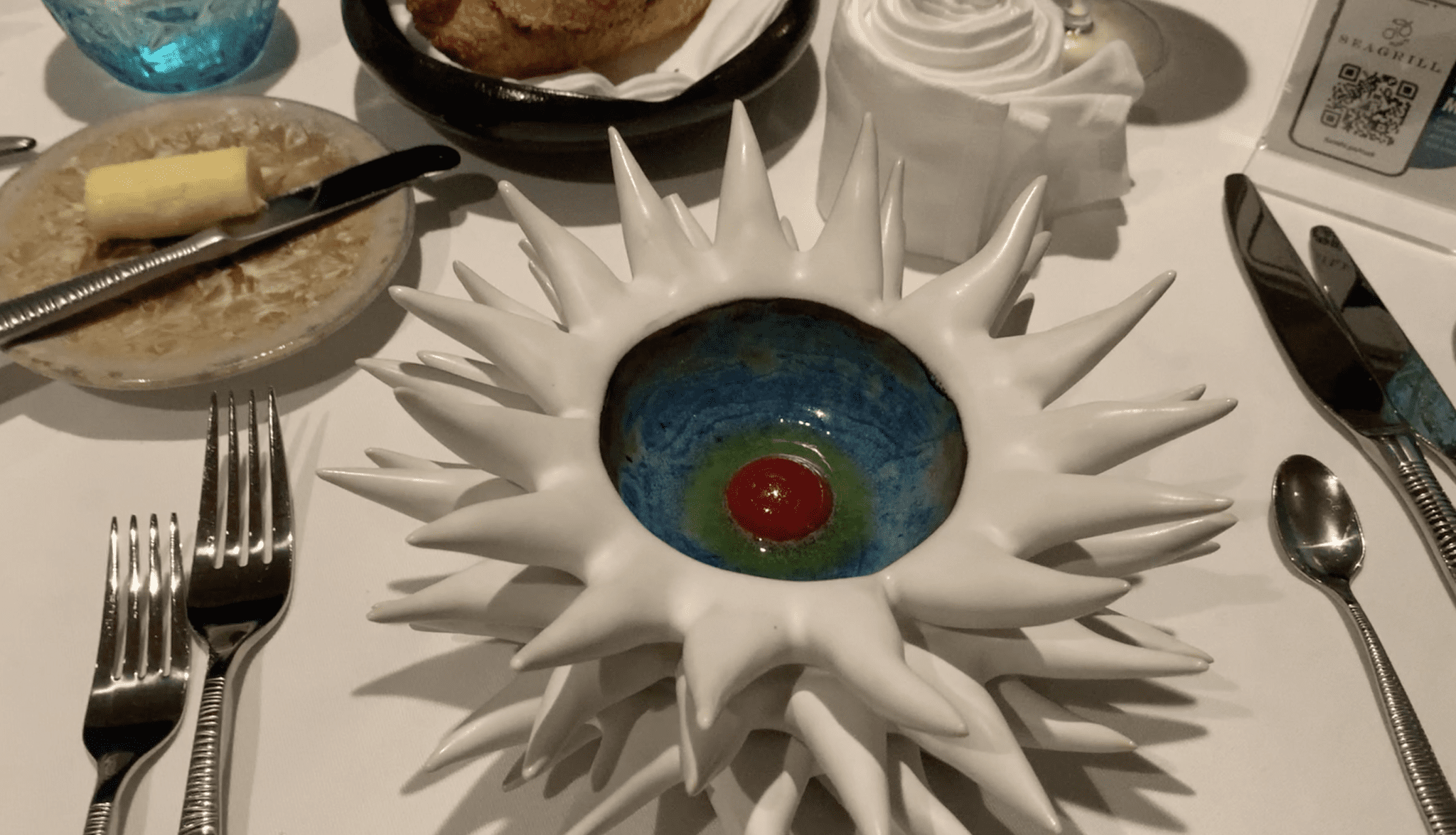 It was strange, but we liked it, and it was a fantastic way to build on the aquatic theme of the restaurant. 
Next up were the appetizers. We ordered the Blue Mussels and the Coquilles Saint-Jacques (scallops). Trust me when I say the photo does not do the mussels — which were excellent — justice.
There were a ton of mussels and they were huge. Also, I was glad to have had the forethought to save the bread we'd been served earlier to dip into the mussel sauce.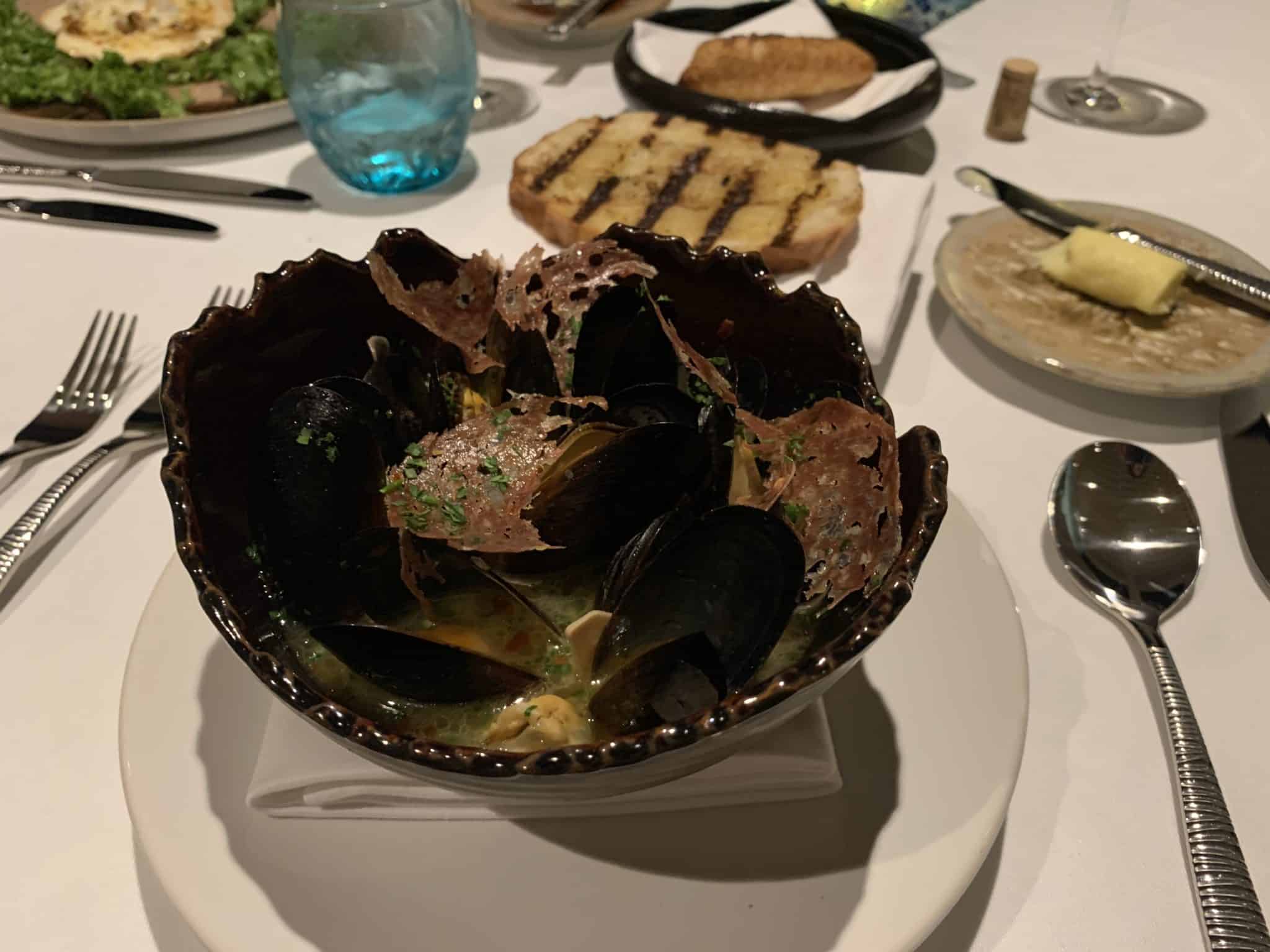 The scallops weren't huge but they truly were a treat, adorably served on a real scallop shell. They were served in a delicious, creamy cheese sauce that has some surprise mushrooms in it. As we do, if you like mushrooms, this was a bonus as they're not listed on the menu. If you don't like mushrooms, maybe steer clear of this one.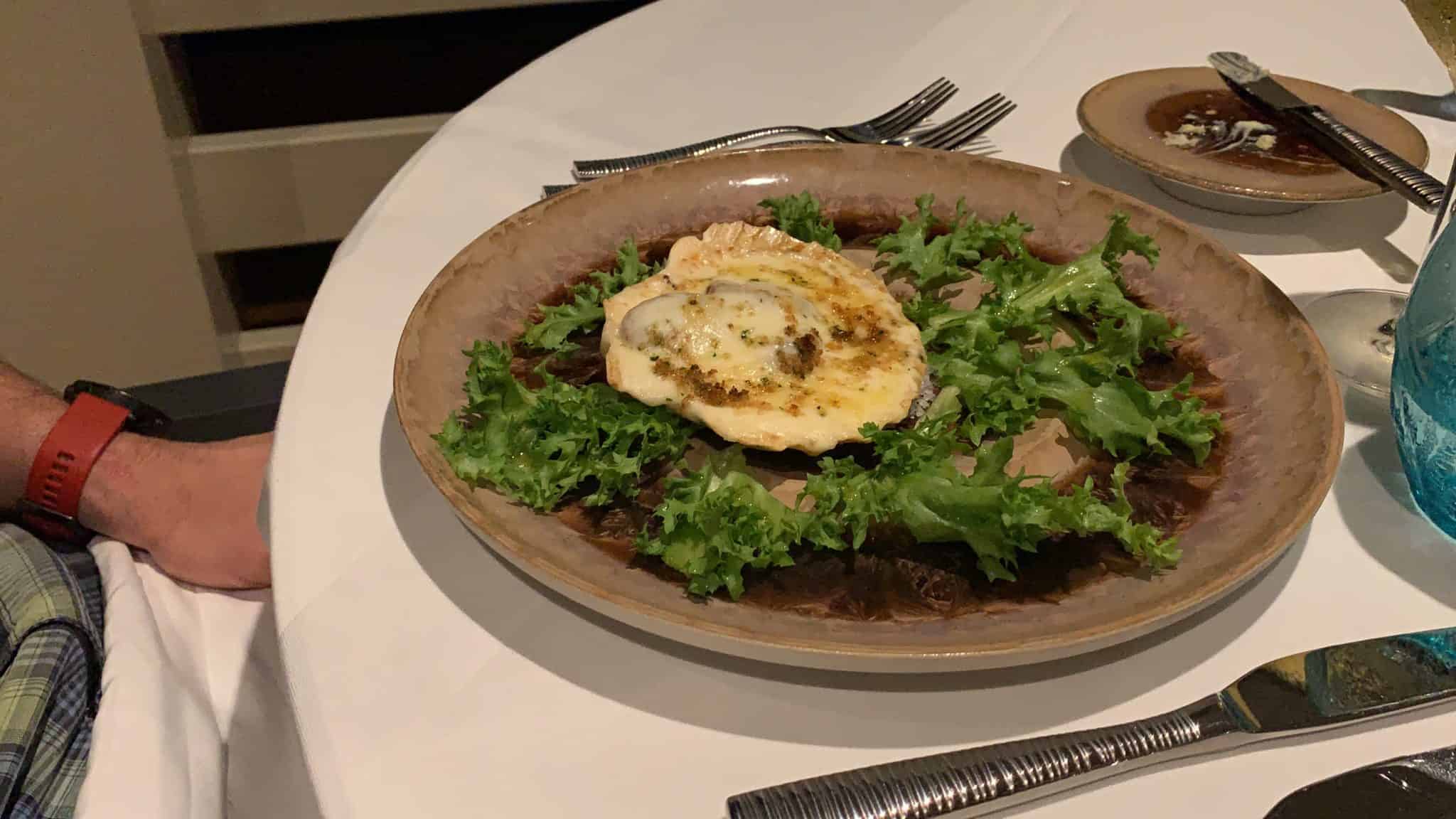 Next was the soup and salad course. Since neither of the salads sounded particularly interesting or exciting to me (and who knows, I may have missed the boat there!), we chose the two soups, a Seafood Bisque and a Cioppino. The seafood bisque is probably still my first choice for this course, but there isn't much to say about it.
The best part was the presentation, which included revealing the inside of a coral-esque sphere and pouring the bisque over what looked like aquarium decorations. The finished result is less exciting than the initial presentation, so since the soup is tasty, it's worth ordering just for the presentation.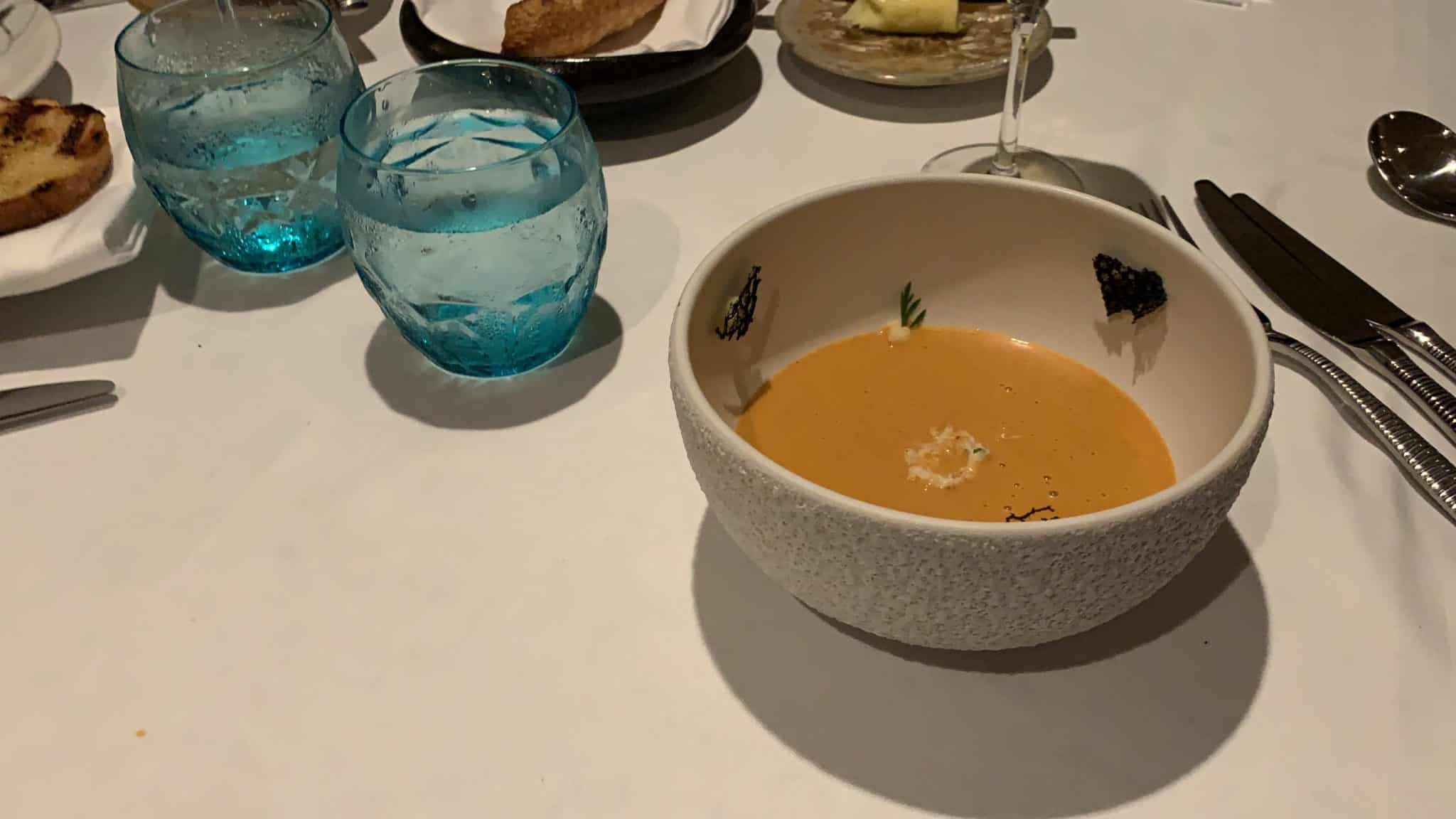 The Cioppino, on the other hand, was a treasure trove of seafood goodness. The "fisherman's stew" consisted of a light-but-spicy and flavorful broth with just a few vegetables, packed full of shrimp, clams, mussels, and fish. It was nearly enough food to be a stand-alone meal. It was one of the top items of the meal but a little heavy on the fennel seasoning for my taste.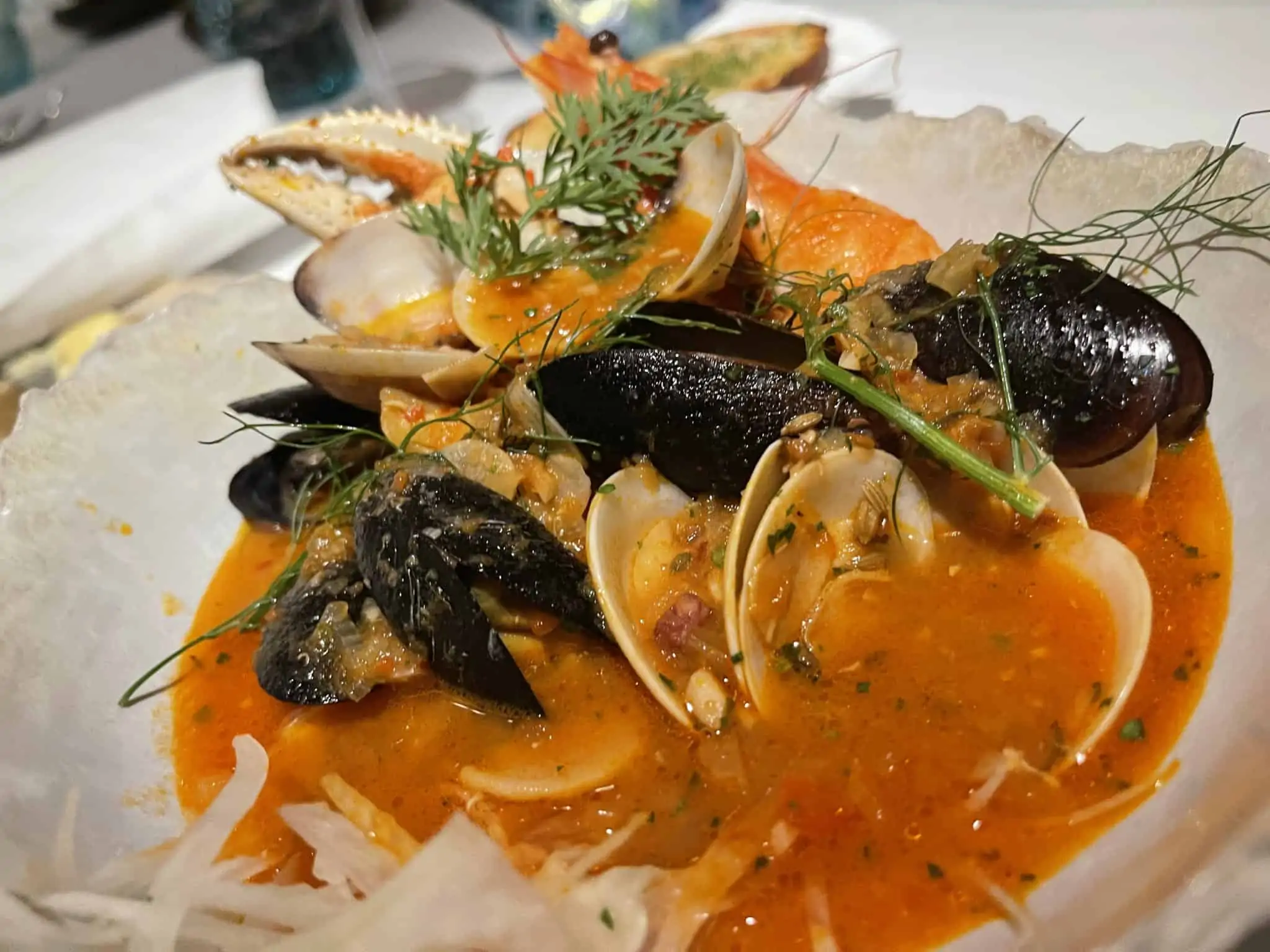 MORE: A Picky Eater's Guide to Dining on Carnival's Mardi Gras
The entrees we picked were the Crab Stuffed Lobster Tail Imperial and the Roasted Halibut. The lobster tail was quite large and, as advertised, stuffed with crab!
If you can't decide between lobster and crab cake, this is a best-of-both-worlds way to go. It wasn't cooked better than any other lobster onboard, but it was delicious.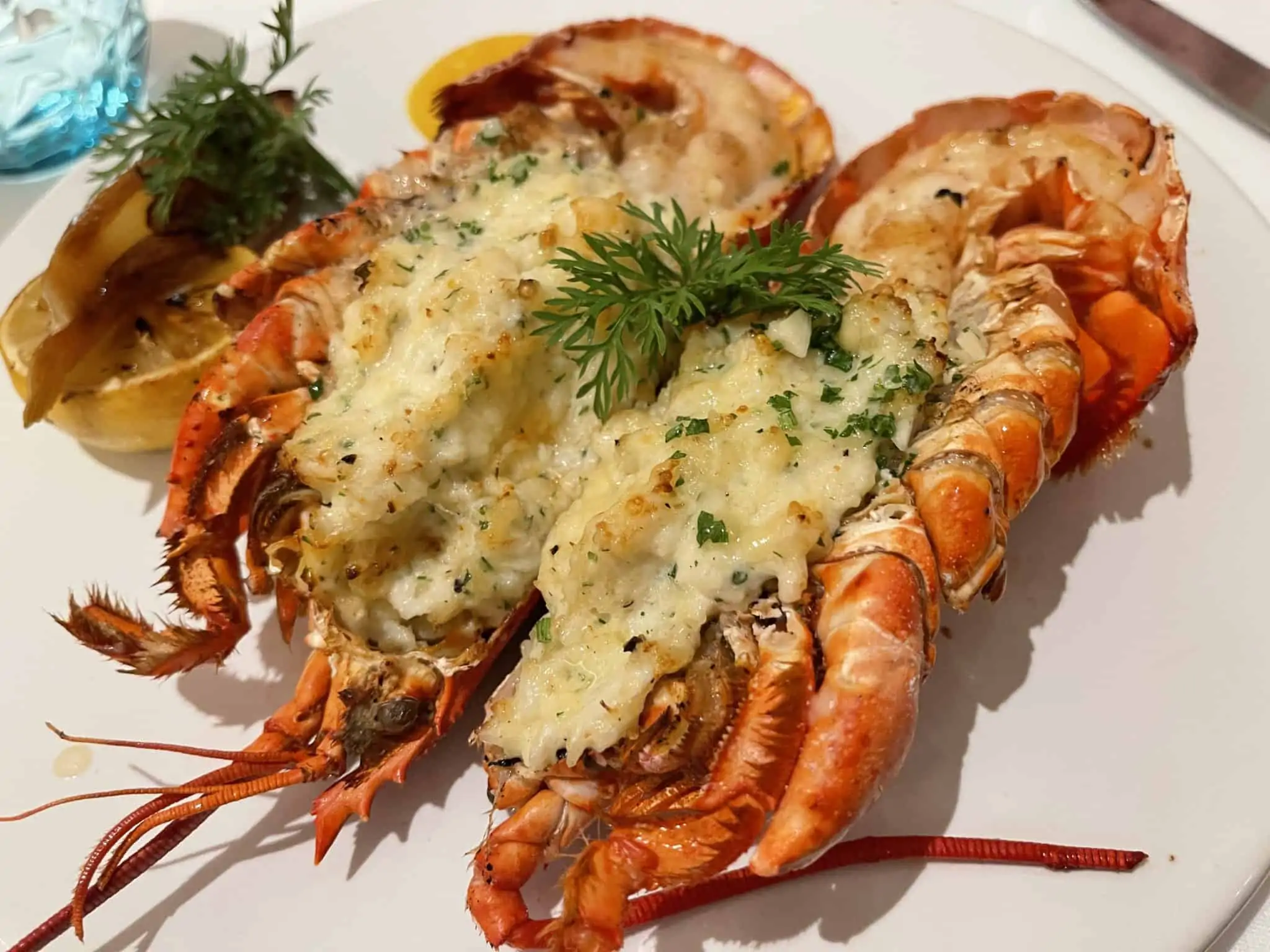 The halibut was not our favorite. I picked it because I like butternut squash bisque. I didn't hate the butternut cider sauce, but I didn't like its sweetness as an accompaniment to the fish.
MENU: Rudi's Seagrill Restaurant
I forgot that butternut tends to be sweet, and I don't particularly appreciate mixing sweet with savory. It also didn't help that I was already full. Live and learn. I'm sure some people find it delicious. This gives me an excuse to come back and try something different the next time.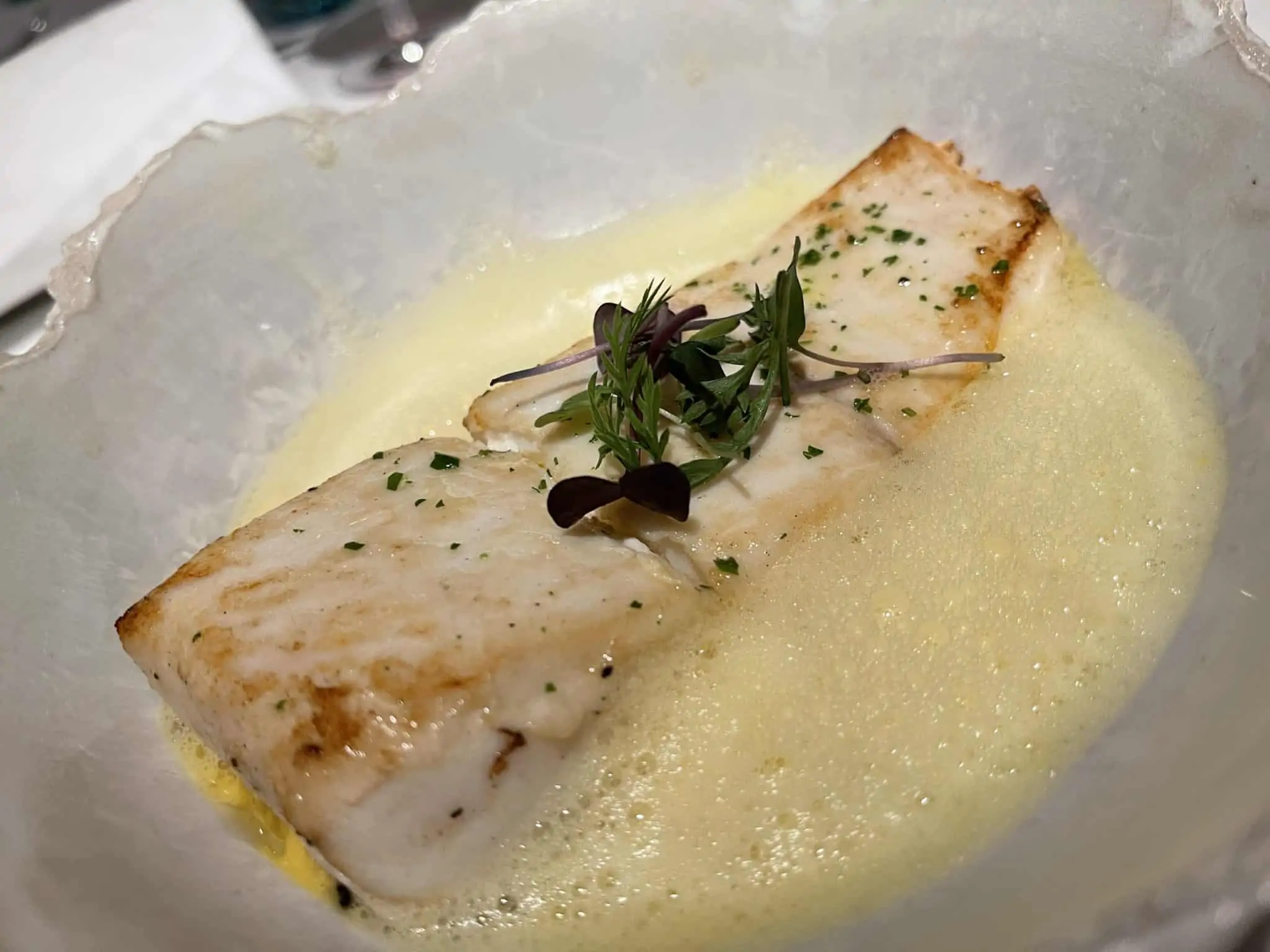 The sides were the only things we saw that night that didn't quite fit the restaurant's theme. You can't win them all. The carrots that came with the lobster imperial were perfectly tender and a little bit sweet from the caramelization caused by roasting them.
The crab risotto, to be fair, wasn't supposed to be served with the halibut, so that may be plated better with the lobster tail. This was the only thing we didn't like.
While eating it, I realized that I wanted a mushroom risotto, which isn't on the menu, so that's a little on me. It was flavored with something citrusy, which I usually like for seafood, but it was a bit overdone.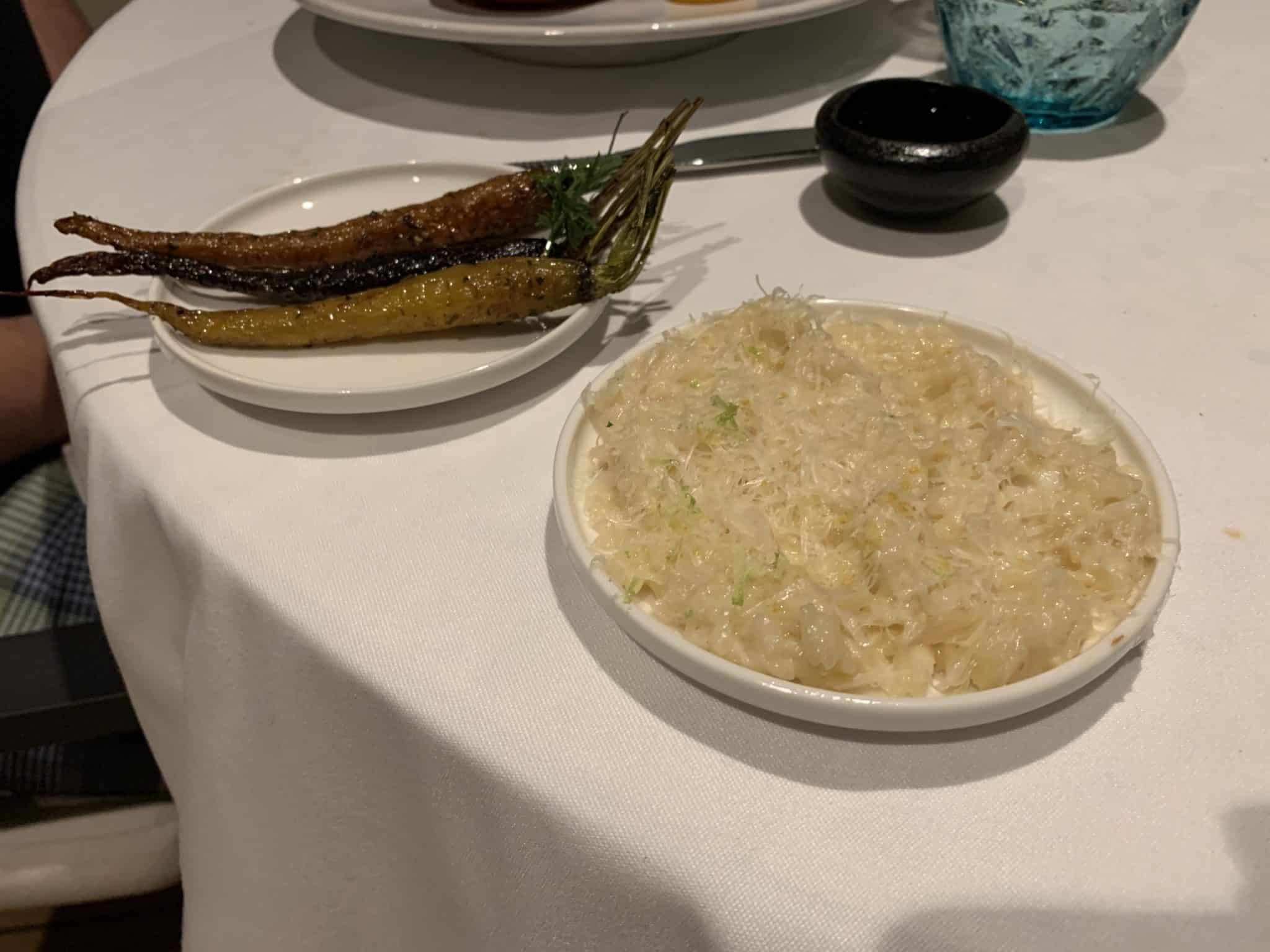 Despite being full by dessert time, the desserts went down very easily. We got the Apple Cheese Cake and the Chocolate Truffle Cake. The only thing I didn't like about the cheesecake was that there wasn't more limoncello whipped cream served with it. It was light enough for me to eat every bite despite the fact it could not be described as a small slice!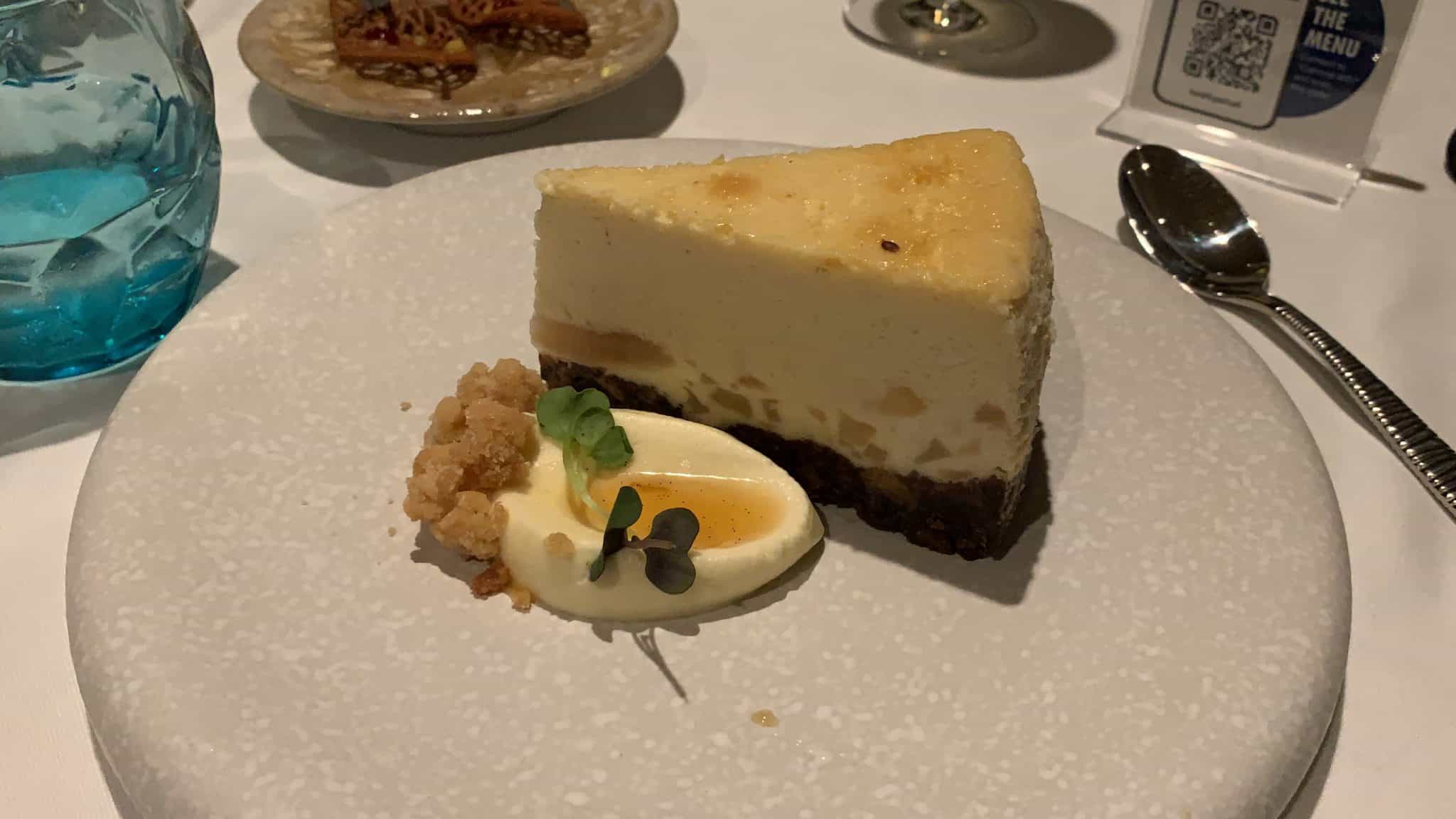 The chocolate cake was very dense and the most chocolatey thing I've eaten in a long time. That one was harder to get down but was absolutely delectable. The chocolate mousse on top was the best part of the chocolate on chocolate on chocolate dessert.
I'm not sure if it was intentional, but it kind of looked like they were trying to make this one into a face, as Chef Sodamin is famous for.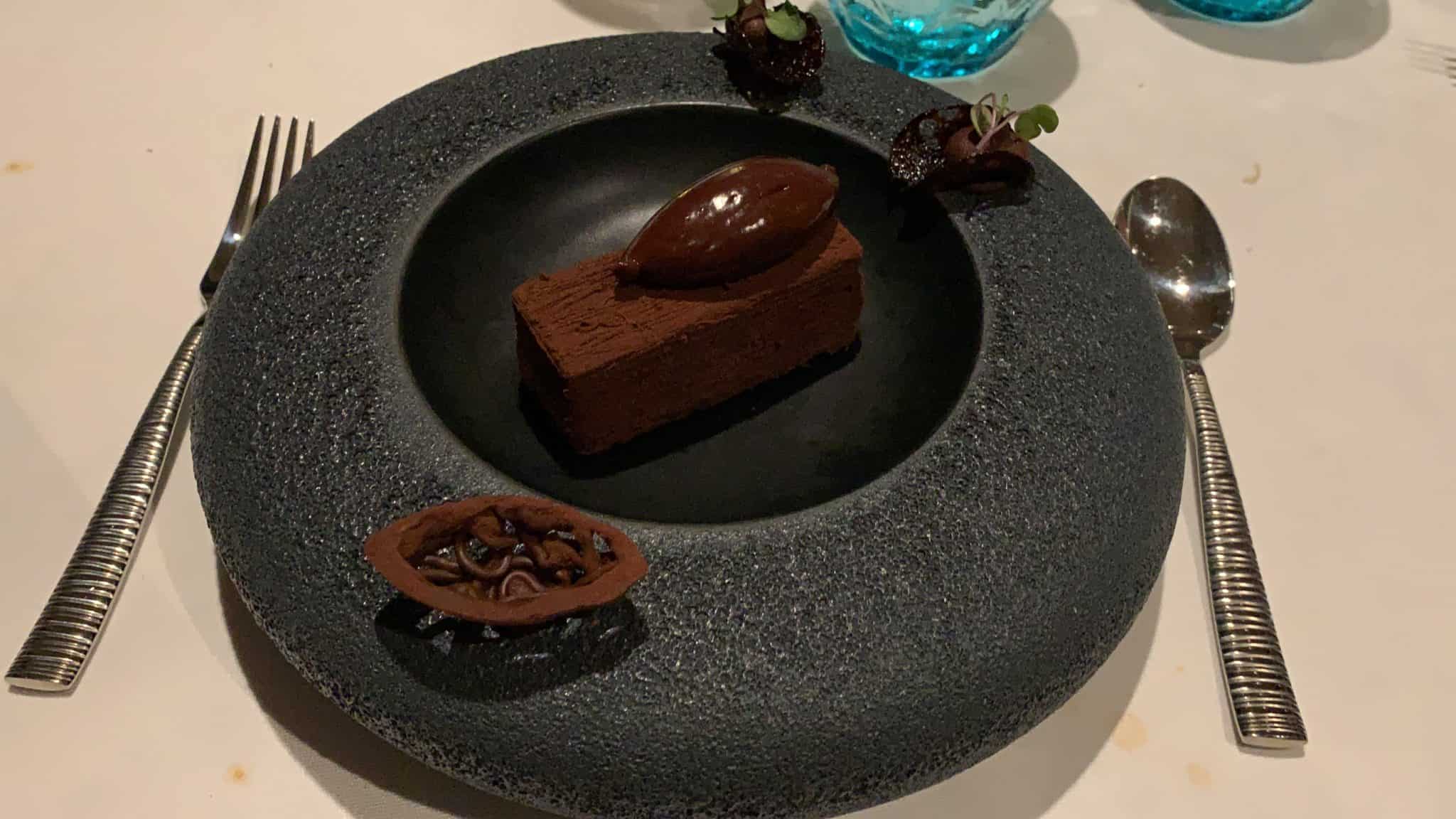 I went to Rudi's on day one of the third-ever sailing of Mardi Gras. This was a brand new restaurant for Carnival, so one couldn't expect everything to go perfectly.
Maybe it was because we went later in the evening when the restaurant wasn't very busy, but we had fantastic service, our food came out perfectly, and we had a very good experience. This is saying something because that could not be said for most of our dining experiences for the duration of the cruise.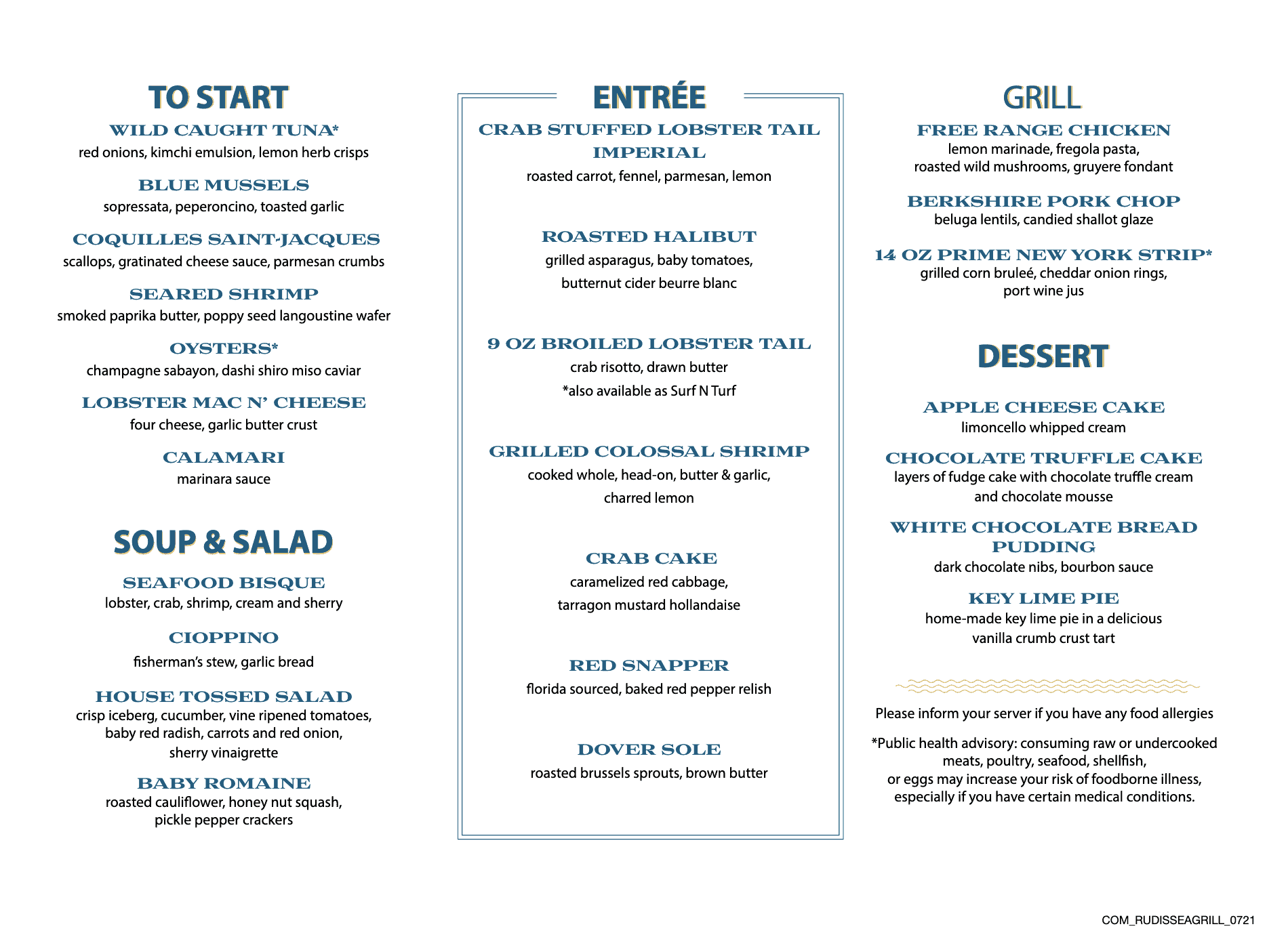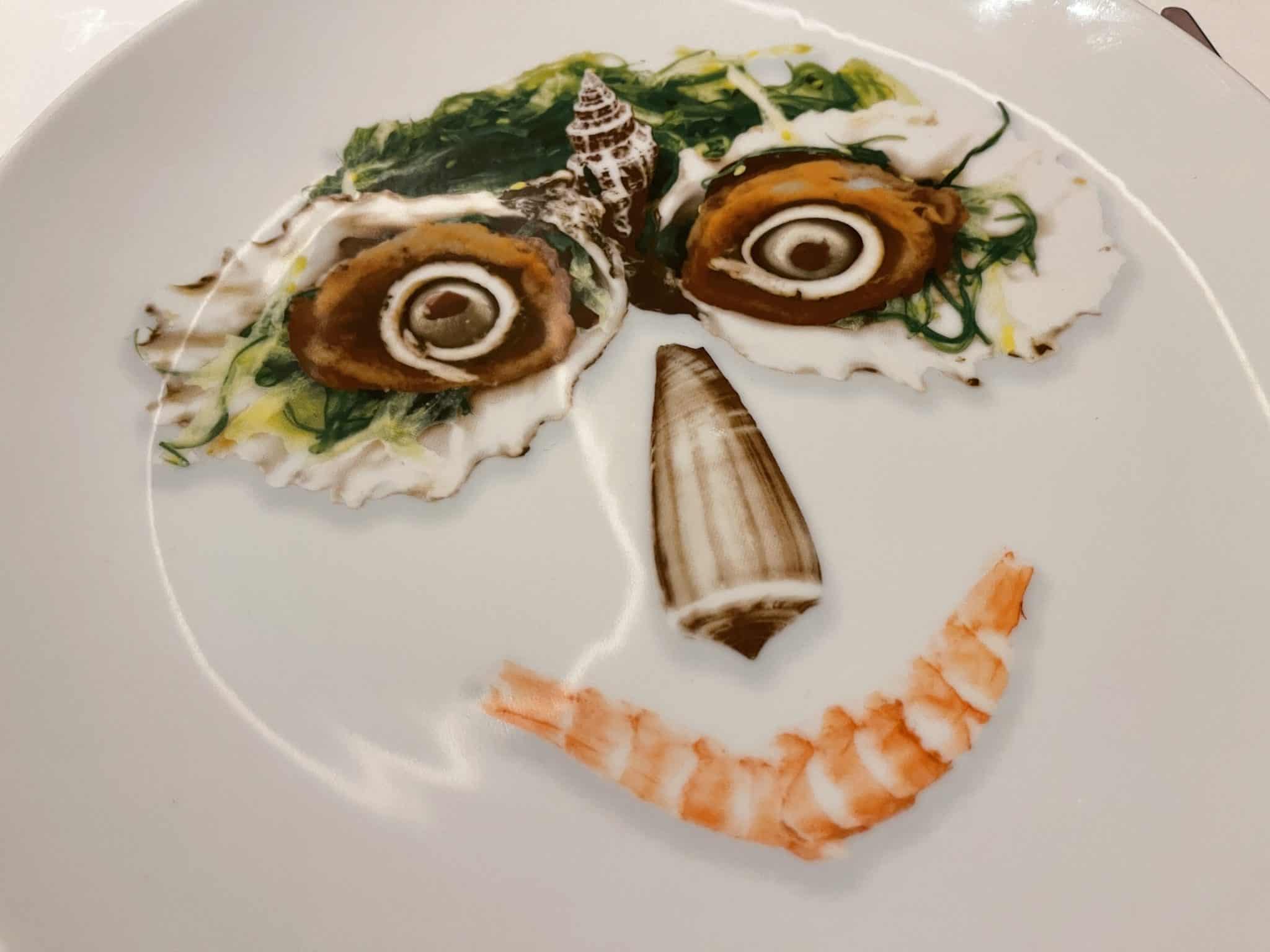 If you want to take advantage of the wine promotion that we did, but you don't care for their house selections, you also have the option of buying a bottle off the wine list at 50 percent off.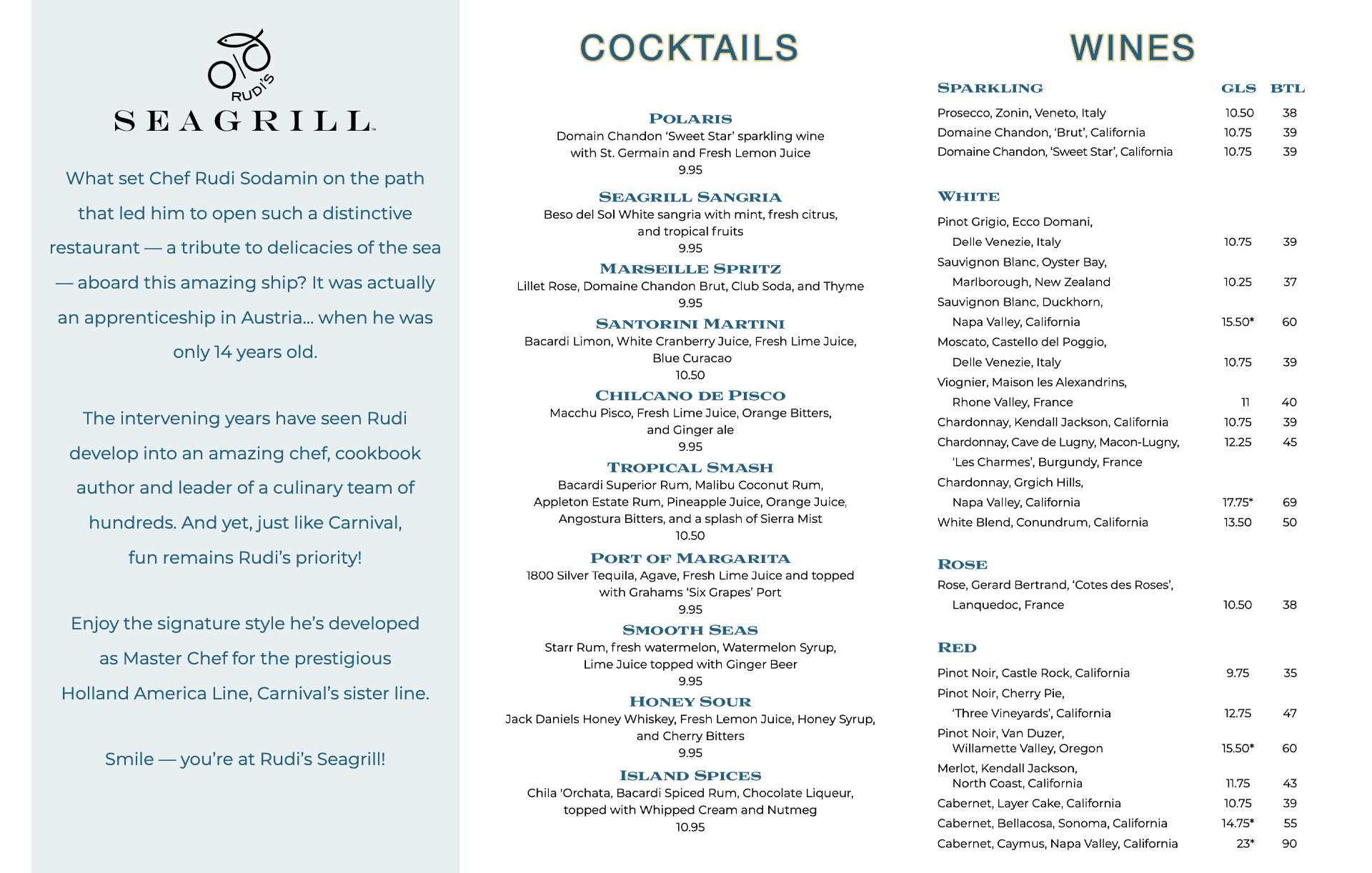 I highly recommend giving Rudi's a try — don't forget to go on the first or second night of your sailing if you want to take advantage of the wine promotion.
NEXT: Mardi Gras Dining Guide: Which Restaurants Are Complimentary?
Pin it!