Citing propulsion issues, Royal Caribbean canceled an Alaska-Canada cruise on Friday, the day it was supposed to leave port. Despite granting generous compensation, the last-minute cancellation onboard Radiance of the Seas has forced around 2,200 passengers to make alternate arrangements while overwhelming the city of Seward, Alaska, with tourists.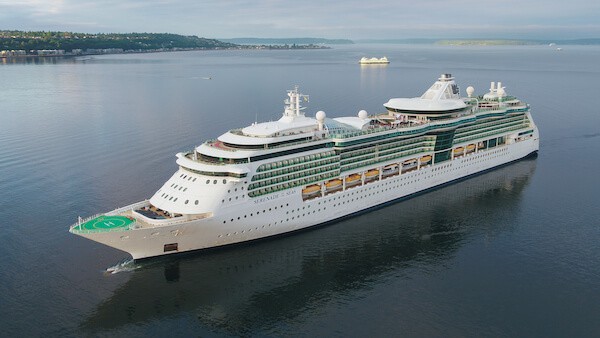 A local publication mentioned that the city was inundated by more than twice the number of people they usually hosted at that time of the year.
Royal Caribbean Cancels Sailing
Meanwhile, the cruise operator issued a letter to guests on the same day, saying, "Unfortunately, our teams were unable to complete the needed repairs to be able to depart today on our sailing. As a result, we'll be canceling this current sailing."
As a contingency, the cruise operator promised full refunds on cruise packages and flights, purchased onboard credits, prepaid gratuities, shore tours, and a free cruise for any sailings departing within a year. It will also cover transportation change fees up to $600.
RELATED: Radiance of the Seas Navigation Team Causes $2M Damage in Alaska
Flights booked through Royal Caribbean were re-accommodated, while those who booked independently are entitled to reimbursements of up to $600. To sweeten the deal, the cruise line made internet services, bar services, and shuttles into Seward complimentary. Guests were allowed to enjoy these amenities and stay onboard Radiance of the Seas until Sunday afternoon.
Before the announcement, the Radiance-class cruise ship was slated for a seven-night itinerary that featured stops at Juneau, Haines, Skagway, Ketchikan, and Icy Strait Point. It would cruise by the popular Glacier Bay before concluding its trip in Vancouver, Canad, on September 8.
Though the change was sudden and inconvenient, netizens seem generally impressed by the compensation offered by Royal Caribbean.
"That's actually pretty generous. 100% refund plus a free future cruise. And they're letting you stay on the ship for a few days with free drinks. You basically got a free, all-inclusive vacation to Seward plus a free cruise in the future," said one Reddit user.
A passenger who booked the canceled itinerary disagreed on Facebook, "Lots of people commented how generous the compensation was, but trust me, our extra travel cost far exceeded the compensation. But we rolled with it and had a good time. I hope the impacted cruisers can make alternate arrangements and make it work for them."
Though canceled cruises announced on the day itself are rare, cancellations do happen. If the unforeseen strikes, cruise travel insurance can be your best friend. It usually covers many circumstances, including trip delays, interruptions, and cancellations.
At the time of publication, Radiance of the Seas is still docked in Seward, Alaska.