With rumors and speculation swirling about the fate of cruise buffets, Royal Caribbean has settled the matter where its ships are concerned.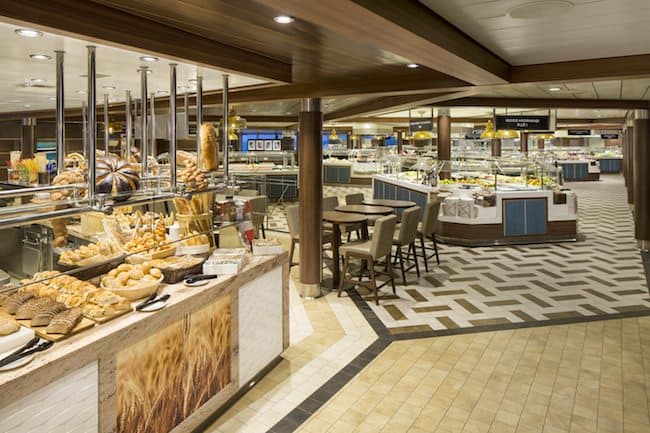 "Rest assured," said Linken D'Souza, the company's vice president of food and beverage operations, "the buffet will exist." As to exactly what form it will take, that remains to be seen.
What The Buffet May Wind Up Looking Like
The topic came up — as it often has in recent weeks — during the Coffee Talk webinar hosted by Vicki Freed, Royal Caribbean International's senior vice president of sales and trade support. Admitting that the Windjammer — aka the buffet — is one of his favorite spots, D'Souza offered his assurances that the venue would continue serving up food to the masses.
READ MORE: New EU Cruise Guidelines Suggest Avoiding Buffets and Masks
Of course, one thing that's been almost universally agreed upon across all the cruise lines is that buffets will have to take on a new form. "We've worked through a variety of different scenarios," D'Souza admitted, "from employee service to individual portions to individual tons for self-service to finger [gloves] that you can [use to] pick up hot dishes."
These "koozies," as they are often referred to, could then be washed, sanitized, and reused.
At the end of the day, he said that they were looking at numerous options. "There may be some small modifications that allow us to ensure that we have a really great, healthy return to service," he said, "but your favorites and what you're used to at the Windjammer will still be there."
Where The "Rumors" Started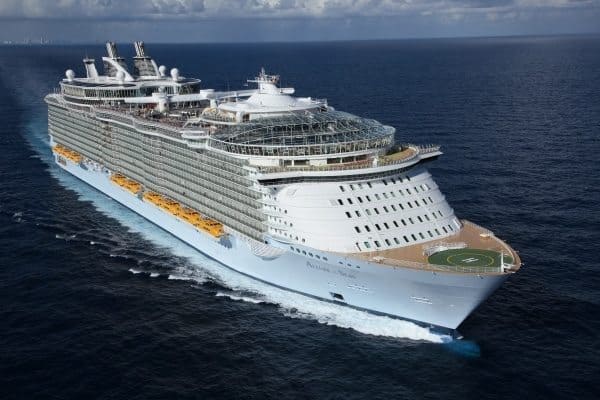 Ironically, it was during an earlier Coffee Talk webinar that comments made by Michael Bayley, president and CEO of Royal Caribbean International, left people questioning the Windjammer's future. "In the beginning," he said at the time, meaning when ships return to service, "there will not be a buffet."
He went on to say, "We will utilize the Windjammer, but in all probability, it won't be a classic buffet. It will be something more akin to a restaurant."
During the next week's Coffee Talk session, Richard Fain, chairman and CEO of Royal Caribbean Cruises Limited, said that "some of the press" had suggested that the buffet would "go from one thing that we've had for decades and suddenly morph into something very different." Which was, of course, exactly what had been indicated by Bayley.
Fain went on to say that while the classic buffet in which "everybody reaches in and everybody touches the same tongs" was something "you're not going to see on land or sea."
He went on to say, "it doesn't mean that you don't have a buffet. You might have it where [the food] is served to you by other people. And there [are] other possibilities. But the point is that it will evolve."
As evidenced by D'Souza's comments this week, that evolution is still underway. Of course, it's likely that at the end of the day, the Centers for Disease Control will need to weigh in on how ships handle buffets as well as many other aspects of the actual cruise experience.
But for now, rest assured that Royal Caribbean will continue to offer a buffet, or at the very least food options served up in the Windjammer Cafe.