An agency advising European cruise lines on protocols they should consider putting into place might offer a glimpse into what we can expect when the Centers for Disease Control weighs in on American ships.
Among the suggestions made by Health Gateways are masks in many public spaces, cabins in which to isolate up to 5% of passengers and "one bather per [13 feet]" in pools.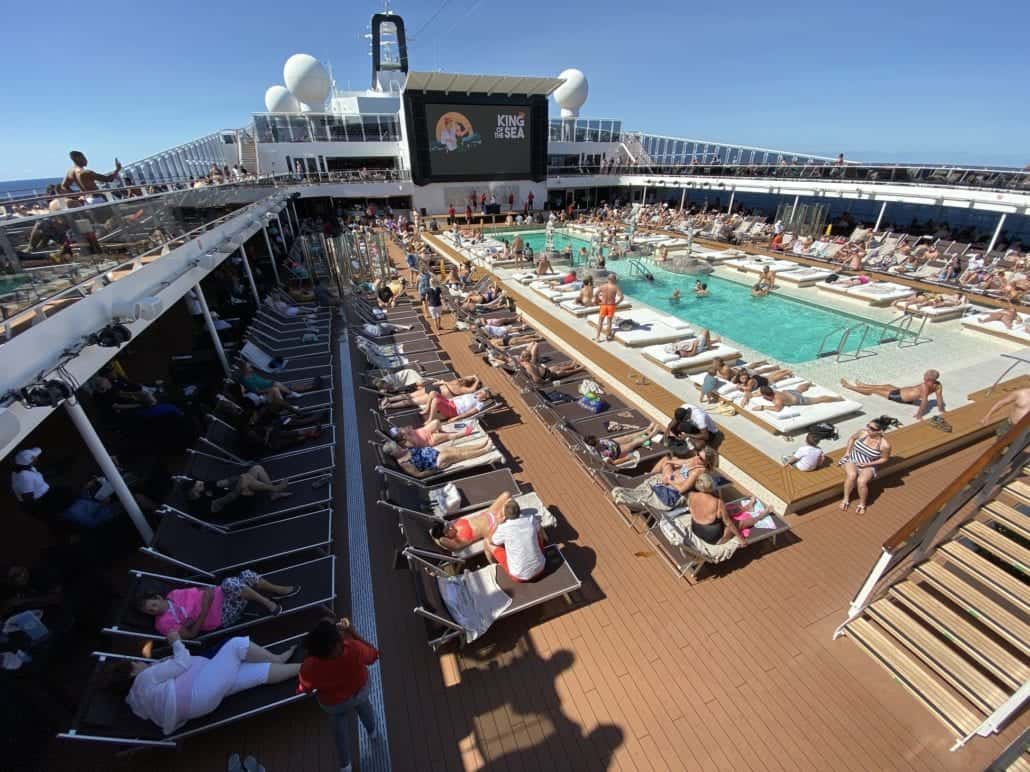 Could Activities Be Broken Down By Age Group?
The 49-page document is titled "Interim Response For Restarting Cruise Ship Operations After Lifting Restrictive Measures" and goes into more detail than any previously-released program has.
It is, however, important to note that these are recommendations as opposed to rules, and that this is in regard to ships sailing in Europe. It is not necessarily indicative of what will or might be decided by the Centers for Disease Control and cruise lines operating out of American ports.
READ MORE: Why Cruise Passengers Should Dial Back Their Anger
Some of what it documents has been widely agreed upon as likely to happen, such as "a gradual approach to restarting cruise ship operations."
The guidance also suggests "using itineraries of a short duration" and limiting the number of ports visited. There is also much talk about the need to coordinate with ports on any given itinerary so that all parties know what will happen should there be any type of outbreak on board.
In fact, the document says that there should be "plans in place" for a "partial or complete ship evacuation" and the repatriation of all passengers and crew from any port along the way.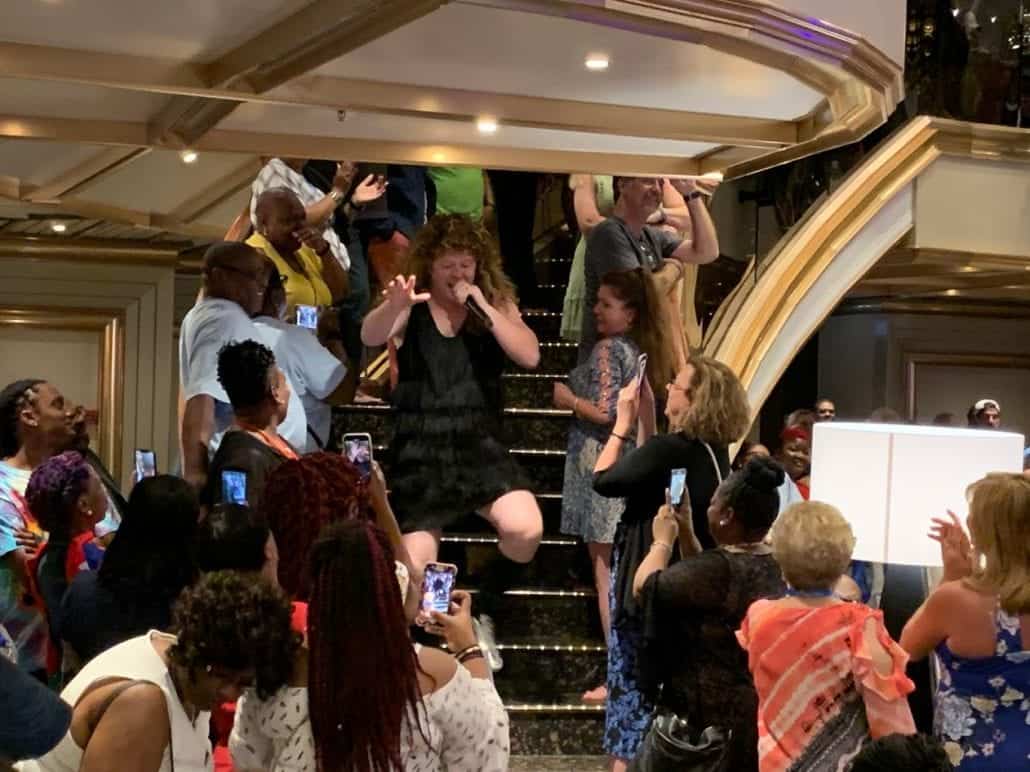 Among the more unusual suggestions put forth is that "activities and services on board cruise ships could be organized according to age group, so that older individuals are separated from other age groups."
They go so far as to suggest that people be grouped, saying that as a group, they could "be given scheduled times for food service, embarking and disembarking and participating in some onboard activities."
READ MORE: Cruise Or No Cruise? Masks and Other Dealbreakers
Of course, social distancing is clearly going to play a huge role, and the Health Gateways recommendations deal with nearly every aspect of this. There are the usual floor markings denoting how far apart people should stand in line when embarking or disembarking.
But there are also suggestions that they also be considered "at all possible traveler congestion points" including bars, restaurants, shops and entertainment venues.
When They Recommend Passengers Wear Face Masks
Of course, the question so many are asking is, "Will we be required to wear face masks?" The guidance offered by Health Gateways for passengers on European ships says yes, at least at times.
"Face masks should be used in any situation where contact or interaction with others will occur" and it's challenging or impossible to maintain social distancing.
Situations in which they suggest wearing a mask include "walking through or passing others in narrow corridors," taking elevators, embarkation and disembarkation and various aspects of shore excursion related activities.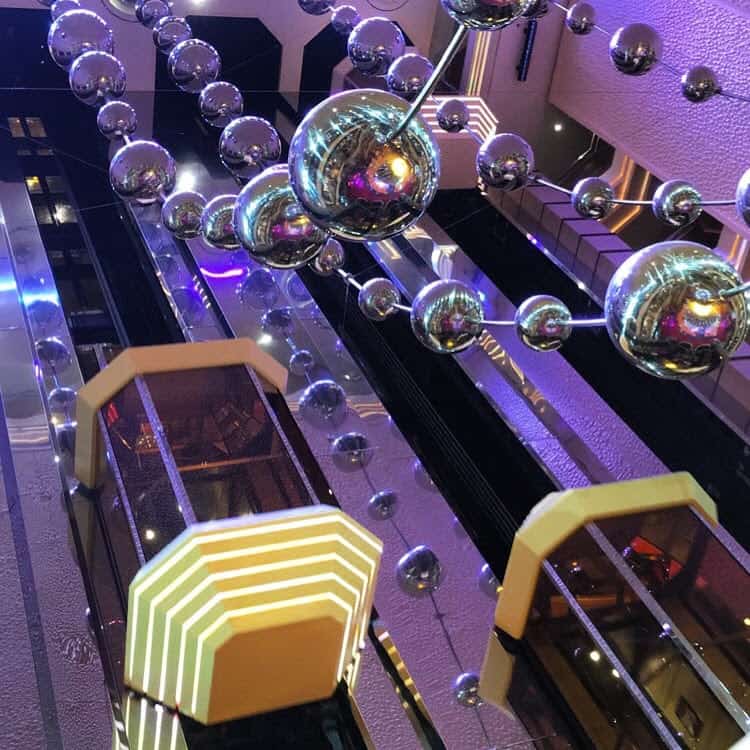 When it comes to cabins, the suggestions start with the typical deep-cleaning suggests, but soon progress to things you likely hadn't thought about, including the in-room coffee maker.
"It is advised," reads the document, "that any item that cannot be cleaned and disinfected between cabin occupancies should be removed," including menus, magazines and "other objects that cannot be disinfected [including] coffee or tea packaging, mini bar products, etc."
They also recommend that coffee makers "and all mini-bar products" be removed and "made available upon a passenger's request so that their disinfection is ensured."
Interestingly, it is also recommended that where towels are concerned, they "should be changed upon a passenger's request or routinely, but it is recommended that routine changes are made less frequent than normal (e.g. avoid changing of towels twice daily."
How Dining Could Change
If you're the type of person who enjoys meeting new friends at a bar and then adjourning for dinner, you'll probably not like this next suggestion from Health Gateways: "Only passengers staying in the same cabin and/or persons from the same household or same traveling unit [should] dine at the same table."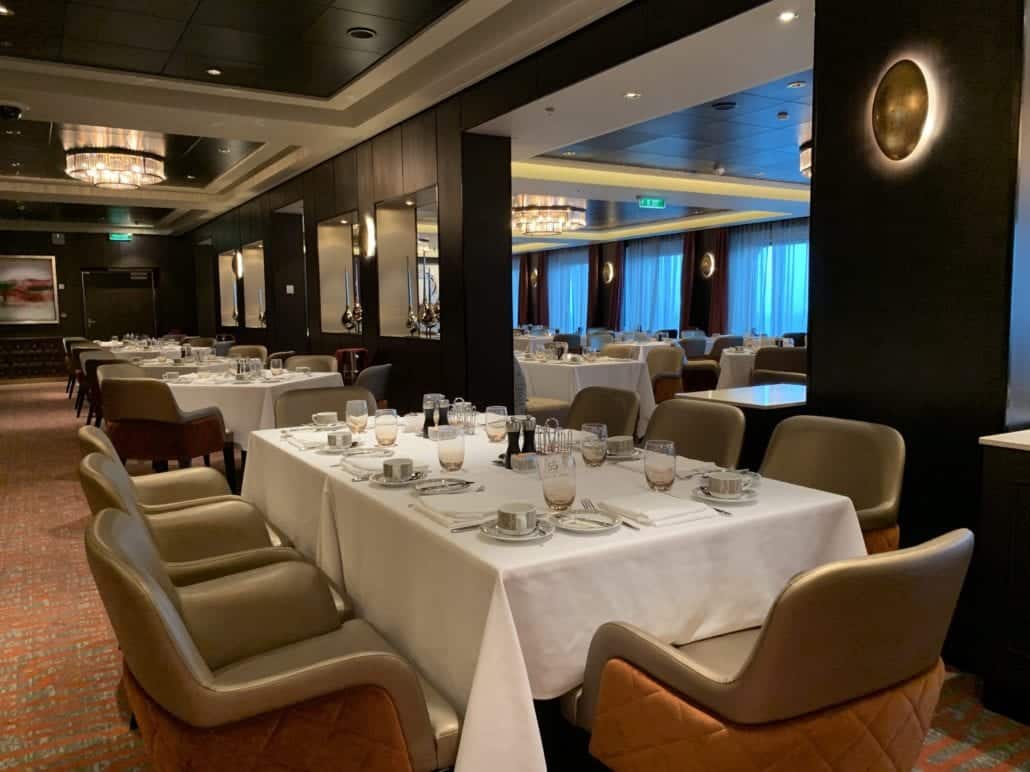 Other recommendations include disposable condiments, as well as extended hours and required reservations in order to control guest flow to and from dining areas.
If implemented, this could mean that programs such as Norwegian Cruise Line's Freestyle Dining or Carnival Cruise Line's Anytime Dining — which are built around the concept that no reservations are necessary — might need to be at least temporarily suspended.
READ MORE: Cruise Exec Sets Buffet Rumor "To Rest"
While the plan makes clear buffets should, if at all possible, be avoided, it goes on to say that at the very least, only designated crew members should provide food to passengers. Translation: No self-serving.
One Family Per Hot Tub?
There are numerous suggestions made regarding the pool area and it's surroundings, as one might expect. For example, they recommend that indoor pools not be used unless they have retractable roofs which can allow for ventilation.
Likewise, it is recommended that all loungers on the Lido deck be positioned in such a way that they allow for social distancing between parties who are not traveling together. As for the hot tub, they "should be used only by bathers of the same household or by bathers staying in the same cabin."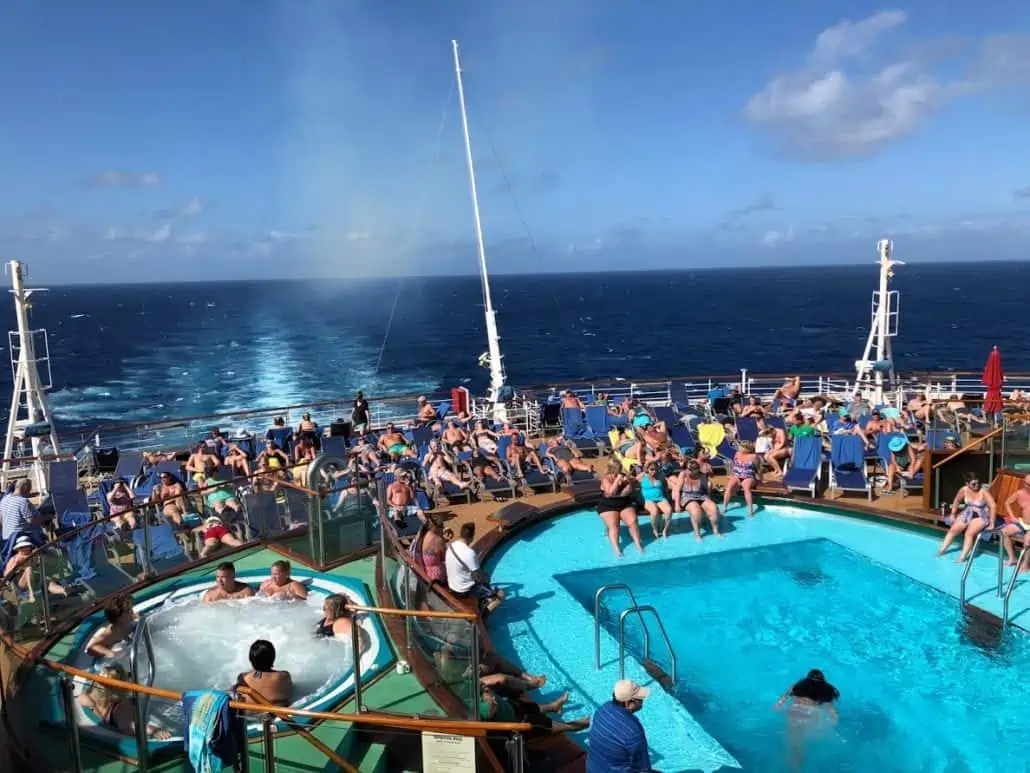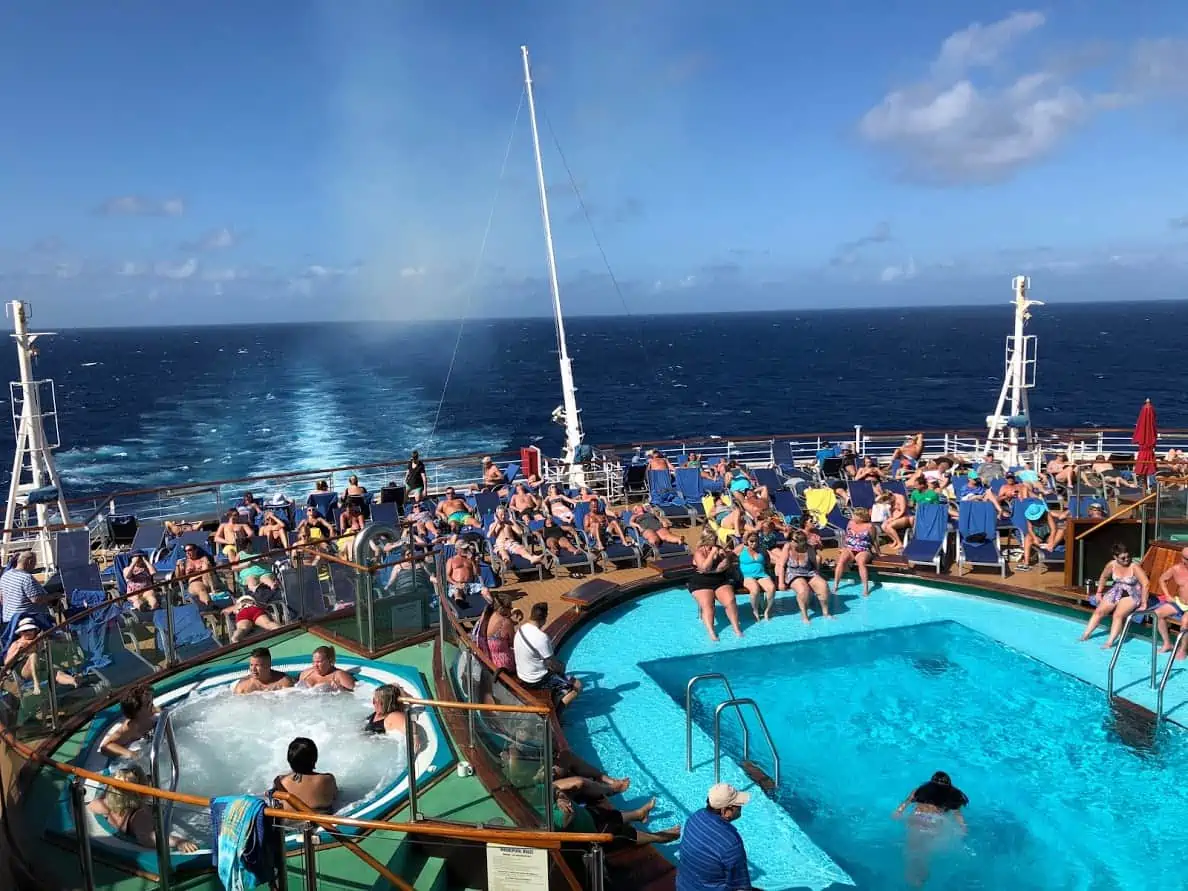 Similarly, they recommended that those wishing to use the swimming pool be "separated by a schedule" and that the number of people allowed in a pool at any given time be dictated by its size.
Other Recommendations Made By Health Gateways
Children's play areas should only be outside. If this isn't possible, the number of children admitted to an area/program should be limited to allow for social distancing.
Limited capacity in theaters, allowing for social distancing. If necessary, an increase in the number of shows (and decrease in their duration) so that everyone can be accommodated.
Limiting the number of people allowed to access the casino at any one time to avoid overcrowding.
Allowing at least 30 minutes to pass between any classes held in the fitness center so that the room can be ventilated.
Shoppers should be encouraged not to handle items in the various shops onboard.
Passengers "should be advised against the use of elevators." Along those lines, their capacity should be reduced and controlled, and guests should be advised to use masks whenever in an elevator.
It is important to note, yet again, that these are only suggestions, and that these were made in regard to ships sailing in European waters.
The entirety of the recommendations (which can be read here) is not an indication of what may eventually be decided by the Centers For Disease Control and cruise lines.
Although it's also worth noting that among those listed as having provided "input" on the recommendations are reps from Carnival Cruise Lines, Viking Cruises, MSC Cruises, and Royal Caribbean Cruises Limited.