(Updated April 2, 2020 12:53 p.m. ET) Following nearly a month of being turned away from one port after another, Holland America Line's Zaandam will be allowed to dock in Port Everglades, Florida. Guests onboard both Zaandam and Rotterdam are scheduled to dock Thursday afternoon.
What follows is a timeline of how the dramatic events unfolded.
March 7, 2020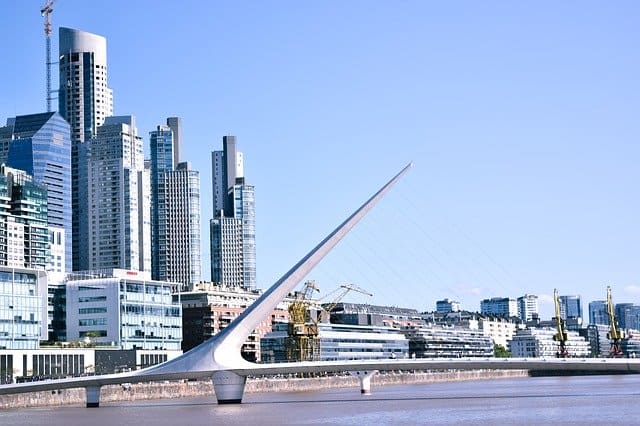 Holland America Line's ms Zaandam began sailing a South America cruise that set sail from Buenos Aires, Argentina and was initially scheduled to end at San Antonio, Chile, on March 21.
March 13, 2020
Holland America Line decided to suspend its global cruise operations for 30 days and end their at-sea voyages as quickly as possible.
READ MORE: Holland America Suspends All Sailings
March 14, 2020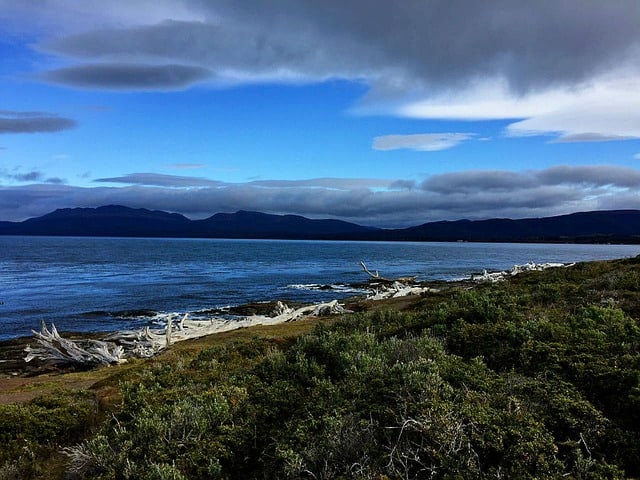 Holland America hoped to fly guests home from Punta Arenas, Chile but the requests were denied. This was the last time guests disembarked the Zaandam.
March 20, 2020
The ship's original itinerary was scheduled to end on this day. Instead, the Zaandam continued finding a port willing to let them disembark their guests. Meanwhile, the ship's next sailing was canceled as part of the company-wide suspension of sailings.
March 21, 2020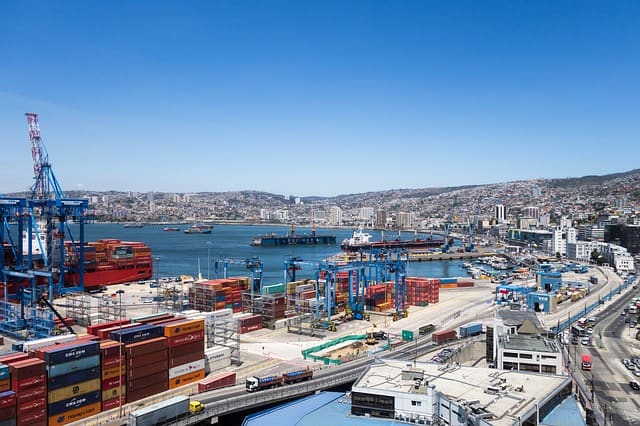 Zaandam arrived in Valparaiso, Chile, where it remained at anchor while taking on provisions and fuel, including regular medications for those who needed them. However, passengers and crew were kept aboard, unable to disembark.
March 22, 2020 
Thirteen guests and 29 crew members reported flu-like symptoms to the ship's medical center. There were no testing kits on board the ship, so Holland America asked the guests to remain in their staterooms until more information became available.
March 24, 2020 
All the ports along the Zaandam's route north remained closed to cruise ships. Holland America deployed the ms Rotterdam to meet with Zaandam with medical supplies and testing kits. At the time,  Rotterdam was laid up in Puerto Vallarta, Mexico, with 613 crew members and no guests. The ship had been docked in Mexico to wait out the global suspension of cruising.
March 26, 2020 
Off the coast of Panama, the ms Rotterdam met the Zaandam to provide supplies. The Rotterdam remained with her sister ship while the next course of action was being decided. Testing passengers began immediately.
On Zaandam, there were four doctors and four nurses. Rotterdam had two doctors and four nurses.
March 27, 2020
The line reports that of the tested passengers, two were found to have tested positive. Four elderly guests are also said to have passed away, although it is unclear whether their deaths are related to the virus.
A plan sanctioned by the U.S. Centers for Disease Control and Prevention (CDC) allows guests who have not had flu-like symptoms to be transferred to the ms Rotterdam. An upside: guests sequestered in interior staterooms could now move into staterooms that would provide fresh air and natural lighting. Ill guests remained aboard the Zaandam.
At that point, the ships began their voyage toward Florida.
An initial request to transit the Panama Canal was denied because of the manpower needed to traverse the vessels, including line handlers, pilots, and boarding officers.
March 28, 2020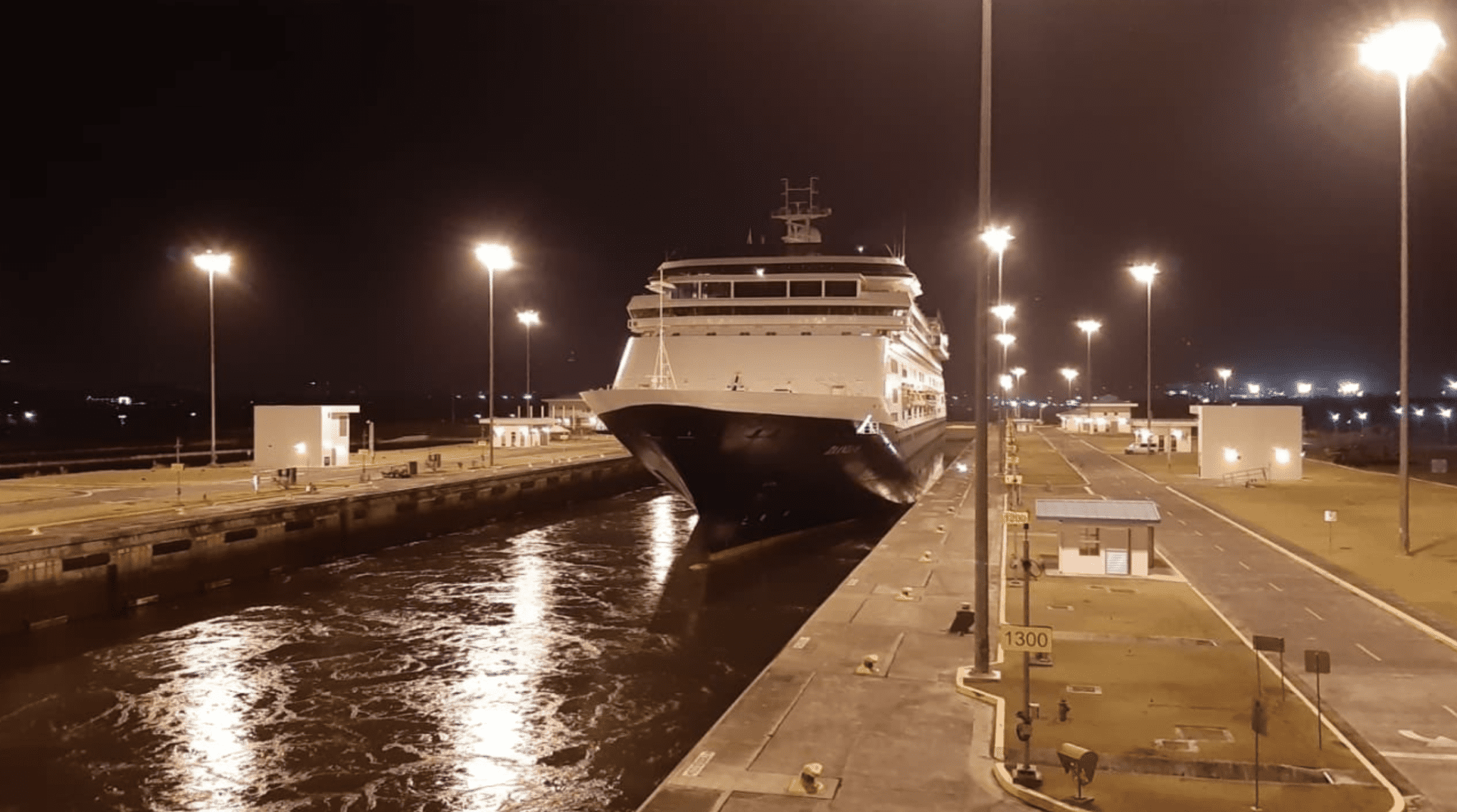 Panama's Ministry of Health approved the request to travel through the canal for humanitarian reasons. The ships were permitted to use the newer locks, which reduced the number of Canal employees involved in transiting the ship. Using the Panama Canal helped decrease the travel time back to Florida by just over two days.
READ MORE: Panama Changes Its Mind About Holland America Ship
March 29, 2020
Holland America President Orlando Ashford releases a video to the guests onboard both Zaandam and Rotterdam updating them on the latest developments.
March 30, 2020
Both ships transit the Panama Canal and make their way toward South Florida. But a new wrinkle develops when Florida Governor Ron DeSantis says he will not accept the cruise ship in Florida because he doesn't want the passengers "dumped" there and potentially clogging the local health systems. Zaandam and Rotterdam continue to steam towards Florida, expecting to arrive there on April 2.
Holland America Line's President Orlando Ashford published an open letter regarding the ships stranded at sea.
In the letter, he says, "We are dealing with a 'not my problem' syndrome. The international community, consistently generous and helpful in the face of human suffering, shut itself off to Zaandam, leaving her to fend for herself."
March 31, 2020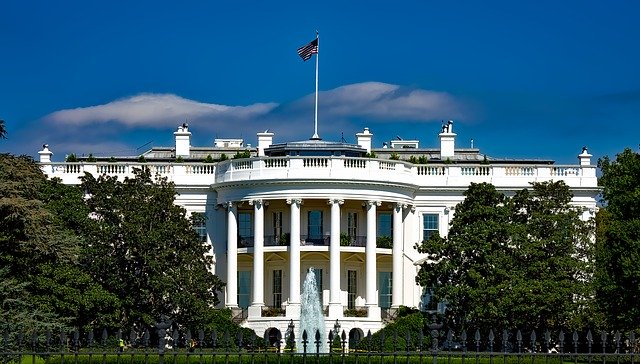 At a press conference at the White House, President Donald J. Trump addresses a reporter who asks about Florida denying the cruise ship.
Trump says, "They're dying on the ship. I'm going to do what's right, not only for us but for humanity." The president says he plans to discuss the matter with Florida's governor.
April 1, 2020 
President Trump talks to Florida's governor about letting the cruise ship dock. DeSantis reverses his decision, giving the beleaguered ship permission to dock.
On Zaandam, there are 442 guests and 603 crew. There are 808 guests and 583 crew on Rotterdam.
April 2, 2020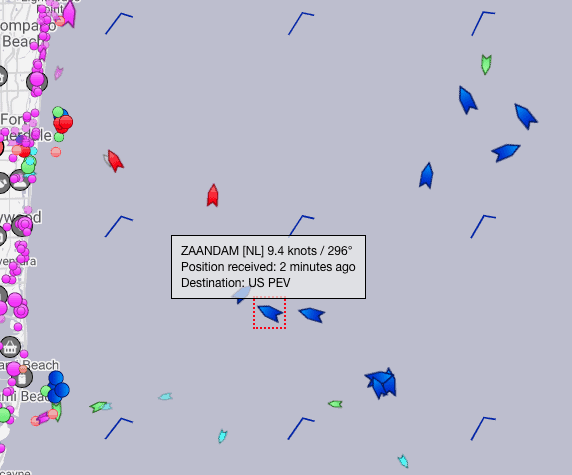 2:00 a.m. ET: Both the ms Rotterdam and Zaandam arrive at the anchorage area of Port Everglades.
9:00 a.m. ET: NBC News reports that the two Holland America ships are cleared to dock and that the final paperwork is just waiting on two lawyer signatures. The outlet reports that nine guests on the ship have tested positive, and 179 have flu-like symptoms.
9:50 a.m. ET: Both ships are assigned docking times. Rotterdam is expected to dock at 1 p.m. and Zaandam at 1:30 p.m.

1:09 p.m. ET: The ships are still on the port's schedule with assigned berths, the times have been pushed to 4:00 and 4:30.
4:00 p.m. ET: The ships arrived at Port Everglades and, according to a tweet from WSVN News, "Crews will be transporting 10 patients in need of immediate care to the hospital." Meanwhile, Mayor Dean Trantalis reassured nervous residents with a statement regarding what would happen next.
"The vast majority of passengers are not ill and have no symptoms," he assured. "They will be placed on private chartered buses, taken directly to the airport tarmac and board chartered flights out of our community. A small number of critically ill passengers will go to local hospitals." It is presumed these are the ten mentioned by the local news network.
"Others who are mildly ill or have symptoms will be quarantined at sea on the ships until they recover," Trantalis continued. "Given the county's decision to allow the ships here, I believe these regulations present a humanitarian solution for those on board while providing strong safeguards for our community."
This story will be updated as information becomes available.