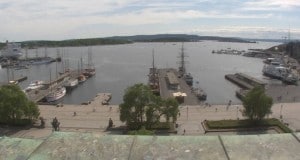 Norway's Oslo Fjord pilots joined in a strike by Norway state workers as part of an ongoing pay dispute.  With no one to guide them in to port, ships from Princess Cruises, Star Clippers and Royal Caribbean were diverted to alternative ports
Without pilots available, Emerald Princess, Star Flyer and Vision of the Seas were diverted due to the requirement that a local pilot guide ships into port.
"Vision of the Seas was unable to dock in Oslo on Sunday, May 27, as originally planned," Royal Caribbean said in a statement to Cruise Critic reports TravelBlackboardAsia.  "Because of this, it was necessary to modify Vision of the Seas' boarding and debarking process on Sunday. Vision of the Seas arrived in Gothenburg, Sweden on Sunday, and guests were transported to and from Oslo via motor coach."
Cruise ships including MSC Poesia, Costa Fortuna, Vision of the Seas and Emerald Princess are due to call into Oslo over the next several days with the pilot strike threatening to go nationwide on 30 May.
In Norway, 42 pilots in Oslo fjord are on strike along with thousands of public sector workers, such as teachers, carers and policemen in a protest over wages. All the traffic which requires compulsory pilotage is closed. All other services, such as information service or traffic control, operate normally.
Chris Owen is a travel writer from Orlando Florida charged with sharing frank, inside information on cruise vacations with travelers. Certified a Master Cruise Counselor by the Cruise Lines International Association, Chris can be found via the popular travel blog, ChrisCruises.net and on the long-running cruise information website, YourCruiseDream.com.
Subscribe to our Cruise News Updates.