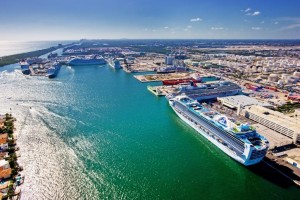 Port Everglades experienced recording-breaking numbers today with eight cruise ships and over 55,000-cruise passengers. The most recent record was set on March 20, 2010, with 53,365 guests on nine cruise ships.
"This year, we anticipate matching our record 3.6 million multi-day passengers, which we reached for the first time during the 2011 cruise season, on fewer yet larger ships," said Port Everglades Director Phil Allen. "A weekend with Allure and Oasis of the Seas is like five ships from three years ago in terms of passenger numbers."
Carnival Freedom, Carnival Miracle, Eurodam, MSC Poesia, Crown Princess, Grand Princess, Navigator of the Seas, and Oasis of the Seas are the eight ships that brought the record breaking numbers.
Port Everglades logged over 3.66 -million cruise passengers for the 2011 fiscal year and expects the same for 2012.
Source: Fort Lauderdale Port / Lara Nicotra