It's 7 am. I'm still in bed, awake, but not quite ready for the world. I'm sailing through the isles of Greece on Silversea's newest ship, the 596-passenger Silver Moon and nicely cocooned in Silver Suite #931, an accessible accommodation.
My bedroom door is pulled shut but I hear just a bit of movement and a slight clank through the door from the adjacent living and dining room. Since I ordered room service for 7 a.m., I know it's Eno, my attentive suite butler, positioning the dishes on my dining room table.
"Good morning" I call out into the darkened bedroom. Through the door, a cheery voice responds:  "Good Morning Ms. Young, your coffee and breakfast are ready." I turn over, nestle back into my pillow, and get up five minutes later. Sliding open the door between bedroom and living/dining area, I see that breakfast awaits. Eno has quietly slipped away and so the day begins.
Silversea's Silver Moon
Silversea's voyages are in the ultra-luxury space – think Seabourn, Regent Seven Seas, or Crystal as among the line's prime competitors. Personalized service is an ultra-luxury hallmark for these types of cruise lines, and Silver Moon is more than up to the task.
Every morning, Eno delivered my breakfast – or if I didn't order breakfast, my coffee at 7 a.m. to my dining room table. Yes, the suite had an illy coffeemaker with espresso or cappuccino packets, but I prefer "plain ole" American coffee and several cups of it in the morning. While I like the others at times, Eno faithfully delivered my black coffee every morning – in tune with my needs, not the norm.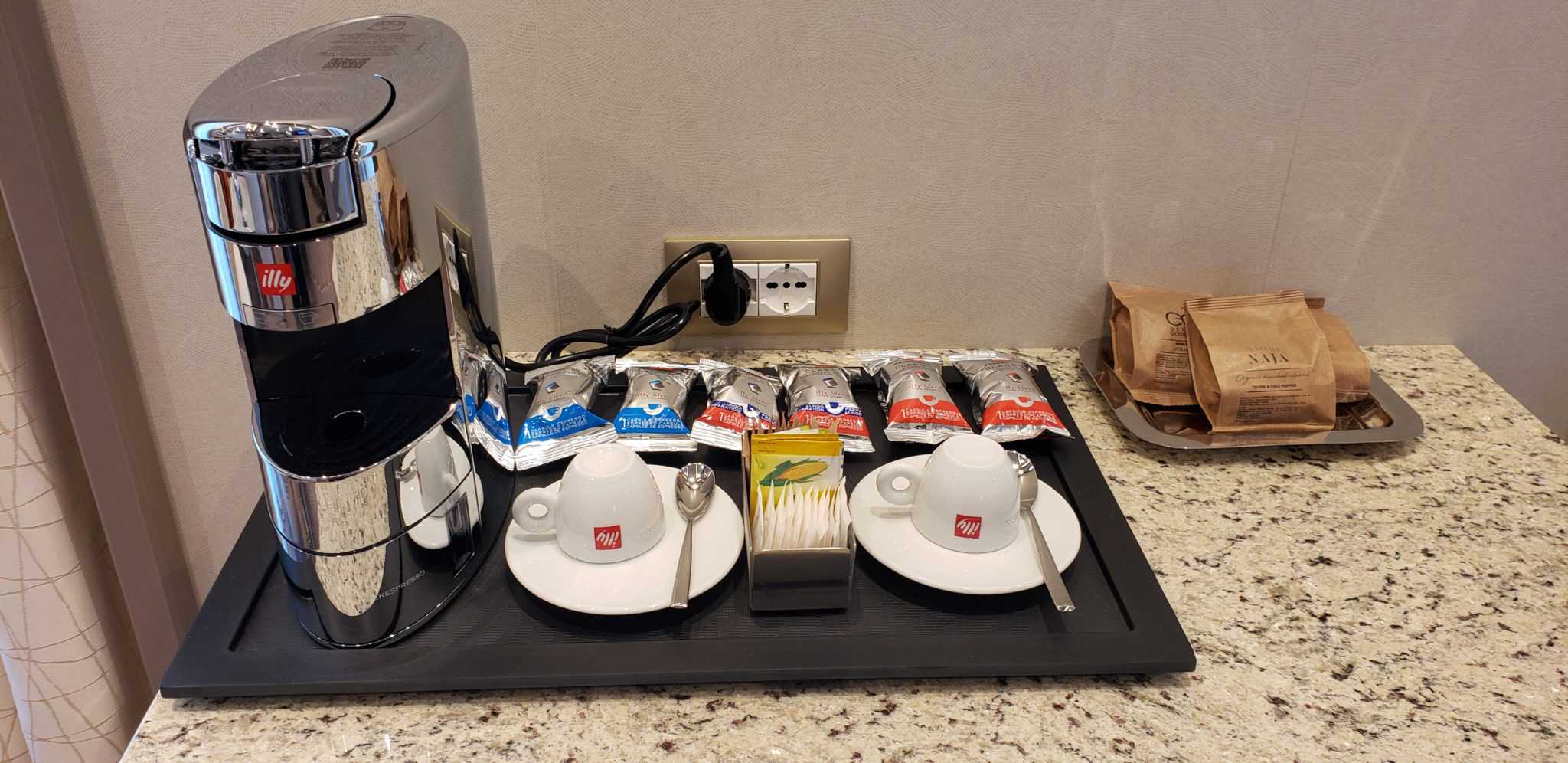 If I happened to be up when the coffee arrived, we'd chat about the day ahead. He'd ask what else he could do for me. He'd check the suite credenza's mini-refrigerator to see if it needed replenishing and he'd refill the glass water bottles (still, sparkling, or both) provided by the line. And everything about my suite stay was personalized. Since I like still water better than sparkling, he gave me two of those (not one of each type of water) and he kept them refilled always.
Eno always wished me a good day. At times he returned later to hang my completed laundry order in the closet or place some of the folded laundry on the top of the bedroom wardrobe. He'd deliver a bottle of my favorite Sauvignon Blanc, arrange or cancel shore excursions, talk to the purser's desk about questions I had, make restaurant reservations, and more.
Simply stated, I (and other members of my group also sailing aboard) found the service on Silver Moon to be friendly, anticipatory and, for the most part, flawless. Certainly, the crew are happy to be back to work after a long pandemic-era layoff as both Eno and my housekeeper, Evelyn, imparted.
Suites for Sweet Dreams
So, if you go, what can you expect in the way of accommodations? Silver Moon is an all-suite ship so here's a short run-down on what's available, and then I'll talk in more detail about my suite, #931, an accessible Silver Suite.
All accommodations are designed to be spacious and inviting. The suites' color palette is mostly soft muted hues with splashes of color for accent. All have butler service. Overall, I felt that my suite was well-appointed, had an aura of luxury and style, and yet was "comfy" at the same time.
Silver Moon's entry level accommodation are the 334-square-foot Vista Suites with large picture window, living room area with sofa, writing desk, bedroom area with queen-sized bed (or two twins), and a marble bathroom. There are also three wheelchair accessible Vista Suites, (#407, #409, and #417) with larger square footage. Also with picture windows, the ship's Panorama Suites similarly offer 334 square feet of space but are located on the ship's bow.
For those seeking a private veranda accessible via sliding glass doors, the Classic Veranda Suite offers 387 square feet of space (including that veranda). Location is a differentiator for other veranda accommodations. Superior Veranda Suites are located on the upper deck, while Deluxe Veranda Suites are in a mid-ship locale, preferred by many guests.
Next up the ladder accommodations-wise is the Silver Suite, which the line says is always one of its most popular suites on any ship in its fleet. I would recommend this as a good "step up" for those who love sailing in private veranda (or balcony as I call them) accommodations on any line.
On Silver Moon, there are 34 Silver Suites, and one of those – #931 – is accessible. Staying here during a 10-night Greece cruise in late July and early August, I truly loved this suite. I have some mobility issues and it is well-designed in that regard.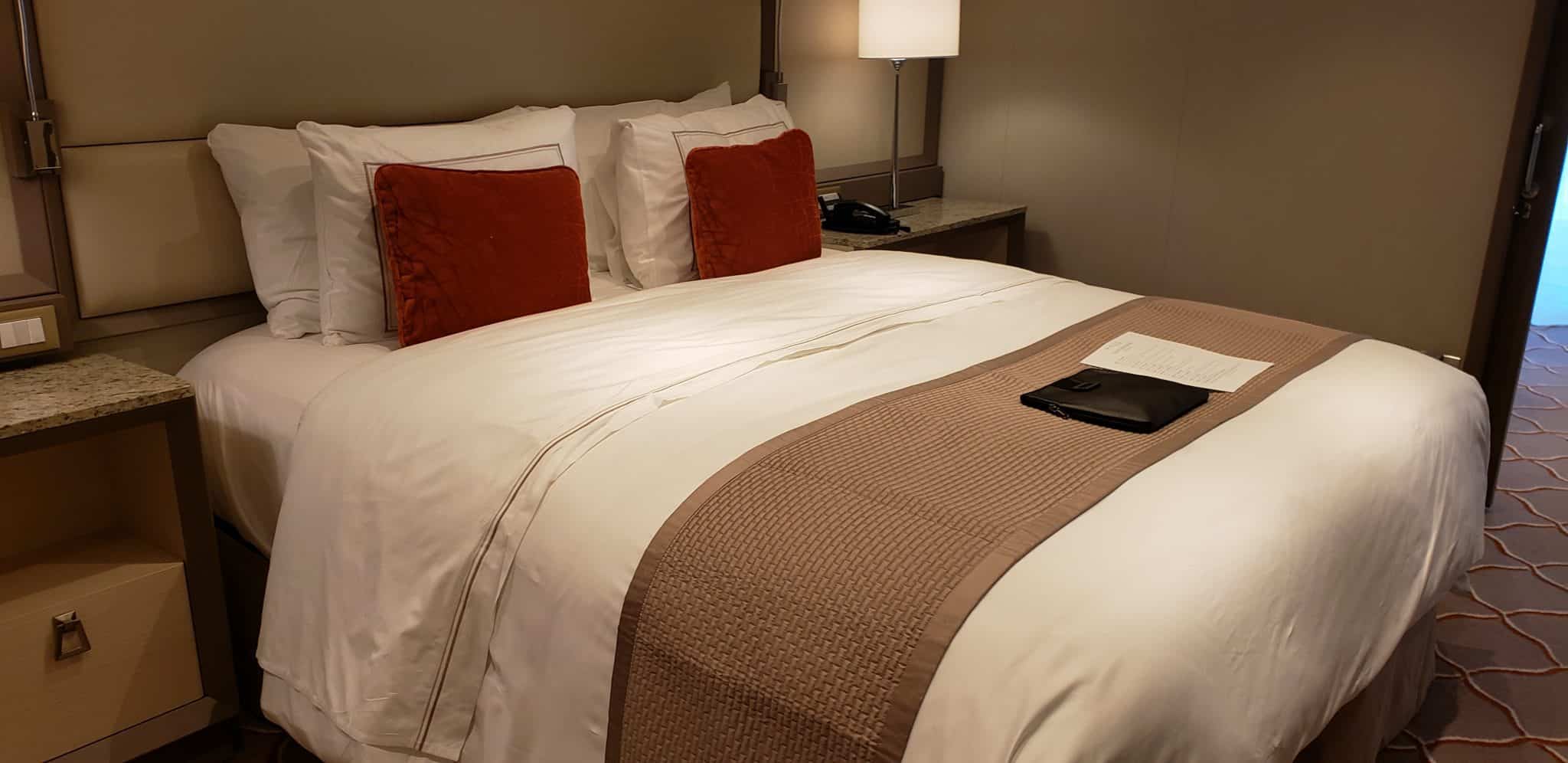 READ MORE: Viking Announces Two Identical World Cruises For 2023-24
Stylish & Accessible
Here are my 10 top "factoids" for accessible Silver Suite, #931.
1. It has automatic entry. Just tap your key card on a panel in the corridor, and presto, the door unlocks and can be slightly pushed. Then it will open all the way on its own. The guest enters and within a minute or so, the door closes on its own.
2. It has very good storage. As one enters the suite, one walks down a long hallway (wide enough for a wheelchair). On one side is a massive cupboard that opens to reveal large, deep shelving. Plus, there are two narrow hanging closets that offer lower hanging bars. A similar amount of storage in the same configuration is in the separate master bedroom.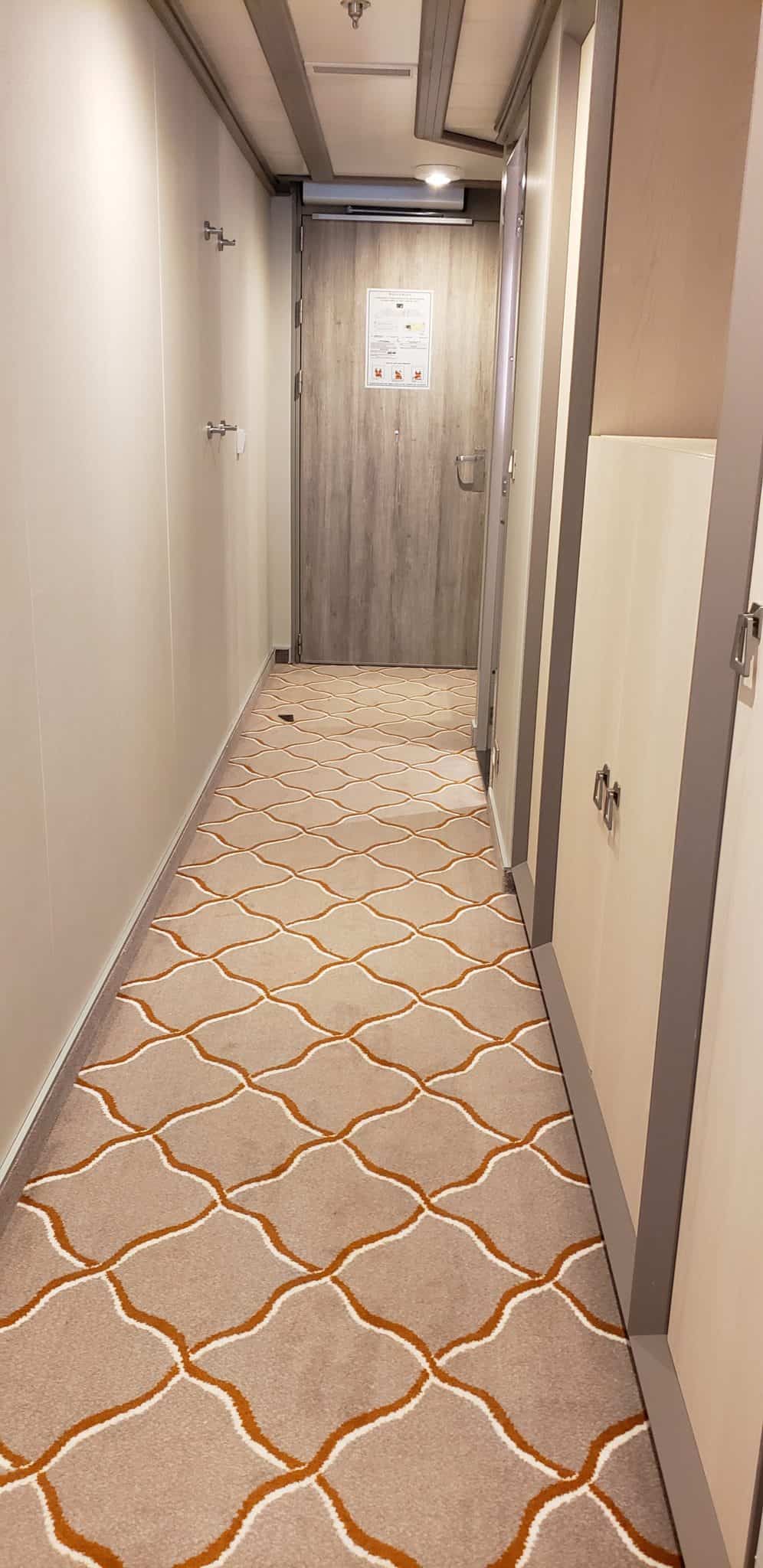 3. The "footprint" is narrower in the living/dining area. After walking along the long entry hallway, one emerges into the suite's living and dining area, which is a narrower in configuration than a regular Silver Suite. Why so? That allows for more space in the master bedroom, so a wheelchair can pass on either side of the bed and much more open space in the master bathroom as well.
4. Its interior space is wheelchair-friendly. A wheelchair can transit freely between the dining area/desk area and the living area itself. The living area is home to a pull-out sofa, small chair/stool-like seat (which I absolutely loved as it was easy to plop into) and a sturdy marble table.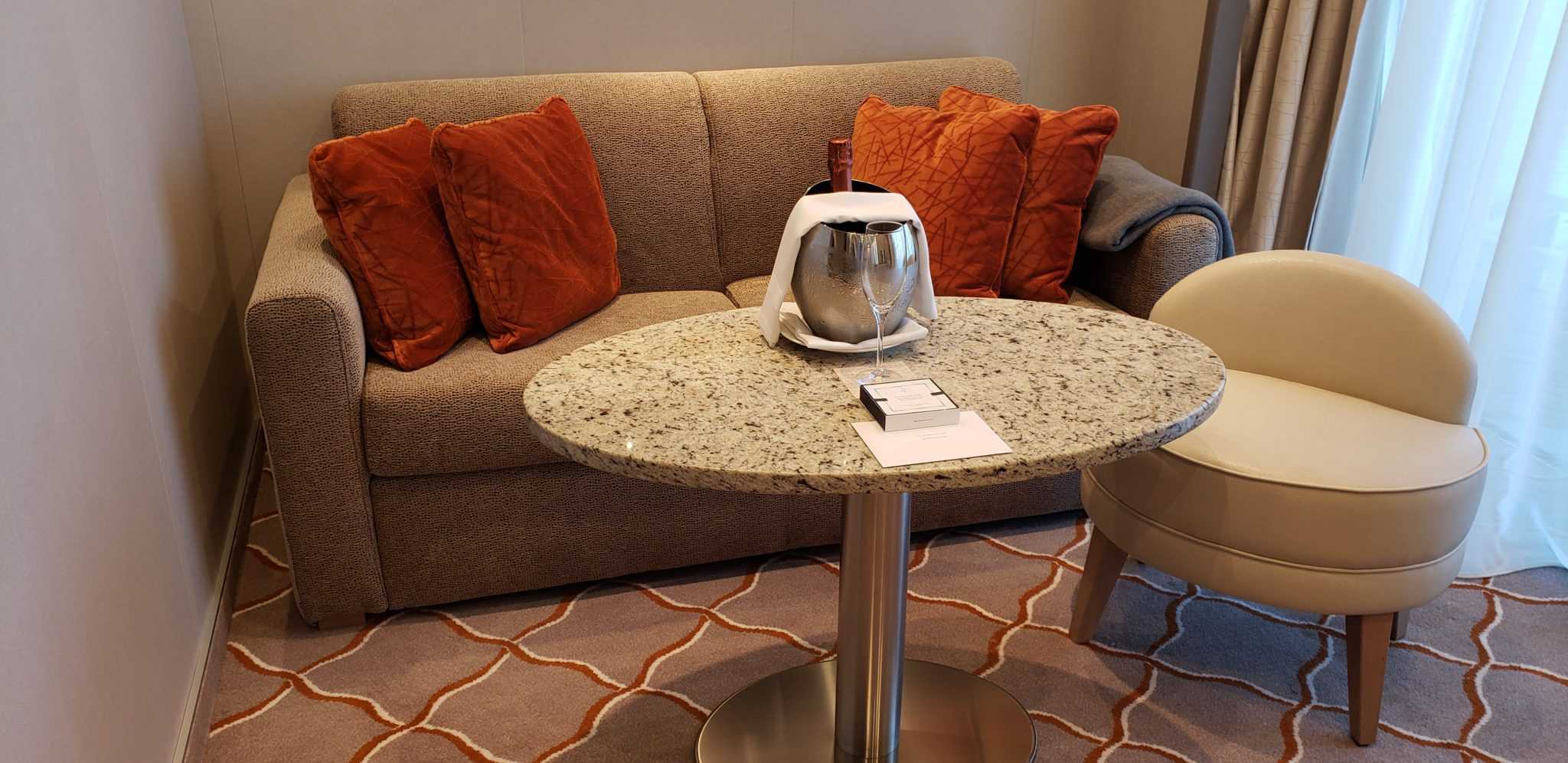 The soft cashmere throw on the couch is a nice touch, along with brightly-colored pillows. A wheelchair easily can move up to that marble table, which – while somewhat heavy – can be repositioned by guests or crew if a bit more space is desired in the living area.
5. It has refreshing perks. Between the living area and the dining area's table is an easily-accessible credenza with illy coffeemaker with cappuccino and espresso pods, a mini fridge (stocked with your favorite beverages including water bottles, sodas, beer, wine, and so on), bar tools, and glassware. Atop the credenza are yummy packets of upscale nuts such as organic blanched almonds with thyme and chili pepper or large cashews seasoned with pepper bits. Let's just say that I couldn't stay away from these.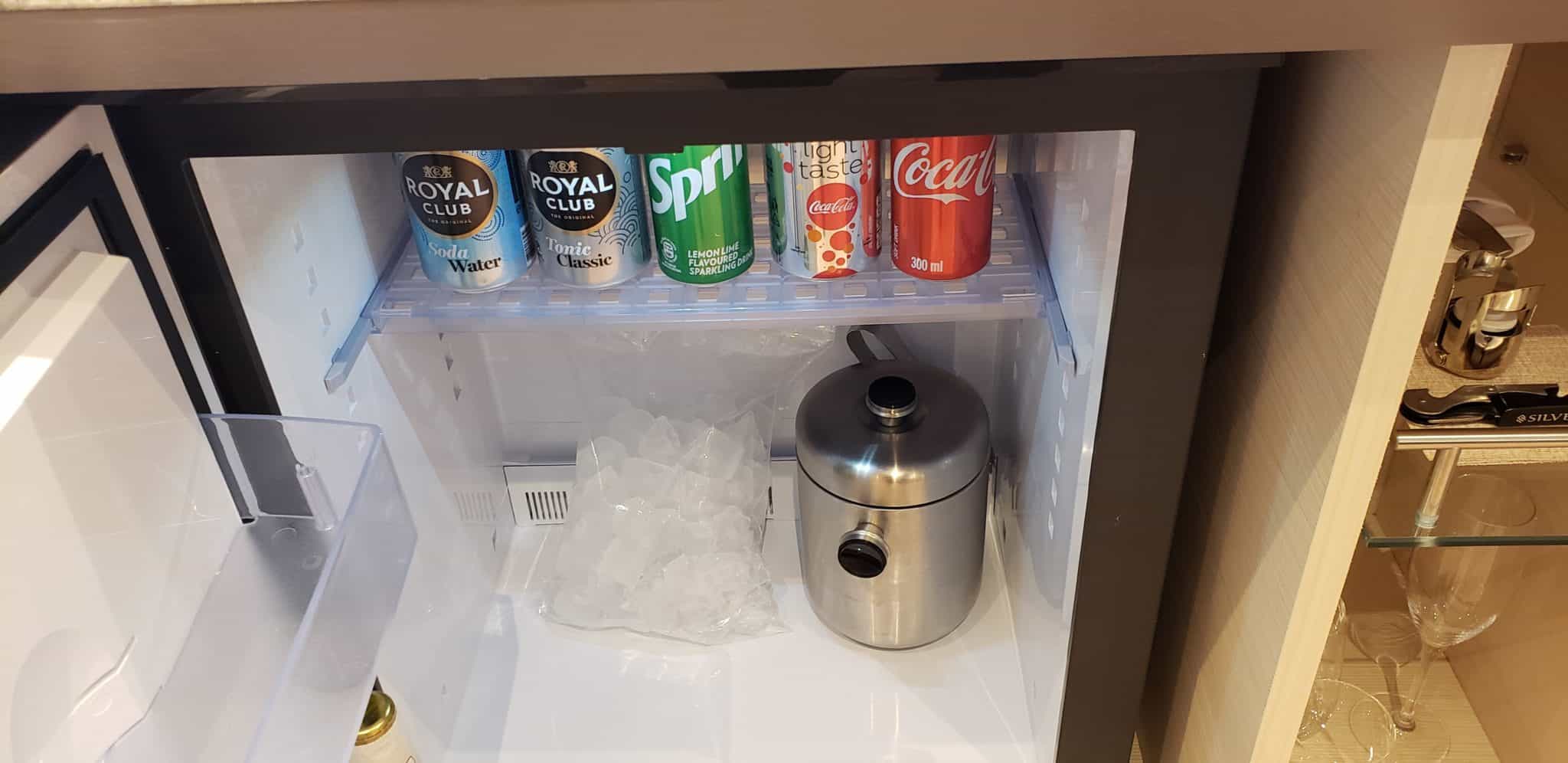 Also, Silversea places a bottle of Laurent-Perrier's Cuvee Rose Champagne in each suite upon arrival. Eno then resealed what wasn't imbibed and placed it in my mini-fridge – awaiting another night's toast with friends. In addition, every day my butler replenished the fresh fruit displayed in a massive, curved fruit holder, positioned on the dining room table. A lovely orchid plant also graced that table.
6. Its "heights" are adjusted. The heights of this accessible Silver Suite's large marble-surfaced desk and separate dining room table are such that a wheelchair can slide under them.  The desk has two small under-counter drawers on either side for storing papers, makeup, or other personal items.
The round dining room table (a table for four space-wise) has two regular chairs but could be set up for one or two more chairs, if desired, or alternatively, one or two wheelchairs. In the two storage areas (one in the entry corridor, the other in the master bedroom) the closet bars were lower and easily reachable.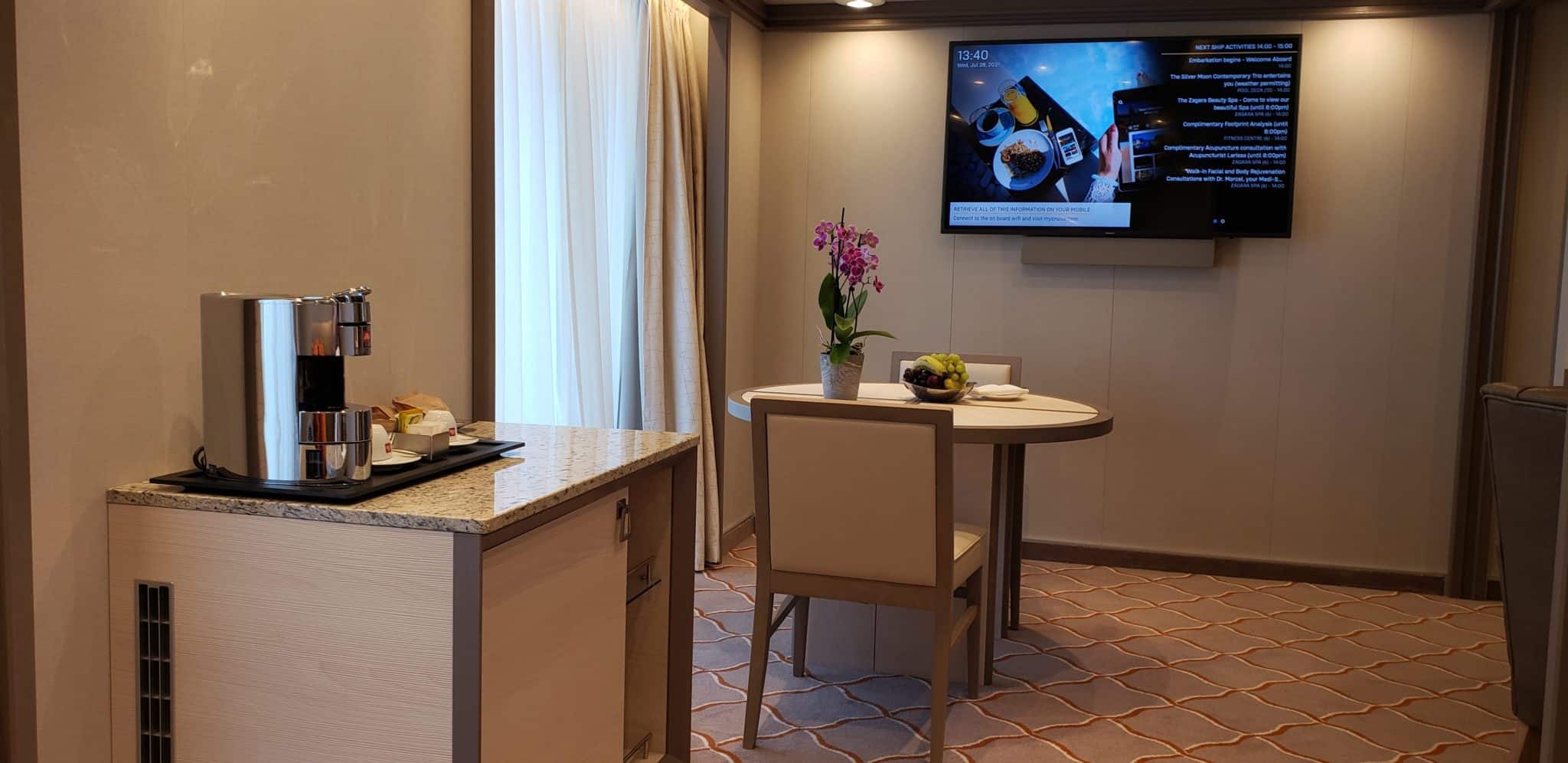 7. The techie stuff worked well. The living room's large wall-mounted flat screen TV featured a full range of programming – everything from on-demand movies and TV shows to personal account details, an A-to-Z guide for ship services, and a room-service ordering menu. A second flat-screen TV is also wall-mounted in the bedroom and easily viewable from the bed.
On the desk was a handy small leather note holder that had a built-in USB outlet. A Bose radio on the desk provided high-quality sound and the phone system worked well. Most importantly for me (always working on a laptop from afar), the unlimited internet package proved pretty reliable throughout the cruise.
8. Its master bathroom is humongous. Simply put, this master bathroom is absolutely huge. Space abounds with handrails everywhere around the toilet, bidet, and shower area. Given my knee issues, I loved the walk-in shower, which has a large seat, rainforest shower head, and also a hand-held spraying wand. A wheelchair can simply wheel into the shower with ease. Good floor drainage grates in several spots assure the water flows down and away — not into the bathroom or bedroom.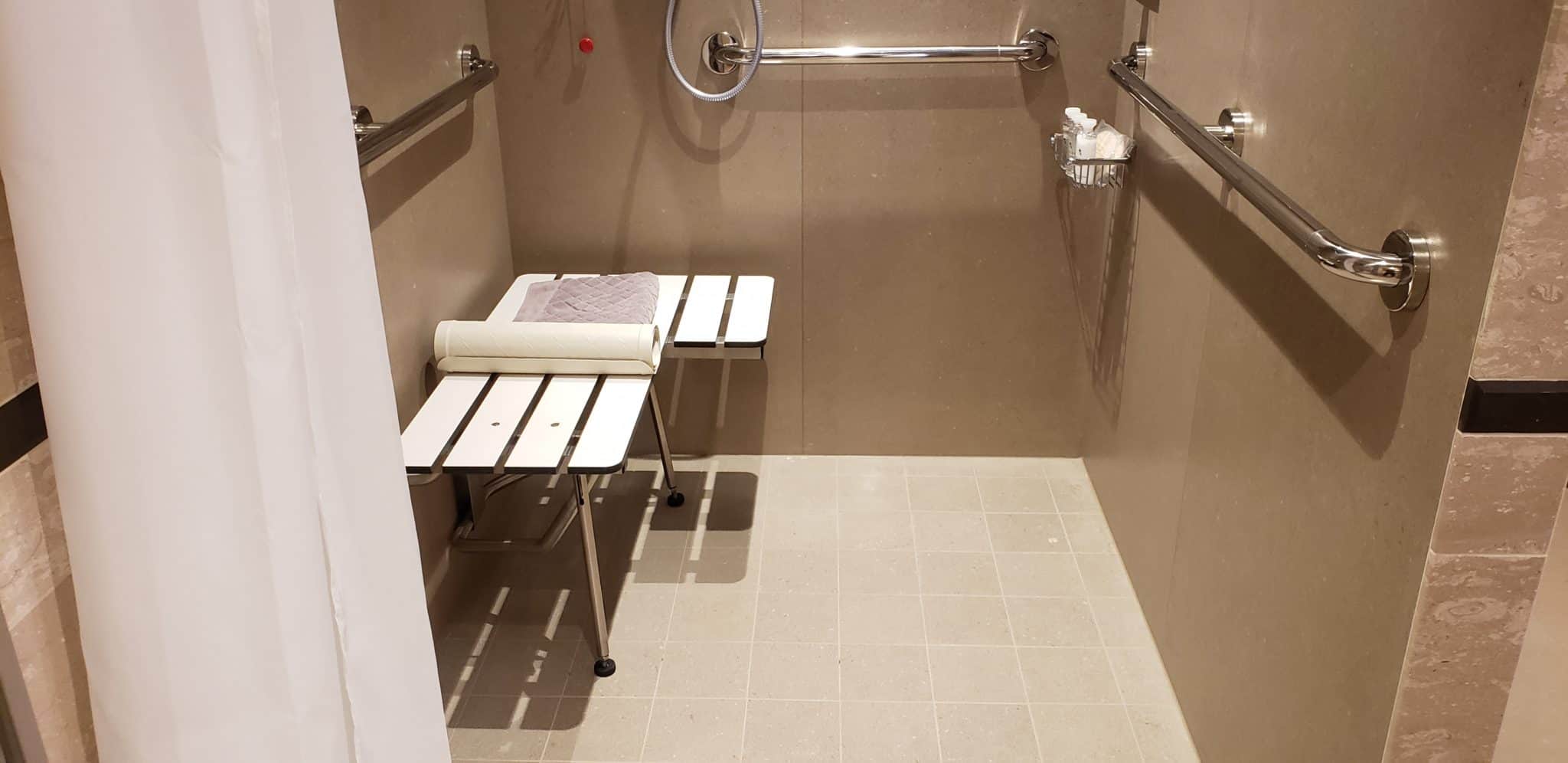 The master bathroom has one wheelchair-friendly sink with limited storage around its surface, but that said, there's a connecting door between this bathroom and the suite's guest half-bathroom (which has its own sink and larger vanity). Bottom line? There are two sinks in this suite as well as two toilets.
That connectivity also allows anyone sleeping on the pull-out living room couch and using the half bath, to also access the shower in the master bathroom.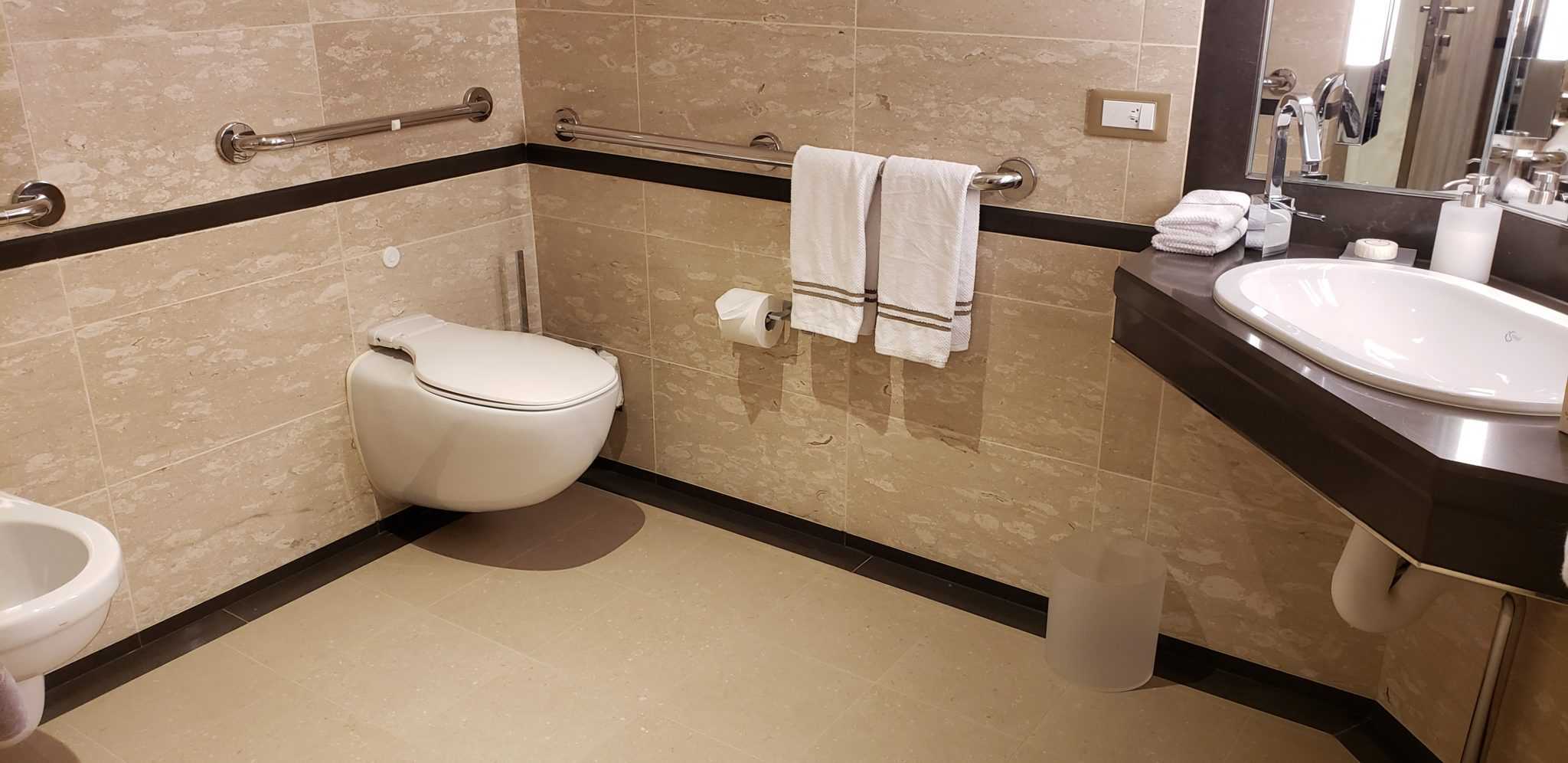 9. Its long veranda is inviting: Inside this Silver Suite, the flooring has been adjusted slightly upward as it approaches the two sets of sliding glass doors. In addition, as I slid open the door, presto, a metal surface lowered making the door frame easy for a wheelchair to cross. Eyeballing the veranda length, it's about twice as long as a normal veranda. It's furnished with two large chaise lounges, an outdoor dining table (perfect for savoring al fresco room service) and two chairs. Each morning my housekeeper, Evelyn, put out fresh towels and chair cushions. 
However, I did feel that the width between the sliding doors and the veranda railing was a bit tight for a wheelchair given all the furniture between the two spots. So, I spoke to the butler, who assured me that the crew would happily remove one of the loungers and reposition the table so a wheelchair user needing a bit more space would be happily accommodated. That seemed a reasonable solution.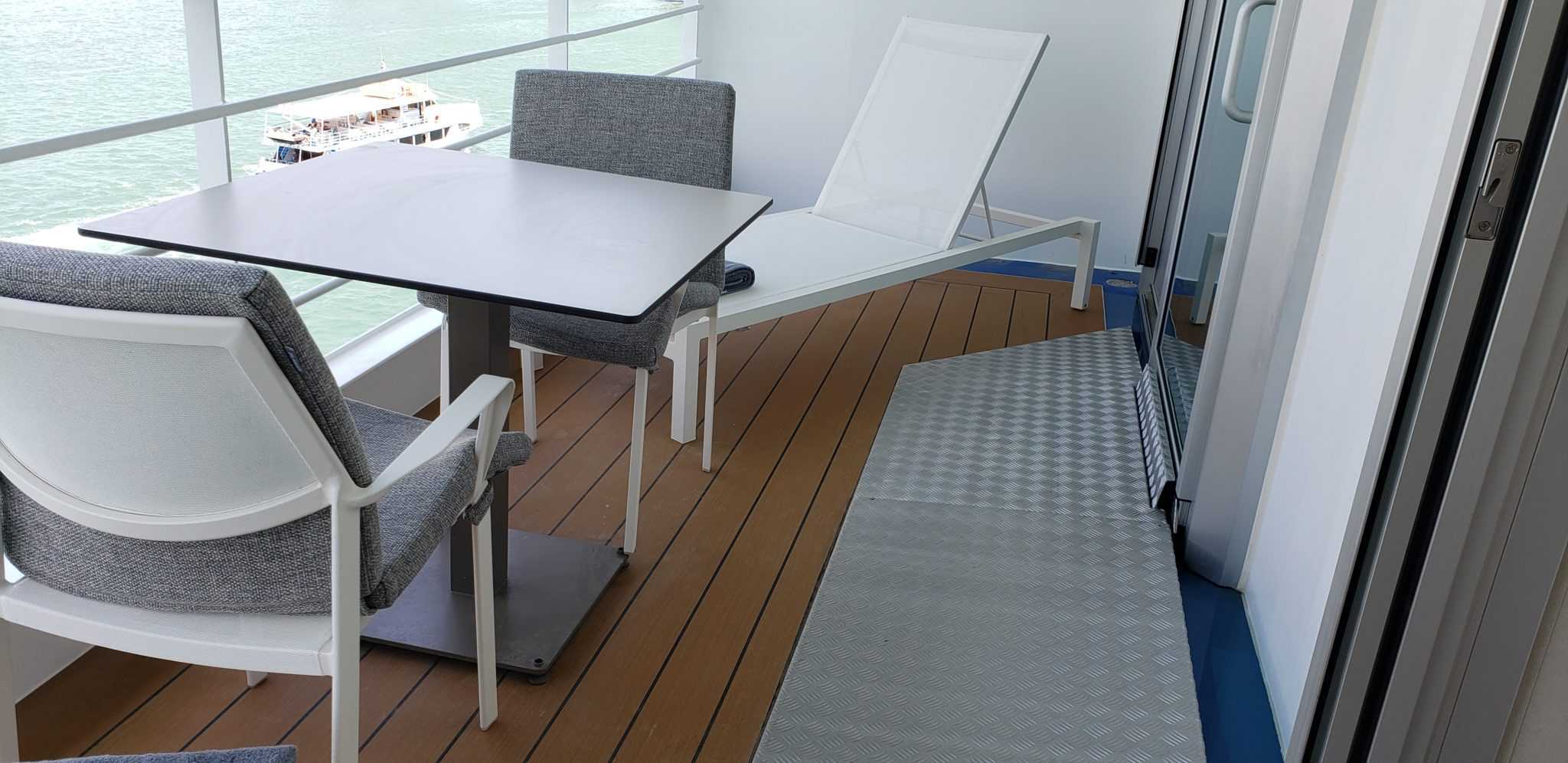 10.   It feels like home (or even better): I'm sure having an incredibly professional and cooperative housekeeper and a suite butler has something to do with my demeanor about this suite, but I felt so pampered there. I liked the features and space so much that I was ready to stow away and stay!
If you book a Silver Suite, accessible or not (as I've stayed in regular Silver Suites in the past), you'll likely enjoy your stay. It's a good step up from a deluxe veranda suite, although those are also quite nice. But a Silver Suite offers a stylish, condo-like feel with separate spaces that provide more room to spread out.
I loved sitting on my veranda and having a glass of Sauvignon Blanc as I watched guests return to the ship from their day ashore on Mykonos or Patmos. It provided a good perch with a relaxing aura.
And yes, you can certainly book even higher level and more spacious accommodations on Silver Moon (Royal, Grand, or Owner's Suites). For example, the Owner's Suites span 947 square feet to 1,055 square feet including the private veranda. In a two-bedroom configuration with a connecting suite added, the Owner's Suite space rises up to 1,281-1,389 square feet.
Parting Thoughts
For those who may be thinking of booking a Silver Suite on Silver Moon, and particularly #931, the accessible Silver Suite, send along any questions and I'll do my best to answer them or get answers from the line or a luxury travel advisor friend who stayed in a regular Silver Suite on the ship this week.
Meanwhile, stay tuned for our yummy third Silver Moon story about "Silver Moon: Food, Glorious Food." I'll talk in detail about Silver Moon's new S.A.L.T. Bar, S.A.L.T. Kitchen, La Dame, Atlantide, Hot Rocks, the onboard pizzeria, Kaiseki, and more. Plus, I'll provide food photos to accompany the story.
By way of background, you can read the first story in this series here. As the line's second Muse-class vessel, Silver Moon is currently sailing to the Greek isles from Athens and will begin voyages between Greece and Italy in September, before repositioning to Asian waters.