Guests can enjoy various fun attractions aboard a ship that makes their cruising experience more thrilling and unique.
In this article, we compiled 11 of the many excellent top-deck cruise ship attractions across five different cruise lines you must know beforehand!
1. Go Karts
Ships: Norwegian Bliss, Norwegian Joy, Norwegian Encore, and Norwegian Prima
With the debut of Norwegian Joy in 2017 came the launch of a brand-new cruise ship attraction for Norwegian Cruise Line and cruise ships as a whole: a go-kart racetrack.
These multi-story speedways have been included on every new Norwegian Cruise Line ship. Each 10-minute ride costs $15, and you can reach speeds nearly 30 miles per hour as you race around the track competing with other riders.
An unlimited all-you-can-ride pass for the entire length of the cruise costs $199 per person.
Make reservations for the speedway as soon as possible because spots often fill up quickly.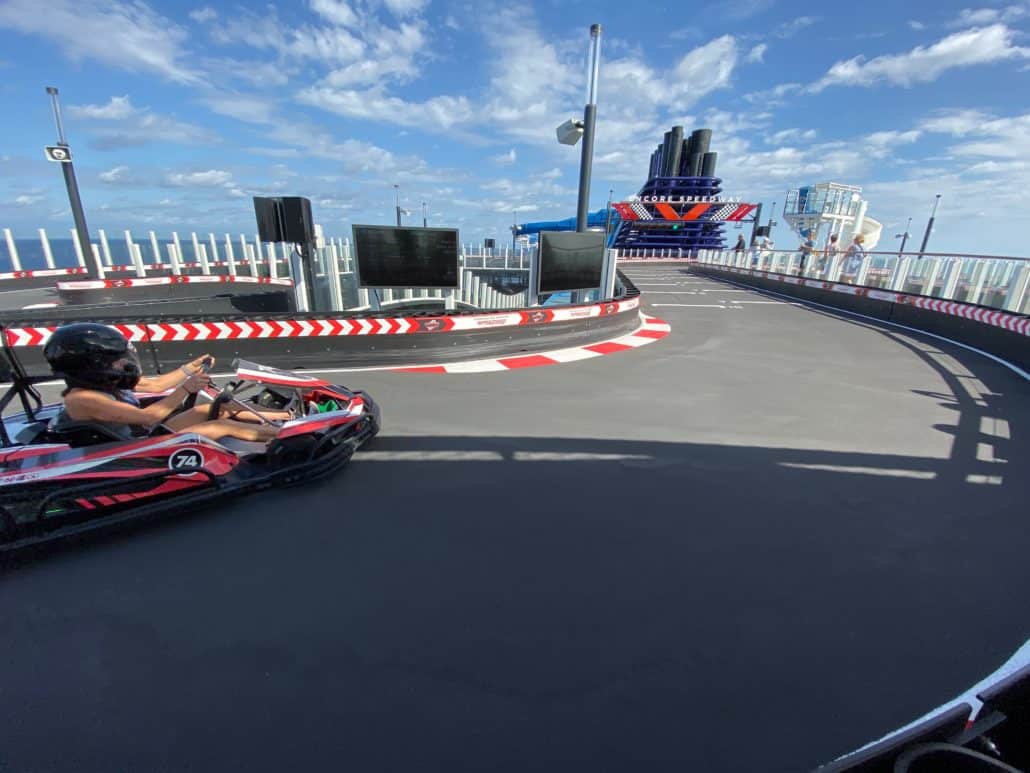 2. BOLT Roller Coaster
Ships: Mardi Gras and Carnival Celebration
Roller coasters on cruise ships are rare before, but now they exist on two (soon to be three!) Carnival cruise ships.
BOLT: Ultimate Sea Coaster takes you high above the top decks of Mardi Gras and Carnival Celebration, where you can control your speed up to 37 miles per hour.
The ride vehicles feature motorcycle-style seating and can accommodate two guests.
BOLT costs $15 for a two-lap ride around the track.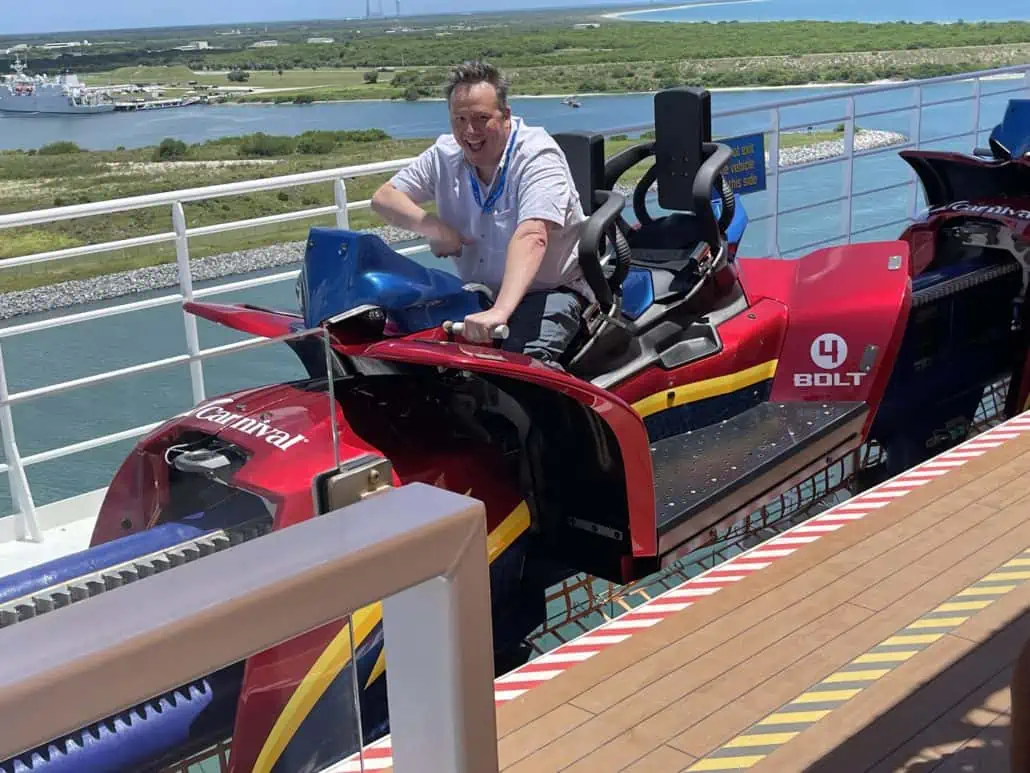 REVIEW: Riding BOLT, The First Roller Coaster on a Cruise Ship
3. AquaDuck/AquaMouse
Ships: Disney Fantasy, Disney Dream, and Disney Wish
Unlike most traditional water slides, Disney Cruise Line's AquaDuck and AquaMouse "water coasters" feature ascents and descents, propelled chiefly by strong streams of water.
Riders sit on big one or two-person inflatable rafts, whooshing through an acrylic slide that features open-air sections and partially opaque or fully transparent tube sections.
Disney Dream and Fantasy feature the AquaDuck, which is more of a traditional water ride.
On Disney Wish, the line renamed the coaster "AquaMouse" and upped the ante by adding dark parts with screens and sound effects that resemble an original Mickey Mouse shorts storyline for the ride.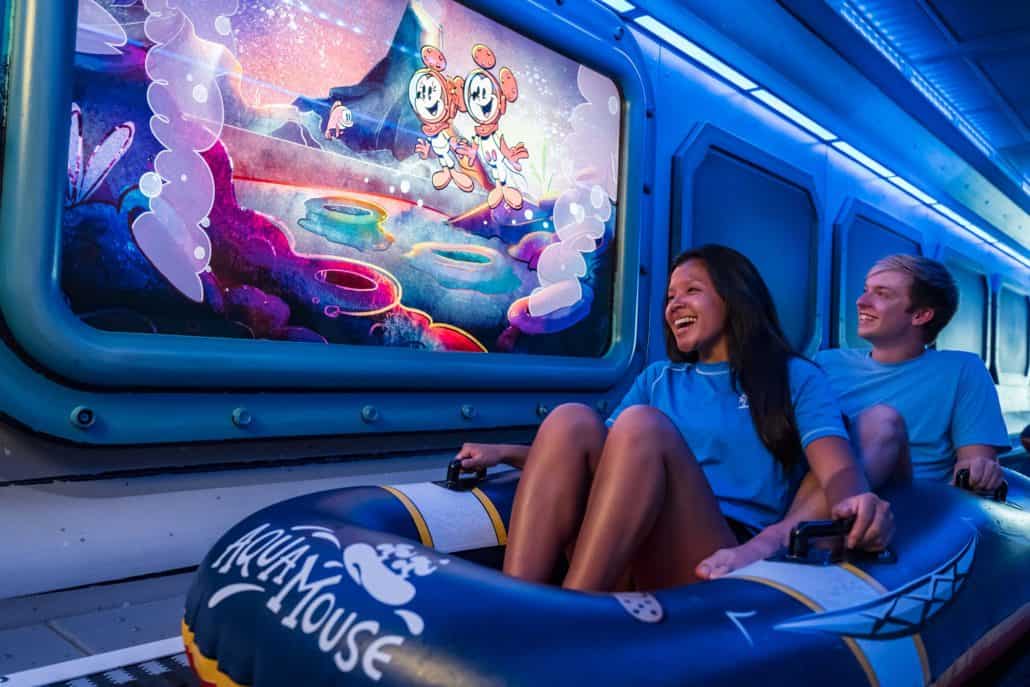 4. RipCord by iFly Skydiving
Ships: Quantum of the Seas, Anthem of the Seas, Ovation of the Seas, Spectrum of the Seas, and Odyssey of the Seas
Ever had the urge to go skydiving? If so, iFly "indoor skydiving" is for you.
iFly has land-based locations worldwide, but Royal Caribbean is the only cruise line to feature these fun skydiving simulators on their ships.
To simulate the skydiving experience, you'll be put into a transparent wind tunnel where the wind can reach speeds of up to 100 miles per hour for guests, and you are pushed off the ground, simulating a free-falling experience.
As you "free fall" in a stomach-down position, an instructor will stand in the tunnel to help you with your form.
To do the RipCord by iFly experience, you must be at least three years old and weigh less than 230 pounds if you're less than 6 feet tall or less than 250 pounds if you're 6 feet tall or taller.
Royal Caribbean staff will walk you through watching a safety video, learning hand signals, and suiting up with a flight suit, helmet, and goggles before you head out for the action.
Fees of up to $50 may apply on certain voyages or certain days of your sailing, such as sea days.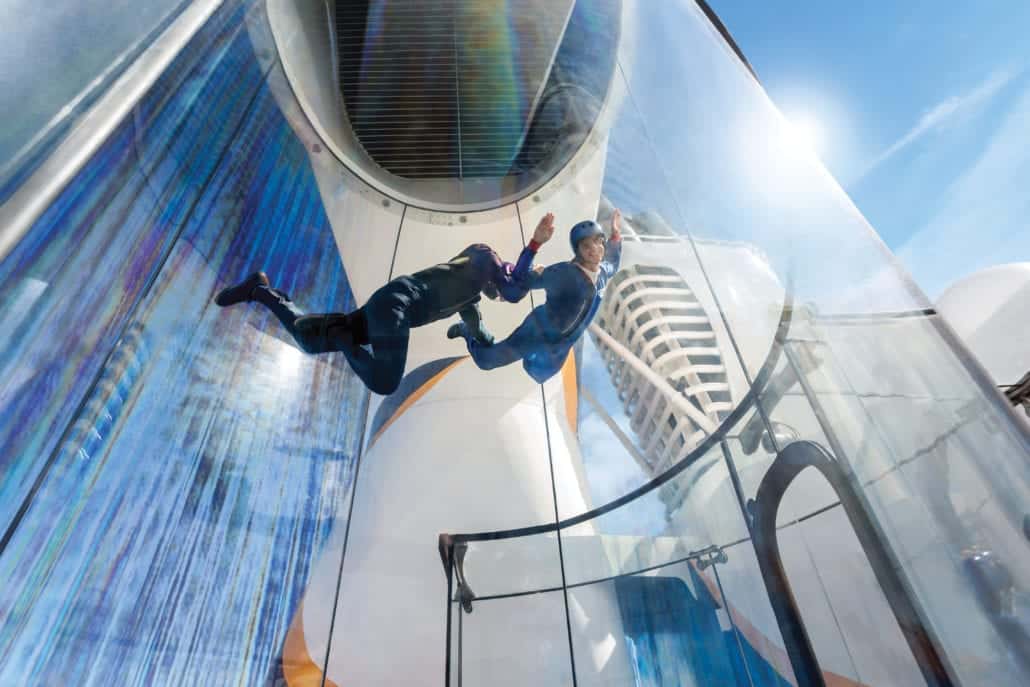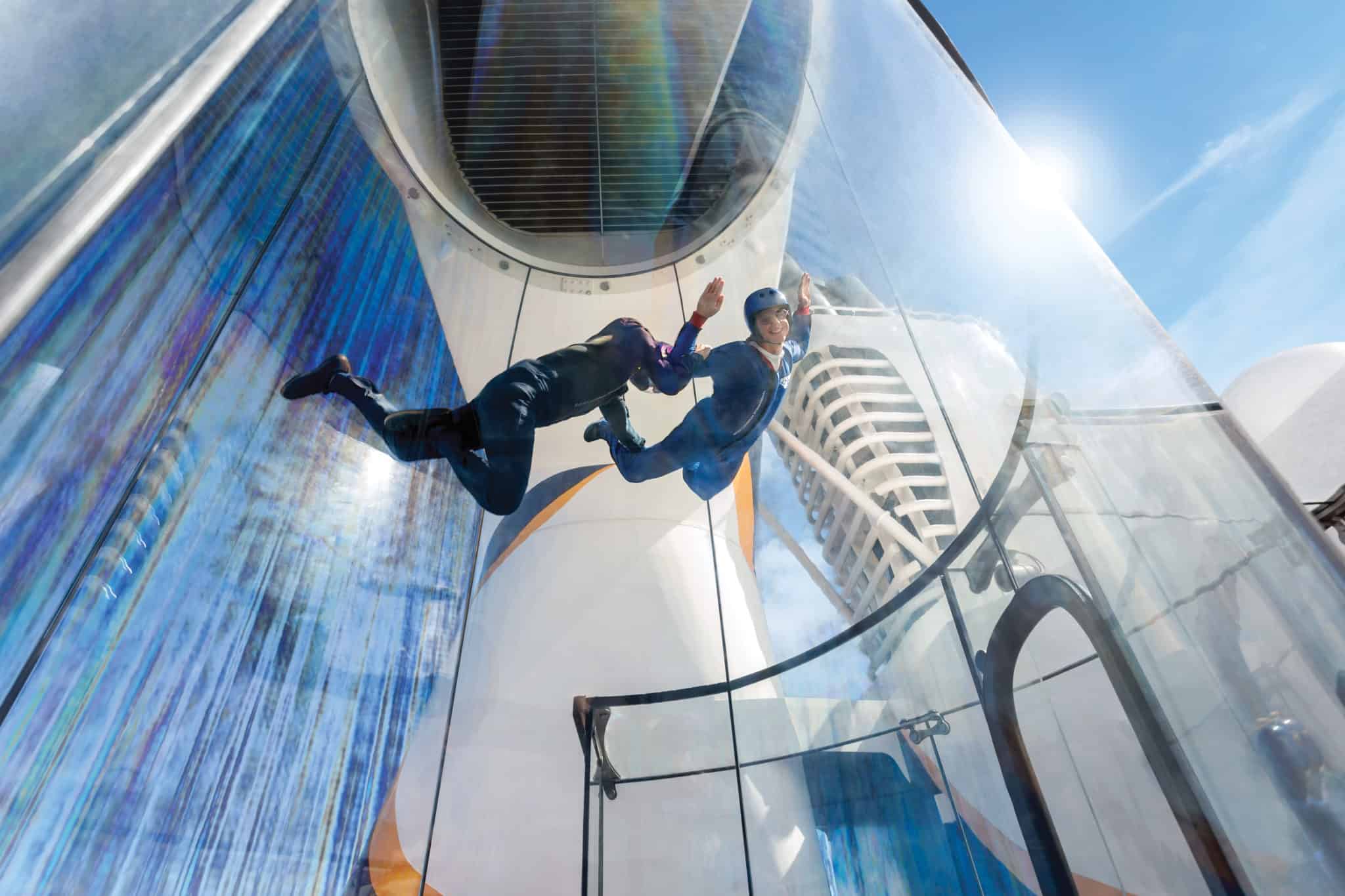 5. Laser Tag
Ships: Norwegian Bliss, Norwegian Joy, and Norwegian Encore, plus Royal Caribbean's Independence, Mariner, Navigator, Oasis, Symphony, Voyager, Wonder, Quantum, and Spectrum of the Seas
Norwegian Cruise Line draw a lot of customers when it included laser tag on three of its ships. Norwegian Bliss, Joy, and Encore each feature their own themed, permanent laser tag arena at the top of the ship.
Guests can split into teams and take their respective sides, shooting at opponents while hiding and darting between debris, columns, and "rooms" in the arena. Ultimately, you'll see which team won and how many people you hit.
The game lasts 10 minutes and costs $10 per person. You can get an unlimited pass for the entire cruise for $199.
The Royal Caribbean ships listed above also offer laser tag, but it isn't in a permanent arena or outdoors on the top deck.
On Independence, Mariner, Navigator, Oasis, Symphony, Voyager, and Wonder of the Seas, laser tag is played in Studio B, the ice skating rink. (Don't worry, they cover the ice!)
On Quantum and Spectrum of the Seas, you'll find laser tag in the multi-use indoor recreation area called SeaPlex.
The "storyline" for the laser tag experience on Oasis, Wonder, and Quantum of the Seas is called Clash for the Crystal City.
Royal Caribbean's website description says, "The sun burned out eons ago, and Earth has become an unlivable frozen wasteland for all but two clans — Yetis and Snowshifters.
"But after millennia without light, even they find themselves on the brink of extinction. Unless one clan can take control in the latest glow-in-the-dark laser tag faceoff."
The storyline on the other ships is called Battle For Planet Z. The description says, "Two forces clash in a glow-in-the-dark laser tag faceoff for control of the last planet for light years around.
"Will your team claim it? Take aim and find out in Battle for Planet Z."
Laser tag on Royal Caribbean is included in the cost of the cruise. Each game is 15 minutes long.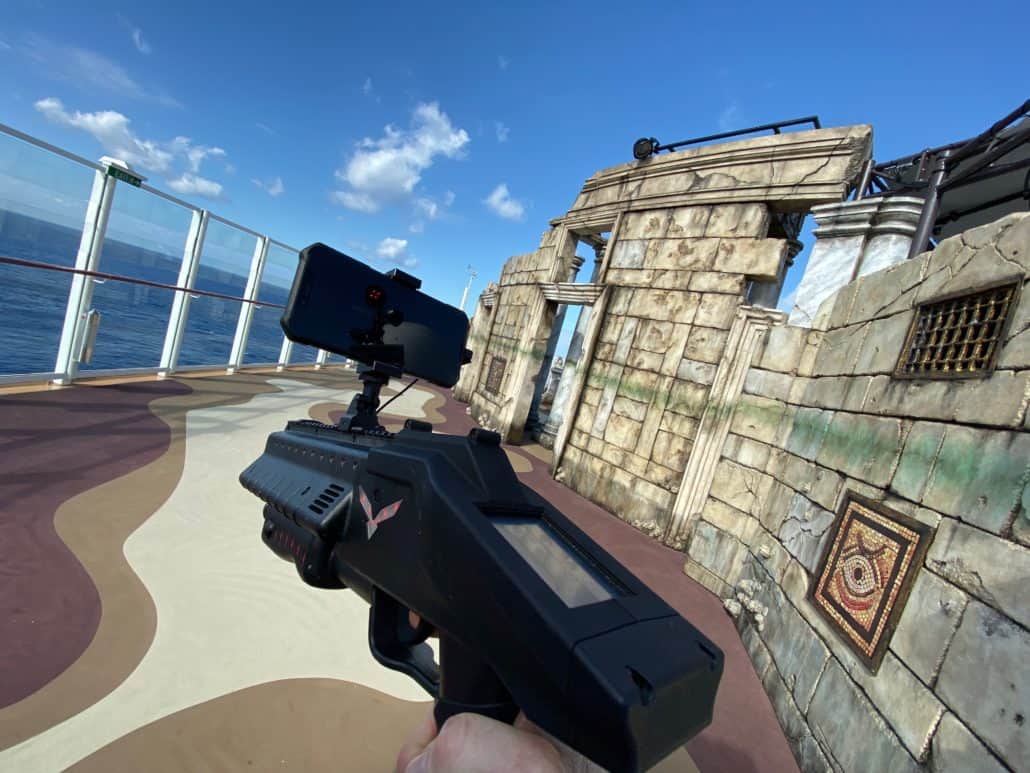 6. SkyRide
Ships: Carnival Vista, Carnival Horizon, and Carnival Panorama
Combine a bicycle, a ski lift, and a roller coaster, and you've got a decent idea of what Carnival Cruise Line's SkyRide cruise ship attraction is.
Here's how it works: You'll get into a little ride vehicle suspended on a track high above the top deck, which has pedals like a bicycle. To move around the track, you need to pedal it to power the vehicle, which goes around the SportSquare area and the ship's funnel.
Some parts will have more of a downward slope, which will be a bit faster and give your legs a bit of a break!
Each vehicle can only hold one person, but there are two tracks next to each other, so you can ride alongside a friend or family member.
SkyRide is included in the cruise fare.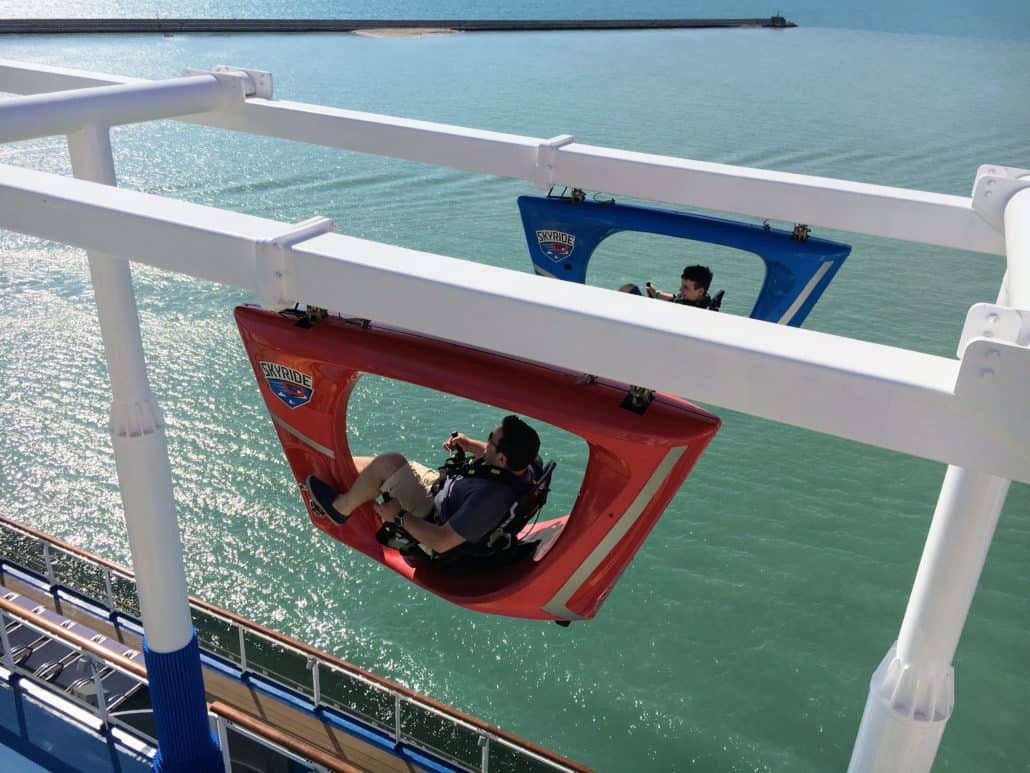 7. North Star
Ships: Quantum of the Seas, Anthem of the Seas, Ovation of the Seas, Spectrum of the Seas, and Odyssey of the Seas
Holding the record for "highest viewing deck on a cruise ship" from the Guinness Book of World Records, the North Star is one of the cruise ship attractions you won't want to miss if you love unique vantage points and panoramic views.
The North Star is a glass-enclosed observation capsule attached to a mechanical arm on the upper deck of Royal Caribbean's Quantum-class ships.
Passengers load in and are lifted high above the ship, where you can witness 360-degree views of the scenery around you.
Depending on the itinerary and day, the ride in the North Star costs a $30 charge per person.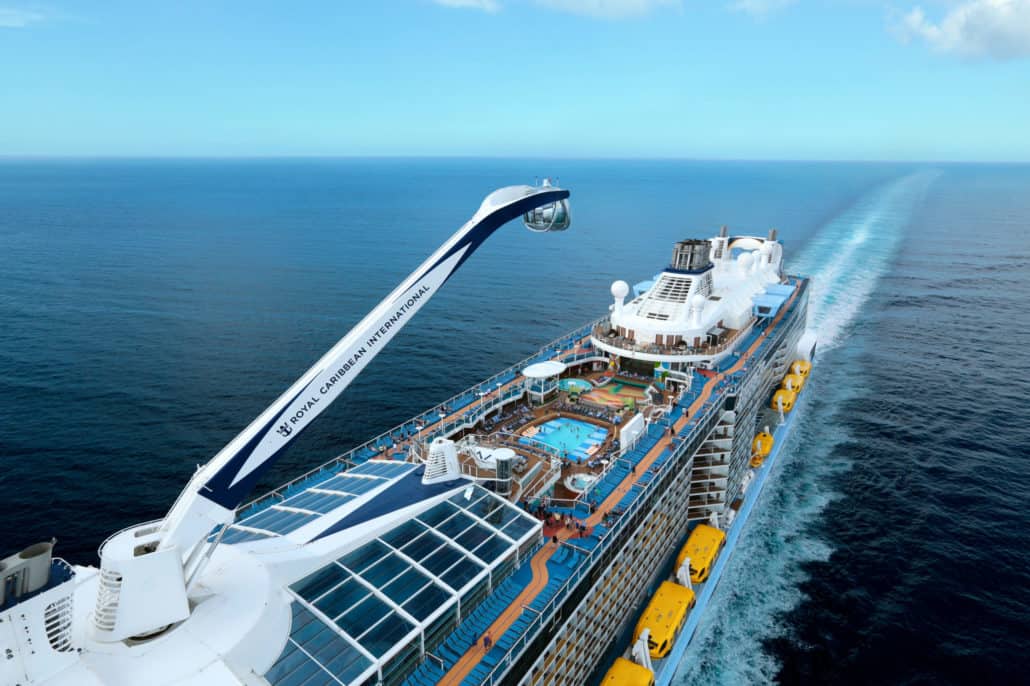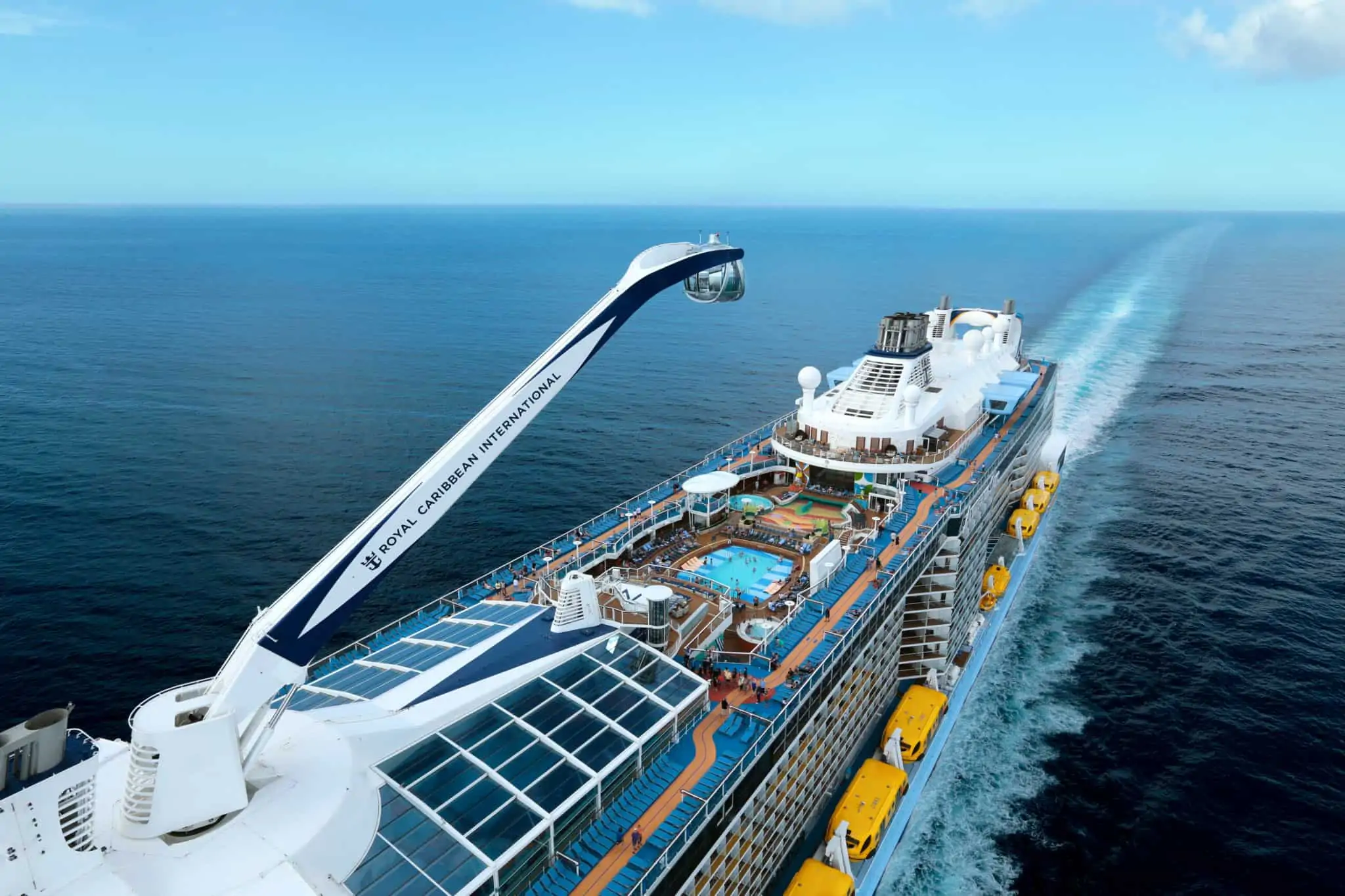 8. ROBOTRON
Ship: MSC Seascape
Continuing the theme of a robotic arm-type attraction, we have MSC Cruises' newest top-deck innovation, ROBOTRON.
This ride swings three people around and upside down to the beat of various songs, which is set against the backdrop of an LED screen complete with ocean and pool deck views below.
Each ride is three minutes long, and you can choose between three intensity levels.
Note, however, that ROBOTRON will not operate if it's too windy out.
ROBOTRON costs $11 per person.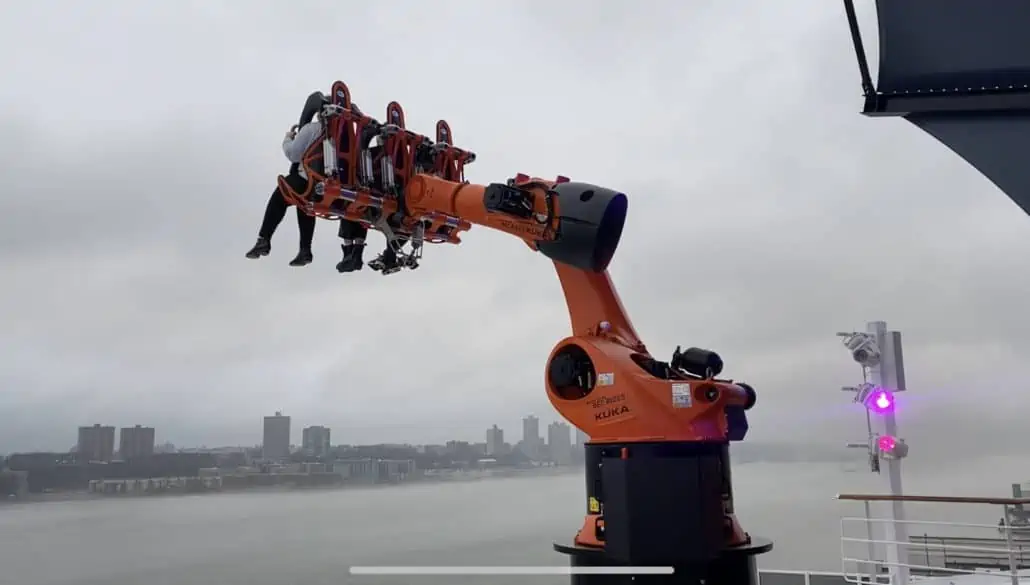 RELATED: My 7 First Impressions of MSC's Newest U.S.-Based Ship, MSC Seascape
9. Zip Line
Ships: Oasis of the Seas, Allure of the Seas, Harmony of the Seas, Symphony of the Seas, Wonder of the Seas, MSC Seaside, and MSC Seaview
Zip lining is fun no matter where you do it, but it's certainly a unique experience to fly through the air above the decks of a cruise ship.
On Royal Caribbean's Oasis-class ships, the zip line can be found on the top deck high above the Boardwalk neighborhood, where the carousel, Johnny Rockets, and the AquaTheater are located. It's also lined with inward-facing balcony staterooms.
Zip lining is included in the cruise fare, and no reservation is required.
MSC Cruises' first two Seaside-class ships feature dual racing zip lines that soar over the main pool deck and through a series of metal rings.
They currently hold the record as the longest zip line at sea at 345 feet (Seaside) and 426 feet (Seaview).
No reservations are required. Each ride costs $10 per person.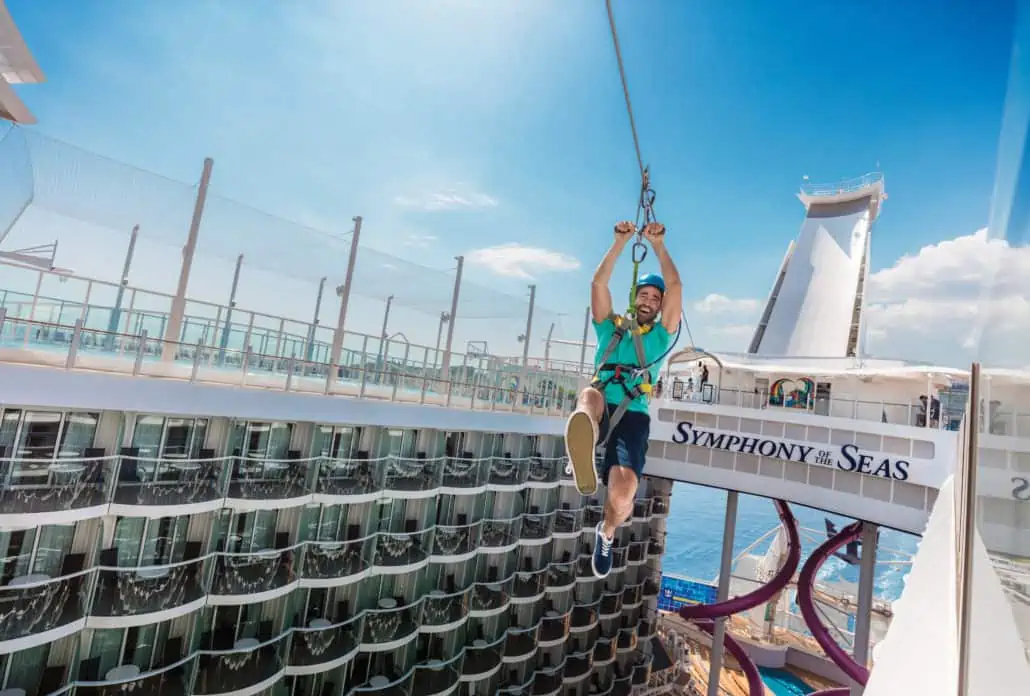 10. FlowRider
Ships: Adventure, Allure, Anthem, Explorer, Freedom, Harmony, Independence, Liberty, Mariner, Navigator, Oasis, Odyssey, Ovation, Quantum, Voyager, Spectrum, Symphony, and Wonder of the Seas
One of the most iconic top-deck cruise ship attractions is the FlowRiders on Royal Caribbean.
Like iFly indoor skydiving, these surfing simulators can also be found on land — but they've also been a popular fixture on RCI ships for over 15 years.
The simulator has a curved wedge-shape with a continuous stream of water running over it, which simulates the shape of a wave and the water flowing underneath you.
Depending on your skill level and confidence, you can choose between boogie boarding or stand-up surfing. Nothing to worry about, though, as crew members are just there in case of assistance.
The FlowRider is free, and reservations are recommended.
If you want to participate in group lessons to sharpen your skills or rent out time on the FlowRider just for you and your traveling companions, you can do so for a fee.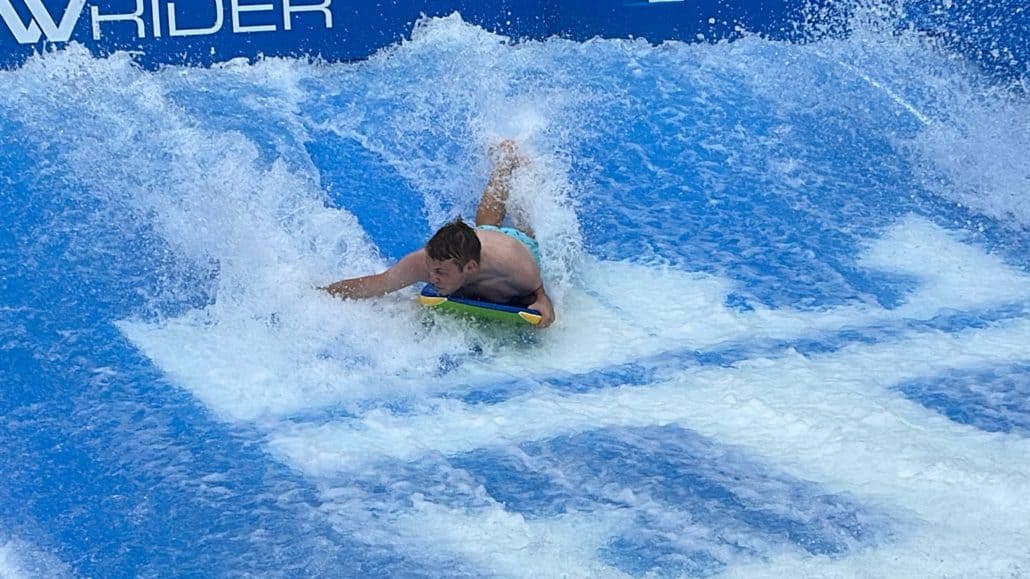 11. SkyPad
Ships: Mariner of the Seas, Independence of the Seas, Spectrum of the Seas, and Odyssey of the Seas
Mix a bungee trampoline with virtual reality, and what do you get? Royal Caribbean's SkyPad experience.
Strap into your harness in the ship's big yellow sphere and don the VR headset because you're about to be in an entirely different world.
There are three virtual landscape options to choose from, all of which put you inside a video game where you can do things like bouncing onto platforms or shooting aliens.
Those who may get easily nauseous or dislike virtual reality can enjoy the bungee trampoline without the VR aspect.
The best part? SkyPad is completely free.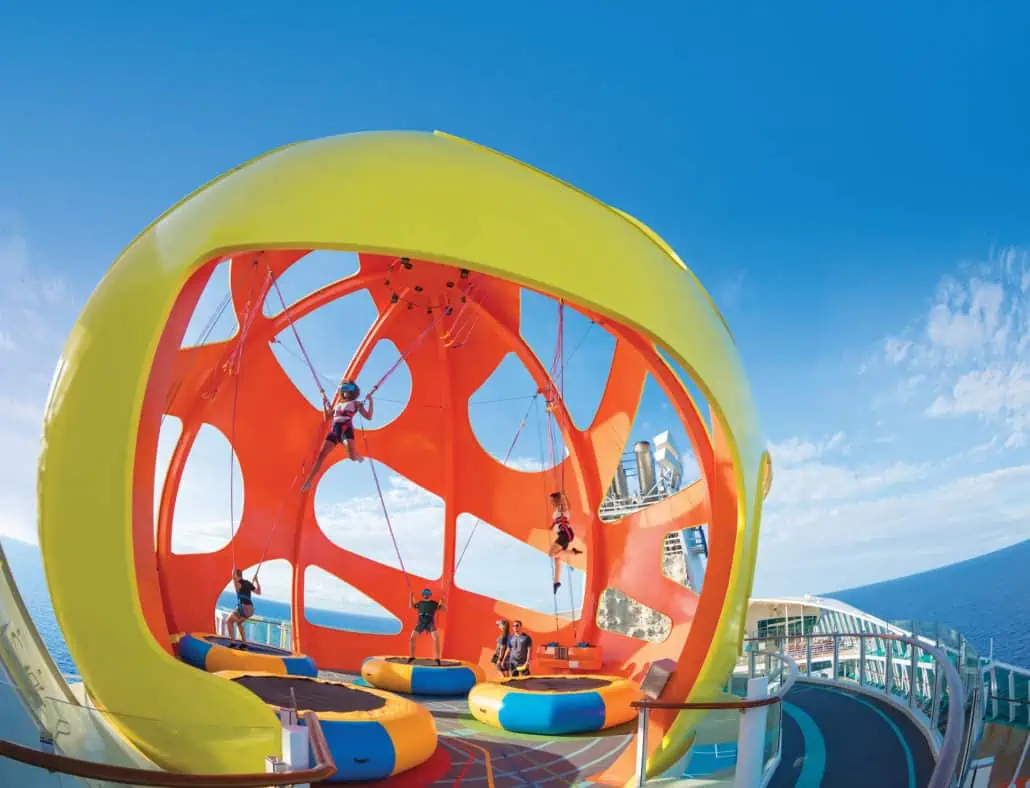 READ NEXT: 9 Cruise Concepts That Didn't Quite Catch On
Pin it!